Back in my pre-vegan days, I used to love a good cookie swap party. Now that I'm vegan and don't have many vegan friends close-by, I'm bringing the cookie swap party to Keepin' It Kind! Each day, for 25 days, one of my favorite bloggers will visit and share one of their favorite holiday cookies! That's 25 Days of Cookies, my friends! Happy Holidays!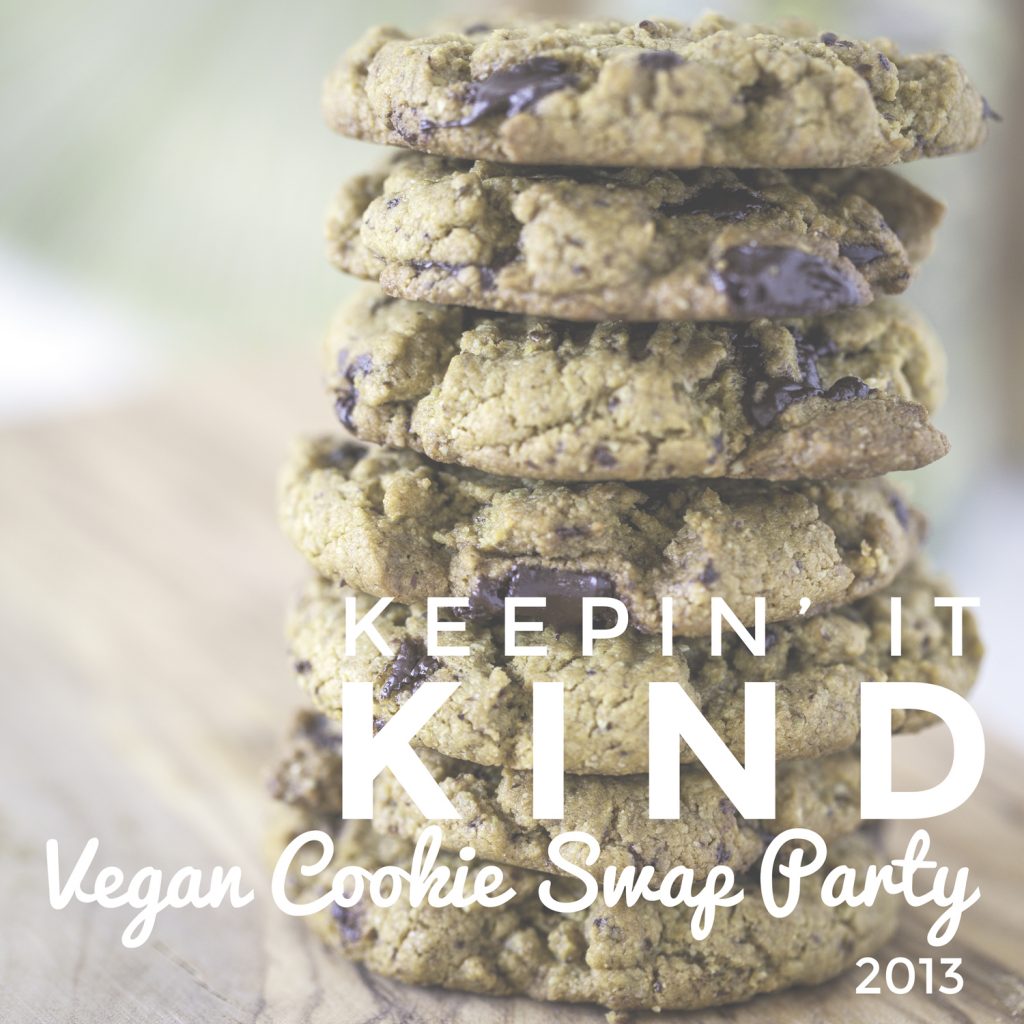 Today's guest needs no introduction. Chances are, you've been to Angela's wildly successful blog, Oh She Glows, and you've likely even tried one of her recipes (I know I've tried several!). You probably adore her down-to-earth and relatable writing and drool over her stunning photography. Angela and I connected over a year ago and I had the honor of meeting her at Vida Vegan Con this year. She is even sweeter in person and it really seems like she actually glows! I am just beside myself that Angela is here today sharing another one of her drool-worthy creations!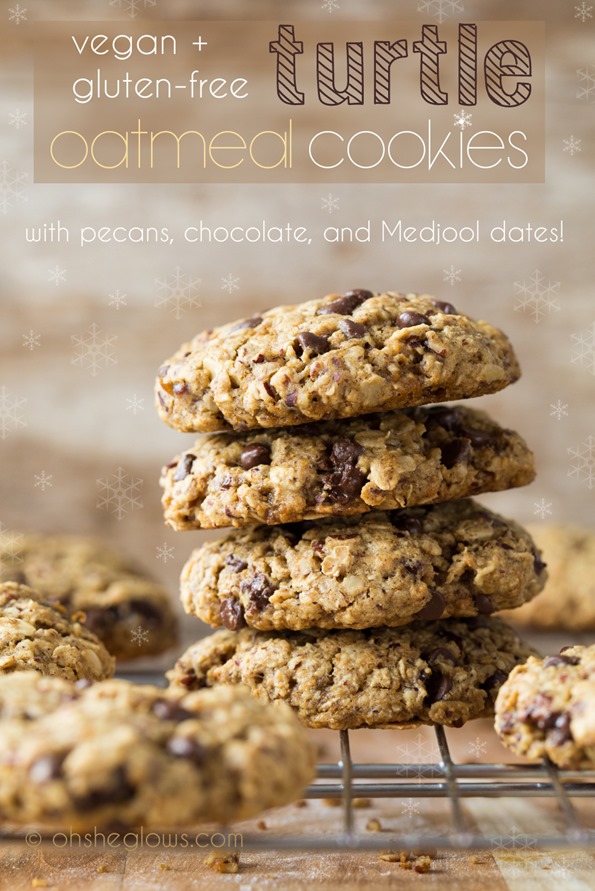 Hello, Keepin' It Kind readers! My name is Angela and I write the vegan recipe blog, Oh She Glows. Like many of you, I've been a fan of Kristy's blog since I first came across it. I finally had the pleasure of meeting Kristy and Chris at the most recent Vida Vegan Con and they are just the sweetest, down-to-earth couple!
Today, I'm sharing a new recipe that I created recently for a holiday gathering. It's a riff off one of my all-time favourite vegan cookies, oatmeal walnut cookies. This version is inspired by the Turtles candy, and I say it knocks my former favourite oatmeal cookies out of the park! I used a nutty, rich base of toasted pecans and then added in chopped Medjool dates (for the "caramel" flavour) and mini dark chocolate chips to create a wickedly delicious "Turtle" candy-inspired cookie. Oh yea.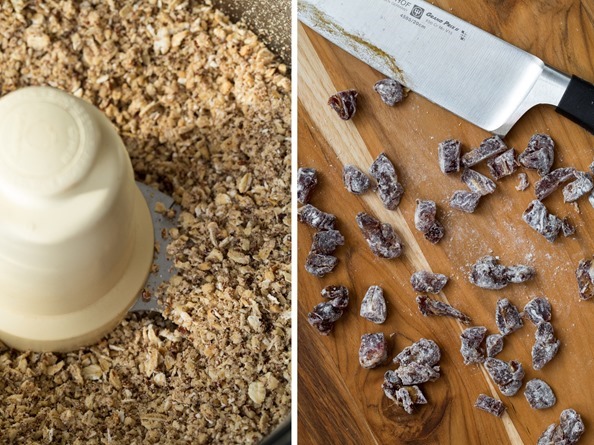 Side note: I discovered a fun way to prevent the chopped dates from sticking together. Simply sprinkle on some flour and toss the dates until coated. The light coating of flour will prevent the dates from clumping up in the dough. Fun, right?
I hope you enjoy these as much as we do! That is, if you can stop eating the "buttery", nutty dough long enough to actually bake them. Consider yourself warned.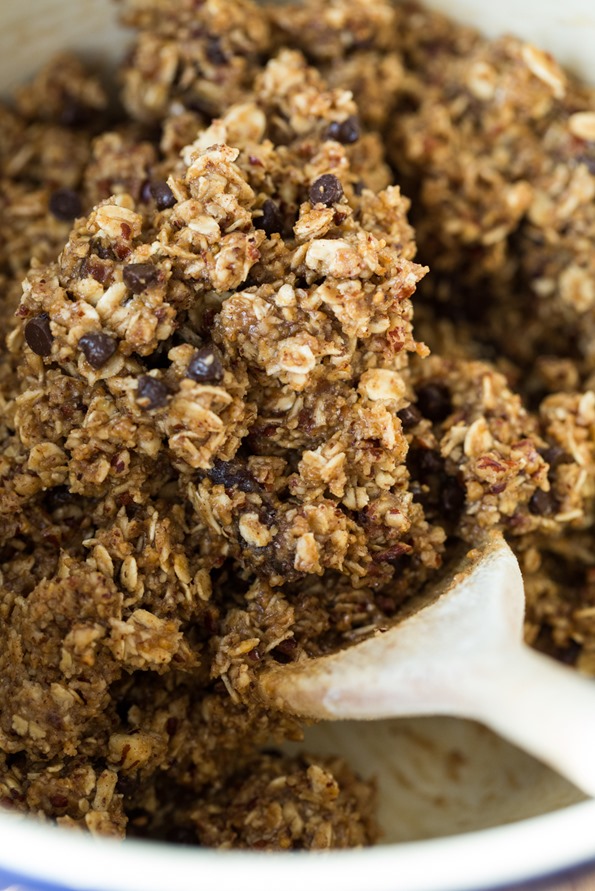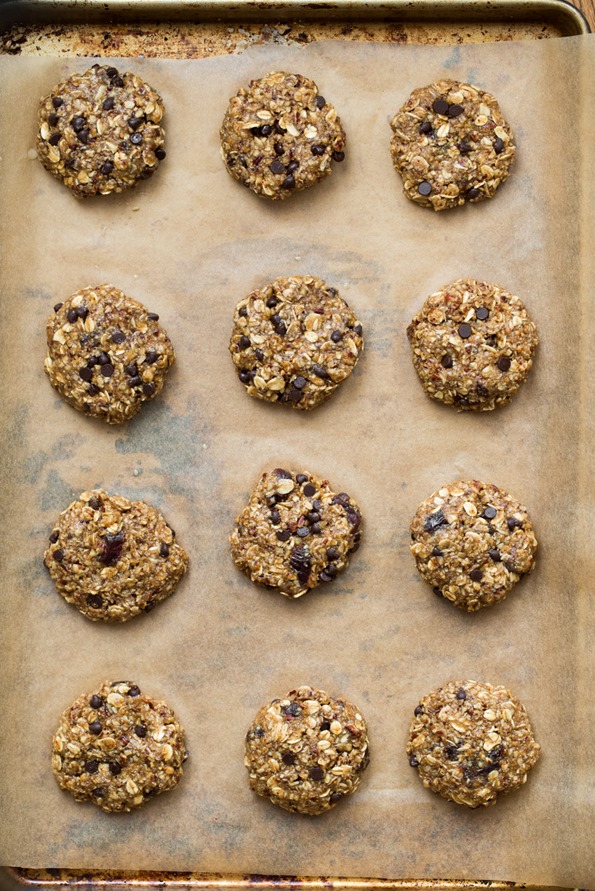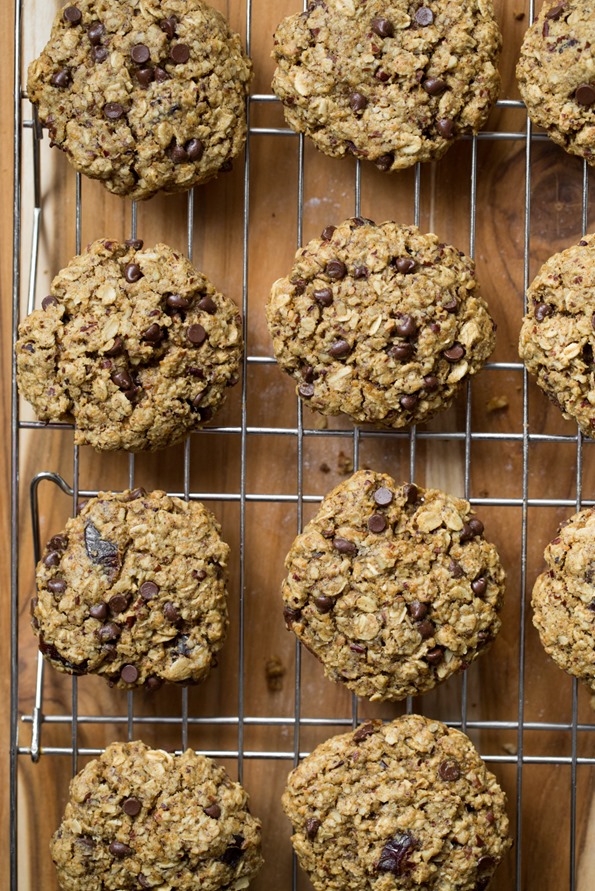 Angela's Vegan & Gluten-Free Turtle Cookies

Inspired by one of my childhood favourite candies, these "Turtle" Oatmeal Cookies are studded with caramel-like Medjool dates and dark chocolate chips, wrapped in a nutty toasted pecan and oat base. If you can stop eating the dough for long enough to bake them, you are in for a real treat. My favourite way to enjoy these is straight from the fridge or freezer where the cookies get firm and crisp (strange, but true!).

Ingredients

1 + 3/4 cups pecan halves
2 cups gluten-free rolled oats, divided
3/4 cup gluten-free all-purpose flour (I used Pamela's brand, see note)
1/2 cup Sucanat or unpacked brown sugar
1 teaspoon baking soda
1/2 teaspoon cinnamon
1/2 teaspoon fine grain sea salt
1/2 cup pure maple syrup
3.5 tablespoons coconut oil, melted
2 tablespoons almond milk
2 teaspoons pure vanilla extract
heaping 1/3 cup pitted dates, diced
1/4 cup mini dark chocolate chips (I use Enjoy Life brand)

Instructions

Preheat oven to 325F and line a large baking sheet with parchment paper. Toast pecans for 9-11 minutes, until golden and fragrant. After toasting, remove from oven and cool for a few minutes. Increase oven temp to 350F. Add pecans into food processor along with 1 cup of oats and process until coarsely chopped (see photo in blog post). Be sure not to over process or the oils in the nuts will release.
In a large bowl, stir the pecan/oat mixture, the remaining 1 cup rolled oats, flour, Sucanat, baking soda, cinnamon, and salt.
In a medium bowl, stir together the maple syrup, melted coconut oil, milk, and vanilla. Pour the wet mixture on the dry ingredients and stir until thoroughly combined. The dough will be quite sticky.
In a small bowl, coat the chopped dates in 1/2-1 teaspoon of flour and toss until coated. This prevents the dates from sticking together. Fold the dates and chocolate chips into the dough.
Take about 2 tablespoons of dough, roll it into a ball, and then press down on it with your hand to flatten it on the baking sheet. You can lightly wet your hands if necessary to prevent the dough from sticking. Space cookies a couple inches apart. Repeat until you have about 16 cookies.
Bake for 12-13 minutes at 350F until the cookies are golden brown on the bottom. Remove from oven and let sit on baking sheet for 3-4 mins. and then place cookies onto a cooling rack for 15 minutes more.

Notes

1) Instead of gluten-free all-purpose flour, you can probably swap it for regular all-purpose flour. 2) As for the gluten-free flour blend, I recommend using one that is rice based (such as Pamela's brand) and avoid using one that is garbanzo bean based (such as Bob's Red Mill) to avoid any bean-y flavour.
Thanks again to Kristy for hosting this vegan cookie swap party! I can't wait to see what else is in store. 🙂
If you'd like to connect with me, check out my blog, Oh She Glows. I'm also on Instagram, Facebook, and Twitter.
Wishing you all a joyous holiday season!
Angela