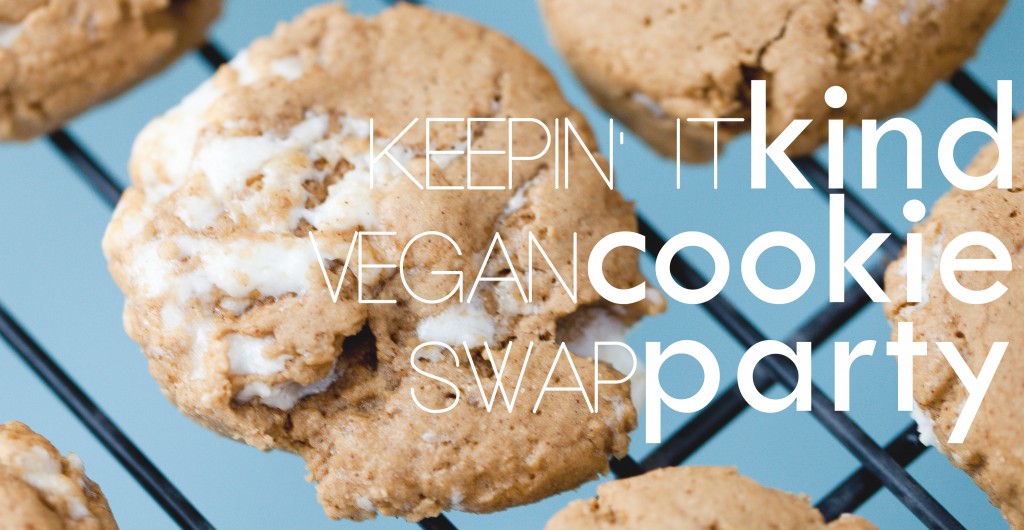 Back in the day, my friend used to host a cookie exchange party every year.  Everyone would bring about 40-50 cookies and the recipe printed out on an index card.  Each person would get to take 2 of each type of cookie as well as the recipe for each cookie.  It was an awesome party and it's something I miss doing each year.  I am ecstatic to tell you all, however, that through December 24th, I will be hosting a virtual, vegan version of this cookie swap party, with tons of guest posts from some of my favorite bloggers.  Keep checking back to see who brings what type of cookie!  
For most of my readers, Christy Morgan, the genius behind the book, Blissful Bites, and the blog, The Blissful Chef, needs no introduction.  I'm sure most of you are familiar with her mouth-watering recipes and her ability to turn eating healthfully into a very delicious endeavor.  Shortly after becoming vegan, I discovered Christy when I came across her book, being sold at a restaurant, while waiting for my friend to meet me for lunch.  As I flipped through the pages, all I could think was "This girl is incredible!  She just gets me!"  I bought the book right then and there and have been pleased with everything I've tried since.  In recent months, I've come to learn how positive, friendly, and supportive Christy is, which makes it even more of an honor to have her here today, sharing these incredible cookies.
When Kristy asked me to come to her vegan cookie swap party I so wanted to participate but was a little nervous about my baking capabilities. Even though I'm a chef baking is not my strong suit. But I said what the helllll, this will give me an opportunity to try out some new ideas!
I'm known for taking vegan dishes and making them more healthful without sacrificing taste. When it comes to baked goods the way to make them healthier is to reduce the sugar and the fat and use whole food ingredients. I know treats are an occasionally thing so you may not care if it's high in fat and sugar, but it's nice to have a few good recipes that won't expand your waistline. Taking away all the fat and sugar though would make it boring, dull and taste like cardboard. We don't want that!
Thankfully there's a happy medium. To make desserts healthier I use whole grain flours like whole wheat, barley, oat, brown rice, and almond. I reduce the fat and replace with applesauce if needed. These cookies didn't need it though. My fat of choice is unrefined coconut oil. I use it almost exclusively as my oil in baked goods. For cookies it's best to melt down the coconut oil before mixing it with your liquid ingredients (unless you have an electric mixer that will whip it together at a solid texture). Another trick is to have your non-dairy milk at room temperature because if it's too cold it will cause the coconut oil to seize up into clumps.
Coconut palm sugar became my granulated sweetener of choice about 3 years ago. It's low glycemic and has a rich caramel like flavor. Since it isn't refined it does have a tendency to make baked goods darker so keep that in mind. It can be found at any natural food store or you can buy it online.
When I was thinking about what to make for the swap my mind immediately went to ginger. I didn't want to do something typical of the holidays because I'm not so big into celebrating the holidays (gasp) and I'm a ginger-holic. I saw some brownies at a coffeehouse that were topped with sliced almonds and stole that idea for the topping of these cookies.
Feel free to adjust the spice level to your preference. I use a Microplane zester to get the ginger minced finely. That way it disperses throughout the dough. Use a spoon to easily remove the skin from the ginger and peel down to where you need. Then you have something to grab onto while you zest.
Christy's Almond Ginger-Spiced Cookies
Ingredients
3 tablespoons coconut oil, melted
½ cup coconut palm sugar
1/4 cup maple syrup
1 teaspoon almond extract
¼ cup unsweetened non-dairy milk, room temperature
2 to 3 teaspoons minced ginger
1 3/4 cup whole wheat pastry flour
1/3 cup almond meal
1 teaspoon baking powder
1/2 teaspoon baking soda
1/4 teaspoon sea salt
Dash cinnamon
Dash allspice
Dash nutmeg
1/3 cup sliced almonds
Instructions
Preheat oven to 350 degrees F. Whisk together the oil, sugar, maple, and almond extract until well combined. Whisk in milk and ginger. In a small bowl whisk together the remaining ingredients except almonds. Sprinkle dry mixture into wet and mix until well combined. Scoop about 2 tablespoons worth of batter onto a cookie sheet lined with parchment paper or a silicon mat. Continue with batter spacing out cookies 2 inches apart. Top each one with sliced almonds while gently patting down to ensure that the almonds are spread out evenly across the cookie. Make sure the almonds stick to the dough around the whole cookie. Bake for 12 minutes. Remove from oven and let cool on cookie sheet until cool enough to the touch.
You can use any other high heat oil (like sunflower, safflower or grapeseed), but I really love using unrefined coconut oil for all my baking.
Use any granulated sugar in place of coconut palm. It will be a sweeter cookie that way.
Christy Morgan, also known as "The Blissful Chef", has worked in the natural foods industry since 2002. She's most known for as a chef for celebrities in Los Angeles and for her cookbook, Blissful Bites: Vegan Meals That Nourish Mind, Body, and Planet. She's helped transform thousands of lives through cooking classes, food coaching, and wellness programs for corporations and individuals. Her new online wellness program, Wellness Reboot, launches December 17th! Keep an eye out and to read Christy's blog visit her website at The Blissful Chef. 
Thanks for stopping by and be sure to come back on Tuesday to see who our next special guest is and what they bring to the party!  Thank you so much, Christy, for bringing all of this ginger goodness!
Be sure to check out the rest of the cookies at the party: