Back in my pre-vegan days, I used to love a good cookie swap party. Now that I'm vegan and don't have many vegan friends close-by, I'm bringing the cookie swap party to Keepin' It Kind! Each day, for 25 days, one of my favorite bloggers will visit and share one of their favorite holiday cookies! That's 25 Days of Cookies, my friends! Happy Holidays!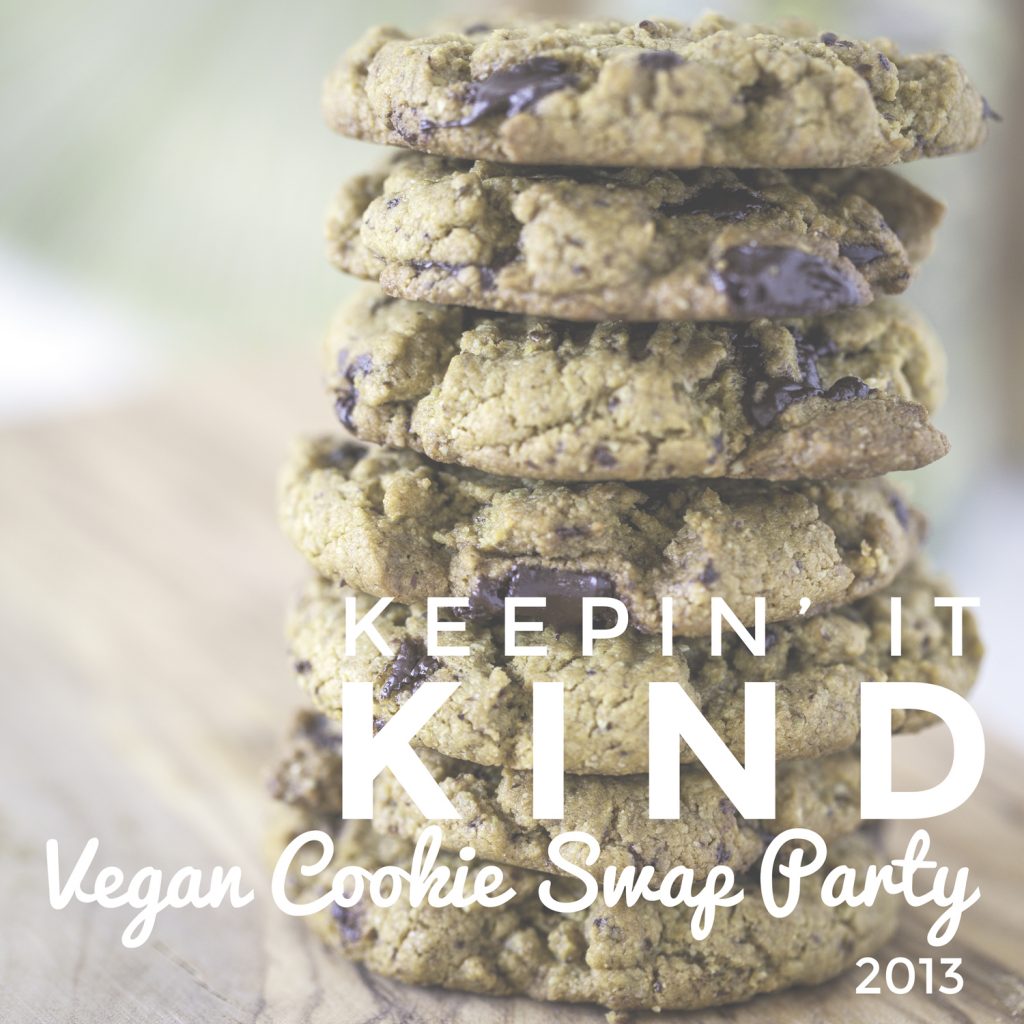 Heather from Sunday Morning Banana Pancakes has long been one of my most favorite bloggers. Even before I started Keepin' It Kind, I would drool over her recipes and her writing always has me wishing I could just pop over for a cup of tea and chat. Heather is one talented lady- just one look at her photography and the dishes she shares will prove that. Today's cookie is no exception! I'm so grateful to have her here to share it!
I absolutely ADORE Kristy, so it was a no brainer when she invited me to take part in her annual vegan cookie swap. I am so incredibly happy to be included alongside so many amazing, kind hearted & talented bloggers - Kristy's cookie line up thus far has been amazing; and we aren't even a week into the swap!
The easy part was saying yes...the hard part; coming up with the perfect cookie to bring to the swap. Oh man, I knew it had to be incredible considering who the host of cookie swap is and all the fabulous people that would be  "attending" - I went back and forth on what to bring and finally decided on mini gingerbread whoopie pies- not quite a cookie but close enough, a welcome addition to the cookie table.
Growing up my Dad had a whoopie pie obsession, come to think of it so does one of my fitness instructors- what's not to love about 2 cookies sandwiched together with cinnamon cream cheese frosting then sprinkled with powdered sugar? I know these are not the healthiest of cookies, but I think we all deserve to splurge just a little this time of year.
Heather's Gingerbread Whoopie Pies
Ingredients
3 1/2 cups all-purpose flour
1 teaspoon salt
1 teaspoon baking soda
1 1/2 teaspoons ground ginger, cinnamon & 1/4 tsp nutmeg
3/4 cup (1 stick unsalted vegan butter, at room temperature
3/4 cup light brown sugar
1 flax egg or egg replacer
1/2 cup molasses
3/4 cup almond Milk + 1 tbsp apple cider vinegar
sugar for dusting
(1) 8 oz tub tofutti
2 tbsp all vegetable shortening
1 cup powdered confectioners' sugar, sifted
1 teaspoon pure vanilla extract
1 tsp cinnamon
Instructions
Preheat oven to 375 degrees. Prepare two large baking sheets with parchment paper.
In a mixing bowl, whisk flour, salt, baking soda, ginger, cinnamon, and nutmeg.
In a large bowl, cream the vegan butter and brown sugar with a mixer until light and fluffy, about 3 minutes. Beat in flax egg, scraping down sides of bowl after. With mixer on low, add molasses and "buttermilk". Add flour and mix only until blended; do not over-mix.
Using a small scoop or teaspoon, portion batter onto the baking sheets, spacing each about 2 inches apart.
Bake for 10-12 minutes, rotating baking sheets halfway through. Let cookies cool for 5 minutes, then transfer to wire racks to cool completely.
To make the filling: With a mixer, beat tofutti, vegetable shortening and powdered sugar on medium speed until fluffy, about 3 minutes. Add vanilla extract & cinnamon and beat for 1 more minute, until frosting is smooth.
Make sure cookies are cooled completely then pair cookies by size. Transfer filling to a piping bag (Ziploc bag with small corner cut works great). Onto the flat side of one cookie pair, pipe a bit of frosting. Sandwich the cookies together.
Enjoy!