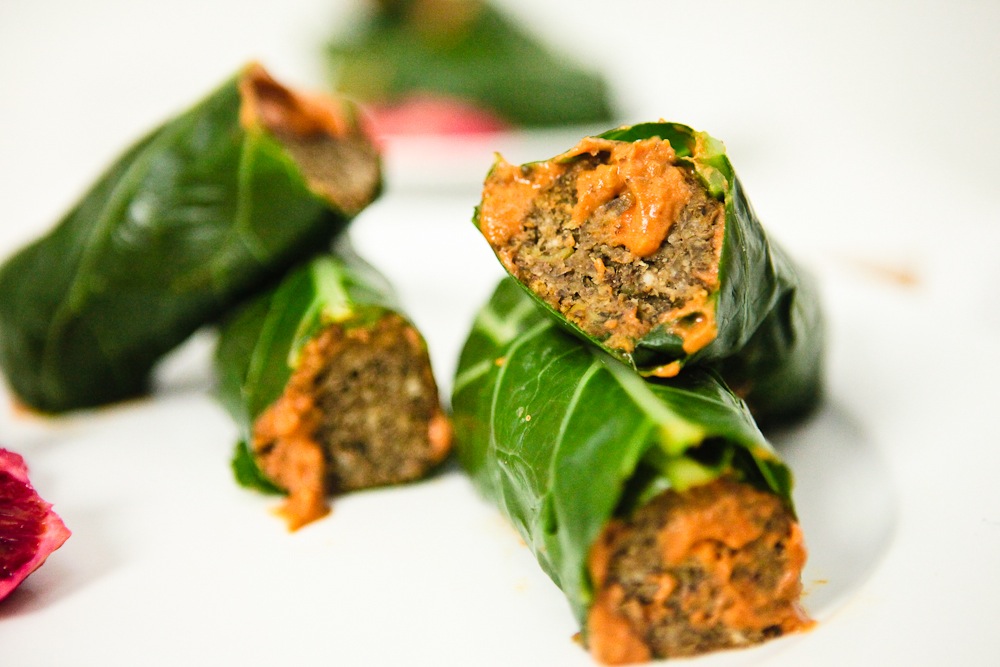 I was actually going to make something completely different this night.  I had gone to the store and seen to it that I had all the ingredients for this recipe I had envisioned.  I set them all out on my counter, put my cute little apron on, tied my hair back and was ready to get to work on this recipe, when all of a sudden I was struck by a craving I have never in my life had before:  Italian Meatball Subs.  I tried to ignore the craving as I sliced my mushrooms.  Before I knew it, though, my craving had taken over.
I formed meatballs from cooked lentils, mushrooms, and bread crumbs.  I had no bread (I repeat- this recipe was not on my agenda), so I pulled out the fresh collard greens our CSA had just delivered to us, and prepared them to be the vessel that would hold the meatballs that were baking in the oven.  It dawned on me then that I would need a sauce for these meatballs so I made a lazy cook's sauce which combined 3 ingredients: Trader Joe's Organic Tomato Basil Marinara Sauce, vegan cream cheese, and my trusty Sriracha sauce.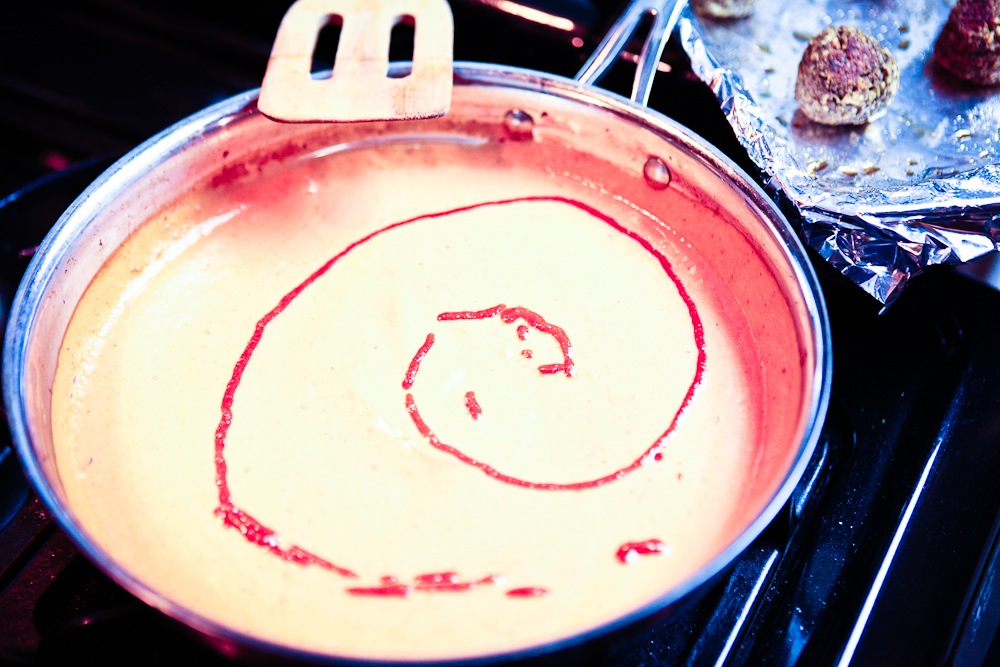 Was my random craving satisfied?  Yes, yes, and yes.  The meatballs were so amazing that I can't wait to make burgers out of the same mixture.  The sauce was the perfect mixture of spicy marinara and mild cheesiness.  This mixture would have been great on a toasty baguette, but the flavor that the collard greens added meshed so beautifully with the meatballs and sauce, not to mention all the nutrients it added and the calories it didn't.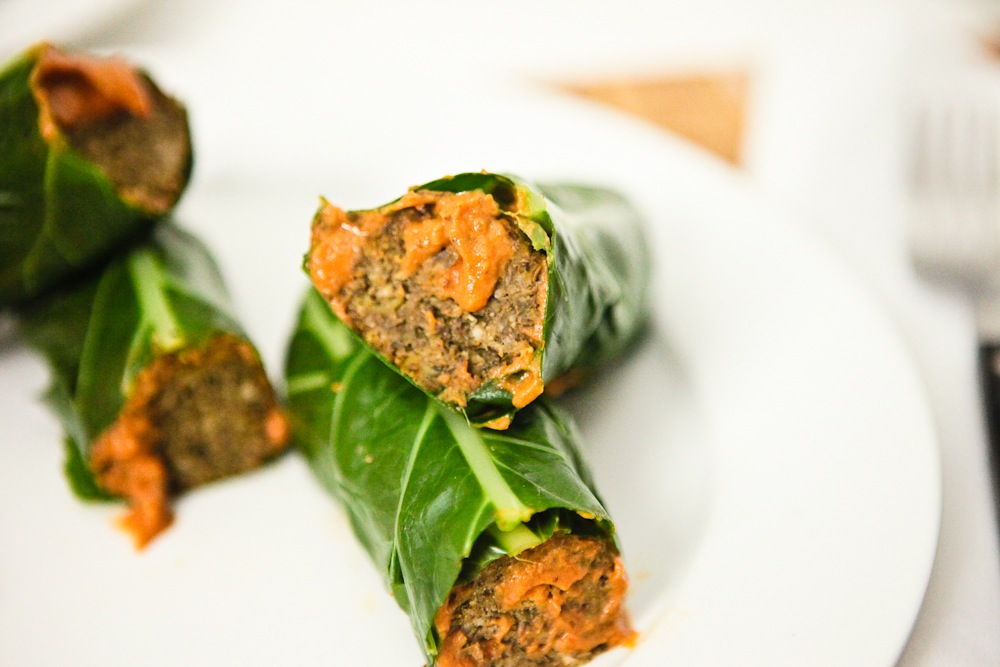 LENTIL MUSHROOM MEATBALL COLLARD WRAP SUBS
makes 4 wraps
Ingredients:
for the meatballs:
1 flax egg (1 T flaxmeal whisked together with 3 T warm water)
1 ¼ cup cooked lentils
1 8oz package of crimini mushrooms, washed and thinly sliced
2-3 garlic cloves, minced
1 T tomato paste
1 T Bragg Liquid Aminos
1 tsp Liquid Smoke
1 ½ tsp dried basil
1 tsp dried thyme
½ tsp dried sage
a couple dashes of cayenne pepper
salt and pepper to taste
1 cup bread crumbs (use gluten-free bread crumbs to make the whole recipe gluten-free)
for the sauce:
1 ¼ cup marinara sauce
1/3 cup vegan cream cheese
drizzle of Sriracha, or other hot sauce, to taste
for the wrap:
8 large collard green leaves
Instructions:
Preheat your oven to 350.  Line a baking sheet with foil and lightly spray with a vegan non-stick spray or oil.  Prepare your flax egg and set aside so it can "gel."
Heat a frying pan over medium heat for about 30 seconds.  Add the mushroom and turn the heat down to medium low, stir the mushrooms every few minutes or so, letting them brown in their own juices.  Continue to "brown" the mushrooms for about 7-10 minutes.  Salt and pepper to taste.  Remove from heat and let cool for a few minutes.
In the bowl of a food processor, combine the cooked mushrooms with the rest of the meatball ingredients, except for the flax egg and bread crumbs.  Process until mostly smooth, then add the flax egg.  Process until combined.
Pour your breadcrumbs into a bowl.  Add the lentil-mushroom mixture to the bowl of bread crumbs and stir until just combined.  Using heaping tablespoonfuls, form little balls with the lentil mushroom mixture and place them on the baking sheet.  You should have at least 20 meatballs.
Put the baking sheet in the oven and bake for 15 minutes.  Flip all of the meatballs and return to oven for another 10-15 minutes, until slightly golden or browned on the outside and not mushy-feeling.
While the meatballs are in the oven, prepare the sauce and the collards.  Place the collards with the thick-stem side up.  Run a small knife parallel to the leaf, shaving off the thick part of the stem.  You can see a pictures of how to do this here.  Bring a large pot of water to a boil.  In batches of 4, place the collard greens into the boiling water.  Let them cook for about 2-3 minutes (but no longer than that), remove and place on a clean towel to rest.
In the same pan used to cook the mushrooms, combine the sauce ingredients and heat on low. Let it heat slowly and thicken for about 15 minutes.  Stir the sauce frequently to fully combine the ingredients and to prevent sticking.
Take two collard leaves, trimmed stem-side up, and place them on a cutting board, stem edges facing each other, with one leaf overlapping the other by about 1.5-2 inches.  Place about 5 meatballs in a line, down the middle of the leaves.  Spoon a little more sauce onto the meatballs.  Fold the far edges over the meatballs, take the side of the collards closest to you and roll, burrito-style, over the meatballs, until you have a long, thin wrap.  Cut in half and place on a plate.  Repeat this process with the remaining leaves and meatballs, until you have 4 wraps, each cut in half.  Serve warm.  Enjoy!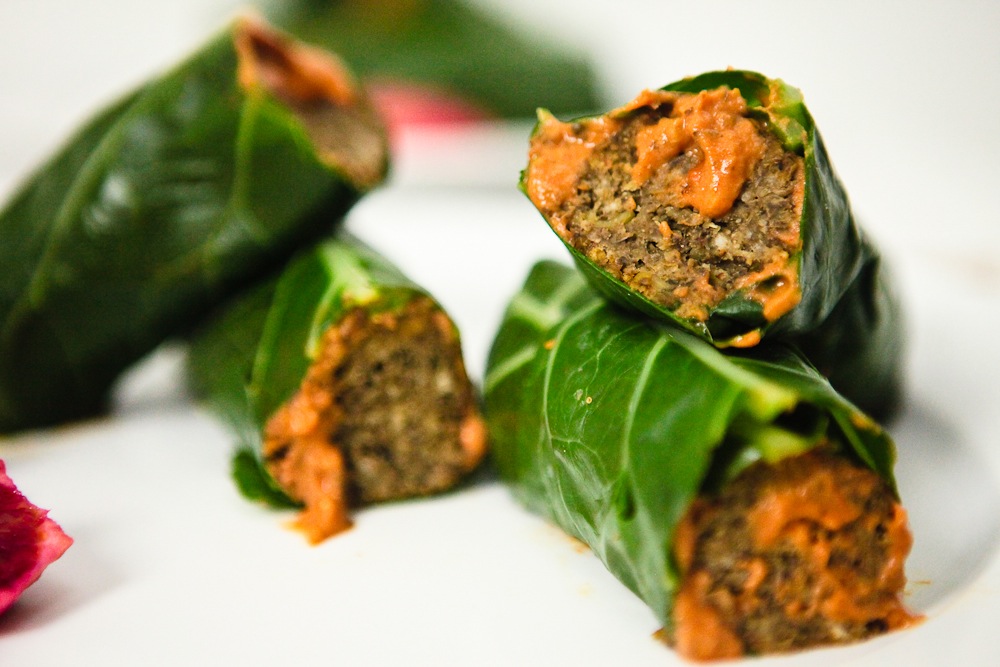 Are you ever struck by random food cravings?  If so, what do you crave?
All Photos by Chris Miller

© Kristy Turner and Keepin' It Kind, 2012. Unauthorized use and/or duplication of this material (content and images) without express and written permission from this blog's author and/or owner is strictly prohibited. Excerpts and links may be used, provided that full and clear credit is given to Kristy Turner and Keepin' It Kind with appropriate and specific direction to the original content.