It was around this time two years ago that I began toying around with veganism.  There were several things that inspired me to make the change but It took a couple weeks of experimenting and a non-vegan trip to Greece to realize that I couldn't not be vegan.  Since then, that choice has become the second best choice I've ever made (the first being marrying Chris).  I love my vegan life and I love meeting other vegans and hearing their vegan story, what inspired them and how they made the change.
I know that many people who visit Keepin' It Kind are new vegans or are people who are considering making the transition.  Some people might find my story inspiring.  Some people might be more inspired by someone else's story.  That is why I am starting a new series titled "My Vegan Story."  I'm very excited to be sharing other vegans' stories of how they became vegan, what inspired them, what they love about being vegan and their advice for new vegans or those considering veganism in hopes that their story might be just the inspiration that someone else needs to make the change.
Today, I'm sharing the story of a young lady who I am truly honored to know.  Years ago, this young lady's mother and I were related (though a divorce in the family changed that status).  Through the power of Facebook I was able to reunite with her and meet her daughter, a 15 year old vegan named Zakieh.  She is intelligent, sweet and super gorgeous but I quickly learned that Zakieh is not your average teenager.  She is an incredible animal activist, convincing her school to include a vegan burger on the school menu, hanging flyers around school informing kids that animal dissection isn't necessary or mandatory, and protesting circuses and other forms of animal abuse in her spare time.  She was even recently featured on Peta2 in a post about how young people can help animals over summer vacation!  Zakieh is incredibly inspirational to me and I'm sure that she will inspire you as well.
Without much further ado, ladies and gentlemen, meet Zakieh Alahmad!    
MY VEGAN STORY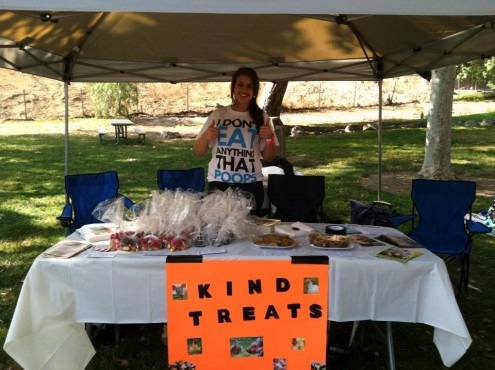 DESCRIBE YOUR TRANSITION TO VEGANISM.
When I decided to go vegetarian, I was eight years old and I saw a pamphlet in my dad's chiropractor's office with a baby pig and kitten on it and it said, "Which do you pet? Which do you eat? Why?" I learned from that pamphlet about all of the cruel practices involved in raising animals for food from debeaking chickens to cramming pregnant pigs in gestation crates. I realized there really was no difference between a pig or a cow and a cat or a dog. Being the crazy animal lover I am, I was horrified and became what I thought was "vegetarian" immediately. For the next year, I adjusted to vegetarianism pretty easily. I did have some moments in the beginning (whether I like to admit it or not) where I would crave chicken enchiladas and other non-vegetarian foods. Though I learned to deal with it and soon enough those cravings went away. Later on, my cousins who were vegans visited from France. They were excited to learn that I had become vegetarian, and the topic came up about fish and other sea animals. I had never realized "seafood" wasn't vegetarian, but I was quick to give that up once I was aware.
I went on for a few years as a vegetarian, hearing about vegans, weirdo tree huggers who went to the extremes. I was one of those people who could never give up cheese. Hearing that excuse now makes my groan. However the idea still hung around in the back of my mind, and finally at age thirteen (after meeting the love of my life, Christofer Ingle from the band Never Shout Never minutes before) I met a man named Jingles who had a booth with information about veganism at Venice. Gruesome pictures of animals being abused, much similar to the ones on that first pamphlet I read, caught my eye. I walked over to the booth and introduced myself, explaining that I had been vegetarian for five years and loved animals. We talked for a good hour straight about all the different types of torture animals are put through every day. I wonder from time to time what my life would be like now if I had never met Jingles. Before I left, he gifted me with a pack of literature and a video called "Animal Holocaust," a mixture of several documentaries on animal cruelty all over the world,. I was warned that it was X rated due to the disturbing nature of it.
Once I got home, I sat down and played the movie. It explained everything from factory farming in America to fur farms in China. I started the movie eating Milk Duds and put them down five minutes later. It was the most horrible thing I have ever seen, but I felt that I owed it to the billions of animals who have been tortured and killed all for humans. The very next day, I went shopping at Whole Foods; my life as a vegan had begun. Over the next few weeks, I lost ten pounds- until I discovered that Southern California was vegan heaven. I was shocked after going to my first vegan restaurant that I could eat anything on the menu. The thought of vegan cake baffled me. Looking back on that first restaurant who shall not be named, it wasn't even very good. As time went on, I discovered some of my favorite places to eat like Sage, Flore, and Shojin. I did have ups and downs in the beginning and I cheated a little. But soon enough I realized veganism wasn't just another diet. My occasional slice of pizza still supported cruelty. Over the past year, I've become much more determined and I will definitely be vegan for the rest of my life. Recently I've switched out my clothing and makeup for stuff that is vegan and not tested on animals. I would say that my transition to a vegan life has been pretty smooth compared to others, and I'm very happy and grateful to be leading a cruelty free life.
WHAT RESOURCES HELPED YOU IN YOUR TRANSITION? 
The film "Animal Holocaust" was a huge help on making me aware of the cruelty and abuse animals go through. It's a mix of several documentaries on animal cruelty. I use apps on my phone like Happy Cow to find a vegan restaurant near me, Vegan Xpress to help find food at non-vegan places, and Animal-Free to help me figure out if weird looking ingredients are vegan or not. Other than that, the internet has been a huge help. I search any questions I have on there, and I follow tons of vegan people on Instagram. Vegansofig is an Instagram account run by Amy Rebecca; she posts a lot of helpful information and she also hosts meetups every once in a while.
HOW LONG HAVE YOU BEEN VEGAN NOW?

I have been vegan for 2 years and I was vegetarian for 5 years before that.
WERE YOUR FRIENDS AND FAMILY SUPPORTIVE OF YOUR CHOICE TO BECOME VEGAN?  
My family and I were never really big meat eaters. We wouldn't ever go to Outback for steaks, but I was known to eat McDonalds chicken nuggets a few times a week. Because of this, my mom and dad were supportive of my choice to go vegetarian. When I went vegan, my parents were a little confused, but still supported me. My mom is now vegan and my dad is vegetarian. Outside of my immediate family, my relatives are pretty big on meat and other animal products considering I come from Italians and Arabs. They still don't understand it very much, but they're pretty accommodating and respectful, with the exception of a few cousins and an uncle-in-law who is a dairy farmer and complains about the almond milk in the fridge.
I tend to surround myself with like minded people, but at school, many people my age don't understand my life style. I get caught in debates over veganism all the time, but I see it as a learning experience on both ends. I like to hear other arguments and practice dealing with them. Still, I get by and I recently convinced my school to start selling veggie burgers during lunch.
WHAT DO YOU LOVE ABOUT BEING VEGAN?
To be honest, everything. I love how I don't feel guilty about what I eat or wear, I love how I've met new people, I love that my "people skills" have improved after talking to so many circus goers, omnivores, and leather wearers. The list goes on and on. I am so glad to be leading a vegan life.
HOW DO YOU MAKE THE WORLD BETTER FOR ANIMALS?
For the first year or so, I only ate a vegan diet. I never looked into other things I could do for animals. However lately I've been getting active and helping out wherever I can. I ran a booth at Relay for Life, a cancer event, with Kristy's help where I sold vegan snacks and handed out literature. I've gone to protests at Barbara Bui on Rodeo Dr. against fur and exotic skins and at the Ringling Bros Circus. I started volunteering at Farm Sanctuary soon after volunteering at their Hug a Farm Animal Day and work party. I try to volunteer and protest wherever I can, I talk to people and hand out literature all the time, and I try to be a voice for animals who can't speak up for themselves. I dedicate a lot of my time towards trying to be that voice because I feel like I owe it to all the innocent souls who are suffering.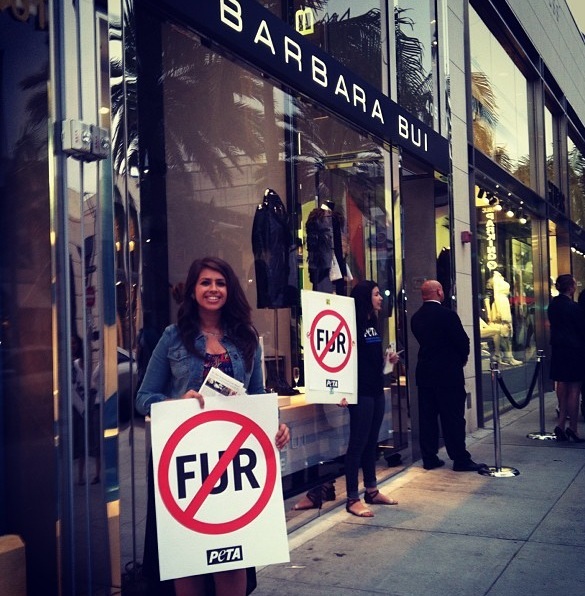 WHAT IS YOUR FAVORITE VEGAN RECIPE?
This is from the cookbook, Vegan Family Meals by Ann Gentry.
LASAGNA ROLLS WITH TOFU RICOTTA AND EVERY DAY TOMATO SAUCE
Ingredients
2½ Tbsp olive oil
2 onions, thinly sliced
6 cloves garlic, minced
2 Tbsp chopped fresh basil
1 tsp fine sea salt
½ tsp freshly ground black pepper
3 medium carrots, peeled and cut into ¼" pcs.
1 head broccoli, stems removed and florets finely chopped
2 cups Tofu Ricotta Cheese (recipe follows)
12 eggless lasagna noodles
3 cups Everyday Tomato Sauce (recipe follows)
Procedure
Preheat the oven to 350F.
Heat 1 Tbsp of the oil in a large, heavy frying pan over medium high heat. Add the onions, garlic, basil, salt, and pepper. Saute until the onions are tender, about 10 minutes. Add the carrots, zucchini, and broccoli and saute until the carrots are crisp-tender, about 12 minutes. Let cool completely. Mix the vegetable mixture into the tofu ricotta cheese.
Cook the noodles in a large pot of boiling salted water, stirring often, until tender, about 10 minutes. Drain and rinse the noodles, then toss them with 1 Tbsp of the remaining oil to prevent the noodles from sticking together.
Coat a 13″x9″x2″ baking dish with the remaining 1½ tsp oil. Spread 1 cup of the tomato sauce on the bottom of the dish. Using a spatula, spread about ½ cup of the vegetable mixture over each lasagna sheet, leaving about ½" of each end uncovered. Roll up each sheet tightly and place it seam-side-down in the baking dish. Pour the remaining 2 cups tomato sauce over the lasagna rolls.
Cover the dish with aluminum foil. Bake until the sauce bubbles, about 55 minutes. Remove the foil and continue baking for 15 minutes.
TOFU RICOTTA CHEESE
Ingredients
1 (14 oz) container water packed firm tofu, drained and cut into quarters
2/3 cup yellow miso
2/3 cup water
½ cup tahini
¼ cup olive oil
5 large garlic cloves
1½ tsp dried basil
1½ tsp dried oregano
¾ tsp sea salt
Procedure
Blend all the ingredients in a food processor until smooth.*The cheese will keep for 2 days, covered and refrigerated.
EVERY DAY TOMATO SAUCE
Ingredients
¼ cup extra virgin olive oil
4 shallots, thinly sliced
3 cloves garlic, minced
½ tsp fine sea salt
1 (28 oz) can crushed tomatoes
1 cup water
2 Tbsp chopped fresh basil
1 Tbsp chopped fresh oregano
Procedure
Heat the olive oil in a heavy saucepan over medium-high heat. Add the shallots, garlic, and salt and saute until fragrant, about 20 sec.
Stir in the tomatoes and water. Bring to a gentle simmer, then decrease the heat to low and simmer gently, stirring occasionally for 20 minutes, to allow the flavors to blend. Stir in the basil and oregano. Remove from heat.
IF YOU COULD GIVE YOUR NEWLY VEGAN SELF ONE PIECE OF ADVICE WHAT WOULD IT BE?
Don't just assume things are vegan. There are tons of sneaky little things added to food like casein and gelatin. I've gotten frustrated with myself a lot after forgetting to ask about something or assuming that I could eat it.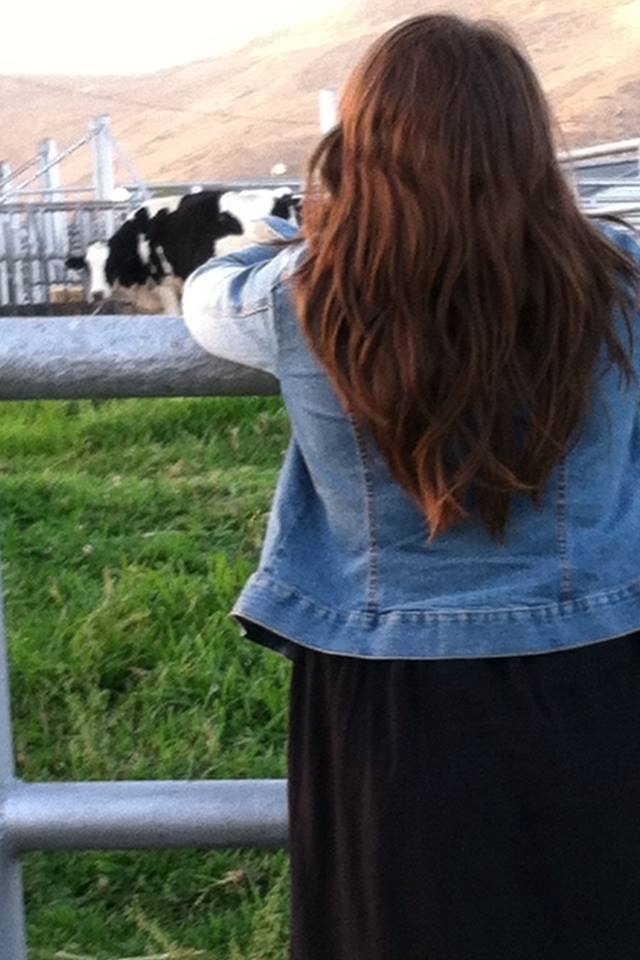 Thank you so much, Zakieh, for sharing your vegan story.  Feel free to leave comments for her below or if you want to follow the adventures of this amazing young activist, you can follow her on instagram.  
If any of you are interested in sharing your vegan story, please check out the "My Vegan Story" details page.