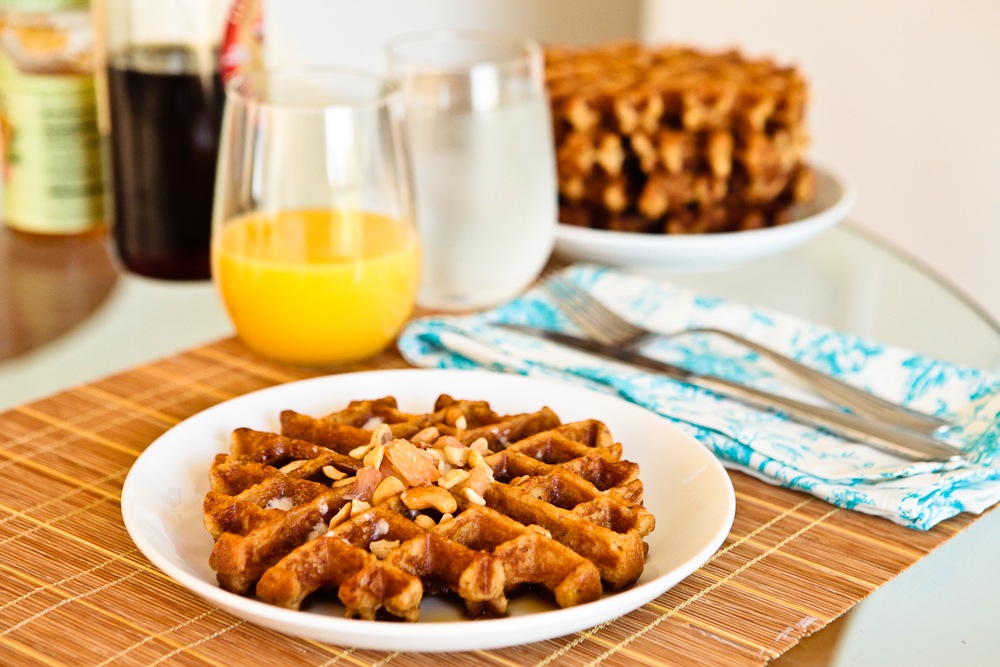 In my book, the word "brunch" is a verb.  Breakfast is a meal, but brunch is an action.  You eat breakfast, but you do brunch.  Brunching is best done on the weekends, but there are certain special days- holidays, if you will- which provide the perfect opportunity to take brunching to the next level: Christmas, Mother's Day, National Pancake Day.  Easter is also one of those special days, and this last Sunday, Chris and I brunched the heck out of Easter.  The spotlight?  Roasted Grapefruit Waffles.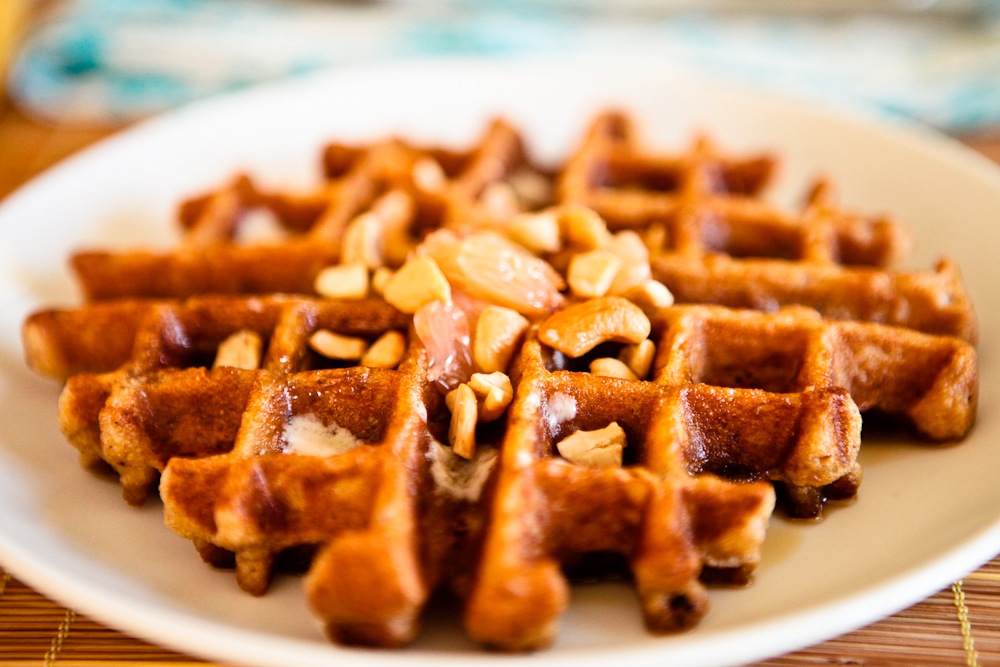 I've mentioned before my disdain for the grapefruit family, but my CSA is bound and determined to turn me into a grapefruit lover, and I'll be darned if it isn't working.  I've had a rather large grapefruit sitting on my counter for a couple weeks, waiting to be cleverly hidden within a recipe, with other flavors masking it's bitterness.  I've heard of people actually roasting grapefruit and eating it straight, but that idea, though intriguing, still seemed a little too much for me.  This last Friday night I had a bout of insomnia.  This doesn't happen too frequently, but when it does, it's usually because my brain is moving way to fast- crazy ideas, possible recipes, to-do lists, all flash rapidly through my brain.  It was during this most recent bout of insomnia that roasted grapefruit actually started seeming plausible.  Thoughts of different applications for roasted grapefruit bounced around in my head until finally, at 4 am, I had a plan.  I got up, wrote down the recipe I had in my head, while it still seemed partially like a crazy, half-lucid dream.  Once I had this recipe on paper, I was able to rest my brain.
The next day, I woke up only a few hours after falling asleep in order to go to my favorite yoga class of the week (the teacher plays hip-hop, and she plays it loud.  There is something about doing your chair pose while listening to Jay-Z that makes you feel pretty hard-core).  Then I rode my bike home and climbed right back into bed.  Brunching was not to be done that day (nor was lunch, for that matter), so my insomnia-induced recipe would have to wait one more day.
Finally, Easter morning came around and Chris and I were able to get our brunch on.  "Delicious" doesn't even begin to describe these waffles.  "Insane" and maybe "Stupid-Good" might begin to scratch the surface.  They have a more caramelized taste, rather than sweet, so when you add a little maple syrup, it doesn't taste like a sugar overload.  I don't tend to like to use syrup for that very reason, but that day, in the name of brunch, maple syrup filled all the nooks and crannies of my roasted grapefruit waffles (yes, "waffles", as in more than one).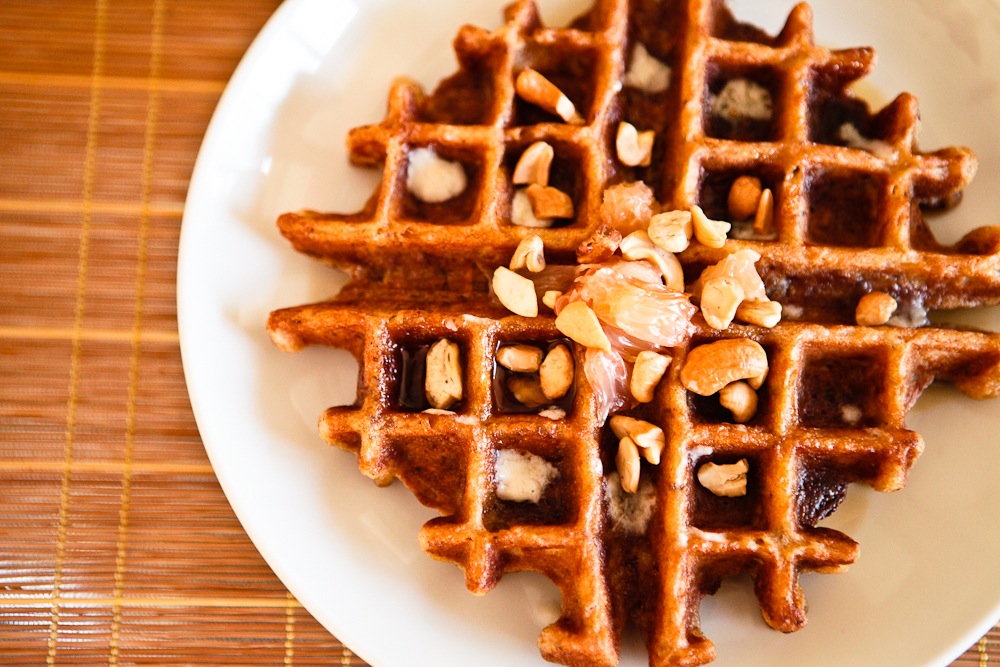 roasted grapefruit waffles
Roasted Grapefruit Waffles
Ingredients
for the roasted grapefruit

1 grapefruit, halved & seeds removed
2 tablespoons coconut sugar (1 tablespoon for each half)
agave syrup for drizzling (optional)
1 ½ cup flour
1 ½ tsp baking powder
½ teaspoon baking soda
½ teaspoon salt
½ teaspoon cinnamon
1 cup almond milk (or other non-dairy milk)
1 teaspoon apple cider vinegar
1/3 cup canola oil
½ cup roasted grapefruit juice
1 flax egg (1 tablespoon flax meal mixed with 3 tablespoons water)
2 tablespoons agave syrup
segments from roasted grapefruit
1 teaspoon grapefruit zest
Instructions
Preheat your oven to 400.
Using a zester, remove about 1 teaspoon of zest from the grapefruit. Set aside.
Combine the milk with the vinegar and set aside to let it curdle (at least 10 minutes). Prepare your flax egg and set aside.
Run a knife around the edge of the grapefruit, separating it from the peel. Then run the knife around each segment (this will make for less of a mess later). Sprinkle 1 tablespoon coconut sugar on each half, and place in a baking dish. If the halves won't stay upright, slice a small bit of the peel off the bottom so that it sits flat.
Bake at 400 for 15 minutes, until sugar has caramelized on the tops. Remove from oven. Set aside until cool enough to handle.
Once the grapefruit is cool enough to handle, juice the grapefruit halves using a manual juicer with a strainer. All the segments should fall out into the strainer. Set the segments aside.
If needed, add water to the grapefruit juice so that measures to ½ a cup. I only had to add a couple tablespoons.
In a large bowl, mix your dry ingredients together. In a medium bowl, mix your wet ingredients, then add them to the dry ingredients. Fold in the zest and the grapefruit segments. If you would like to garnish your finished waffle with grapefruit segments, reserve 1-2 tablespoons (or more, if you'd like to have more grapefruit on top).
Cook waffles according to your waffle maker's instructions. Serve with reserved roasted grapefruit segments and maple syrup (we also sprinkled some chopped cashews).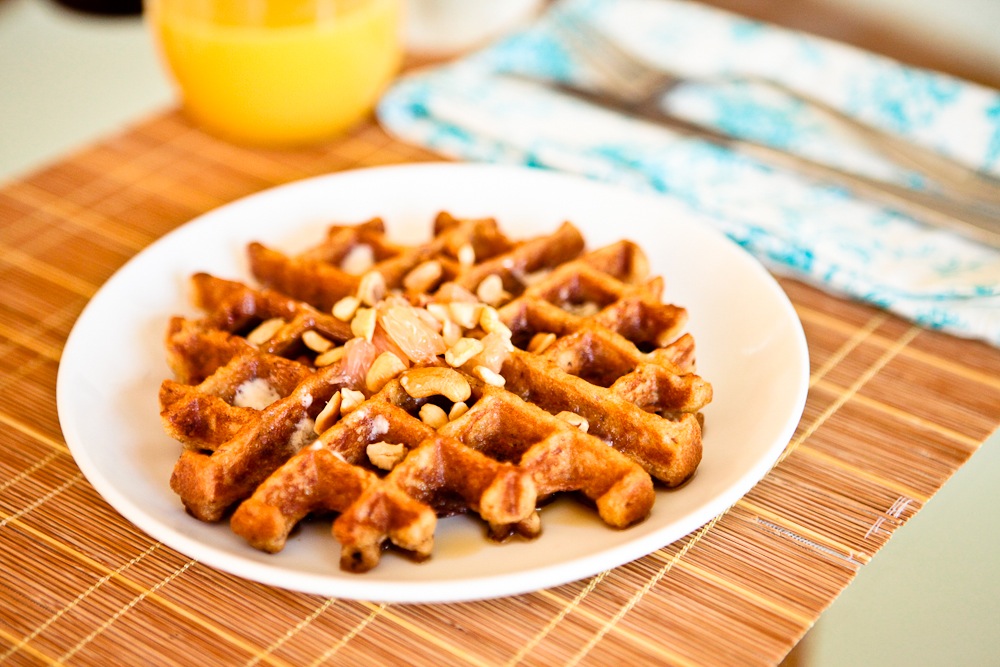 Warning:  Only use this recipe if you are serious about hard-core brunching and don't mind having your mind blown by incredible waffles.  🙂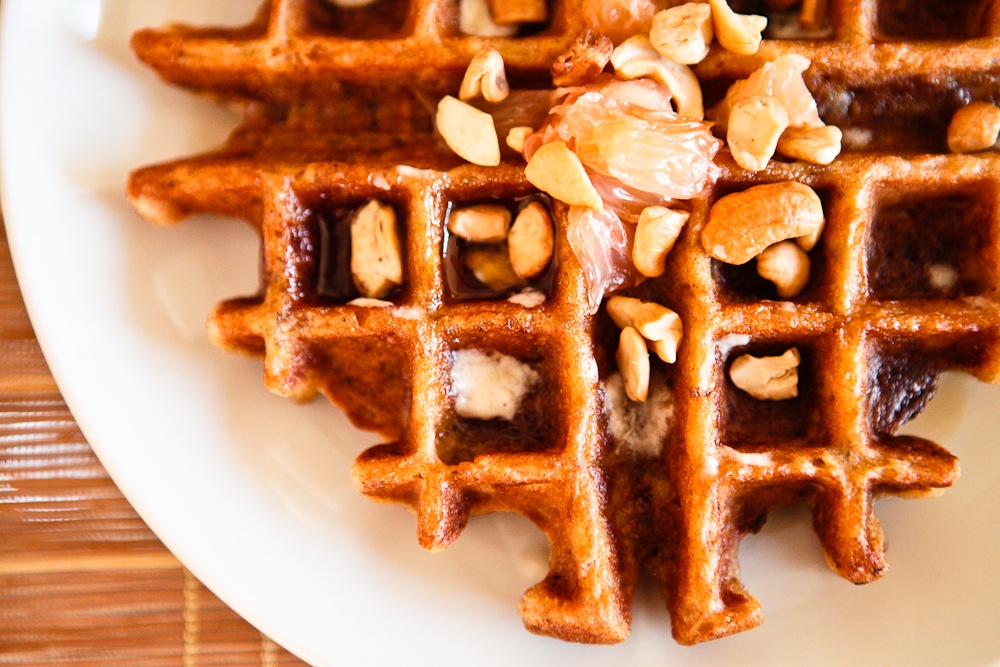 Photography by Chris Miller