I usually tell you about all the places we ate at in my travel posts, but this restaurant was different.  Our anniversary dinner at Millennium in San Francisco was so incredible that it deserved its own post.  Our series on vegan travel in San Francisco will have to continue next week.
I booked our reservation through opentable.com and in the box where it asks for any special requests, I stated that it was our anniversary so we were hoping for a more "romantic" table (i.e. something tucked away or by a window or something similar).  I didn't expect much because, having worked in a restaurant, I know that sometimes letting everybody sit where they want isn't always possible.  When we arrived, we gave our name to the hostess and she wished us "Happy Anniversary" and I was immediately impressed with the level of hospitality.  Since we were early, we got a glass of wine at the bar while we waited.  Just a few moments later, we were seated in a little table next to a window.  I was so happy.
While we sat, looking over the menu, I noticed Colleen Patrick-Goudreau sitting a few tables a way with a group of people.  I'm such a huge fan of hers and I was completely starstruck but I thought it would be tacky to interrupt her meal to gush over her.  Plus, I didn't want to take away from mine and Chris's evening.
Our server, Leo, came by to take our order but we were undecided about the main dish.  He told us what his favorites were and went further to tell us his favorite appetizers as well- the raw Zucchini Pad Thai and the Crusted King Trumpet Mushrooms.  We already knew we wanted the mushrooms so we passed on the pad thai.  Leo took our order and we continued to talk and enjoy the classy ambiance of the restaurant.  The next thing we knew, Leo was bringing our appetizer.  He placed the Crusted King Trumpet Mushrooms on the table and then he placed the pad thai on the table as well!  He told us that it was his treat- he didn't want us to miss out on this delicious dish. We were incredibly impressed and he was right- the Zucchini Pad Thai is pretty amazing.  Light, fresh and the cashew crumbles on top were the perfect touch.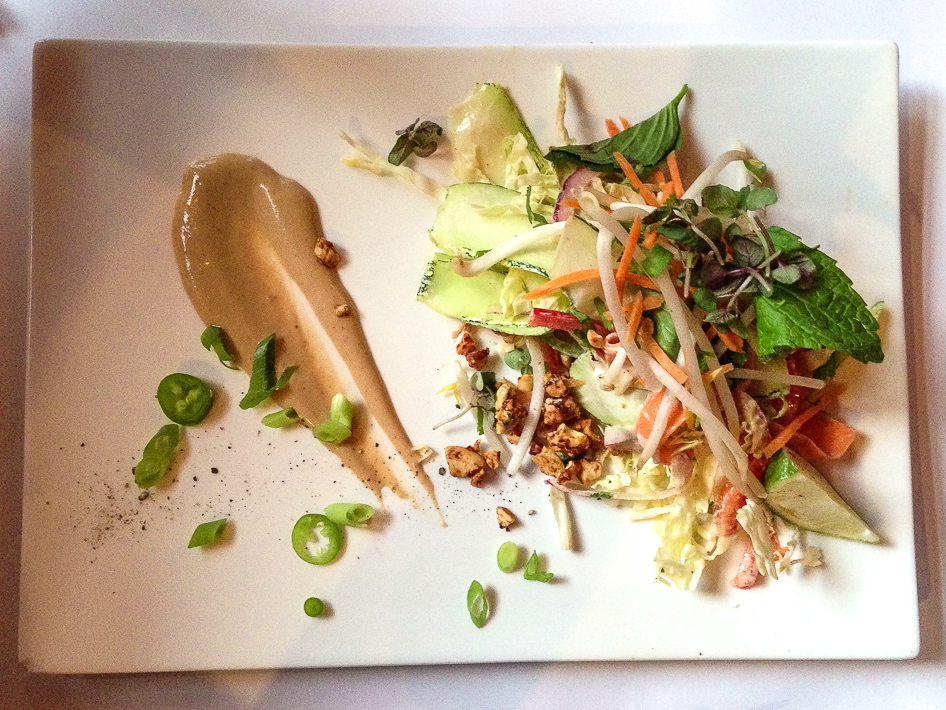 Our Crusted King Trumpet Mushrooms, however, were magnificent.  The mushrooms themselves were stiff, but still moist and chewy.  These mushrooms had a bite to them that I really liked.  The arborio rice coating was absolutely delicious and the citrus-ponzu sauce just made the dish.  It was served with a light cabbage and carrot salad which was good but completely upstaged by the mushrooms.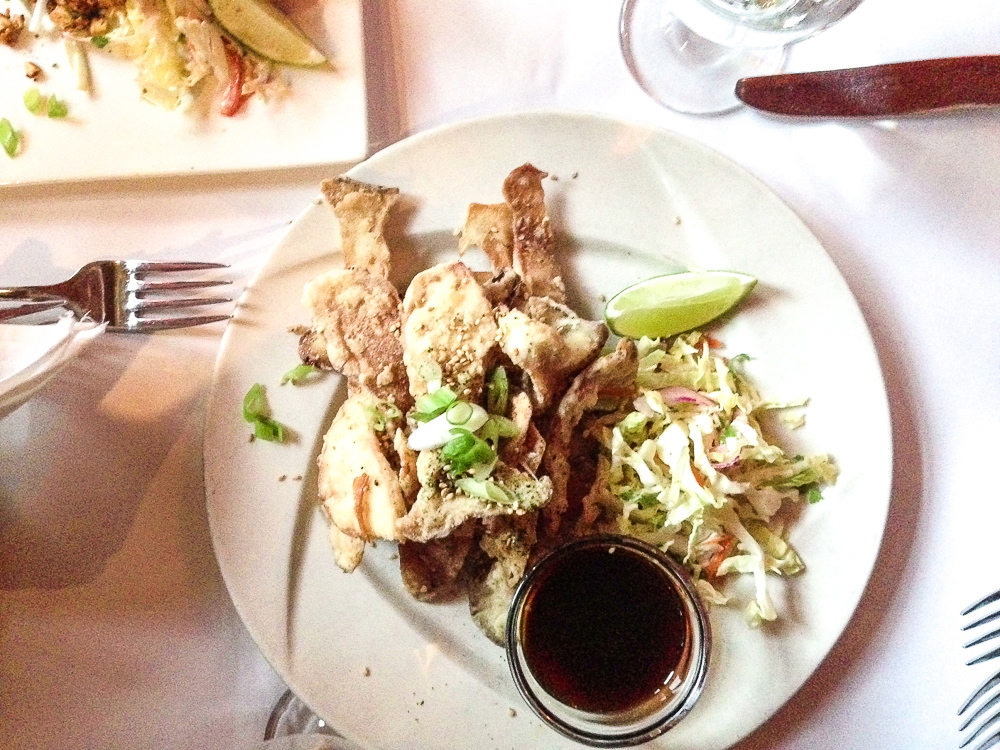 For our main course, we ordered two things to share.  The Stuffed Artichoke was better than I could have possibly imagined.  This tender roasted artichoke was filled with a pumpkin seed, olive, currant, farro and mushroom filling.  There was roasted garlic polenta with cashew cream and a smoked kohlrabi tomato bolognese sauce.  There were so many layers to this dish, each them incredible on their own, but combined they created one of the greatest dishes I've ever tasted.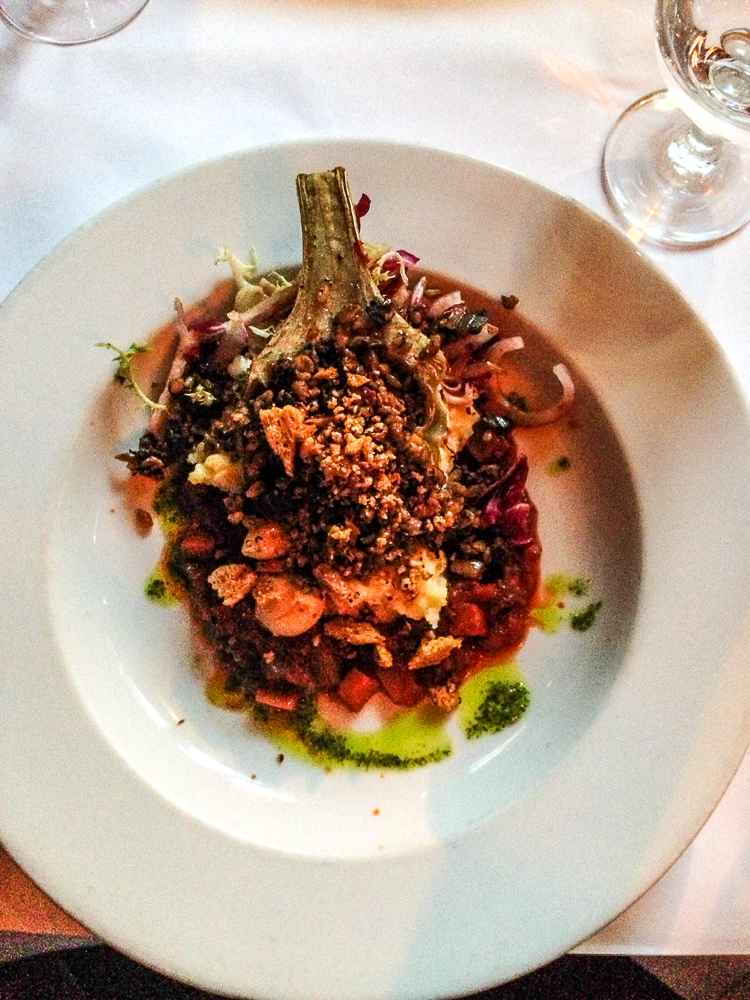 We also ordered the Brik Pastry Purse which was a delicate phyllo dough pouch filled with a cashew florentine filling and served atop a mound of chard, fava beans, potatoes, maitake and butter bolete mushrooms with a hazelnut piccata sauce.  There was also a fennel-carrot puree that made each and every bite sing.  Again, I was amazed at the complexity of the dish.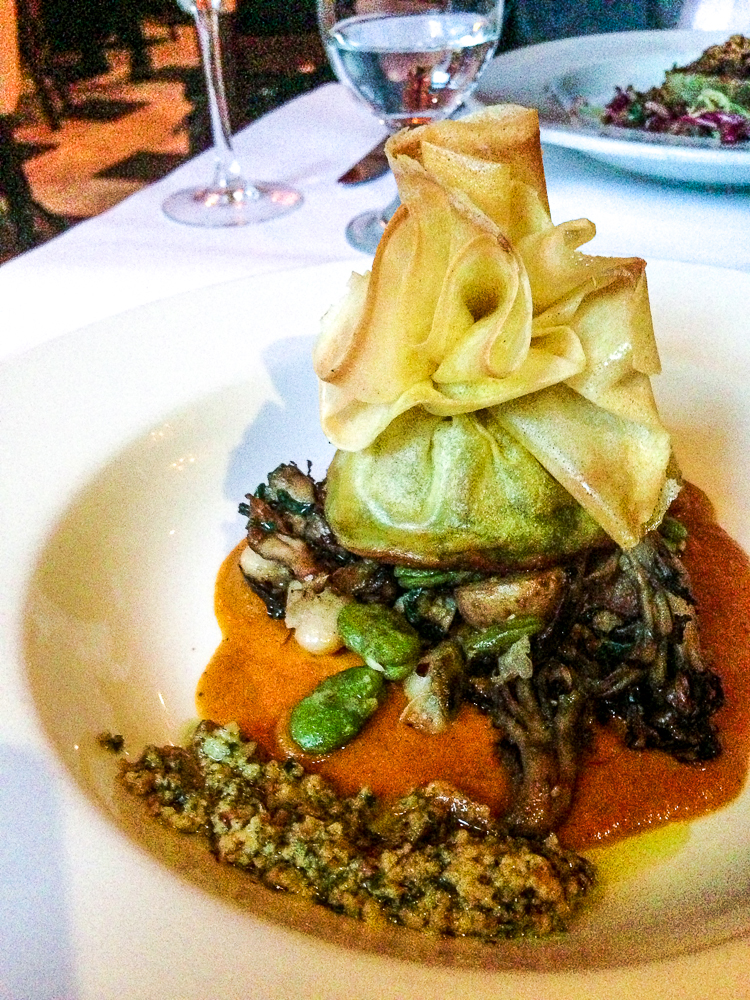 Chris and I also liked the portion sizes.  They weren't a few miniscule bites but they weren't plates fit for a family either.  We were perfectly satisfied at the end of our dinner with just enough room for dessert.
For dessert, we ordered the Chocolate Almond Midnight because everybody and their mother has told me that we needed to try it when we went there.  Again, we were caught by surprise when Leo brought us not only or cake, but also a trio of ice creams with a candle as an anniversary gift from the restaurant.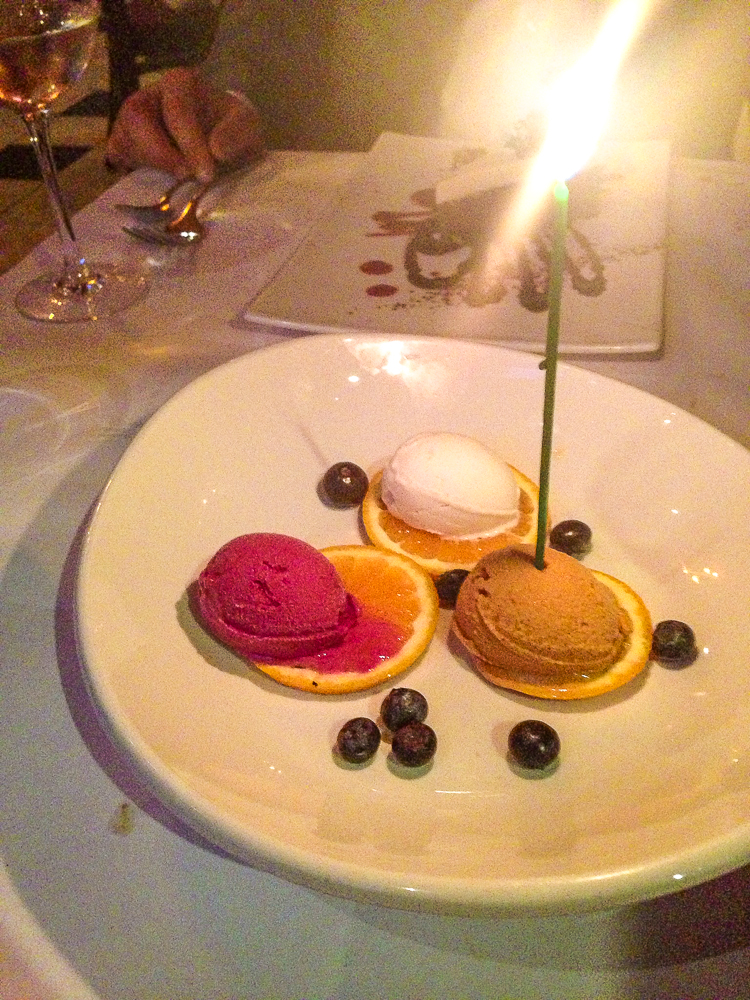 I don't remember the flavors of the ice creams but they were all great.  The cake, however, blew our minds.  Devotees know that Chris will swear up a storm when he eats something he really likes.  Let's just say I was thankful he whispered because I'm sure we would've been asked to leave.  This cake had an almond cashew crust filled with a chocolate filling and white chocolate mousse.  The plate was dressed with an espresso ganache and a raspberry sauce.  If all of that wasn't enough, the cake was topped with pieces of chocolate almond bark.  That little bit of extra chocolate crunch transformed this cake from a masterpiece to just downright legendary.  Now I'm telling you- If you go to Millennium, you need to try the chocolate cake.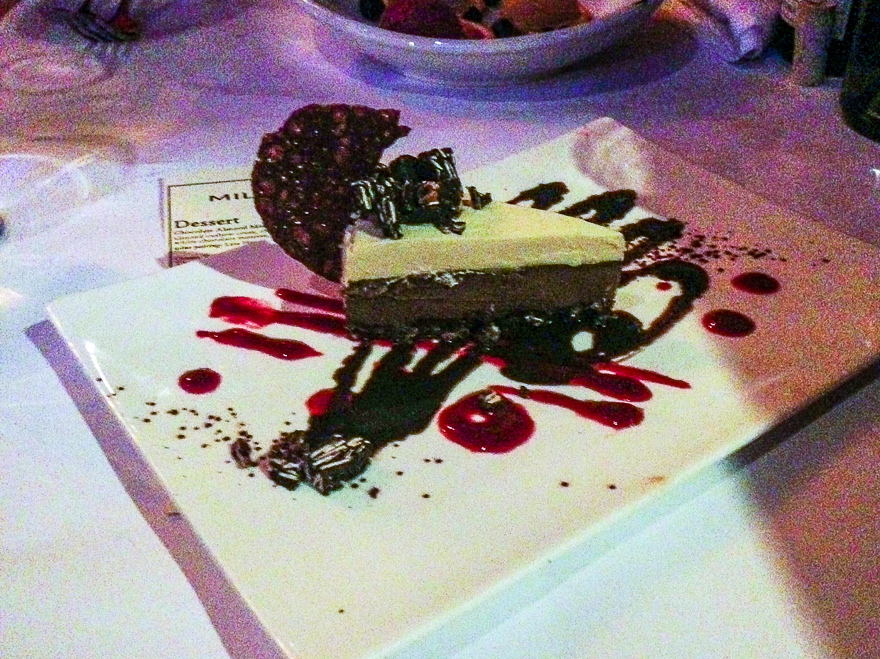 Just when I thought the evening couldn't get any better, it did.  After we left, we were standing outside the restaurant, enjoying the fresh air and trying to decide what to do next when Colleen Patrick-Goudreau and her party exited the restaurant.  They all said their good-byes and as Colleen was passing us, I had the nerve to tell her how much she's inspired me and thank her for all the work she does to change the world for animals.  She was even more sweet and down-to-earth than I'd imagined (not that I'd spent a lot of time imagining what she was like).  It was a nice little reminder that not only are we so blessed to have found each other, but we are so blessed to be part of this wonderful vegan community.  It was a great end to a perfect meal.
If you are in San Francisco, I highly encourage you to make one of your stops Millennium.  Every dish is so well-crafted and detailed, not to mention delicious.  The level of service in this restaurant is impeccable.  Our server, Leo, was one of the most knowledgable, most professional, and kindest servers we've ever had.  Our experience at Millennium was far more than just a great meal- it made our evening completely perfect.