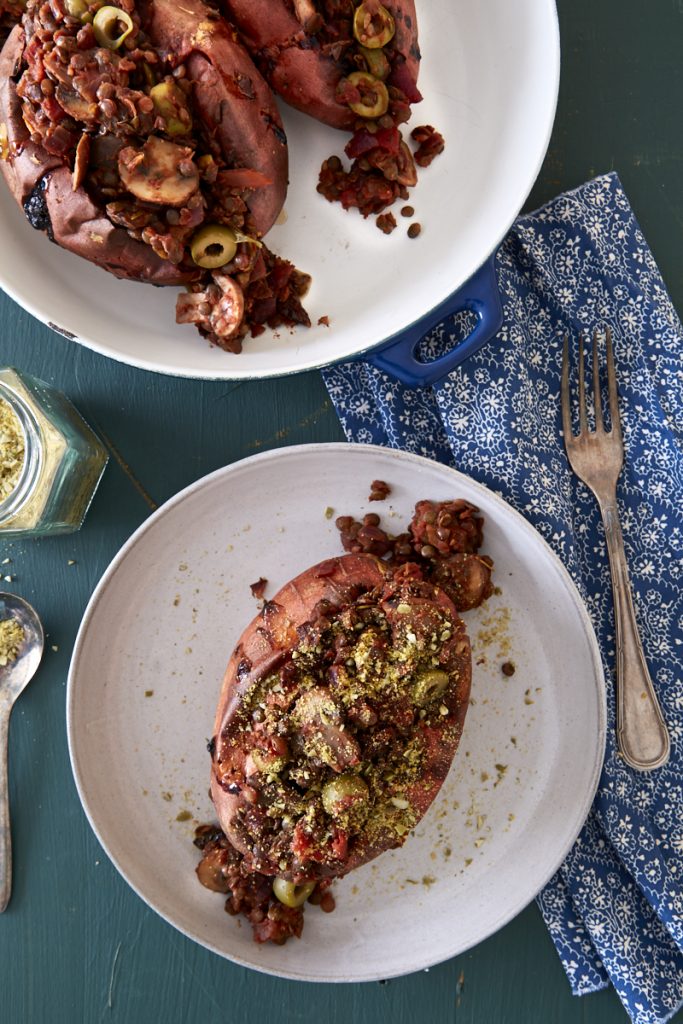 You know how some movies or TV shows will show you the ending of the story at the beginning, and then jump back in time with a subtitle that says something like "Five Days Earlier" to show you how we got to that ending? Well, that's how this post is going to work. First, look at these crazy-amazing Lentil and Mushroom Stuffed Sweet Potatoes. It's so hearty, so delicious, so inviting! And OMG, are those olives in there? What is happening?!?!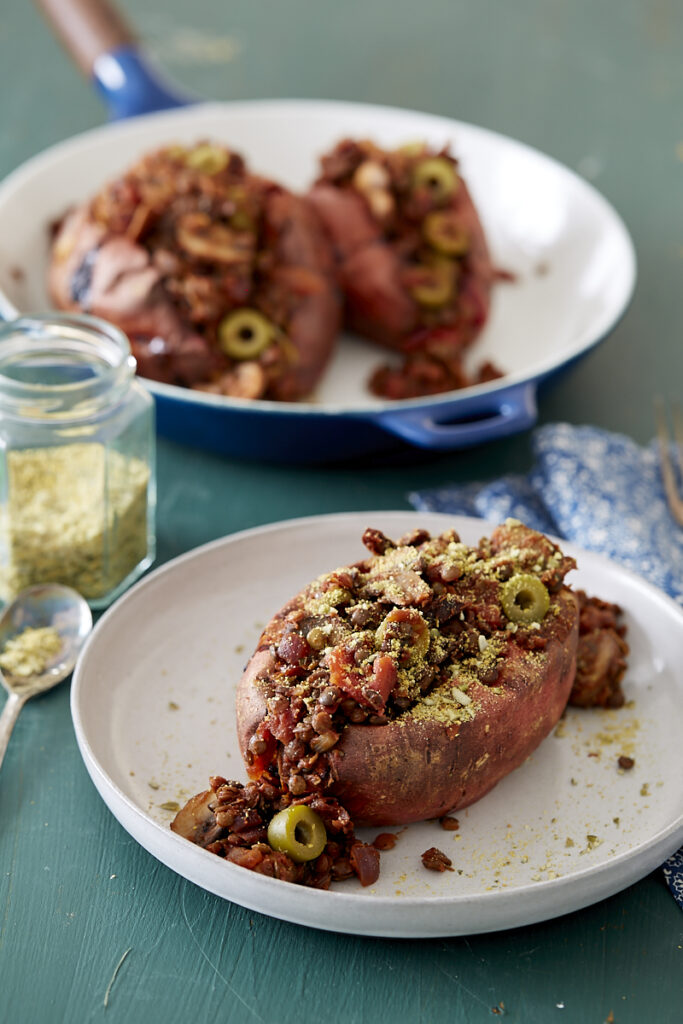 One Month Earlier:
I was pushing my grocery cart towards the cash register, looking over my depressing assortment of frozen rice, cans of chickpeas, crackers, Un-Tuna Salad, avocados, gluten-free bread and a few other items that, over time, had become the staples of my dinner routine, when I asked myself "What has happened to me?" I had gone from someone who used to daydream about her next meal, who used to find cooking an enjoyable, relaxing, and satisfying experience, whose grocery cart would be filled primarily with vegetables and fruits- to someone who dreaded cooking, had no interest in food whatsoever, and relied on take-out whenever she needed a solid meal. It was at this moment that my Big Girl Voice showed up and said "Sweetheart, I know you're busy and that you're dealing with some heavy shit right now, but you need to eat your veggies." She's sweet but firm and just a little sassy. And she was right.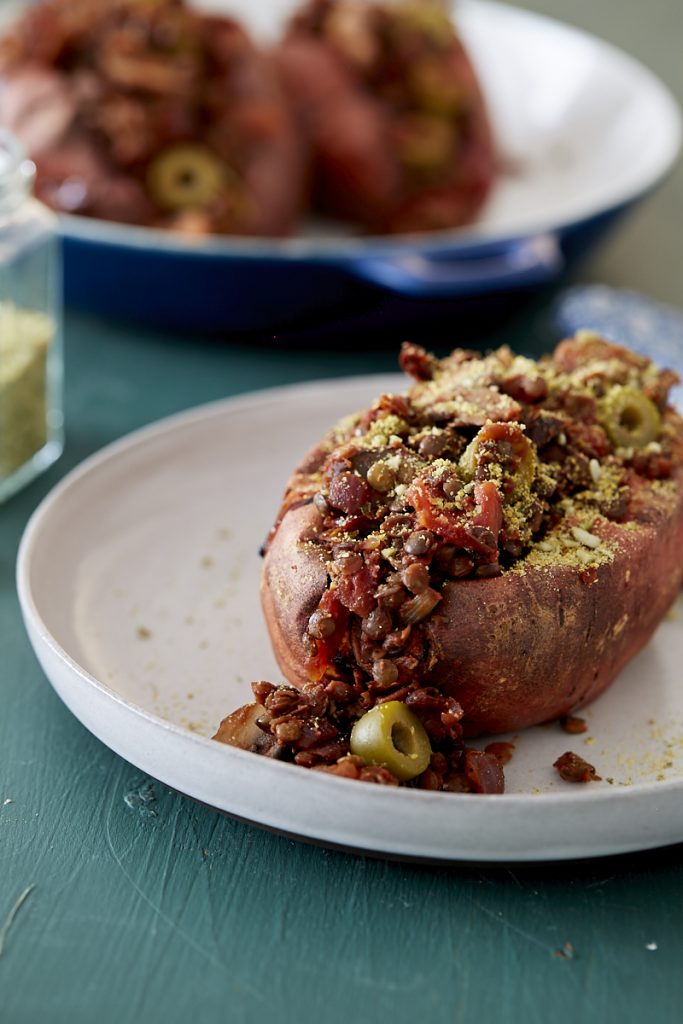 Walking through the produce department was like how I'd imagine my high school reunion would be if I ever went. I picked up vegetables, looked at them and thought to myself "Oh yeah. I remember you. We go waaaay back. Remember when I roasted you and added you to risotto?" and "Oh my god! Delicata squash! You were always the sweetest!" And they were all saying "Kristy, it's so good to see you! You haven't aged a bit!" And then Cyndi Lauper's Time After Time began to play and Cauliflower, Portobello, and I all did an interpretive ballet routine while all the other plants and shoppers watched in awe.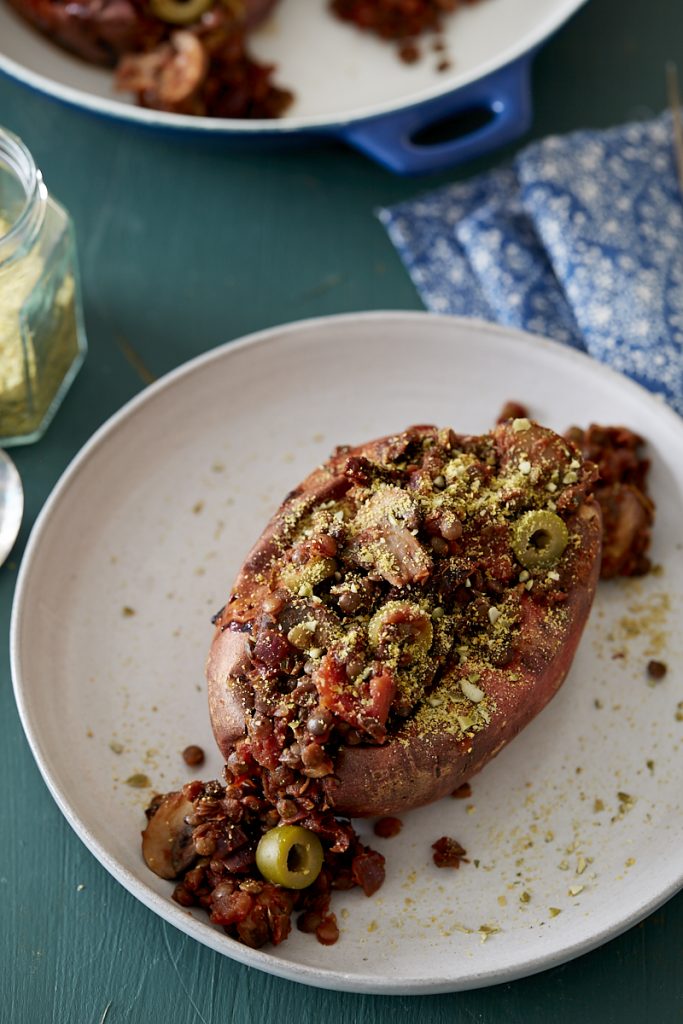 On my next trip to the cash register, my cart had several vegetables that I'd decided I would incorporate- some way, some how- into at least one meal I would cook that week. And a day or two later, I put on some comfy clothes, turned on an episode of one of my new favorite podcasts, Good Life Project, opened my fridge, pulled out my bounty, and got to work.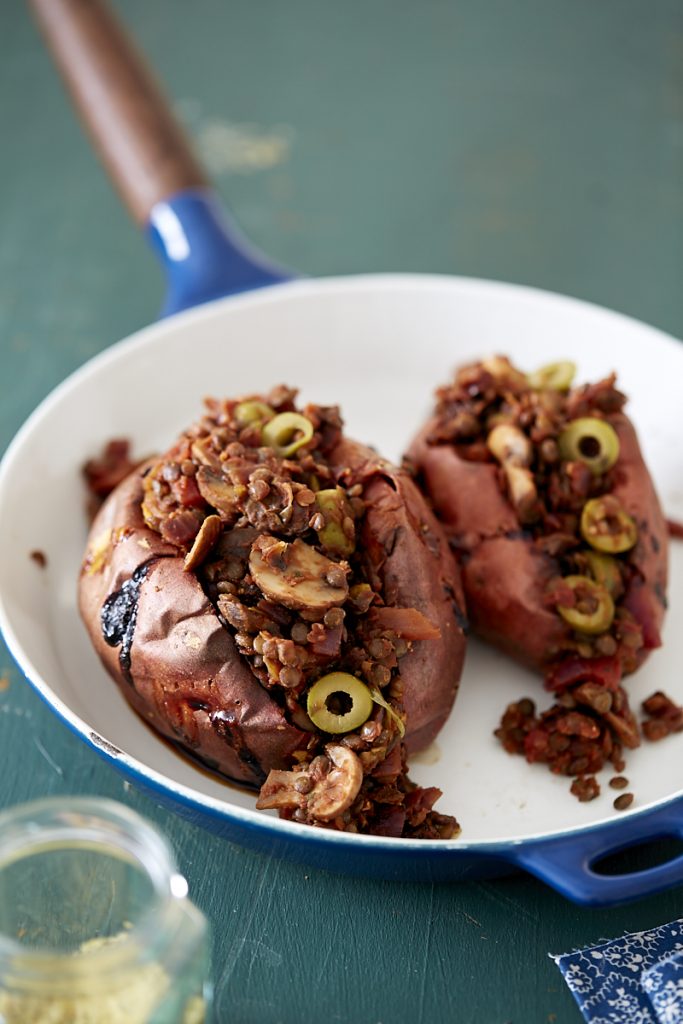 Now, a couple months later, I've been cooking one to two meals a week. Sometimes there's a glass of wine keeping me company, and sometimes, I trade the podcast for Alicia Keys, but no matter what, I make my time cooking a fun, nourishing experience. #Selfcare And the meals usually leave leftovers for two to three days so I'm eating my veggies every day. And, and, AND, guys… I developed a recipe, just like the good ol' days! You can't see it but I'm giving my inner Big Girl Voice a high-five right now.
Cut back to: The Lentil and Mushroom Stuffed Sweet Potato.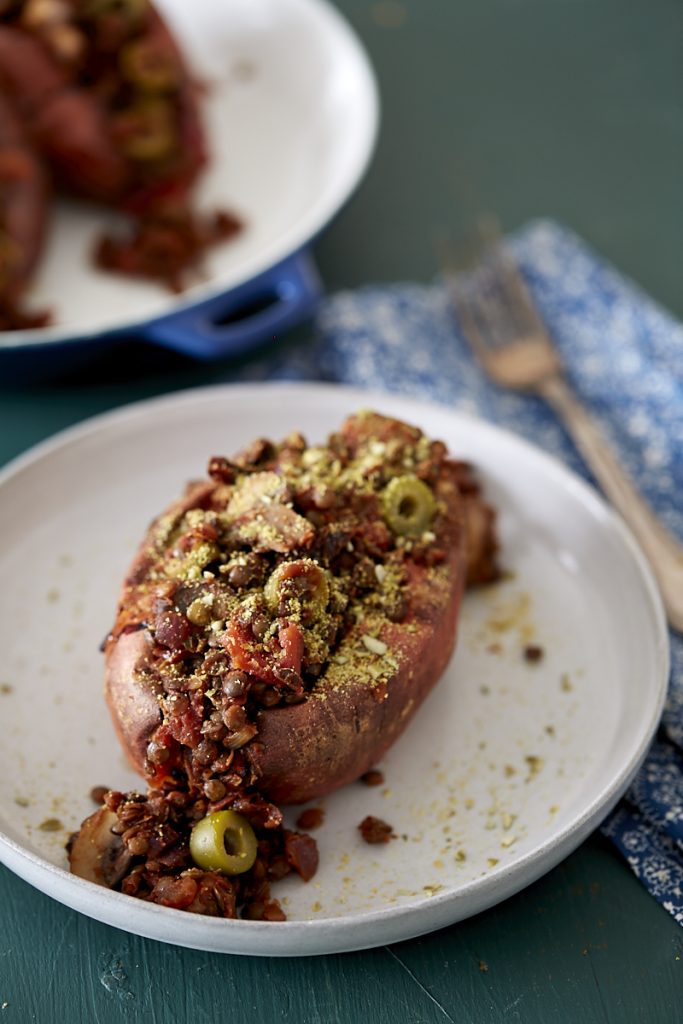 It's just as delightful as it looks. There's a harmonious balance of sweetness and salt and meatiness and acidity. While it's not the most typical combination of flavors, the joining of baked sweet potatoes, meaty mushrooms and lentils, sun-dried tomatoes, and green olives is just kismet. The sloppy joe-style filling comes together easily and quickly so by the time your sweet potatoes are soft and luscious on the inside with a crispy exterior, it's raring to go. After I've slit open the sweet potato and stuffed it to the gills with this Mouth Party Filling, I love to top it with some Pepita Parmesan (recipe in my second book, But My Family Would Never Eat Vegan!). Then I like to get nice and cozy (#Selfcare) before I tuck into my new favorite go-to meal, but that's just me. You can eat this however you want. You do you.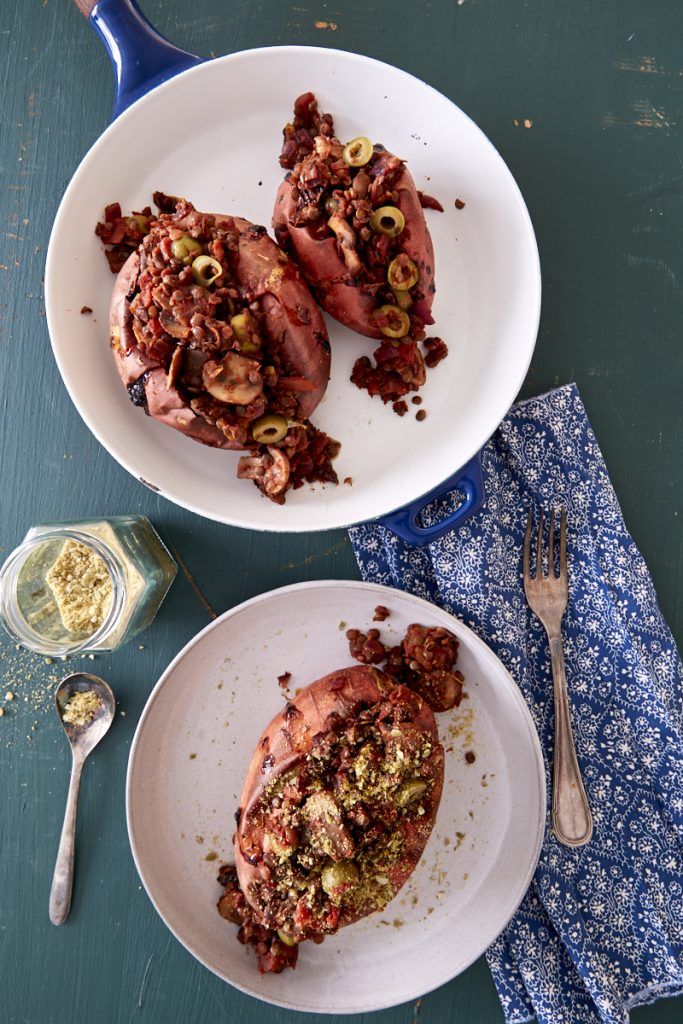 Lentil and Mushroom Stuffed Sweet Potatoes
Ingredients
4 to 5 medium sweet potatoes
coconut oil or olive oil spray
2 cup french lentils, cleaned and picked through
2 cups water
1 bay leaf
1 tablespoon olive oil
1 red onion, chopped
3 cloves garlic, minced
8-ounces crimini mushrooms, sliced
1 tablespoon liquid aminos
1 15-ounce can fire-roasted diced tomatoes, no salt added
1/2 cup sliced sun-dried tomatoes
1/2 cup sliced green olives
3 tablespoons tomato paste
2 teaspoon dried parsley
2 teaspoons dried rosemary
3 tablespoons lemon juice
1 teaspoon liquid smoke
salt and black pepper to taste
pepita parmesan or pecan parmesan, optional
Instructions
Preheat the oven to 450 F. Line a baking sheet with aluminum foil. Stab the sweet potatoes with a fork, a few times each. Bake in the oven for 50 to 60 minutes, or until easily pierced with a fork.
Meanwhile, combine the lentils, water, and bay leaf in a small pot and bring the water to a boil. Once boiling, reduce to a simmer, and let simmer until the water has cooked away, about 20 minutes.
While the lentils are cooking, heat the olive oil in a large saucepan over medium heat. Add the onion and garlic and cook until tender, about 3 minutes. Add the mushrooms and cook, stirring a couple of times, for 3 more minutes. Add the liquid aminos and cook for another few minutes, stirring occasionally, until the liquid has almost cooked away.
Add the lentils, diced tomatoes, sun-dried tomatoes, green olives, tomato paste, parsley, and rosemary. Cook, stirring occasionally, for about 8 to 10 minutes. Add the lemon juice, liquid smoke, salt, and pepper. Cover the pan and turn the heat down to low until the sweet potatoes are ready.
When the sweet potatoes are ready, slice them lengthwise without cutting them all the way in half. Stuff them with all the filling your little heart desires. Sprinkle the top with pepita or pecan parmesan, if using, and Enjoy! Leftovers will keep, refrigerated in an airtight container, for up to a week.
What are your favorite recipes to get you out of a rut?
Photography by Kristy Turner