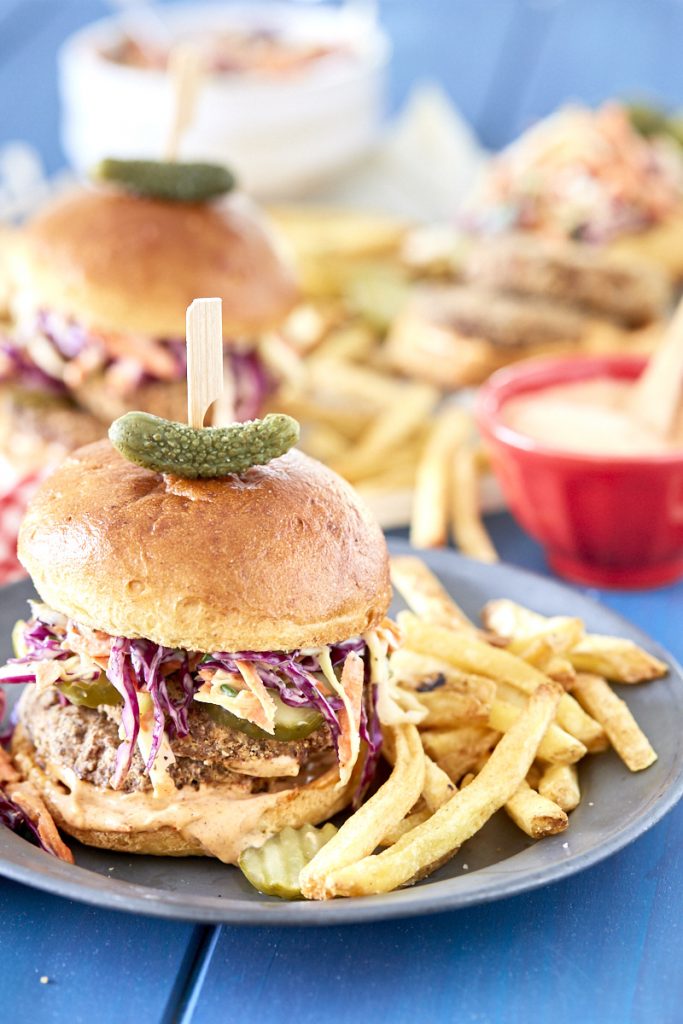 I have summer fever. I didn't get it last year or the year before, but this year, I feel like a kid trying to soak up every last wonderful moment of summer before school is back in session. I'm trying to pack in all the fun, summery things that I can: Cute swimsuits, watermelon EVERYTHING, soaking up the sun while meditating/napping at the beach, lemonade, all the berries, lounging pool side, and having my friends over for dinners (and brunches). And recently, I had my friends over to help me eat these Vegan Cajun Fried Chicken Sandwiches.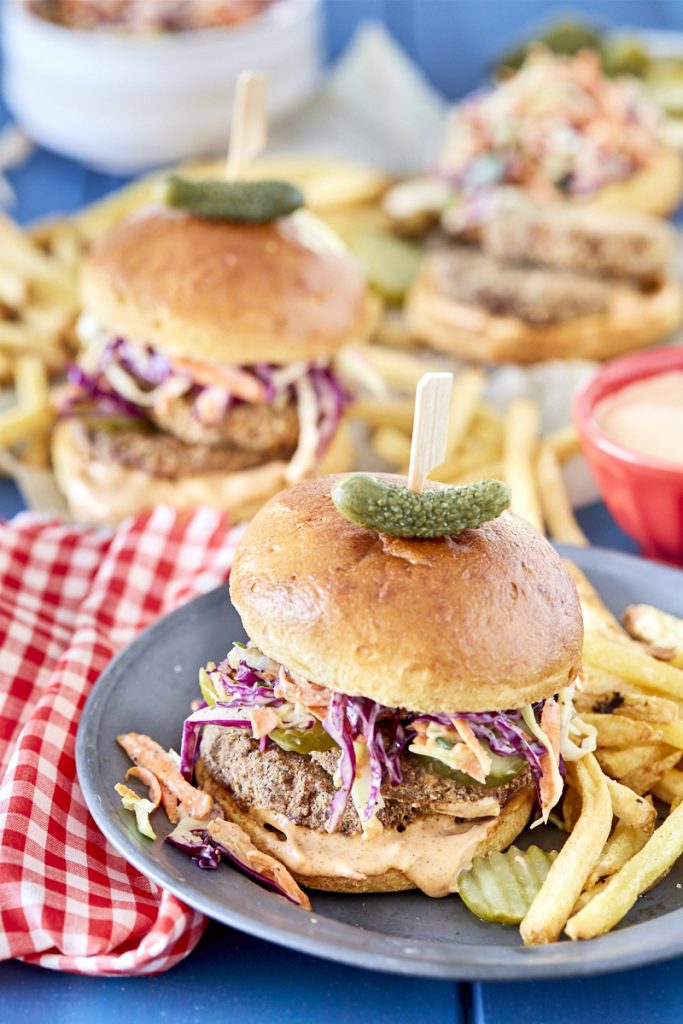 Back in my meat-eating days, I don't think I was ever that into fried chicken sandwiches. But, I am a bit of a die-hard sandwich lover. Boy oh boy, do I love a good sandwich! I don't even care what's in it as long as it's a.) Vegan, b.) has a myriad of contrasting, yet complementing flavors and textures, and c.) is hearty enough to fill me up. This cajun fried chicken sandwich ticks all those boxes.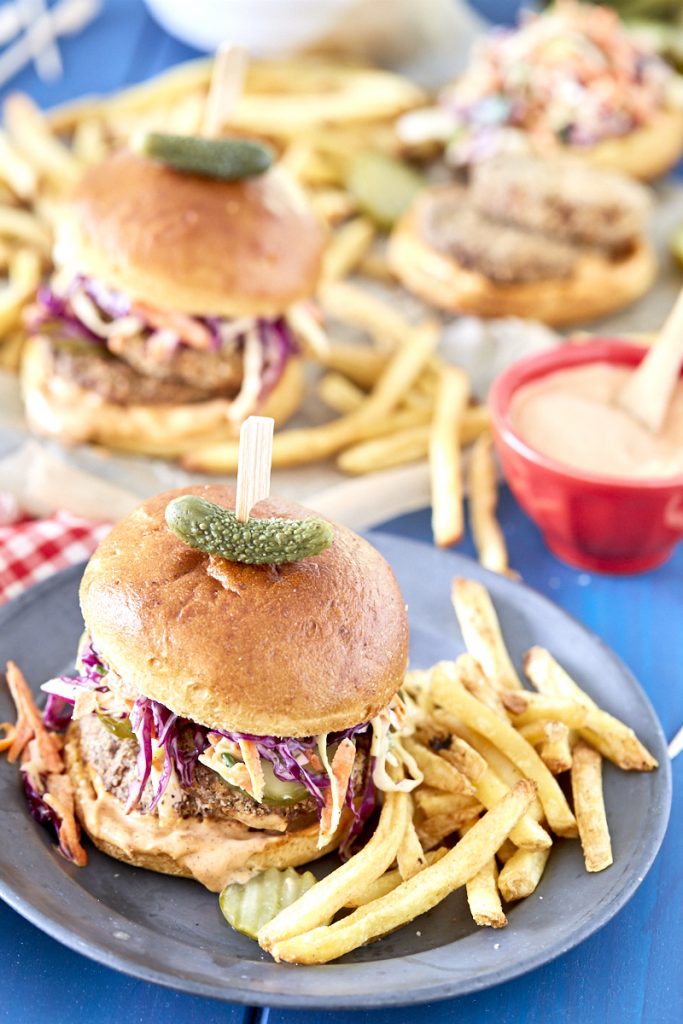 The vegan chicken is, of course, my Vegan Southern Fried Chicken recipe. So far, I've eaten them straight up, dipped in ranch dressing, with waffles, and now in these sandwiches. I'm a fan. And so were my friends.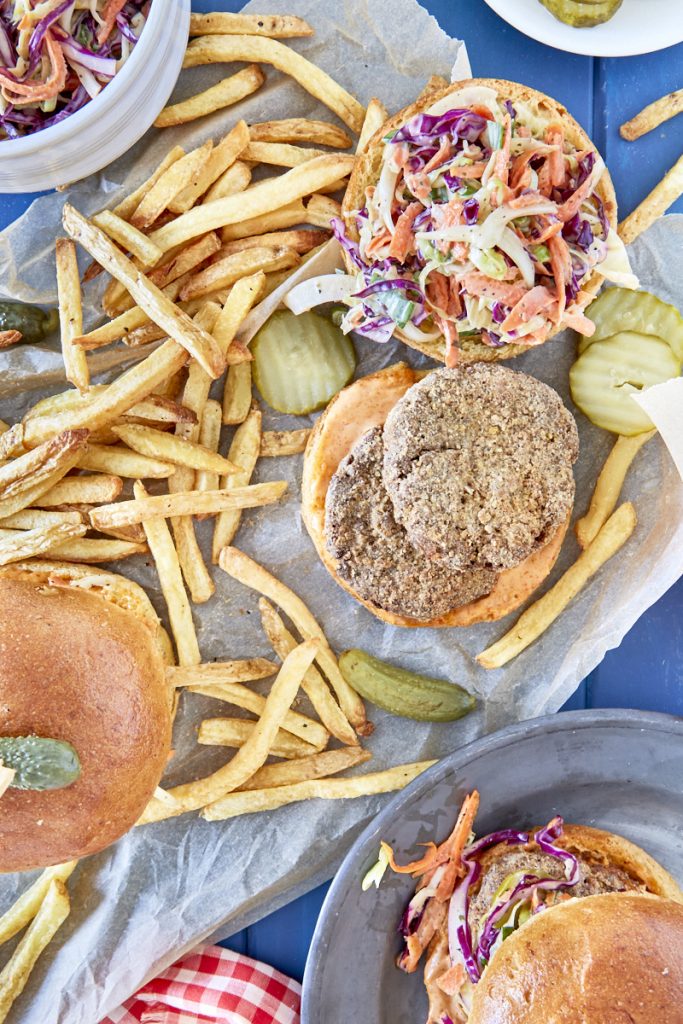 Complimenting the vegan fried chicken patties is some crunchy coleslaw, sliced pickles, and some cajun aioli. The coleslaw and cajun ailoi are super easy to assemble which means that, if you've pre-made the vegan fried chicken, then these sandwiches come together in just a few minutes.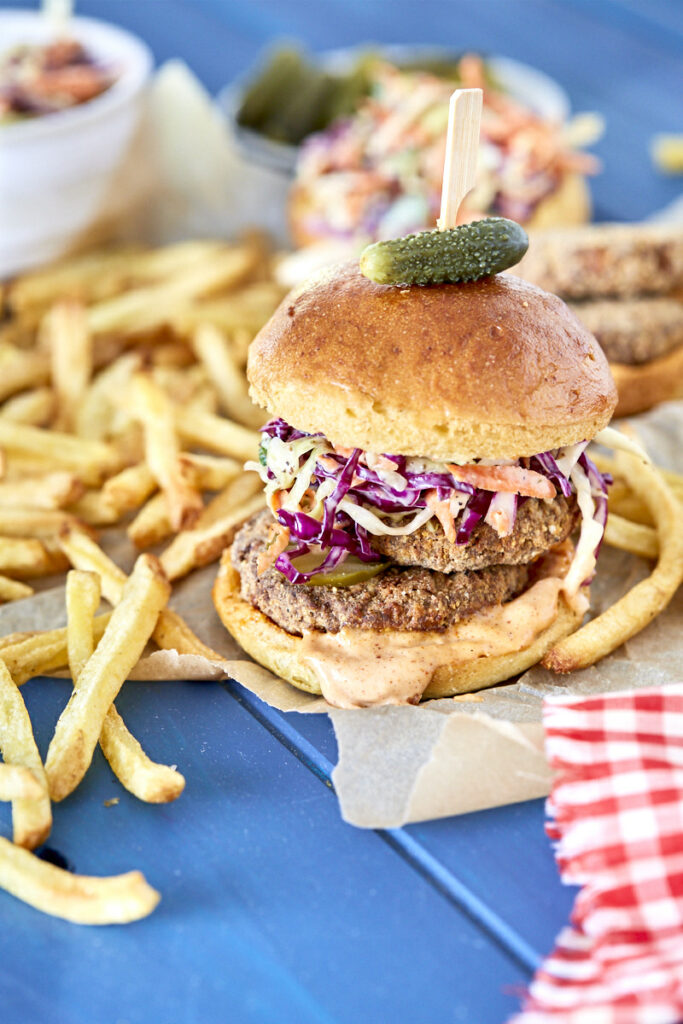 What really made this meal great was the company, though. After I finished shooting these sandwiches, my friends and I sat down at my little photo set-up, glasses of watermelon lemonade (#watermeloneverything) in hand and dug in. The old saying is true: good friends don't mind eating a meal that's gone cold because you've been taking pictures of said meal for thirty minutes. Seriously, though, the sandwiches were enjoyed by all. The leftovers I had the next day were just as good.
Since summer is officially here now, I think it's required that you gather your closest friends and treat them to some vegan fried chicken sandwiches (don't forget the lemonade and/or watermelon!). Let's do summer right!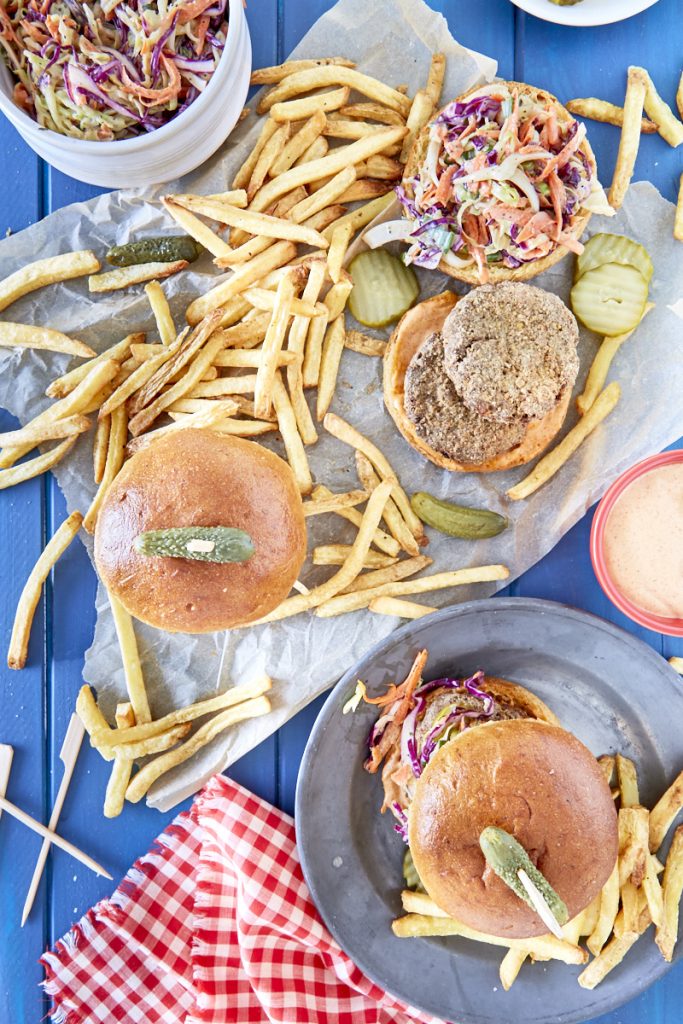 Vegan Cajun Fried Chicken Sandwich
Ingredients
1/4 head of red cabbage, core removed and shredded
1/4 head of green cabbage, core removed and shredded
1 large carrot, peeled and grated
1/3 cup vegan sugar
1/4 cup kosher salt
2 green onions, chopped
1/4 cup + 2 tablespoons vegan mayonnaise
2 tablespoons apple cider vinegar
1 tablespoon maple syrup
1 teaspoon Dijon mustard
1/2 teaspoon dried parsley
1/2 teaspoon celery seed
1/2 teaspoon black pepper
salt to taste
1/2 cup vegan mayonnaise
1 tablespoon lemon juice
1 teaspoon cajun seasoning
1 teaspoon sriracha or hot sauce
1 teaspoon ketchup (optional)
1 batch of Vegan Southern Fried Chicken
6 vegan hamburger buns (use gluten-free if necessary)
sliced bread & butter pickles
Instructions
For the coleslaw, combine the shredded cabbage and carrots in a large bowl and toss with the sugar and kosher salt. Let rest for 5 minutes and then transfer to a colander and rinse thoroughly with cold water. Run the cabbage and carrots through a salad spinner to help remove excess moisture or lay the mixture out on a clean kitchen towel and pat dry with paper towels or another kitchen towels. Once dry, return the mixture to the bowl (make sure the bowl has been rinsed out and dried) and add the green onions.
In a small bowl, mix together the mayonnaise, apple cider vinegar, maple syrup, Dijon mustard, parsley, celery seed, and pepper. Once thoroughly combined, add the dressing to the cabbage mixture and toss until combined. Add salt if needed. Chill for at least 30 minutes before serving. Leftovers will keep, chilled in an airtight container, for 2 to 3 days.
For the aioli, combine the mayonnaise, lemon juice, cajun seasoning, sriracha, and ketchup (if using), and stir until thoroughly combined.
To build your sandwich, spread some aioli on the bottom half of the bun, then stack one or two patties on top of that. Top the patties with some pickles and a generous pile of coleslaw. Place the top half of the bun back on top and serve immediately. Enjoy!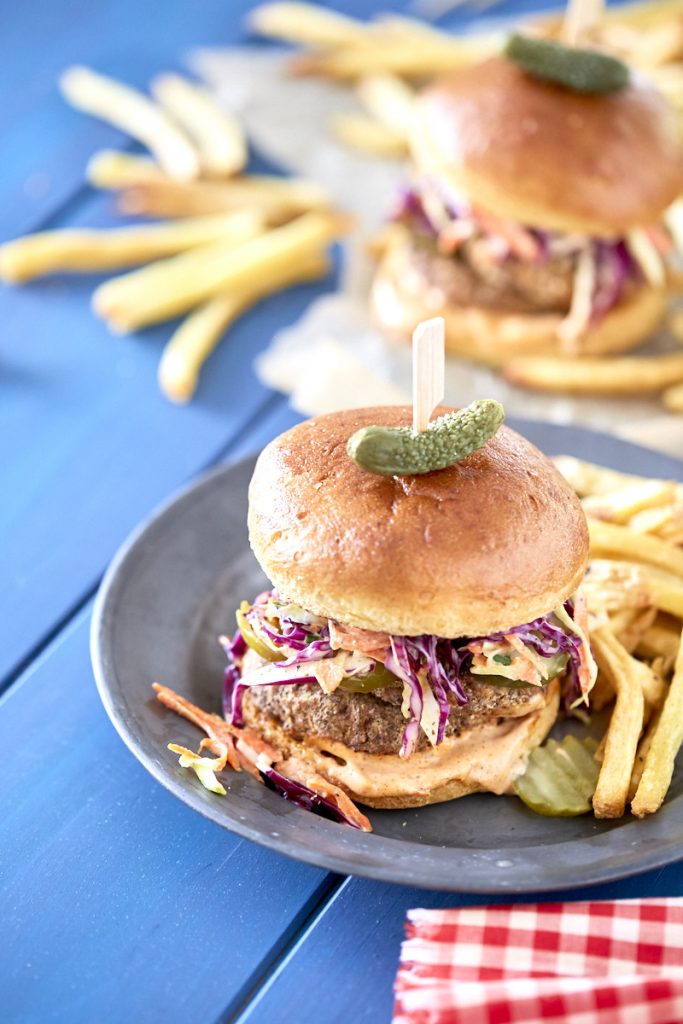 What are you loving this summer?
Photography by Kristy Turner