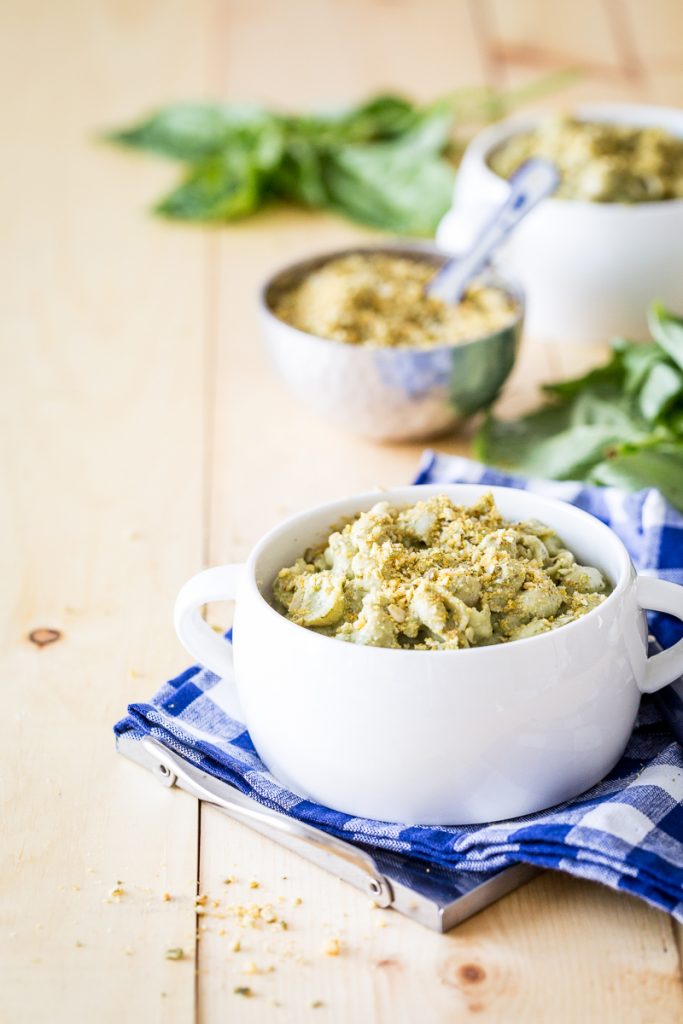 Thanks for hanging in there while Keepin' It Kind went into hibernation mode through the winter. We had a nice long nap and when we woke up we had a nice big Springtime hankering for all things basil. I got busy in the kitchen and here I am now, presenting you with this lovely bowl of super creamy pesto pasta!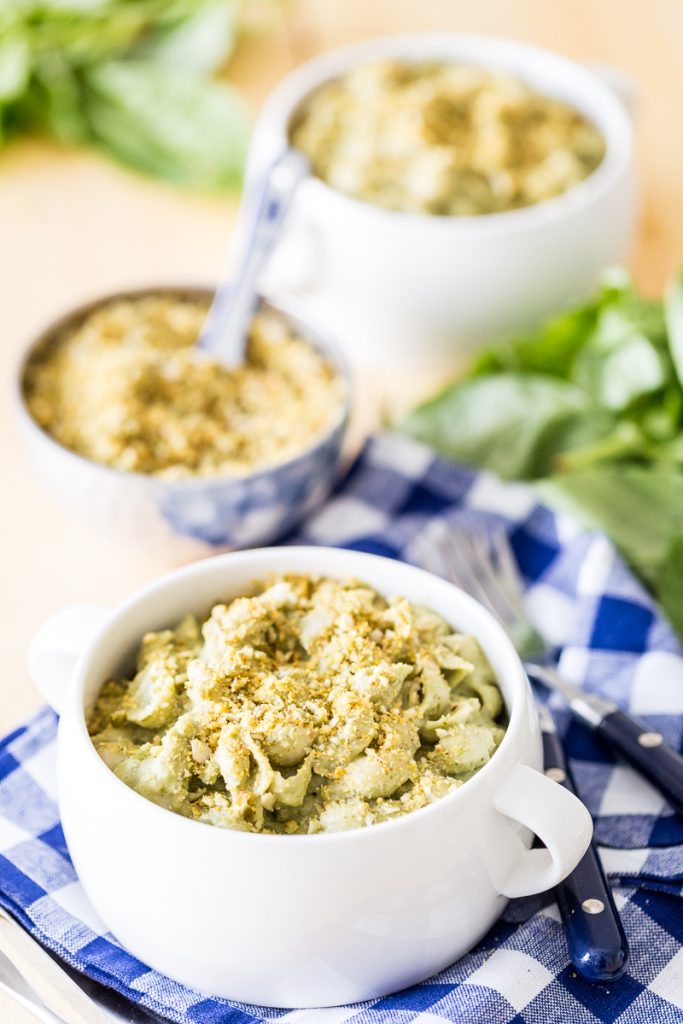 Okay, okay, you're right. I wasn't asleep for the last 6 months. Life has been happening and I've been dealing with it to the best of my abilities. Also, for a long time, I stopped feeling like cooking altogether. That's probably why we ended up taking the family to have Indian food for Christmas Eve dinner. We had to learn sometime that the twins hate Indian food. They weren't going to keep that little secret forever.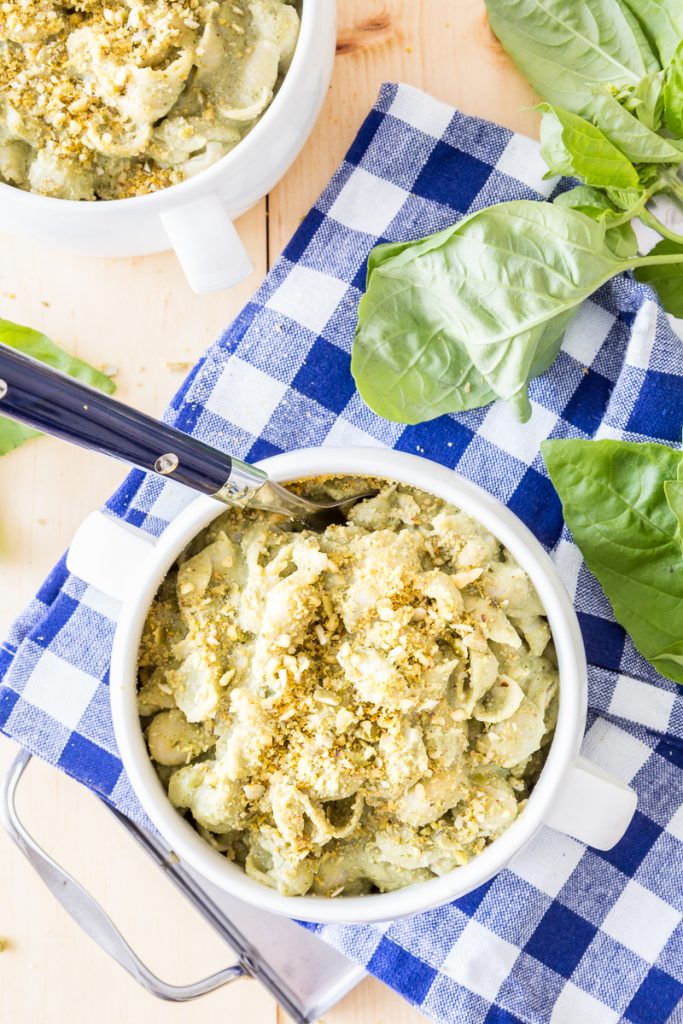 I still feel that way a little bit. My brain isn't constantly conjuring up new dishes these days. Back in the good ol' days, I would have a running list of about 20 different recipe ideas I wanted to try. Then I went through a phase of having zero ideas. I couldn't even figure out what to make for dinner on a day to day basis. Some days, my creativity maxed out at making myself some toast. If I'd had the forethought at the grocery store, I might put some avocado on that toast, but usually, that kind of forethought was pretty scarce. But now, though I don't have a list of 20 different things to make, I'm coming up with new recipes here and there. In many ways, I guess I am waking up.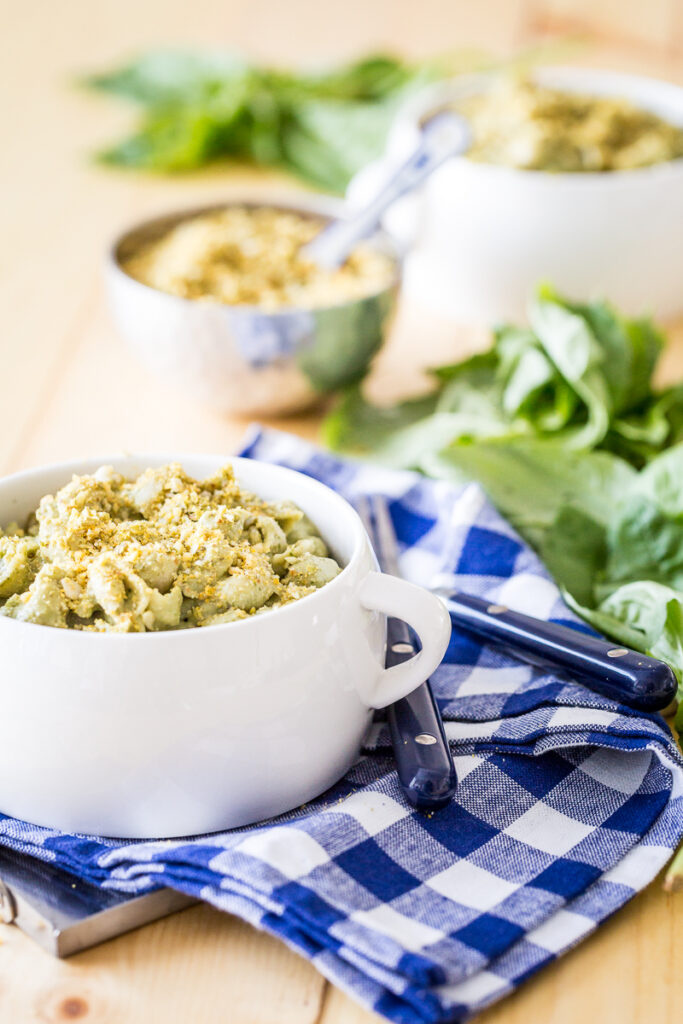 Let's get back to business. And by "business," I mean this pasta. It's crazy simple. Basically, you make some pesto and steam some cauliflower. Add them together in a blender with a few other ingredients and you're done. Seriously, that's it.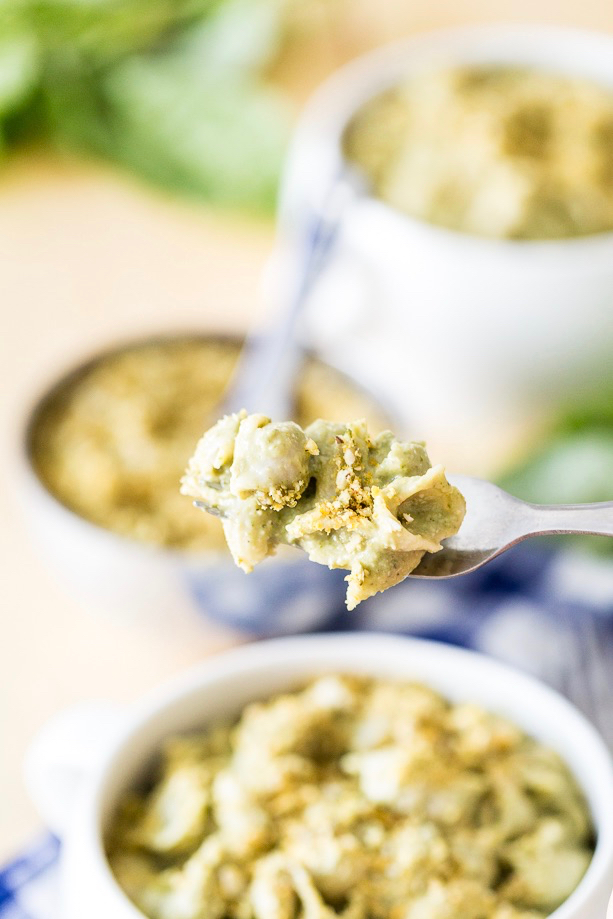 You might be wondering "Why Cauliflower?!" And if you're one of the nasty trolls whose comments I need to delete from time to time, you probably believe that my choice of using cauliflower gives hints to my sexual orientation (sadly, true story) and religion (also true story, sadly). And those ridiculous deductions are usually the tamest part of their tirades (#TheTrollStruggleIsReal #TrumpsAmerica). But if you're a normal person reading this blog post, first of all, THANK YOU for being so dang amazing and not making scary threats that I need to report to the FBI! Secondly, I like using cauliflower in sauces (as demonstrated in my Mushroom Mac n' Cheese) because it's a healthy way to add creaminess and texture. You can totally just throw the pesto in the pasta by itself and nobody will complain. But think of using the cauliflower as taking your pasta game to the next level- it's like alfredo sauce and pesto sauce had a baby and then tossed it with some pasta.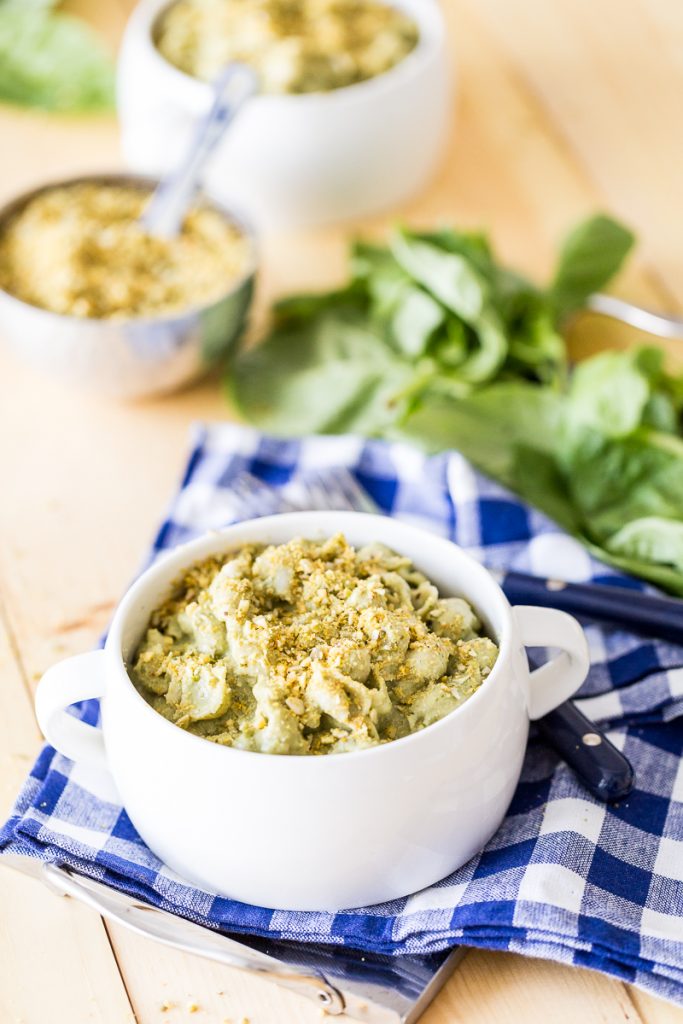 I made this pesto with a combination of pepitas and walnuts, because it's what I had. You can make it with all pepitas for a nut-free option, or if you love nuts, go crazy and do 3/4 cup of some other combination of nuts. Also, if you're not crazy about basil, sub the basil with any green of your choice- spinach, kale, arugula, whatever. I like to top it with the Pepita Parmesan (yes, I love pepitas) from my second book, but you can use any ol' vegan parm you like. Even my pecan parmesan would work. Then all you need is about 15 to 20 minutes before you can get this creamy pesto pasta on the table. I'll leave you to it.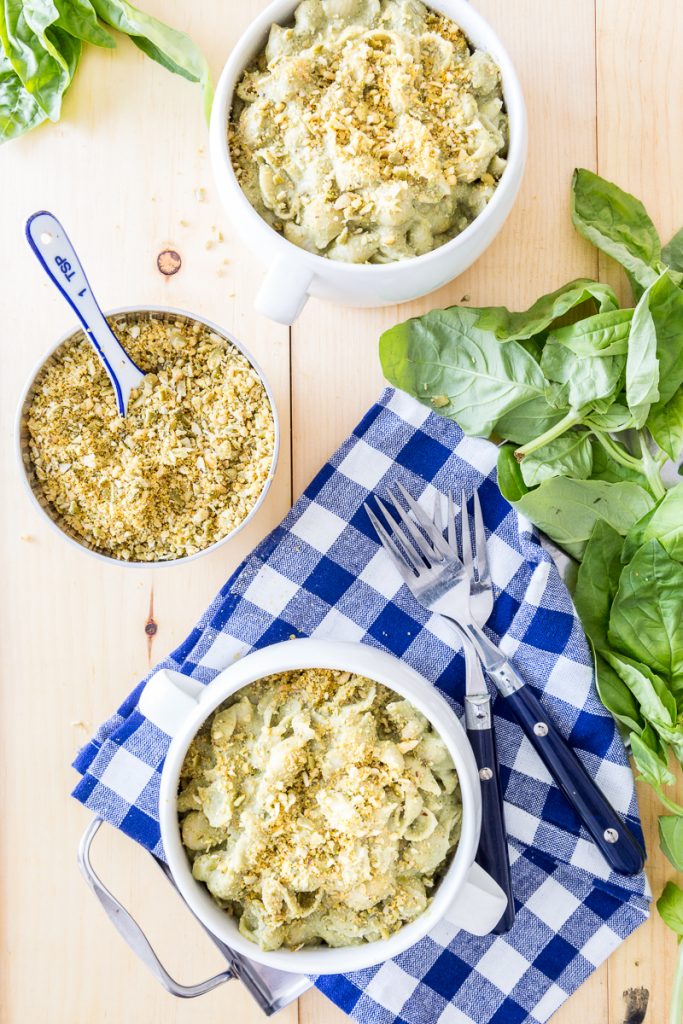 Ingredients
3 cups basil leaves, packed
½ cup pepitas
¼ cup chopped walnuts
2 garlic cloves
3 tablespoons olive oil
2 tablespoons lemon juice
½ teaspoon salt
¼ teaspoon black pepper
½ large head of cauliflower, broken into florets
2 tablespoons nutritional yeast
1 scant tablespoon white miso
1 tablespoon lemon juice
½ teaspoon onion powder
½ teaspoon garlic powder
a dash of cayenne pepper
1 cup unsweetened nondairy milk
salt and pepper to taste
1 cup basil pesto
16-ounces pasta, gluten-free if necessary
Instructions
Fill a pot with water, place the pot on the stove over high heat, and place a steamer basket on top. Fill the basket with cauliflower and cover with a lid. Let the cauliflower steam until easily pierced with a fork. Remove the steaming basket and set aside but don't throw out the water. Add the pasta to the water and stir. Cook the pasta according to package instructions until al dente. Drain the water when the pasta has finished cooking.
While the cauliflower is steaming, make the pesto. In a food processor, combine the pesto ingredients and pulse until combined and has a thick sauce-like texture (but not totally smooth- it should have some texture). Set aside.
In a blender, combine all the sauce ingredients and blend until smooth. Add the sauce to the pasta and stir until combined. Serve immediately. Enjoy!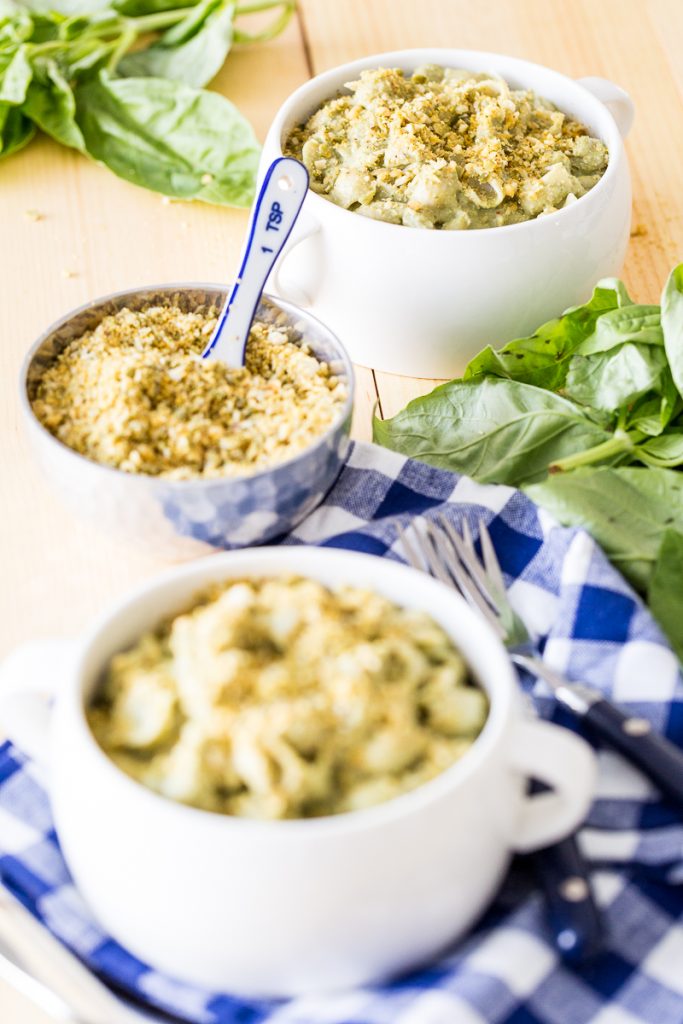 Help me out here- are there any recipes that you'd like to see on Keepin' It Kind in the future?
Photography by Chris Miller