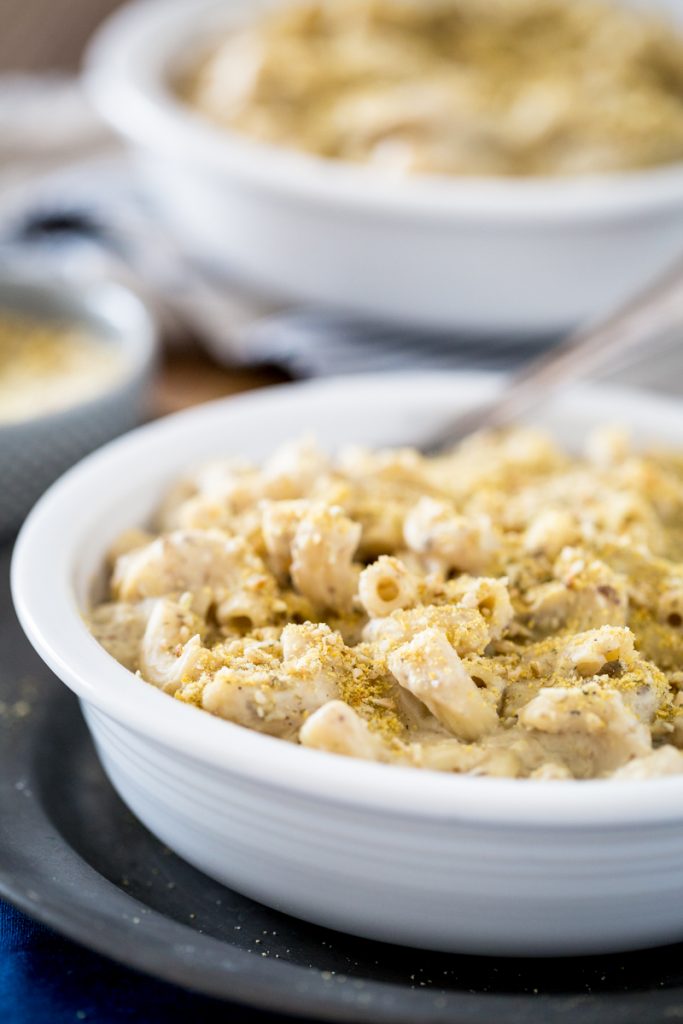 I completely OD'd on pasta when I was kid. And by "kid," I'm referring from the time I was born until halfway though college, when I realized that although they were cheap and tasty, these gigantic bowls of pasta I was eating a few nights a week weren't exactly doing wonders for my figure. I mean, I hadn't even taken up running yet so justifying it as carbo-loading really didn't pan out.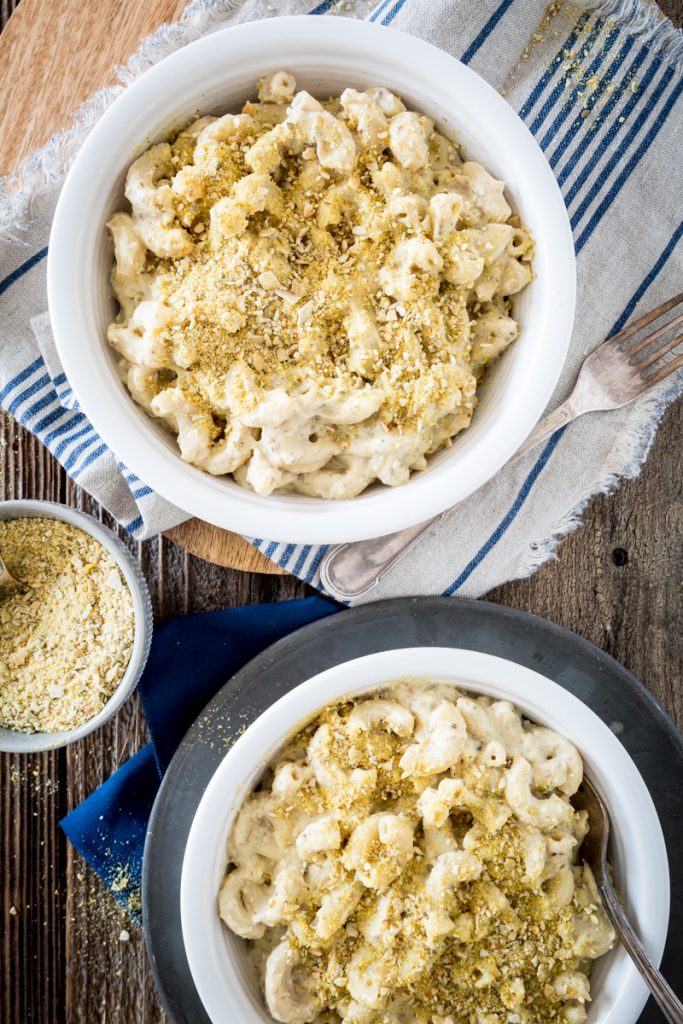 This pasta habit started when I was a kid. My dad made a mean pasta bolognese and when he made it, he made enough for a small army because he knew I would eat the leftovers for days to come. I even requested it as my birthday meal for my sweet 16 birthday party. Aside, from that, there were countless blue boxes of mac n' cheese that I'm sure were meant for two people but I downed all by myself. There was also my dad's wonderful tuna casserole, made with loads of wide egg noodles. Not to mention all the fettucine alfredo frozen dinners and cans of SpaghettiOs. I'm pretty sure that by the time I was 20, about 33% of my body mass was literally composed of pasta.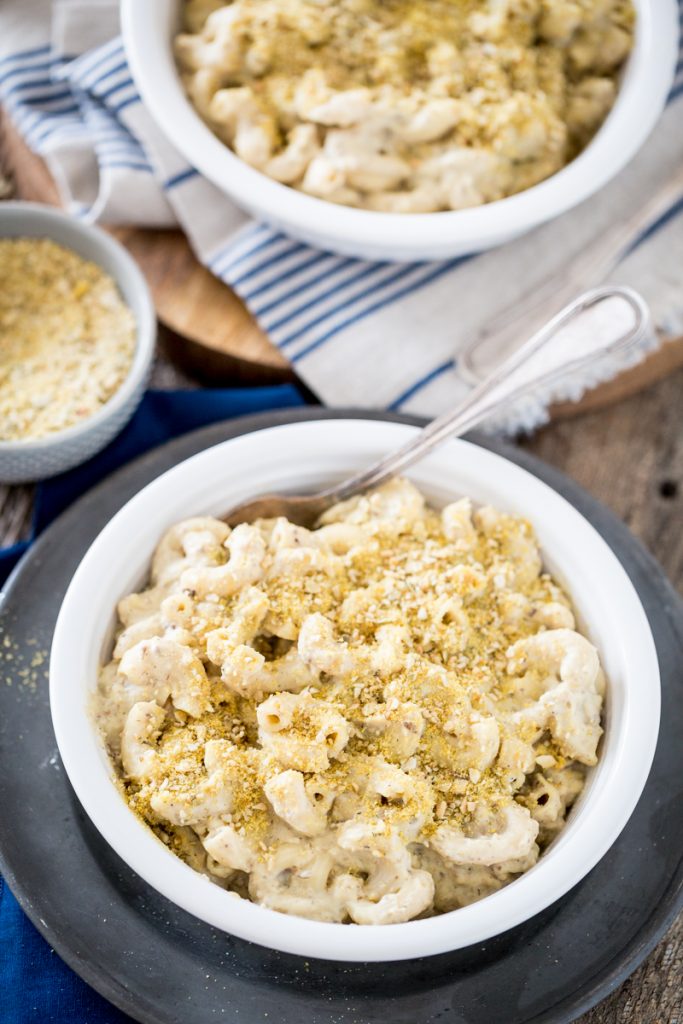 So after coming to terms with my diet and lack of physical fitness (which also coincided with the time I changed my major from English to Kinesiology and my minor from Theater Arts to Nutrition), I made some changes to my lifestyle. Less piles of pasta in creamy sauce, and more vegetables and fruit. Less watching Comedy Central in my PJs and more getting off my ass and moving. And behold, life, post-pasta, was good! I liked my new diet and I found that the longer I went without pasta, the more I lost my taste for it. When faced with the decision of what to have for dinner, I found that I craved bowls of vegetables more than I did pasta. Occasionally, I would make a butternut squash lasagna for Thanksgiving or a baked mac n' cheese for a potluck, but I would always find myself noting that I could go another year without having pasta. And I would.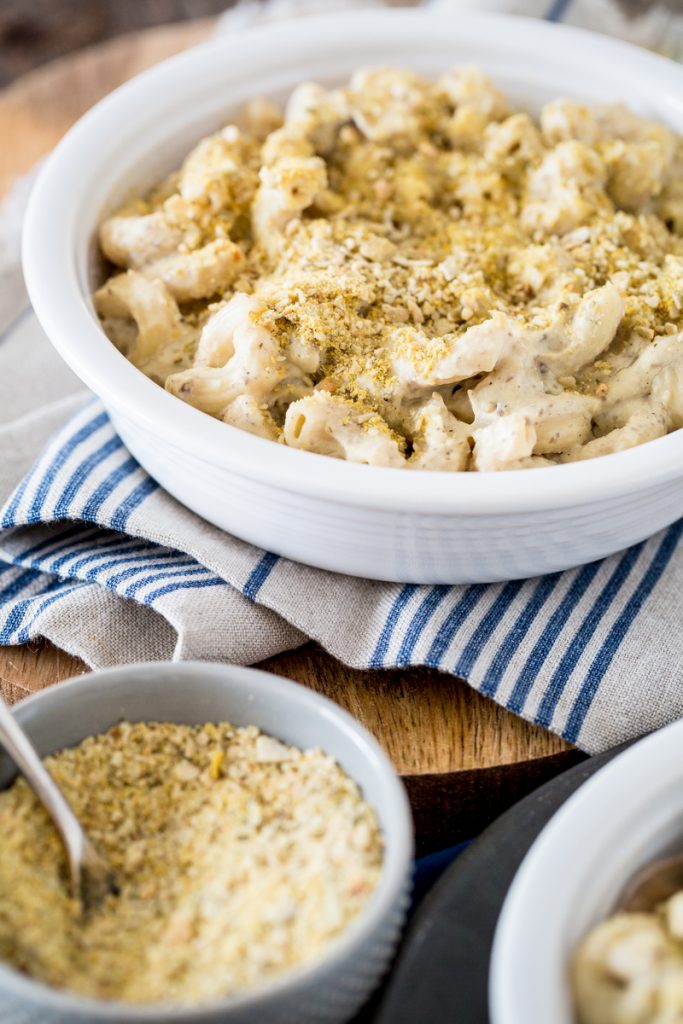 This mentality went on and on for years. I lived in Italy and can count on one hand the number of times I ate pasta. It continued on even after I became vegan. My stepkids love pasta and I would make it almost weekly for them, but I would always make something different for Chris and I. It continued until I started writing my upcoming cookbook, But My Family Would Never Eat Vegan!. When faced with trying to find recipes that the whole family could get on board with, I turned to friends and family to find out what their families like to eat. I wasn't entirely surprised when many responses included a pasta dish of some sort. People like pasta. Even though I was over it, I opted to include several pasta recipes in the book.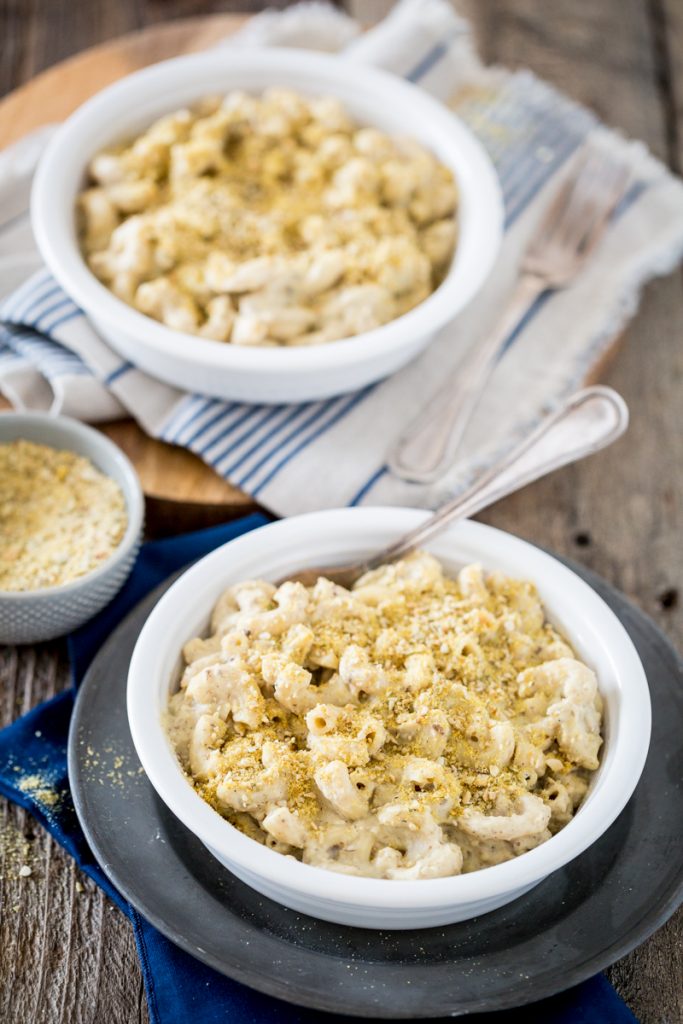 What did surprise me is that I really, really enjoyed the pasta recipes. Like, I couldn't get enough. These were dishes that we could eat with the twins and not have to make separate meals. These were dishes that I began to crave and there are a few that I continued to make after all the recipe testing was done. Part of me thinks that because I was writing this book during such a tumultuous time in my life, these bowls of pasta brought a warm comfort that I haven't felt since I was a kid, eating one of my dad's pasta creations. Part of me knew that I just really like pasta.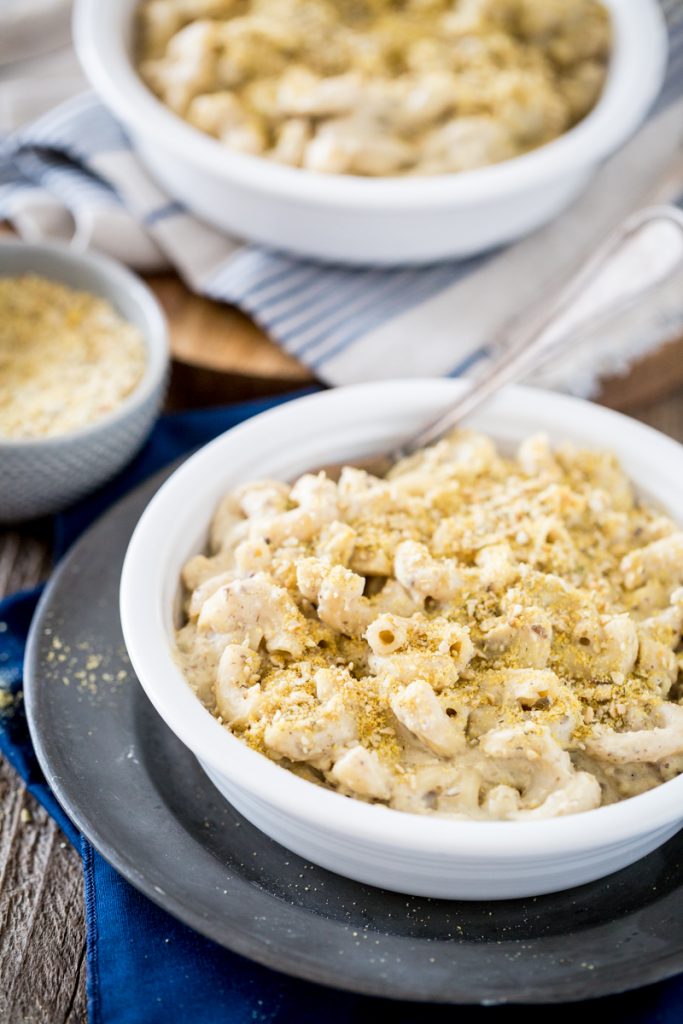 So while I haven't gotten back to having pasta multiple times per week, I do make a pasta recipe 2 to 3 times per month now. One evening recently, I was craving something creamy and mushroomy and cheesy and pasta-y. So I whipped up a creamy, cheesy sauce made with some cauliflower and some mushrooms and poured it over some pasta. Easy peasy and crazy delicious. I know it's not exactly what you have in mind when you think "mushroom mac and cheese," and I initially had planned on just throwing the cooked mushrooms in with the pasta until I remembered that the twins will have nothing to do with mushrooms. So rather than have them pick each one out, I blended them into the sauce so they were just tiny, unidentifiable flakes that add a lot of flavor and earthiness to an otherwise subtly cheesy, creamy sauce. That's right- the cheesiness factor in the recipe is pretty low compared to most mac and cheese recipes, but we love it and I couldn't think of a better name for it. There were no complaints from anyone and now this easy-to-make recipe is on regular rotation in our house. Fingers crossed that I don't OD on it anytime soon!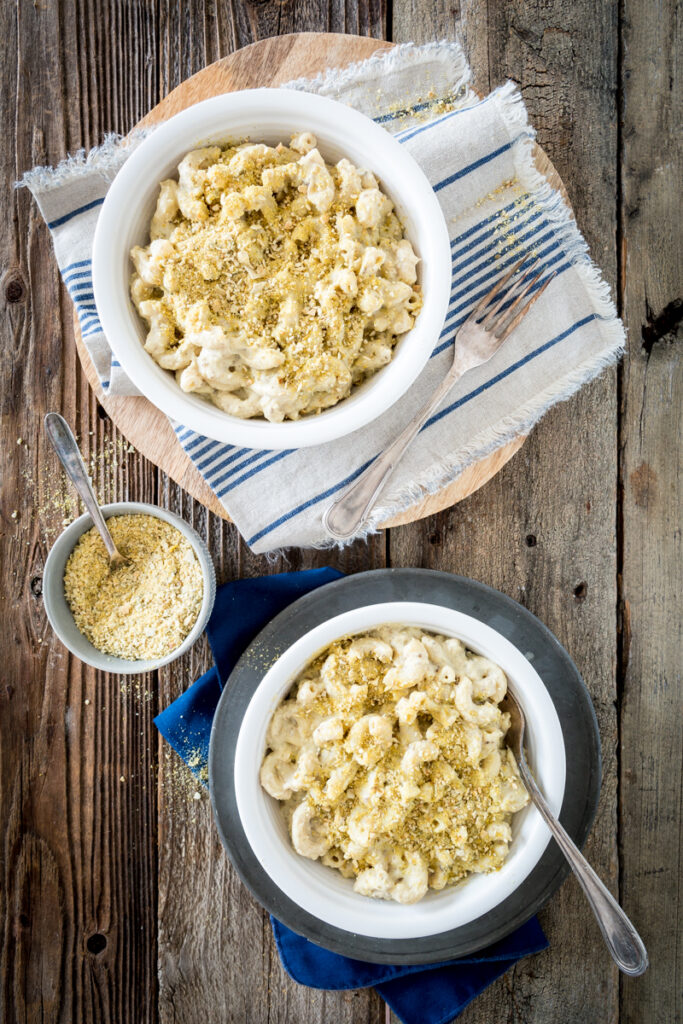 Creamy, Cheesy Mushroom Macaroni
Ingredients
½ large head cauliflower, broken into florets
2 teaspoons vegan butter
8 ounces cremini or button mushrooms, sliced
2 teaspoons liquid aminos or tamari/soy sauce
1 cup unsweetened, nondairy milk
½ cup raw cashews (if you don't have a high-speed blender, soak them in warm water for at least 30 minutes and then discard the water)
1/2 cup nutritional yeast
2 tablespoons lemon juice
1 teaspoon white or chickpea miso
1 teaspoon dried thyme
½ teaspoon garlic powder
1/2 teaspoon onion powder
½ teaspoon salt
one or two dashes of cayenne pepper
black pepper to taste
16 ounces macaroni pasta (gluten-free if necessary)
Pecan Parmesan (optional)
Instructions
Place a steamer basket over a large pot of water. Place the cauliflower in the basket and cover and bring the water to a boil. Once it begins to boil, leave the cauliflower in the basket for another 4 to 5 minutes or until the cauliflower is tender. Remove the steamer basket from the pot and transfer the cauliflower to a blender.
While the cauliflower is steaming, melt the butter in a larger frying pan, preferably cast-iron, and add the mushrooms. Cook for about 2 minutes and then add the liquid aminos and cook until the mushrooms are tender, 7 to 8 minutes. Remove from the heat and set aside.
Once the steamer basket is removed from the pot and the cauliflower has been transferred to the blender, add the pasta to the pot of boiling water and cook according to package instructions. Remove from the heat and drain the water once the pasta is al dente.
While the pasta is cooking, add the milk, cashews, nutritional yeast, lemon juice, miso, thyme, garlic powder, onion powder, salt, and cayenne pepper. Blend until smooth. Add the mushrooms to the blender and pulse until almost smooth (there should be tiny chunks/flecks of mushroom throughout, but it is not a "chunky" sauce).
Once the pasta is cooked and the water drained from the pot, add the sauce to the pasta and stir until fully incorporated. Add pepper to taste. Serve immediately topped with pecan parmesan. Leftovers will keep, refrigerated in an airtight container, for 3 to 4 days. Enjoy!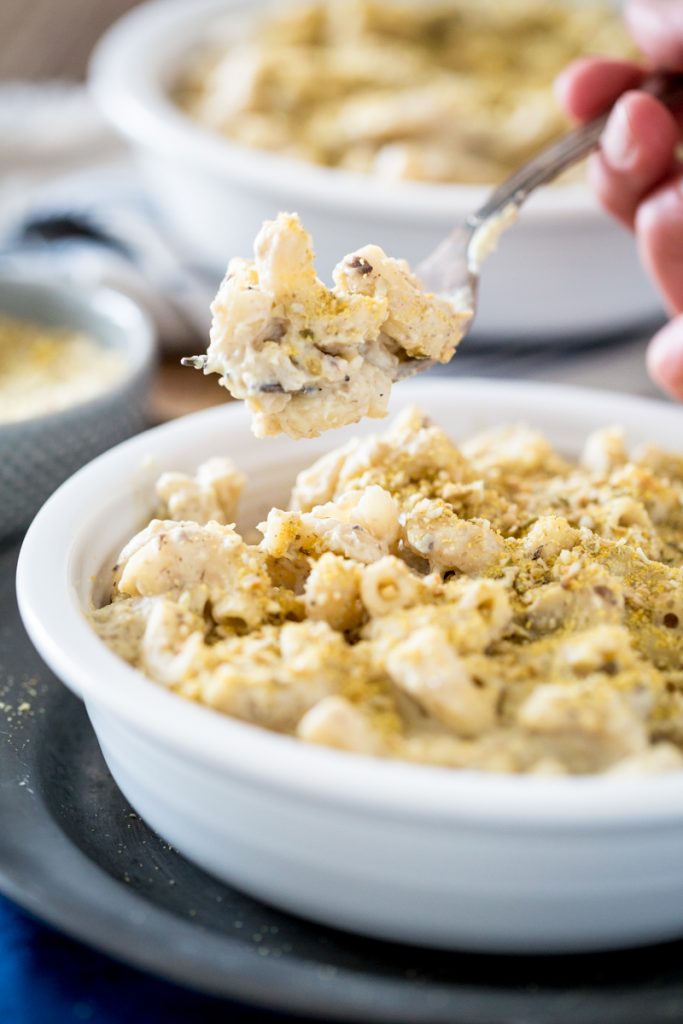 Are there any foods that you've OD'd on in the past?
Photography by Chris Miller