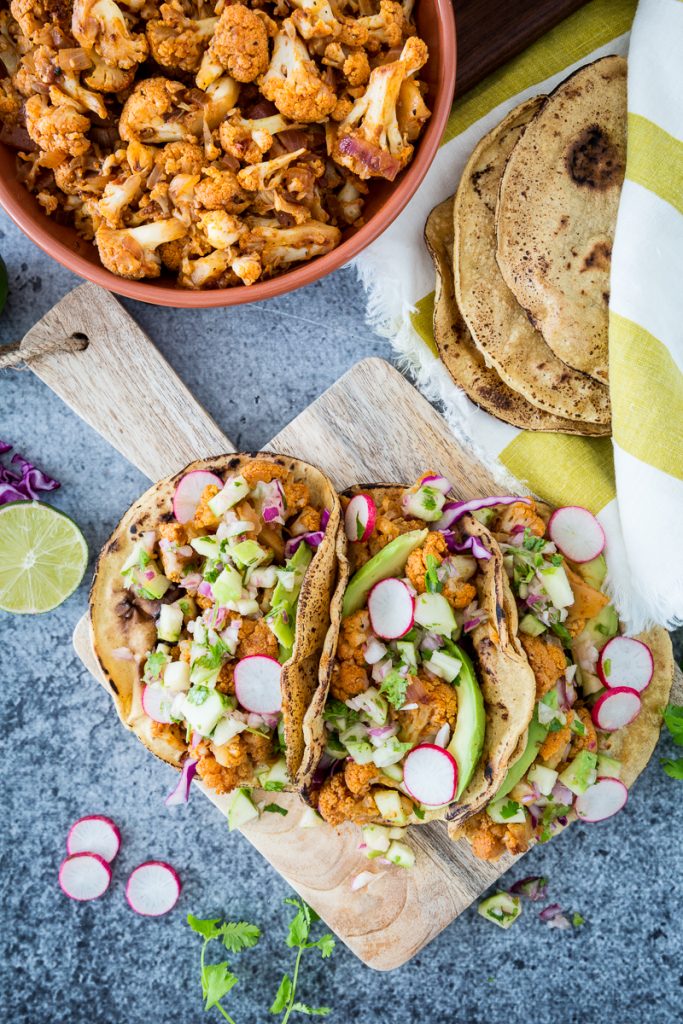 Hey there! Who wants some cauliflower carnitas tacos?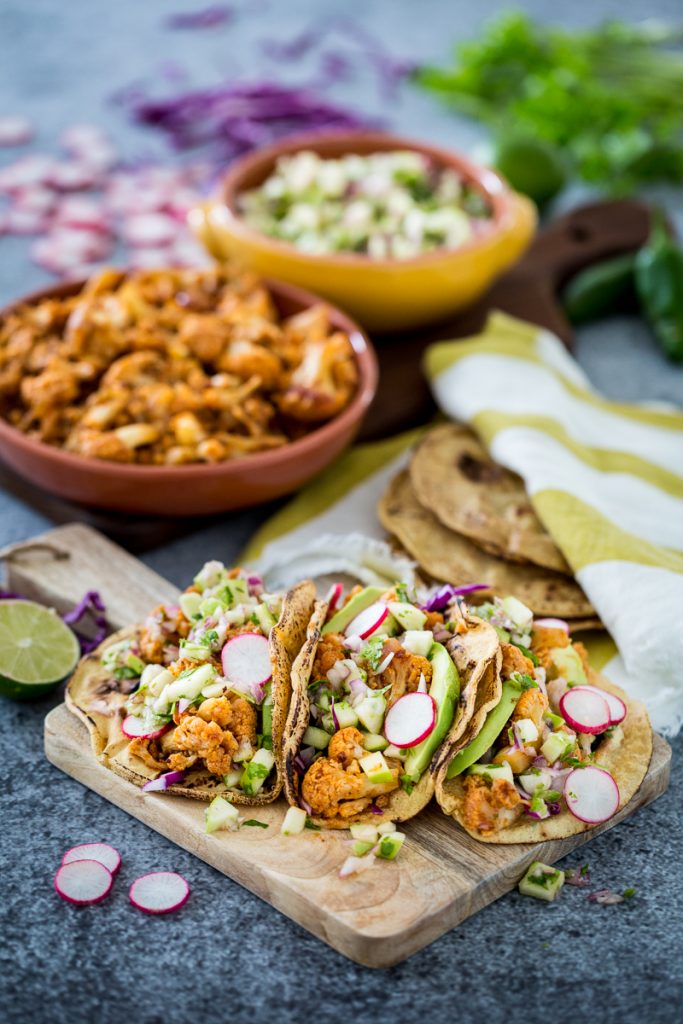 Now, I know there are some naysayers out there who will tell you that you can't make carnitas out of cauliflower. "Carnitas can only be made of meat!" they'll huff. Maybe some slightly more open-minded friends will say "I had great jackfruit carnitas once, but it only worked because it looked like meat." They'll tell you you're taking things too far. Cauliflower carnitas? Inconceivable!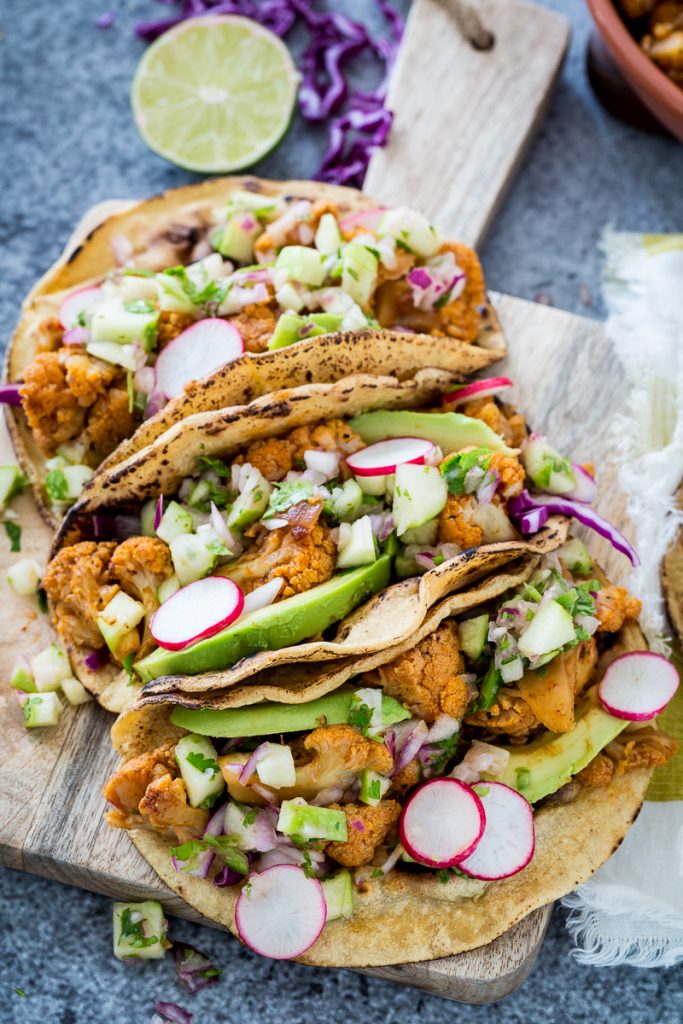 Don't be discouraged, my friends. As you can see here, it can be done. And it's glorious! GLORIOUS!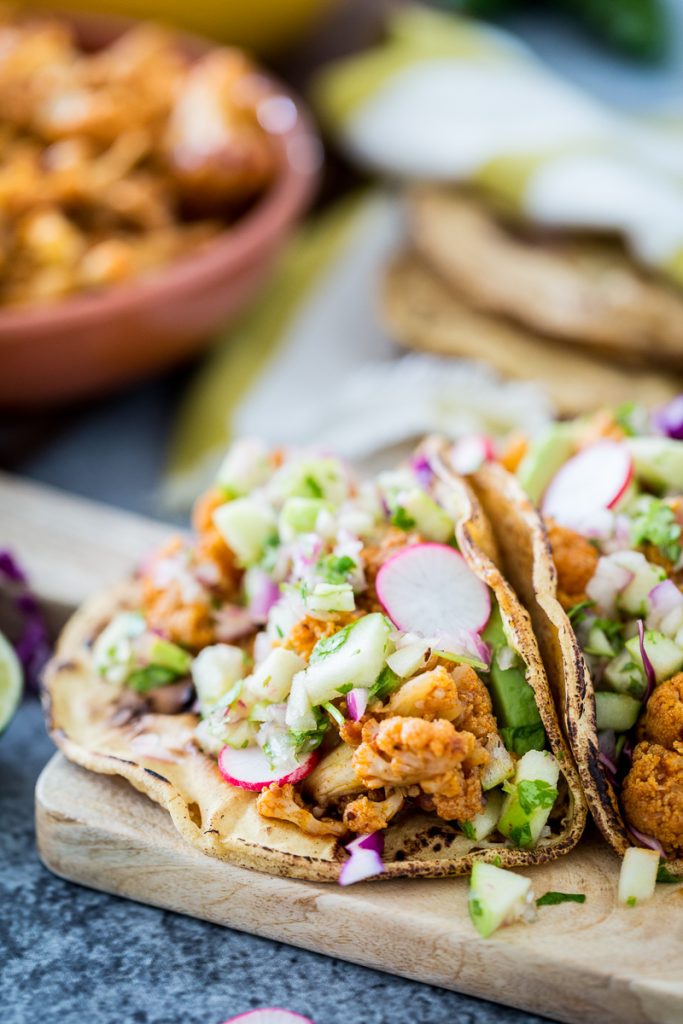 The trick is the two-part cooking process. First, you have to roast the cauliflower with lots of spices to not only let the flavor from those spices soak in, but to release the cauliflower's natural nutty, caramelized taste. By the time it's done in the oven, it's already a flavor fiesta. You could stop there, but it wouldn't be true carnitas. Carnitas requires that the food be stewed, cooked until tender and juicy. So that's what we do with the cauliflower. We stew it with onions and garlic and chipotles in adobo sauce and a little bit of liquid aminos (to add an umami oomph).
Since the cauliflower is already tender (from the roasting), it only takes about 10 to 15 minutes before the cauliflower carnitas are perfect and ready to be served. In 30 to 35 minutes, you'll have lip-smacking carnitas to fill your tortillas (which you can prepare while the carnitas are cooking. #timemanagementskillz).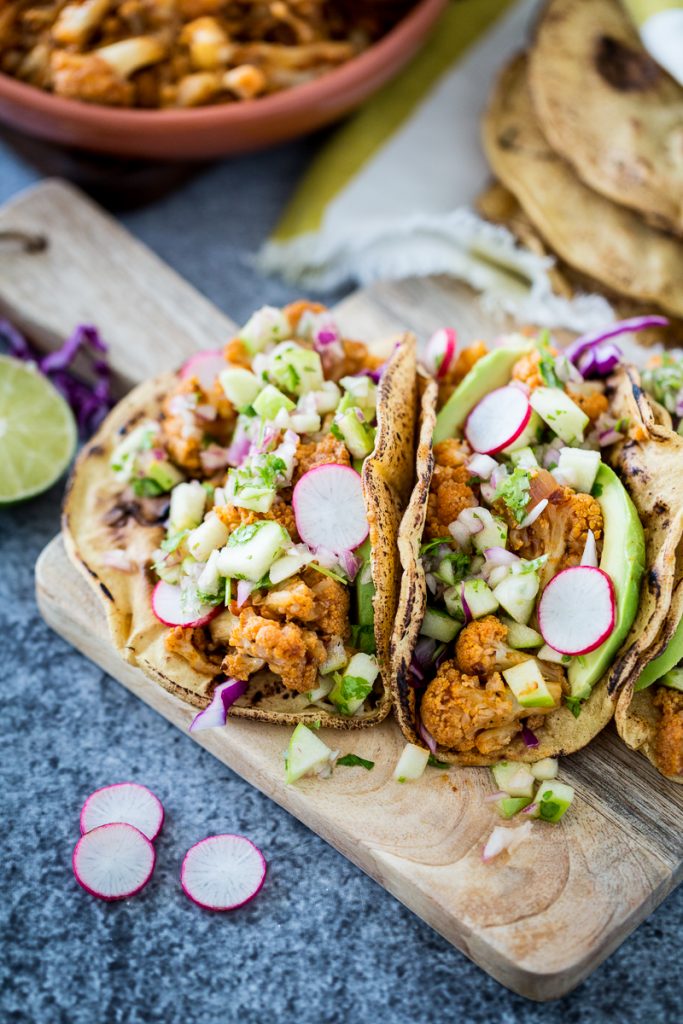 These cauliflower carnitas would be perfect served as-is, but in order to take these tacos to the next level, they need a bright, tangy, salsa. A green apple salsa. It's probably my new most favorite salsa (except for this other salsa that's in my upcoming book, but I'll keep that a secret for now). Tiny chunks of Granny Smith apples, mixed with red onion, cilantro, jalapeño, and lime juice makes the perfect tart and juicy pairing for these spicy, robust carnitas.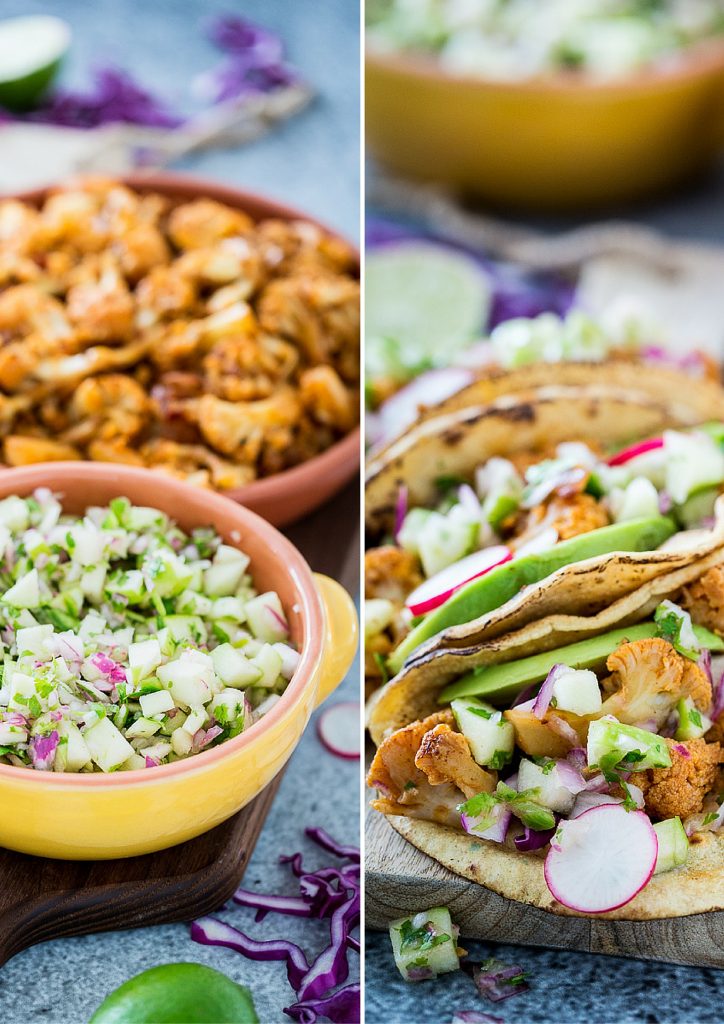 To complete your tacos, you can add some radish slices and shredded cabbage for a cool crunch and some sliced avocado because everything is better with avocado. Then serve them up to your naysaying friends and watch their faces when they realize that cauliflower carnitas are the best carnitas! Maybe throw in a "Booyah!" or a "You've been owned!" to emphasize your victory. That usually goes over well*.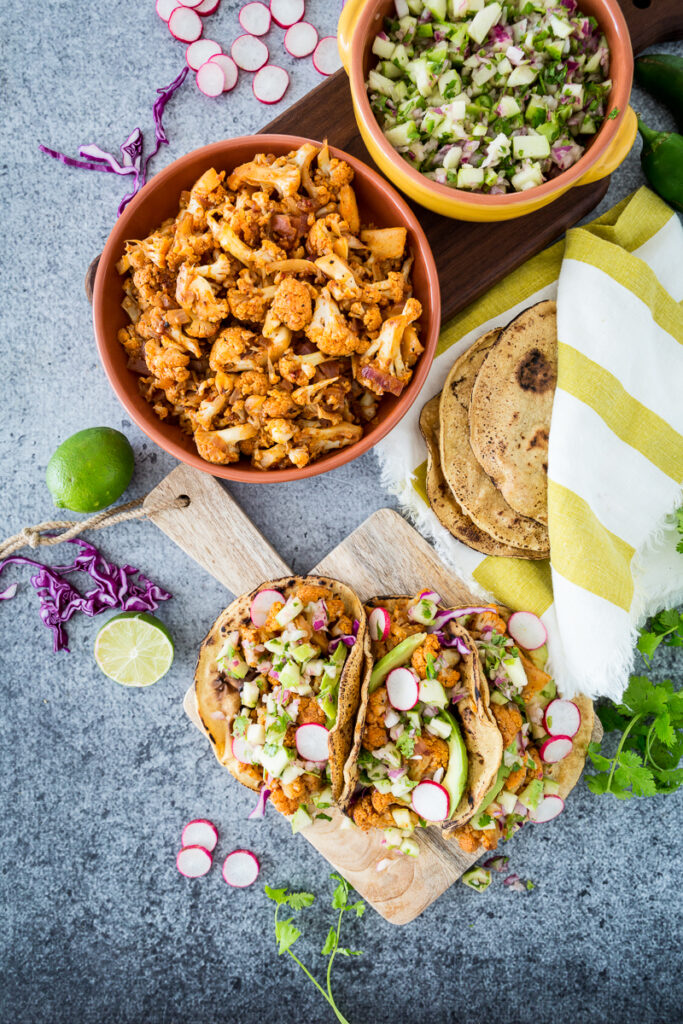 Chipotle Cauliflower Carnitas Tacos with Green Apple Salsa
Ingredients
1/2 red onion roughly chopped
1 jalapeno, halved and seeds scraped out
1/3 cup cilantro, packed
1 large green apple, diced
2 tablespoons lime juice
1 large head or 2 small heads of cauliflower, broken into small florets
olive oil spray
2 teaspoons ground cumin
1 1/2 teaspoons chili powder
1 teaspoon ground coriander
1 teaspoon garlic powder
1/2 teaspoon smoked paprika
salt and black pepper to taste
1 tablespoon olive oil
1/2 red onion, diced
2 garlic cloves, minced
2 tablespoons chipotles in adobo sauce (with sauce)
3 tablespoons liquid aminos (or tamari/soy sauce)
1 tablespoon lime juice
corn tortillas
red or green cabbage, shredded
4 to 5 radishes, thinly sliced
avocado, sliced
Instructions
Combine the onion, jalapeno, and cilantro in a food processor and pulse 5 to 7 times or until it is mostly uniformly chopped. Add the apple and the lime juice and pulse 3 to 4 more times until everything is fully combined. Transfer to an airtight container and refrigerate until ready to use, or up to 2 days.
Preheat the oven to 425. Line a baking sheet with parchment paper. Spread the cauliflower over the sheet and spray with olive oil. Sprinkle the cumin, chili powder, coriander, garlic powder, smoked paprika, salt, and pepper over the cauliflower and toss until all the cauliflower is evenly coated with the spices. Spread out again and bake for 20 minutes, flipping the florets about halfway through to ensure even cooking. Remove from the oven.
Once there's about 10 minutes left for the cauliflower in the oven, heat the olive oil in a large shallow saucepan over medium heat. Add the onion and garlic and saute until the onion is translucent and soft, 7 or 8 minutes. Add the chipotles and cook for about 1 minute before adding the cauliflower and liquid aminos. Let cook, stirring occasionally, for 10 to 15 minutes. While you're stirring, use your spatula to break up the cauliflower into smaller pieces. Once the cauliflower is soft and the liquid has been absorbed, add the lime juice and stir. Remove from the heat.
While the cauliflower is cooking on the stove, you can cook your tortillas. You can cook them according to their package's instructions or cook them this way: I like to heat a cast iron pan over medium heat until it's pretty hot. Then I place a tortilla in the pan and cook for 30-40 seconds before flipping it and letting it cook for another 30-40 seconds. Then I transfer it to a plate and cover the plate tightly with aluminum foil. Repeat until you've prepared as many tortillas as you need (you'll have enough carnitas for 10-12 tacos).
To assemble the tacos, sprinkle a little shredded cabbage on a tortilla. Top with carnitas, salsa, avocado, and radish slices. Repeat with the remaining ingredients. Serve immediately. Leftover carnitas can be refrigerated in an airtight container for 3 to 4 days. Enjoy!
*No, it doesn't.
Photography by Chris Miller