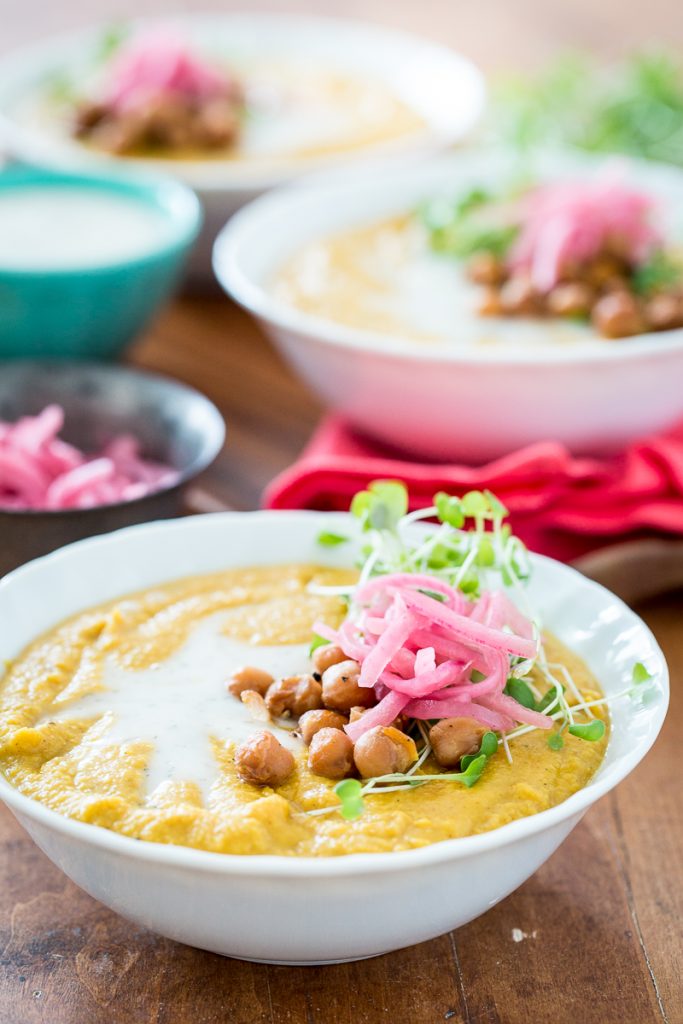 What's that? Why yes, this is a NEW FRIGGIN' RECIPE! Thank you for noticing!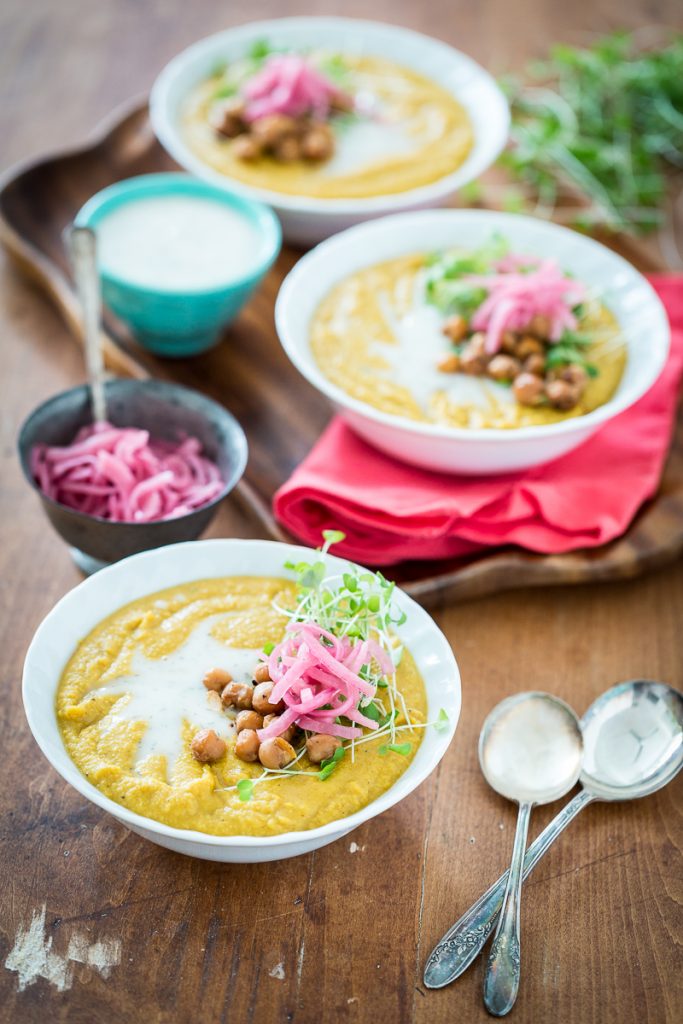 And yes, I agree that it's dumb to post a soup recipe in June, even if it is a delicious split pea soup recipe. And I don't know where you're reading this from but here in LA, we're going through a nasty heat wave so soup is way inappropes. But, I made this back in March with the intention of posting it here sooner but, as per usual, life got in the way.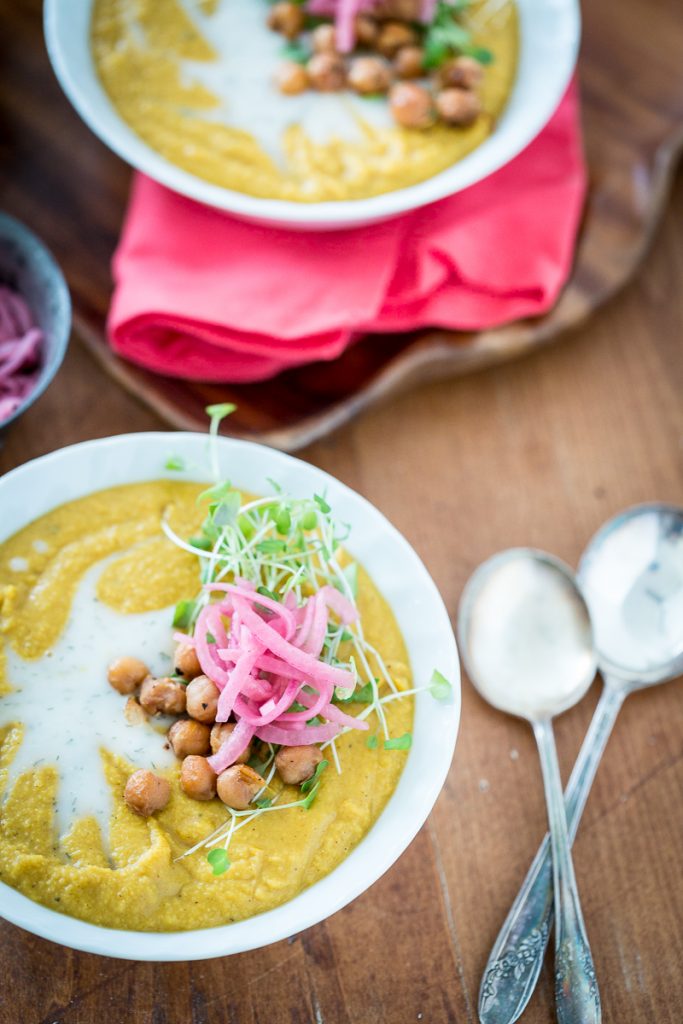 If you're at all interested on what I've been up to since that last personal post, the answer is: A lot. I finished up the show I was on and the day after packing up my office, I had surgery to remove my cancerous thyroid and 20 lymph nodes. Turns out that about half of the lymph nodes were also cancerous so they think that the cancer may've spread a little more than they'd originally thought. No biggie, though. I should just need one treatment of radioactive iodine and if that goes well, I will be cancer-free (see update below!). More about that in a bit. Recovery went well and consisted of me, in my pj's 24/7, in bed, with my pups, napping and reading, for about a week. Sometimes I got out of bed to talk Chris through how to cook something in the kitchen which was both highly entertaining and delicious. We also binge-watched all five seasons of The Wire which had a definite impact on my speech, namely the number of times I say "Yo" per day (it's embarrassing). It was probably one of the happiest weeks of my life and I don't think it had anything to do with the painkillers I was on.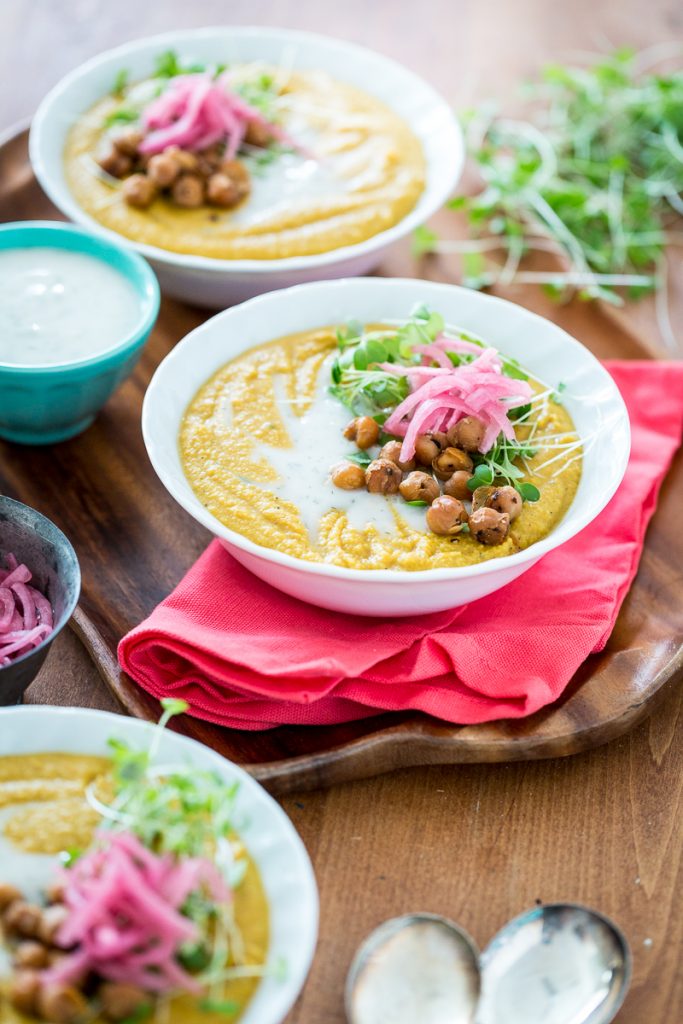 Three weeks later, Chris and I boarded a plane to Chicago and spent a couple days hanging out with our dear friends, Cadry and David, before boarding another plane to Portugal. We spent about 12 days there (vegan travel posts to come!) and then stopped in New York City for a few days before coming home. It was a very fun, very restorative trip and it was just what the doctor ordered for us after the year we've had. We've been trying to ease back in to reality but to be honest, it's been tricky. We're both still in vacation mode, which we're choosing to view as a good thing. We'll hold onto it for as long as we can.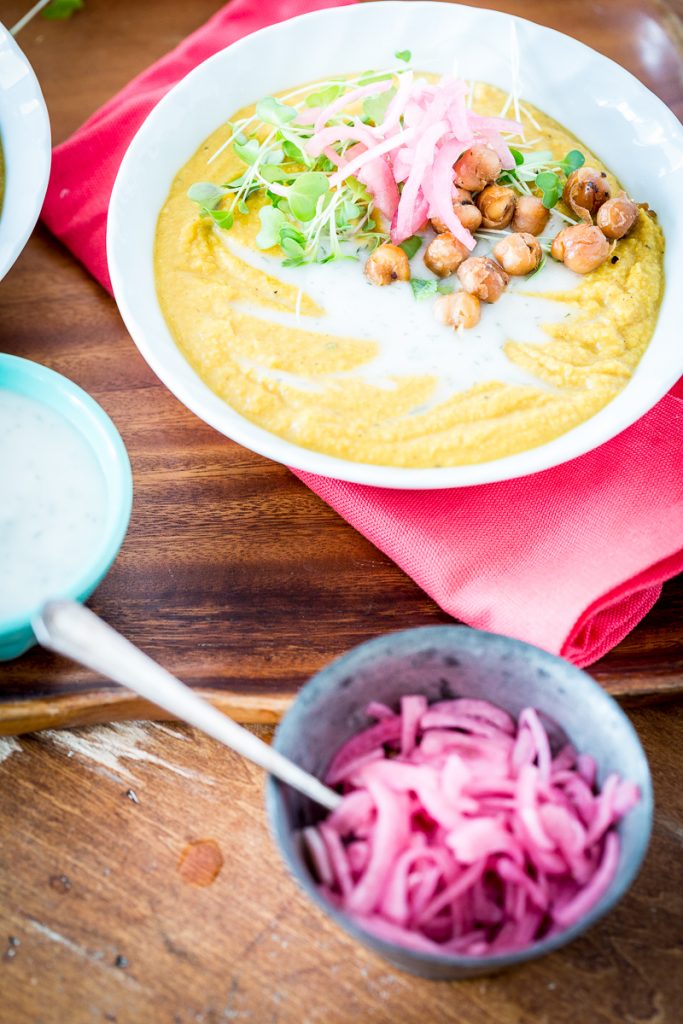 Going forward, I'm working on the final edits for the book, which is looking AMAZING! But My Family Would Never Eat Vegan! (you can pre-order it now! Just saying!) is shaping up to be even better than my first book (in my opinion). It's just so dag-gone beautiful (shout out to my photographer/husband Chris, and all of my lovely hand models!) and the recipes are so, so, so, so good, even if I do say so myself. I can't wait for you all to see it on November 15th!
I'm also getting ready for my radioactive iodine treatment which should be soon. I basically just take a pill but because it's radioactive, I have to be in an isolated room at the hospital for 3 to 4 days or until the radiation wears off. So that should be interesting. UPDATE 6/24/16: According to my most recent tests, I am clear for now and will not be needing the radioactive iodine treatment! I'll have to test again in 3 months, but for now, I'm cancer-free!
I'm also trying to focus on a couple other non-food-related writing projects in addition to getting this blog back on track. If I can keep my shit together, you can look forward to some new recipes and new vegan travel posts coming at you really soon. But for now, let's talk about this yellow split pea soup. First of all, it's crazy delicious. That's why I'm sharing it. But here's the catch: The recipe is kind of "loose," meaning that as you're making it, you may need to add more broth or spices or whatever as you see fit, because this dingbat (I'm pointing my thumbs at myself right now) didn't write down the recipe after she made it. So this is how I think I made the recipe to the best of my "remembering capabilities" (or "memory," as some more gifted writers might say). If you make changes to the recipe, be sure to share in the comments below to help others who may be interested. Enjoy!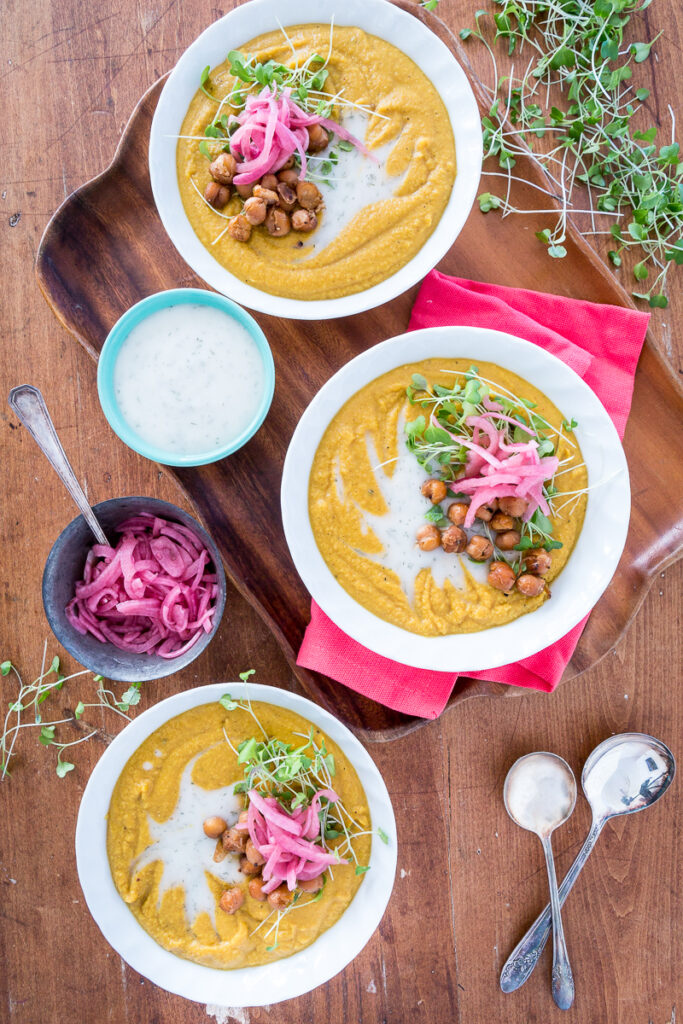 Smoky Yellow Split Pea Soup with Chickpea Bacon & Pickled Red Onion
Ingredients
1 tablespoon olive oil
1 medium onion, chopped
2 garlic cloves, minced
3 large carrots, peeled and chopped
2 celery ribs, chopped
1 1/2 cups yellow split peas, rinsed and picked through
3 cups vegetable broth
2 cups water, plus more as needed to thin out soup
2 teaspoons cumin
2 teaspoons dried thyme
2 teaspoons dried parsley
1 teaspoon smoked paprika
2 bay leaves
juice of 1 lemon
2 teaspoons liquid smoke
salt and pepper to taste
Zesty Ranch Dressing or other vegan ranch dressing
Micro Greens
1 1/2 cups cooked chickpeas (or one 15-ounce can, rinsed and drained)
¼ cup liquid aminos (use coconut aminos to be soy-free)
1 tablespoon olive oil
1 tablespoon liquid smoke
1 tablespoon maple syrup
½ teaspoon cumin
½ teaspoon garlic powder
black pepper to taste
Instructions
Heat the olive oil in a large pot over medium heat. Add the onion and garlic and cook until the onion is just becoming translucent, about 4 minutes. Add the carrot and celery and cook, stirring occasionally until the carrot it tender.
Add the split peas, vegetable broth, water, cumin, thyme, parsley, smoked paprika, and bay leaves and stir until combined. Bring to a boil and then cover and reduce to a simmer. Let simmer until the split peas are tender. If too much liquid cooks away before the peas are tender, add a couple cups of water, cover and continue to cook. Repeat as necessary.
Once the split peas are tender, stir in the lemon juice and liquid smoke and remover from the heat. Use an immersion blender to blend until smooth. If the soup is too thick, add more water to reach your desired consistency. Add salt and pepper. Serve immediately with a swirl of ranch dressing and topped with chickpea bacon, pickled red onions, and micro greens. Leftovers will keep, refrigerated in an airtight container, for 4 to 5 days.
Heat a large frying pan, preferably cast-iron, over medium heat. Add the chickpeas and the rest of the chickpea bacon ingredients, except for the black pepper, and cook, stirring occasionally, until the liquid has been absorbed. Remove from the heat and add pepper.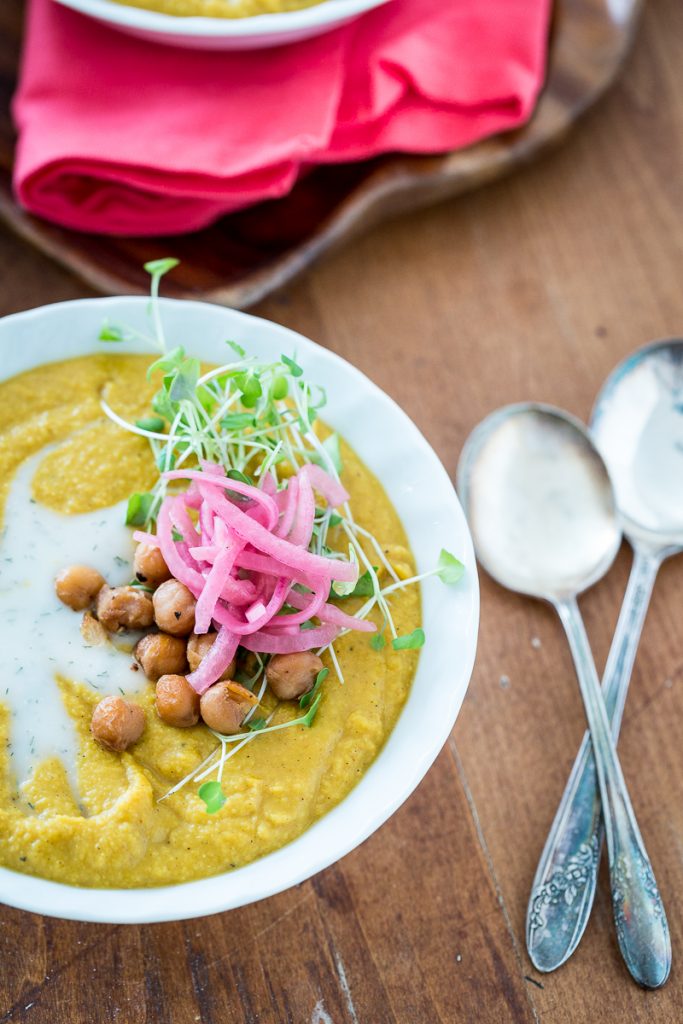 Bam! First new recipe in almost a year (*she said as she did the running man*)! Thank you all for sticking around!
Photography by Chris Miller