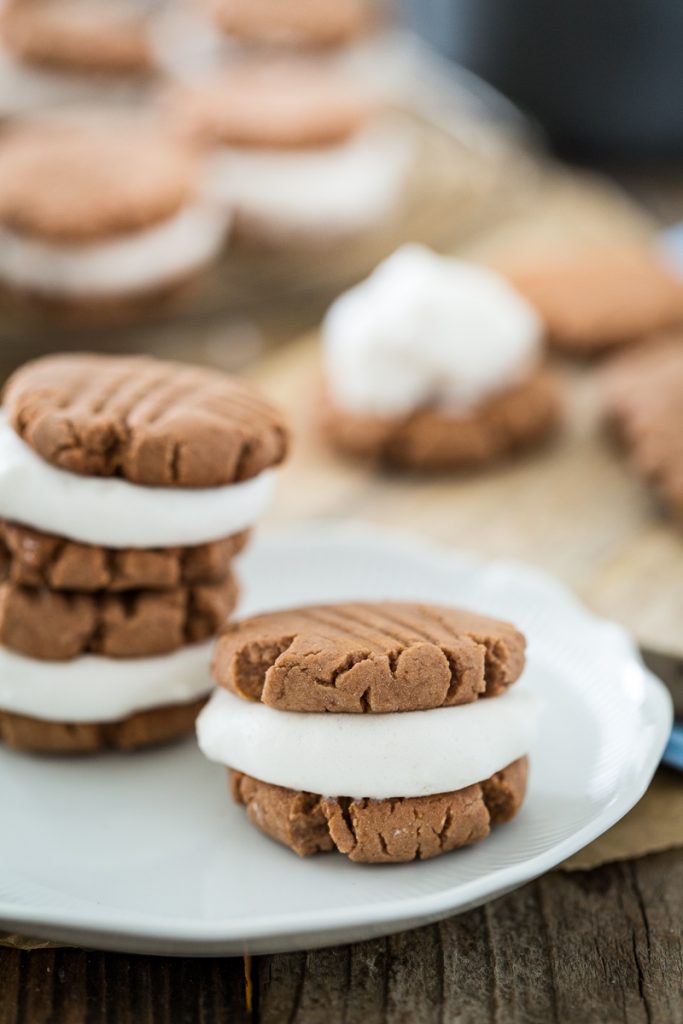 So. These fluffernutter cookies. Just take a moment to let those words sink in.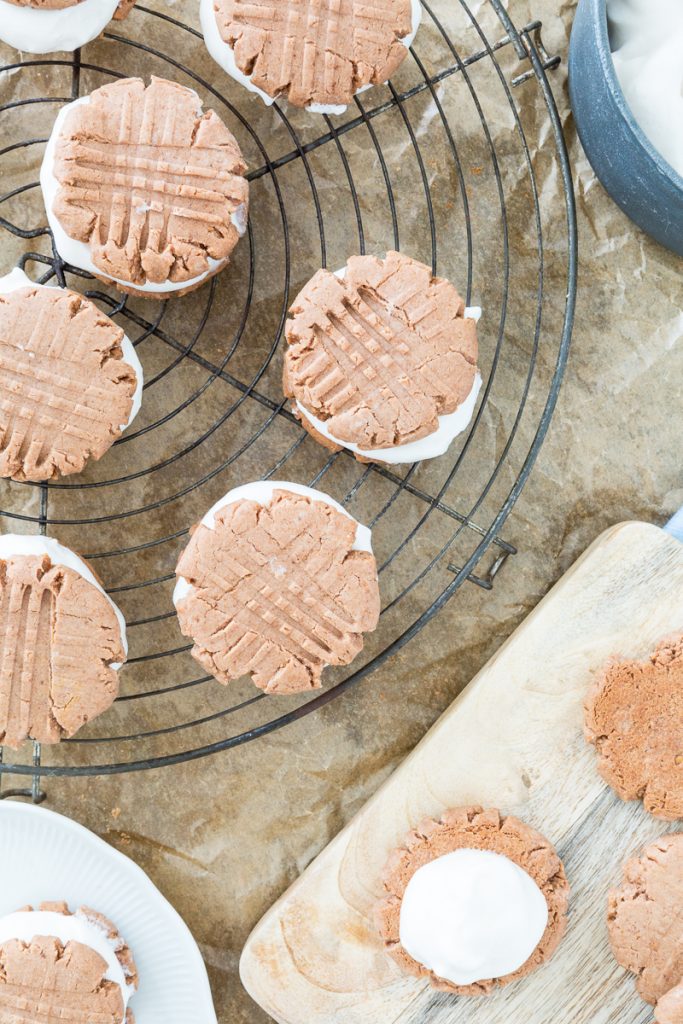 I actually made these, like, ages ago but there was a little something off about the cookies. They were super delicious, but the texture wasn't quite what I wanted it to be. So, naturally, I had to take another stab at them. And then another. It got to the point where Chris and I were like "Oh, these are disgusting. Better make another batch!" And as I skipped to the kitchen, I was like "Oh man, this recipe testing thing so hard. It's soooo not fun being vegan." As I ate a cookie from the ninth batch, I was like "Ugh. It really sucks being me."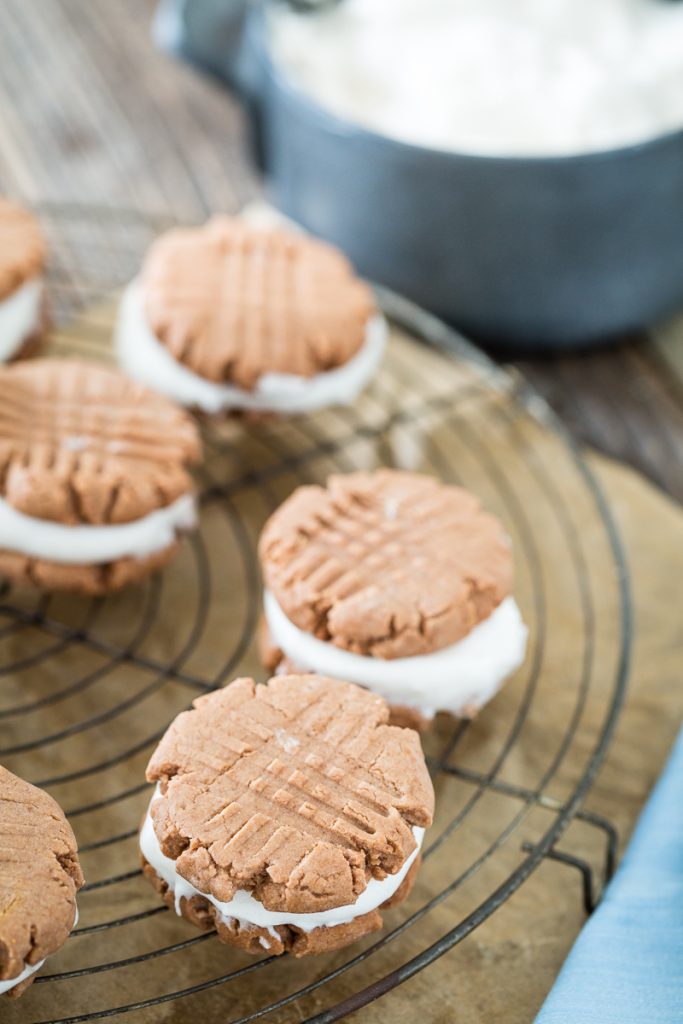 Trust me, in real life, I don't say "like" that much. Maybe some, but not, like, all the time.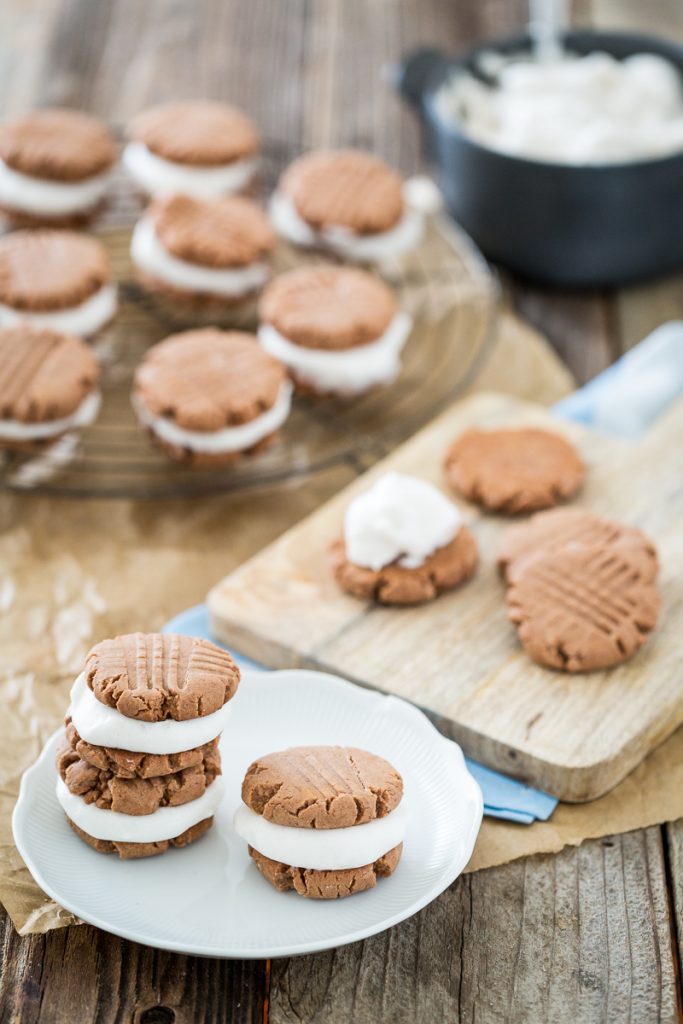 Truth be told, the reason it's taken so long to post the recipe for these, ever since I teased you with them on Instagram, is because our kitchen has been in shambles. I know I shouldn't complain because I'm so damn lucky to get a kitchen renovation as a renter, but let's just say our contractor is, well, to put it politely, less than adequate. I won't bore you with all the details, but after several other issues, we had to point out to him (and convince him) that our microwave/vent needs to be centered over the stove. I know, I know. We're being super picky. I mean fire hazards and building codes aside, I just really need things to be symmetrical. I'm a little crazy like that. But after much discussion, the tile is being partially torn out and the cabinets are being moved over an inch so that it will be centered. Amen.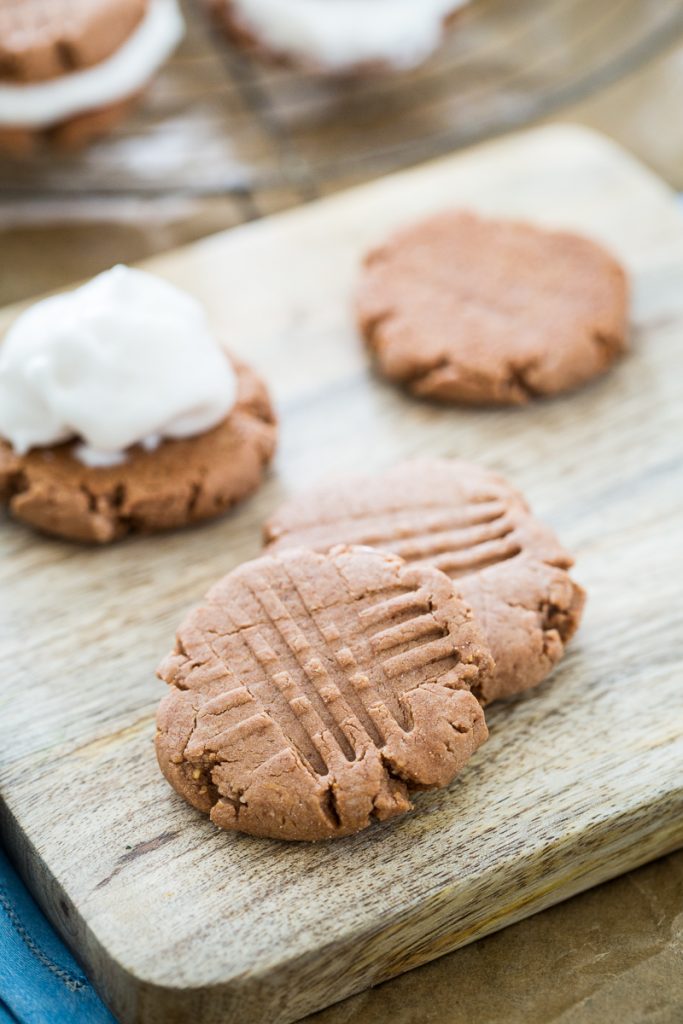 So even though the kitchen is still not done, luckily, about 10 days ago, we finally regained use of our plumbing so I was able to get back and try these cookies one last time to make sure they're perfect. And they are. Perfectly chewy and peanut buttery with just the right balance of sweetness. Oh, and how can I forget- you can stuff marshmallow fluff in between two of them to make fluffernutter cookies!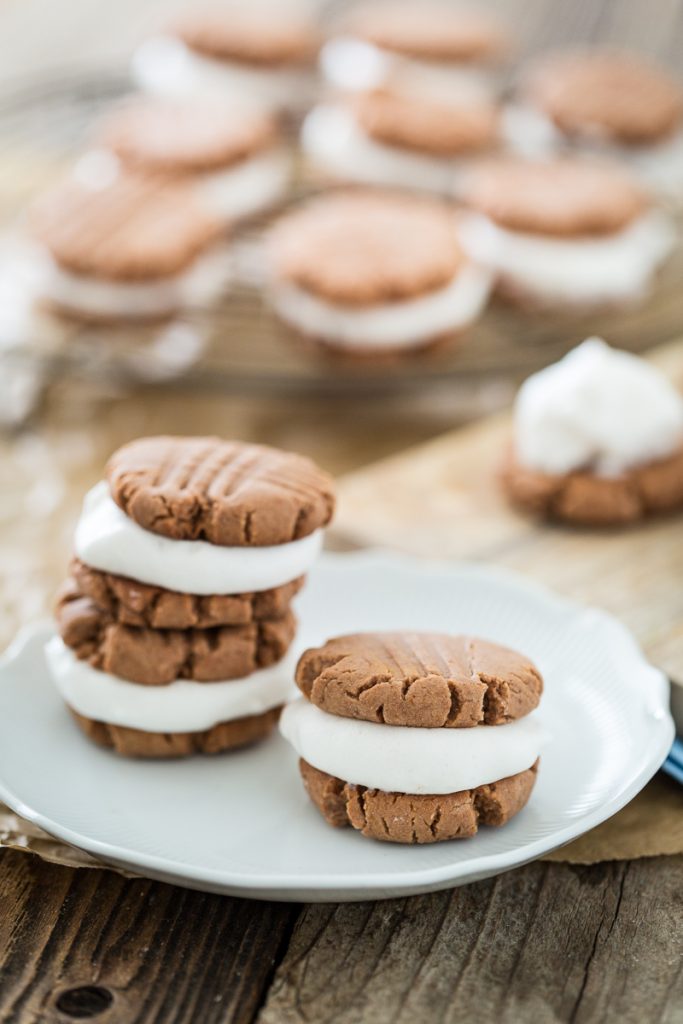 Things to know about these cookies: They're all about timing. You want to wait to make the fluff until right before you are ready to stuff the sandwiches. So, say you want to make the cookies today but serve them tomorrow? Fine. Bake the cookies and then wait until you're getting ready to serve them to prepare the marshmallow fluff and make the sandwiches. No biggie. Also, The cookie dough is addictive. Don't be ashamed of eating a big ol' spoonful or licking the bowl dry. Another thing is that these cookies don't last long. And I'm not referring to their shelf life (though, they are better the first or second day). These get gobbled up fast. Really fast. I also won't blame you if you end up eating all the cookies before they actually end up as fluffernutter cookie sandwiches. That happened to me about 90% of the time when I was testing them.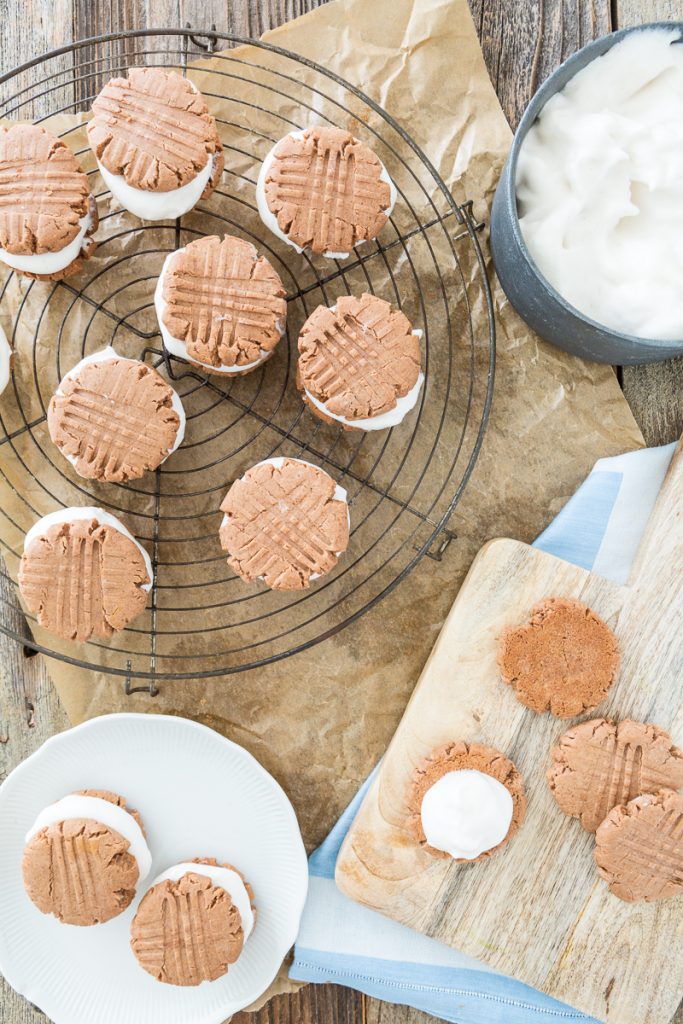 Vegan, Gluten-free Fluffernutter Cookies
Ingredients
1 1/4 cups gluten-free flour blend (I used Bob's Red Mill 1 to 1 Gluten-Free Baking Mix)
1 teaspoon baking soda
1/2 teaspoon salt
1 cup unsalted, unsweetened peanut butter
1/2 cup maple syrup
1/4 cup unsweetened applesauce
1/4 cup coconut oil
1/4 cup coconut sugar, optional
1 teaspoon vanilla extract
1/2 batch Sugar-Free Marshmallow Fluff
Instructions
Preheat the oven to 350 F. Line 2 baking sheets with parchment paper.
In a large bowl, whisk together the flour, baking soda, and salt.
In a medium bowl, whisk together the peanut butter, syrup, oil, coconut sugar, and vanilla extract. Once smooth, add it to the bowl of flour and stir together until combined.
Roll 1 tablespoon of the dough into a ball and place on the prepared baking sheet. Repeat with the remaining dough. Use a cup to gently smash each ball into a disc shape. Use a fork to make cross-patterns across the tops of each cookie. Place the sheets in the oven and bake for 8 to 10 minutes or until firm and dry. Let them cool on the pan for about 5 minutes before transferring them to cooling racks.
Once cool, scoop a heaping tablespoon of marshmallow fluff onto the underside of one of the cookies. Place another cookie on top. Repeat with the remaining cookies and fluff. Serve at once. If you plan on serving them much later, make the marshmallow fluff closer to when you plan to serve them and make the sandwiches then. Leftovers cab be stored in an airtight container, taking care not to "smoosh" any of the cookies, in the refrigerator for 1 to 2 days. Enjoy!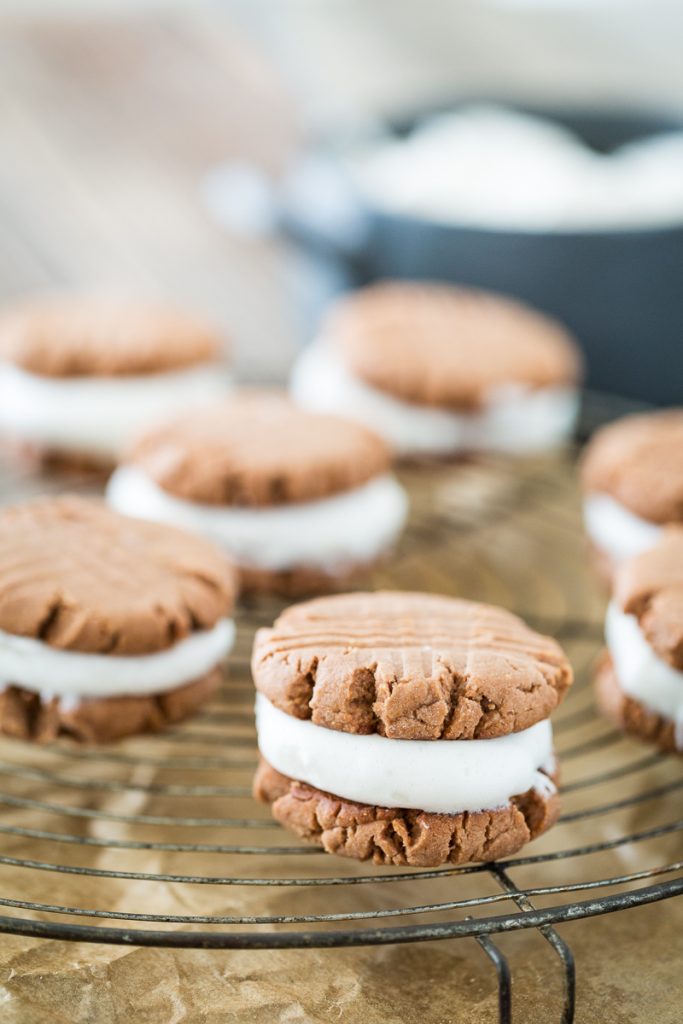 Congratulations to Jeff Watts, the winner of the Borsari Foods Seasoned Salt Sampler Giveaway! Thank you to everyone who entered!
Do you have any construction horror stories? I wanna hear them!
Photography by Chris Miller