Most of you have probably heard about this "chickpea meringue" trend that's been going on. If you haven't heard, basically some crazy vegan genius figured out that you can use chickpea brine (from cans of chickpeas) as a vegan egg substitute. Even further, it was discovered that you can mix powdered sugar into this brine and come up with a perfectly good vegan meringue substitute. Now there are hoards of vegans coming up with some brilliant recipes that could never be accomplished pre-CM (Chickpea Meringue). It's like the holy grail of vegan substitutions was discovered.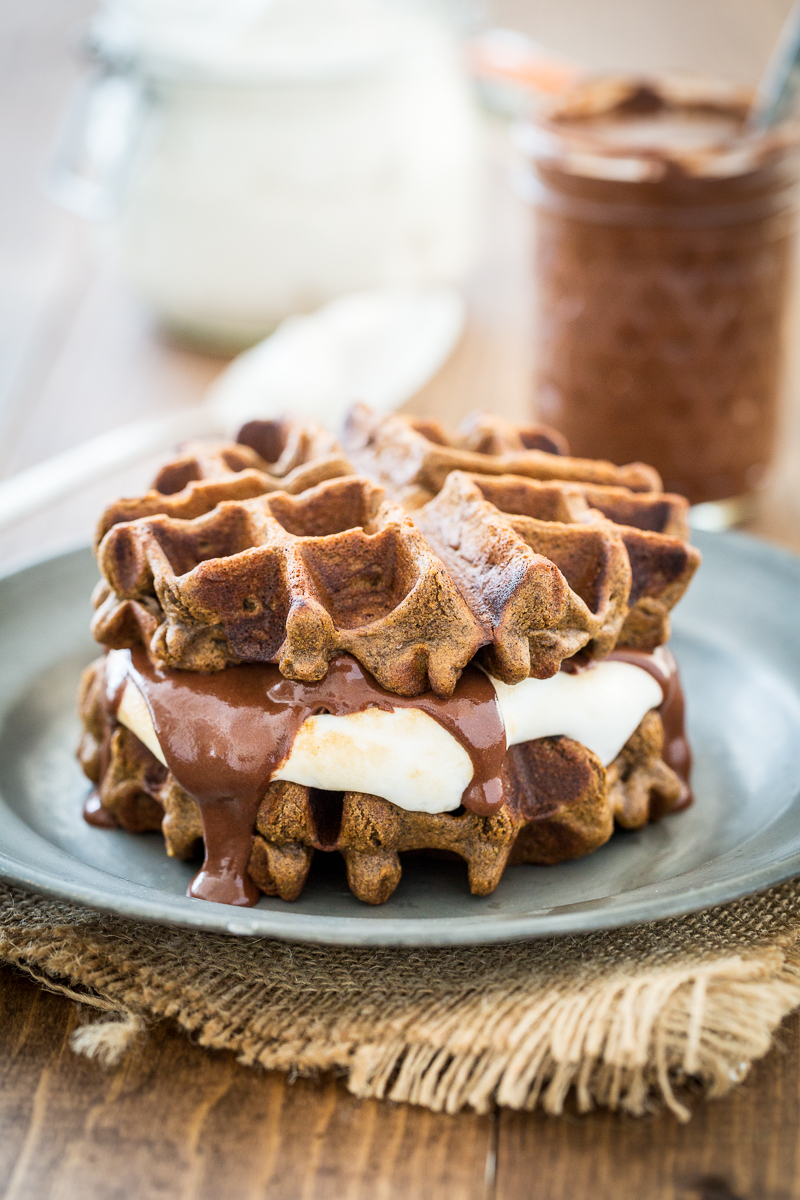 When I heard about this phenomenon, I'll be honest with you, I was disgusted. I'm one of those people who grimace when they drain a can of beans because that thick, gooey liquid really grosses me out. I never really cared for meringue in my pre-vegan days so I wasn't interested in making any now. And I like to purchase my vegan macarons, rather than make them myself (because I'm lazy and it makes them more of a treat for me) so I had no interest in following the trend of trying to veganize them with this new wonder-substitute. It also seems that these recipes require a crap-load of sugar and I don't even keep sugar in my house. Me and too much sugar don't mix well. Some other bloggers found other great applications for the brine and I was excited for them but I had no interest in consuming the brine from my can of chickpeas.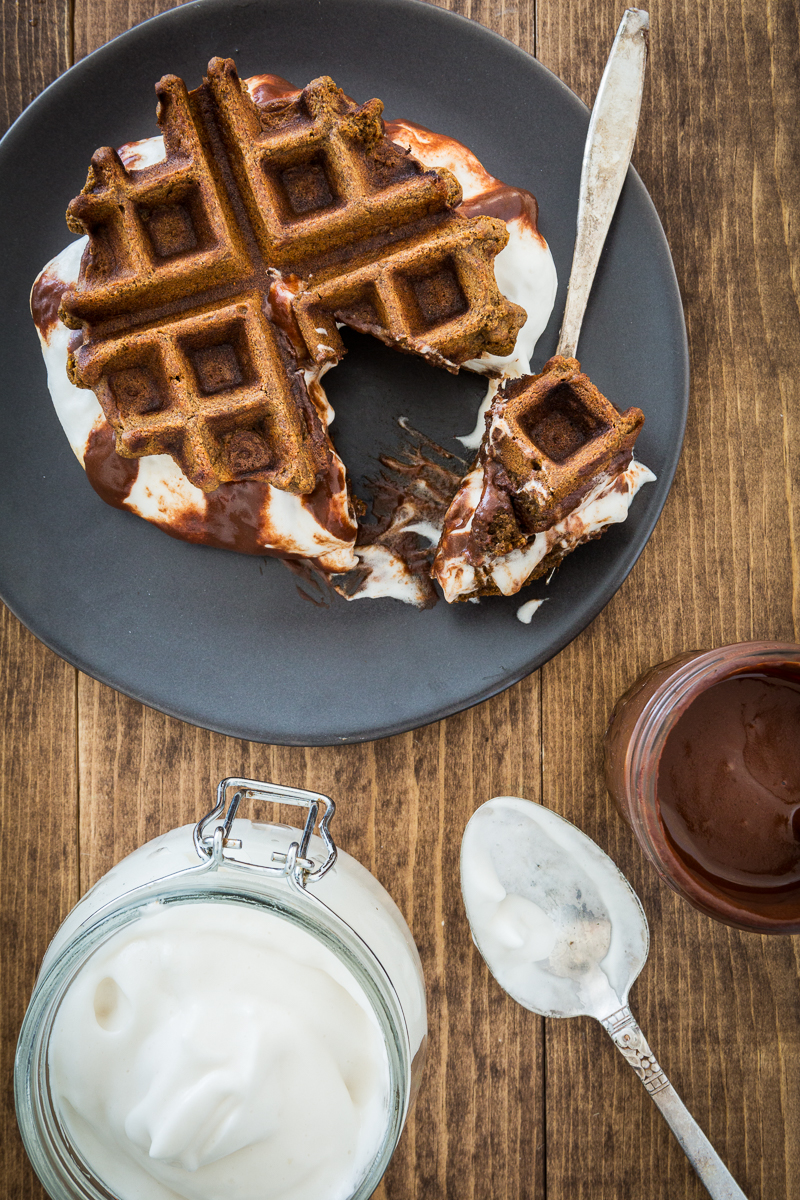 That was, until I saw a post from one of my favorite blogs, Seitan is My Motor. She used chickpea brine to make vegan marshmallow fluff. This piqued my interest because I had been trying for awhile, unsuccessfully, to make a vegan marshmallow fluff and I'd pretty much given up. Her recipe looked simple enough and I had most of the ingredients. I just decided to switch out the powdered sugar with powdered xylitol to make it more friendly to my sugar-sensitive body. I also used lemon juice instead of cream of tartar (because I totally thought I had some when I went grocery shopping and then realized when I got home that I did not) for a touch of tanginess and I used vanilla powder instead of vanilla extract to make up for the liquid/dry ratio I screwed up with the lemon juice. I also increased the guar gum because I wanted the fluff to be a little stickier. I wanted it to hold its own between two waffles but we'll get to that in a bit.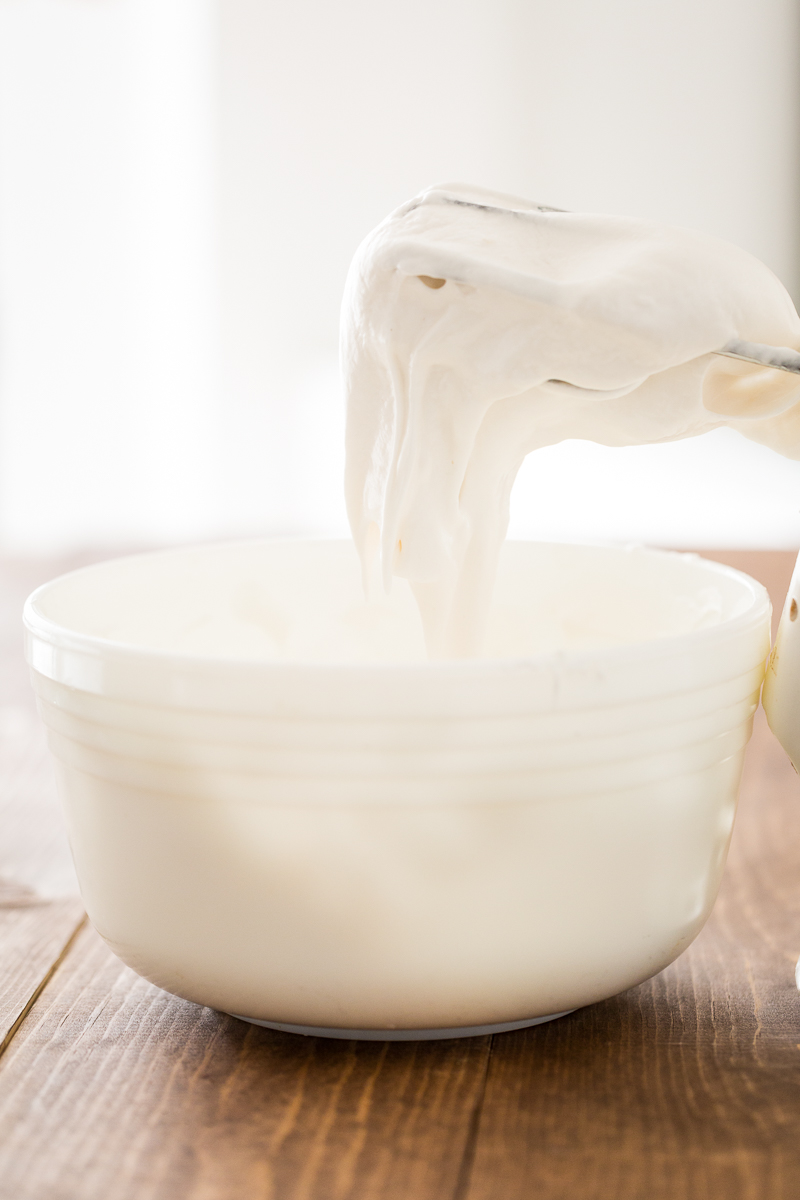 The fluff worked out perfectly. It was seriously like magic. Yes, I was grossed out at the beginning during the whole brine-collection part, but once I began mixing it with the other ingredients, my disgustedness was replaced with pure awe. Magic was happening in my bowl and a sugar-free, vegan marshmallow fluff began to creep up the beaters of my hand mixer. I may've screamed and made Chris run to the kitchen to see it. And then I may've laughed a little maniacally but totally not on purpose.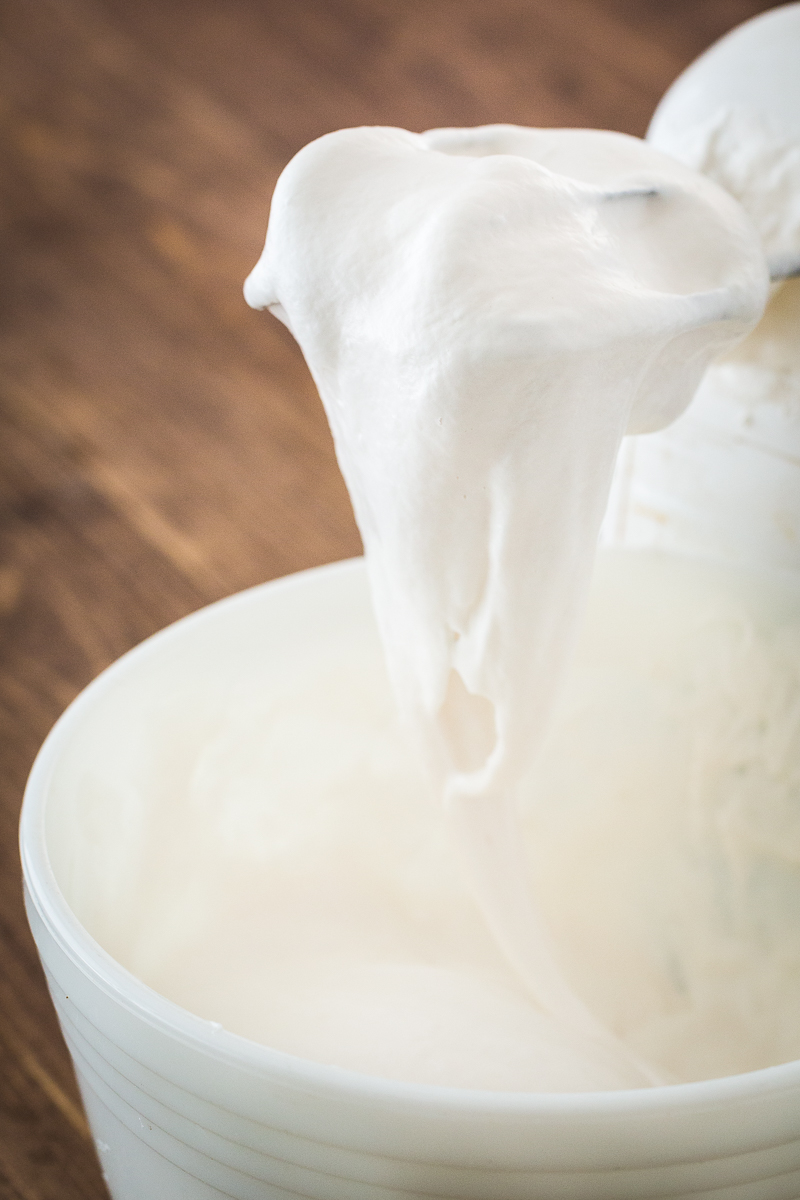 Now to the waffles. I've been dreaming about S'mores Waffles for the better part of 4 months. Two graham-crackery-tasting gluten-free, vegan waffles stuffed with gooey, slightly burnt marshmallow fluff and thick melted chocolate. Yes. Four months of scheming on how to make this day-dream of mine appear on my Sunday morning brunch plate.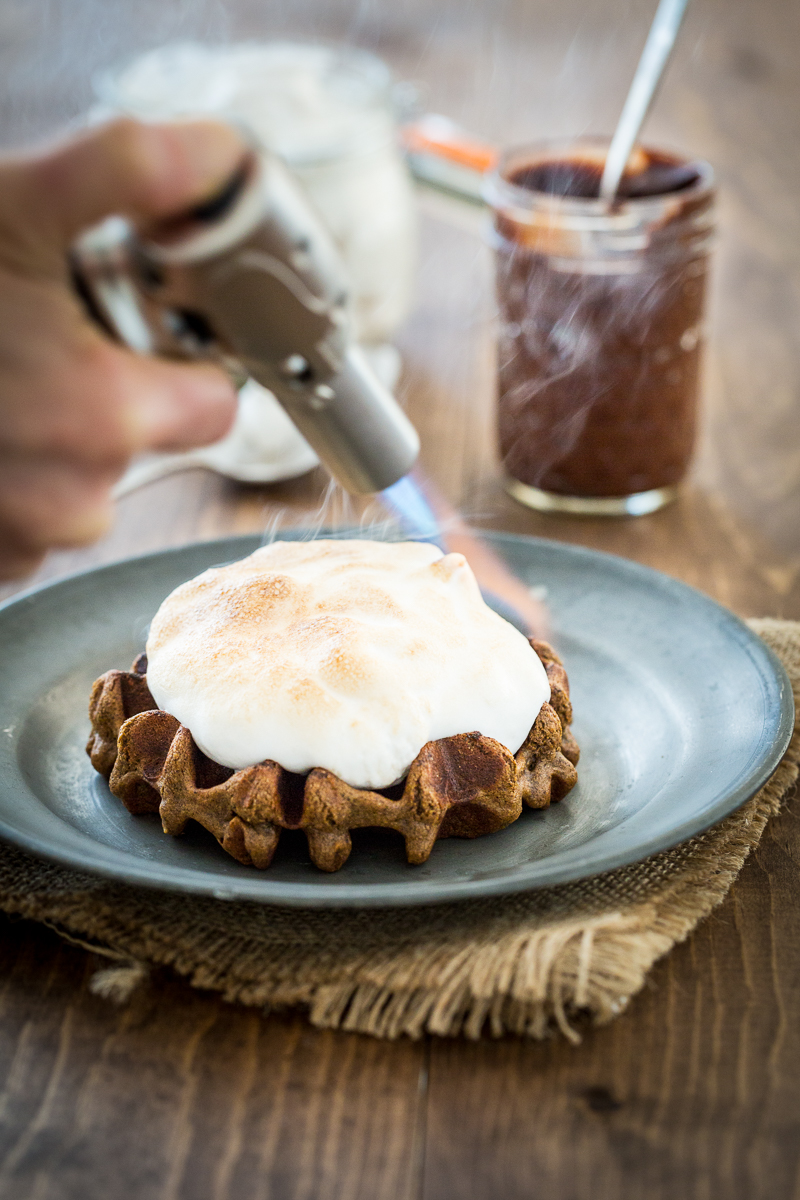 I perfected the waffles early on- achieving the taste of graham crackers with a combination of buckwheat flour, blackstrap molasses, and cinnamon. I knew I wanted the chocolate sauce to be thicker than just straight-up melted chocolate and I wanted it to have more nutritional depth. Combining melted sugar-free chocolate with a puree of dates and almond milk gave me just what I was looking for. I'd purchased a cooking torch early on in hopes of using it on my homemade marshmallow fluff, but there never was enough of a successful result to use it. I'm sure I don't need to tell you that there was even more maniacal laughing while browning the winning batch of sugar-free, vegan marshmallow fluff (and also looks of concern/fear-for-their-life from Chris, Max, and Sophia).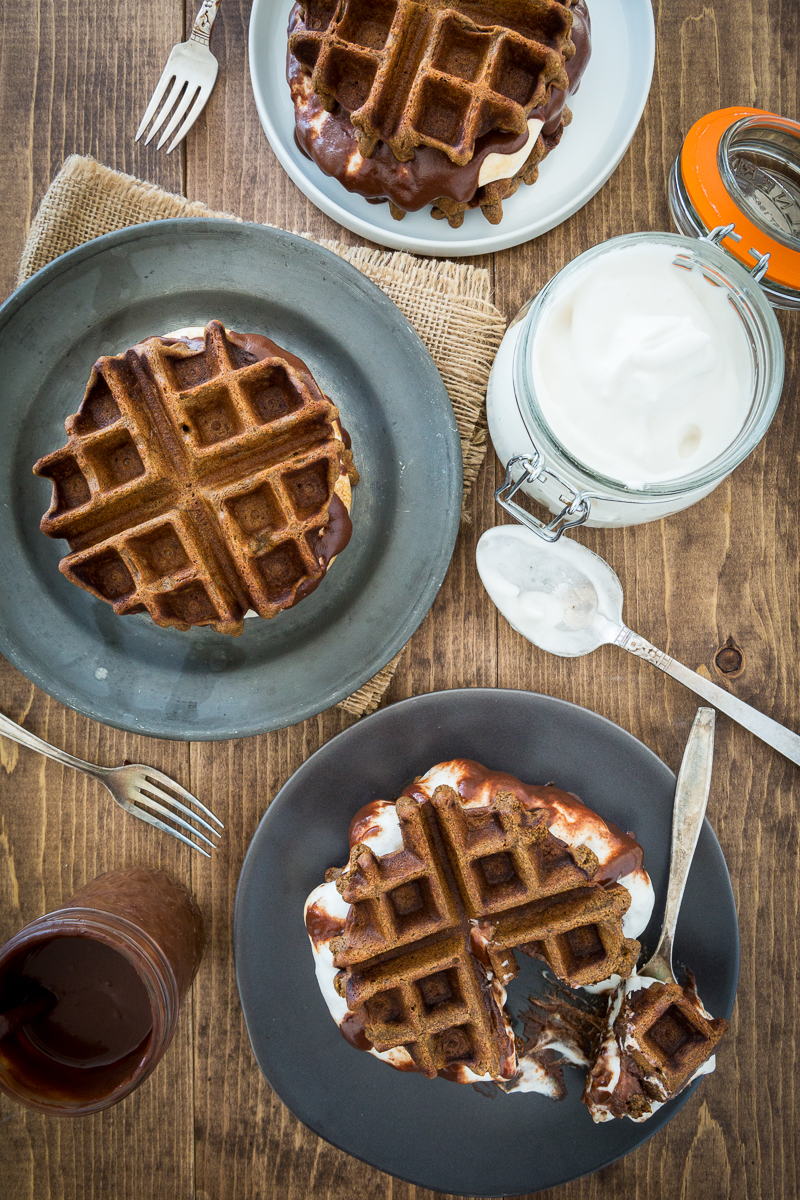 That first bite was so rewarding and triumphant. And also stupidly delicious. And also decadent and dare-I-say, miraculous. I mean, it was S'mores and Waffles happening at the same time and it was vegan and sugar-free and gluten-free and IT WAS ALL MINE (and the rest of my family with whom I shared them with). And now they're ALL YOURS. I hope I hear some maniacal laughter coming from your kitchen very soon.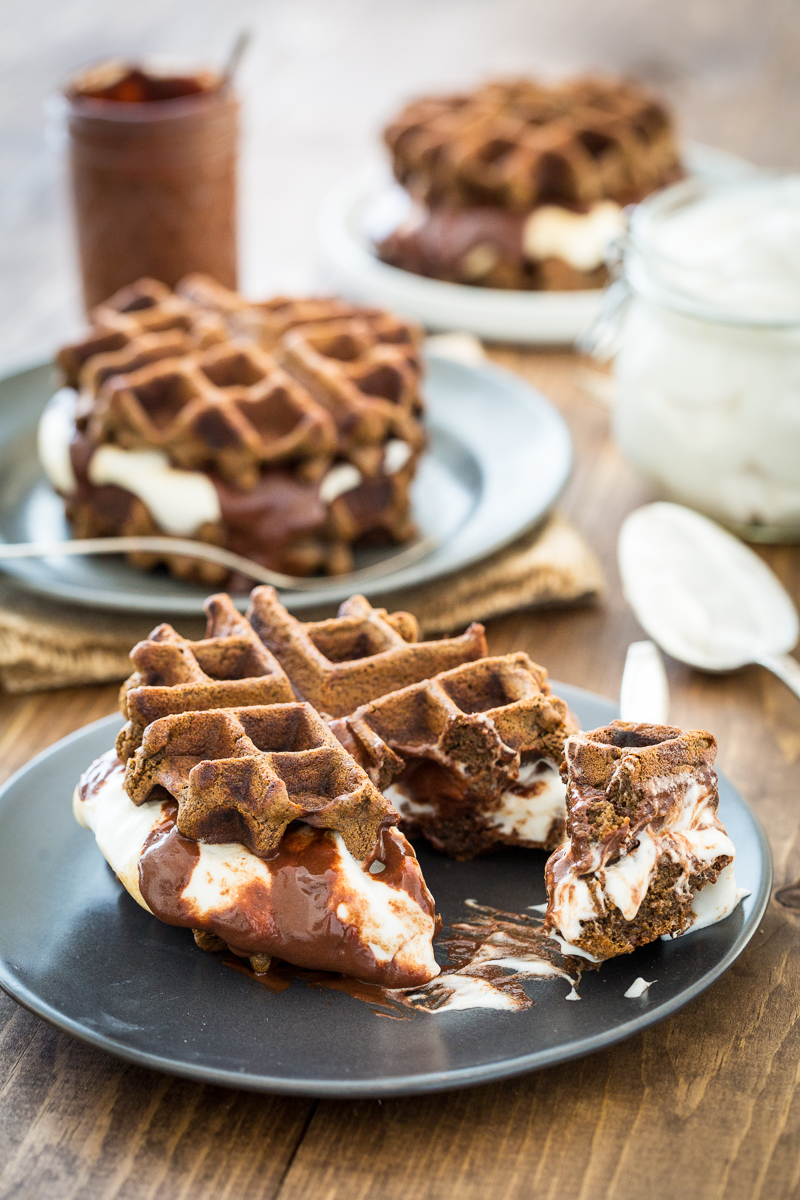 S'mores Waffles with Sugar-Free, Vegan Marshmallow Fluff
Ingredients
1/2 cup chickpea brine
3/4 teaspoon guar gum
1/2 teaspoon lemon juice
1/2 cup powdered xylitol (blend xylitol in a very dry blender until it is a powder) or powdered sugar
2 teaspoons vanilla powder
1 1/4 cup buckwheat flour
1 cup oat flour
2/3 cup sweet rice flour
1/4 cup almond flour
1 1/2 tablespoons baking powder
1 tablespoon arrowroot powder
2 teaspoons ground cinnamon
1/2 teaspoon allspice
1/2 teaspoon salt
1 1/3 cup + 1/4 cup non-dairy milk (I used unsweetened vanilla almond milk)
2 teaspoons lemon juice
1/3 cup applesauce
1/3 cup sunflower oil
1/3 cup maple syrup
1/3 cup blackstrap molasses
2 teaspoons vanilla extract
10 medjool dates, pitted
1 cup non-dairy milk (I used unsweetened vanilla almond milk)
3/4 cup vegan chocolate chips (I used Lily's Sugar-Free Chocolate Chips)
a pinch of salt
Instructions
Combine the chickpea brine with the guar gum and lemon juice in a large bowl. Use a hand mixer on it's highest setting for about 2 minutes or until it is thick and foamy.
Add the powdered xylitol and vanilla powder and mix with the hand mixer on the highest setting for about 5 minutes or until very thick, fluffy, and sticky. It will climb up your beaters so you will have to stop occasionally to knock it back into the bowl. Place the bowl in the refrigerator and lick the beaters clean, laughing maniacally while you do so.
In medium bowl. combine the non-dairy milk and lemon juice for the waffles. Set aside.
In a large bowl, combine the buckwheat, oat, sweet rice, and almond flours with the baking powder, arrowroot powder, cinnamon, allspice, and salt. Whisk the dry ingredients until thoroughly combined.
To the medium bowl containing the milk/lemon juice mixture, add the applesauce, oil, maple syrup, molasses, and vanilla extract. Whisk until combined. Add the wet ingredients to the dry and use a spoon to stir together until combined. If the batter thickens and/or dries out while waiting for the waffle iron to heat up, add a few tablespoons of non-dairy milk to thin it back out.
To make the small waffles, you will use half of what you would normally use in your waffle iron to make a full-sized waffle (so if you normally use 1 cup of batter, you will use a 1/2 cup of batter for these waffles). Pour the half portion of batter into the middle of the iron, and if needed, use a rubber spatula to gently help spread it out. Cook the waffle according to your waffle iron's instructions. Repeat until you have used all of the batter. To keep waffles warm while waiting for the others to cook, place the waffles on a baking sheet in your oven, set to the lowest heat setting.
Make the chocolate sauce while the waffles are cooking. Combine the dates and 1/2 cup of non-dairy milk in a food processor or high-speed blender and blend until mostly smooth, pausing to scrape the sides down as necessary. Add 1/4 cup of milk and process/blend until smooth. If you would like a thinner sauce, add the remaining 1/4 cup of milk.
In a double boiler, or a glass bowl fixed over a small pot of boiling water, melt the chocolate, stirring occasionally to prevent burning. Add the melted chocolate with the salt to the date mixture and blend until smooth. Transfer to a bowl or cup and set aside. If it thickens while you're waiting, you can reheat it in the microwave for a about 15 seconds or add more milk to thin it out.
To assemble, spread a layer of marshmallow fluff over one of the waffles. If you want to, you can use a kitchen torch to brown the fluff, but its totally not necessary. You could also probably place the waffle with the fluff under the broiler in the oven but you'll risk drying out the waffle. Drizzle chocolate sauce over the fluff and top with another waffle. Serve immediately. Enjoy!
Notes
I use a Belgian waffle maker that uses A LOT of batter. If your waffle iron doesn't need a lot of batter or if you have a regular waffle iron, you may want to consider cutting the waffle ingredients in half.
If you want to be extremely generous with your marshmallow fluff, I would double the recipe (that's what I did, though I had quite a bit leftover).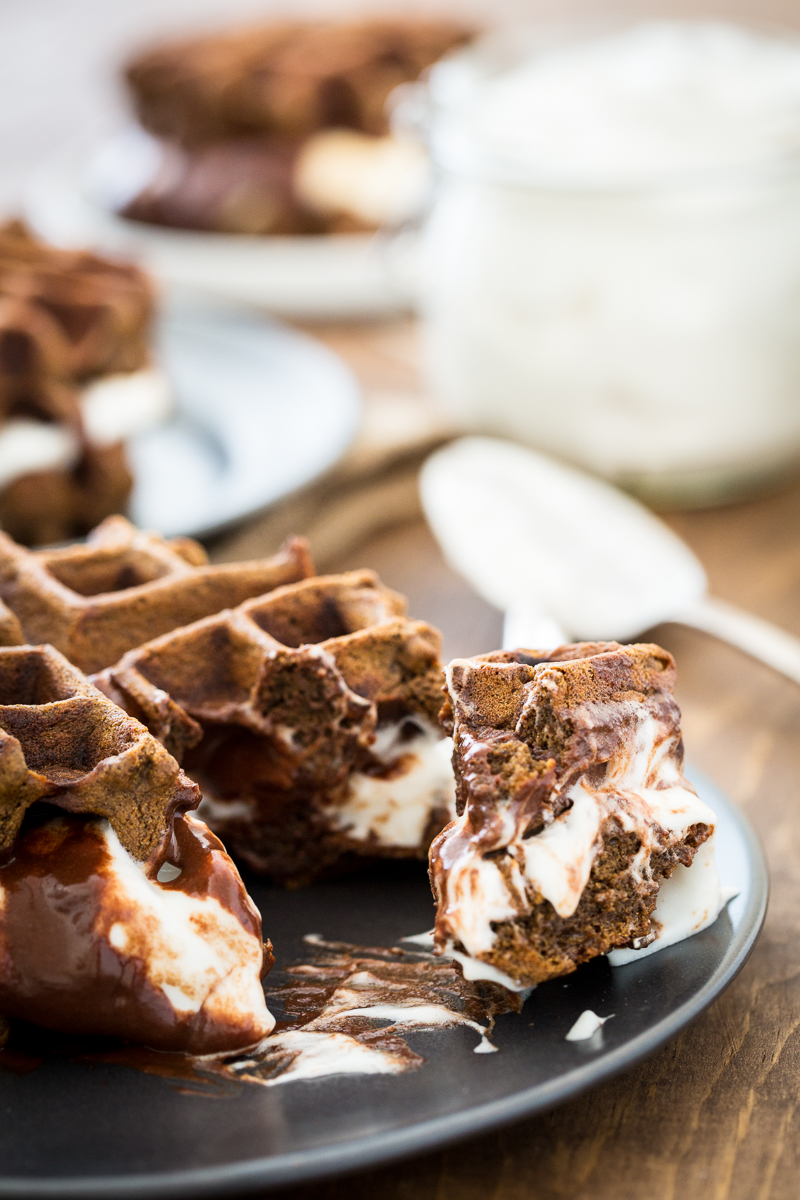 Thank you Seitan is My Motor for making my brunch dreams come true!
Photography by Chris Miller