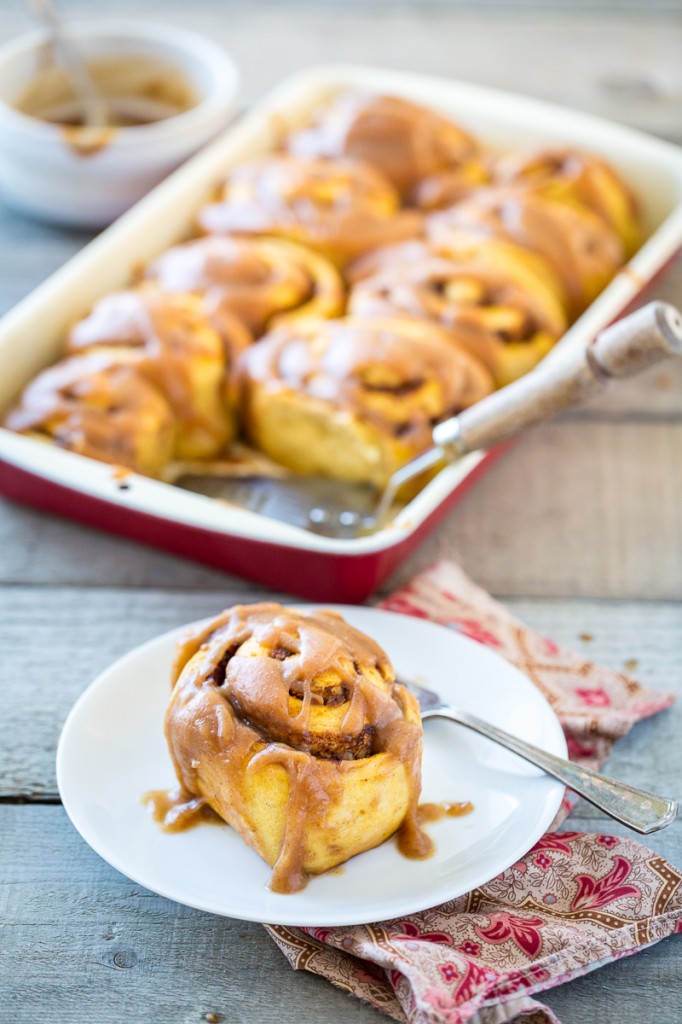 I just want to start off with telling you all that these cinnamon rolls are not gluten-free. I made them before I knew for sure that I had to remove gluten from my diet. They are, however, ridiculously decadent and delicious.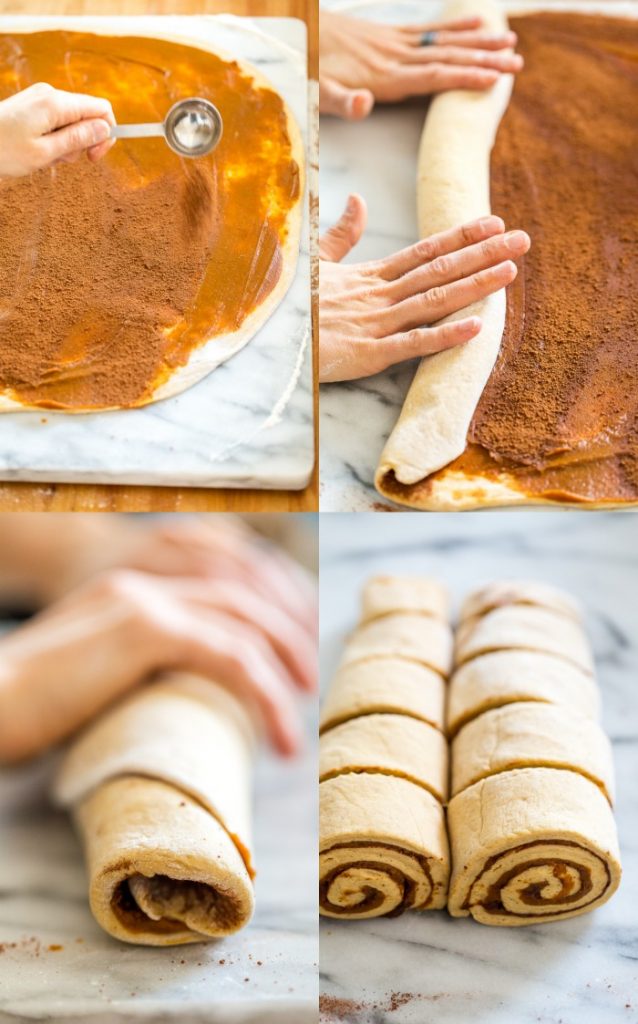 Now, to totally switch topics... There's an episode of Girls where Lena Dunham tells her cousin that she wishes they had been the kind of cousins that had all of these special memories and inside jokes but they're not. They don't get along. This moment made me so glad and thankful for the relationships I have with all of my cousins.
When I think of any one of my cousins, I feel like I'm thinking of a sibling. I have cherished memories with each and every one of them. The time Josh, Matt, and I spent a week backpacking through Italy. Riding around on the 4-wheeler with my cousin Brandonn, discussing the lyrics to the song, Breakfast at Tiffany's. Going to high-school for a year with Stephanie. Holding Sarah the day she was born (and now she's all grown up and works as a teacher! How can that be?!).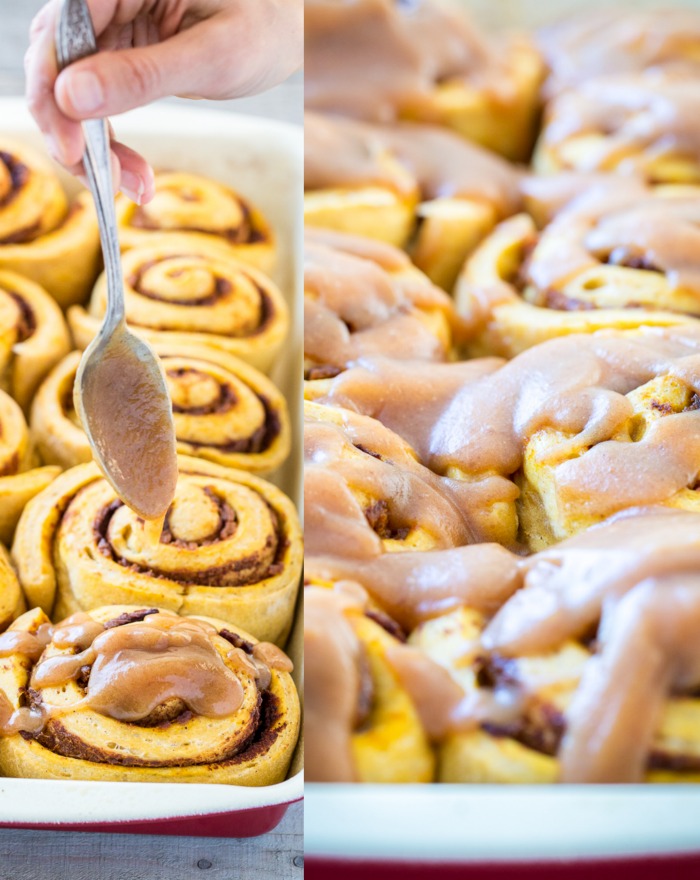 Today is my cousin Bridgette's birthday. I have plenty memories with her too- arguing as children over whether you put your underwear on over or under your tights (It's totally under, Bridge!). Pushing her around in a stroller as if she was my baby (I couldn't have been more than 8). Staying up late, helping her with decorations for her daughter's 1st birthday party.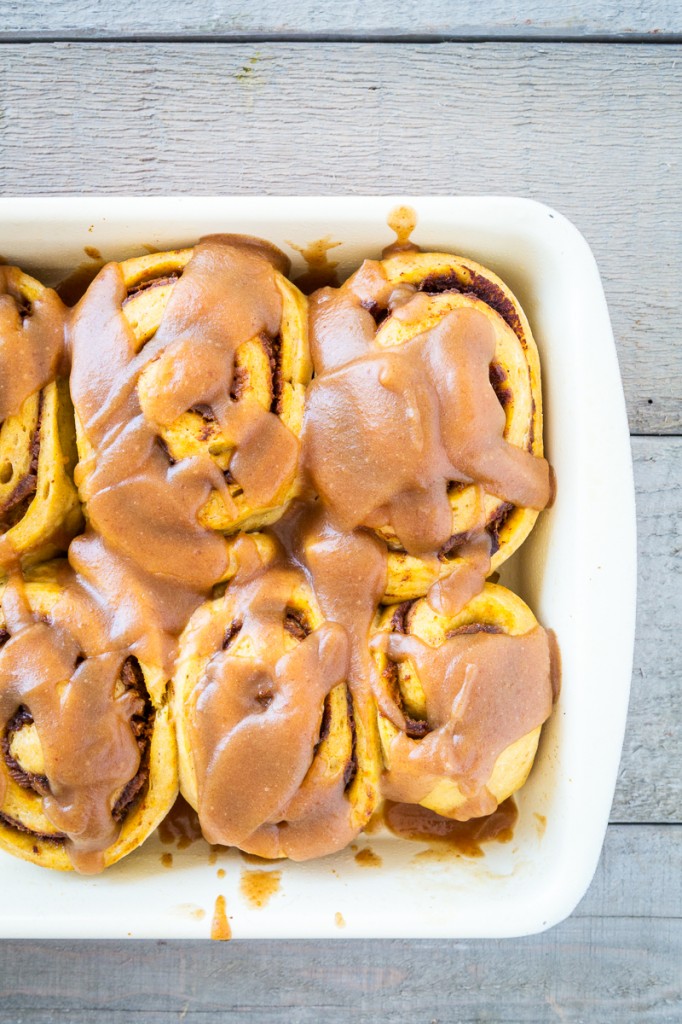 I've always loved Bridgette but in the last few years, my feelings for her have grown into true admiration. I've loved seeing the woman she's become since giving birth to her daughter. She's an amazing mother and has a truly gifted way with children. Her dedication to our family is truly awe-inspiring. When my grandmother's health began to decline, Bridgette was there to visit her as often as I wish I could've. She kept me filled in with every development of her health. When my grandmother passed, Bridgette was the first family member I talked to about it. Now she helps my grandfather out with things he may need help with and goes over to his house to keep him company. I feel blessed to be related to this person and so grateful for all that she does.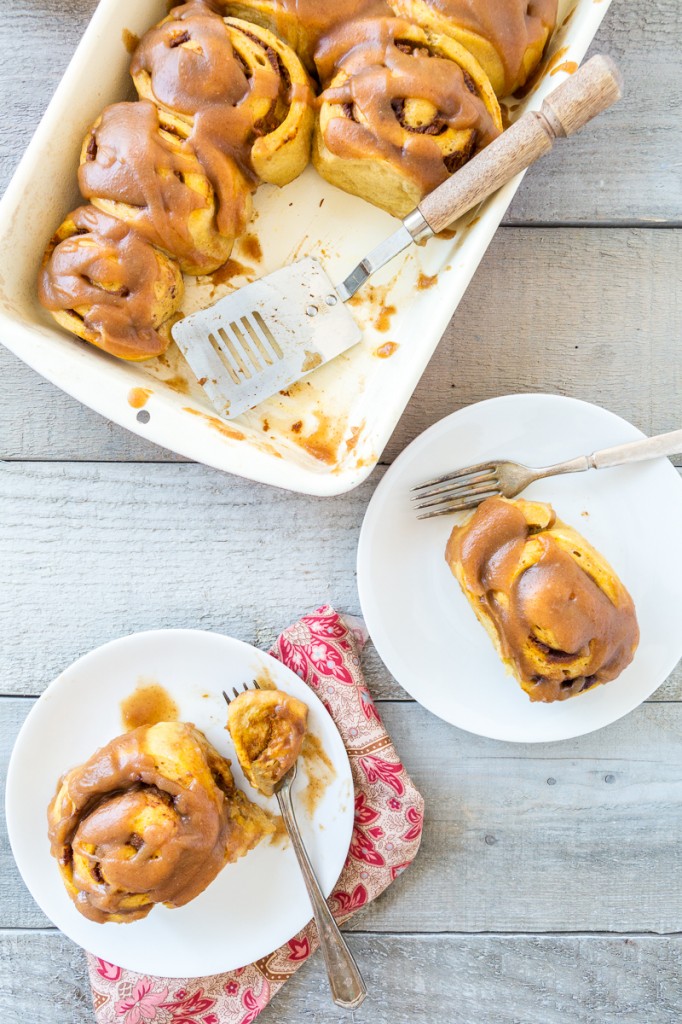 Bridgette and I are both a little (a lot) obsessed with cinnamon rolls. Namely, the cinnamon rolls from Cinnaholic in Berkley. We both follow them on Instagram to check out their daily specials and we text or tag each other whenever they share something that sounds especially delicious. So naturally, in honor of her birthday, I made cinnamon rolls.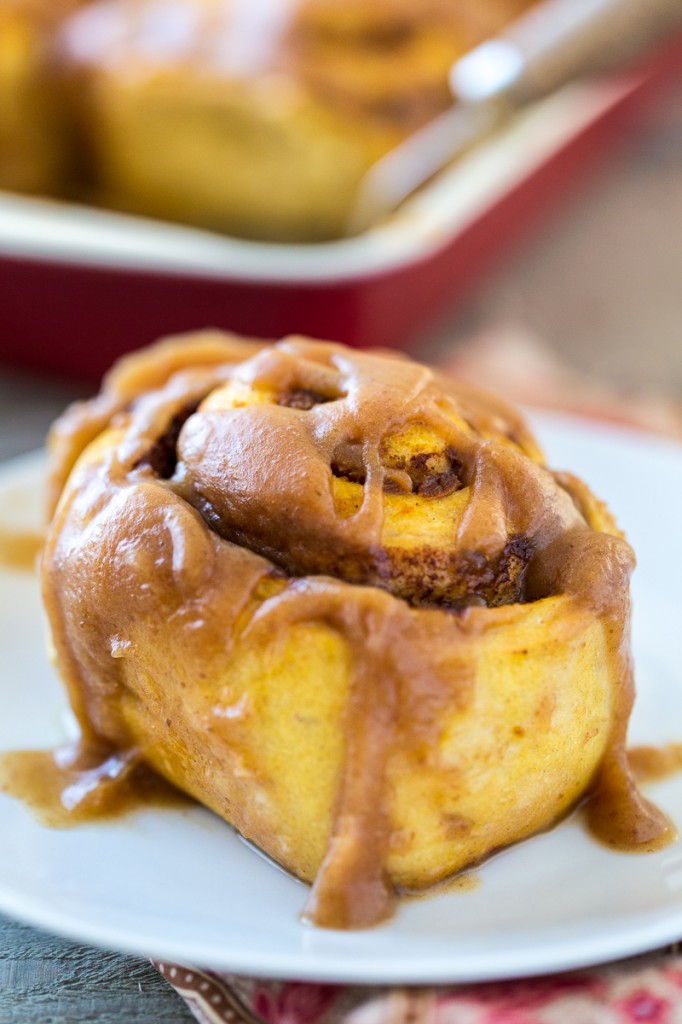 These pumpkin cinnamon rolls are adapted from the cinnamon rolls that will be in my upcoming book. These ones contain pumpkin in the dough and are filled not only with cinnamon and coconut sugar, but with a generous spread of pumpkin butter. You could eat them as-is and be happy as a porcupine, but why stop there? I've made a thick, gooey salted caramel glaze, made with dates, that you can drench your roll with. You might be able to contain yourself but I totally lost my cool over these rolls.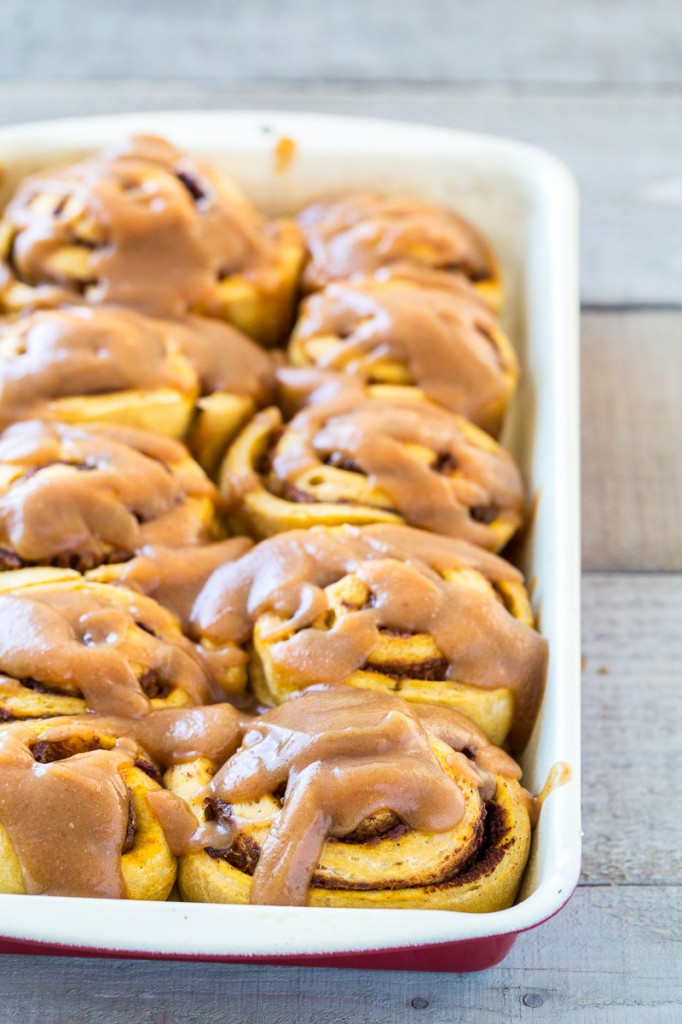 They're soft, doughy, cinnamony, full of sweet pumpkin flavor, with a gooey filling, and topped off with salty caramel-ness. And they give you magic powers. One of these descriptions is not true but you'll have to make them to find out which one.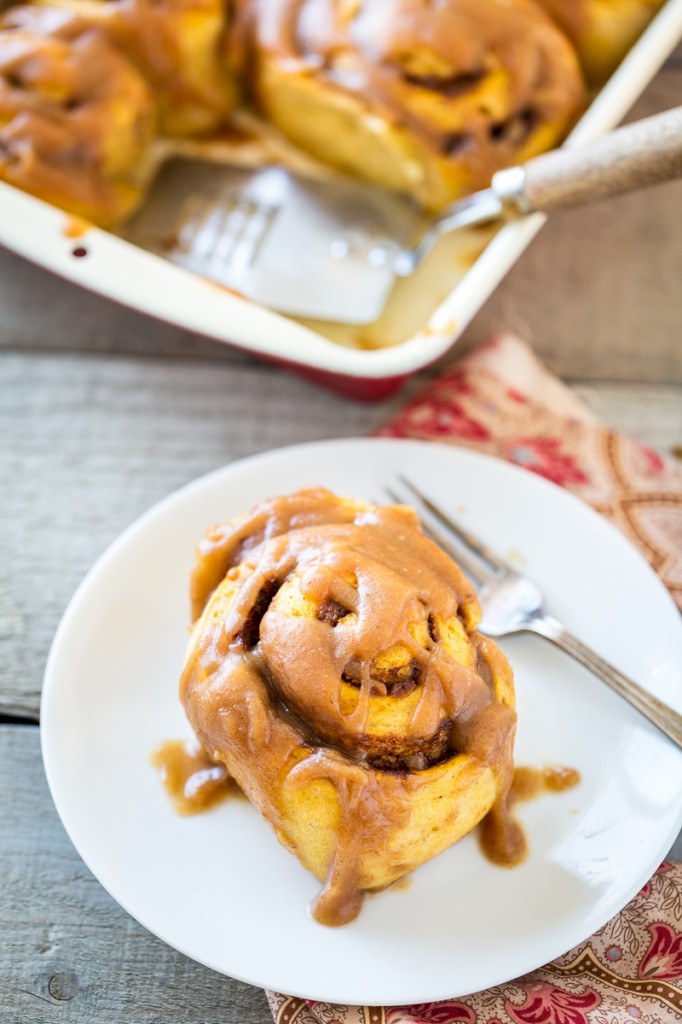 Pumpkin Cinnamon Rolls with Salted Caramel Glaze
Ingredients
1 cup (250 mL) non-dairy milk, heated to 110˚F (45˚C)
2¼ teaspoons instant yeast
1 tablespoon coconut sugar
1/3 cup pumpkin puree
3 tablespoons melted vegan butter
3 cups bread flour or all-purpose flour, plus some for flouring the surface
½ teaspoon salt
1 teaspoon ground cinnamon
1/2 teaspoon ground ginger
1/4 teaspoon nutmeg
the filling
1 cup pumpkin butter
2 tablespoons coconut sugar (or vegan brown sugar)
1 tablespoon ground cinnamon
10 medjool dates, pitted
1 cup water
3 tablespoons powdered xylitol or sugar, optional
salt to taste
Instructions
In a small bowl, combine the milk, yeast, and sugar. Let sit for 10 minutes to let the yeast activate. You will know it's working when the milk gets foamy.
In a food processor fitted with a dough blade, combine the milk mixture with the pumpkin, melted butter, 1 cup of flour, salt, and spices. Process/mix until combined. Add flour a 1/2 cup at a time until a ball forms (you may not use all of the flour or you may use more). If the dough gets too dry, add melted butter by the teaspoon until dough is moist. You want it to be soft and pliable. When you touch it, it should leave a dent but not stick to your finger.
Lightly grease a large bowl and transfer the ball of dough to the bowl. Loosely cover with a damp kitchen towel and let the bowl sit in a warm area (if your kitchen is cold, turn the oven on to its lowest temp and set the bowl on top of or near the oven). Let the dough sit and rise for 1 hour or until it has doubled in size.
In a food processor, combine the dates and water and process until smooth, pausing to scrape the sides as necessary. Once smooth, transfer to a bowl and mix in the powdered xylitol or sugar, if using. Set aside.
After the dough has risen, gently punch it down a couple of times. Transfer the dough to a floured surface. Stretch and/or roll the dough out to a roughly 12 x 18-inch rectangle. Spread the pumpkin butter out on the dough. In a small bowl, mix together the coconut sugar and cinnamon and sprinkle over the pumpkin butter. Take the long edge closest to you and roll over the filling until you have a log. Use your fingers to carefully press the seam closed. Use a serrated knife to chop the log in half. Chop those two halves into 5 slices each, making 10 rolls.
Lightly spray an 9x13-inch casserole with cooking spray or brush with a little more melted butter. Place the rolls in the pan, cut side up, making sure to space them evenly as much as possible. Preheat the oven to 350˚F and place the pan on or near the oven while it preheats. Once it is done preheating, brush the rolls with the remaining melted butter, place the pan in the oven, and bake for 20 to 25 minutes or until set and golden. Remove from the oven.
Drizzle the salted caramel sauce over the rolls and serve immediately. Leeftovers can be chilled in an airtight container for 2 to 3 days. Enjoy!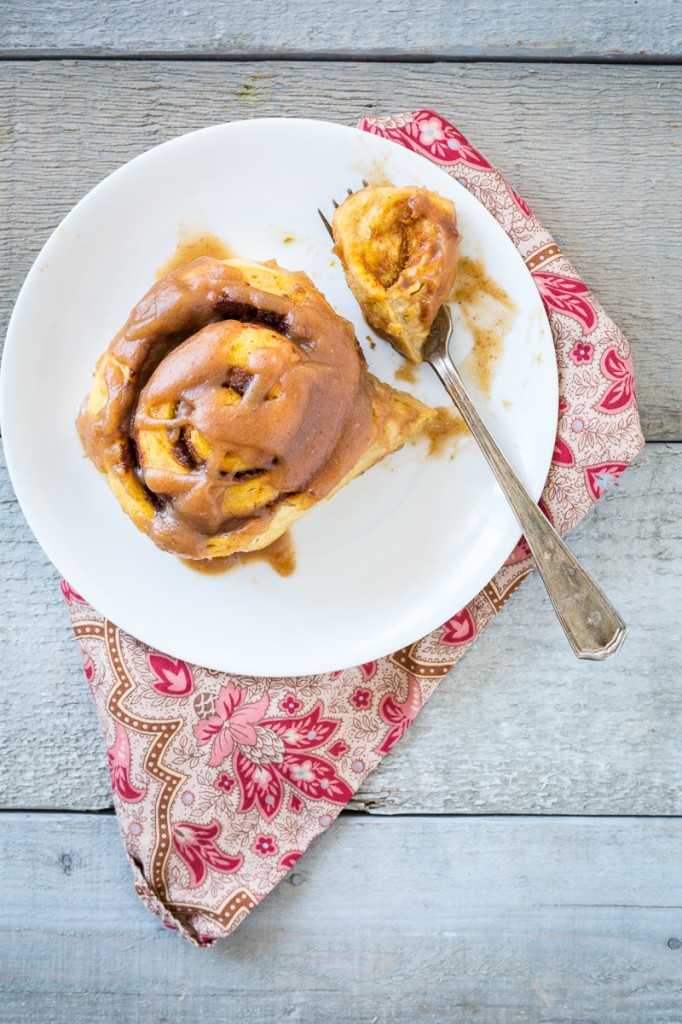 Happy Birthday, Bridgette.
Photography by Chris Miller