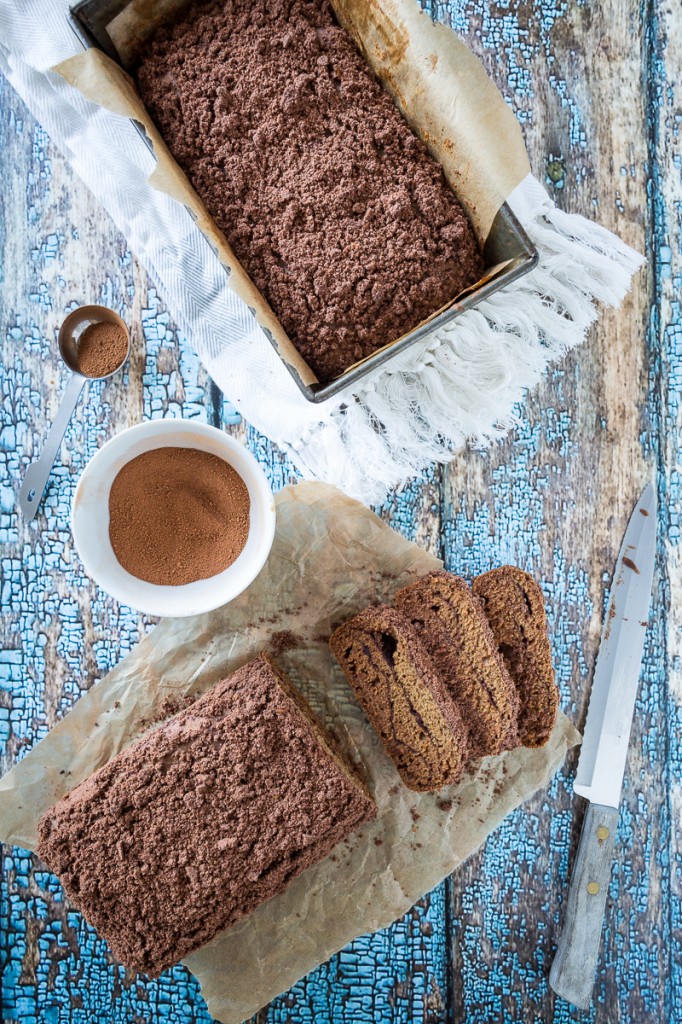 It's fall now (Hi, my name is Captain Obvious).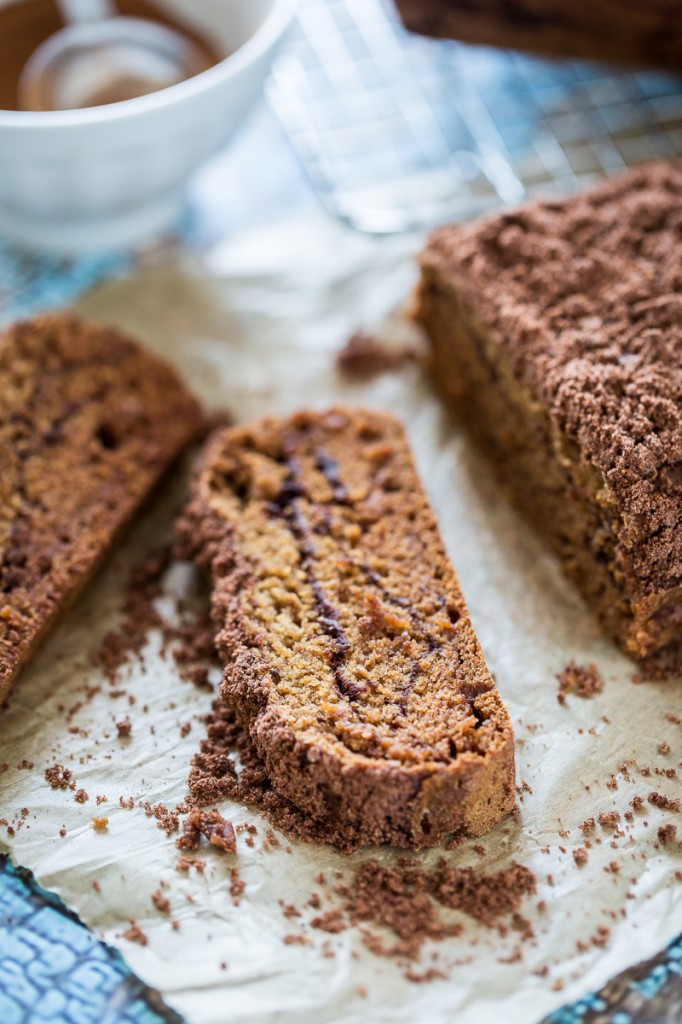 That means it's time for my cinnamon intake to increase exponentially.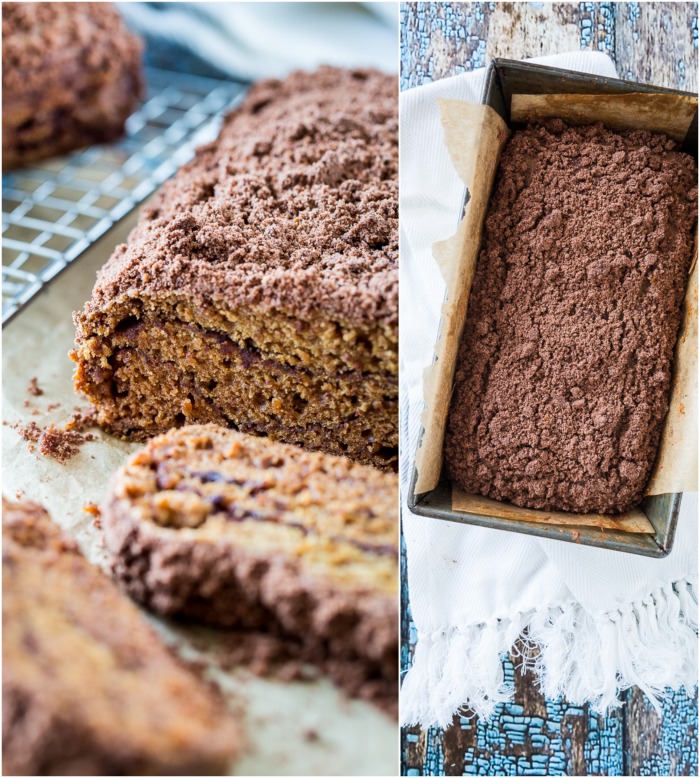 And I'm starting with this streusel-covered snickerdoodle bread.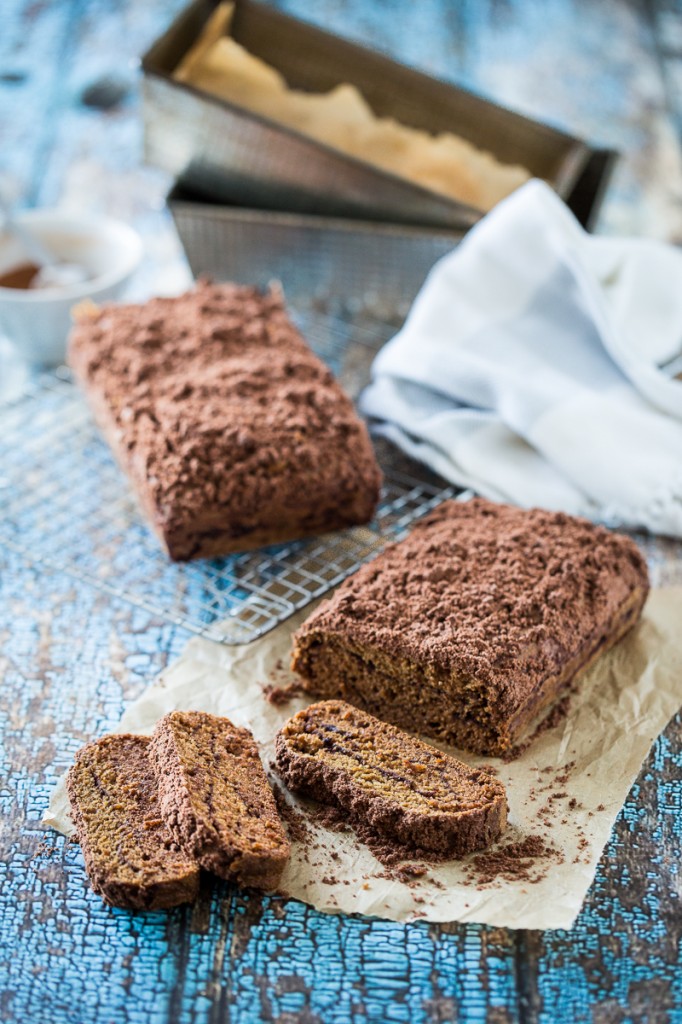 Sure, I could've made snickerdoodle cookies, but I was in the mood for something banana bread-ish but I had no bananas. What I did have was a big ol' jar of applesauce. Now even though applesauce takes the place of eggs in this recipe and also helps cut back on the amount of oil needed, the bread surprisingly doesn't have an apple flavor. It's all sweet cinnamony goodness.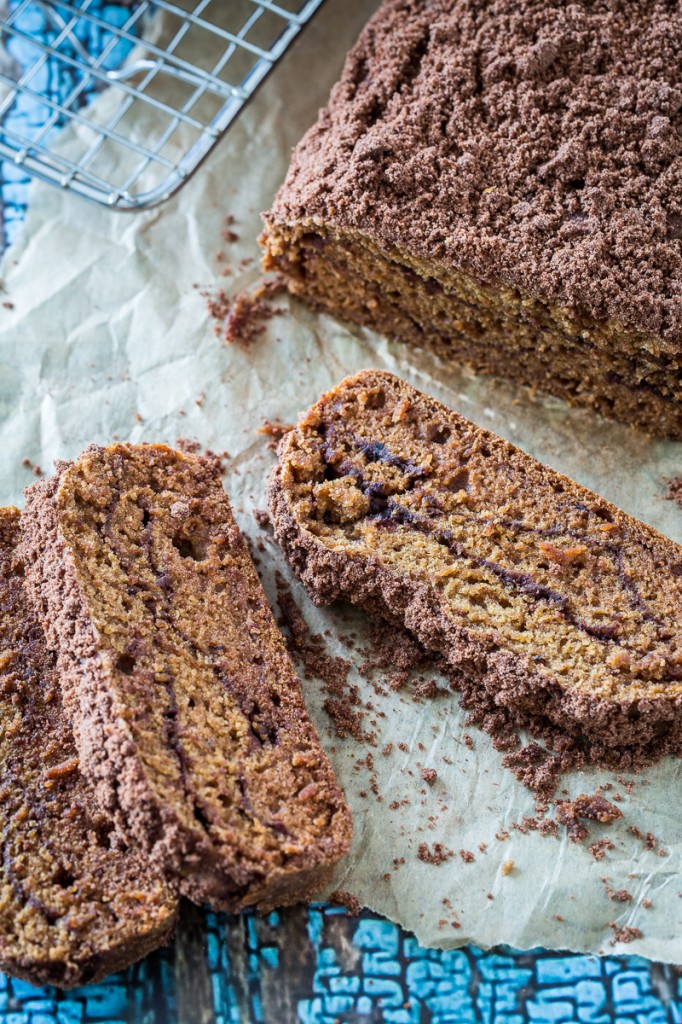 How does this bread pack in the cinnamon, you ask? Well, in addition to there being some in the batter itself, there's 2 layers of a cinnamon/coconut sugar mixture. Then, as if that wasn't enough, there's a thick layer of cinnamon streusel piled on top of both loaves. Yes, you read that right: this recipe makes two loaves. You might be wondering what you're going to do with two loaves but trust me- it will go fast! Or, you can give the second loaf to your neighbor or friend or some random person. Whatever floats your boat.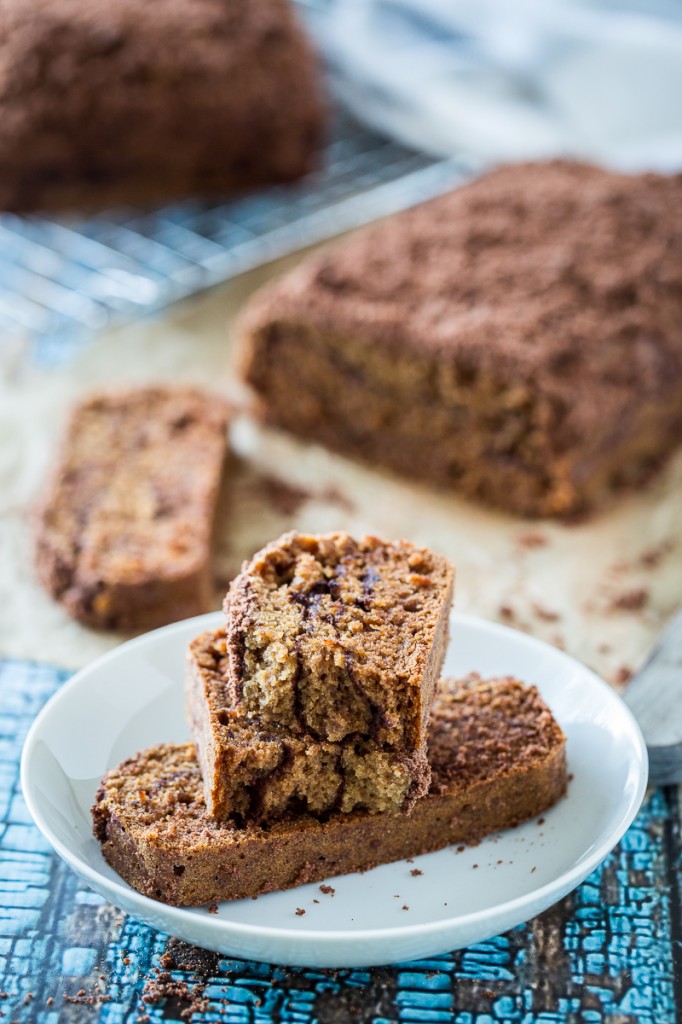 This snickerdoodle bread went over pretty well in our house. And by "well," I mean "oh my god!" Both loaves were gone in under 4 days. In other news, I just awoke from a blissful cinnamon coma in time to share this recipe with you. Go now, stock your pantry with tons of cinnamon because I have a feeling this snickerdoodle bread is going to be on regular rotation in your house too.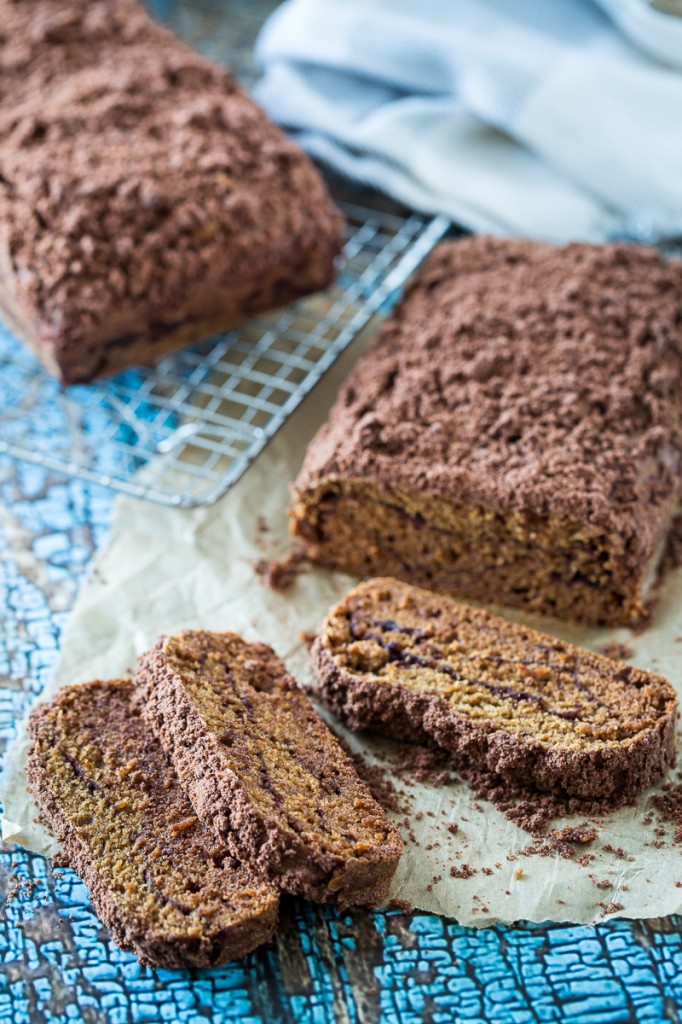 Streusely Snickerdoodle Bread
Ingredients
3 1/2 cups unbleached all-purpose flour
2 teaspoons baking soda
2 teaspoons cinnamon
1 teaspoon salt
1 teaspoon baking powder
1/2 teaspoon ground cloves
1/2 teaspoon nutmeg
2 cups applesauce
10 medjool dates, pitted
1/2 cup sunflower or canola oil
1/2 cup water
1/4 cup maple syrup
1/4 cup coconut sugar
2 1/2 tablespoons cinnamon
1/2 cup unbleached all-purpose flour
5 tablespoons coconut sugar
2 1/2 tablespoons cinnamon
2 tablespoons cold vegan butter
Instructions
Preheat the oven to 350 F. Lightly spray two 9x5-inch loaf pans with cooking spray and line them with parchment paper.
In a sifter, situated over a large mixing bowl, combine the flour, baking soda, cinnamon, salt, baking powder, cloves, and nutmeg. Stir the ingredients with a spoon, pushing the ingredients through the sifter. Once all of the ingredients have sifted into the bowl, use a whisk to gently stir the mixture until fully combined. Set aside.
In a food processor, combine the applesauce, dates, oil, water, and maple syrup. Process until fully combined and smooth. Add the mixture the dry ingredients and stir until fully combined.
In a small bowl, combine the cinnamon and sugar for the cinnamon-sugar layer and set aside.
In a medium bowl, combine the flour, sugar, and cinnamon for the streusel. Add the cold butter and use a butter knife or a pastry cutter to cut the butter into the dry ingredients until it has broken up and the mixture has the texture of wet sand. Set aside.
Scoop a 1/2 cup of batter into each loaf pan and use a rubber spatula to spread it out. Evenly sprinkle a heaping tablespoon of the cinnamon-sugar mixture over the batter. Spread a heaping 1/4 cup over each cinnamon-sugar layer. Sprinkle the remaining cinnamon-sugar mixture over each loaf. Divide the remaining batter between the two pans and spread out evenly. Spread the streusel mixture out over each loaf. Place the pans in the oven and bake for about 50 minutes or until a toothpick inserted into the center comes out clean.
Remove the pans from the oven and let the loaves cool for about 5 minutes in the pan before using the parchment paper to lift the loaves out and placing them on cooling racks to cool for another 5 to 10 minutes. Slice and serve. Enjoy!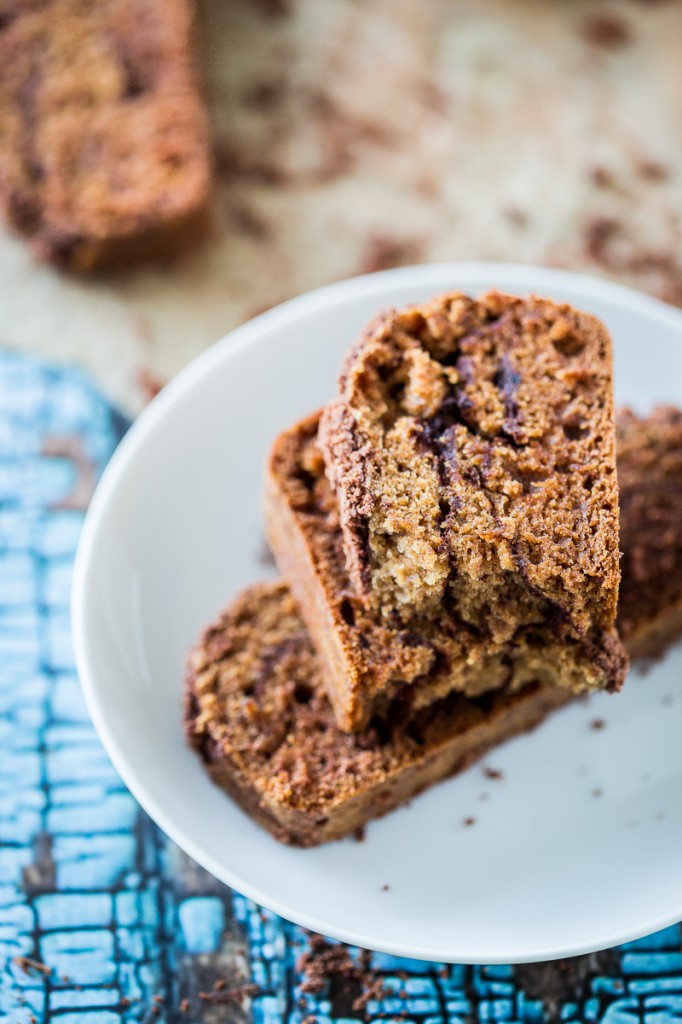 What are some of your favorite uses for cinnamon?
Photography by Chris Miller