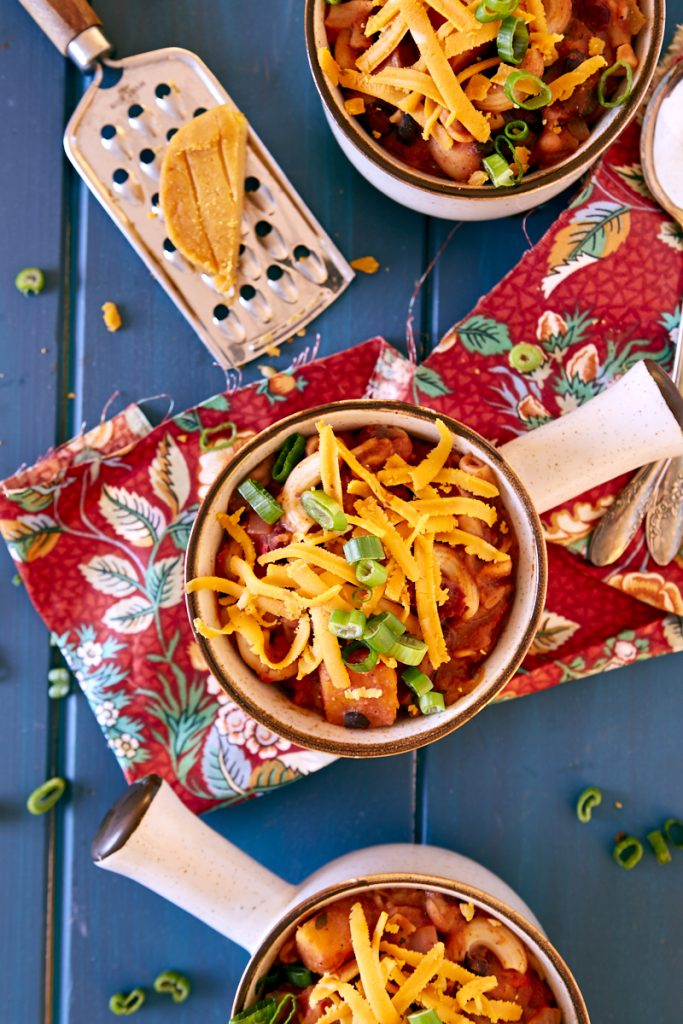 So, I'm totally aware that the beginning of spring is probably not the ideal time to be posting a recipe for roasted butternut squash chili mac. In my defense, I cooked this and shot it back in February when it was freezing and pouring rain and hearty bowls of roasted squash, beans, and pasta were all I was craving. Save this recipe for a chilly April Showers sort of day, or a "I need comfort food STAT sort of day," or bookmark it for the first cold Autumn day. Whatevs. It's here for when you're ready.
I'm going to be completely honest about why it's taken me so long to post this: This spring, I'm going through a major life transformation and I've been struggling lately with motivation to do the things that used to fuel me, lift me up, and give me life. I love writing. I've always loved writing. It's always been a release for me, my favorite way to flex my creativity muscles. And for many years, food has been one of my favorite subjects to write about. But these days, it's very hard for me to come up with interesting things to say about food. Case in point: I've been working on this post for a month. Like, I've written it and deleted it more times than I can count at this point. Maybe it will come back. Or maybe this blog will see a transformation of its own in its future. I'm waiting to see where the universe guides me to.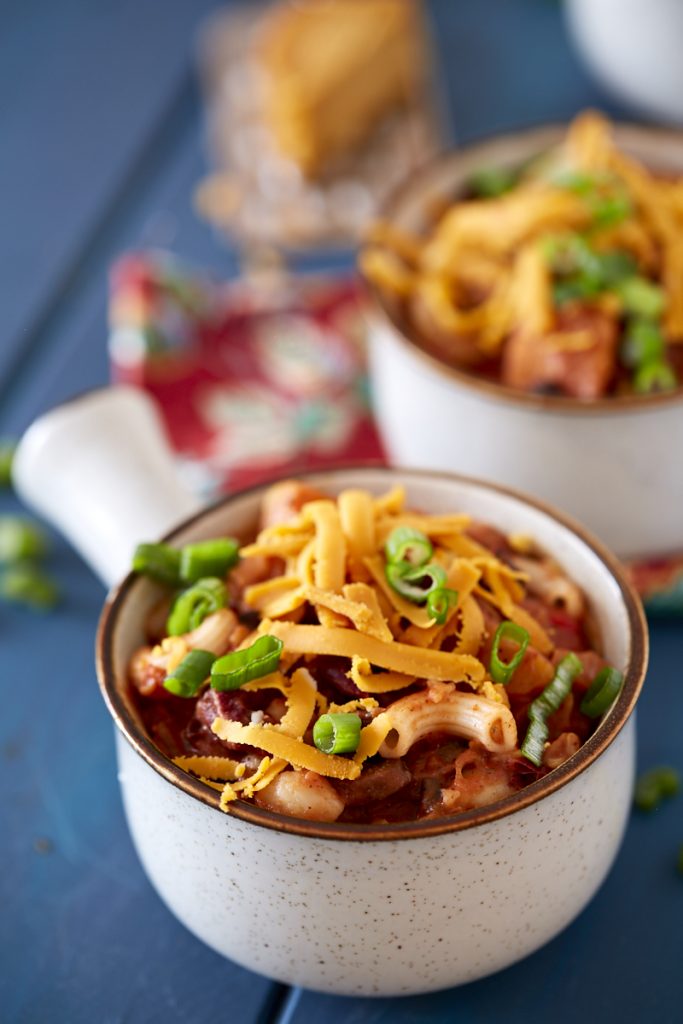 In this transformation, I've been reevaluating my values. And I've been working on aligning my habits and my lifestyle with my new values. That means I've been spending more time meditating, doing yoga (and doing yoga teacher training), journaling, spending time with friends, and doing lots of other little acts of self-care. And all of that leaves less time for blogging and social media. I'm still in the process of learning how to make those activities work with my values.
At the beginning of the year, I took a manifestation workshop with some dear friends, and today, my dog, Maeby, reminded me to look at my notes from that workshop. She did this very subtly by pulling out my journals and notebooks and chewing up all the covers (luckily, all my journal pages and notes are still in tact). So as I taped the covers back together in a delicate hodgepodge fashion, I reread my notes from early January and I was shocked. Nearly everything I wanted to have happen this year has already happened or is in the works to happen in the near future! I haven't even opened that notebook since January, and here it is, near the end of April and I've accomplished so much. I've come so far and I'm damn proud of myself. The fact that this is my second post of the year doesn't bother me one bit. I am on the right track in this life-transformation.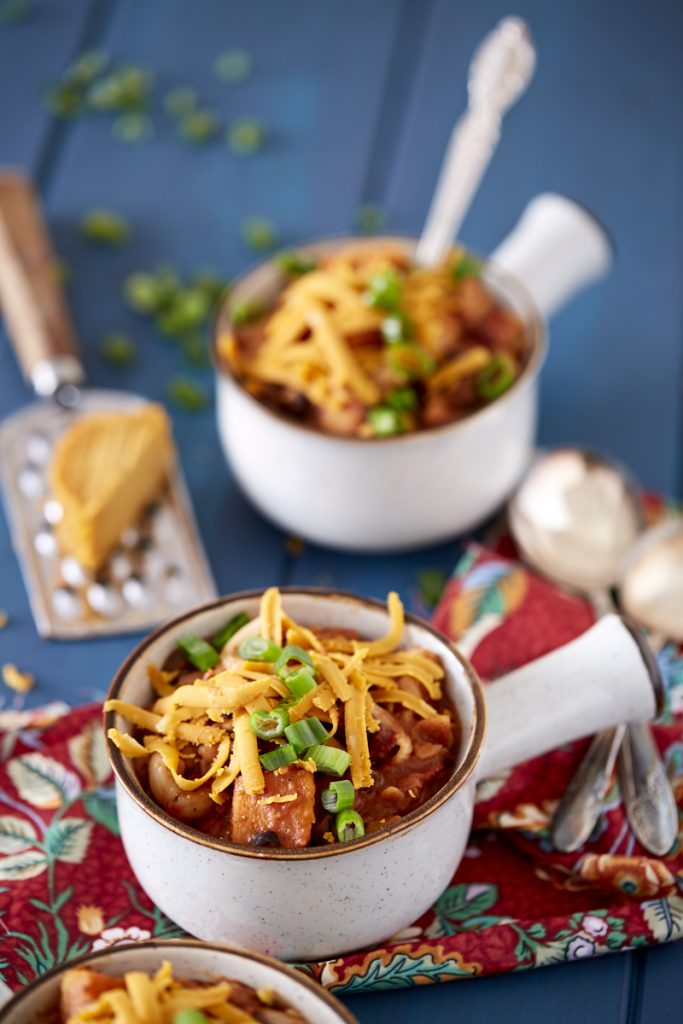 So on to this recipe. Full disclosure: I made this recipe using a package of pre-cut butternut squash. Typically, I would've bought the full squash and chopped it myself. But I injured my hand in early February. See, not only does Maeby love to read my journals when I'm not home, she also has a the ability to run without looking where she's going. #mydogsgottalent So on one of our runs, Maeby got distracted while running behind me and the next thing I knew, I was sprawled out on the pavement after being trampled by a 50-pound pup. She was very sorry. But my right hand was out of commission for a little while and I had to briefly go back to eating take-out and easy-to-prepare meals.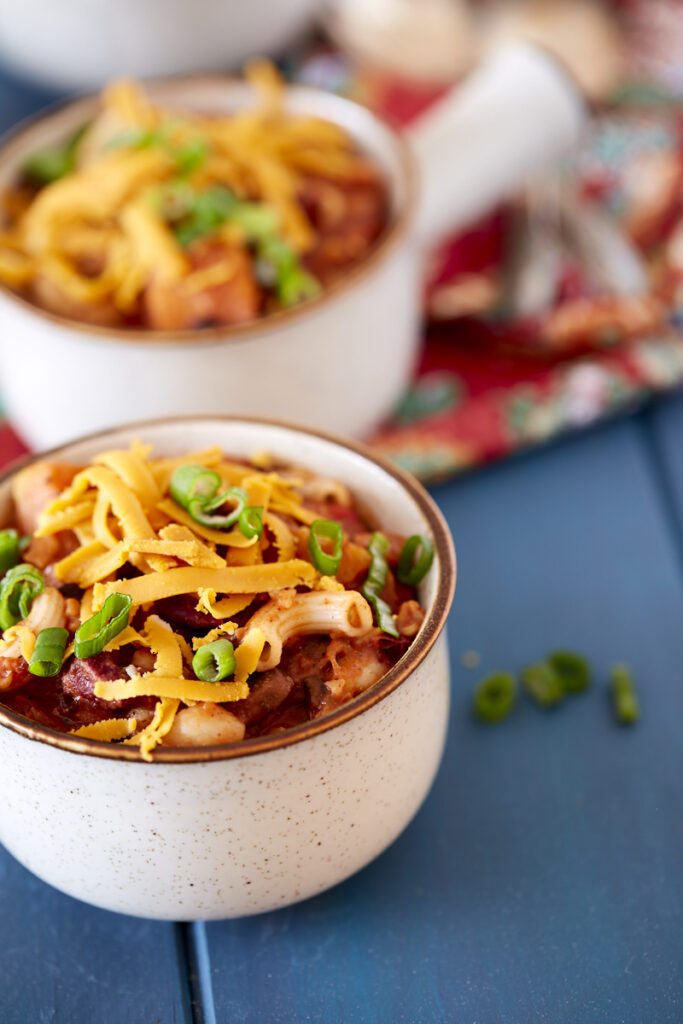 During that period, I really began to crave a big bowl of chili and/or a big bowl of pasta. I wasn't picky. It just had to be warm and filling and wholesome and just, you know, comforting. As soon as my right hand could maneuver a knife to chop up a few easily-sliced veggies, I made my craving a reality. And you're looking at it. The ingredient list may look long, but you likely have a lot of these items in your cupboard and the others aren't exotic and are easy to find. This chili mac comes together very easily (especially with the pre-cut butternut squash), and it makes a lot. I actually still have half of the pot stored in my freezer for the next time I don't feel like cooking.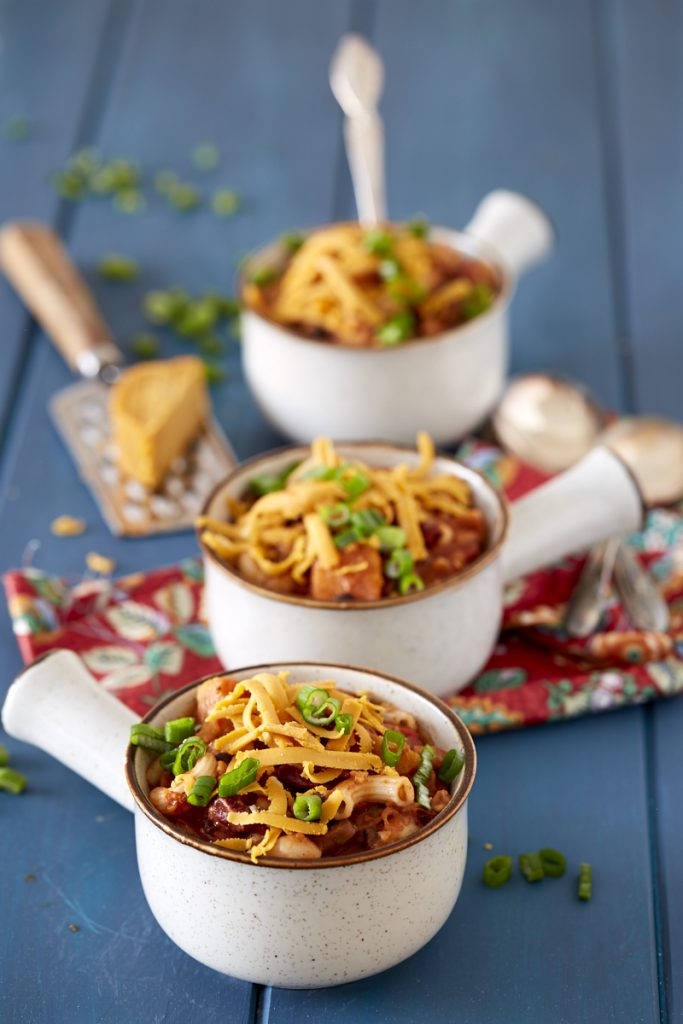 And this chili mac is delicious! It's bold in flavor and texture and boy, is it filling! It's one of those recipes that even though it's enticing with its burst of savory goodness, the sweetness from the roasted butternut squash, the chewy pasta, and the hearty mixture of beans- it's hard to eat more than a small bowl without feeling stuffed. Which just means more leftovers, which means less time in the kitchen and more time doing the things that are truly important.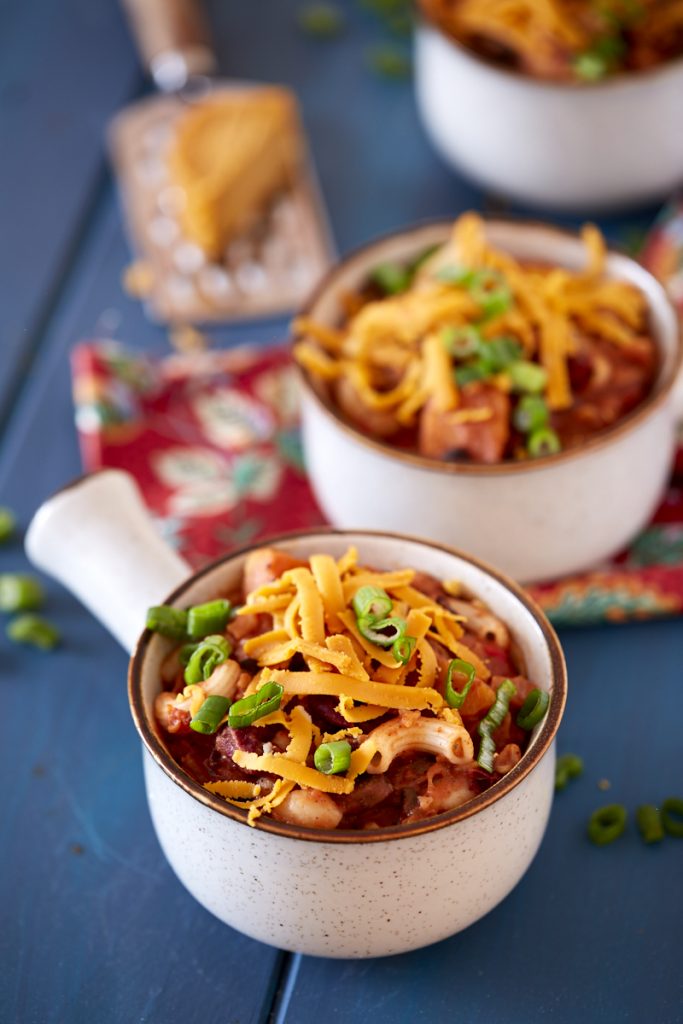 Roasted Butternut Squash Chili Mac
Ingredients
2 pounds cubed butternut squash
olive oil or coconut oil spray
3 teaspoons smoked paprika, divided
2 teaspoons garlic powder
salt and pepper to taste
1 teaspoon olive oil
1 red onion, chopped
3 garlic cloves, minced
1 Anaheim pepper, finely diced
1 red bell pepper, chopped
8 ounces crimini or white mushrooms, sliced
3 tablespoons diced Hatch green chiles
1 15-ounce can kidney beans, rinsed and drained
1 15-ounce can black beans, rinsed and drained
1 15-ounce can navy beans, rinsed and drained
2 15-ounce cans diced fire-roasted tomatoes

(no salt added, preferably)

1 15-ounce can tomato sauce

(no salt added, preferably)

4 tablespoons tomato paste
4 tablespoons maple syrup
2 teaspoons cumin
2 teaspoons ancho chili pepper
1 teaspoon dried thyme
1 teaspoon dried parsley
12 ounces macaroni pasta

(use gluten-free if necessary)

4 cups vegetable broth
4 tablespoons nutritional yeast
1 teaspoon liquid smoke
sliced green onions for serving,

optional

shredded vegan cheese for serving,

optional
Instructions
Preheat the oven to 450 degrees F. Line a baking sheet with parchment paper. Spread the butternut squash cubes out on the sheet and spray with the olive or coconut oil spray. Sprinkle with 2 teaspoons of smoked paprika (reserve the remaining 1 teaspoon for later), garlic powder, and salt and pepper to taste. Toss the cubes until they're all fully coated. Roast in the oven for about 25 minutes, flipping once halfway through to cook evenly.
While the butternut squash is in the oven, Heat the olive oil in a large pot. Add the onion and garlic and cook, stirring occasionally, for 3 to 4 minutes or until the onion is just beginning to become translucent. Add the Anaheim pepper, red bell pepper, and mushrooms and cook, stirring occasionally, for 3 to 4 more minutes or until the mushrooms become slightly tender.
Add the green chiles, kidney beans, black beans, navy beans, diced tomatoes, tomato sauce, tomato paste, maple syrup, cumin, ancho chili pepper, thyme, parsley, and the remaining smoked paprika. Stir until combined and turn the heat up to high. Stir in the pasta and vegetable broth. Once the chili is boiling, turn the heat down to a simmer and keep cooking, stirring occasionally until the pasta is al dente and the chili has thickened, about 10 minutes. You can add the butternut squash as soon as it's done roasting in the oven it will likely be around the time you're adding the beans or shortly thereafter.
Stir in the nutritional yeast and liquid smoke. Add salt and pepper to taste. Serve immediately topped with green onions and/or vegan cheese, if using. Leftovers will keep, stored in an airtight container for a week in the refrigerator or a couple months in the freezer. Enjoy!
Notes
I got fancy and used Reine Vegan Cuisine sharp cheddar cheese to top this chili. It's super delicious, but any shredded vegan cheese will do.
What sort of Spring Transformations are you making happen in your life?
Photography by Kristy Turner