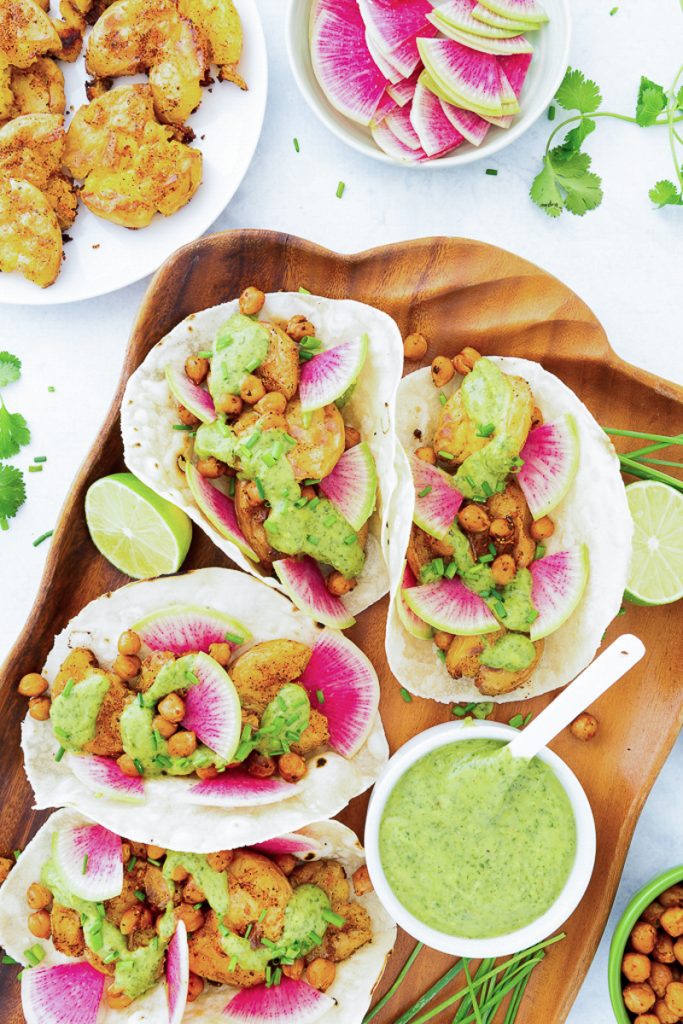 It seems like every vegan blogger and instagrammer in the known universe (and their collective mothers) has been making and sharing pics of beautifully smashed potatoes. They're all on baking sheets with seasonings galore and usually some sort of sauce to drizzle on them. And they all make me salivate instantaneously because I love potatoes more than... well, I don't know what. They're just my most favorite vegetable and I love them cooked all the different ways but smashed holds a particularly sweet spot in my heart. They're so crispy with just the right amount of oil and super soft on the inside. Then one day, while looking at the 98th pic of smashed potatoes I'd seen that week, I was hit with a stroke of brilliance: Make smashed potato TACOS.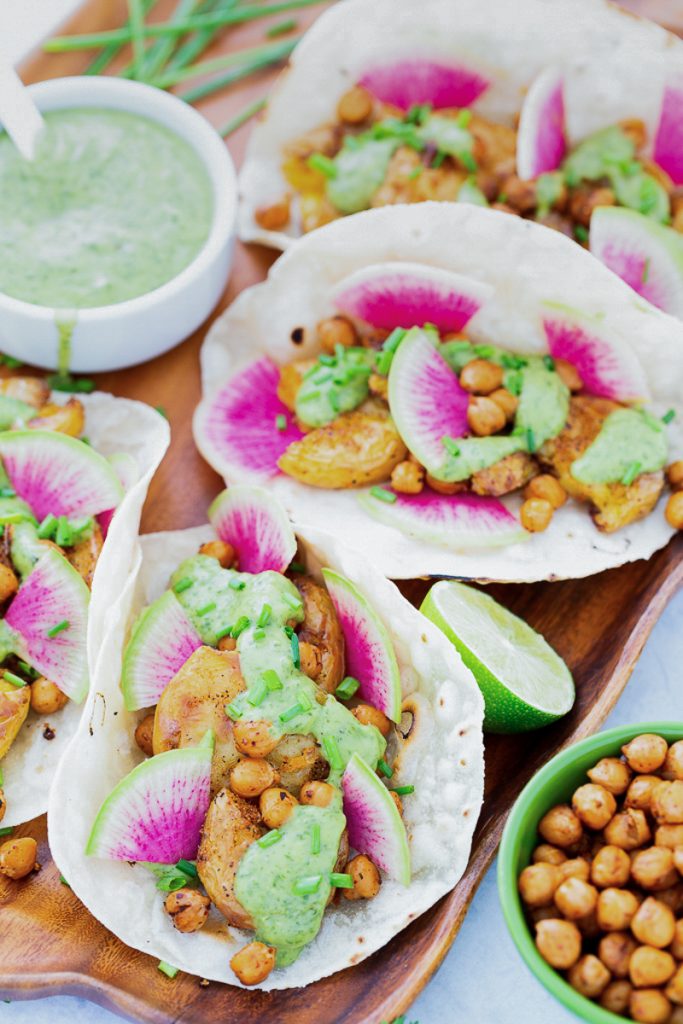 My thought process: Okay, okay, okay. Kristy. Focus. FOCUS. Here's what you do: Cook up the glorious smashed potatoes with an ancho chile powder spice blend and put them in tacos with, I dunno, like, some chickpeas cooked with Tajín Clásico Seasoning (I'm majorly obsessed with Tajín right now, but if you don't have access to it, you can use some chile powder, salt, and extra lime juice)? Oooh, ooh! And like a super limey, cilantro-y, avocado sauce? And WATERMELON RADISHES! (side note: I'm also going through a hardcore watermelon radish phase) And then you can top it off with some chives or some shit to be kinda fancy. Done.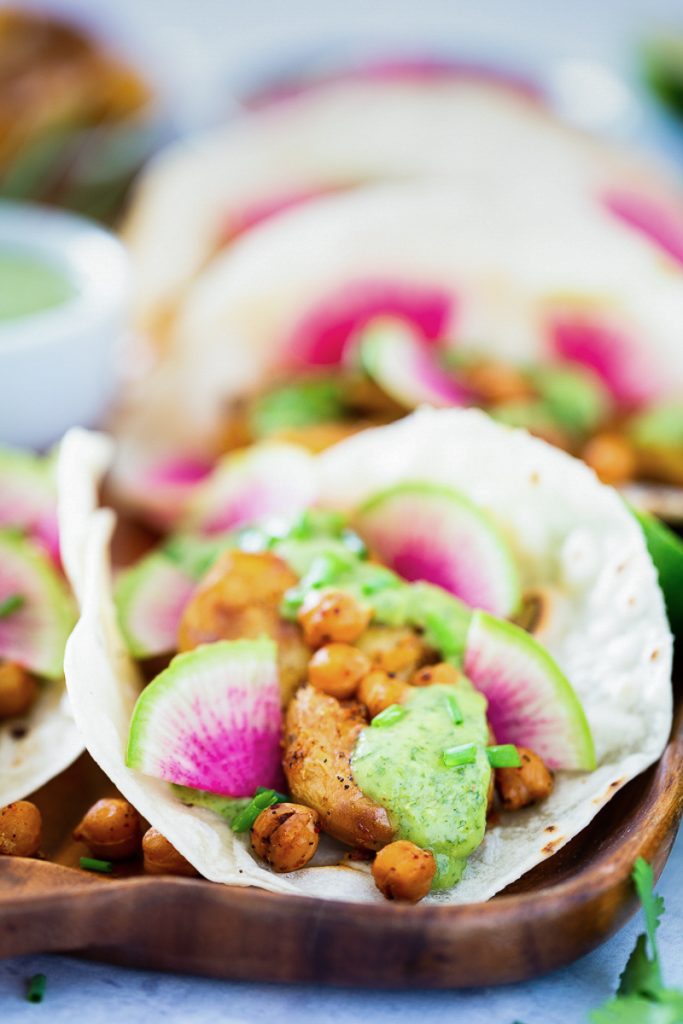 I was damn-near delirious as I walked through the grocery store grabbing ingredients. I haven't been this excited about a recipe in a long while. Like, it's the kind of recipe that you know is going to be incredible before you even test it. I mean... Smashed potatoes are great in their own right. And everybody loves tacos (and if they tell you they don't, they're lying). So smashed potatoes INSIDE of TACOS! I'm getting excited all over again. I need to regroup.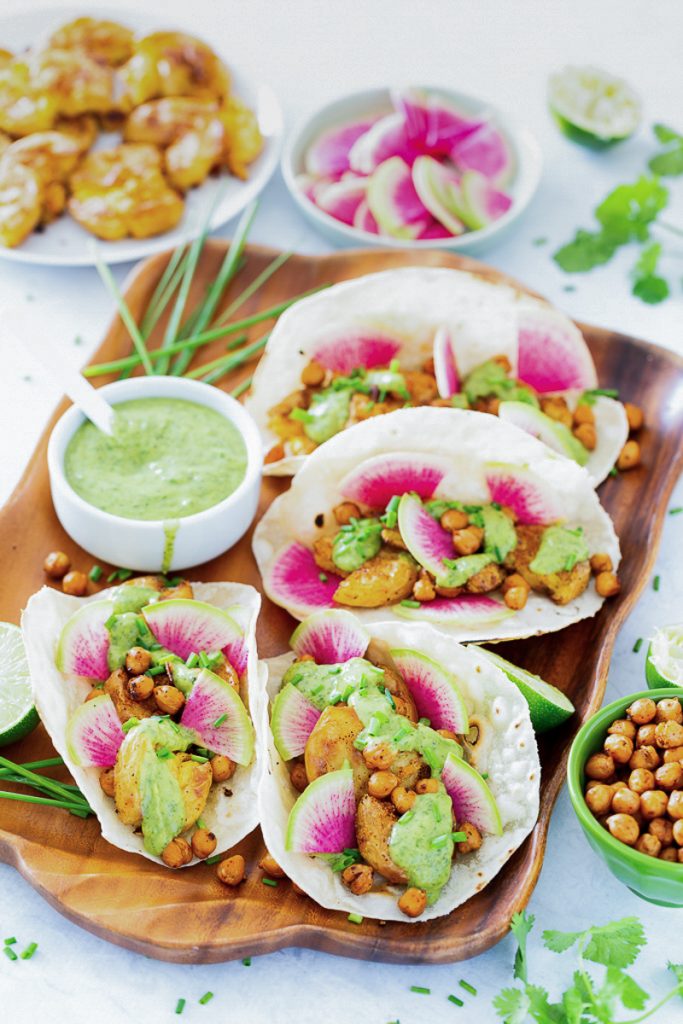 Ok. These smashed potato tacos come together pretty easily. The potatoes take the longest to prepare- parboiling them, then tossing them with oil and spices, smashing them, and then roasting them- Altogether take about an hour. But most of that hour is just waiting for them to come out of the oven, during which you can prepare the rest of the components, all of which are super simple to prepare. All the sauce ingredients go in a food processor or blender and blend until smooth. Easy peasy. The chickpeas take another maybe 10 minutes at the most. Slice up some watermelon radishes, chop the chives, and heat up the tortillas. By the time the buzzer goes for the potatoes, you're ready to stuff those hot, crispy-on-the-outside, soft-on-the-inside spiced smashed potatoes in their tortillas and top with all the stuff.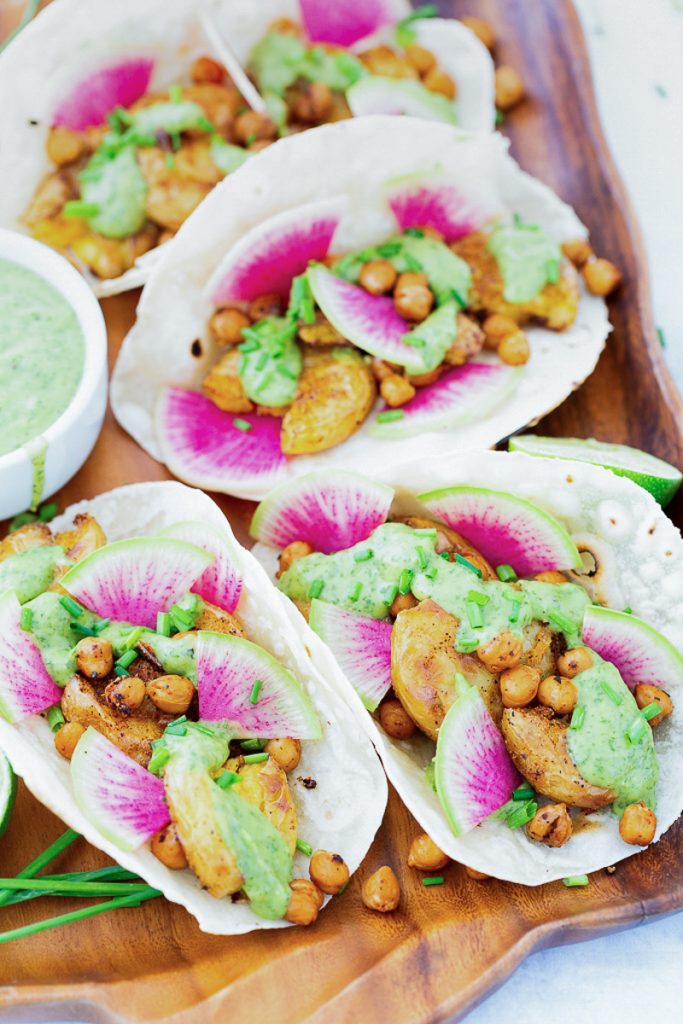 The first time I made these, I cooked up six tortillas, enough for both Chris and I to have 3 tacos each. Then we scarfed down our first three tacos each, interrupted only to mutter "these are ridiculous," and "daaaaaaammmmnnnn," several times. Then we looked at each other 7 minutes later, our plates empty except for a couple chickpea stragglers and a few smears of cilantro-avocado sauce, as if to say "well, what now?" After a moment of silence (and checking to see if there was more room in my stomach), I offered "There are more potatoes and chickpeas and sauce. And two more tortillas. So..."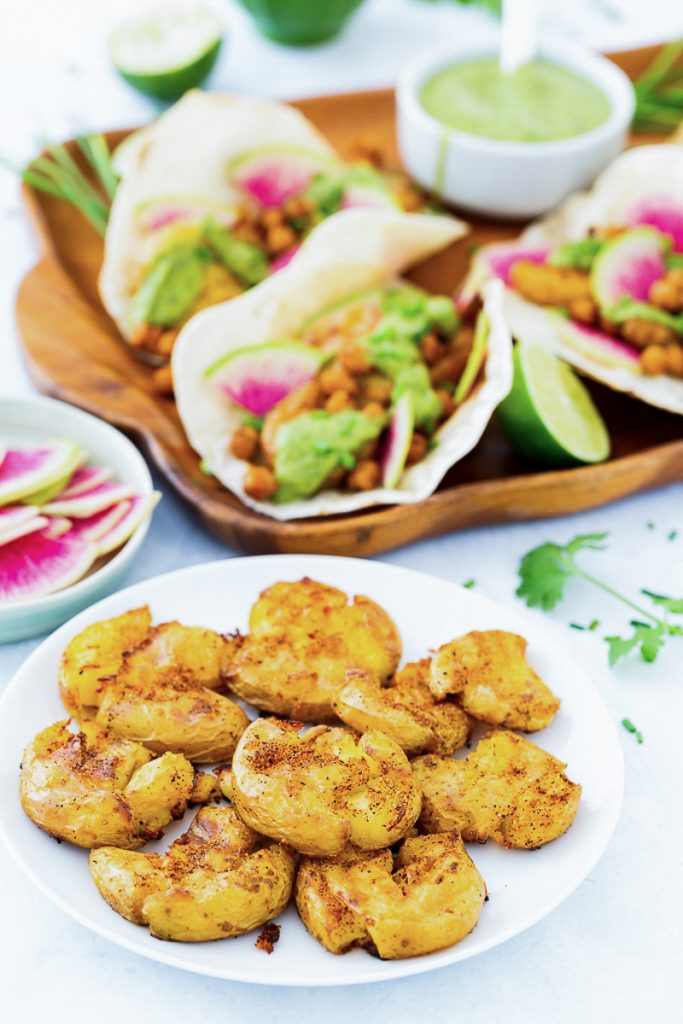 I don't think I need to tell you what happened next. Let's just say these smashed potato tacos were a hit. "One of your best recipes yet" and "best tacos I've ever had," may've been muttered. I don't want to brag. I just want you to try them. I think you'll like them as much as we have and if you're anything like me, they'll go into your regular meal rotation too.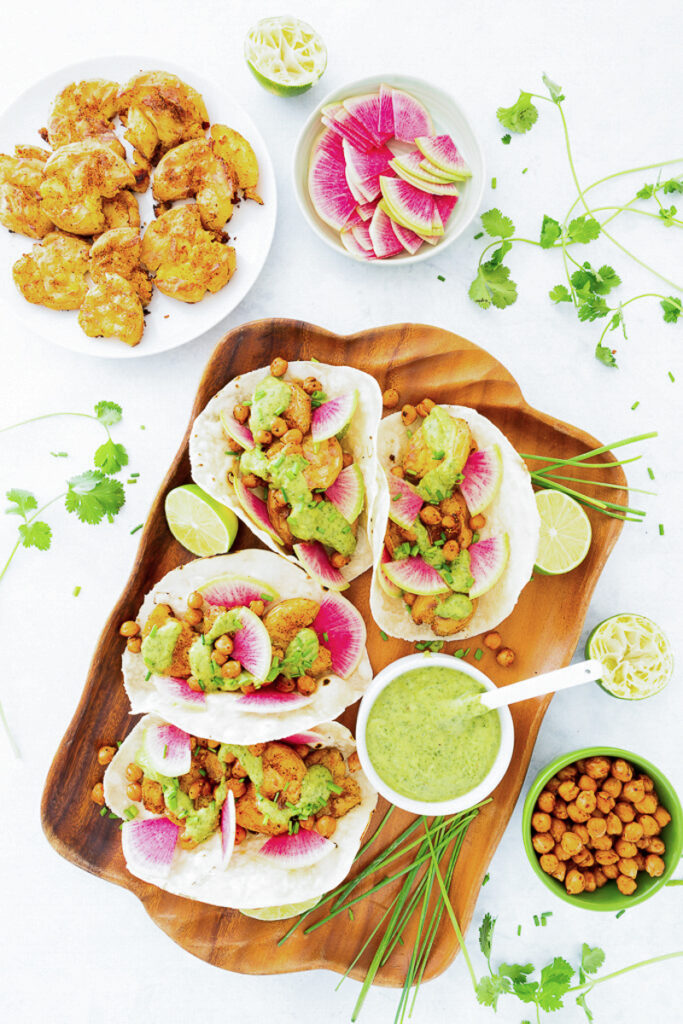 Chile-Roasted Smashed Potato Tacos with Cilantro-Avocado Sauce
Ingredients
1.5 pounds baby golden potatoes (golf ball sized or smaller, preferably)
1 teaspoon salt
1 teaspoon garlic powder/granules
1/2 teaspoon black pepper
1/2 teaspoon ancho chile pepper
1/4 teaspoon smoked paprika
3 tablespoons olive oil
1 cup fresh cilantro, loosely packed
1/2 avocado
1/4 cup lime juice
1/4 cup water
1 tablespoon olive oil
1/2 teaspoon salt
1/4 teaspoon garlic powder/granules
2 dashes of chile powder
black pepper to taste
1 15-ounce can chickpeas, rinsed and drained
oil spray
1 tablespoon liquid aminos
1 teaspoon Tajín Clàsico Seasoning
1 tablespoon lime juice
black pepper to taste
8 to 10 tortillas
1/2 cup sliced and quartered watermelon radishes
2 tablespoons chopped chives,

optional
Instructions
Preheat the oven to 425. Line a baking sheet with parchment paper.
Place the potatoes in a medium pot and cover with water. Cook on the stove on high heat until boiling. Once boiling, reduce the heat to a simmer and let simmer for 10 minutes.
While the potatoes are boiling, mix the salt, garlic powder, black pepper, ancho chile pepper, and smoked paprika in a small cup. Set aside.
After ten minutes, drain the potatoes. Transfer them to the prepared baking sheet. Drizzle the oil over them and then sprinkle with the spice mix, reserving 1 teaspoon of the spice mix. Toss the potatoes until full coated. Spread them out evenly on the baking sheet and use a potato masher (or a fork or the flat bottom of a cup or whatever. You have my permission to get creative here) to gently smash each one (See note). Sprinkle the remaining spices over the tops of the potatoes and transfer the baking sheet to the oven. Bake for 35 minutes.
To make the sauce, combine all of the sauce ingredients in a food processor or blender and process/blend until smooth. I used a food processor because I wanted a little more texture but a completely smooth sauce will work just as well. Transfer to a container and refrigerate until ready to use.
To cook the chickpeas, spray a frying pan with the oil and heat over medium heat. Add the chickpeas, stir, and let them cook for 1 to 2 minutes. Add the liquid aminos and Tajín and cook, stirring occasionally, until the liquid has been absorbed. Add the lime juice, stir, and cook for a minute more before removing from heat adding adding black pepper.
You can heat your tortillas using your preferred method or package instructions. If you don't have a preferred method, heat a cast iron pan (or regular frying pan) over medium heat and then let them cook, one at a time for about 45 to 60 seconds on each side. Keep them on a plate, covered with aluminum foil, until ready to serve.
To serve, place about 2 to 3 smashed potatoes on a tortilla, spoon on some chickpeas, drizzle some sauce, add radish slices, and sprinkle chives. Repeat with remaining ingredients. Leftovers will keep for a couple days but the potatoes really are the best the day they're cooked. Enjoy!
Notes
You don't want to desecrate the potatoes- just press them until they're a more flat version of their earlier selves. Their insides will squoosh out and that's good. You want that. Just know that the flatter you go, the crispier they'll be. And the less flat they are, the more like plain ol' roasted potatoes they are. You want to find a happy medium. I would say anywhere from 1/2 - 1 inch thick, depending on the original size of the potato.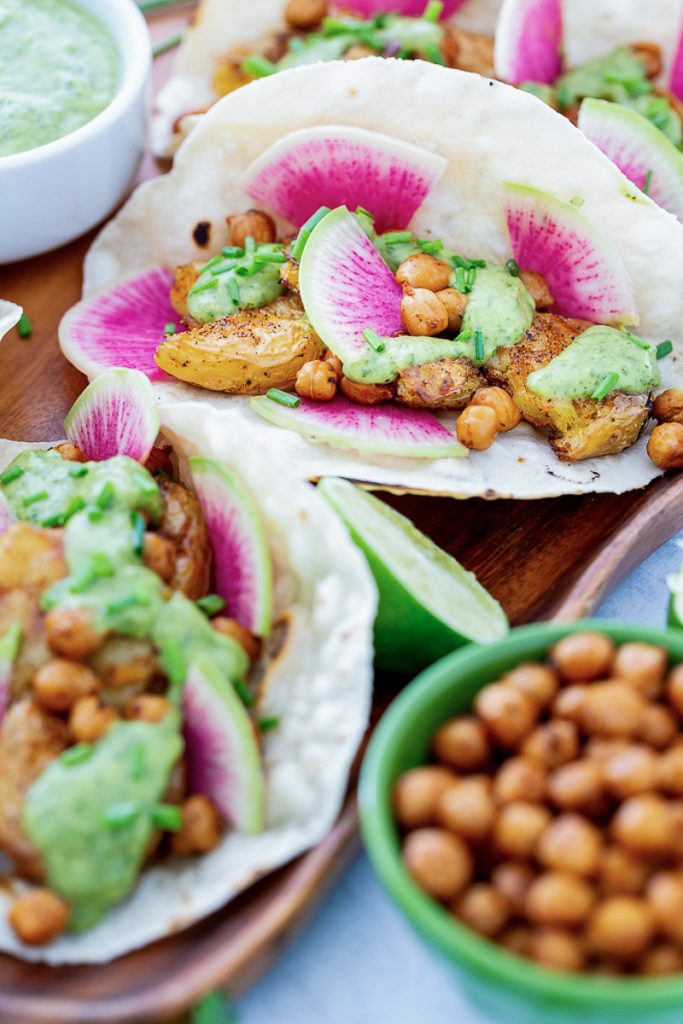 What foods are you obsessed with right now?
Photography by Chris Miller