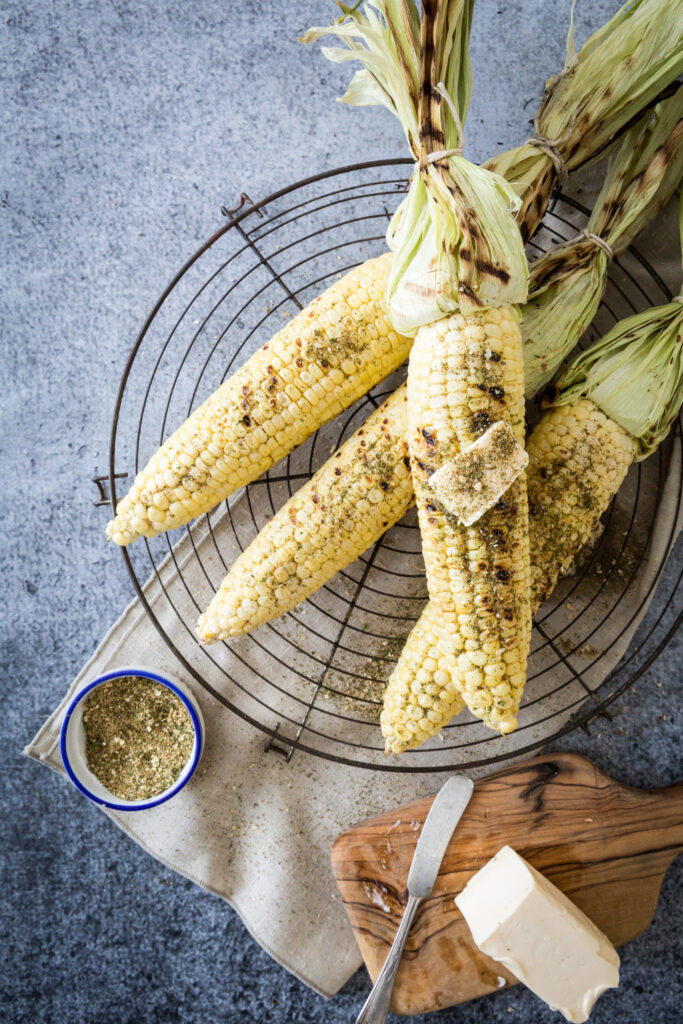 I'm heading out of town today (YAY!) but I wanted to share a quick post with a quick recipe before I go. This ranch-seasoned corn on the cob is a recipe from my second book, But My Family Would Never Eat Vegan!, and it's one of my favorite ways to eat corn on the cob. Also, I love using this ranch seasoning on/in about a million different things (baked potato, the occasional soup, roasted veggies, beans, rice, pasta, avocado toast, and of course, actual homemade ranch dressing, just to name a few).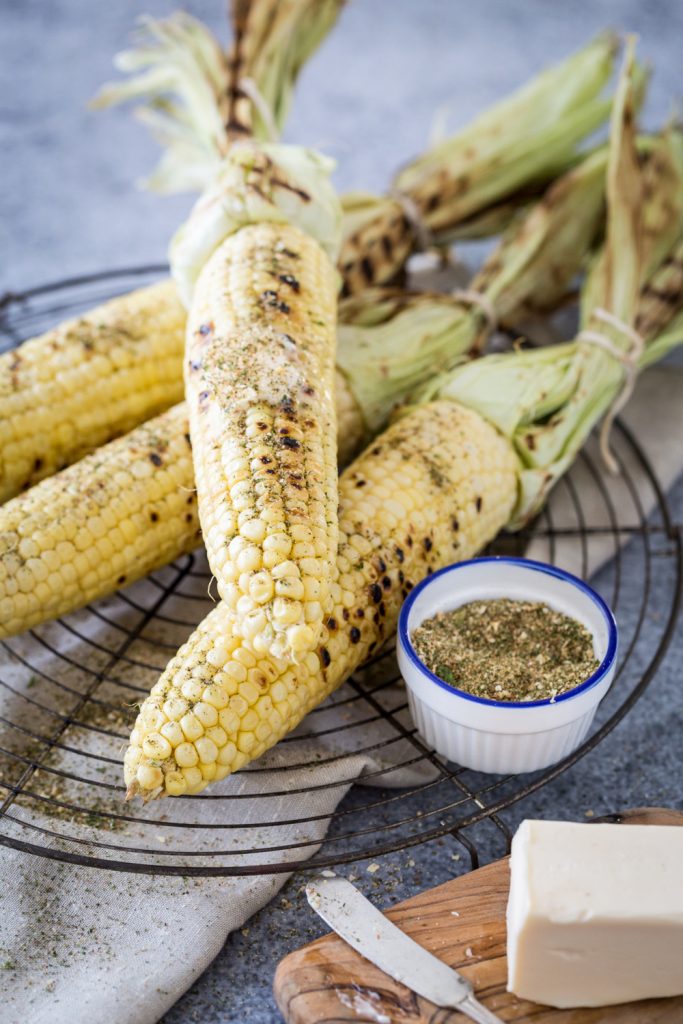 I talked last week about my summer fever and corn on the cob definitely falls under my "Things I Need To Eat This Summer" list. In fact, my summer is not complete unless I've spent at least five different warm, summer evenings picking corn out from between my teeth. It's just one of those things you have to put up with on a summer diet, right along with sticky hands after eating a wedge or ten of watermelon, brain freeze from eating your ice cream too quickly, and barbecue sauce stains on everything.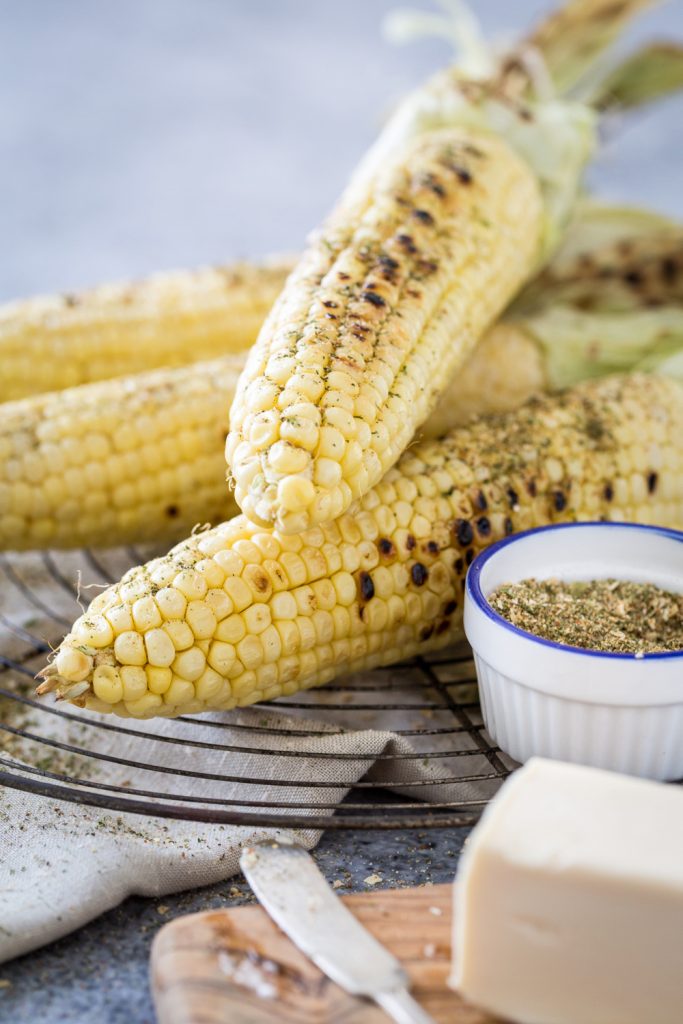 This corn on the cob recipe comes from the chapter in BMFWNEV, called "What will I bring to potlucks and summer barbecues?" Because we all have to ask ourselves that question at least once a year, amiright? This book answers that question and nineteen others many people have when trying to figure out how to eat vegan food with your family in peace. If you haven't checked out But My Family Would Never Eat Vegan!  yet, and you're wondering what to feed your kids or your in-laws or what to make for holiday get-togethers, then you may want to get your hands on a copy. In the meantime, though, you can get a head start with this corn on the cob.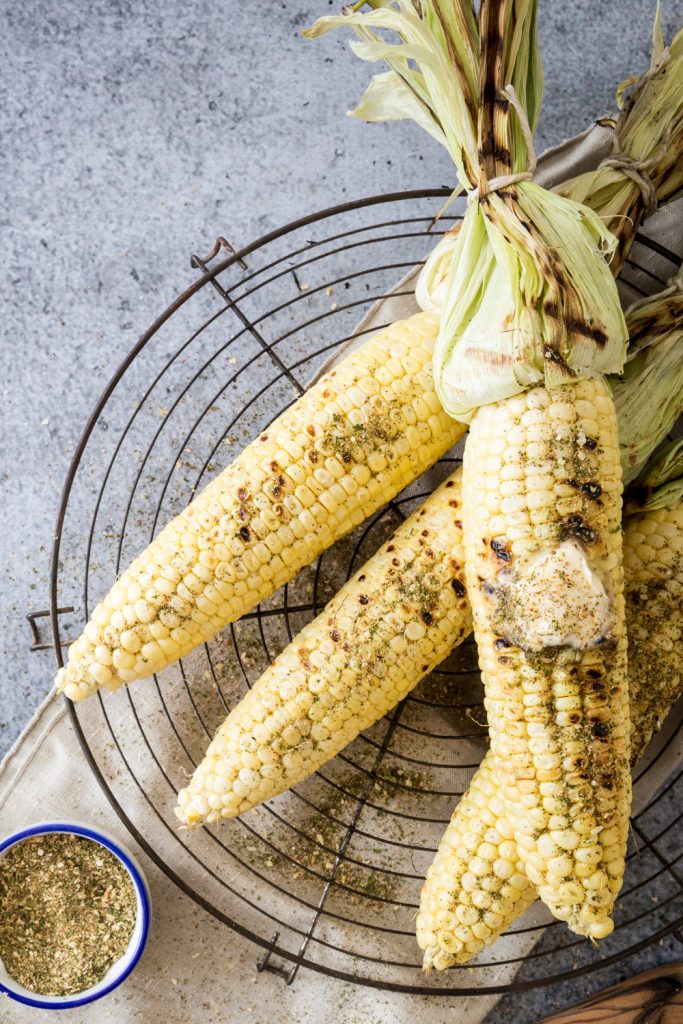 Ranch-Seasoned Corn on the Cob
Ingredients
2 tablespoons dried parsley
1 tablespoon dried minced onion
2 teaspoons onion powder
2 teaspoons garlic powder
1½ teaspoons dried dill
1½ teaspoons dried oregano
1 teaspoon celery seed
1 teaspoon salt
1 teaspoon coconut sugar
½ teaspoon paprika
¼ teaspoon black pepper
At least 4 ears corn, in the husks (1 or more per person)
Vegan butter (soy-free if necessary)
Chopped fresh parsley, optional
Instructions
To make the ranch seasoning: Combine all the ingredients in a food processor or spice grinder. Pulse a couple of times until it's a coarse powder. Transfer to a jar or airtight container.
To make the corn on the cob: Peel back the husks of the corn without detaching them. Remove and discard all the silk. Pull the husks back over the corn and place the ears in a large bowl or pot of cold water. Soak for 15 minutes.
Heat the grill to medium-high or heat a grill pan on the stove over medium heat. Place the corn on the grill and cook for 20 minutes, flipping once halfway through, or until the husks are slightly charred and the corn is tender.
If you want pretty grill marks on the corn, peel back the husks, place the corn directly on the grill, and cook for a couple of minutes on each side. Otherwise, just remove the corn from the grill.
Use a kitchen towel to pull back the husks. Tie them to form a handle. Spread butter over each ear and season generously with ranch season¬ing. Sprinkle with chopped parsley (if desired) and serve immediately.
Notes
You can also roast the corn. Remove the husks when you remove the silk and skip the soaking. Place each ear on a sheet of aluminum foil. Spread butter on the corn, then sprinkle generously with the ranch seasoning. Wrap the aluminum tightly around the corn. Roast at 450℉ (230℃) for 15 to 20 minutes, until corn is tender.
Recipe from But my Family Would Never Eat Vegan!: 125 Recipes to Win Everyone Over © Kristy Turner, 2016. Reprinted by permission of the publisher, The Experiment. Available wherever books are sold. expeirmentpublishing.com
What's on your "Things I Need To Eat This Summer" list?
Photography by Chris Miller