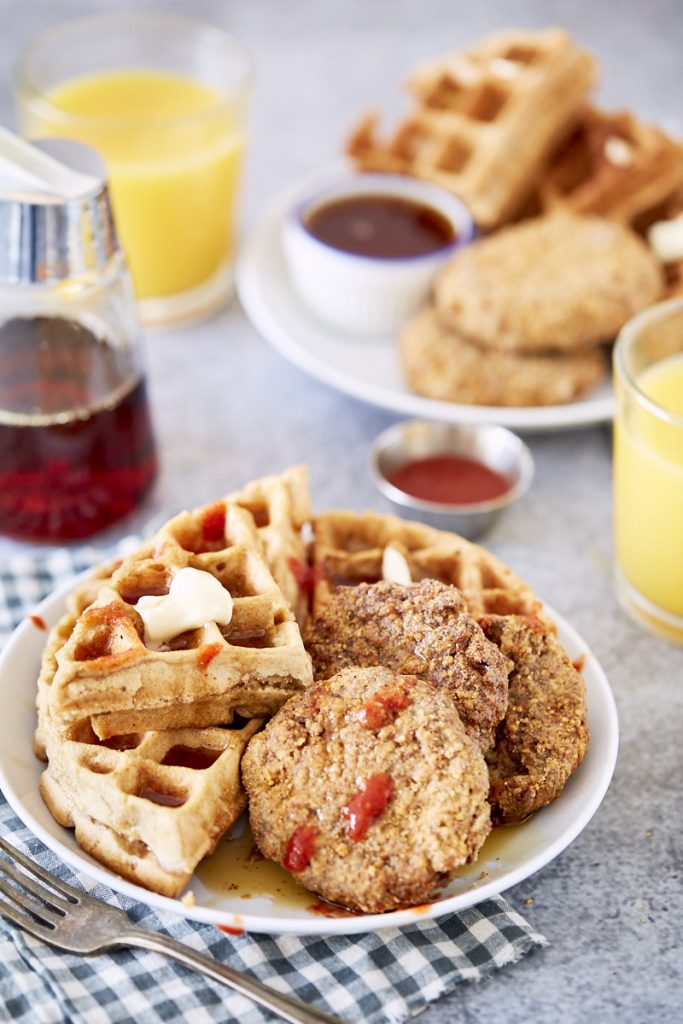 I'm going to tell you about these delicious vegan chicken and waffles in a minute. But first, I want to tell you how I came to the feeling of urgently needing to make them.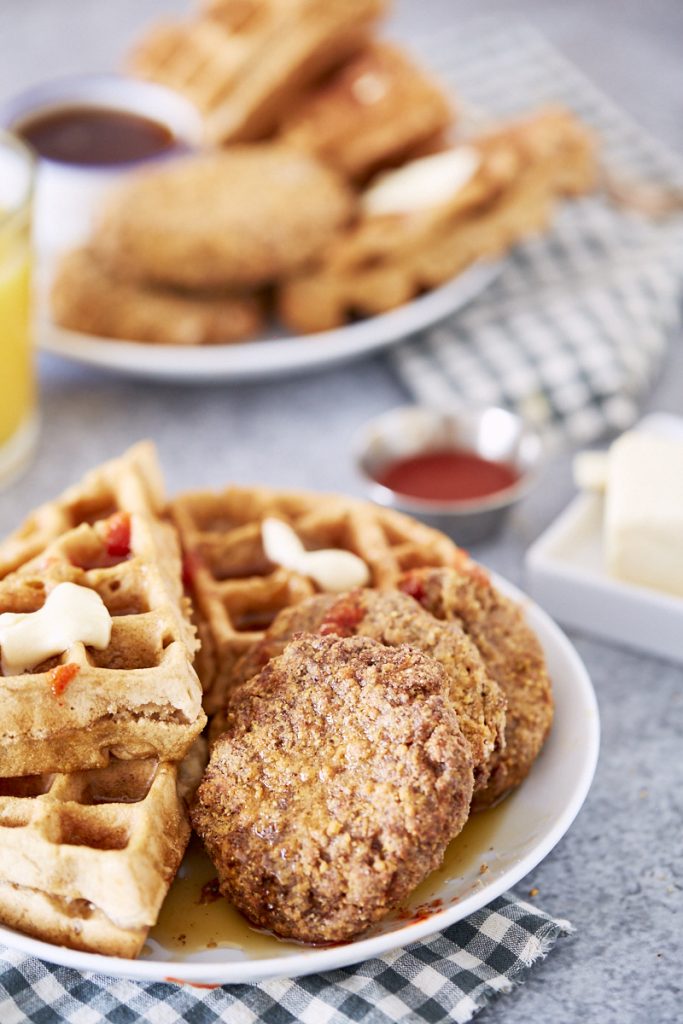 A couple months ago, I did a solo road trip with only my dogs as company. I'd had a very busy two years without much of a break, and the last six months had been especially stressful. I needed some time to reset, gather my thoughts, and spend some quality time with myself (and my dogs, of course). I spent the first week of the trip in San Jose, helping my dad and brother with some things, before starting our journey north, to Oregon.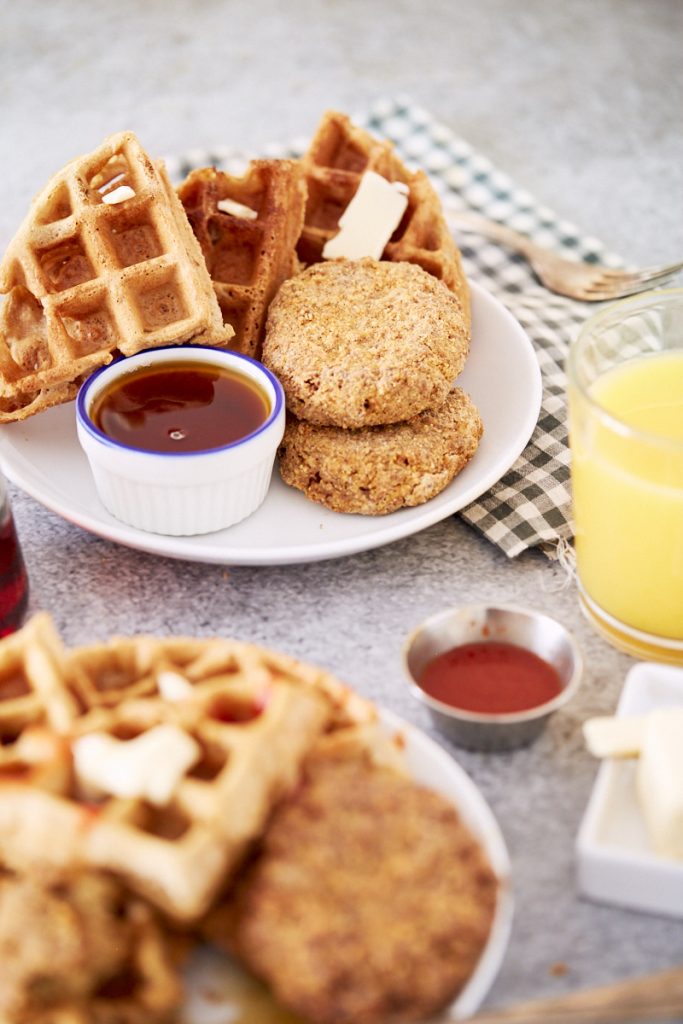 We stopped in Ashland and stayed in a cabin for two nights. The dogs stomped through snow for the first time. I learned how to start a fire- and keep it going- in a wood-burning stove. I spent time reading, soaking in a hot tub, and singing in a rainfall shower. I couldn't imagine a more peaceful way to spend two days. Next we stopped in a small town outside of Eugene to visit one of my childhood best friends (someone I've known since I was five) who I hadn't seen in nearly ten years. We walked the dogs, she showed me around her farm, and we spent hours just talking as if no time had passed. When I left, I felt like I'd just returned to my soul something she'd been missing for years.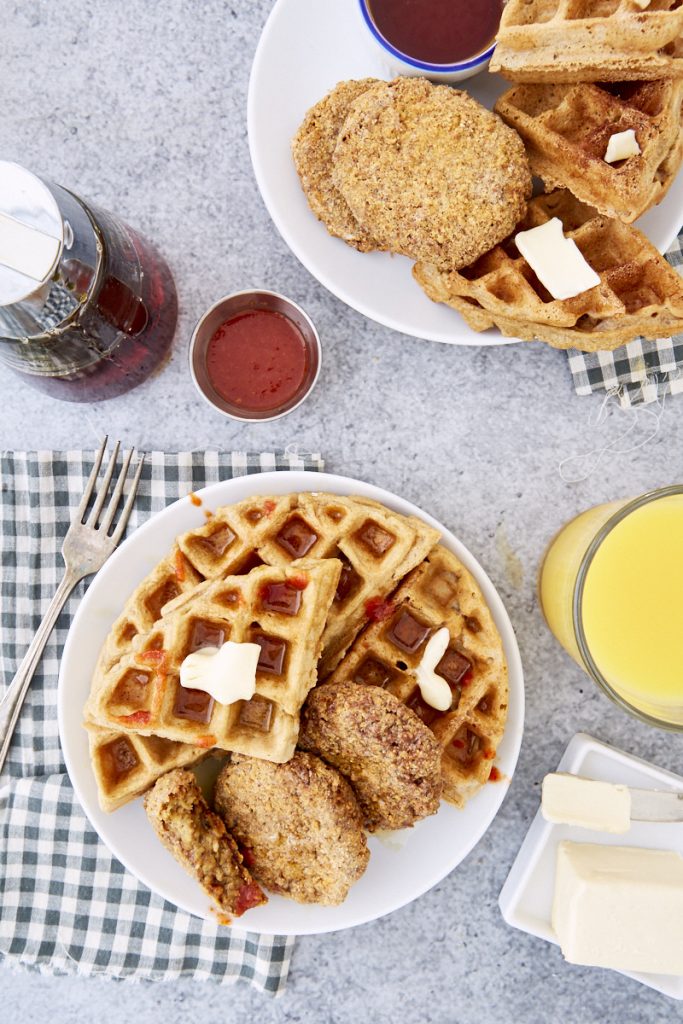 Then came Portland. Portland is one of my most favorite cities in the world. I love the pace of the city, the scenery, all the vegan food, the kind people, and most of all, the way I feel when I'm there. We had an AirBnB with a backyard so the dogs got to play fetch in a backyard for the first time (this is not a common thing for renters in Los Angeles). I had lunch with Julie and Kittee, spent a lovely afternoon playing with the dogs in Cathedral Park and hanging out in St. John's, went hiking with the dogs at Mt. Tabor, checked out some thrift stores, got my first tarot card reading, talked with Sarah for hours over drinks and dinner, and over the course of three days, I ate SO MUCH VEGAN FOOD.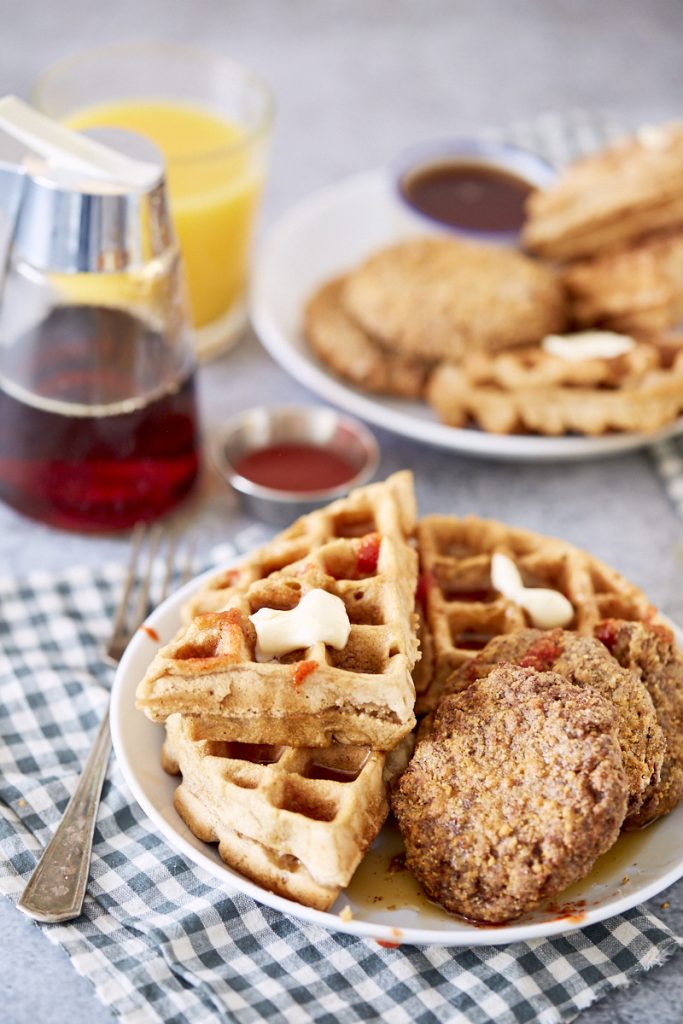 I could tell you about all the places I ate at but this isn't a travel post. It's about chicken and waffles. So let me tell you how these vegan chicken and waffles came to be. One morning, I took myself out to breakfast at Off The Griddle (formerly A.N.D. Cafe). I sat at the bar and ordered the vegan chick'n and waffles and a cup of coffee. While I listened to my audiobook, I took special care to craft the perfect bite with the perfect ratio of chick'n to waffle, the perfect amount of syrup. And then I savored each bite. If you would like to imagine me, I likely had my eyes closed while I was chewing, as if I was enjoying my own special form of meditation. I slowly and methodically repeated this procedure until I'd removed all evidence of what I'd ordered. It was at this point that I remembered something I'd almost forgotten: I really love my own company. Usually, when I'm alone, my thoughts are traveling at high speeds and I get so busy spending my time trying to wrangle them in that I forget to be present and enjoy the time I get to spend with myself. This breakfast was a great reminder of how great it can be to be present with yourself.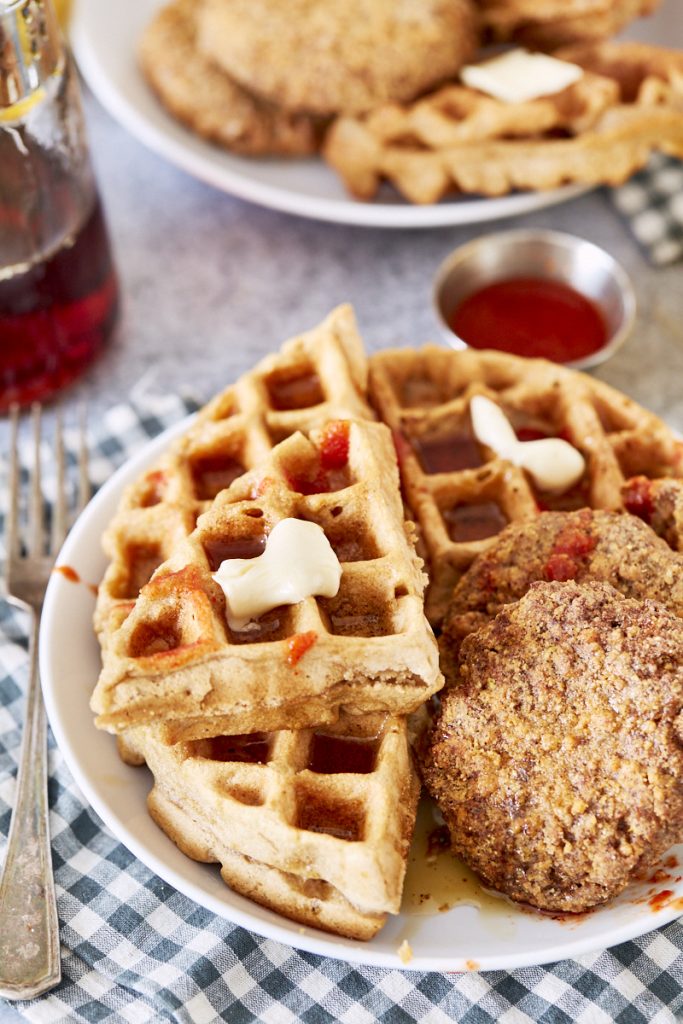 The trip home included taking the long way around Klamath Lake, stopping in Mt. Shasta, visiting friends in Davis, spending the night at my grandpa's, and Easter with my extended family before returning home to Chris. Life quickly got swept back up into the turmoil, the stress, the duties of every day. Then Chris went on his own self-reflection trip and I once again found myself with the pleasure of my own company. One day, I found myself in the the early testing phase of my Vegan Southern Fried Chicken. It was around four in the afternoon and I said to myself "I think today is a lovely day for chicken and waffles." So I cooked up a batch of waffles while the chicken was air-fryer.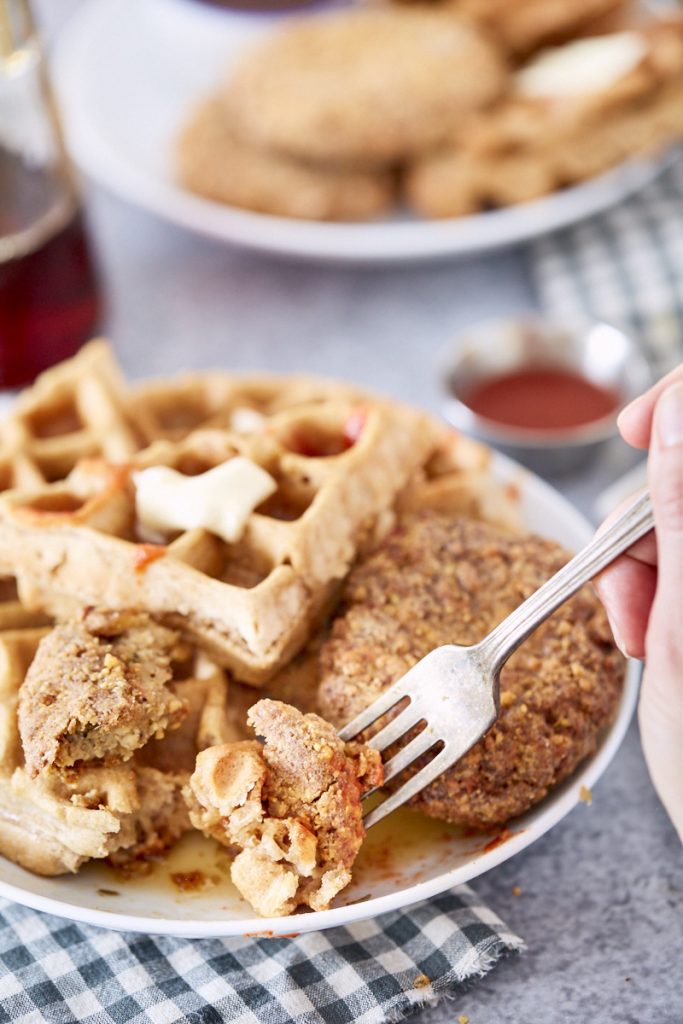 I fixed my plate and sat down in a stool at the kitchen counter. I'm a waffle lover, through and through. If I had to choose a last meal, I really don't know what I'd choose but waffles would definitely make the short list. I also love mixing my sweets with my savories so this dish is right up my alley. Crisp and meaty + subtly sweet and doughy + a touch of maple syrup + a splash of hot sauce= my type of heaven on a plate. As I repeated my methodical quest for making every bite the best bite, I found myself doing a Winnie The Pooh butt wiggle in my stool and quietly humming an unknown melody as I chewed. I had the same meal for the next three days as I finished off all the waffles, and every day, it brought me to where I was supposed to be at that moment- with myself.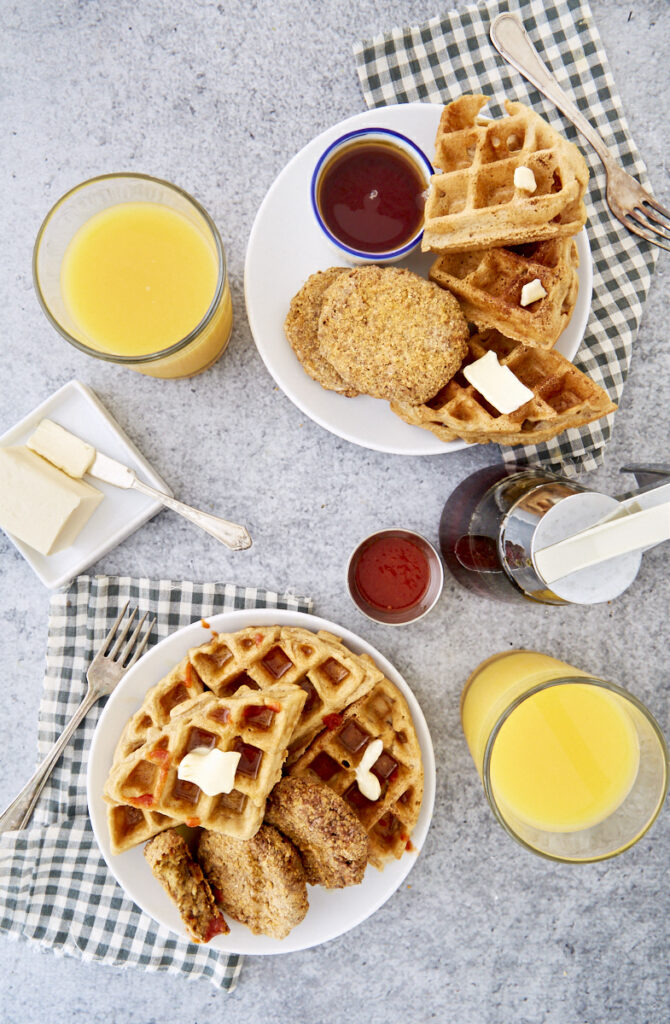 Gluten-Free, Vegan Chicken and Waffles
Ingredients
1 1/2 cups all-purpose gluten-free flour blend (or all-purpose flour, if not gluten-free)
1 cup oat flour
1 1/2 tablespoons arrowroot powder
1 1/2 tablespoons baking powder
3/4 teaspoon salt
1 3/4 cup nondairy milk
1/3 cup aquafaba
1/4 cup maple syrup
1 batch of Vegan Southern Fried Chicken
vegan butter
maple syrup
sriracha sauce or hot sauce (optional)
Instructions
In a large bowl, whisk together the oat flour, gluten-free flour, arrowroot powder, baking powder, and salt.
In a medium bowl, combine the milk, aquafaba, and maple syrup. Whisk together until fully incorporated. Pour the wet ingredients into the large bowl with the dry and whisk until combined.
Heat up your waffle iron and give one last stir before scooping up your batter. Cook in your waffle maker according to machine instructions. For reference, I have a Belgian waffle maker and can make 4 waffles using 1 cup scoops of batter.
To keep the waffles warm until serving, preheat the oven at it's lowest heat setting. Place a cooling rack on top of a baking sheet and place in the oven. Once done cooking, transfer the waffle to the cooling rack in the oven. Don't keep them there longer than 30 minutes or you'll risk drying them out.
Serve with Vegan Southern Fried Chicken, vegan butter, maple syrup, and sriracha/hot sauce (if using). Enjoy!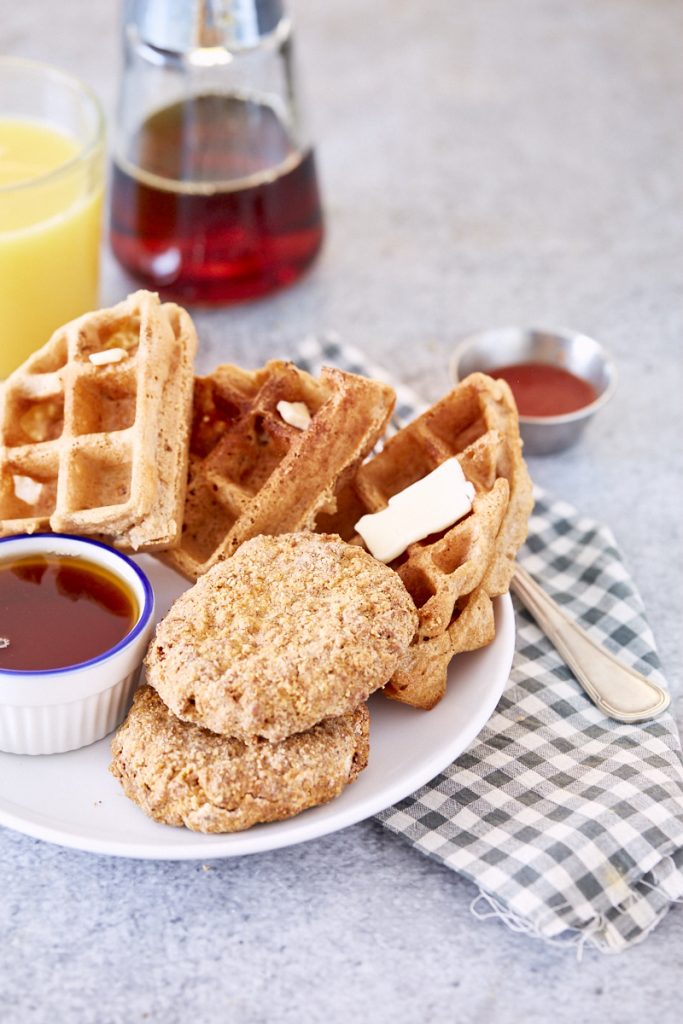 What meals have the power to bring you to the present moment while you eat them?
Photography by Kristy Turner