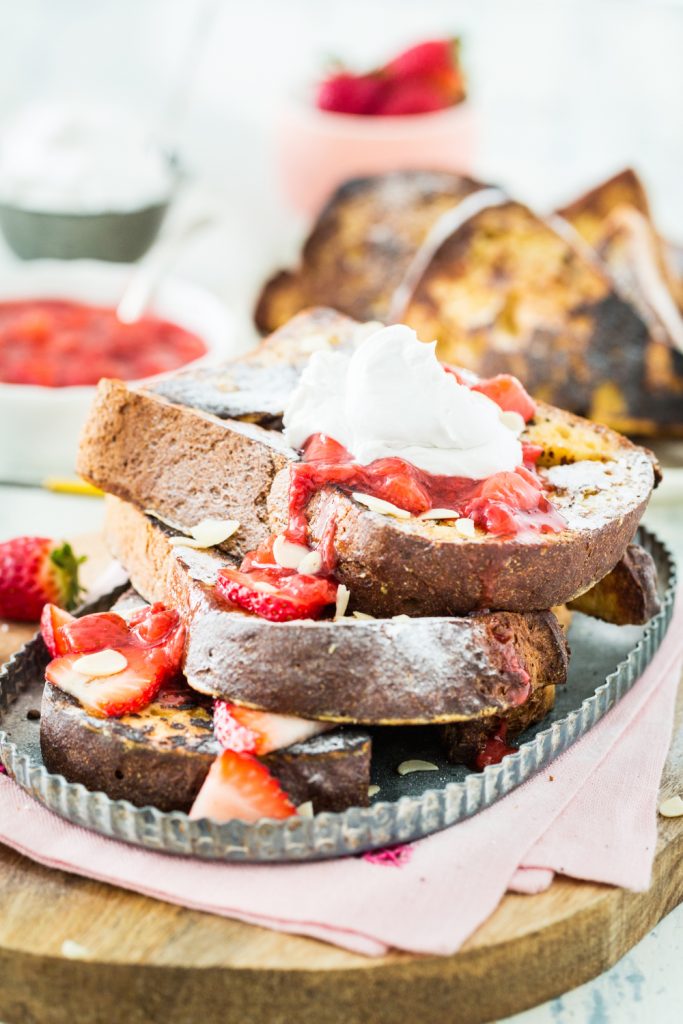 Firstly, thank you to everyone who left such wonderful comments on my last post. It really means a lot to me and I love hearing from other women who are making/have made the same realization. Now, on to business...
Are you looking for something awesome to make for this Sunday's Easter Brunch? Or just any old brunch on any day? Well this vegan Vanilla French Toast with Strawberry Sauce has your name all over it.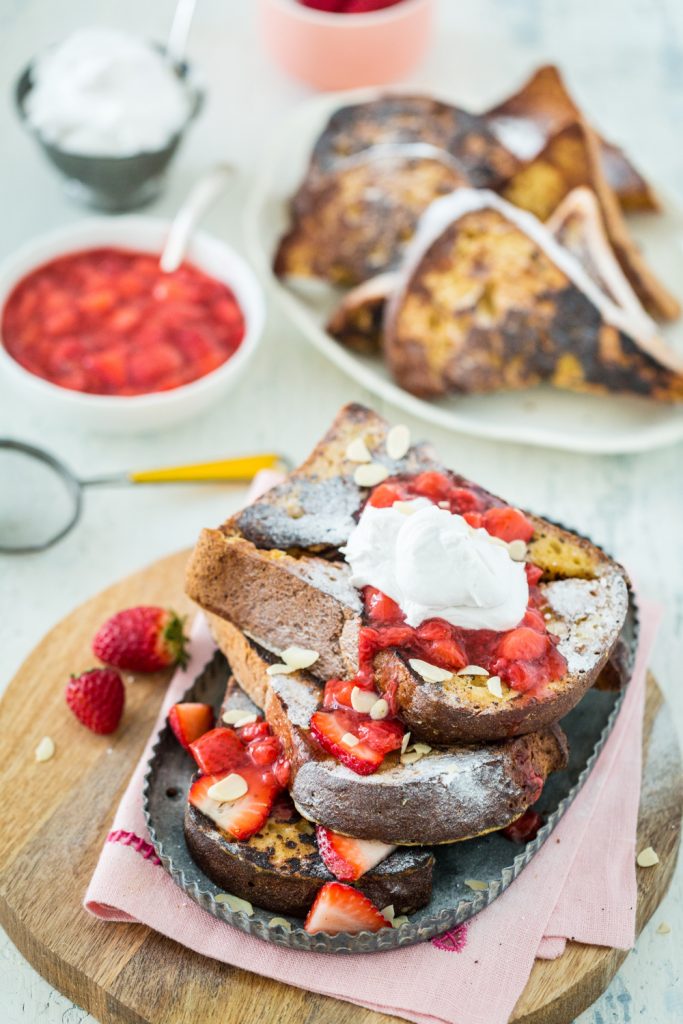 The recipe is from my newest book, But My Family Would Never Eat Vegan! If you haven't yet checked it out, you totally should. If you have already, please review it on Amazon (I'd be super duper grateful!). This lovely French Toast recipe is from the breakfast chapter (obvs), which is probably in my top 5 favorite chapter of the book and definitely my most favorite in terms of photographs. Every recipe in the book has a photo, but the breakfast chapter is definitely the prettiest.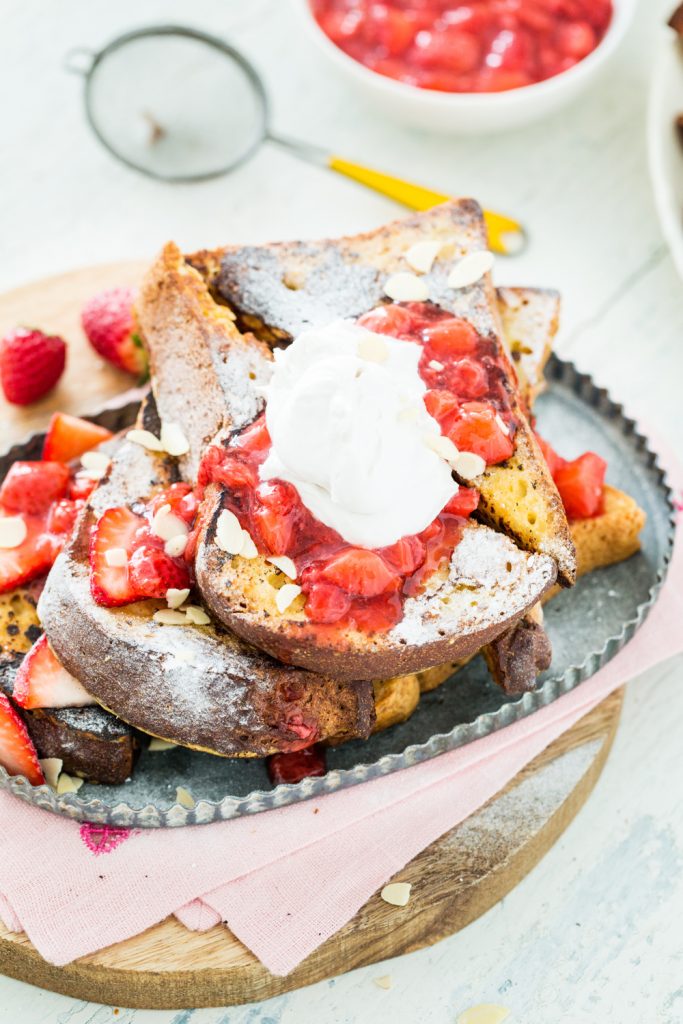 This recipe was made and photographed with gluten-free, vegan brioche bread from Rising Hearts Bakery here in LA, which is proof that you can have excellent gluten-free, vegan French Toast. If you don't live in LA, I'm sure you can sub your fave GF bread of choice. The vanilla bean really takes this recipe over the top, but don't fret if you don't have any. Vanilla extract will do just fine, though the vanilla flavor may not be quite as strong. This recipe is also perfect for this time of year because fresh strawberries are just starting to appear at Farmer's Markets and grocery stores. In fact, I think this recipe gives you the perfect excuse to go pick some up right now. Happy brunching!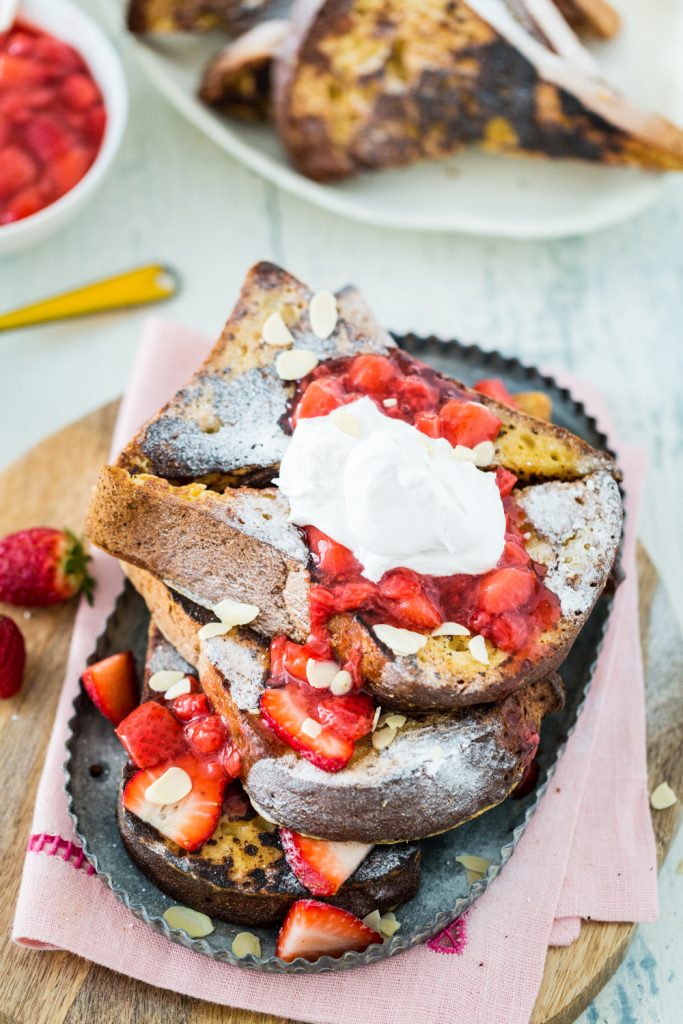 Vanilla French Toast with Strawberry Sauce
There are often skeptics when it comes to vegan French toast. "It can't be made without eggs," they groan. You'll show them, with this decadent French toast! The batter is made from a combination of chickpea flour, milk, coconut milk, and vanilla beans, giving it an outstanding, slightly crispy texture and a rich flavor that can rival even the fanciest egg-based French toast. The vanilla also makes it very aromatic, getting your family excited even before they get their plates. A little whipped cream and a bright strawberry sauce will seal the deal. Once you go egg-free, you never go back.
Ingredients
1 vanilla bean
1 cup (240 ml) plain or vanilla nondairy milk (nut-free and/or soyfree if necessary)
½ cup (120 ml) canned coconut milk (or vegan creamer)
½ cup (55 g) chickpea flour
2 tablespoons maple syrup
tablespoons arrowroot powder
1 teaspoon vanilla extract
¼ teaspoon salt
Vegan cooking spray (soy-free if necessary)
8 vegan bread slices (the thicker the better; gluten-free if necessary)
Vanilla Whipped Cream (see below), optional
Powdered sugar (or xylitol) for dusting, optional
Sliced almonds, optional
4 cups (520 g) chopped strawberries (fresh or frozen)
1 tablespoon cornstarch
1 to 2 tablespoons agave syrup (or maple syrup; depending on sweetness preference)
1 tablespoon lemon juice
1 tablespoon water
One 14.5-ounce (410 g) can unsweetened coconut cream (or full-fat coconut milk), refrigerated overnight
1 tablespoon powdered sugar (or xylitol)
½ teaspoon vanilla extract
Instructions
Use a paring knife to make a slit lengthwise down the side of the vanilla bean. You don't want to cut it in half—just split it open. Use the knife to scrape out the tiny seeds. Place the seeds in a large shallow bowl or baking dish.
Add the nondairy milk, coconut milk, flour, maple syrup, arrowroot, vanilla extract, and salt. Stir until combined.
Preheat the oven to its lowest setting. Place a cooling rack on a baking sheet. Set aside.
Heat a large frying pan or griddle over medium heat for a couple of minutes. Spray the pan generously with cooking spray. Dip 1 or 2 slices of bread (depending on how many will fit in your pan) in the milk mixture and soak for 10 to 15 seconds on each side. Place the slices in the pan and cook until golden and crispy, 3 to 4 minutes on each side. Transfer to the cooling rack and place the baking sheet in the oven to keep warm until ready to serve. Repeat with the remaining slices of bread, respraying the pan each time before adding new slices.
To make the strawberry sauce: Combine the sauce ingredients in a small pot and bring to a boil. Reduce the heat and simmer, stirring frequently, for 3 to 5 minutes, until thickened. Remove from the heat and keep warm.
To make the vanilla whipped cream: Carefully spoon the solid coconut cream into a large bowl, leaving the coconut water in the can (which you can totally keep to use for something else). Add the powdered sugar and vanilla to the cream and, using a hand mixer (fitted with a whisk attachment, if possible), mix on high speed until it has the texture of whipped cream. Transfer the bowl to the refrigerator until ready to serve.
If you want, slice the pieces of toast in half diagonally before serving. To serve, place two slices of bread (or four halves) on a plate, topped with a dollop of vanilla whipped cream (if using), a scoop of strawberry sauce, and if you desire, a light dusting of powdered sugar. Sprinkle with a few sliced almonds and serve.
Notes
Variation: If you want basic French toast, you can skip the whipped cream, strawberry sauce, powdered sugar, and almonds, and just serve it doused with maple syrup.
Recipe from But My Family Would Never Eat Vegan!: 125 Recipes to Win Everyone Over © Kristy Turner, 2016. Reprinted by permission of the publisher, The Experiment. Available wherever books are sold. theexperimentpublishing.com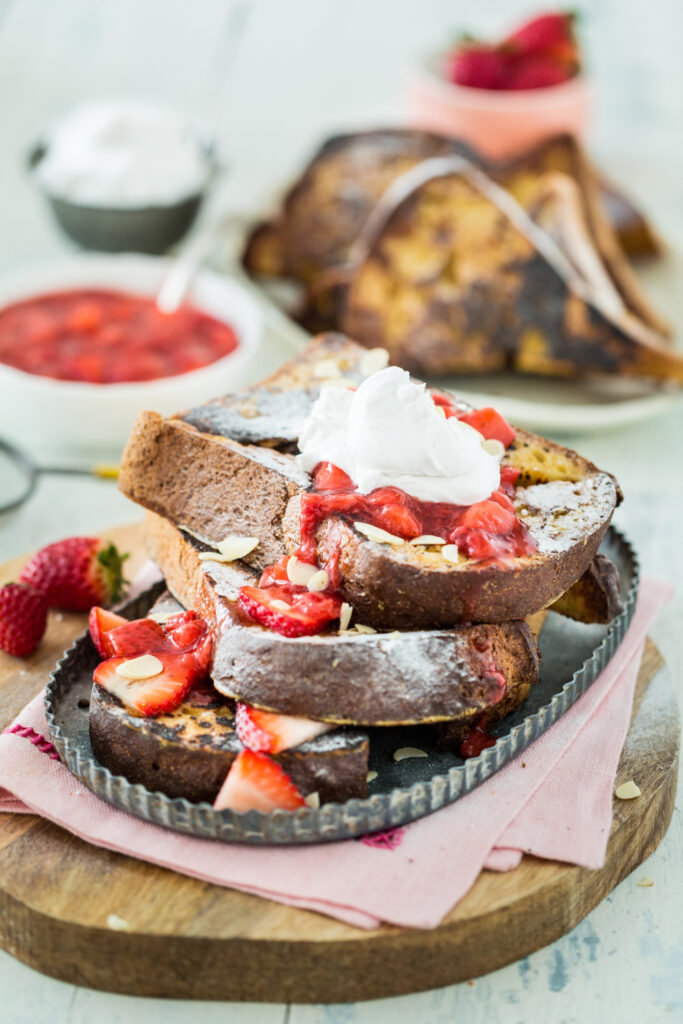 Photography by Chris Miller