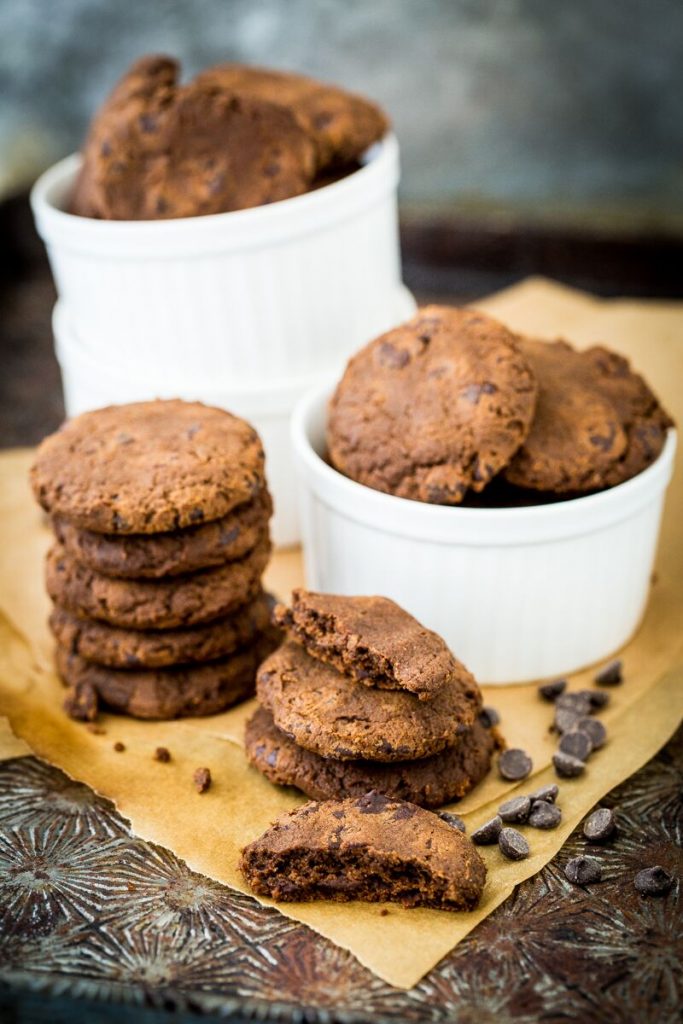 Do you know how I avoid #pumpkinburnout in the fall? I don't go crazy with pumpkin between October 1st and November 30th, trying to work it into every little dish I prepare. That's a hard no. What I do is spread out my pumpkin usage throughout the rest of the year. It's all about balance. And that's how I came to make these Pumpkin Double Chocolate Chip Cookies in March.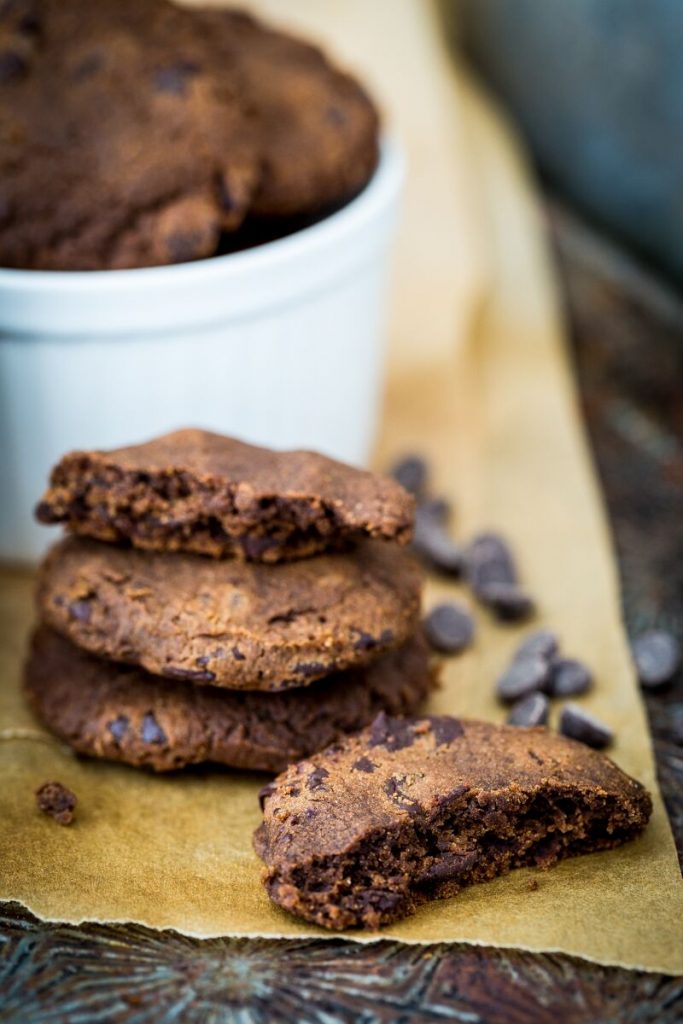 In fact, I had potential fall #pumpkinburnout in mind when developing this recipe. I keep a calendar on the wall in my kitchen that monitors my monthly pumpkin usage (It's also where I track my period, my dogs' monthly heartworm pills, and every time my head explodes when I hear the words "But her emails.") and I'd noticed I was falling behind this month.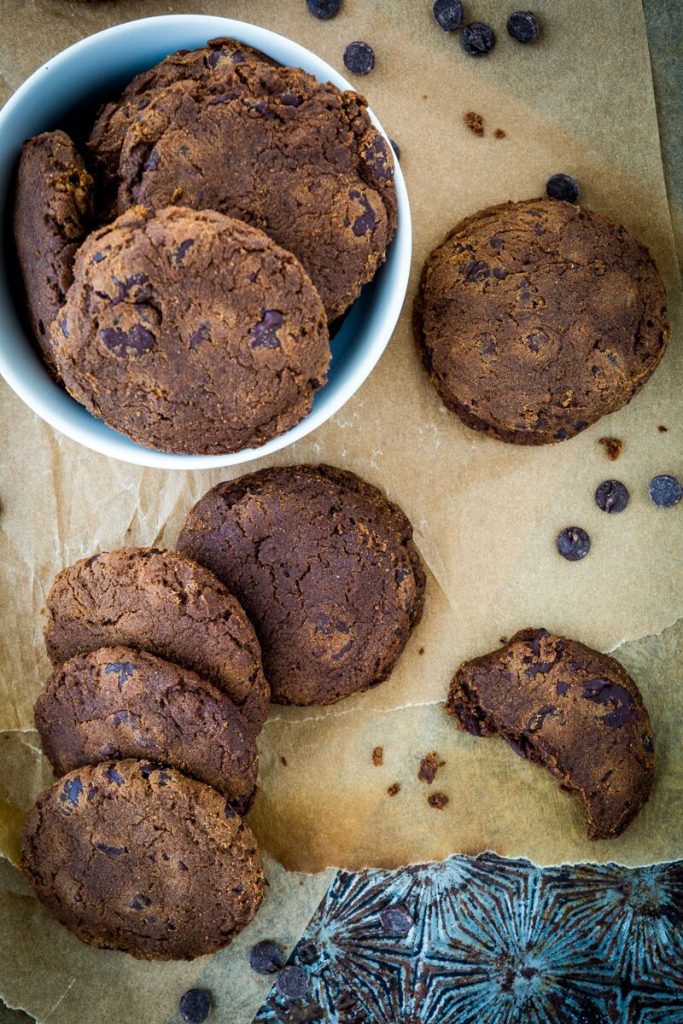 JK. I don't track my pumpkin intake. That does sound like something I would do, but I feel like it would be a slippery slope that starts with tally marks for every time I eat something with pumpkin in it and ends with a full-force Excel spreadsheet-style food journal, complete with food weights and exact meal times. I just know myself.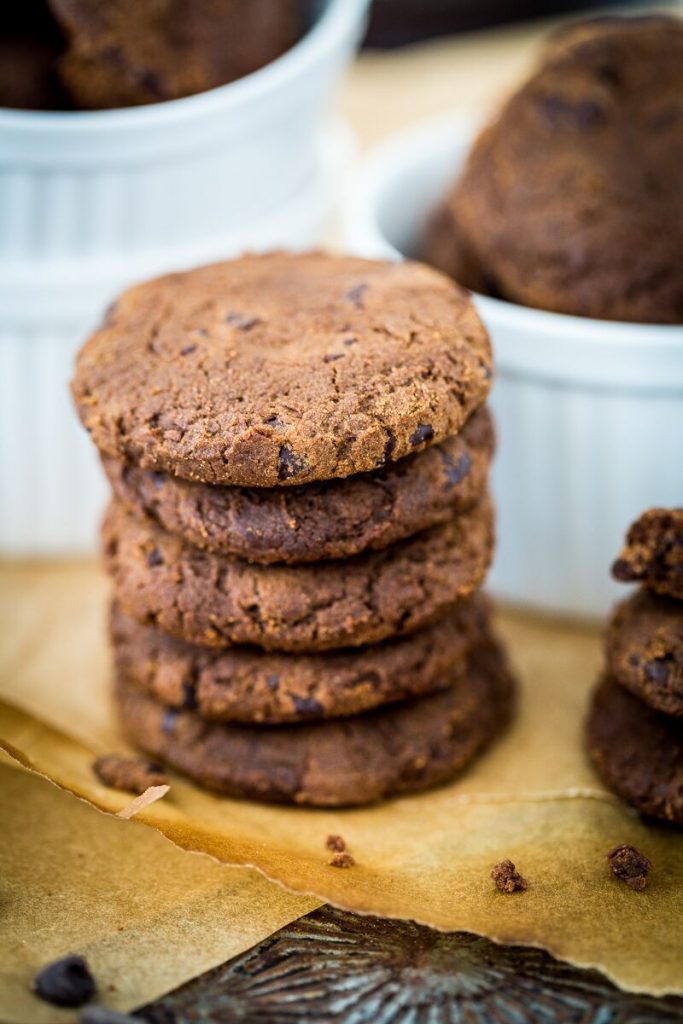 The real story is that I was making a lot of Chocolate Chip Cookies but they were so good that the batch wouldn't last us a whole week and I would end up not being able to have my two after-dinner cookies for a night or two until I had time to bake more cookies. So, I started adding pumpkin to the recipe (I also tweaked it slightly to accommodate for the pumpkin) in an effort to make the batch last a full week. Plus, the chewier, more pumpkiny cookies were a nice change. Then one day, I was hard-core craving chocolate. I knew that just the chocolate chips in my nightly cookies were not going to be enough to satisfy my craving. So I ate an entire bar of chocolate. When I realized that wasn't going to be enough, I decided to take action.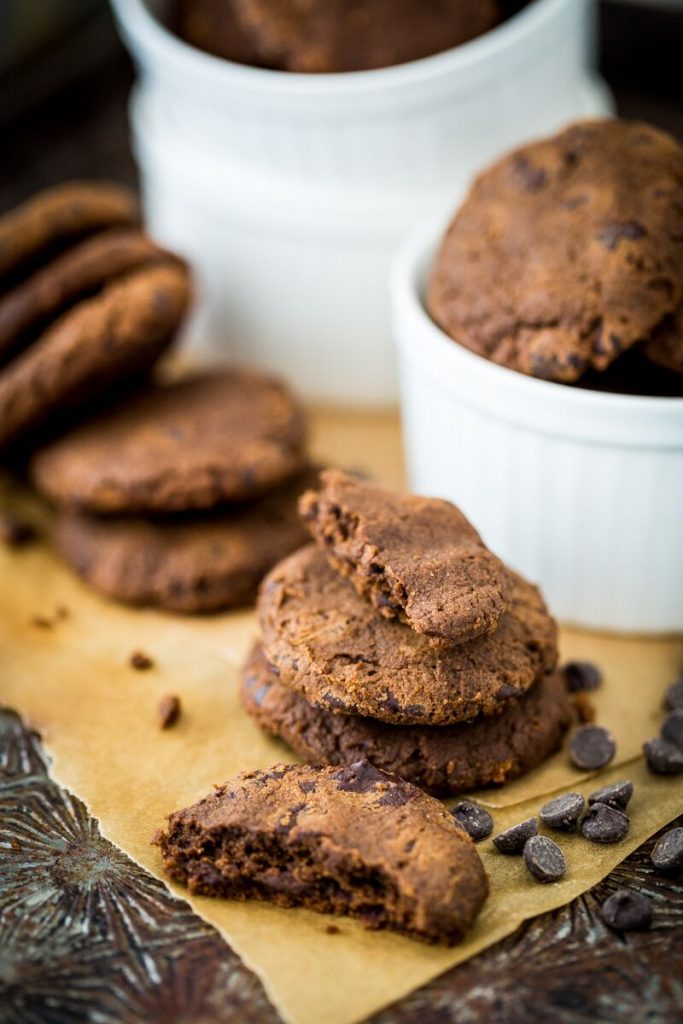 When making our weekly cookie stash, I decided to add some cocoa powder to the mix, just enough to boost the chocolate factor with out detracting from the pumpkinness. I kept in the pumpkin pie spice that I'd been adding and all the flavors, along with little chips of chocolate, in every bite were kind of mind-blowing. I very nearly decided to call them Pumpkin Brownie Cookies because they almost have the texture of a good brownie, but in cookie form. But I decided against it because I already have Pumpkin Brownies on this site and I didn't want to confuse people. #foodbloggerproblems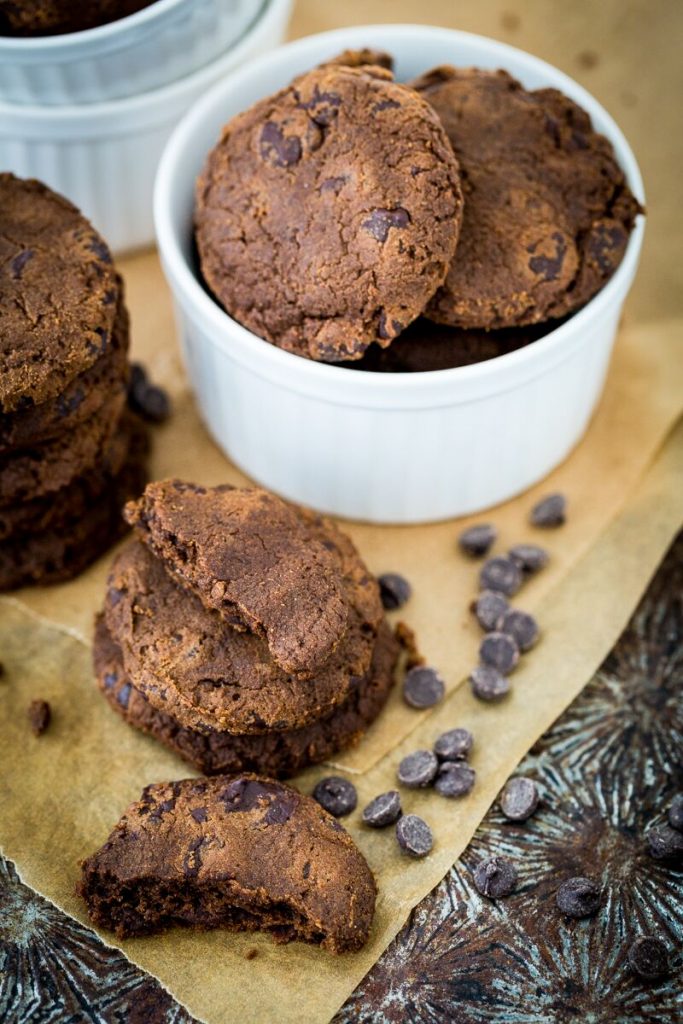 So, for all of you good people, I think March is the perfect time to start taking preventative measures against #pumpkinburnout2017. Enough time has passed since November that pumpkin will be a refereshing treat and you still have plenty of time before October to incorporate, in moderation, pumpkin into your meal planning. These pumpkin double chocolate chip cookies will get you started on the right track.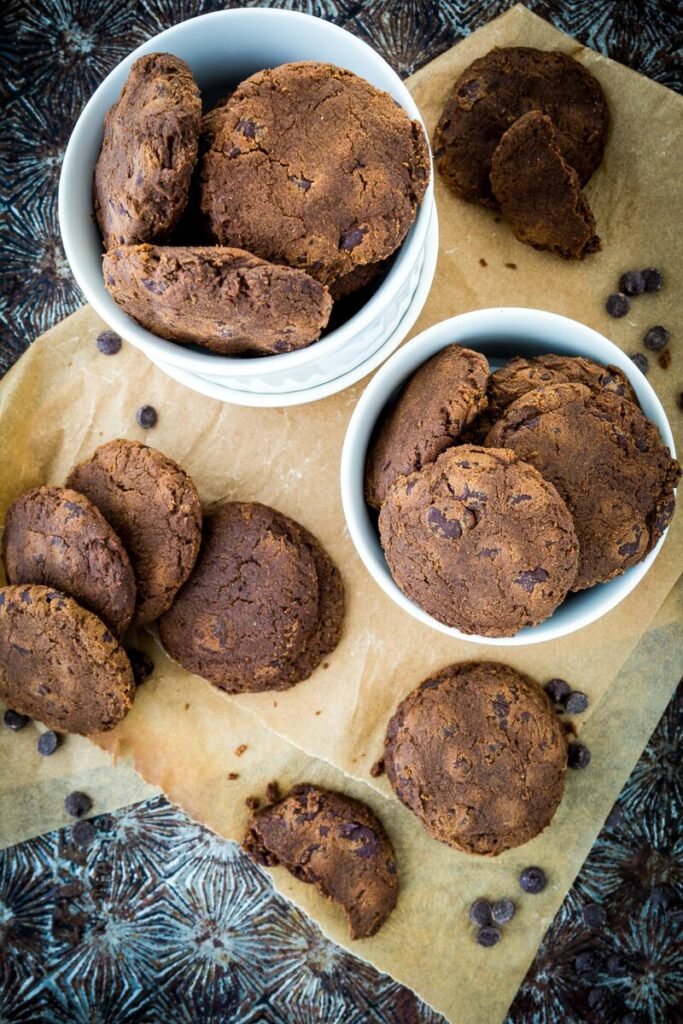 Pumpkin Double Chocolate Chip Cookies
Ingredients
1/2 cup vegan butter at room temperature (1 stick)
1 cup + 2 tablespoons coconut sugar
1/2 15-ounce can pumpkin puree (about 1 cup)
3 tablespoons aquafaba
1 tablespoon maple syrup
1 teaspoon pumpkin pie spice
1 teaspoon vanilla extract
1/2 teaspoon baking powder
1/2 teaspoon baking soda
1/2 teaspoon salt
1/4 cup cocoa powder
1 3/4 cups all-purpose gluten-free flour (I used Bob's Red Mill 1 to 1 Baking Mix)
1 heaping cup vegan chocolate chips
Instructions
Using a hand mixer, cream together the butter and coconut sugar and fully incorporated. Add the pumpkin and mix until combined. Add the aquafaba, maple syrup, pumpkin pie spice, vanilla extract, baking powder, baking soda, and salt. Mix until combined.
Add the cocoa powder and mix until combined. Add the flour and mix until combined. Add the chocolate chips and use a spoon or rubber spatula to fold them into the dough until evenly distributed.
Use an ice cream scoop or a tablespoon to scoop 1 1/2 tablespoon balls onto the prepared baking sheets. Use your fingers or the bottom of a measuring cup to gently flatten each cookie a little bit.
Place the baking sheets in the oven and bake for 12 to 13 minutes or until solid and firm around the edges. Remove from the oven and let cool on the sheets for 5 minutes before transferring to a cooling rack. Let cool before serving or storing. Enjoy!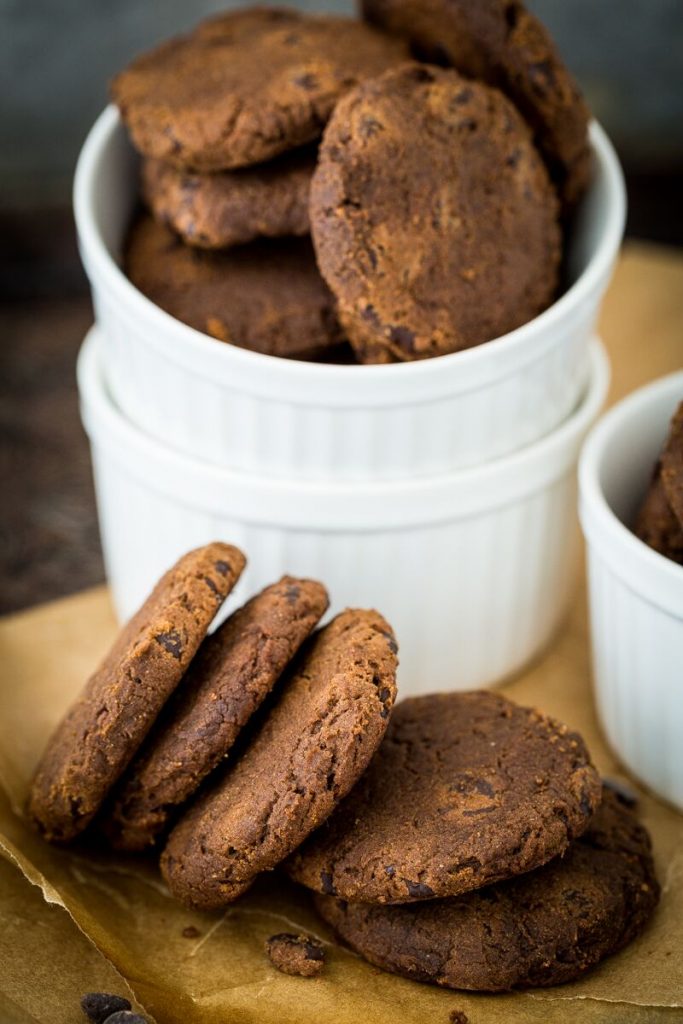 Photography by Chris Miller