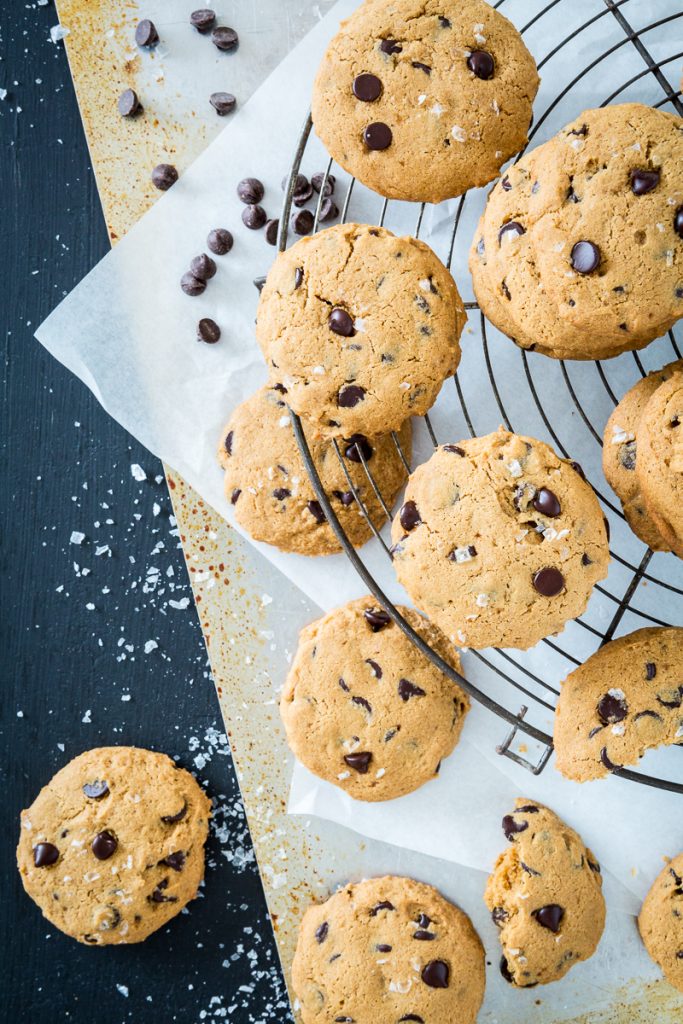 So the internet is kind of maxed out with the "Best," "Perfect," and "Ultimate" gluten-free vegan chocolate chip cookie recipes. I was wondering which recipe reigns supreme but it turns out that there are many recipes that claim that title. It really makes things confusing.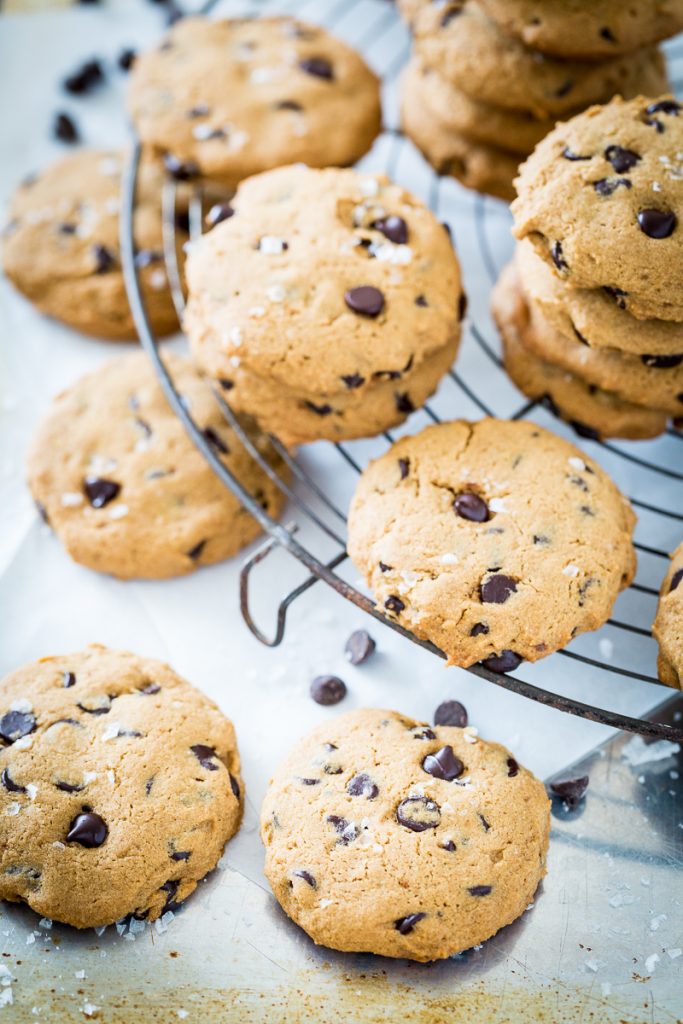 See, I couldn't rightly claim that my gluten-free, vegan chocolate chip cookies were the best without having tasted all the other recipes. And even if I had tasted every single gluten-free, vegan chocolate chip cookie recipe in existence, who am I to be a judge if my cookies are in the running? That's just not fair. So I was faced with the tough job of coming up with a title for this crispy-on-the-outside-chewy-on-the-inside and not-crumbly-at-all cookie recipe that provided an apt description without being hyperbolic. Oh, the hardships of being a food blogger.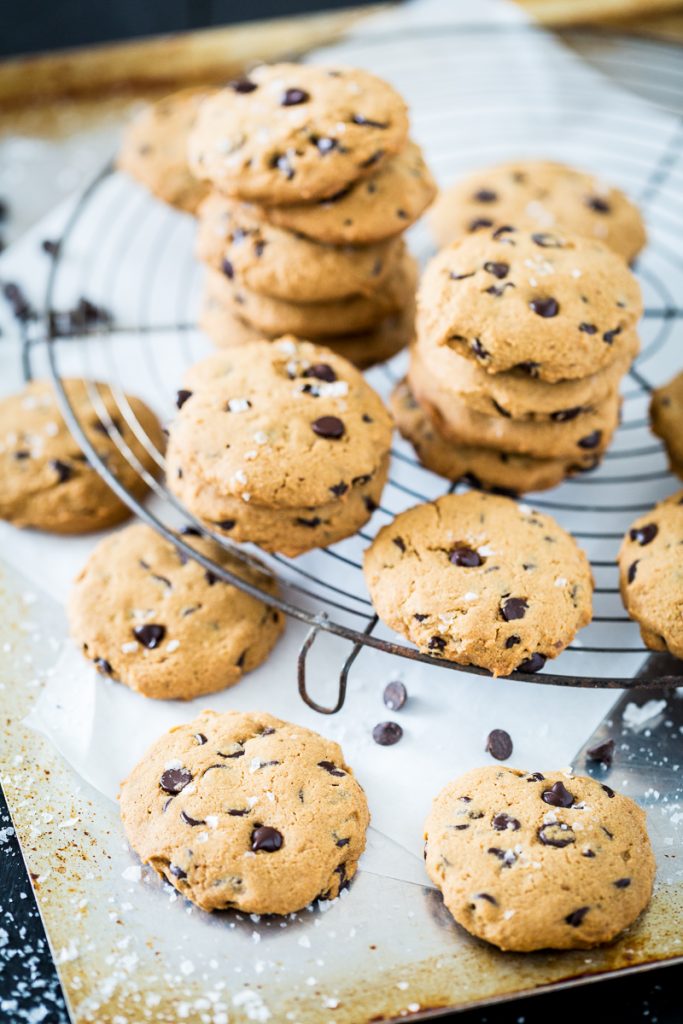 There were other titles I considered before I settled on "Really Wonderful." In my honest opinion, it doesn't really do these cookies justice but it sounded better than "Pretty Nice" or "Practically Perfect." "Simply Pleasant," sounded too pretentious and "Awfully Tasty" wasn't sophisticated enough. "Borderline Incredible" sounded too clunky. "Fantastic," "Amazing," and "Awesome" all sounded too flashy. "Really Good" was already taken. So here we are.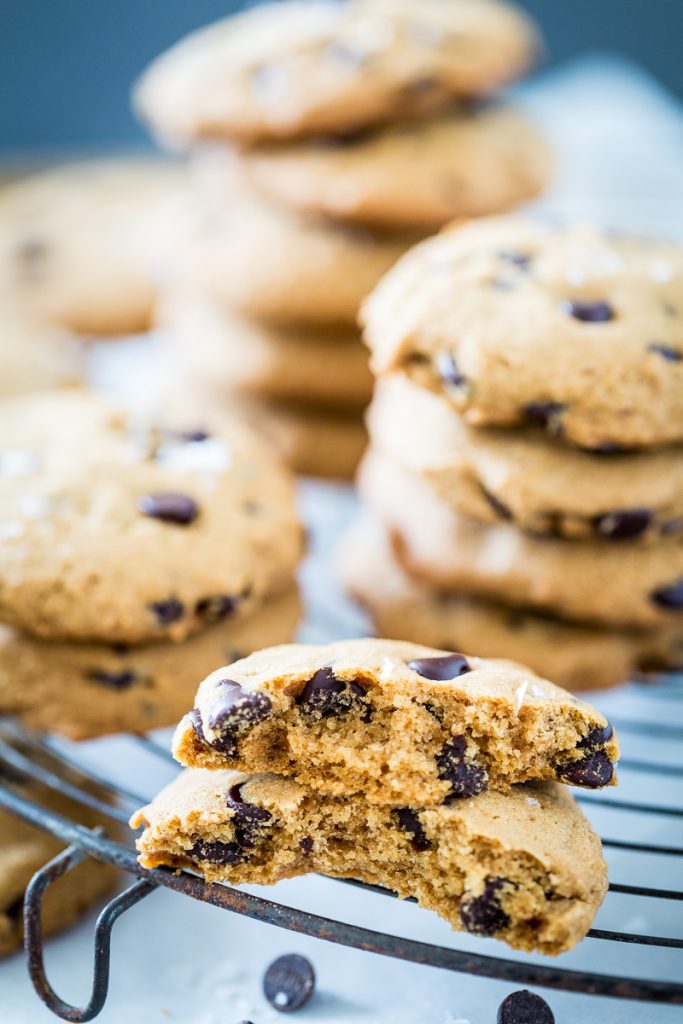 THE OBLIGATORY OVERHEAD BAKING SHEET SHOT: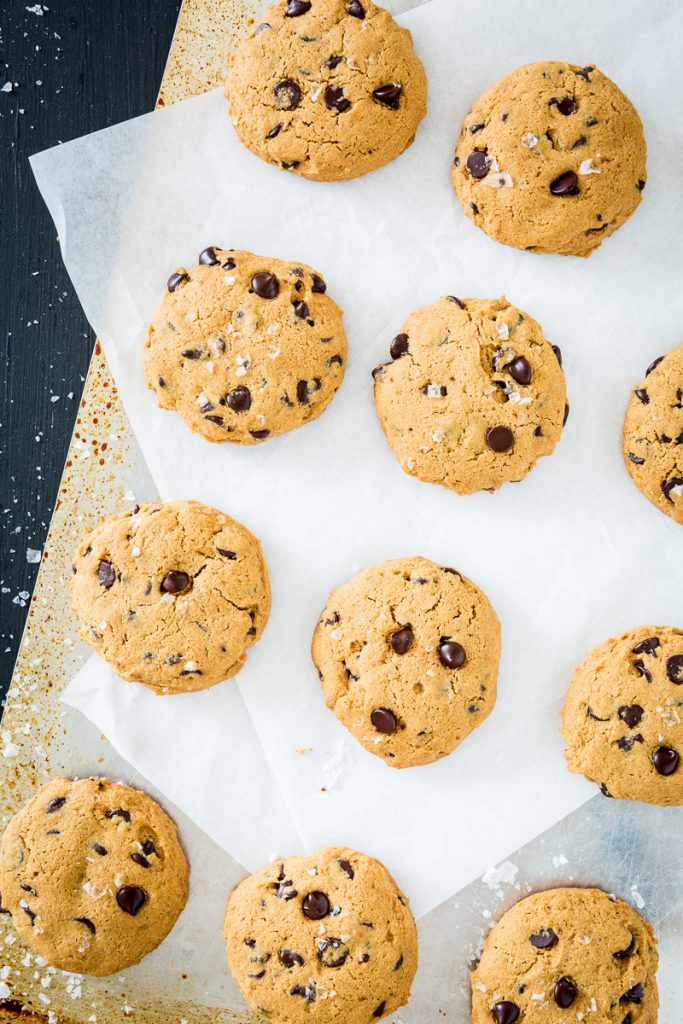 Now let me share my thoughts on chocolate chip cookies. Personally, I think they're the best (and most delicious) way to transport chocolate chips (or chunks) to your mouth. I prefer that the cookie surrounding the chocolate chips to be chewy with a slightly crisp exterior. I like them to be sweet, but not too sweet, and to have a nice balance of vanilla and salt. Salt flakes on top are always a welcome bonus. But none of that is as important as the quantity (and quality, if we're being picky. But mostly quantity) of chocolate chips. It should be chock full of those babies. Let's not forget about the primary purpose of these cookies.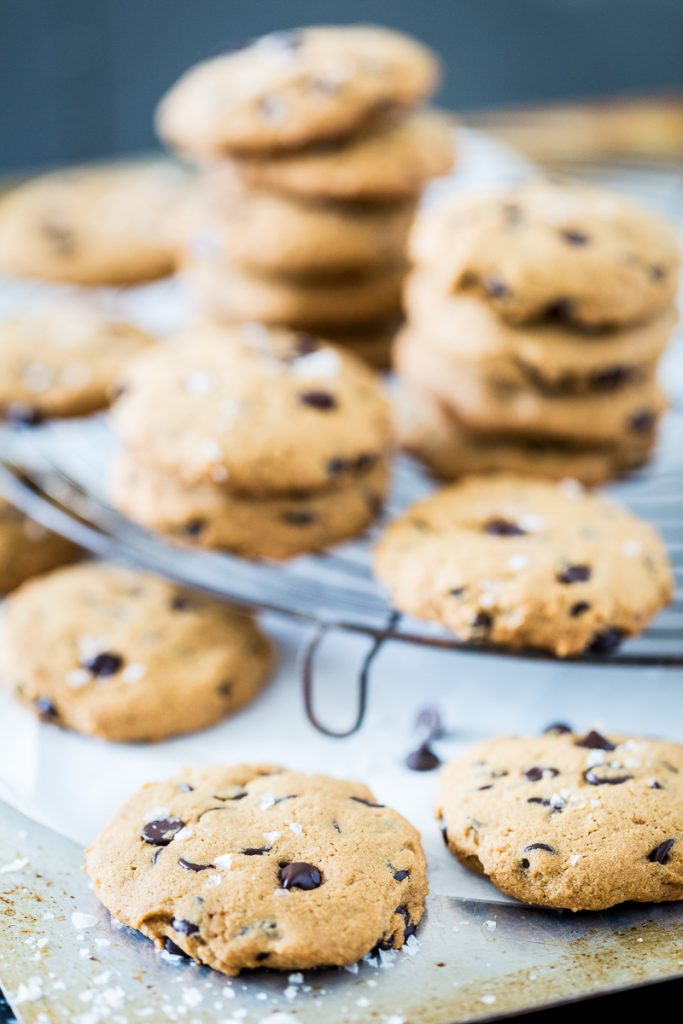 True story: Back in the day, I had a housemate who had a boyfriend. One day, she was in the kitchen making cookies. She had a bag of Nestle Tollhouse chocolate chips sitting on the counter and she was using the recipe on the back of the bag to make the cookies. She had just moved in and we were still in that "getting to know each other" phase so I decided to be friendly and personable. "You making chocolate chip cookies?" I asked. "Kind of," she responded. "They're for my boyfriend and this is his favorite recipe." She finished mixing the ingredients together and then, without folding in the chocolate chips, she began scooping the dough onto the cookie sheet. "I think you forgot the chocolate chips," I politely pointed out. I'd been hoping that she'd let me sneak a small handful since you never need the full bag of chocolate chips. It was going to be a test to see if she would make a good friend. "Oh no. My boyfriend doesn't like the chocolate chips. He likes the cookies without the chips," she informed me. She laughed a bit and then threw the unopened bag of chocolate chips in her cabinet. I sat there, dumbfounded, trying to figure out how such a seemingly sweet girl could have such horrible taste in men. Turns out, I was right. He was a huge tool and they broke up over some seriously shady shit. And then, even later, I discovered she was kind of a jerk too. Moral of the story: If you don't put chocolate chips in your chocolate chip cookies, you're probably an asshole.*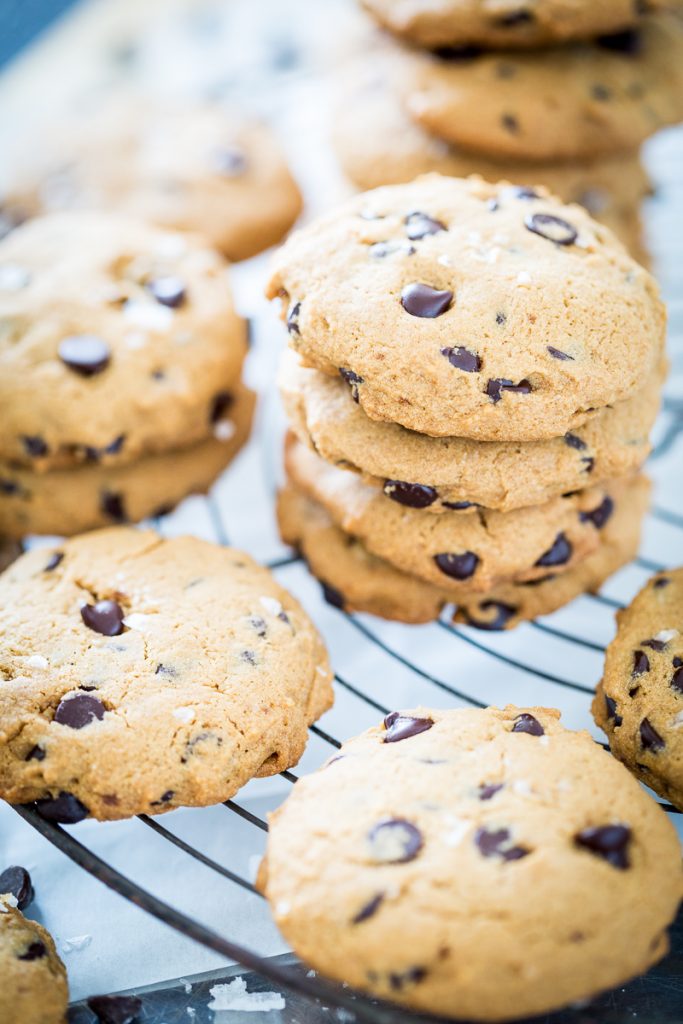 Back to these cookies. It took me literally dozens of tries to get this recipe to "really wonderful" status. I may or may not have cried a single tear when I took my first bite after (basically) perfecting my recipe. These cookies, as photographed, were made with vegan butter, but you can just as easily make them with softened coconut oil. The result will give you a slightly more dense, slightly more crisp cookie, but I can't make up my mind which version I love more. I like adding vanilla powder, along with vanilla extract, because it gives it a little extra somethin' somethin', but if you don't have vanilla powder, don't sweat it. They're great without it. Same goes for the fancy salt flakes on top. You can refrigerate the dough prior to baking, if you'd like a more intensified flavor, but if you don't have the time (or patience) for that, I hear ya. Also, you're going to want to take a nibble or two of the dough before you start scooping. It's the best. Or, I mean "Really Wonderful"...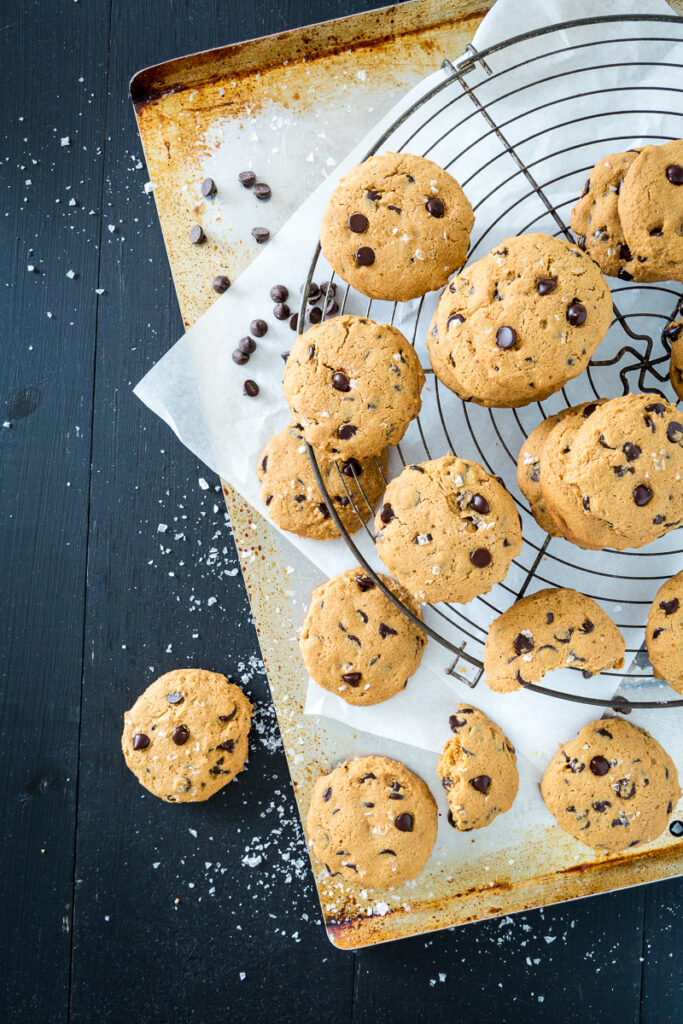 Really Wonderful Gluten-Free, Vegan Chocolate Chip Cookies
Ingredients
½ cup vegan butter, room temperature or 1/2 cup coconut oil, softened
¾ cup coconut sugar
4 tablespoons aquafaba
1 teaspoon vanilla extract
½ teaspoon vanilla powder,

optional

½ teaspoon baking soda
¼ teaspoon baking powder
¼ teaspoon salt
1½ cups gluten-free flour blend (I use Bob's Red Mill 1-to-1 Gluten Free Baking Blend)
1 cup vegan chocolate chips
sea salt flakes,

optional
Instructions
Preheat the oven to 350. Line two baking sheets with parchment paper.
In a large bowl, use a hand mixer to cream together the butter (or coconut oil) with the coconut sugar, about 3 to 4 minutes. Once completely combined and creamy, add the aquafaba, vanilla extract, vanilla powder (if using), baking soda, baking powder, and salt. Use the hand mixer to blend until fully combined. Add the flour and mix just until combined. Fold in the chocolate chips.
Scoop 1.5 tablespoon scoops of the dough onto the prepared baking sheets until all of the dough is used. Use your fingers or the back of a measuring cup to gently press the cookies down a little (they'll spread a little bit, but not much). Sprinkle with salt flakes (if using).
Bake for 10 to 12 minutes or until the cookies are slightly firm (but not crispy). Remove from the oven and let the cookies cool on the baking sheets for about 10 minutes before transferring to a rack to cool. Store in an airtight container for 3 to 4 days. Enjoy!
Notes
UPDATE (8/31/16): I discovered that if I freeze the dough for about 15-20 minutes, then scoop, don't gently press the dough, sprinkle salt, and bake for 11-12 minutes, they spread beautifully, getting those classic lumps and cracks seen in regular CC Cookies. Alternatively, you could refrigerate the dough for about 45-60 minutes to get the same effect. You should wait until you take the dough out to start preheating the oven, though.
Or you can just follow the original instructions. Your choice.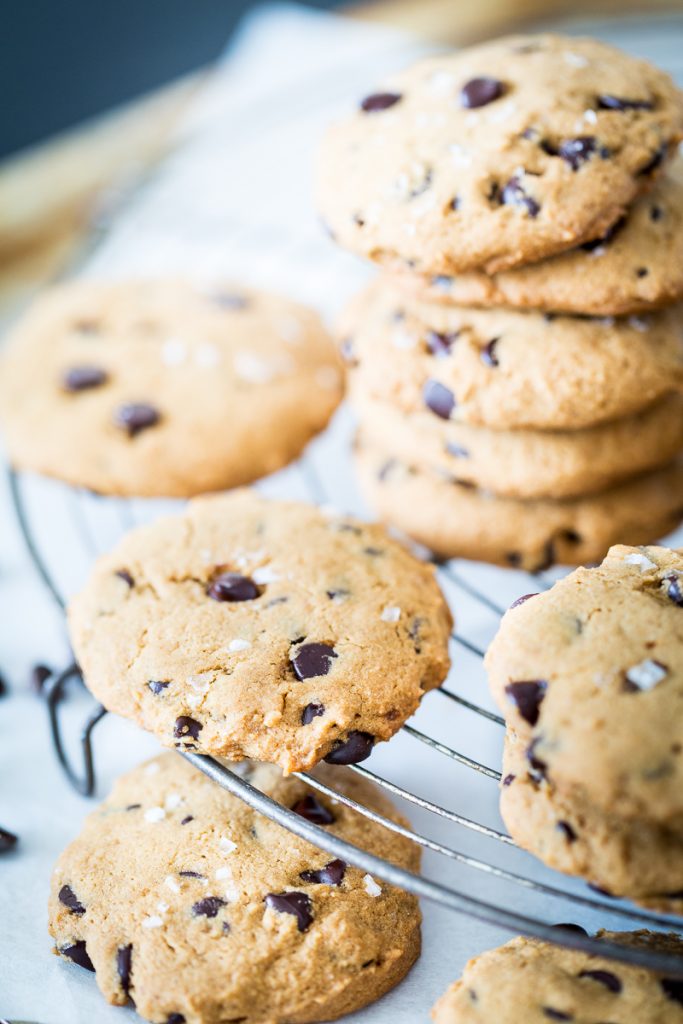 What's your opinion on chocolate chips? This may be a trick question...
*I am so sorry if I just called you an asshole. No offense intended.
Photography by Chris Miller