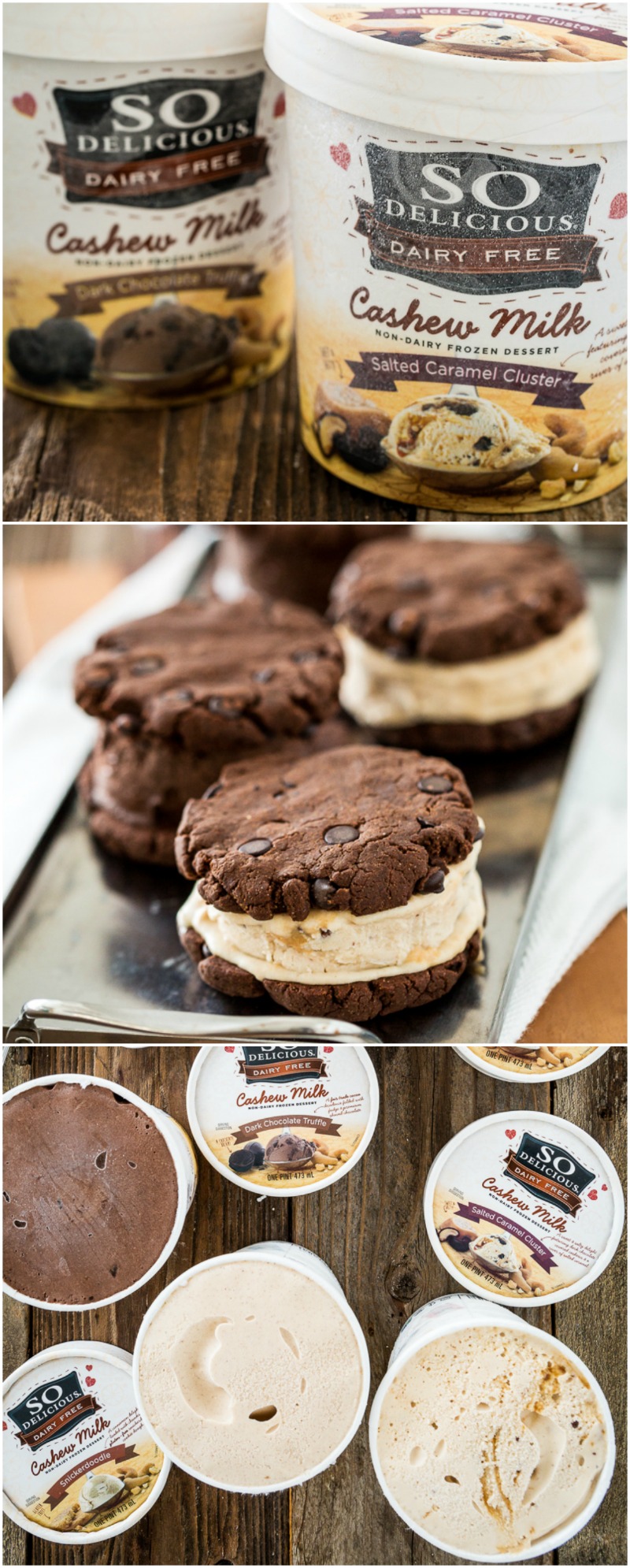 As a blogger, I'm very fortunate to be contacted by brands who want me to try their products. I get to try a lot of really great products at no cost to me and it is one of the really cool perks of being a blogger. However, when certain brands that I love don't contact me but I see that my blogger friends were sent their products to try, I will admit: I get a teensy bit jealous. For a moment, I feel a little less cool and a little less popular. This moment lasts for about 2 seconds before I go back to not really caring and being happy that I'm learning about these cool products through my friends.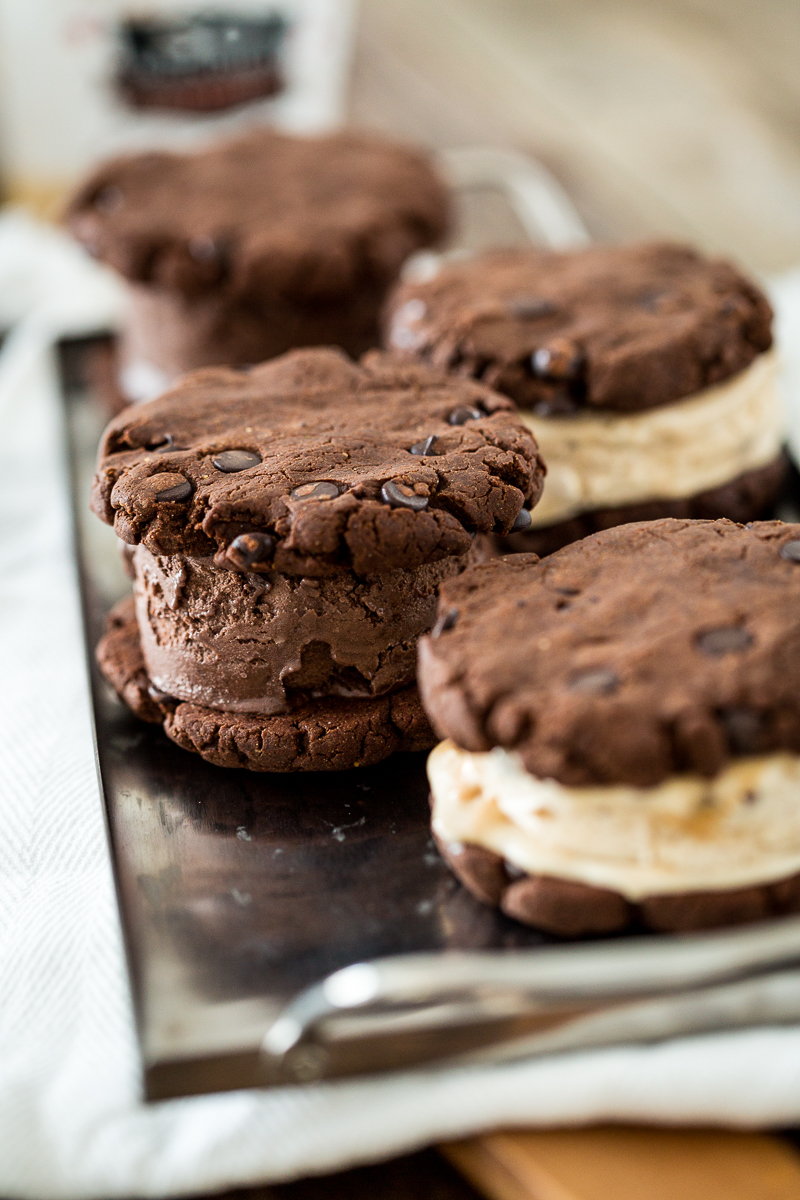 For years, I've secretly kind of wanted to be one of the bloggers that So Delicious reaches out to and sends their awesome stuff to try. Especially their frozen stuff. Namely, their ice creams. I mean, it wasn't that big of a deal at all. On the "Big Deal" scale of 1 to 10, I'd put my wanting to be sent So Delicious products to try at about a 1.25. But I can't deny that "issue" was there. Recently, a blogger friend of mine was telling me about the amazing cashew milk ice creams she was sent from So Delicious and I was like "Man, I wish they would send stuff to me." And then, a few days later, I got an email from So Delicious offering me just that. I guess you just have to put your hopes and dreams out there into the universe in order for them to come to fruition.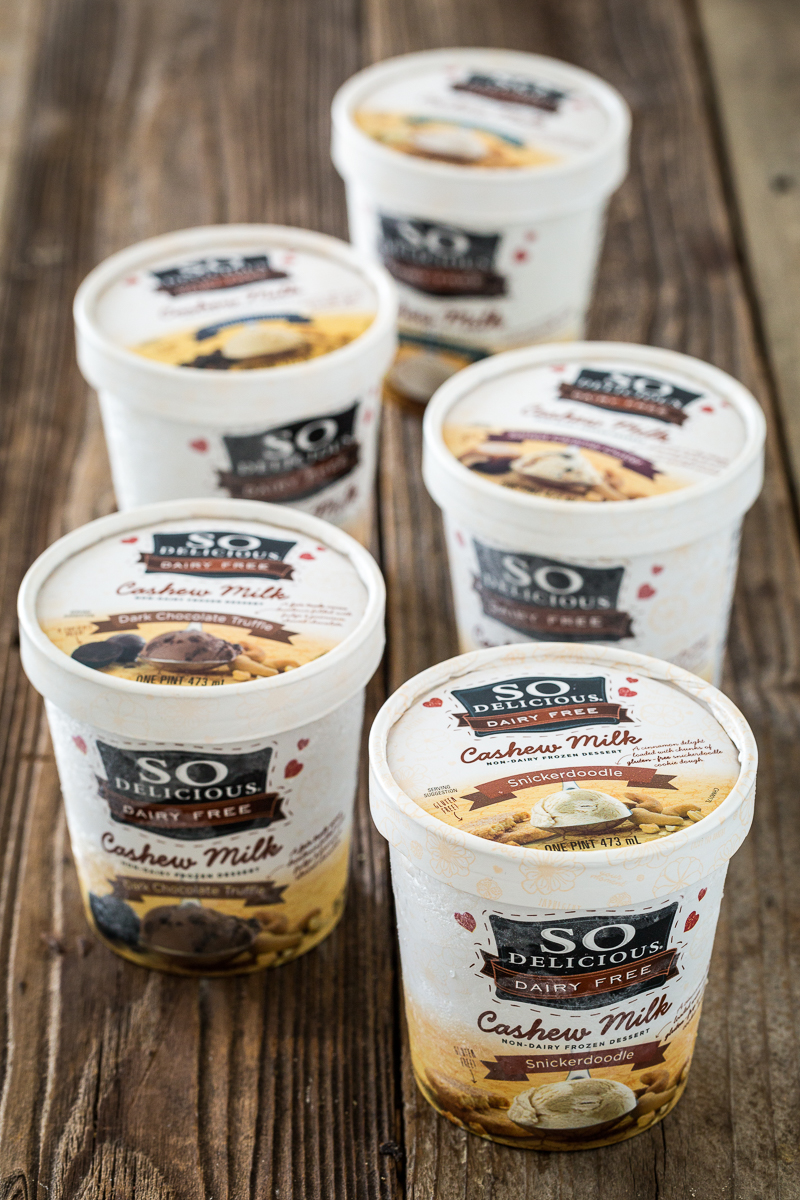 I was nervous about getting this package of ice cream because I had to be there to receive it which means I would have to have it sent to my office. And then I would have to find room in my office freezer to stash it until it was time to go home, but I was down for the challenge. And then I forgot about it. On the day of slated delivery, one of the office assistants came to my office and asked "Did you get your ice cream?" She was holding a box and for some reason, I assumed that my Work had gotten everyone ice cream and she was offering me my share. "Oh. No, thank you. I don't eat dairy," I said in what I'm sure was a smug-ass tone (though I wasn't trying to sound that way, I swear. I was just wondering if it would kill Work to sometimes consider their employees with eating restrictions when they decide to treat everyone to ice cream.). The assistant looked confused and she said "No, I mean, like, your name is on the package. And it says 'ice cream' on it, so..." Then I remembered. I jumped up and grabbed my package and apologized for the confusion.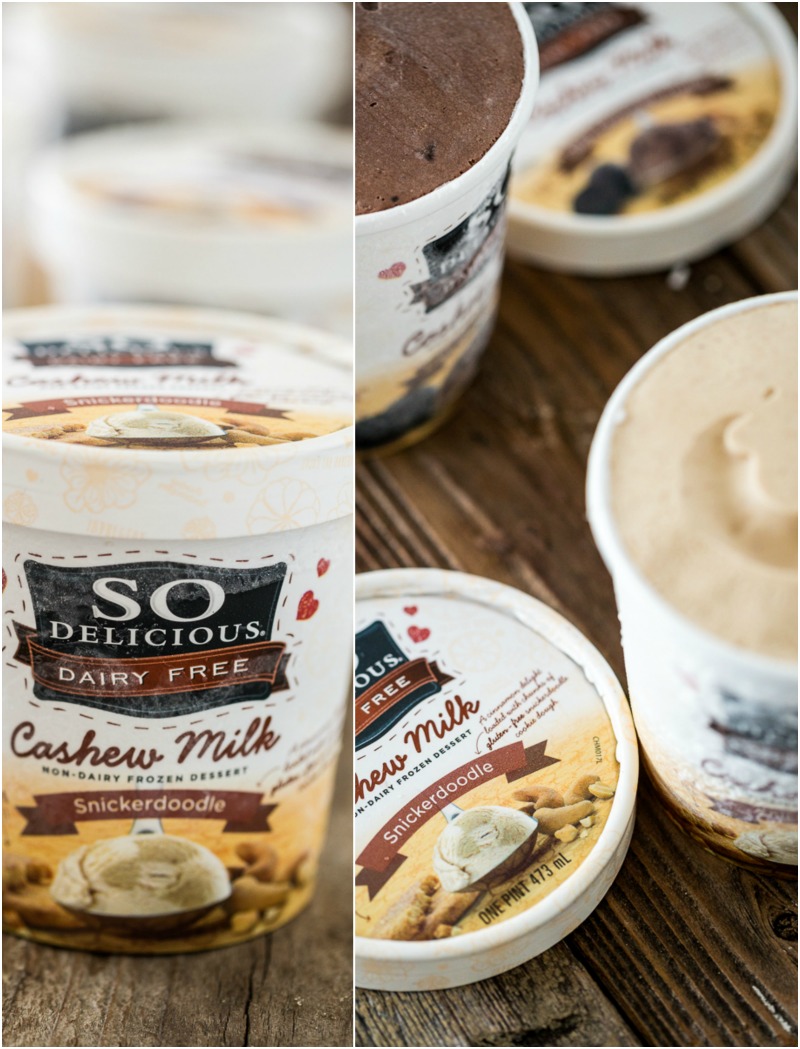 That weekend, I was able to dig into the wonderous cashew milk ice creams. There's a subtle, rich Cashew Cream flavor which was as simple as it was delicious. There's a Cappucino flavor that I liked even though I don't tend to like coffee-flavored ice creams. There's a Double Chocolate Truffle that is basically the business. With it's little shards of crisp chocolate throughout, this chocolate ice cream kicks all the other chocolate ice cream's butts. There's a Snickerdoodle flavor that kind of blew my mind in that it tastes just like a snickerdoodle cookie and also has bits of gluten-free snickerdoodle cookie dough throughout. And then, my most favorite: The Salted Caramel Cluster flavor. Oh my god. It has swirls of salted caramel and chunks of chocolate-covered cashews, mixed throughout and it's the richest, most decadent, most layered ice cream I've ever had. Like, ever. Vegan or Non-vegan. I even liked it more than the Double Chocolate Truffle which I was positive was going to be my favorite because of what a chocoholic I am. I have to say that this little taste test was one of the greatest moments of my life (I'm totally exaggerating to make a point, but still, it was great.).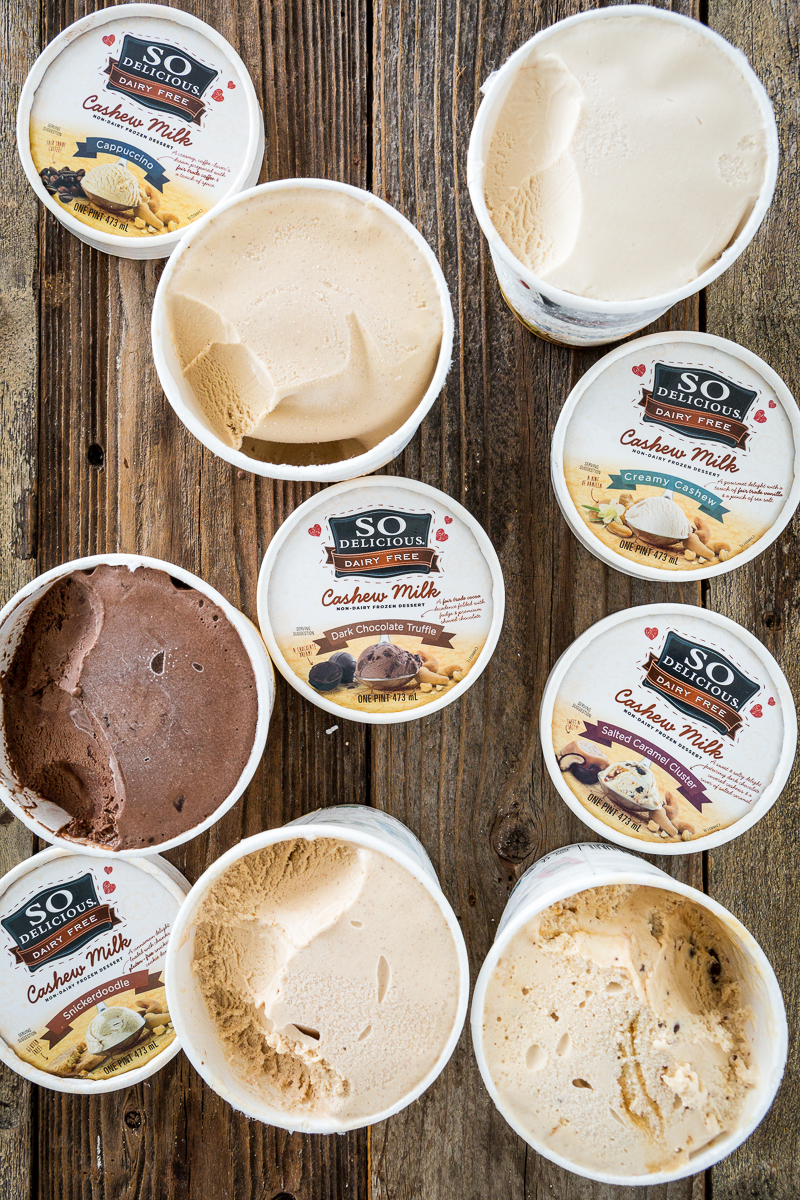 Because I hadn't had an ice cream sandwich since I did all the testing for my book (there's Oatmeal Raisin Ice Cream Sandwiches in there, just FYI), I decided I needed to make some happen. I made a simple gluten-free, double chocolate chip cookie that ended up being the perfect cookies for ice cream sandwiches because a.) they are firm enough to not get soggy from the ice cream, and b.) they are soft enough that even when totally frozen, you can bite into the sandwich without breaking your teeth or anything (You can get a nice normal bite, even when it's at it's firmest), c.) they come together really quickly (ideal for when you need ice cream sandwiches, pronto) and you would never guess that they're gluten-free, and d.) they're chocolate.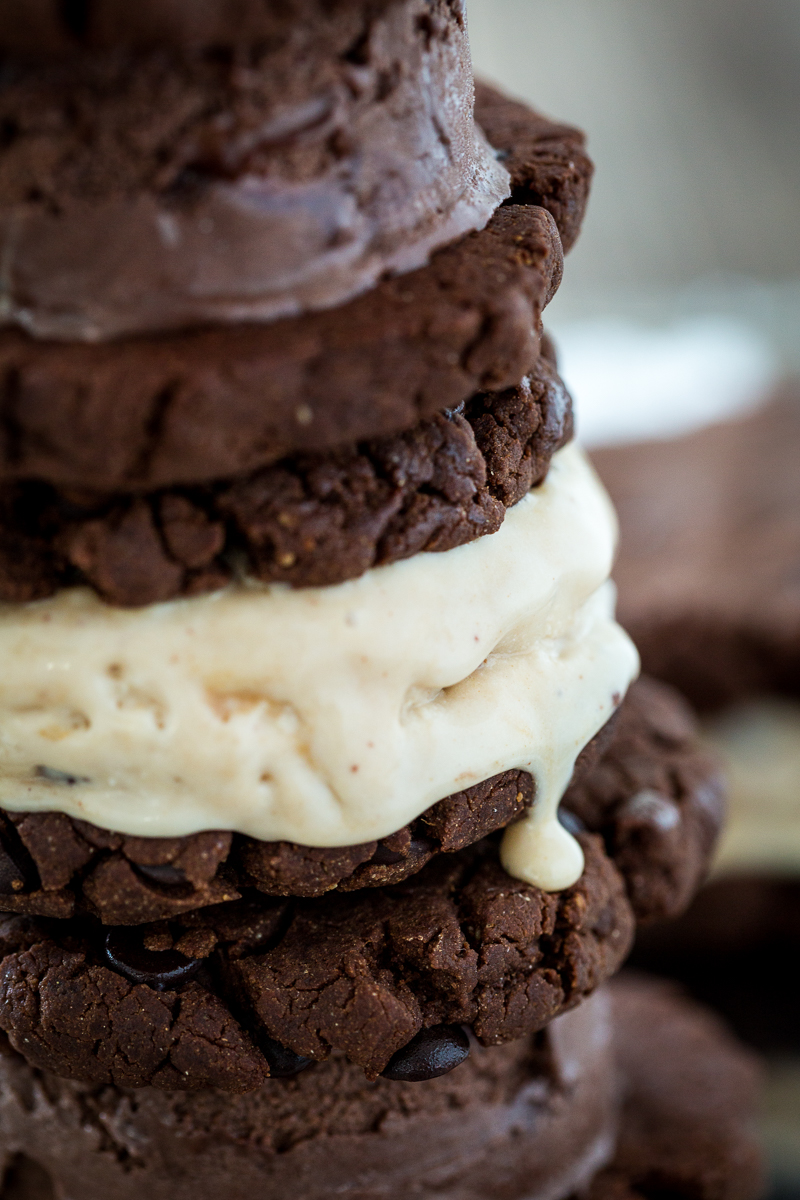 The recipe makes about 10 medium-ish cookies. Chris and I each ate 1 because we're animals  so we had 8 left, enough for 4 sandwiches (which was probably better because who wants an odd number of sandwiches that you're probably going to have to cut in half and split with the other person?). You could probably make smaller cookies and make more tiny sandwiches if you want to, but I wanted sandwiches that would last longer than a few bites. We made two sandwiches with the Salted Caramel Cluster and two sandwiches with the Double Chocolate Truffle. They were both pretty fantastic but I liked the way the soft, lusciousness of the Salted Caramel Cluster paired with the cookie the most. The Double Chocolate Truffle was also pretty amazing because it was So. Much. Chocolate (a chocolate-lover's dream).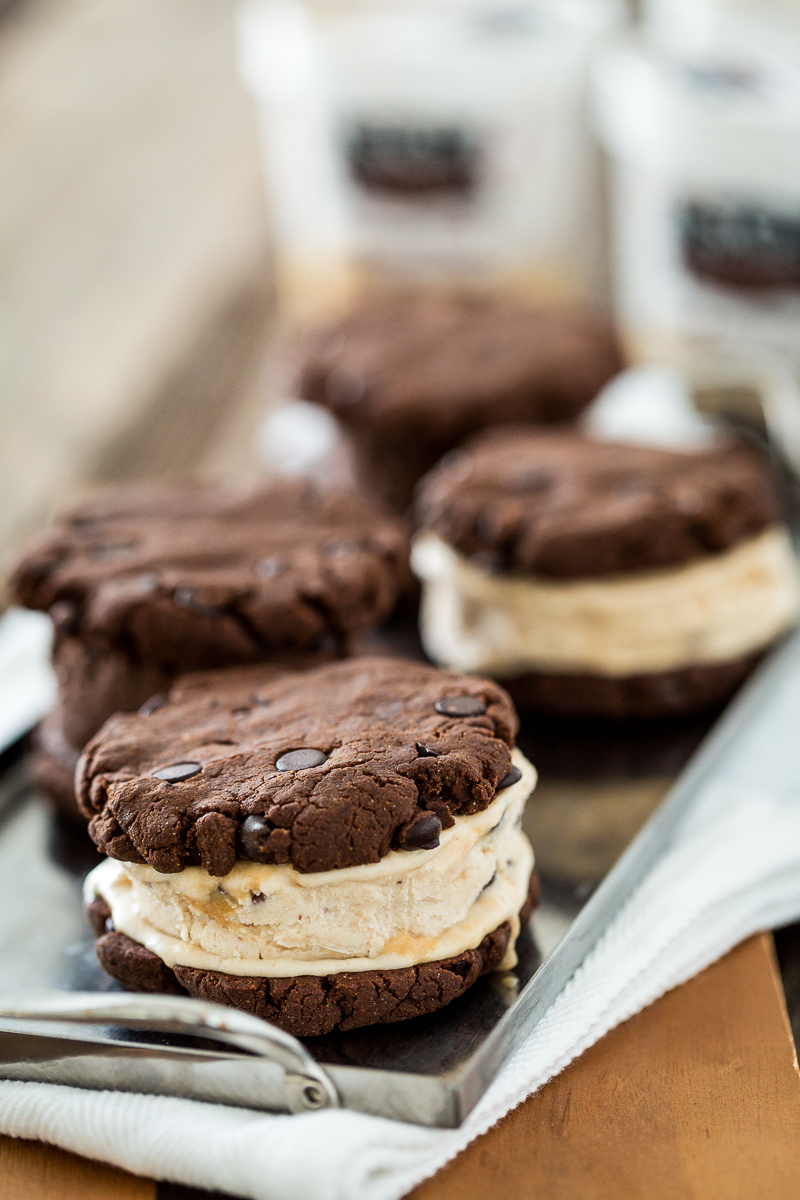 This all just goes to show that a.) Cashews are seriously magic and should be the main ingredient in all ice creams from here on out, b.) So Delicious has really flipped the ice cream game upside down with these new cashew milk ice creams, c.) blah, blah, blah, Salted Caramel Cluster, and d.) I will make any excuse to eat homemade vegan ice cream sandwiches.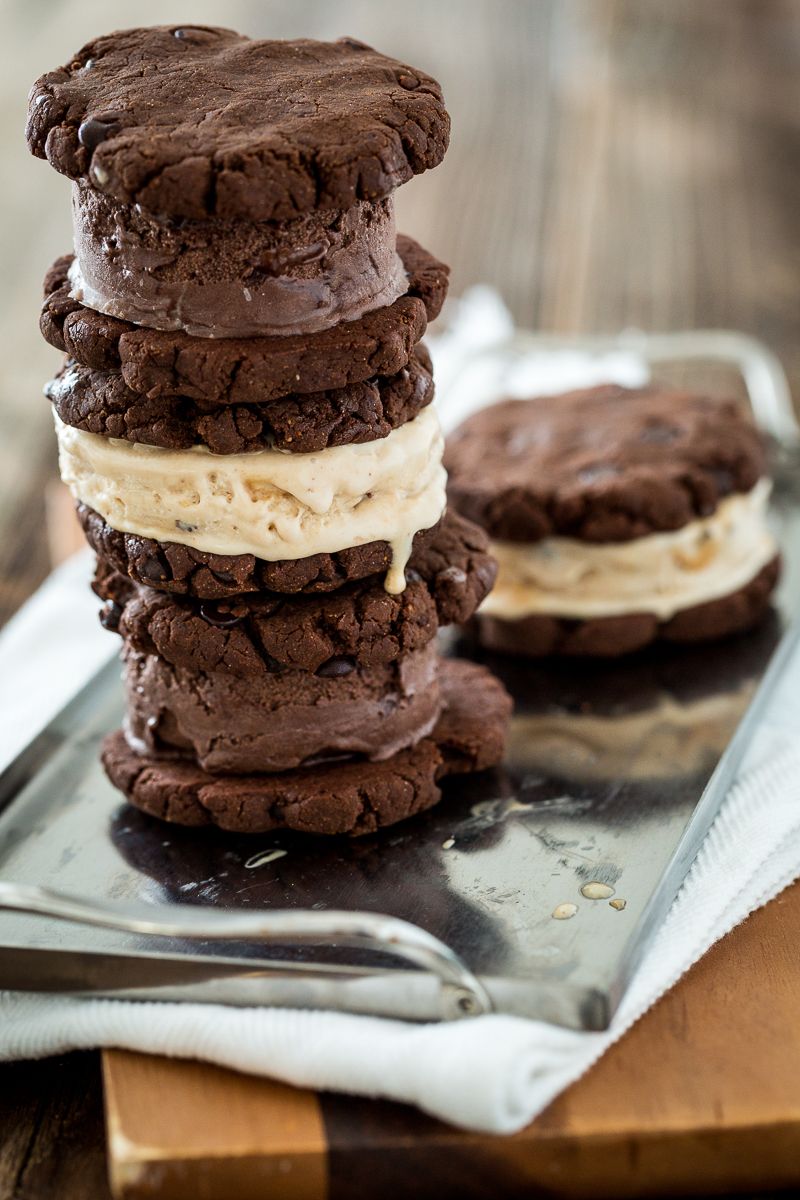 Easy, Gluten-Free, Vegan Ice Cream Sandwiches with So Delicious Cashew Cream Ice Cream
Ingredients
Instructions
Preheat the oven to 350 F. Line a baking sheet with parchment paper. Set aside.
In a large bowl, whisk together the flour, cocoa powder, baking soda, and salt.
In a medium bowl, whisk together the coconut oil, applesauce, coconut nectar, blackstrap molasses, peanut butter, and vanilla. Add the wet ingredients to the dry and use a wooden spoon to stir until combined. It will be a very thick dough. Fold in the chocolate chips.
Scoop 2 tablespoons of the dough into your hands and roll into a ball. Place the ball on the prepared baking sheet and use your fingers to flatten/shape into a cookie. These cookies will not spread or rise much at all so you need to press them into almost the exact shape you want your cookies to be. Repeat the process until you've used up all the dough. You should have about 10 cookies. Alternatively, you could do 1 tablespoon balls and make about 20 smaller cookies.
Place the baking sheet in the oven and bake for 8 to 10 minutes or until firm. Remove the sheet from the oven and let the cookies cool on the pan for about 3 to 5 minutes. Transfer the cookies to a cooling rack and let them cool completely.
While they're cooling, find a biscuit/cookie cutter that is just slightly smaller than the size of your cookies. Using the same prepared baking sheet (use the same parchment paper you used to bake), shape your ice cream fillings. To do this, you will place the biscuit cutter on the baking sheet. Use a spoon to scoop the ice cream into the biscuit cutter (hold it still so it doesn't slide all over the place) and press the ice cream into it until it's packed full (you can fill the cutter all the way to the top or you can stop somewhere in the middle. It depends on how thick you want your sandwiches to be). Do as many as you need to fill the cookies that you have (if you made 10 cookies, do 5 ice cream fillings so you can have 5 sandwiches). You will have to work fast so that the ice cream doesn't melt. Place the baking sheet in the freezer and let the ice cream freeze for about 30 minutes (or longer, if you prefer).
Remove the baking sheet from the freezer. Turn a cookie over so that the top of the cookie is on the bottom. Use a spatula to scoop up the ice cream filling disk and place it on the cookie. Take another cookie and place it on top of the ice cream. You can serve it immediately or wrap it in parchment paper and freeze until ready to serve (they will keep for a few days like this. If you want them to last longer, you may need to also wrap them in plastic or place them in an airtight container). Repeat with the remaining cookies/ice cream. Enjoy!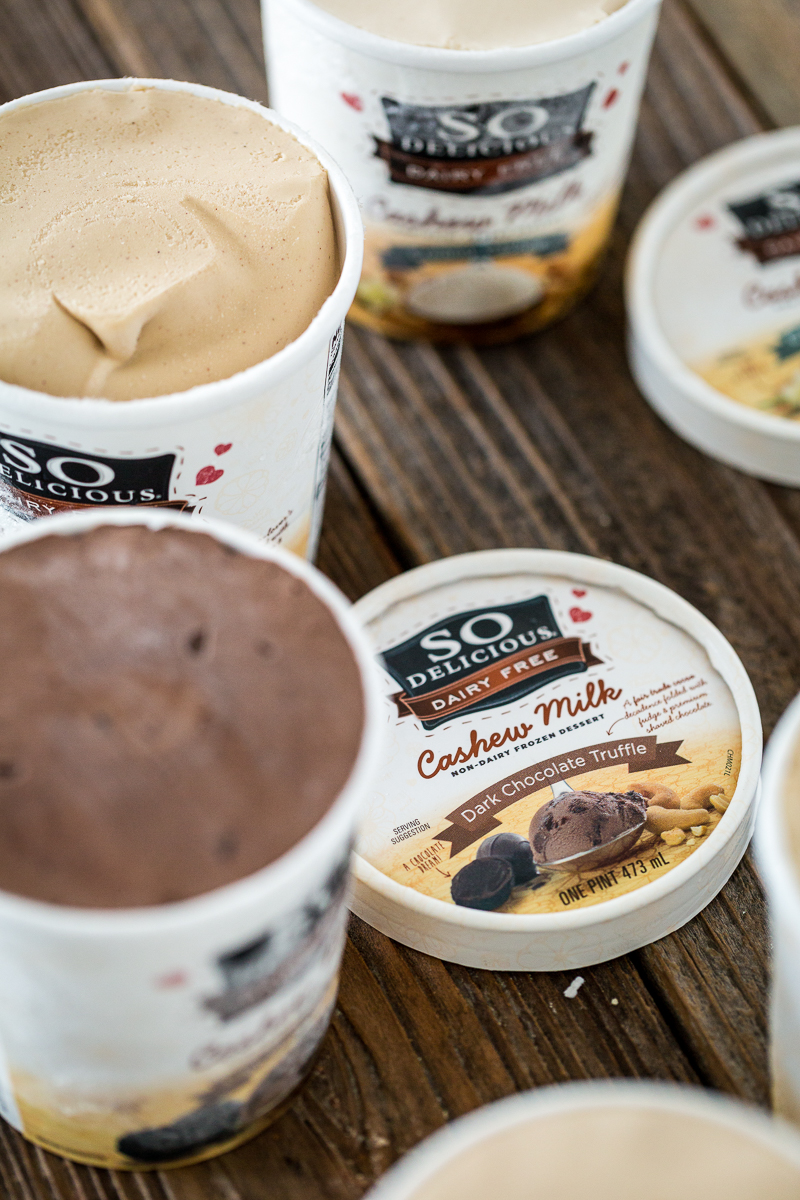 Have you tried the new So Delicious Cashew Cream Ice Creams? Which flavor is your favorite?
Photography by Chris Miller