This last Saturday, I had my very first book signing event for But I Could Never Go Vegan! at Kitson Melrose.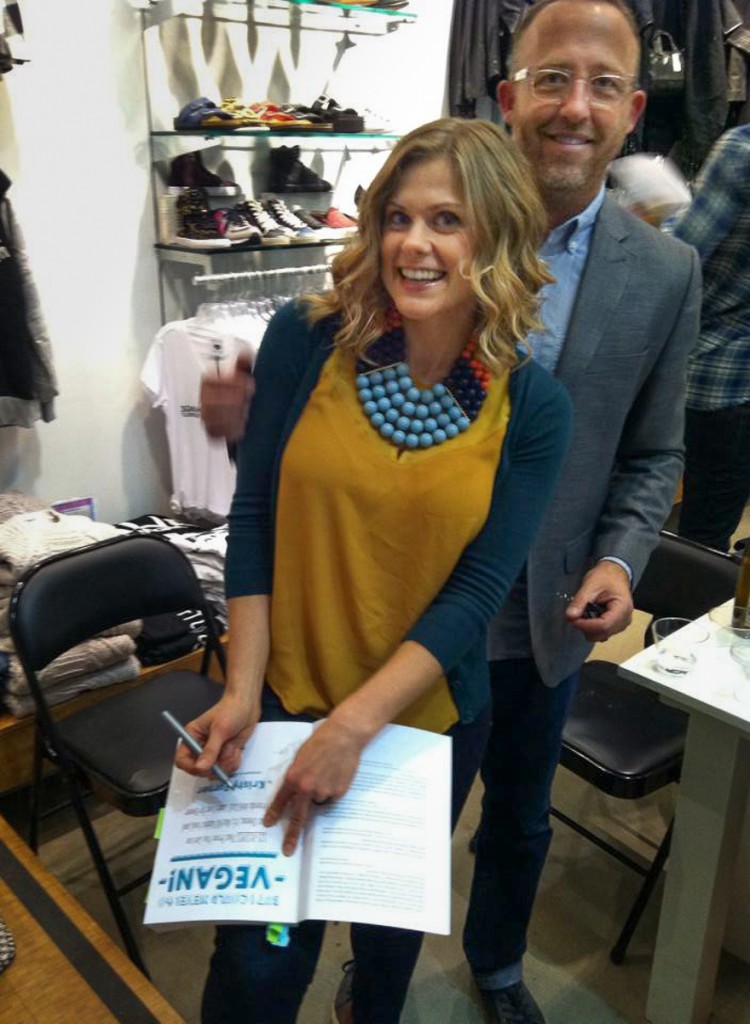 photo courtesy of Lori Adams
I was pretty nervous beforehand (all day leading up to the event, actually), but once I got there, and I saw my book on the display tables, I got really excited.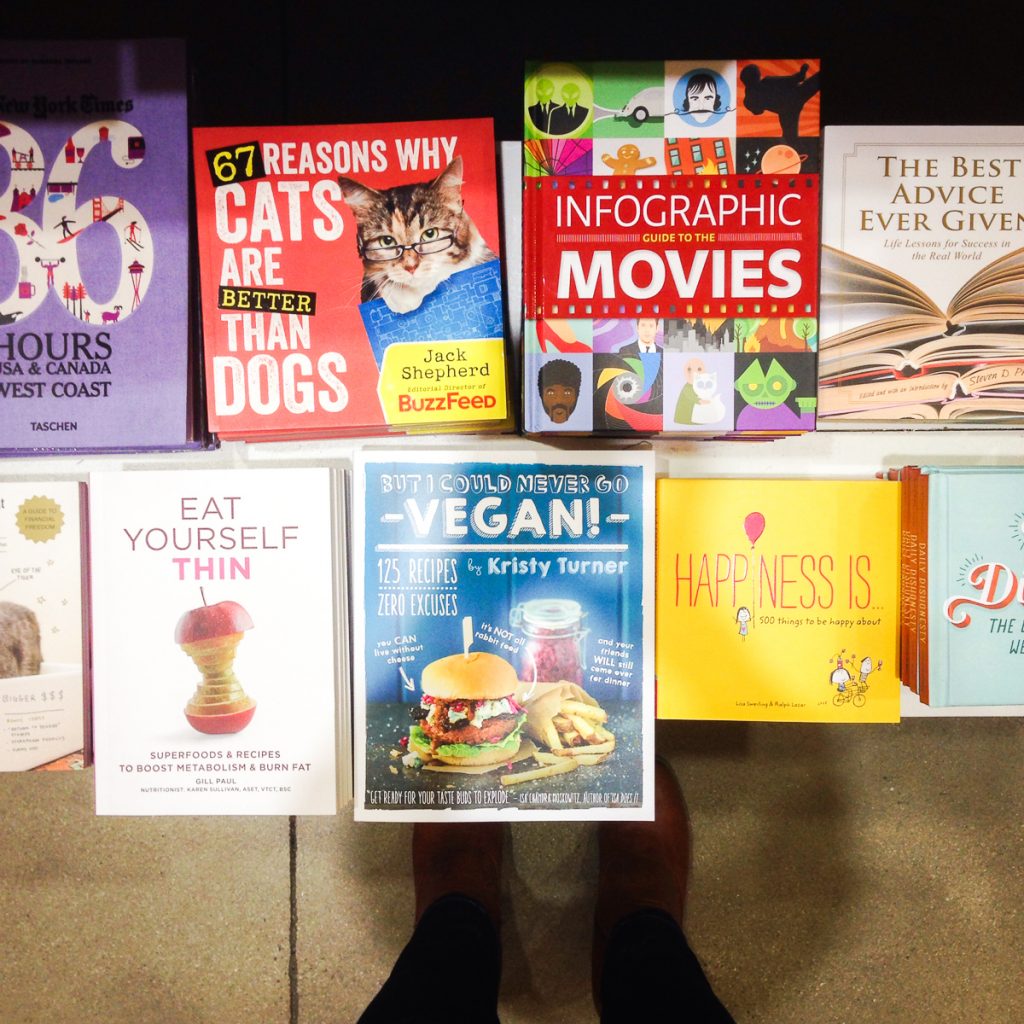 Kitson was sweet enough to make a little display sign in their window, letting people know about the event.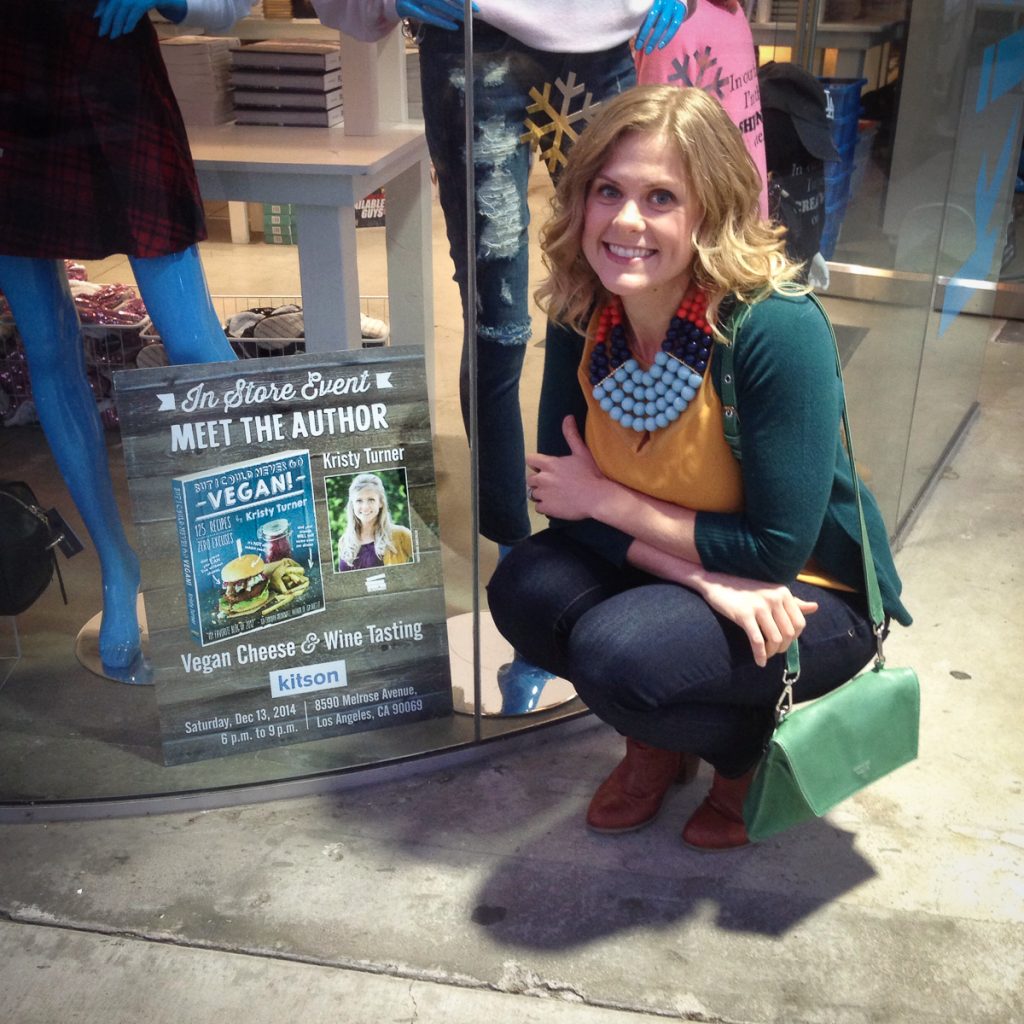 After crossing the street to get an almond milk matcha green tea latte at Urth Caffe (best green tea latte in LA, FYI) to get a little energy/confidence boost, I started setting up my vegan cheese platters.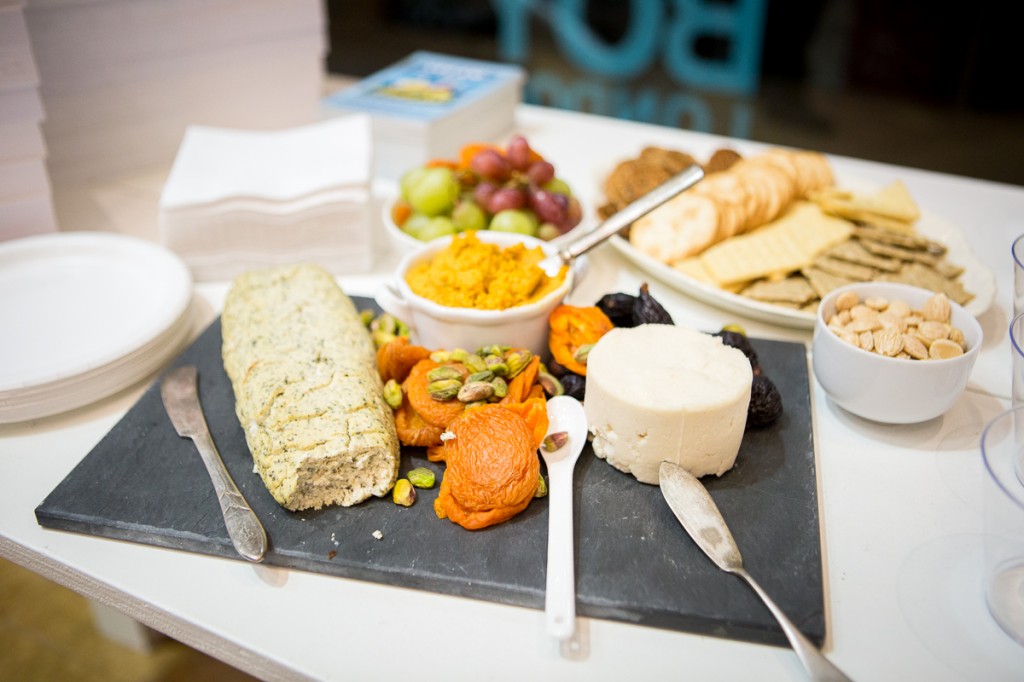 In another life, I actually used to make huge elaborate cheese platters for fancy parties and because we were so close to NBC studios, I'd often make platters for studio events, like when Jay Leno wrapped the Tonight Show (the first time). It was something I loved doing and I had fun getting creative with the platters so I was excited to be able to do that again but with vegan cheese. On the menu for the event was my Tofu Chèvre (there is an updated version in my book), my Macadamia Ricotta, and my Carrot Cashew Pâté. I served it with a variety of breads and crackers, as well as olives, grapes, dried apricots and figs, marcona almonds and pistachios, and a store-bought tomato chutney (If I'd had more time, I would have made my Tomato Apricot Chutney, but there are only so many hours in the day).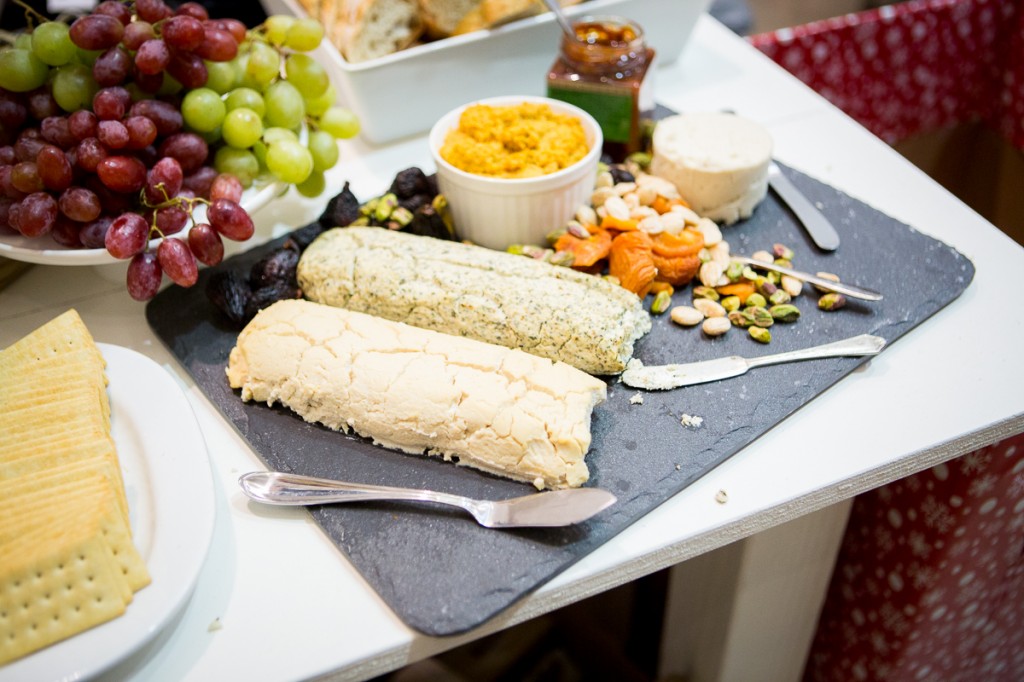 Another special addition to the even was the wine. The Vegan Vine, a wine company co-owned by John Salley, the former NBA champion, very graciously donated wine to the event. Because most wines are refined using animal products, finding vegan wine can be a little difficult. It was very important to me that the wine we served be vegan and it was a huge honor to be able to serve The Vegan Vine's wonderful wines.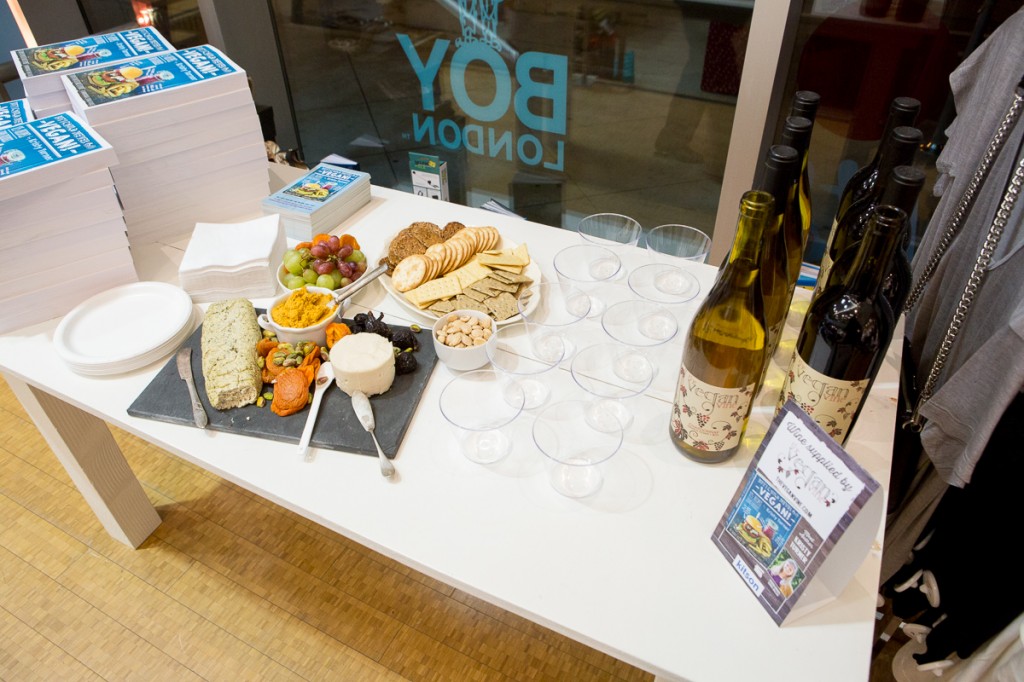 We had a steady flow of traffic throughout the night but not so much that I wasn't able to spend time talking with everyone. I got to meet several new people who bought the book after trying the cheeses the table, which was really rewarding. It was very interesting to listen to omnivores explain their reasons for not being vegan as they looked through the book. Each of them ended up buying the book.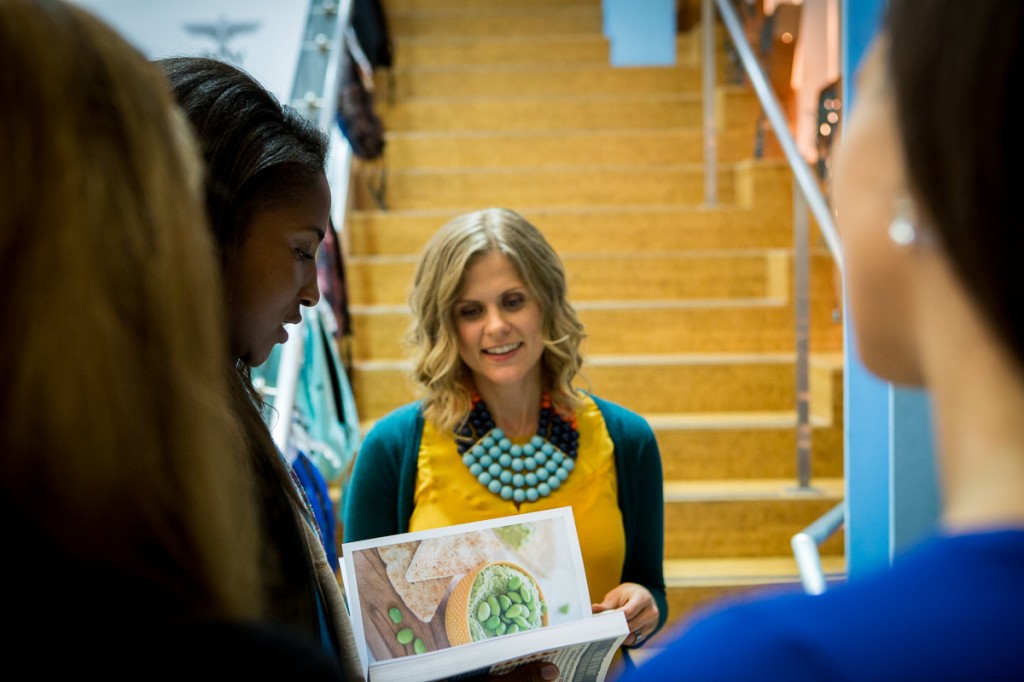 I had some family show up, like my cousin and her daughter, Zakieh, and my sister-in-law brought me flowers which was super sweet. One of my readers, Michelle, who has been a regular commenter and supporter of Keepin' It Kind ever since it was born, came along with another reader, Angie, who I've come to know through Instagram and Facebook, so it was lovely to meet her in person. We had several of our friends show up and it was so touching to have them there too. I was also delighted that Erin and Jeff joined us for awhile, and later, Kathy, Whitney, and Jason came to hang out.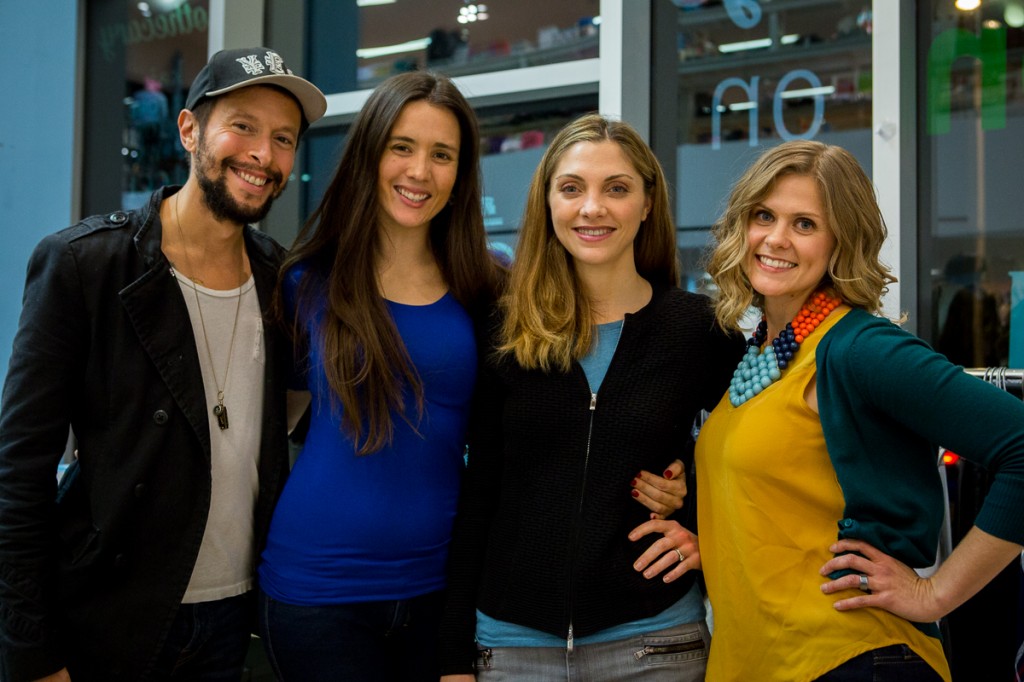 One of their friends, Koya Webb, came and it was a delight to meet her as well. Being the yoga-superstar that she is, she got us to do a group yoga pose with the book (though I'm not sure what I'm doing but I'm pretty sure it's not yoga).
photo courtesy of Koya Webb
It was later pointed out to me that I matched the cover of my book (thank you, Heather). That was not intentional.
The event was such a blast that before we knew it, it was after 10pm and the event was only supposed to go until 9! So we wrapped things up (and made sure the lovely Kitson staffers filled some plates with leftovers) and we headed out to a celebratory dinner at Gracias Madre. And then we went home and crashed.
None of this would be possible if it weren't for the incredible Courtney at Kitson for setting all of this up. Thank you so much, Courtney for helping to create such a wonderful event. Chris and I both are forever grateful for your hard work. Thank you to Sarah, Marilyn, and Jennifer at The Experiment/Workman for setting this up as well. I'm so happy to have you on my team. And most of all, thank you to all of you wonderful people who stopped by to say hi! You totally made my weekend.
FUTURE EVENTS
If you were unable to make this event, there will be more in the future! In fact, my next event will be in January! Here are the details:
LOCATION: Book Soup, 8818 Sunset Blvd., Los Angeles, CA 90069
DATE: Sunday, January 11th, 2015
TIME: 3pm
DETAILS: I'll be giving a little talk, doing a little Q&A, and signing your books!
And in February, I'll be in San Francisco!
LOCATION: Omnivore, 3885 Cesar Chavez St., San Francisco, CA 94131
DATE: Sunday, February 15th 2015
TIME: 3-4pm
DETAILS: I'll be giving a little talk, doing a little Q&A, and signing your books!
There will be more events in the future, but since I'm working full-time, this book tour is a little more sporadic than your typical book tour. I will keep you posted!
GIVEAWAY WINNERS
And now... Remember that Mystery Cookbook Collection Giveaway that happened last week? Well, we have our winner! Congrats to Shastina Gamble and Celina Gunnarson! Thank you to everyone who entered!
Speaking of giveaways, have you entered the Vitamix 5200 Giveaway yet? Then what on earth are you waiting for? Get on that, people! Time's a tickin!
I hope you all are enjoying the holiday season! I'll be back again next week with my very own cookie recipe for the Vegan Cookie Swap Party!
Unless otherwise noted, photography by Chris Miller