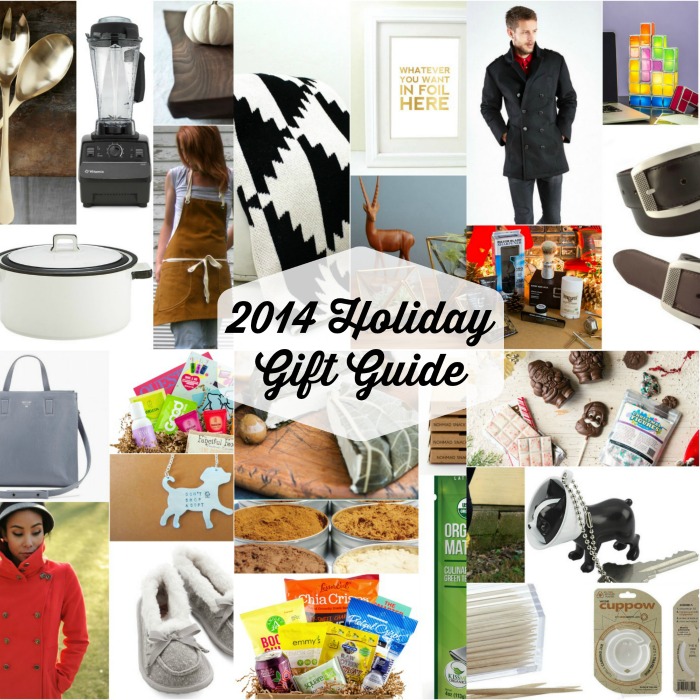 First of all- News!
Thank you to everyone who entered my But I Could Never Go Vegan! Cookbook Giveaway! Congratulations to the winners, Carolyn Jacobson, Robin Valin, and Scott Hamilton!
Still want to win a copy of my book? There are several other giveaways going on! Check out the list of review/giveaways below!
There's also a few great reviews too at Once Upon My Shelf, Cookbooks 365, and TOFU Magazine. And now on to the gift guide!
It's a little ironic that I'm writing this holiday gift guide post because I am actually the worst gift-giver of all time. Don't get me wrong- I love giving gifts but I get super stressed out over finding the right gift for someone and I end up getting so overwhelmed I end up doing 1 of 2 things: 1.) I get them nothing at all and put off getting together until I can find something or 2.) Get them something totally ridiculous. This year, though, I'm really, really working hard at overcoming this gift-buying disability so I've been spending a lot of time perusing the interwebs looking for cool gifts so I thought I would share my findings.
2014 HOLIDAY GIFT GUIDE
FOR THE HOME
Gold, copper, and brass are super popular right now and these colors are a great way to bring warmth to your room. How about adding warmth to the room (and heart) of someone you love with a custom gold-foil quote print (from Inkspot Workshop on Etsy)?
We received a plant as a gift last year and it ended up being one of our favorite gifts. It adds life to our living room and reminds of of the givers every time we look at it. You could give a potted plant, but another cute idea is a terrarium. I'm loving these terrariums from West Elm (because of the gold, I'm sure), but there are others out there as well.
You can never go wrong with a throw blanket. I'm loving these recycled cotton throw blankets from Happy Habitat. They come in lots of cute colors and patterns so there's sure to be at least one that will match your loved one's home.
Anything photo-related is always a good idea. It's a very personal and thoughtful gift. You could frame up a favorite picture of you with the giftee or a picture of the kids is a good gift for grandparents. Another option would be to do a photo-canvas print. I've used Canvas To Art before and I was very happy with the results. Photo books are also a great idea. I made one about our honeymoon for Chris for our first Christmas as a married couple and he loved it. I used the Apple iphoto book option, which was pricey, but there are other options out there. Cadry has some great tips for personalized photo books as well.
FOR THE KITCHEN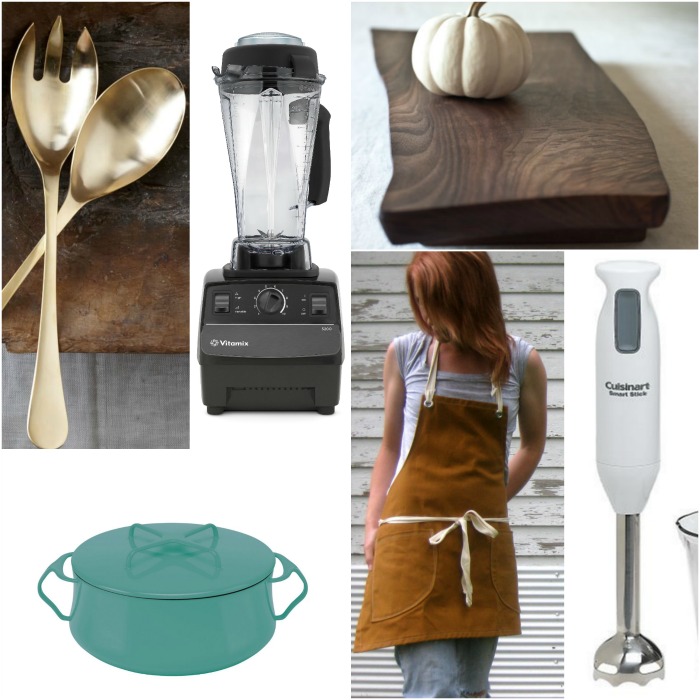 I'm an apron junkie. I love them so much. And don't even get me started on matching potholders (Anthropologie, I'm looking at you!). Right now, though, I'm loving these simple Canvas Utility Aprons from White Barn Mercantile on Etsy.
Anyone who does a lot of cooking knows the importance of a good cutting board. I love the gorgeous cutting boards made from reclaimed wood from Gray Works Design on Etsy. They're so beautiful, they could also double as serving trays.
I love this adorable Dansk Kobenstyle pot/casserole dish. It's so reasonably priced that you could give it along with the dry ingredients for a stew, packed in a mason jar, along with a recipe. And it's teal! How cute is that?!
Remember when I was saying that gold and copper are all the rage right now? That's precisely why this serving set from West Elm should go over well.
A great gift that your beloved chef will use again and again and again is a good, high-speed blender. I am a huge fan of Vitamix blenders (I use mine at least once a day). They are expensive but for the amount of use you get out of it makes the price totally worth it. I am an affiliate, so if you use this code: 06-008977, you'll get free shipping on your order. Also, all orders made in December will receive a 3-pack of rubber spatulas (they'll be sent within 30 days of purchase) designed specifically for reaching all the nooks and crannies of your container. Also, I'm giving away a Vitamix 5200 right now, so you may just want to enter that...
A less expensive for your kitchen appliance-loving friend would be an immersion blender. Chris gave me one for Christmas about 3 years ago and I use it all the time. Definitely one of my most favorite gifts I've received.
A great gift for any cook is a cookbook (duh), and this has been a great year for vegan cookbooks! Some of my favorites from 2014 are the Oh She Glows Cookbook, Salad Samurai, The Lusty Vegan, Vegan Casseroles, Choosing Raw, and Decadent Gluten-Free Vegan Baking. Also, anything from Isa Chandra Moskowitz is a guaranteed winner. I also hear that my own book, But I Could Never Go Vegan!, would make a great gift as well...
FOR THE FOODIE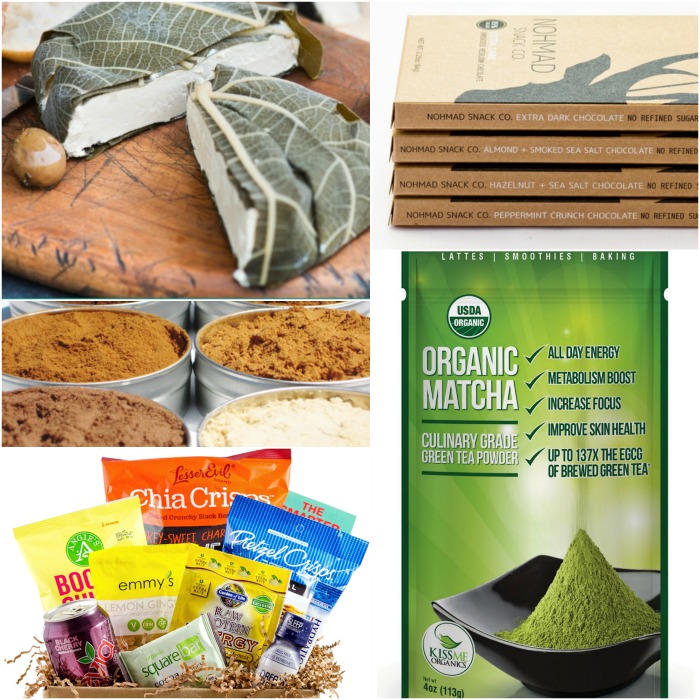 A MUST-HAVE for this holiday season: a collection of cheese from Miyoko's Kitchen. the cheese-lover on your list, vegan or non-vegan, will love this gift!
Do you have an adventurous snacker on your hands? Then the monthly snackbox from Vegan Cuts is the perfect choice. For just $20 a month (you can purchase a single month, or 3, 6, or 12 months), you can give your loved one a box full of new-to-the-market and classic vegan treats.
My new favorite chocolate is Nohmad Chocolate. They make their unroasted chocolate in small batches and they sweeten it with maple sugar. I've especially been loving the Peppermint Crunch version which gets its crunch from buckwheat groats! Your chocolate lover will definitely love their 4-bar sample pack.
There are some ingredients that sometimes feel too extravagant to purchase for yourself. Those ingredients make great gifts. I put matcha green tea powder in that category because whenever I buy it, I always feel like I'm splurging on something extra special. My favorite is Kiss Me Organics Matcha Green Tea Powder. For more information, you can check out my product review.
Another gift for your food lover would be some fancy spice kit from Craig's Market on Etsy. They have a baking spice kit, an Indian spice kit, and even custom spice kits! And they come in cute little containers too, so BONUS!
FOR HER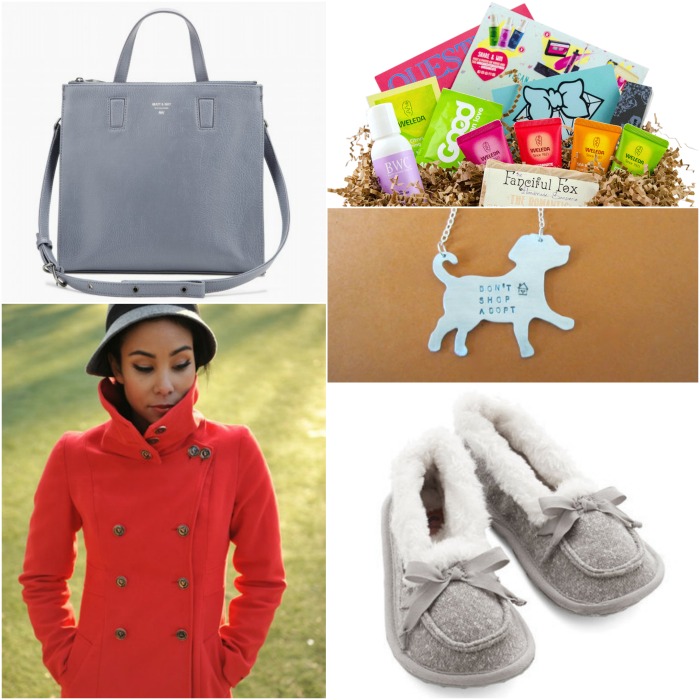 If you're trying to find *the* perfect gift for the lady in your life, a surefire win would be a coat from Vaute Couture. I have the Belden in purple and I love it. Their quality is incomperable- it's the warmest coat I've ever owned and it's not wool! I yearn for cold weather (can you tell I live in So Cal?) so I can wear it. If a new coat isn't in the budget, get her a warm and cuddly sweatshirt- Vaute Couture sweatshirts really are the snuggliest.
If experimenting with beauty products are her thing, then a vegan, cruelty-free beauty box from Vegan Cuts or Petit Vour would be a terrific gift.
Two years ago, on a whim, I bought a Matt & Nat purse and I've used that same purse ever since I bought it (which is crazy for me because I used to change out purses every six months) and it looks just as beautiful as the day I bought it. Matt & Nat make the most gorgeous vegan leather purses and their interior lining is made from recycled plastic bottles. And they're super durable. Although I love my current purse, I certainly wouldn't complain if this steely grey number ended up under my tree!
I recently bought some slippers for myself and oh. my. god. I wish I could wear them all day long. They are the comfiest slippers I've ever owned. Slippers are always, always a win.
Jewelry usually goes over well with the ladies, and if you have a vegan jewelry lovin' lady on your hands, then Christy Robinson's jewelry is a must. All of her hand-made necklaces have a message. I own a turkey necklace that says "Friend Not Food," and my stepdaughter owns the "Not A Nugget" chick necklace. Right now, I'm loving this simple dog necklace.
FOR HIM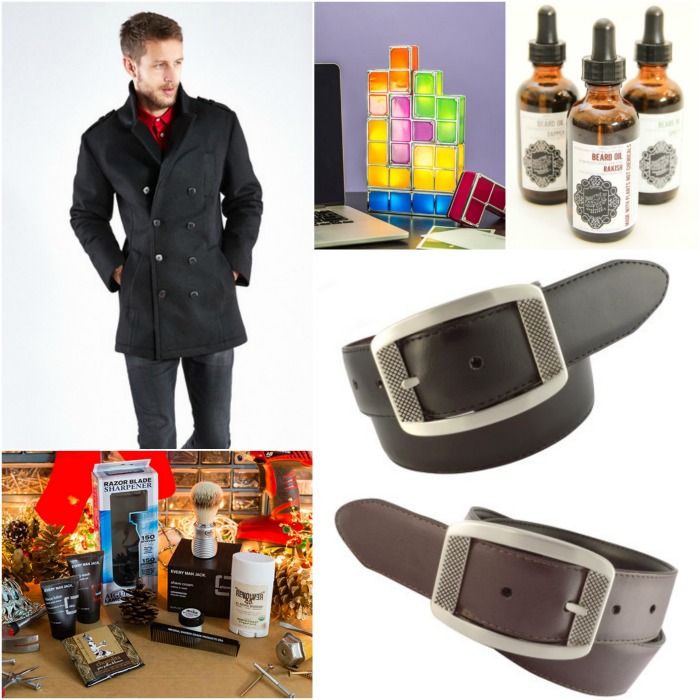 Vaute Couture comes to the rescue for men's gifts too! Chris has the Whitman and he looks absolutely dashing in it and it keeps him nice and warm. Definitely a special gift.
Vegan Cuts is also ready for the men on your list with a fully-equipped Men's Grooming Box: Special shaving stuff, lotion, body wash, manly-smelling deodorant, and more!
Quality vegan belts for men are hard to come by. When he went vegan, Chris bought a couple from a company I won't mention and 3 years later, they are barely holding it together. This year, I think Chris might be getting a much more durable vegan belt for Christmas. I'm really liking the look of this reversible black/brown vegan belt from Truth Belts.
For your bearded loved one, Fanciful Fox has some delightful beard oils. (Full disclosure: I know nothing about beards or what beard oils are for but they seem both useful and fancy).
Does your guy love video games and/or playing with toys? How about these Tetris-themed building light blocks?
FOR THE STOCKING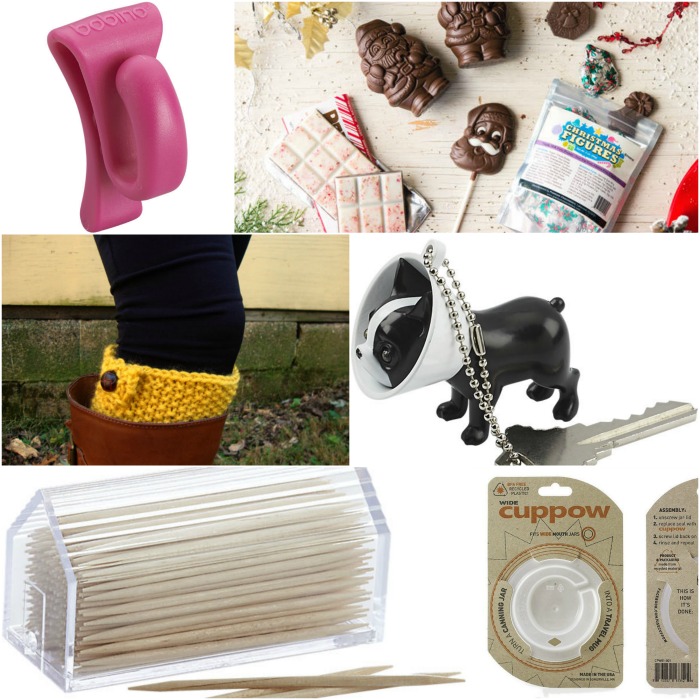 How about a tiny little house for your toothpicks?
Vegan Cuts has a wonderful little gift pack of vegan, nut-free holiday chocolate. We're talking peppermint bark and chocolate santas people!
Want to up the coziness factor in your outfit? How about some vegan boot cuffs? I love the little wooden buttons!
For the smoothie lover in your family, may I introduce the Cuppow, the lid that transforms any mason jar into a take-along sippy cup.
This little dog keychain/flashlight? Because why not?
For anyone who is tired of fishing for their keys in their backpack or purse: a little key clip! Life changed.
FOR YOU!!!
One of the perks of being a blogger is that I get sent a lot of cookbooks throughout the year. One of the bummers is that I have very limited space for cookbooks. So I have a nice big stack building up on my desk. I think they would look much better on your cookbook shelf. That's why 2 of you will get a mystery package of 4 cookbooks each! The giveaway is open to US residents only and will run until 11:59pm on December 14th, 2014. To enter, please comment below, answering the following question, and I will pick 2 random winners from the list of commenters!
What were your favorite vegan cookbooks of 2014?
Thank you so much for stopping by and good luck in your holiday shopping!