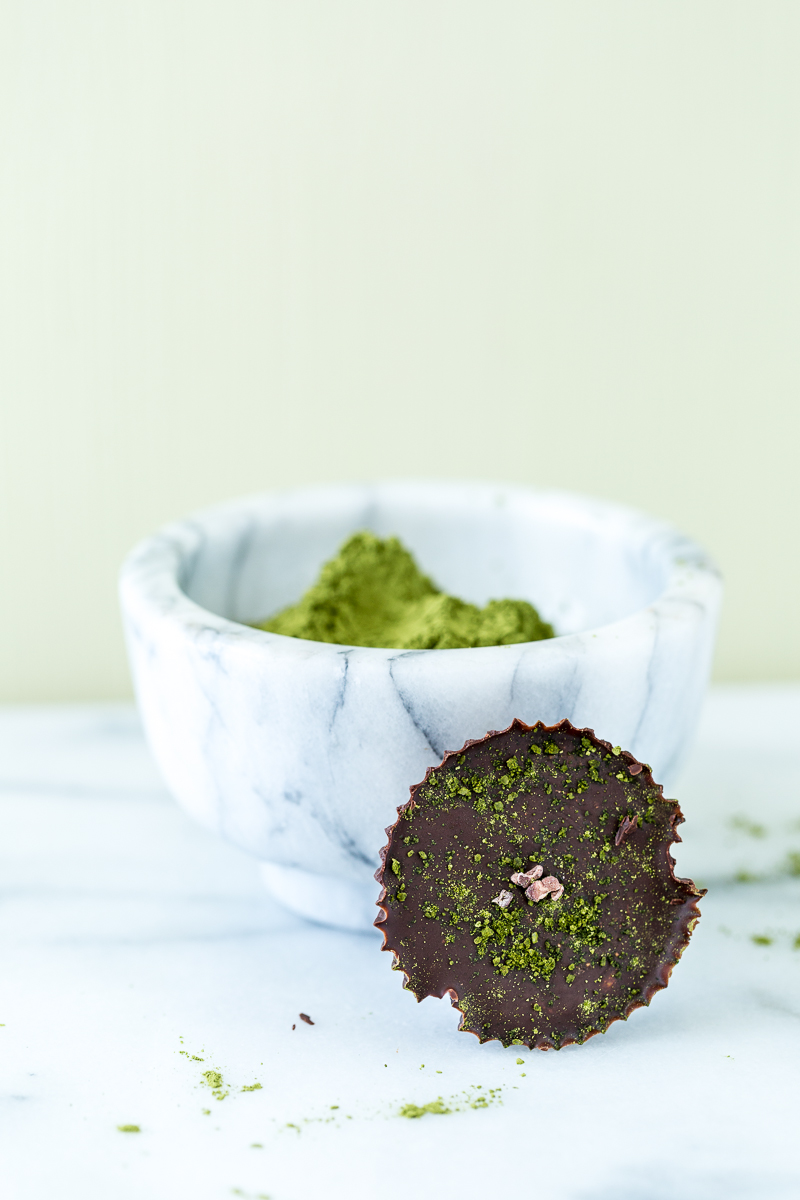 The first time I ever tried a green tea latte, it was just last year at Urth Caffé in Santa Monica (I love them because they have almond milk). Chris got a chai latte, which is what I also would normally get, but this day I decided to try something new.
We carried our drinks out to our car and got on the road. I was loving my latte. With each sip, I was drawn into its deep, earthy flavor and its sweet aftertaste. "This is so good! You have to try it," I told Chris.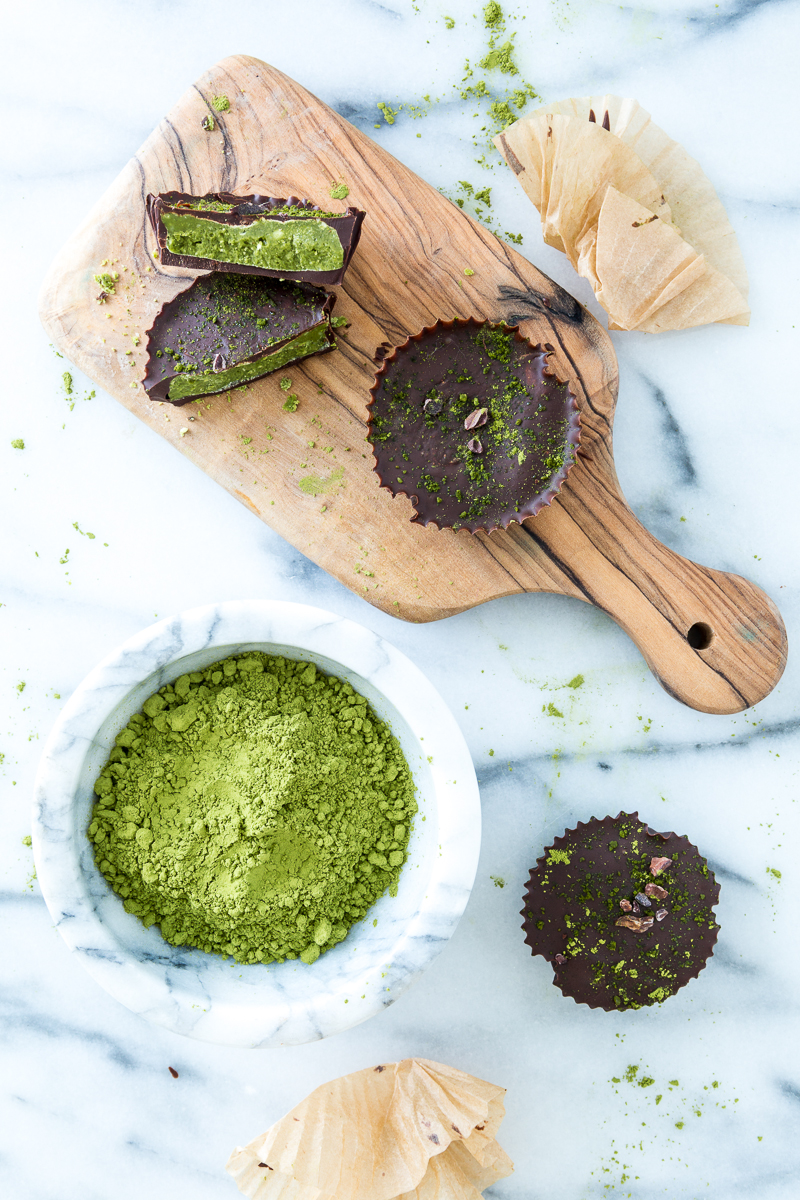 At the next stoplight, I handed him my cup. After he took one sip, Chris made a face similar to one might make when they take a sip of lighter fluid. "This tastes like grass clippings," he shot at me. He handed me my cup and if he were 5 years old, I'm sure he would've used his hand to wipe off his tongue. "Fine. More for me," I said, as if the beverage weren't already mine.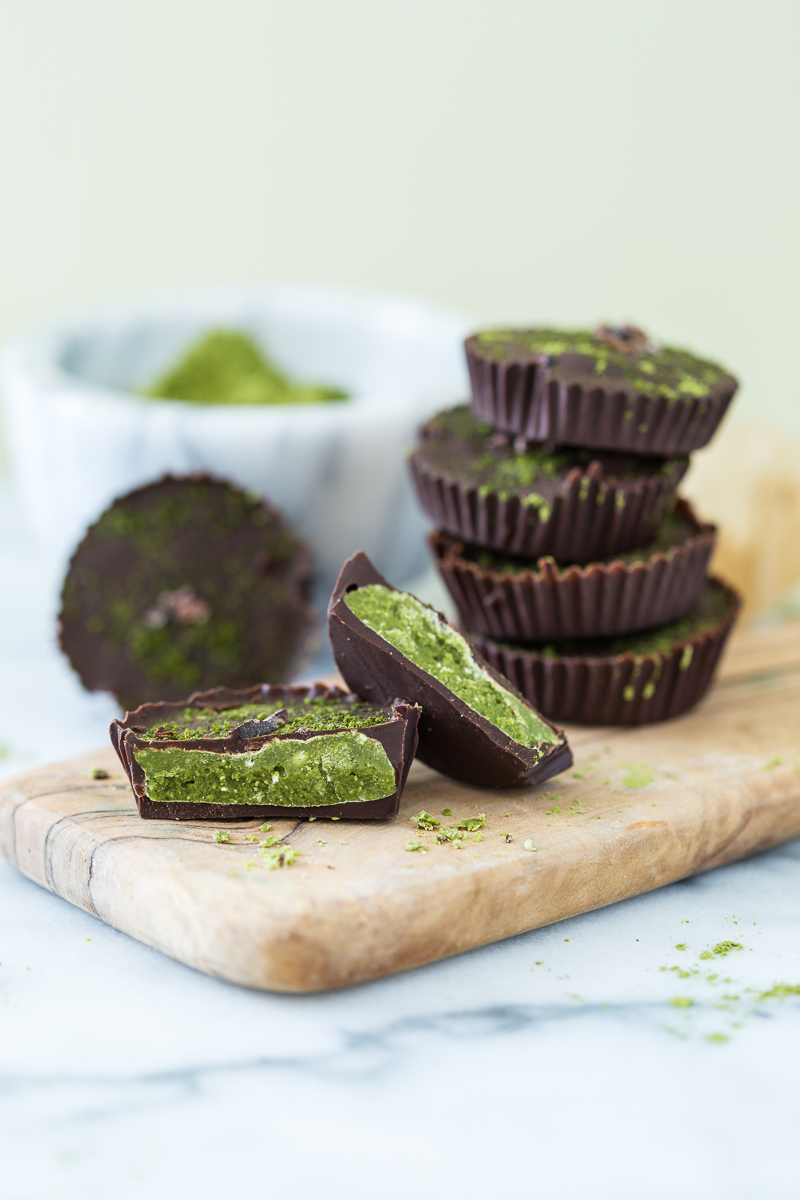 Because of this incident, I've been extremely hesitant to try any recipe testing with matcha powder. Though I've been curious, I didn't want to be stuck with an entire batch of matcha muffins or green tea ice cream that no one would eat but me. When Kiss Me Organics contacted me to try their matcha powder, I figured that I didn't have anything to lose.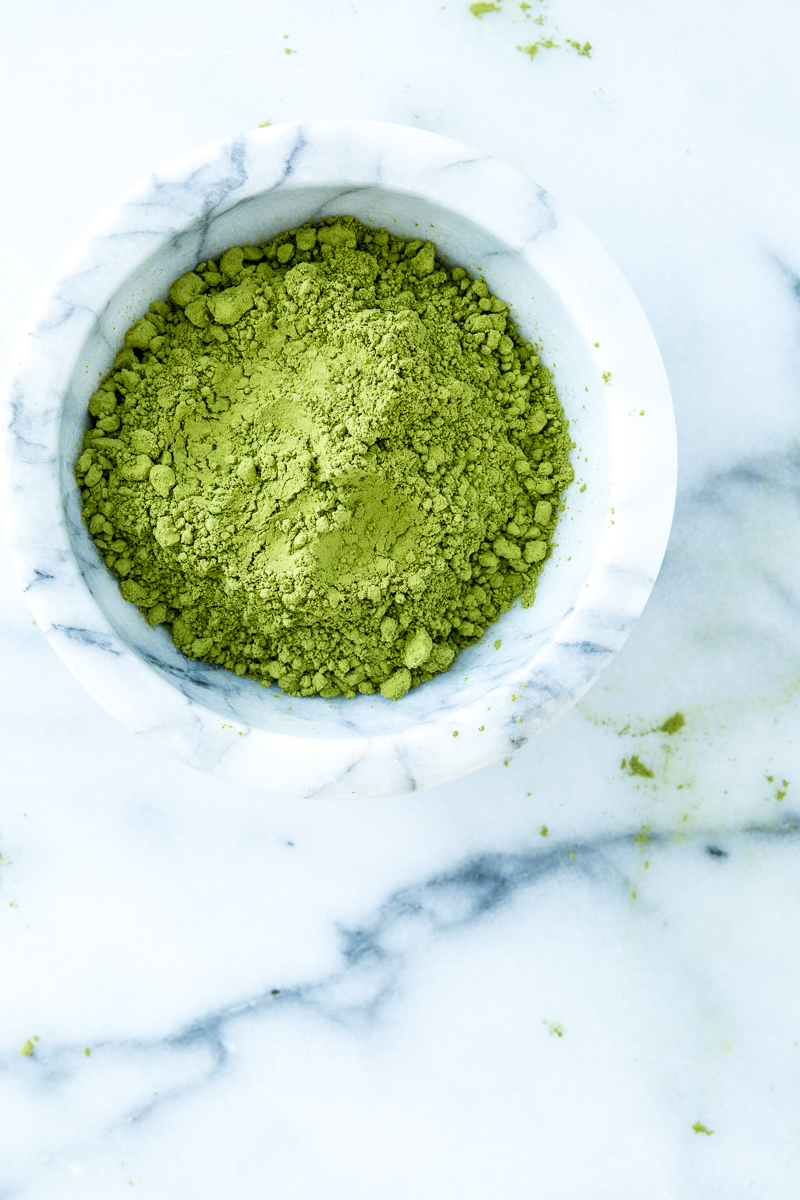 It took me a couple of weeks to decide on what to make. It basically came down to the fact that if I coat anything in chocolate, Chris will probably like it. The obvious answer was Chocolate Matcha Butter Cups. The Kiss Me Organics matcha powder blended beautifully with the coconut butter to form a fudge-like matcha candy filling and the almond flour gave it a subtly nutty flavor. Just out of the fridge, they're a little firmer  than the peanut butter cup you may be accustomed to (though still just as delicious), but if you give it a few minutes to rest, it will be come softer and chewier. The matcha salt sprinkled on top pairs beautifully with the chocolate and is just the perfect finishing touch.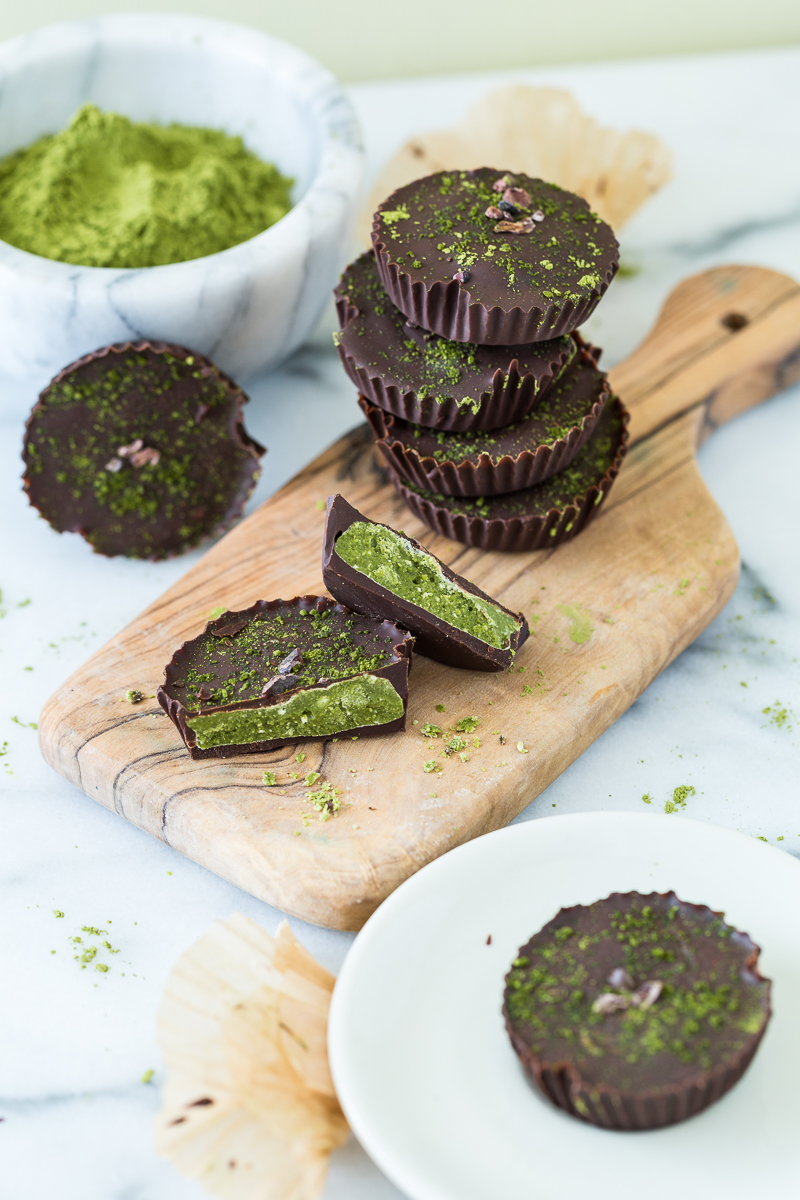 Before giving Chris one to try, I was very careful not to remind him what matcha powder was and that in fact, he had once compared the flavor to a pile of dead grass. I didn't take my eyes off of him as he took his first bite. "MMMMMMM!" he grunted through closed lips. I thought he had accidently bit his tongue but he followed with "This is good! But I guess you can't go wrong with any kind of chocolate cup, can you?" Truer words have never been spoken. And also, I totally married the perfect man for me.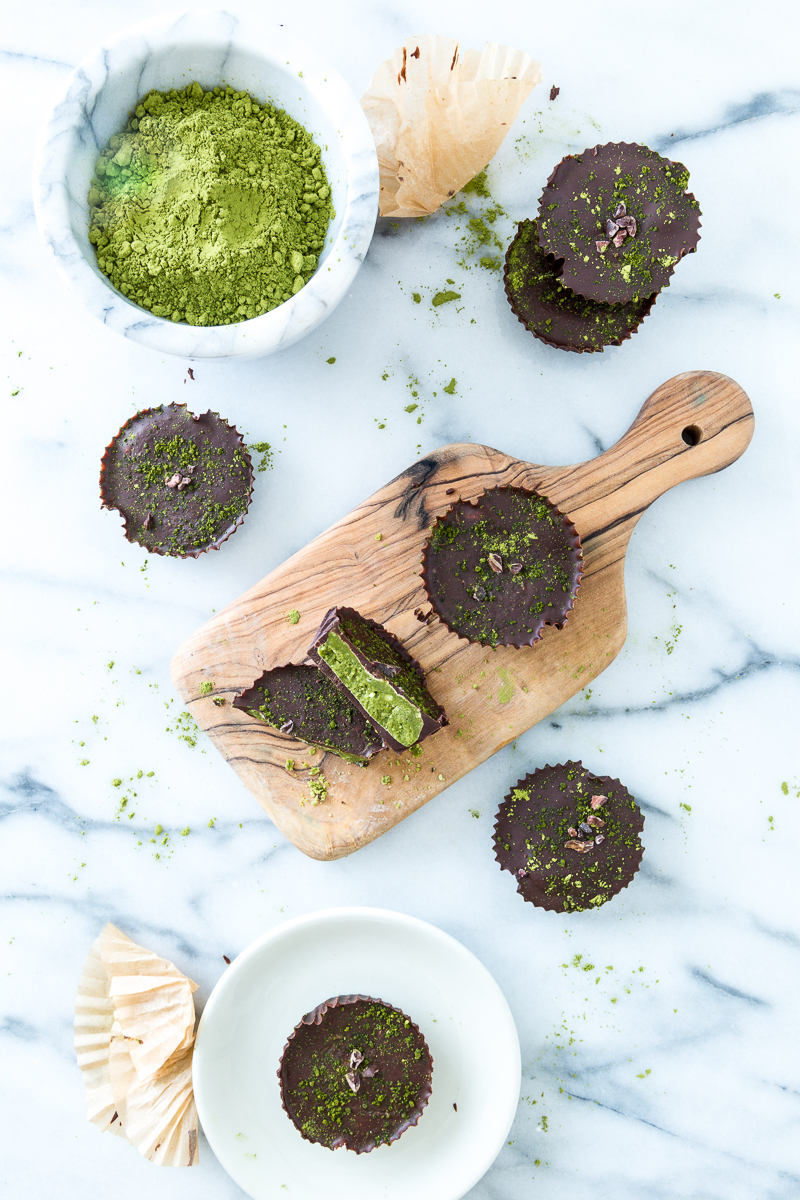 Chocolate Matcha Butter Cups
Ingredients
1/2 cup coconut butter, softened but not melted
5 tablespoons almond flour
3 tablespoons powdered xylitol (or powdered sugar)
1 teaspoon matcha powder (I used Kiss Me Organics)
1 cup chopped dark chocolate
1 teaspoon coconut oil
1/8 teaspoon matcha powder
1/16 teaspoon sea salt
cacao nibs
Instructions
In a small bowl, mix together the coconut butter, almond flour, powdered xylitol (or powdered sugar), and matcha powder. Place in the refrigerator for 10 minutes.
While the matcha mixture is chilling, melt the chocolate. Place the chocolate in a glass bowl and place over a small pot of boiling water. Add the coconut oil and stir until melted and smooth. Remove from the heat.
Line a muffin tin with 8 muffin liners. Spoon 2 teaspoons of melted chocolate into a liner and use the back of the spoon to push the chocolate about 1/4 of the way up the side of the liner. Repeat with the rest of the liners.
Scoop 1 tablespoon of the matcha mixture into your hands and roll it into a ball. Place the ball into one of the liners and use your fingers to gently flatten it. Repeat until all cups have been filled.Top each cup with 1 tablespoon of melted chocolate and use your spoon to spread evenly over the matcha mixture, making sure that the chocolate meets the edge. If there is extra chocolate, divide it amongst the cups and smooth out.
In a small bowl, mix together the matcha powder and sea salt for the topping. Sprinkle the matcha salt mixture over the tops of the cups. Add a few cacao nibs to each, if desired. Place the muffin tin in the refrigerator and chill the cups until they are solid. Keep chilled until ready to serve. For a softer, chewier, piece, let it sit at room temperature for about 5 minutes before eating. Enjoy!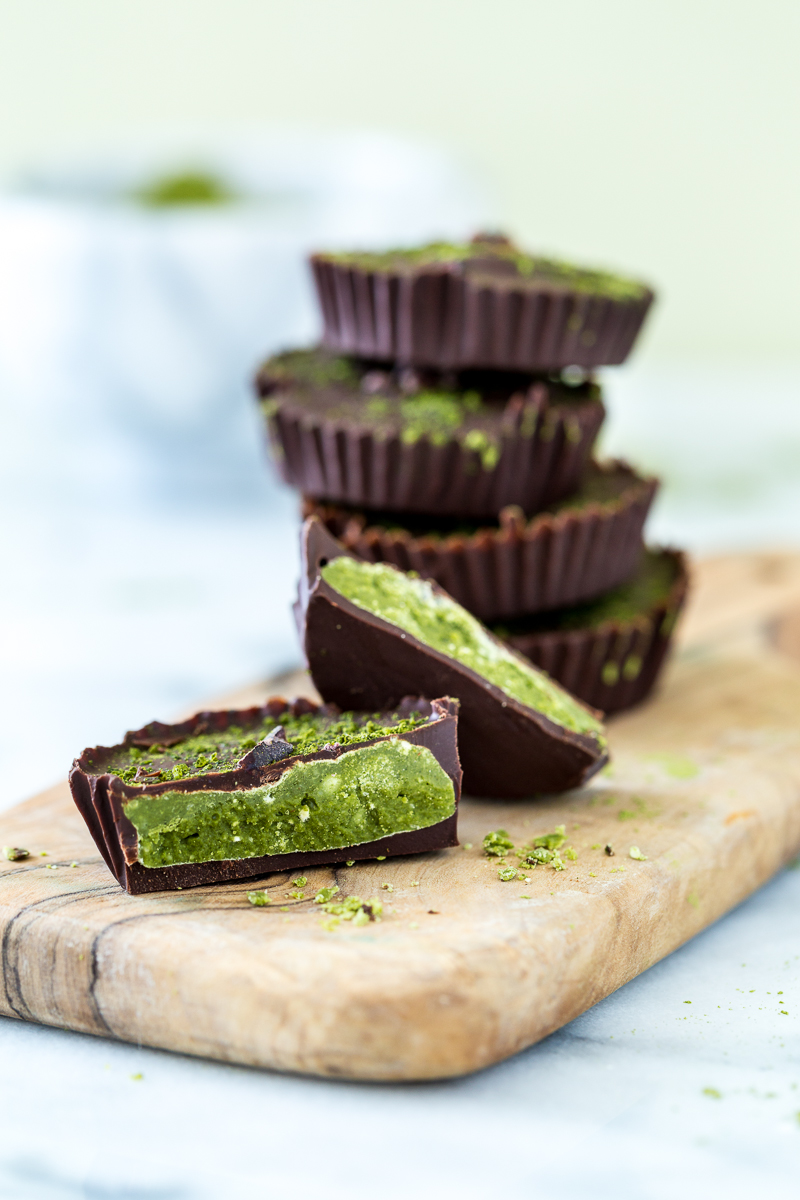 Do you like to use matcha powder? What is your favorite matcha/green tea recipe?
Disclaimer: I was given this product to try but the thoughts and opinions expressed here are my own.
Photography by Chris Miller