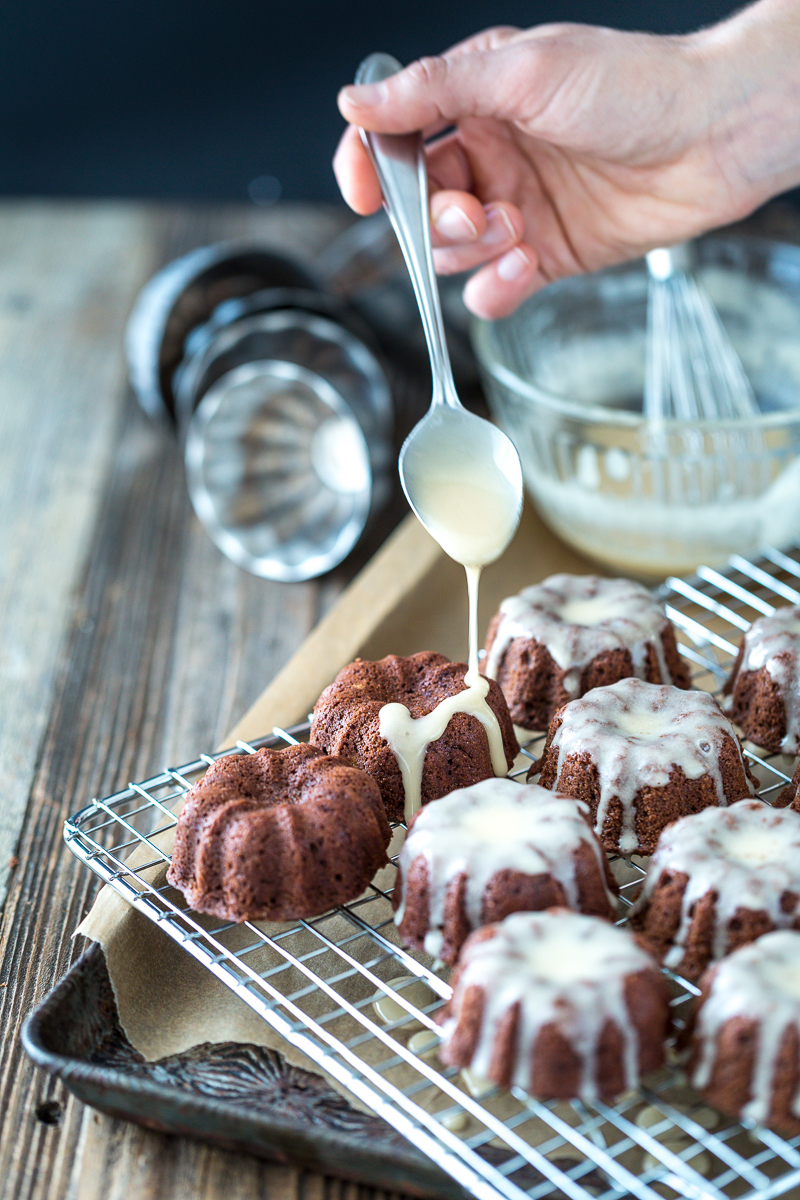 I used to like beer. Really, I did. I even went to Oktoberfest in 2007. But it only takes 1 time to go a little overboard with the beer and you wind up on an overnight train to Amsterdam with no recollection of purchasing tickets and pictures in your camera of your friend wielding a crossbow you get really sick and then for the next 6 years, just the smell of beer makes you nauseas. I'm sure that happens to a lot of people. Now, if I'm to imbibe, I just stick to wine.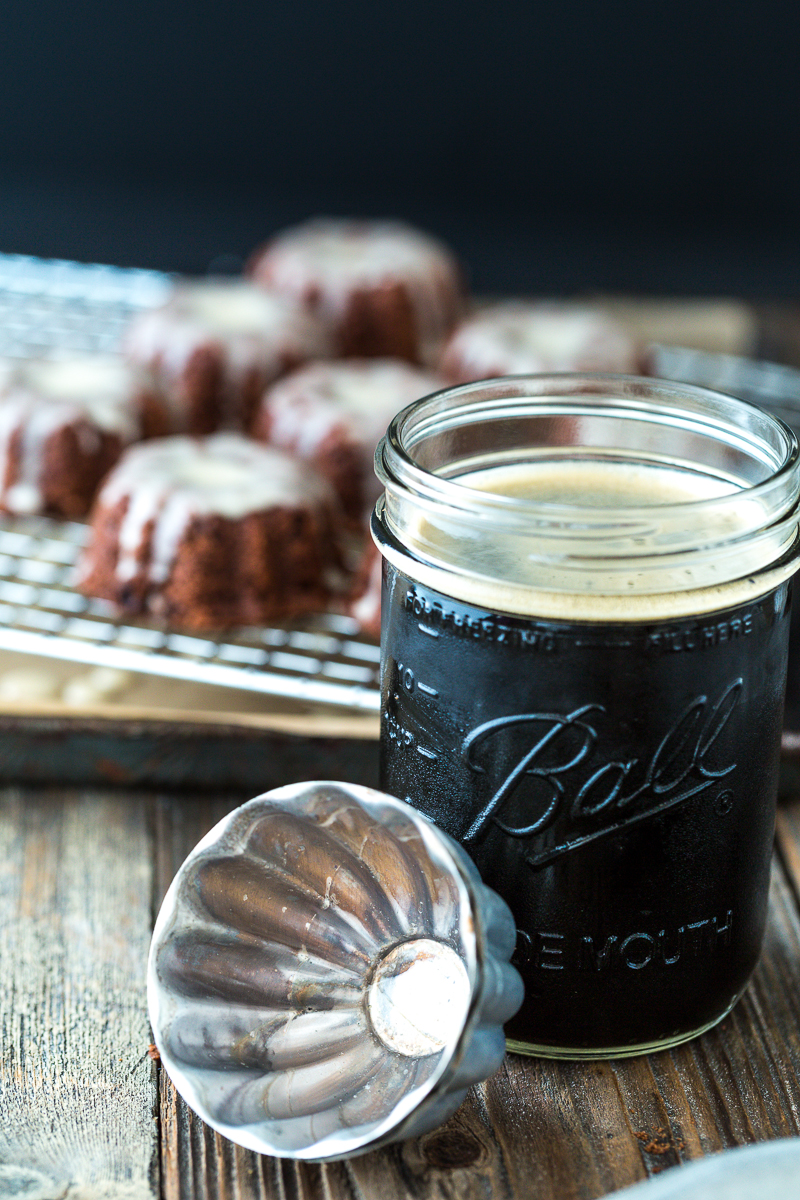 In recent months, though, I've become capable of smelling beer without being overcome with bad memories feeling ill and I've actually started to like cooking with it. Particularly, I've been very interested in the pairing of stout with chocolate. Just like when you add espresso to a chocolate recipe, stout also adds a deeper, more intense flavor. It's a flavor profile I've really warmed up to recently.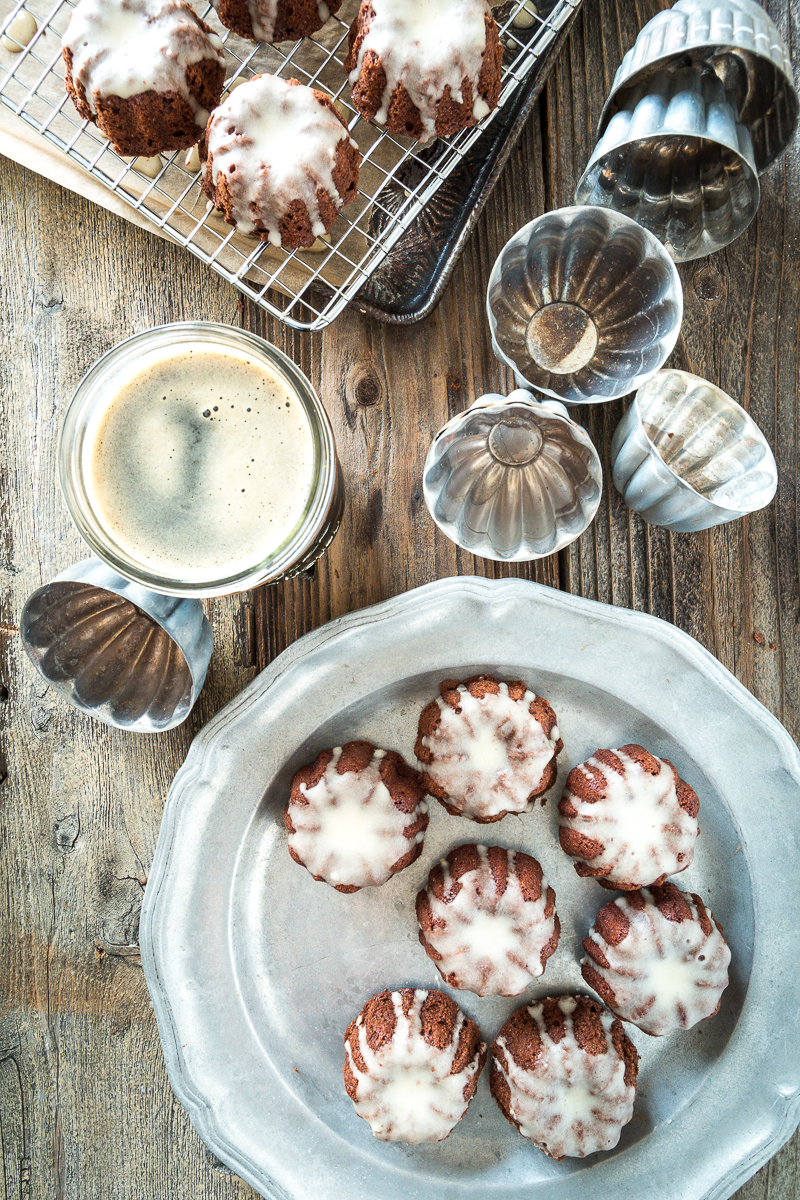 That's where these adorable little bundt cakes come in. Why bundt? Because the pan was on sale and also, look how cute they are! Cupcakes or even a larger sized bundt cake would totally work as well.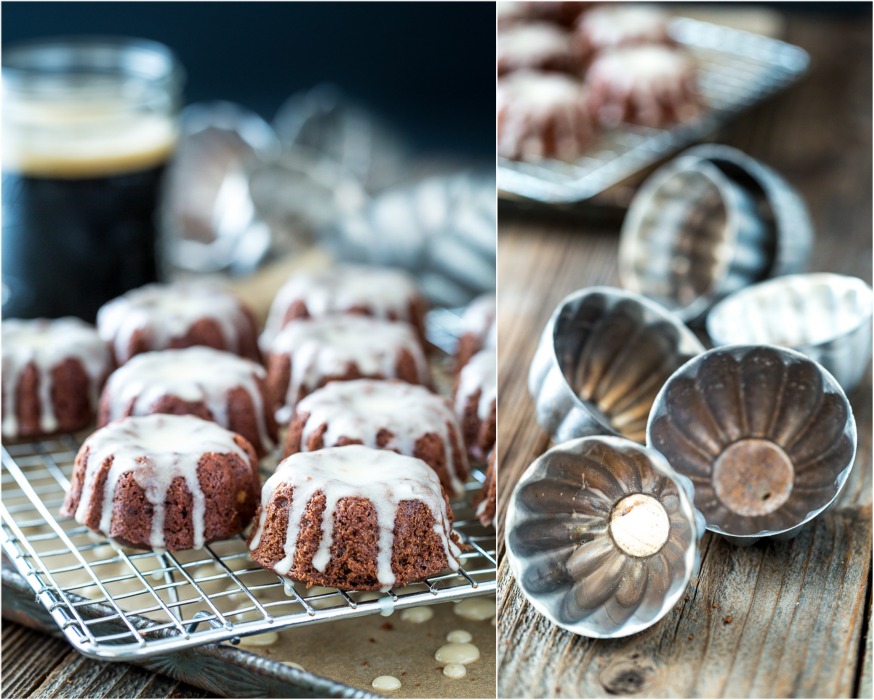 The stout makes these ordinary chocolate cakes into deep, dark, insanely rich, 3-to-4-bite bundles of joy. They're sweet but intense. When you take your first bite, you start to think that perhaps you've gone a little too far in the chocolate department and you don't know if you can handle it...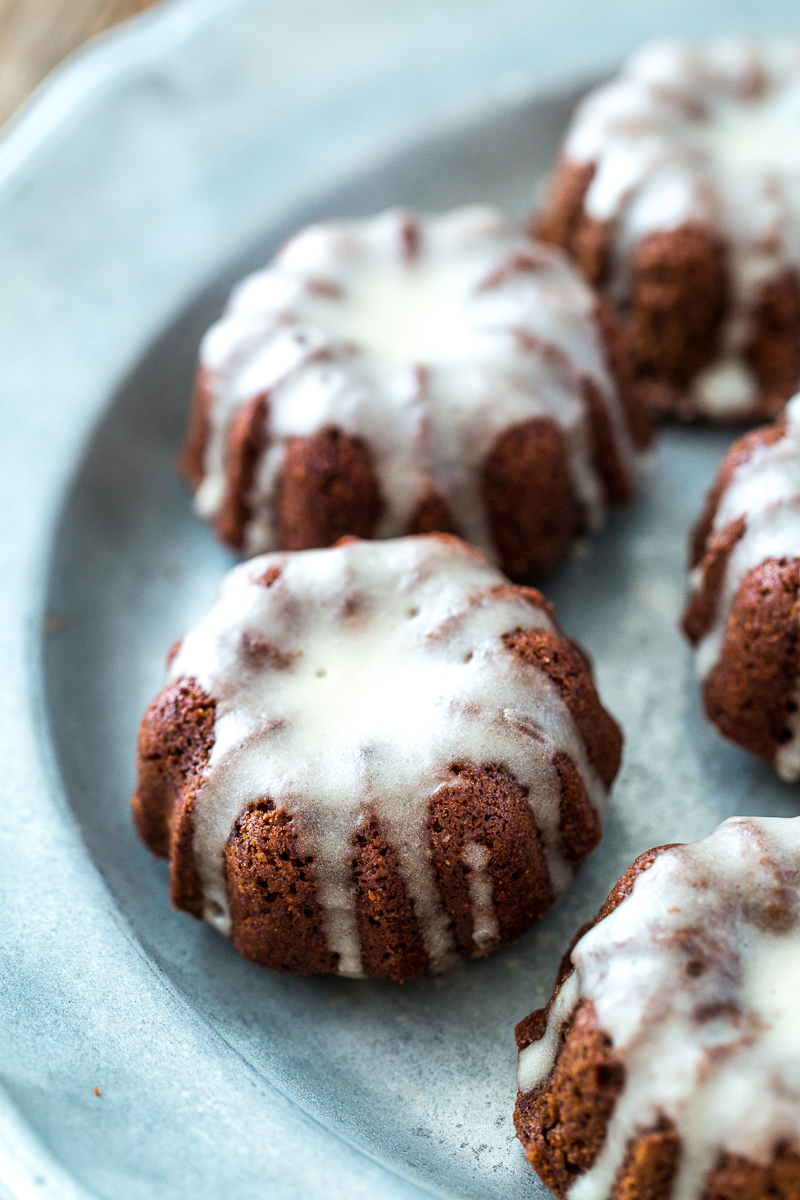 But then the light maple cream glaze hits your tongue and instantly balances it all out. Then you want another bite. And then another cake. And another. These chocolate stout bundt cakes were so good that I had to set a few aside for us to have for dessert later on and give the rest to my neighbors. I can't be alone with these in the house.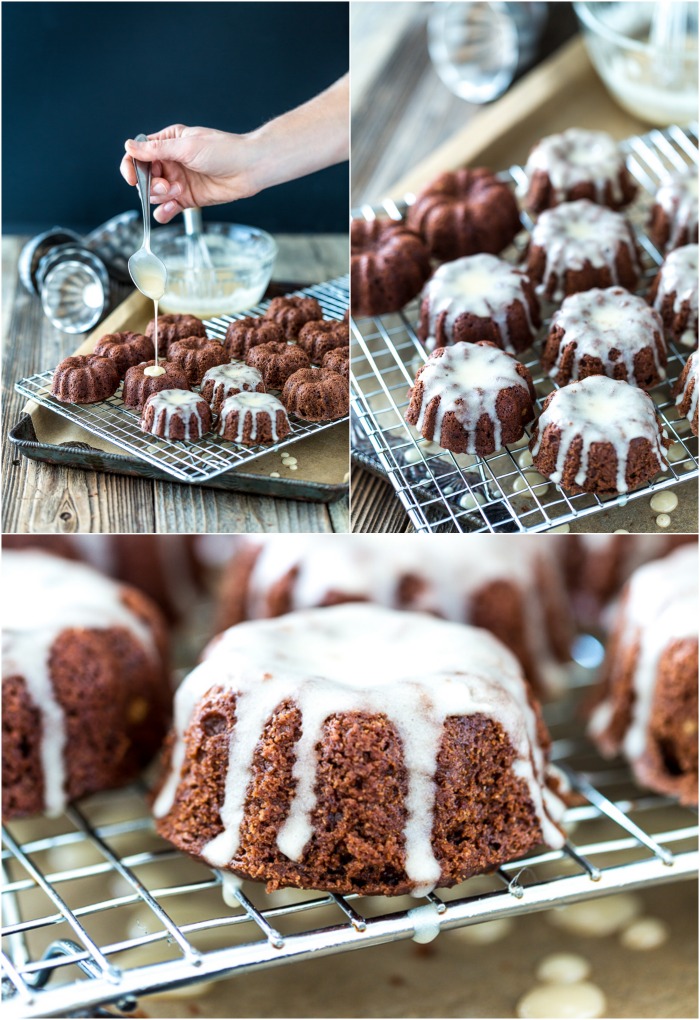 They were so good that I was convinced that I may actually like beer again. Until I took a sip and promptly spit it in the sink. Beer is not for me. Chocolate stout cakes? That's a whole other story.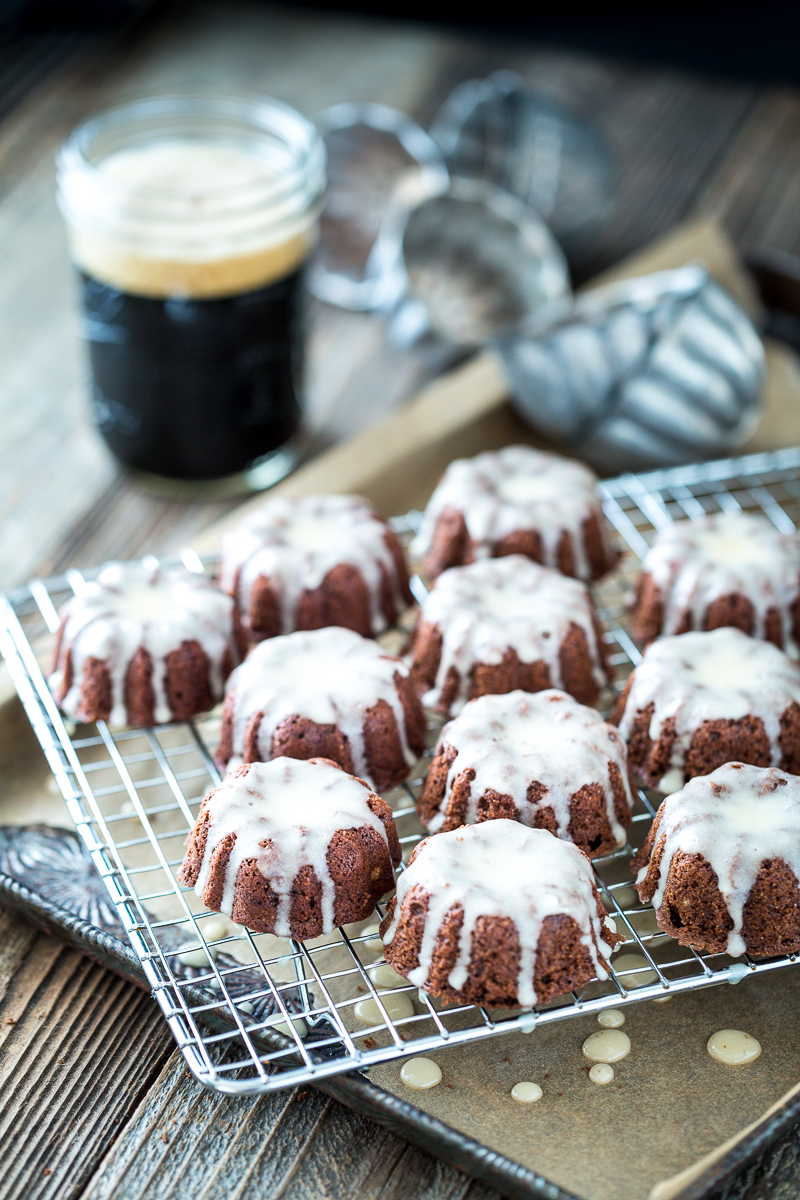 Mini Chocolate Stout Bundt Cakes with Maple Cream Glaze
Ingredients
1 cup unbleached whole wheat flour
1/2 cup oat flour
1/2 cup cocoa powder
1/2 cup coconut sugar (or brown sugar)
2 teaspoons baking powder
1 teaspoon Ener-G Egg replacer
1/4 teaspoon baking soda
1/4 teaspoon salt
1 cup vegan stout beer
1/2 cup melted coconut oil
2 tablespoons water
2 tablespoons maple syrup
1 teaspoon vanilla extract
1 cup powdered xylitol (or powdered sugar)
1 tablespoon nondairy milk or creamer
1 tablespoon maple syrup
1 teaspoon maple extract (or almond/vanilla extract)
pinch of salt
Instructions
In a large bowl, whisk together the dry ingredients. Set aside.
Gently pour the stout into a medium bowl. Add the remaining wet ingredients and gently stir together. Add the wet ingredients to the dry and stir until combined. Let rest for about 20 minutes.
While the bater is resting, preheat the oven to 350 F. Lightly grease a 12-cup mini bundt pan or muffin tin (or line a muffin tin with liners).
Once the batter has rested, spoon the batter (it will be thick and airy) into the prepare wells of the bundt pan or muffin tin, only filling each about 3/4 of the way. Bake in the oven for 15 to 20 minutes or until the tops are set and a toothpick inserted into the center of one comes out clean. Remove from the oven and let cool in the pan for about 5 minutes before turning them out onto a cooling rack. If you have leftover batter, regrease the pan and add the remaining batter to the wells of the cake pan/muffin tin and repeat.
While the cakes are cooling, you can make the glaze by whisking together the powdered xylitol (or powdered sugar), nondairy milk, maple syrup, maple extract (if you're using it), and the salt.
Once the cakes are cooled, place a baking sheet underneath the cooling rack and drizzle the glaze onto each cake. Let the glaze set for about 5 minutes before serving. Enjoy!
Notes
Maple extract is a really nice touch for this glaze but be sure to find a vegan brand (I used Frontier). If you don't have maple extract, vanilla or almond extract would also work. For a vegan stout beer, I used Lagunitas Imperial Stout.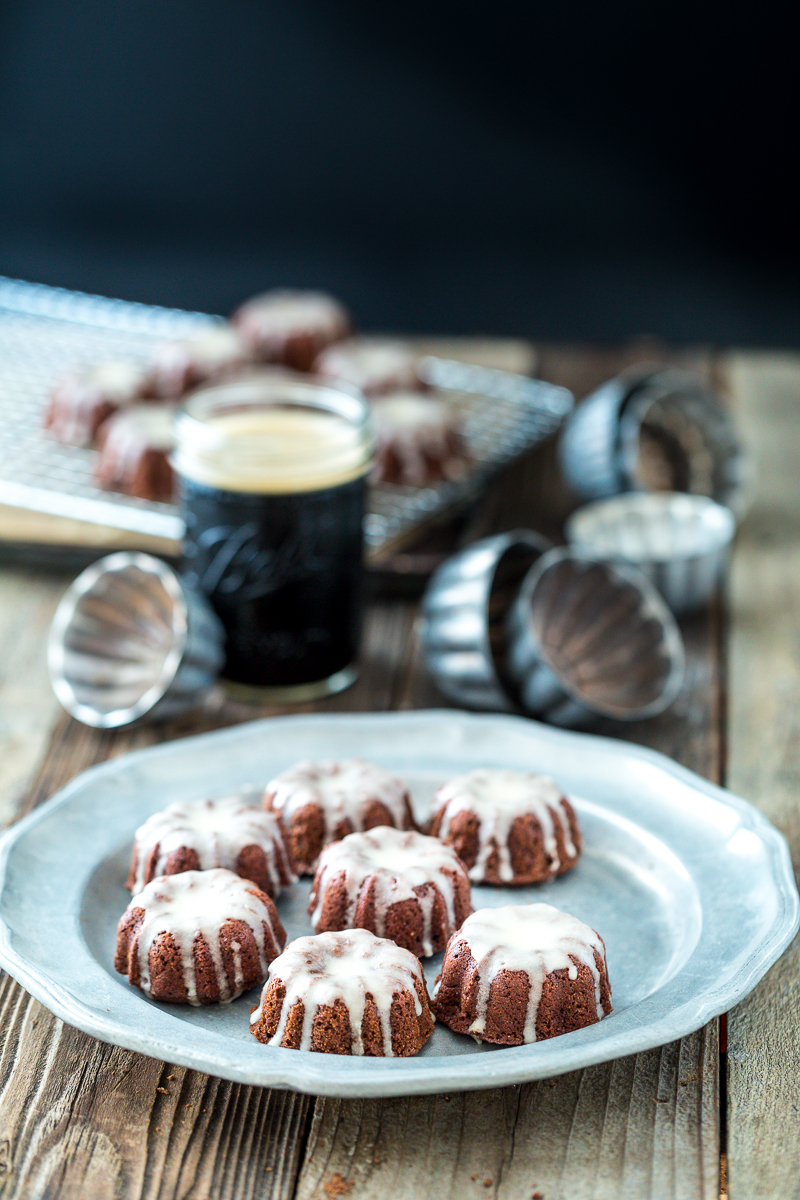 I've been nominated for a Homie Award from Apartment Therapy/theKitchn! Today is the last day to vote on your favorites (The top 5 will be finalists along with 5 others selected by staff) and I would sooooo love if you could vote for Keepin' It Kind! If you already have, thank you so much! If you don't want to set up an account to vote, you can log in via Facebook. It'll just take a second... 🙂 CLICK HERE!
Also, have you entered to win a box of vegan Rise Bars? You only have a couple more days!
Do you like to cook with beer? What do you make with it?
Photography by Chris Miller