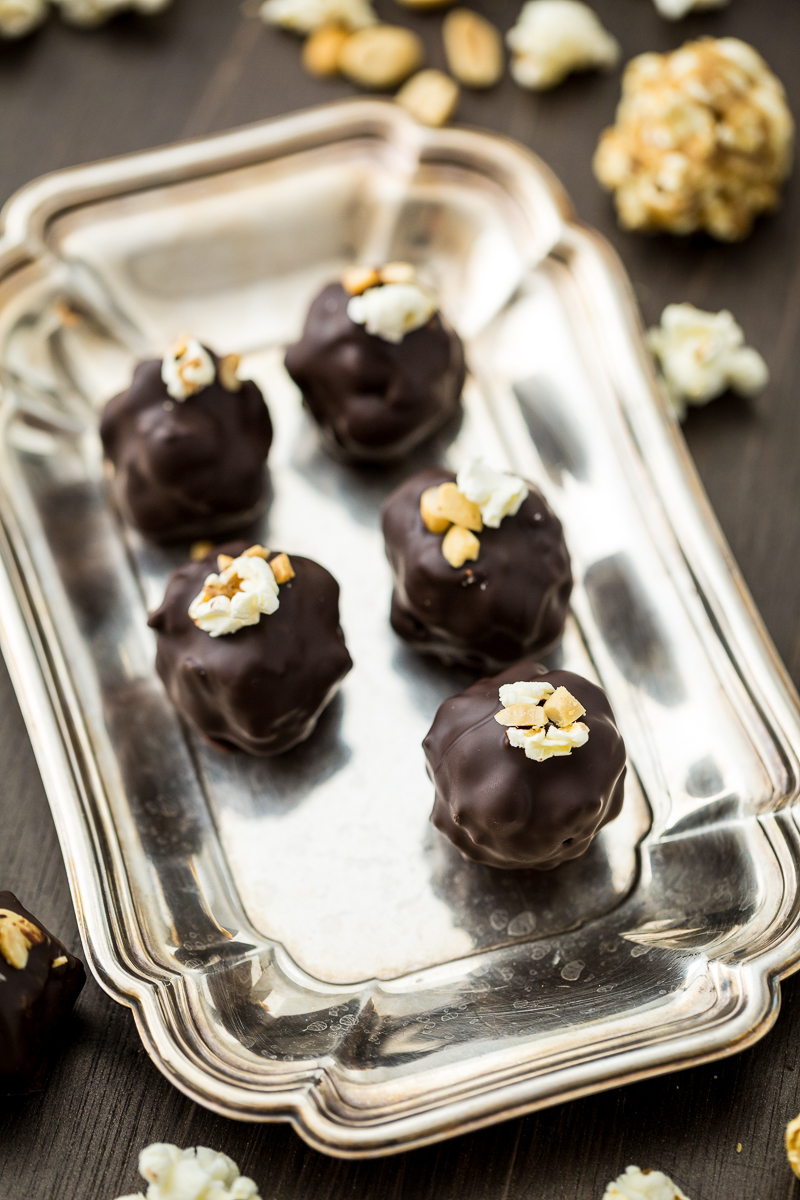 I know what you're thinking.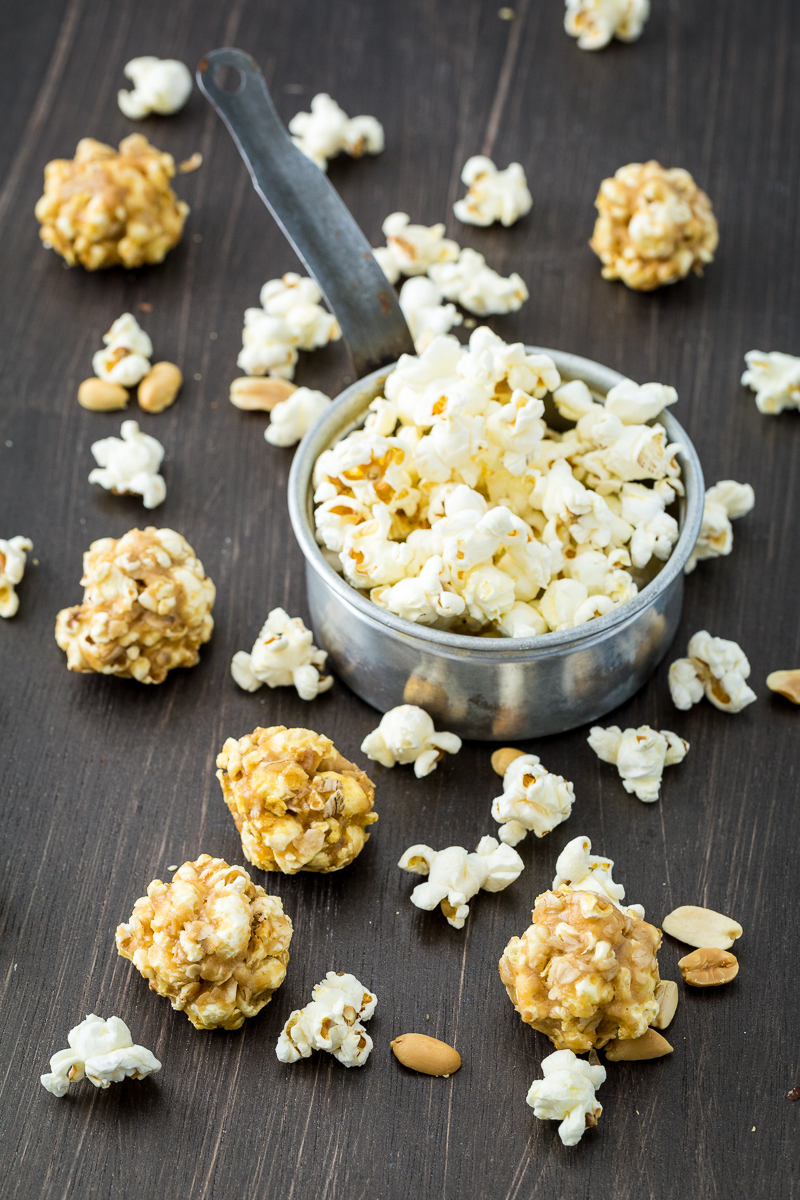 That these are just glorified peanut butter popcorn balls, covered in chocolate (But see those little popcorn and peanut pieces decorating the tops? Don't they make them worthy of the title of Truffle?)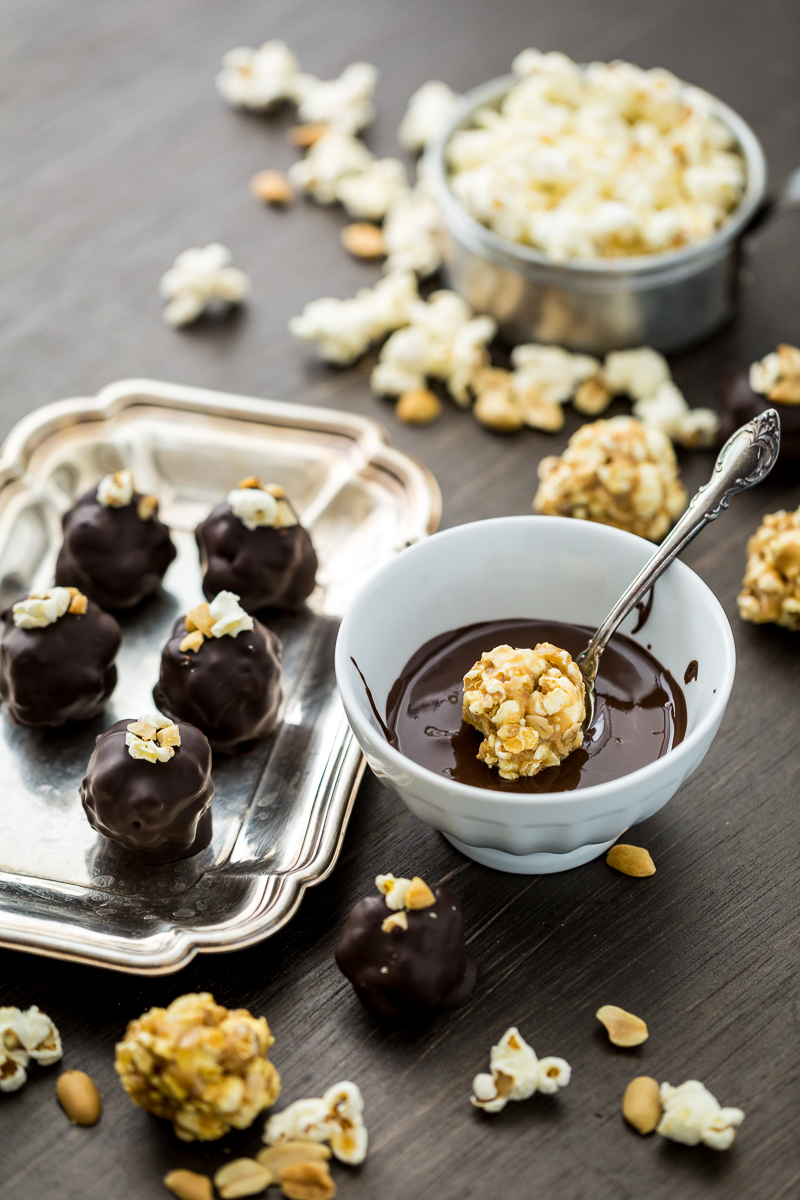 You're probably thinking "This chick does not even own a calendar. Doesn't she know it's almost Valentine's Day and popcorn is soooo Halloween?"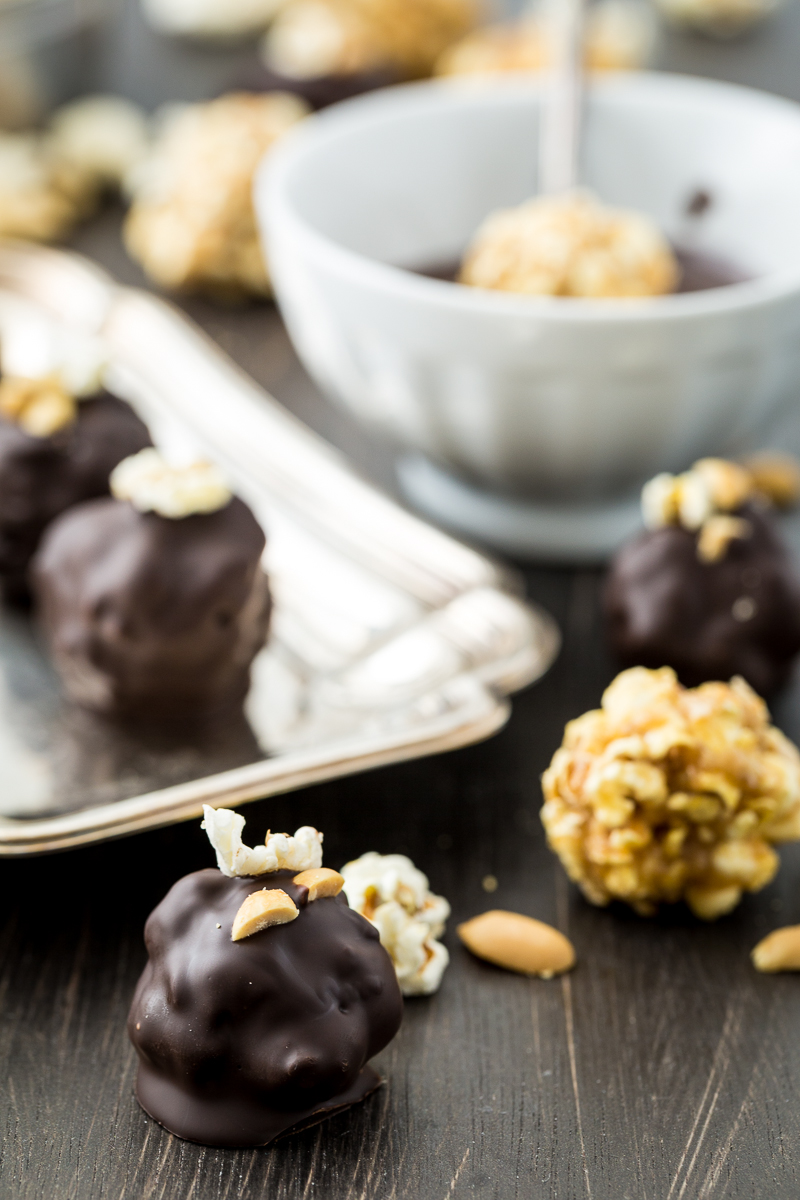 Or maybe you're thinking "Chocolate, peanut butter, and popcorn? Hells yes, I'm on board!" At least, that's what I was thinking.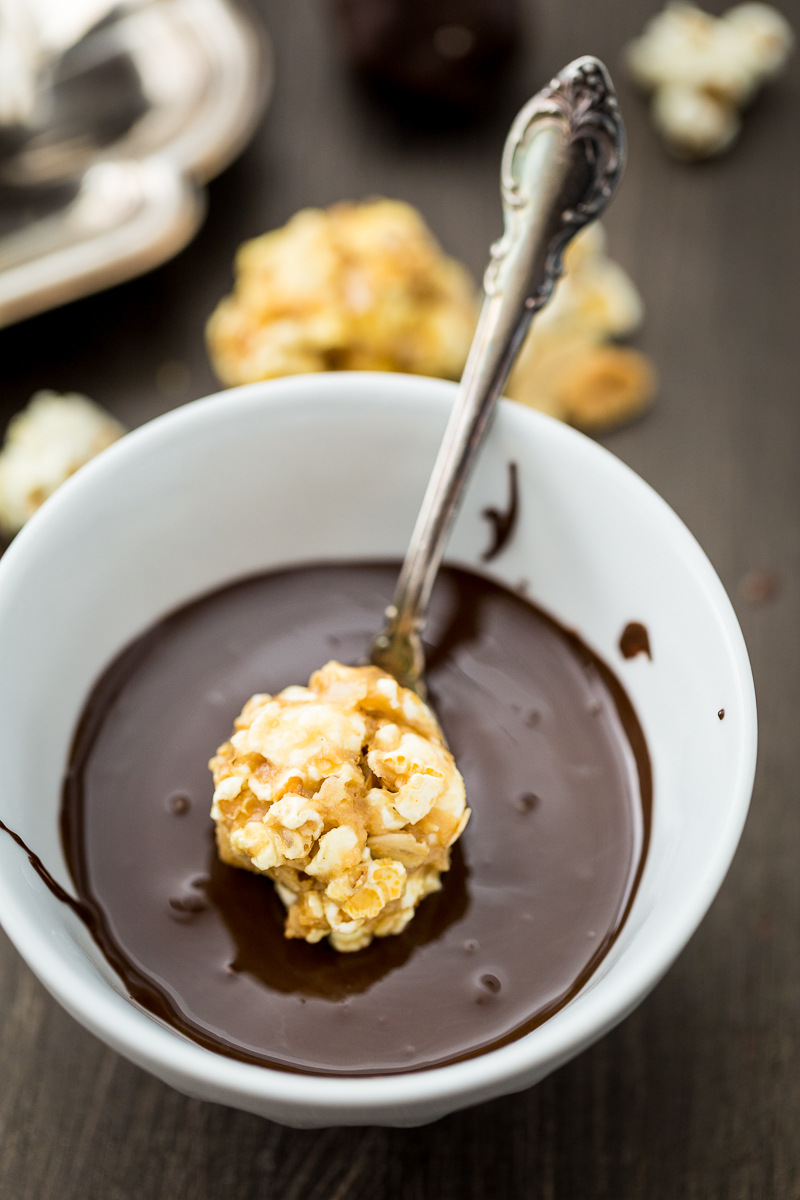 A year or so a go, Earth Balance came out with these PB Pops. Chris and I stopped at the store for something on our way home from dinner and while walking down the chips/snacks aisle, our eyes landed on this product at the same time. "Eh. Let's give it a try," we said. We popped the bag open once we got back on the road and by the time we got home, there were only a few left in the bag. In fact, at one point, Chris had to pull the car over so he could sit and savor these little morsels (of course, he was cursing the entire time) and mind you, we only live, like, 7 minutes from this particular shop. These PB Pops very quickly became something we could not keep in our house. We just can't be trusted with them.
Because I like to do sweet things for my husband all year long (and by "sweet" I mean both kind and sweet-tasting), not just on Valentine's Day, I made these little chocolate peanut butter popcorn truffles. Not just because they're amazing, but also because they reminded me of how silly we are with those PB Pops. I love our silliness. And I'm so incredibly grateful for it.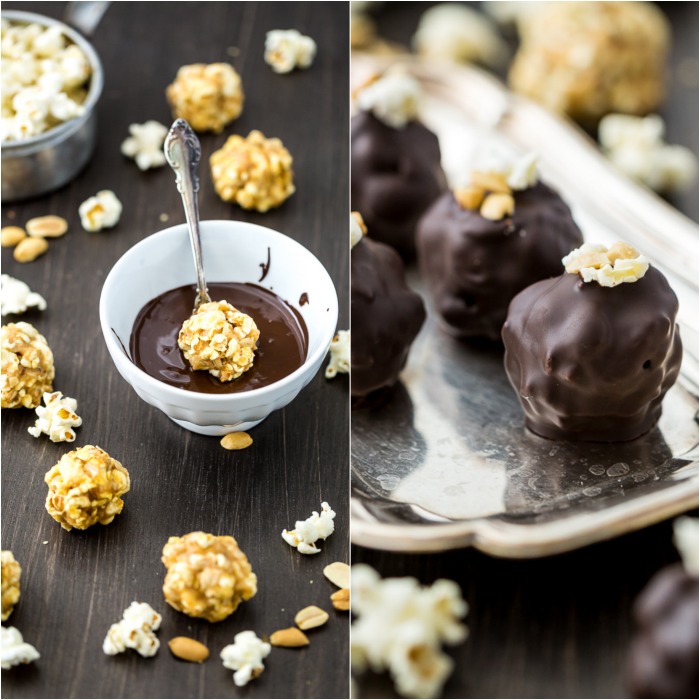 So go ahead. Make these glorified peanut butter popcorn balls, even though Halloween is over 8 months away. Make them for someone who appreciates your silliness and can join in the fun.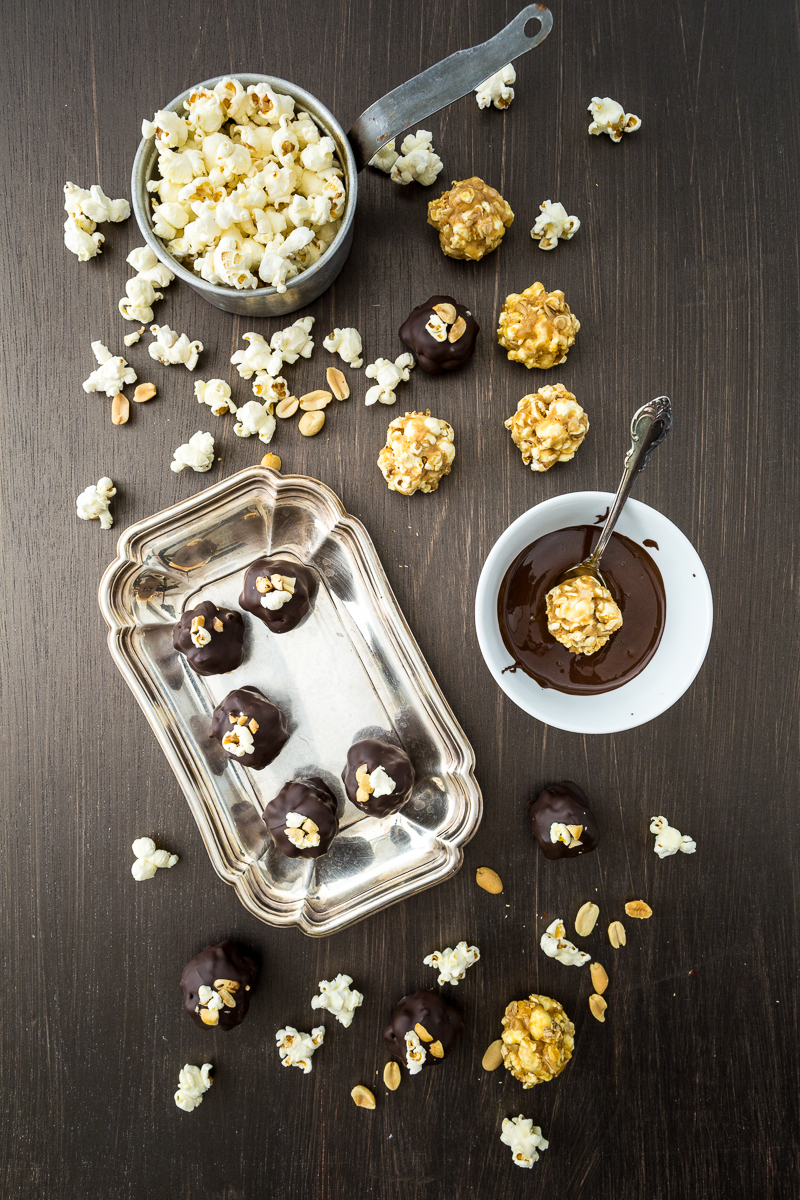 Chocolate Peanut Butter Popcorn Truffles
Ingredients
4 cups popped popcorn, plus extra for garnish
1/4 cup rolled oats
1/2 cup smooth peanut butter
1/4 cup agave syrup
1 cup vegan chopped dark chocolate or chocolate chips
1 teaspoon coconut oil
1 to 2 tablespoons chopped peanuts, for garnish
Instructions
In a large bowl, combine the popcorn and oats. In a small bowl, combine the peanut butter and agave syrup. Heat the peanut butter mixture for 30 to 40 seconds or until heated through. Add the peanut butter mixture to the popcorn and oats and use a rubber spatula to fully combine.
Line a large baking sheet with waxed paper or parchment paper. Using wet hands (this will help keep the popcorn mixture sticking to itself rather than you hands. Re-wet your hands after every couple balls), shape the popcorn mixture into balls just slightly smaller than golf balls (something you think you could easily devour in two bites). Place the balls on the prepared baking sheet. Once all the balls are made, refrigerate for 30 minutes.
In a double broiler or a glass bowl situated on top of a pot of boiling water, melt the dark chocolate and the coconut oil. Once completely melted and smooth, remove from the heat.
Use a spoon to dip one popcorn ball into the melted chocolate and use the spoon to roll it around until fully coated. Use the spoon to place it back on the baking sheet. Repeat with remaining balls. While the chocolate is still wet, top each truffle with little pieces of popcorn and/or chopped peanuts. Return the baking sheet to the refrigerator and chill until the chocolate has hardened. Keep chilled in an airtight container until ready to serve. Enjoy!
Notes
These are best kept refrigerated and eaten within 24 hours. After that, they're still good, but the popcorn gets a little softer (which I was totally fine with but some people may not like).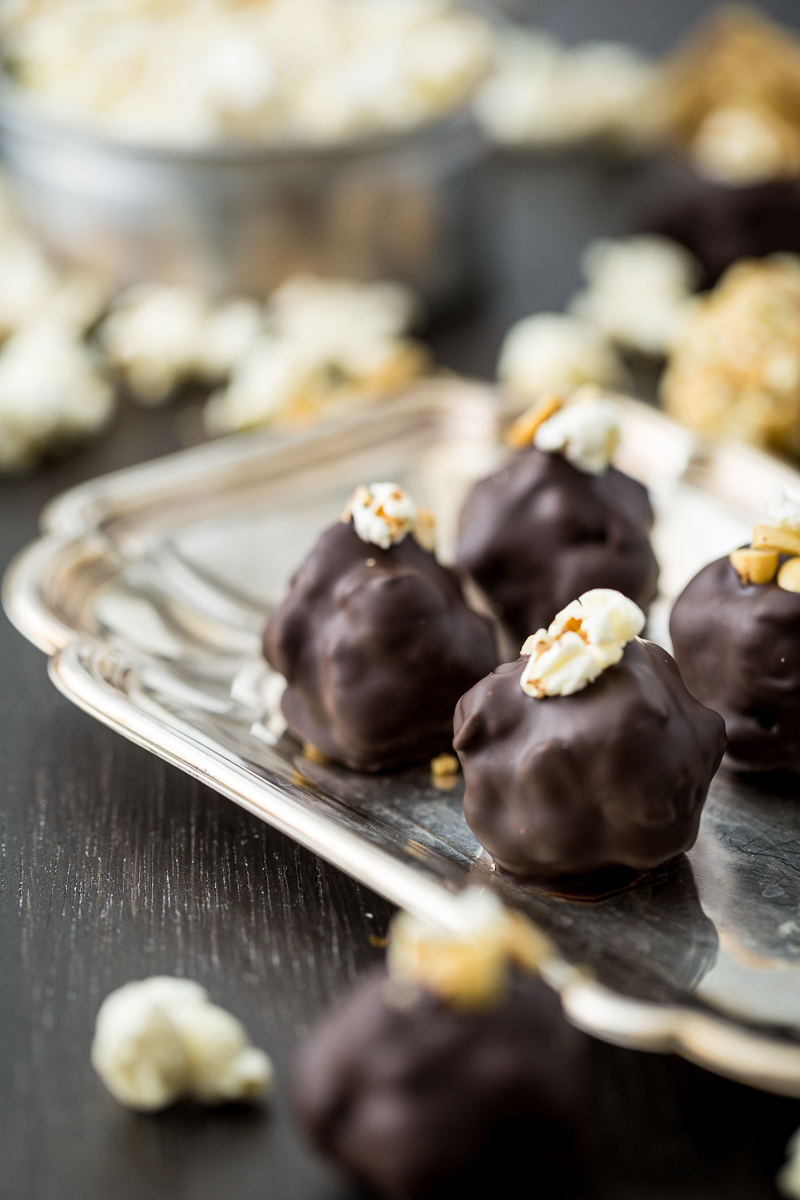 Who is your favorite person to be silly with?
Photography by Chris Miller