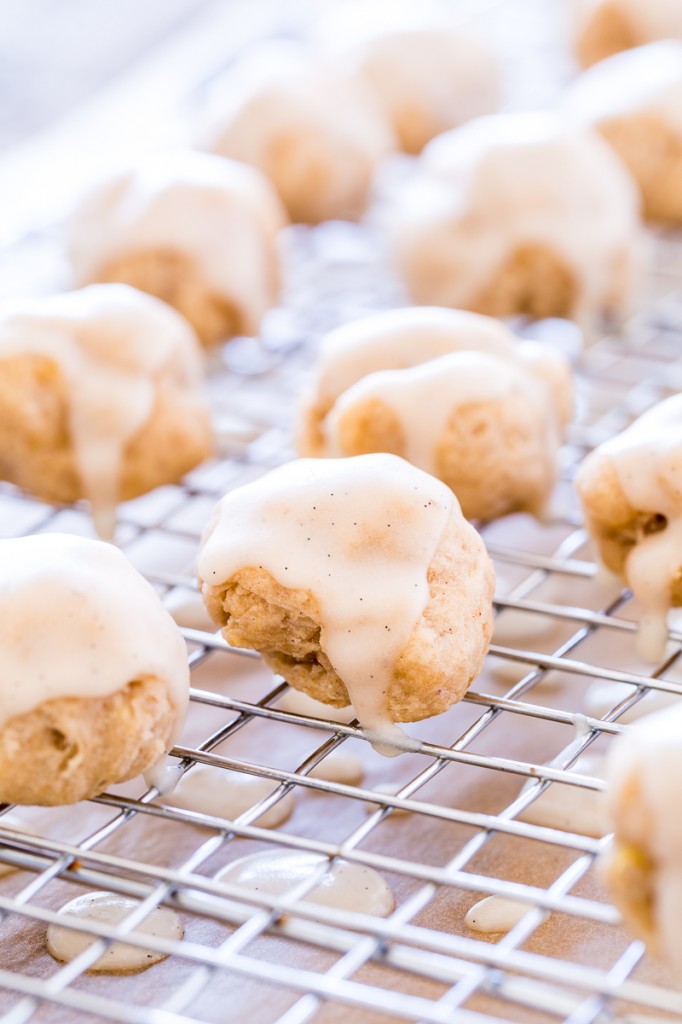 On this blog, I don't tell people to abstain from gluten or avoid all sugar. I don't tell people that oil and salt are the roots of all evil. I have nothing bad to say about soy and I think raw vegan food is just as great as cooked vegan food. When a person is considering a vegan diet, I want to be here to show them the huge variety they can include in their diet. I want to show them the only things that need to be avoided are animal products. I want to help make the transition as easy and smooth as possible. Making it even more complicated by telling people that they need to avoid oil and gluten and cooked foods is not what I am here to do.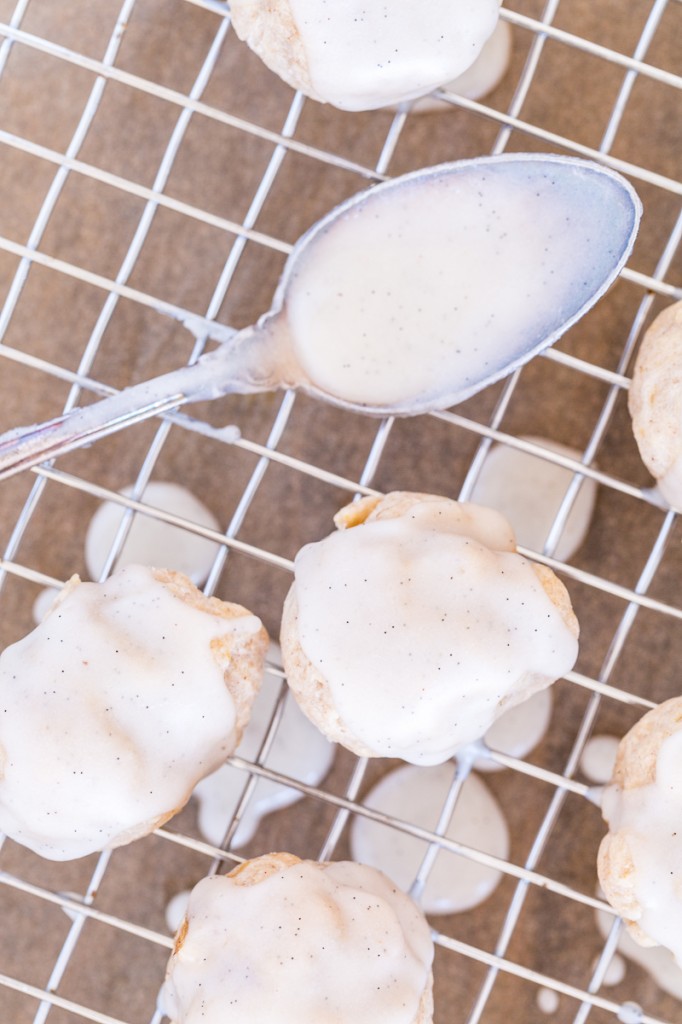 But what do you do if you want to be vegan but health issues prevent you from consuming gluten, sugar, soy, or even nuts? An allergen-free lifestyle is definitely a reality for many people and finding resources that can help make cooking food free from dairy, eggs, gluten, sugar, soy, and nuts is vital. I'm all for helping people in this situation get all the help they can.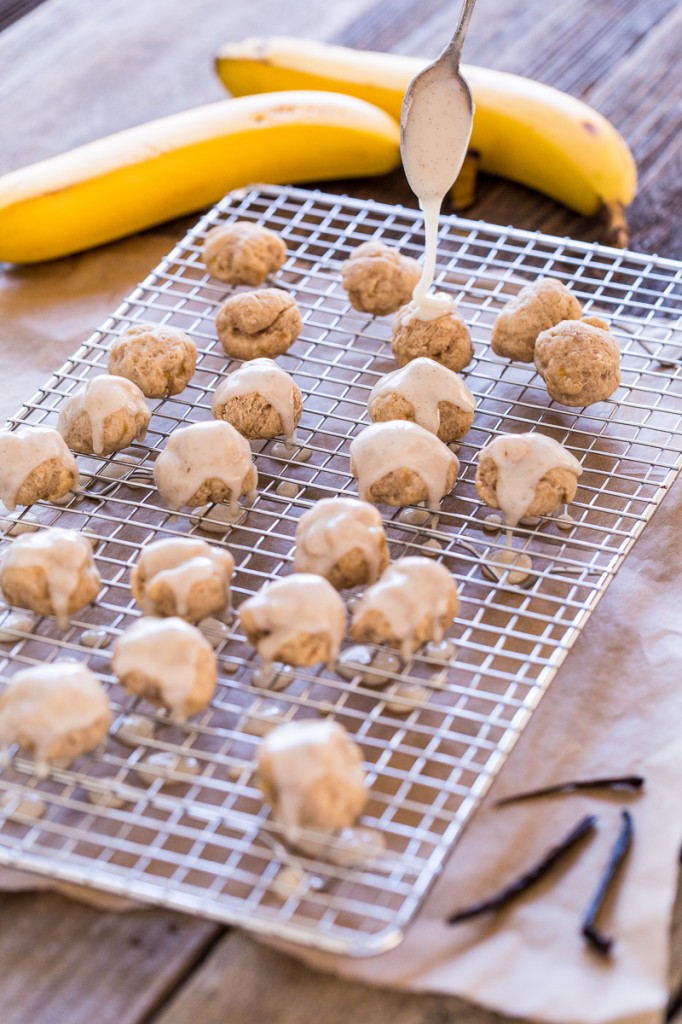 Debbie Adler opened Sweet Debbie's Organic Cupcakes, a bakery that only uses organic and healthy ingredients,  in Los Angeles in 2006. When she discovered her son was severely allergic to many foods, she revamped her bakery to make all of her products completely allergen-free and her business grew exponentially. Now, Sweet Debbie's is a go-to for allergen-free baked goods here in LA and lucky for all of us, she has written a book to share those popular recipes with the public. When I was asked to review her new book, Sweet Debbie's Organic Treats: Allergy-Free & Vegan Recipes From The Famous Los Angeles Bakery, naturally I jumped at the chance.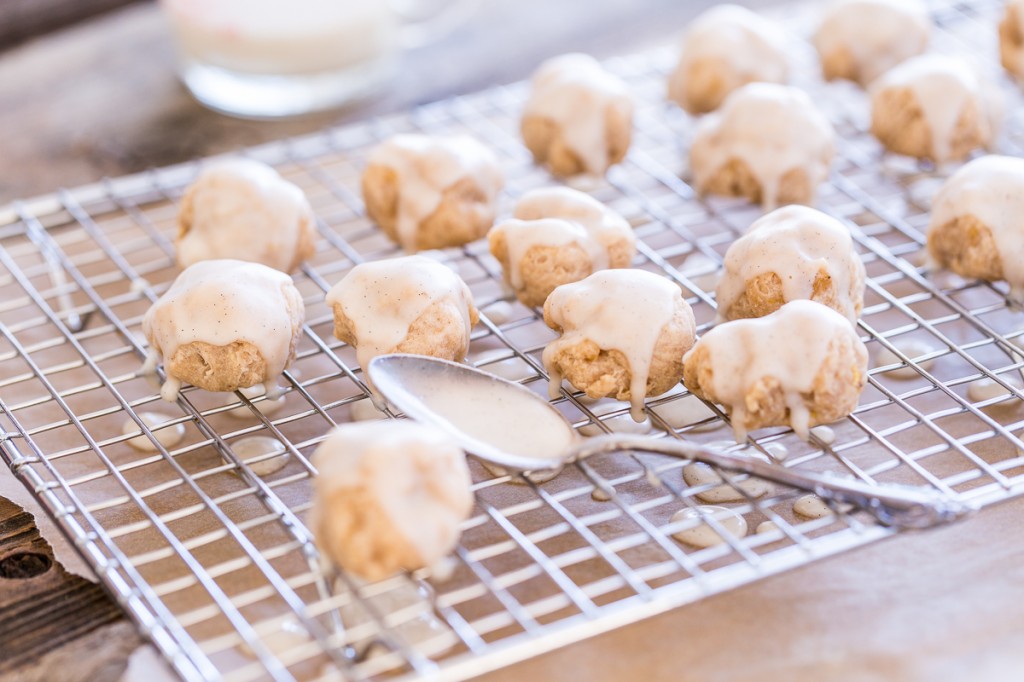 The first thing I made was her Pumpcornbread to go with my Pulled Jackfruit Chili. This cornbread was not only packed with tons of flavor from the pumpkin and the spices mixed in but it was super soft and moist with just the perfect amount of crumbliness.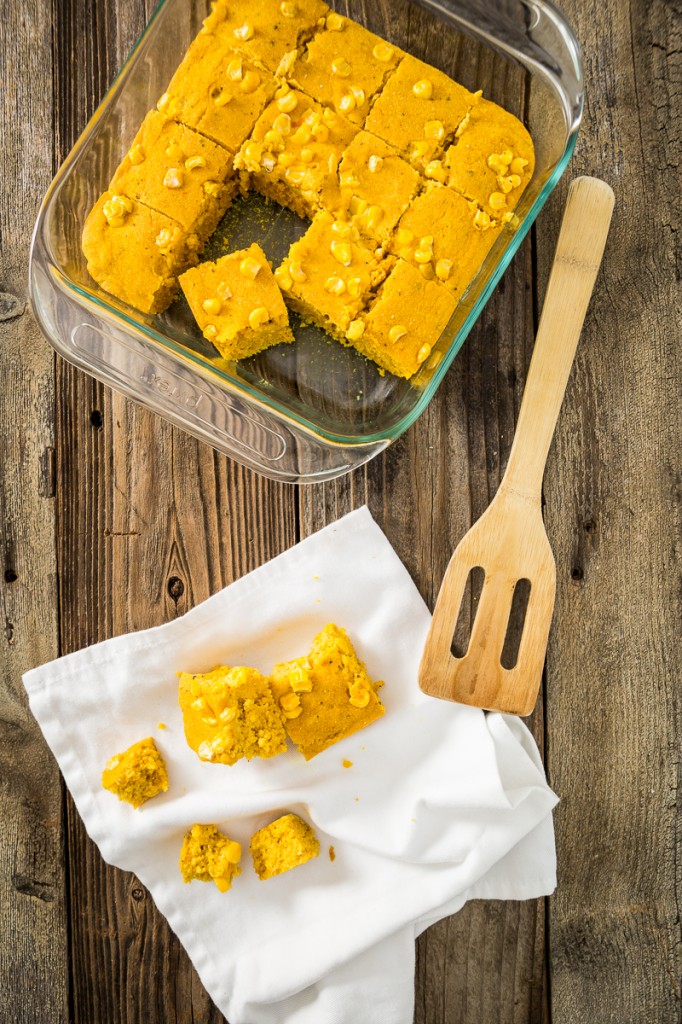 The next thing I made were the Vanilla Bean-Glazed Banana Donut Holes. Vanilla and banana are flavors that go over pretty well with everyone in my house so it was no surprise that between Chris, the twins, and I, these little donut holes didn't last longer than 10 minutes after these photos were taken.
To be honest, they didn't have much of a donut-y texture or flavor, and they were more like little muffin-cookie balls. The subtle banana flavor in each doughy little bite and the beautiful vanilla bean-studded glaze were absolutely perfect, though. They were so simple to make (as was the pumpcornbread) that I could see them going into regular rotation over here (with two very picky tween twins, finding treats that all four of us enjoy is a rare thing). Debbie and the folks at PR By The Book have been nice enough to let me share this recipe with you here today.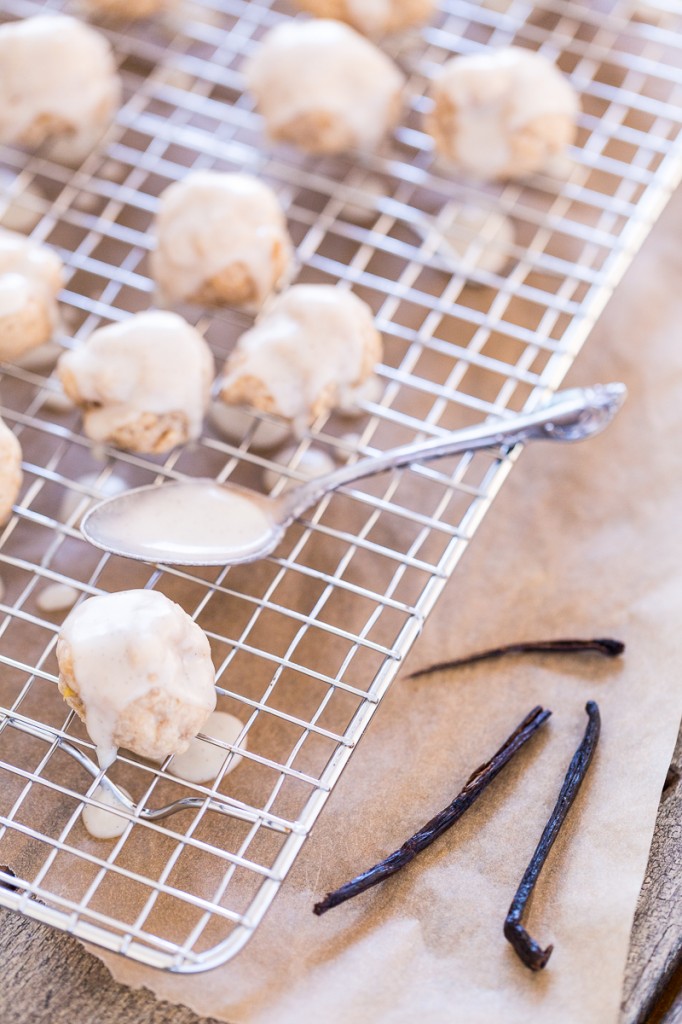 Vanilla Bean Glazed Donut Holes
By Debbie Adler
Must Have
Donut Holes
15 x 10-inch sheet of parchment paper
11/2 cups all-purpose gluten-free flour
2 tablespoons amaranth flour
1/4 teaspoon sodium-free baking powder
1/4 teaspoon ground nutmeg
1/4 teaspoon guar gum
1/4 teaspoon fine sea salt
3 tablespoons coconut nectar
2 tablespoons coconut oil
2 tablespoons vanilla rice milk
1 teaspoon vanilla extract
1/4 teaspoon stevia powder
1/4 cup mashed banana
Vanilla Bean Glaze
1 tablespoon coconut oil
1 tablespoon coconut nectar
1 cup powdered erythritol
2 tablespoons vanilla rice milk
1/8 teaspoon fine sea salt
1/4 vanilla bean, cut in half lengthwise
and seeds scooped out and reserved
Must Do
1. Preheat oven to 325°F. Line a 15 x 10-inch jelly-roll pan with parchment paper.
2. To make the donut holes, whisk together the two flours, baking powder, nutmeg, guar gum and salt in a large bowl. Make a well in the middle.
3. Microwave the coconut nectar and coconut oil in a 2-cup measuring cup for 20 seconds. Add the rice milk, vanilla and stevia and stir to combine. Pour into the flour mixture, add the mashed banana and stir to combine.
4. Take about 1/2 tablespoon of the dough and shape it into a ball. Place the ball on the prepared pan. Repeat until you have used up all the dough, placing the balls about 2 inches apart on the prepared pan.
5. Bake the donut holes for 11 to 12 minutes, or until they are a light golden brown and bounce back slightly to the touch. Rotate the pan from front to back after about 9 minutes of baking.
6. Transfer the pan from the oven to a wire rack and let sit for 10 minutes before removing the donut holes to cool completely.
7. To make the vanilla bean glaze, microwave the coconut oil and coconut nectar in a measuring cup for 20 seconds. Add the powdered erythritol, vanilla rice milk and salt and stir to combine. Next add the vanilla bean seeds and mix well.
8. Frost the donut holes with the glaze and place them on the wire rack to set. Keep in an airtight container for up to 3 days, or wrap and freeze for up to 3 months.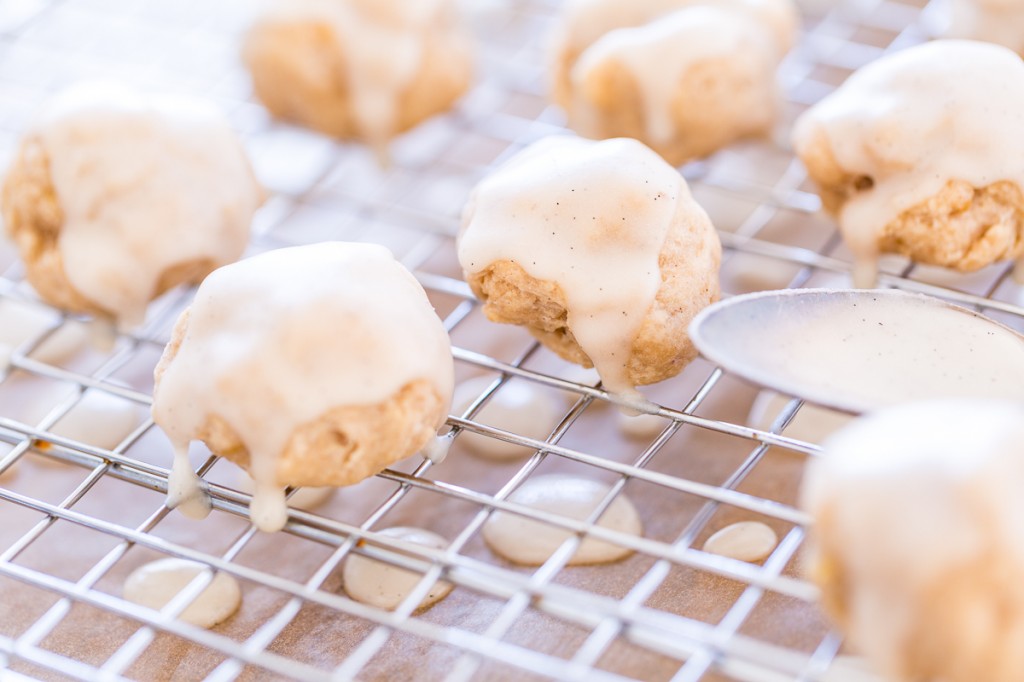 PR By The Book has also been generous to offer one copy of Sweet Debbie's Organic Treats to one of my readers! The giveaway is available to US residents only and will continue until 11:59pm on January 30th, 2014. Please use the box below to enter.

Thank you so much to PR By the Book for giving me a copy to review and for hosting this giveaway and thank you to all of you for stopping by and entering to win your own copy!
Disclaimer: I was given a copy of this book to review but the thoughts and opinions shared here are my own.
Photography by Chris Miller