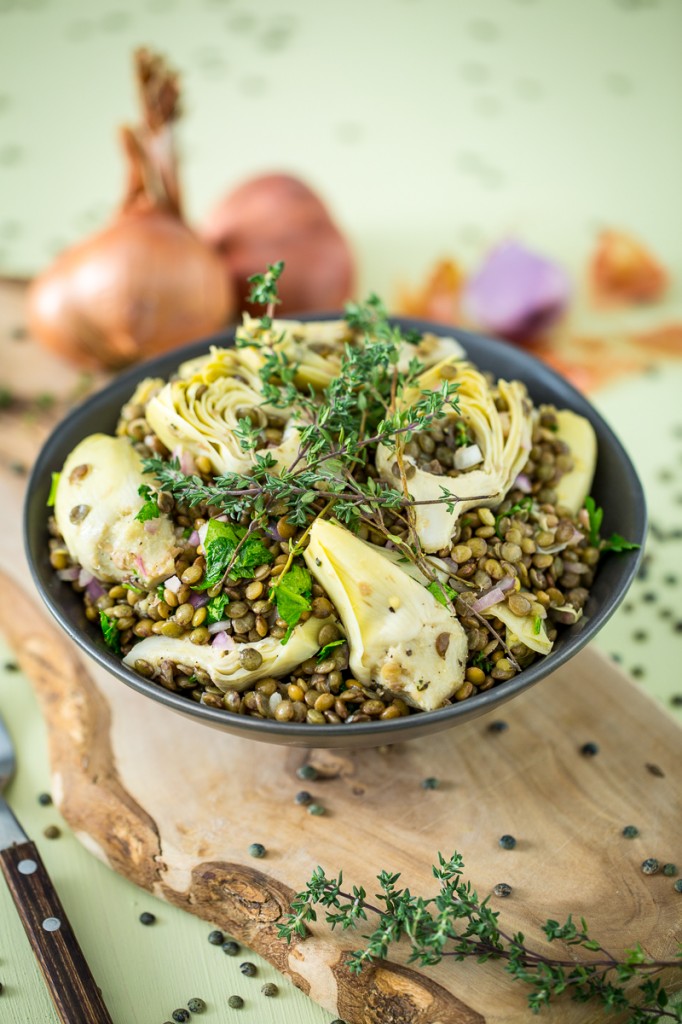 Who's totally tired of all of the warm, heavy comfort foods that come with the winter? Yeah, me neither. But with all of the recipe testing for the book, my body is getting a little bit tired of heavy food (not that all of the recipes for the book are "heavy." There's just a lot of cooking going on over here and all that cooking comes with a lot of tasting). When my body starts feeling sluggish and weighed down, it's time to listen to her.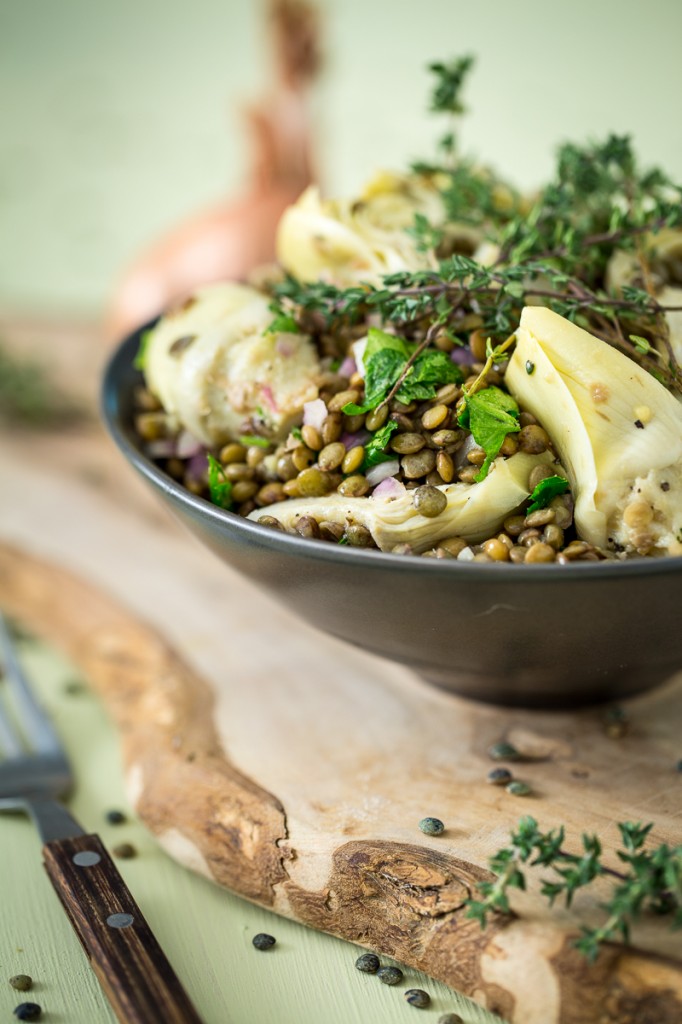 A long time ago (like, last October), Book Publishing Company sent me a copy of Alan Roettinger's latest cookbook, Extraordinary Vegan to review. So much was going on in November and December that I never got around to reviewing it. In fact, during that time, I let a lot of things fall by the wayside.However, come January, I started to catch up with things, one of them being this book.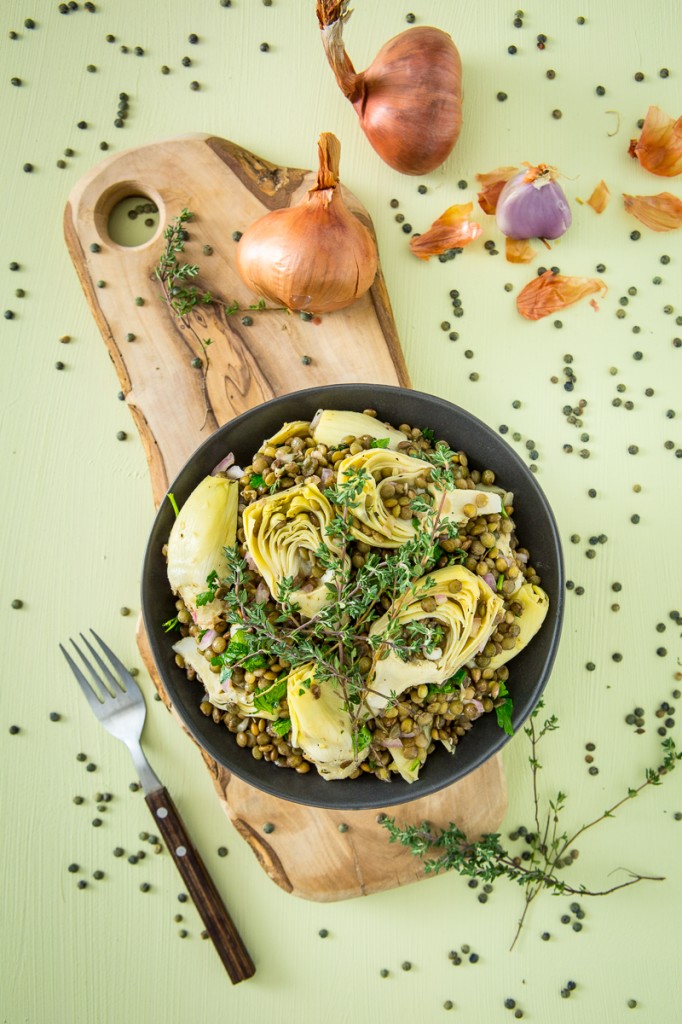 Since I was craving something light, this was the perfect opportunity. Extraordinary Vegan is packed full of full-flavor, plant-strong, healthy recipes with tips on how to take your cooking to the next level, how to make it extraordinary, if you will. Not only are the recipes healthy, they come together in a snap. I've only had time to try one recipe so far, but I'll definitely be getting to the Masoor Dal with Kabocha Squash, Polenta with Peppers, and the Wild Mushroom Ragoût soon.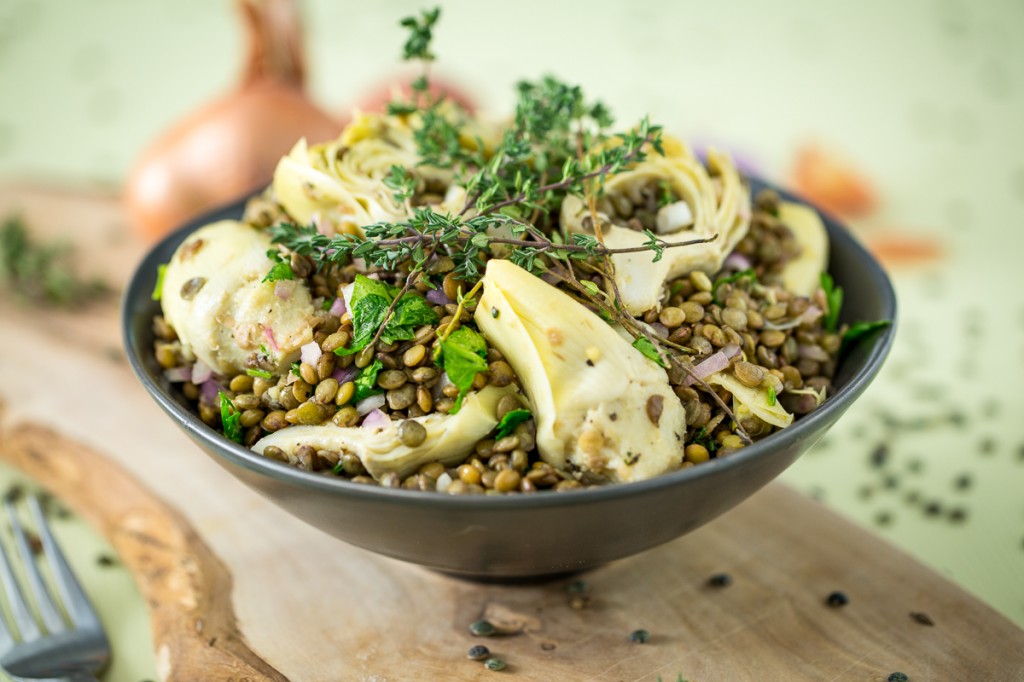 The recipe I tried was the Artichoke and Lentil Salad. French Lentils are paired with artichoke hearts and fresh shallots, and then drenched with a dressing of lemon juice, sherry vinegar, and Dijon mustard. The salad is bright and tangy but the parsley and thyme give this dish a fresh, herbal flare. I made it a few hours before Chris came home and I had to keep "checking" on it while it chilled, taking little bites every time. It could definitely be a meal on it's own but even though it's packed with lentils, it's surprisingly light.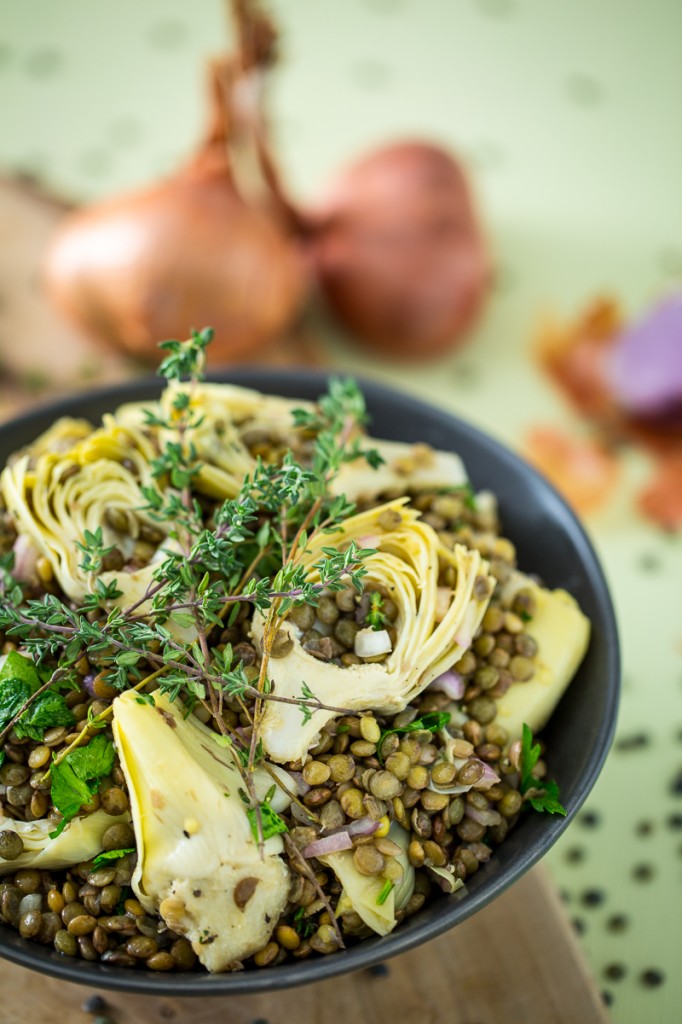 Artichoke & Lemon Salad by Alan Roettinger
reprinted with permission from Book Publishing Company
Ingredients
3 tablespoons extra-virgin olive oil
2 tablespoons freshly squeezed lemon juice
2 tablespoons sherry vinegar or additional lemon juice
1 teaspoon Dijon mustard
1/4 teaspon sea salt
1/4 teaspoon freshly ground black pepper
1 tablespoon chopped fresh parsley
2 teaspoons chopped fresh thyme
3 cups cooked French lentils, or other lentils, well drained
12 canned artichoke hearts, rinsed, patted dry, and cut in half lengthwise
1/3 cup minced shallots
Instructions
Put the oil, lemon juice, vinegar, mustard, salt, and pepper in a medium bowl and whisk until emulsified. Add the parsley and thyme and whisk until incorporated. Add the lentils, artoichokes, and shallots and tossed until well combined. Serve at once.
Book Publishing Company has been kind enough to host a giveaway for one copy of Extraordinary Vegan to one of my wonderful readers. This giveaway is open to US residents only and will run until 1/18/14 at 11:59pm . Please use the box below to enter.

Thank you to Alan Roettinger and Book Publishing Company for letting me review Extraordinary Vegan and for hosting this awesome giveaway! And thank you to all of my lovely readers who've stopped by to enter!
Photography by Chris Miller