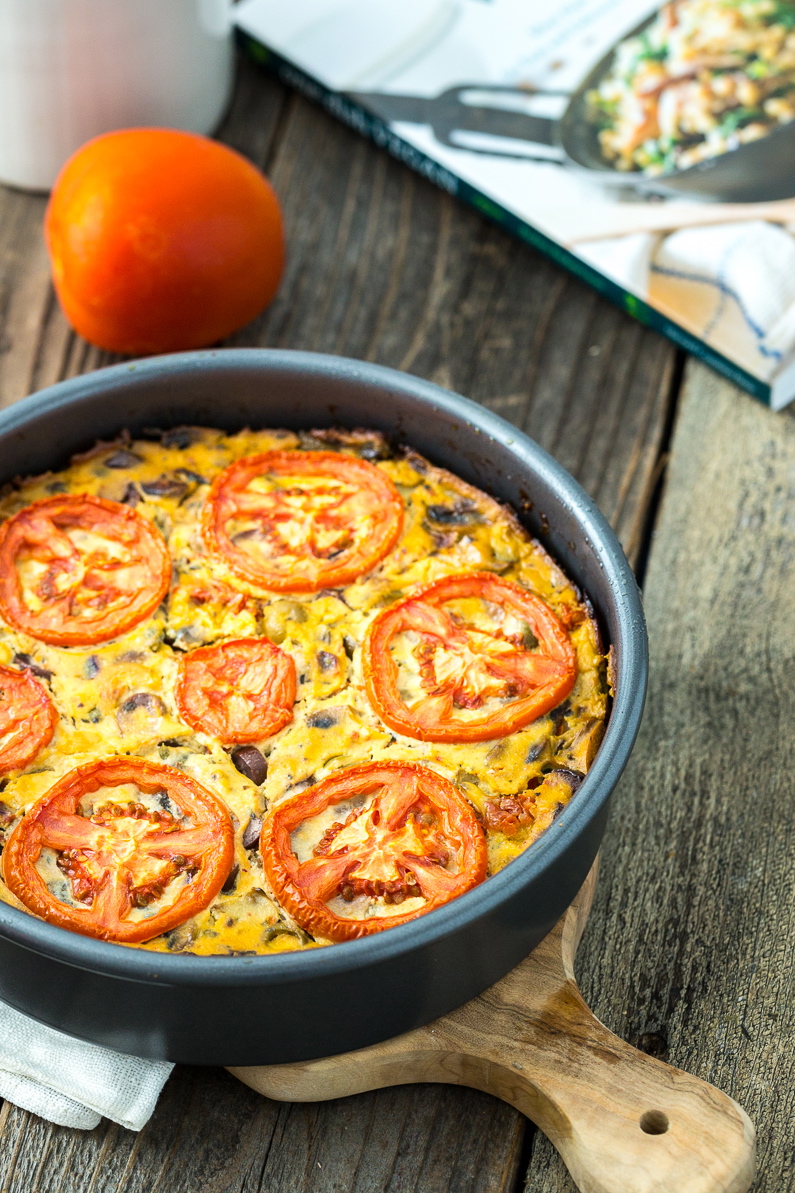 It should come as no shock that I'm a fan of Robin Robertson's cookbooks. I've reviewed (and given away) two of them in the last year and a half- Fresh From The Vegan Slow-Cooker and Nut Butter Universe. When Harvard Common Press asked me to be a part of the book tour for One-Dish Vegan, I jumped at the chance!
One-dish meals are amongst one of my favorite types of meals. I'm all about not having to cook multiple side dishes to make a complete meal. When I'm not testing out recipes of my own to share with you, Chris and I are almost always having some sort of one-dish wonder- usually consisting of some sort of bean, some sort of grain, and whatever veggies we have on hand.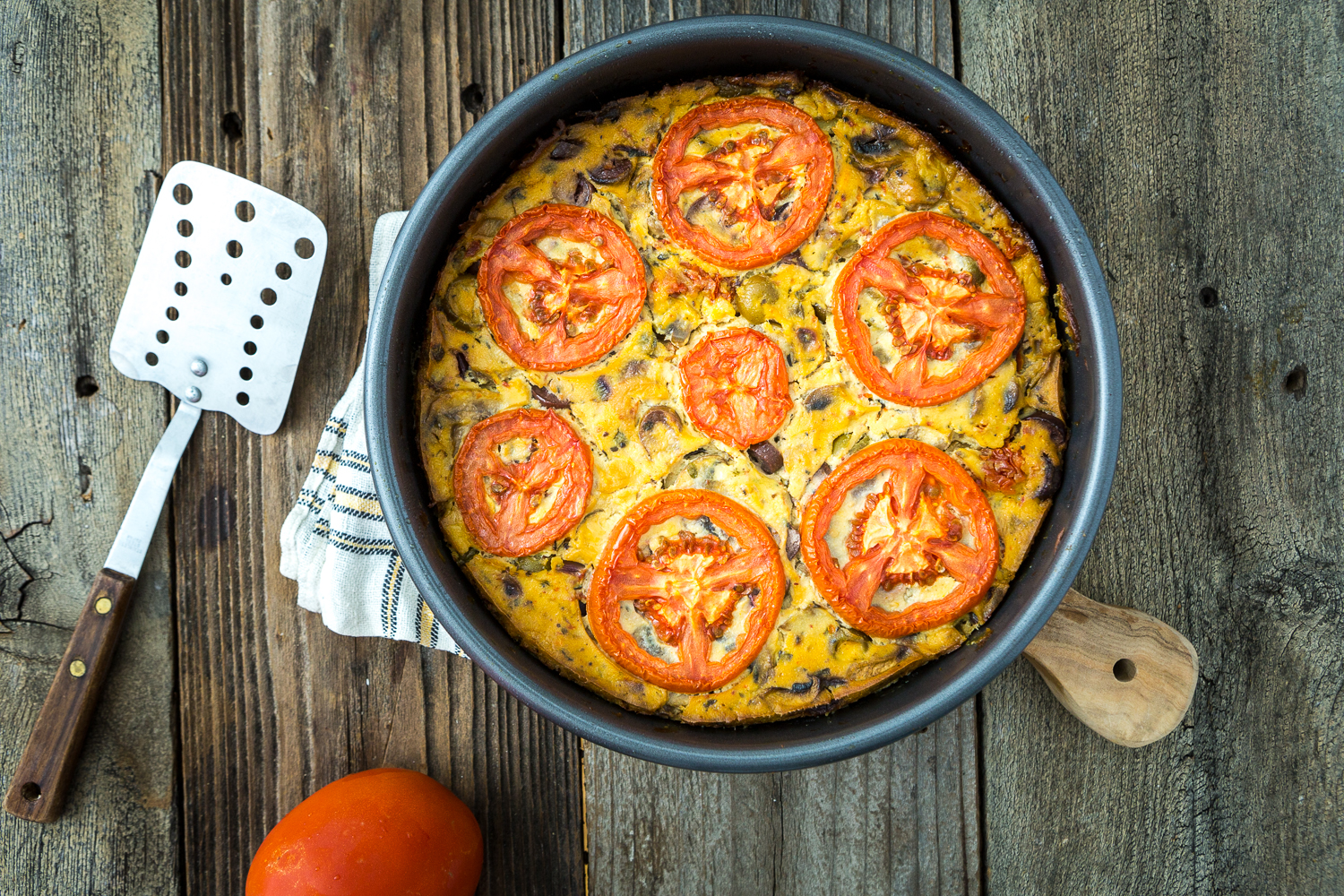 To be honest, I haven't had time to try out as many of the recipes from One-Dish Vegan as I would've liked.  I have, though, dog-eared several recipes to try in the future: Risotto with Artichokes and Mushrooms, Lebanese Bread Salad with Chickpeas, Rapini and Cannellini Rotini, and Cauliflower Comfort Bake being amongst them. Oh, and there's an entire Chili Chapter that needs exploring!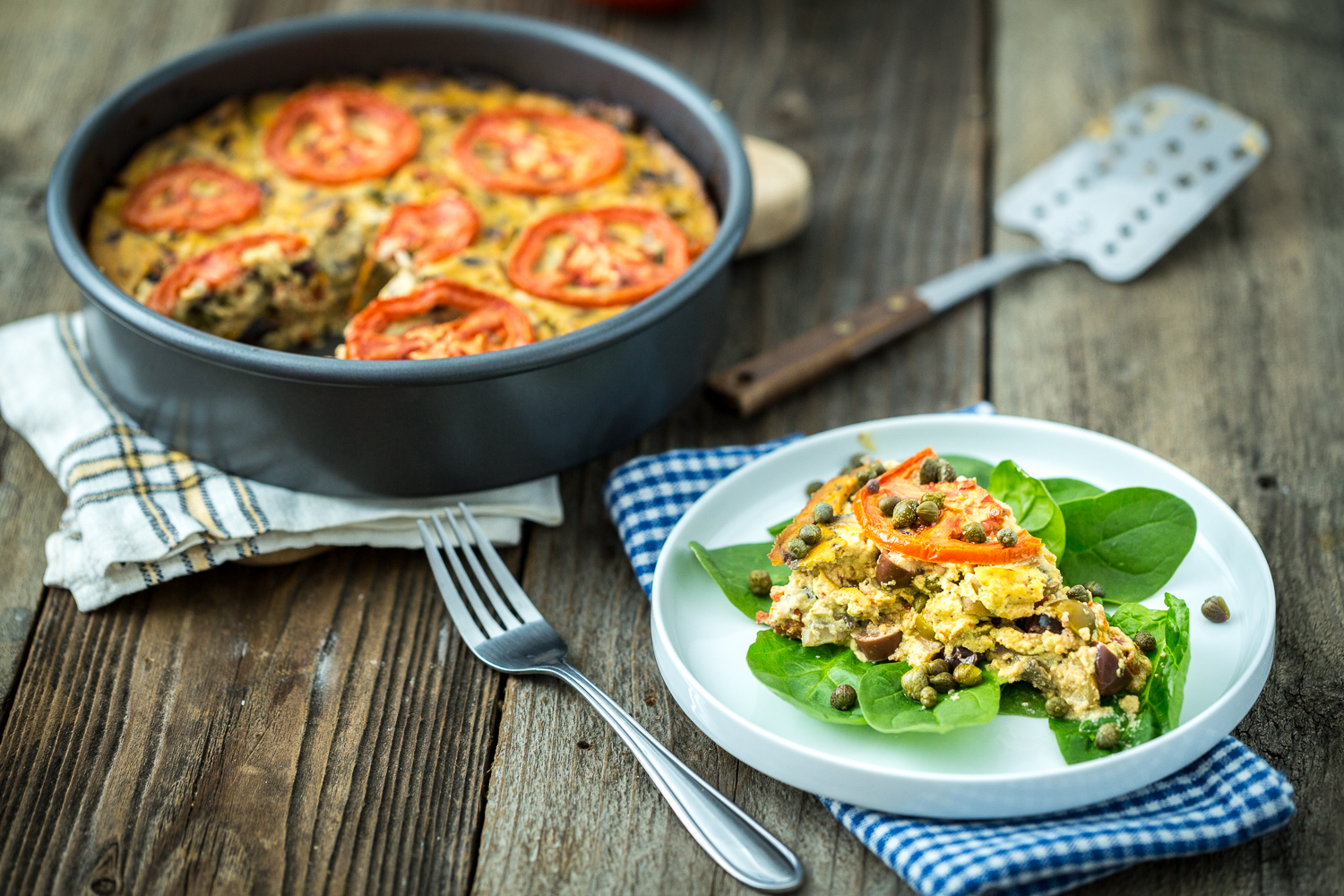 Before I tell you how great the Frittata Puttanesca I tried was, I should tell you a little about the day on which it was made. I'd had a long day of writing and recipe testing, my brain was fried and if I hadn't planned on making this dish from One-Dish Vegan that night, I wouldn't have been able to pull anything together on my own.  I began preparing this dish, which came together very quickly, in hopes that it would be ready right when Chris got home so we could photograph it, eat it, and just crash.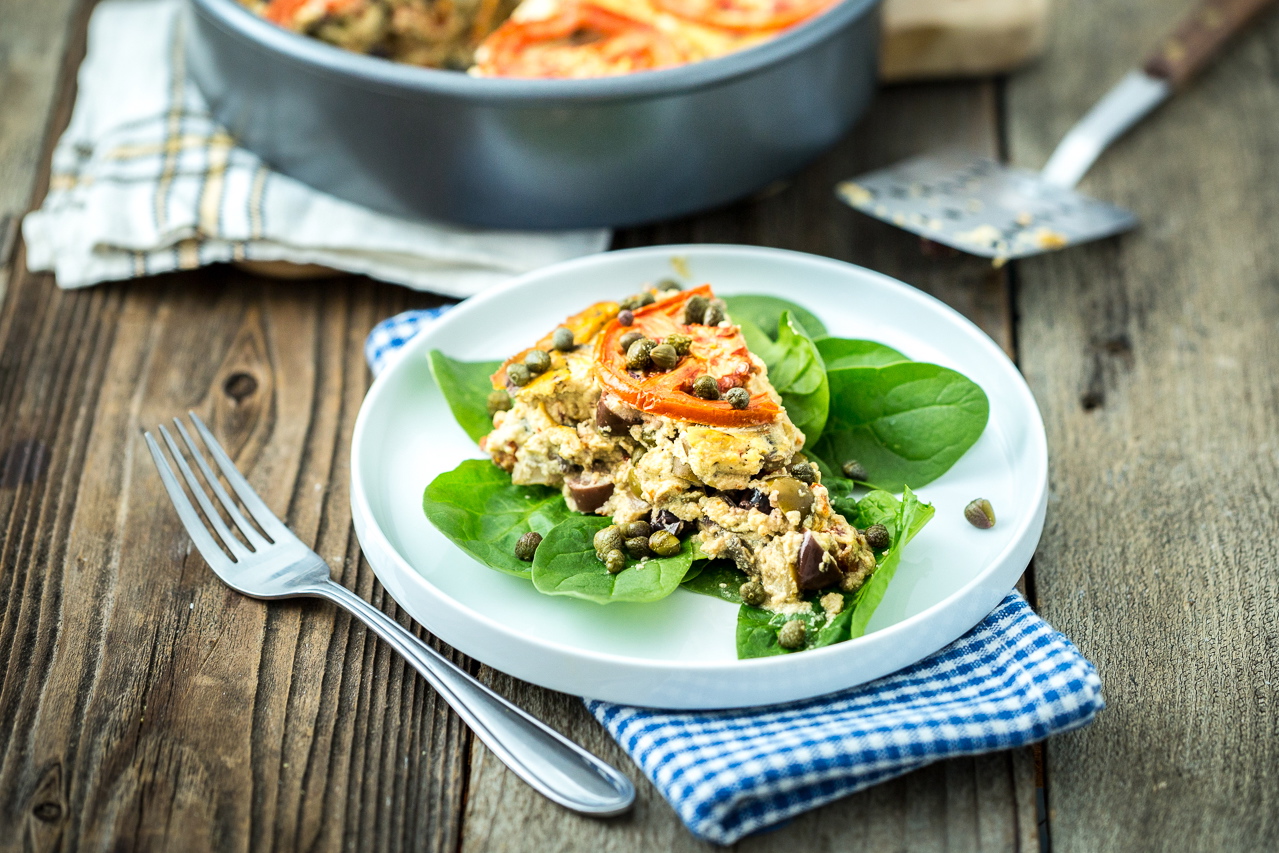 When Chris did come home, he was panicked. He had grabbed his computer bag from his trunk and it was empty. He came in and was in absolutely shock because apparently, someone had gotten into his car and stole his laptop. He tried to remember where he'd had it last (his job requires him to drive all over town and sometimes he needs to pop into a Starbucks here or there to use their internet) but all he could focus on was how much we'd just lost- all of our photos from our last trip, all of the recipes we'd shot in the last week (so, like, the last 8 things I made), plus tons of work photos, videos of the twins from when they were little, and countless documents he needed for work. Finally, he remembered where he'd had it last and in whatever was left of his hope, he called them to see if they'd found a laptop. Sure enough, he'd left it on the counter at a Kinko's.  He drove all the way back to downtown LA, picked it up and came home and then we still had to photograph this dish.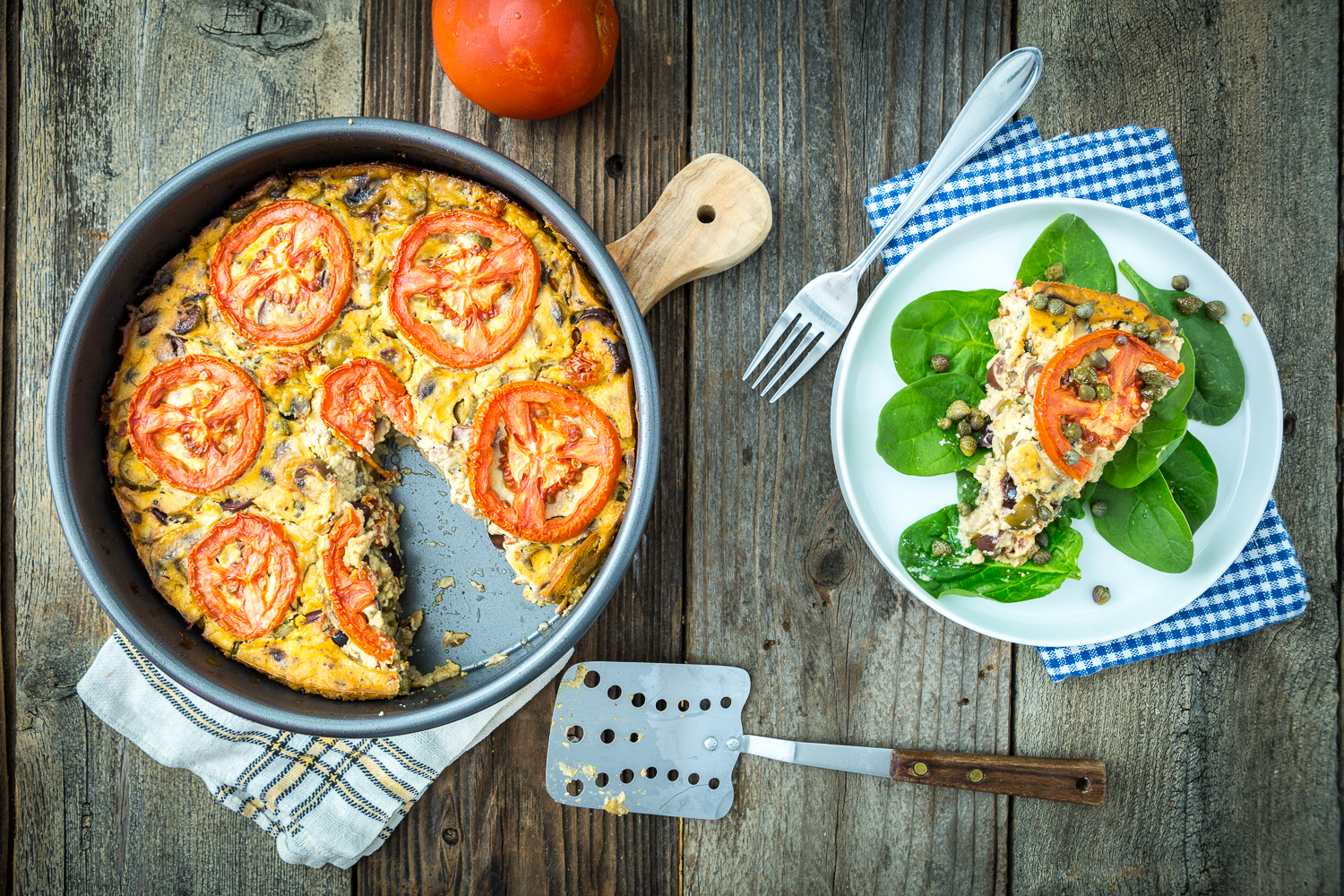 It was after 9pm and both of us were exhausted and borderline irritable (hungry irritable). We very quickly took some shots of the frittata, grabbed our plates and dug in. And this dish was incredible. It may have been due to how tired, hungry, and relieved we both were (it truly felt like we'd been through an emotional roller coaster. It's so crazy how dependent we are on our computers!), but this one-dish meal totally hit the spot. We both went back for seconds, and then Chris went back for thirds. We were both over the moon about all of the olives and capers that are packed into this frittata! It was so delicious and tasty and such a great meal to have at the end of a very long day. The leftovers made for a great lunch the next day too. I would make it again in a heartbeat, but I may need to make it in a different pan- I think because of the size of the pan I used, it took about an hour to cook, rather than the 40 minutes suggested.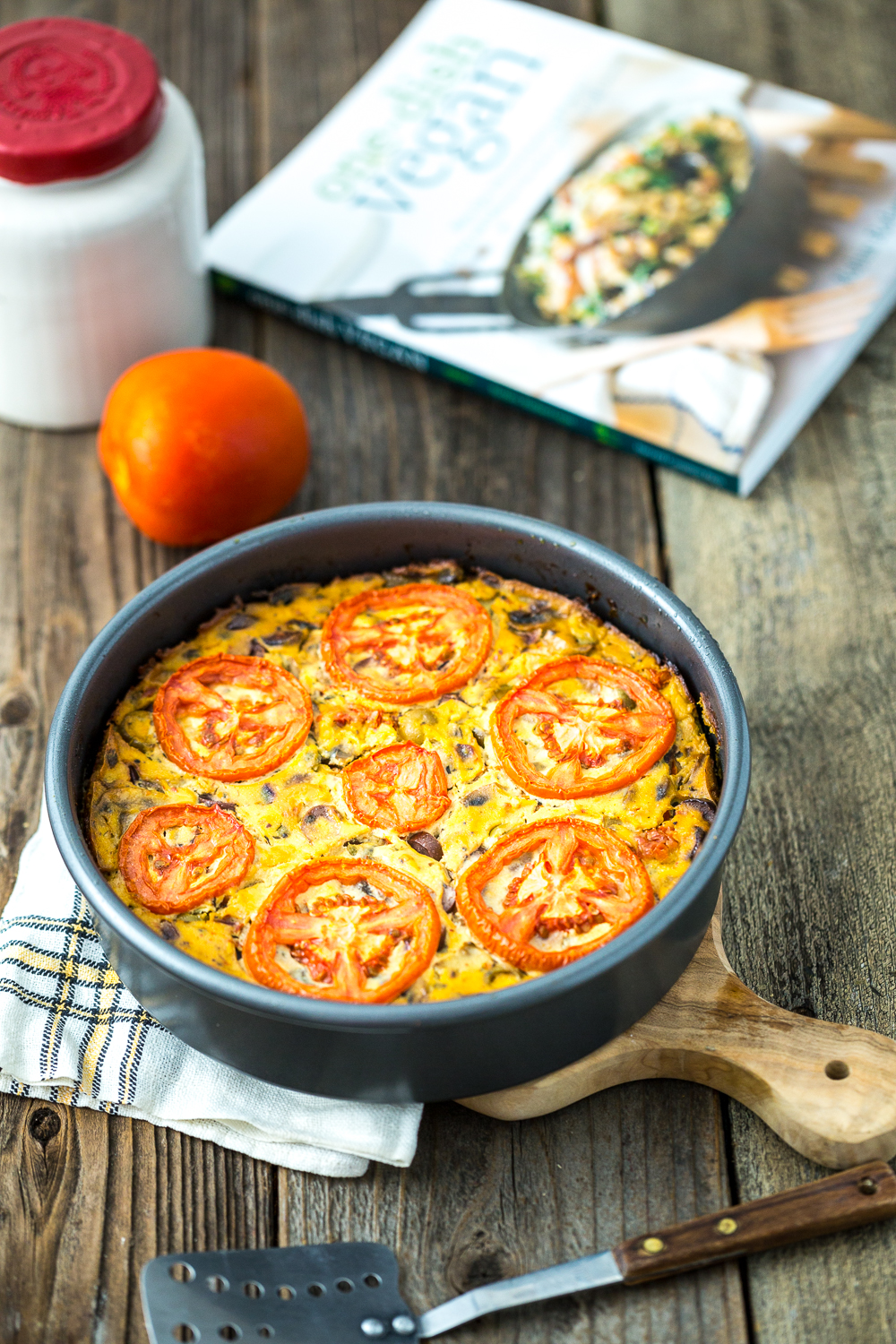 Frittata Puttanesca
One-Dish Vegan
Recipe © 2013 by Robin Robertson and used by permission of The Harvard Common Press
Gluten-free | Serves 4
The bold flavors of pasta puttanesca translate beautifully into this vegan frittata. It's great for brunch or dinner, either served on its own or accompanied by toasted Italian bread and a crisp green salad.
Ingredients:
1 pound firm tofu, well drained and blotted dry
3/4 cup vegetable broth
2 tablespoons dry white wine
1 tablespoon freshly squeezed lemon juice
1/4 cup nutritional yeast
1 tablespoon cornstarch or tapioca starch
1 teaspoon garlic powder
Salt and freshly ground black pepper
1/3 cup chopped reconstituted or oil-packed sun-dried tomatoes
1 tablespoon olive oil or 3 tablespoons water
5 scallions, minced
8 ounces white mushrooms, thinly sliced or chopped
1/2 teaspoon dried thyme
1/2 teaspoon dried basil
1/3 cup pitted kalamata olives, halved
1/3 cup pitted green olives, halved
1 tablespoon capers, chopped if large
1/2 cup shredded vegan mozzarella cheese (optional)
1 medium-size tomato, chopped
2 tablespoons chopped fresh basil or Italian parsley
Directions:
1. Preheat the oven to 375°F. Lightly oil a shallow 1 1/2‑quart baking dish.
2. In a food processor or high-speed blender, combine the tofu, broth, wine, lemon juice, nutritional yeast, cornstarch, garlic powder, and salt and pepper to taste. Add 1 tablespoon of the sun-dried tomatoes and process until smooth and well blended. Set aside.
3. Heat the oil or water in a large skillet over medium-high heat. Add the scallions, mushrooms, thyme, dried basil, and salt and pepper to taste, and cook for 3 to 4 minutes. Stir in the remaining sun-dried tomatoes, both kinds of olives, and the capers.
4. Spread the cooked vegetable mixture evenly in the bottom of the prepared baking dish. Add the reserved tofu mixture, stirring to combine all of the ingredients, then spread the mixture evenly. Sprinkle on the vegan cheese (if using) and tomato. Bake until firm, golden brown, and slightly puffed up, about 40 minutes. Sprinkle with the fresh basil, cut into wedges, and serve hot.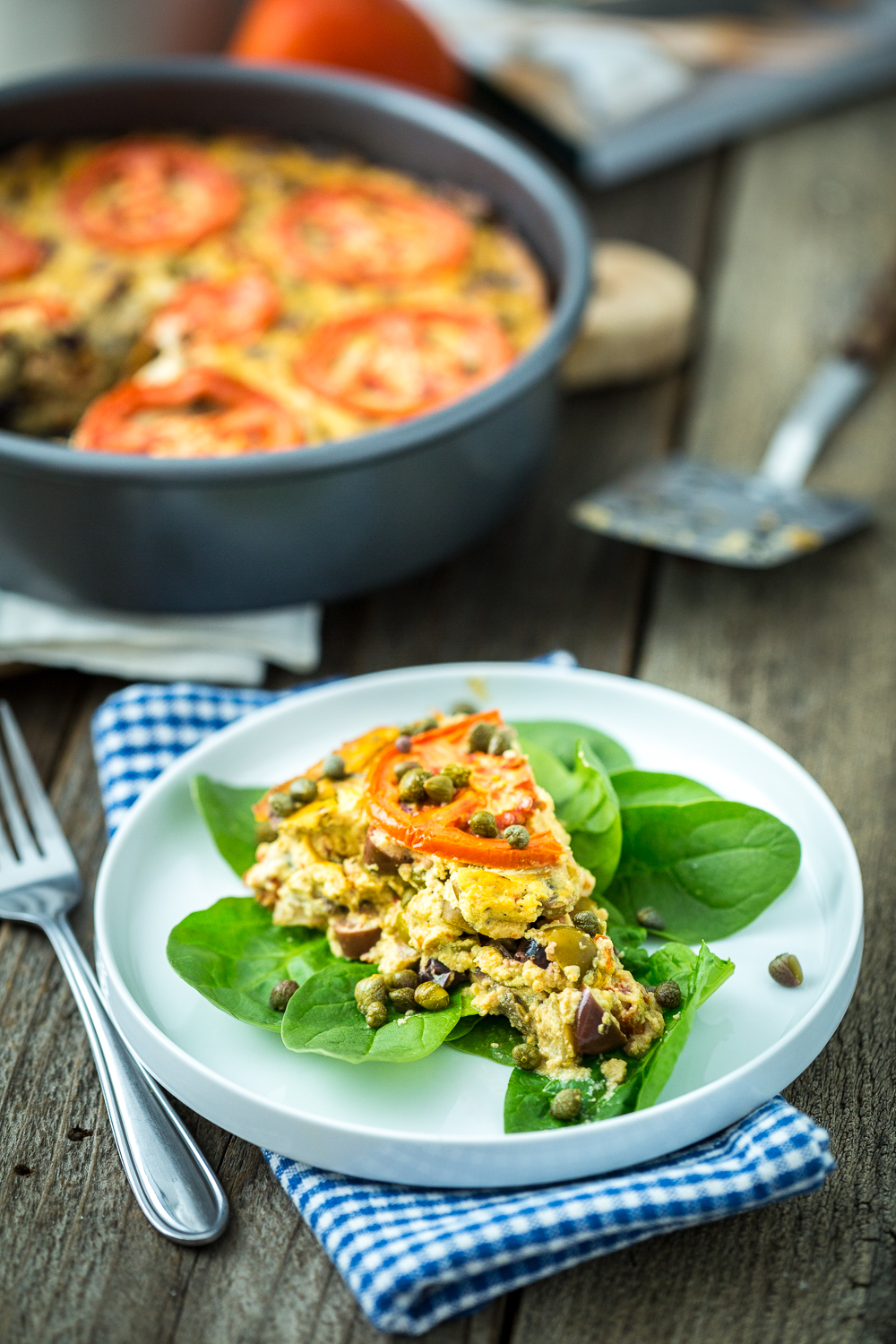 Not only has Harvard Common Press been kind enough to share the recipe for this dish, they're also letting me give away one copy of One-Dish Vegan! The giveaway will run until 11:59pm on 11/21/13 and is open to U.S. residents only. Please use the box below to enter.

Thank you so much to Robin Robertson for creating another awesome book and thank you to Harvard Common Press for letting me share it! Also, in honor of World Vegan Month, Robin is running a "30 Days of Vegan Cooking" campaign. Every day this month, she is sharing a recipe from the new release of Vegan Planet. You can follow along on her blog and Vegan Planet's Facebook page.
Photography by Chris Miller