I never thought I'd be that girl who used a slow-cooker.  Now, after the last couple weeks, with the help of best-selling author, Robin Robertson, my slow-cooker and I have formed a pretty tight bond.
When Harvard Common Press contacted me to review the newest cookbook from author of 19 other vegetarian and vegan cookbooks, Robin Robertson, I was thrilled!  Her newest book, being released in early October, is Fresh from the Vegan Slow-Cooker, 200 inspired, ultra-convenient, and completely animal free one-dish recipes.  As a fan of Robin's blog, I was extremely excited until I remembered: I didn't have a slow-cooker.  I had toyed with the idea of getting an inexpensive one to cook beans with, but the lack of storage space in my little kitchen prevented me from doing much more than thinking about it.  I decided that this email from HCP was a sign that it was time for me to start slow-cooking things, so I quickly ordered an inexpensive slow-cooker and while I waited for my newest toy, I read through Robin's introduction to slow-cooker basics.  By the time it arrived, I was ready to be that girl.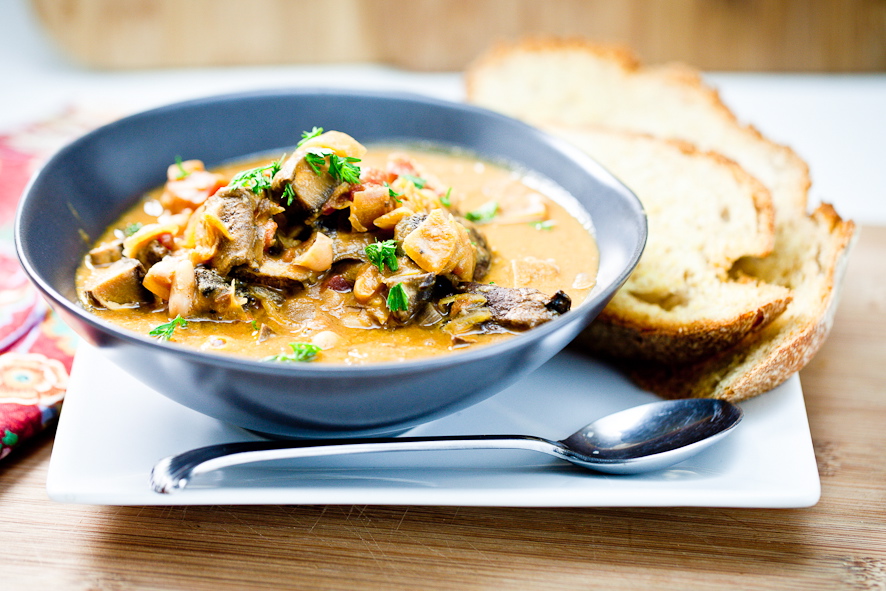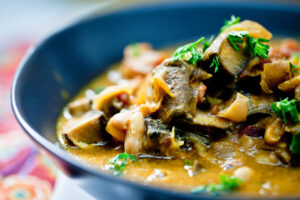 I started with cooking some beans, following her recipe for Basic Beans (page 104).  I love how thorough Robin was for slow-cooker newbies, like myself, making sure to include instructions on soaking, along with many other helpful hints.  I chose to cook Great Northern White Beans (because I had them in mind for another one of Robin's recipes) overnight, and I couldn't have been more thrilled with how easy it was.  Set the heat level, set a timer, and go about your business (which, for me, was sleep).  Now that I had a ton of cooked beans, I was ready for the next recipe: Portobello and White Bean Goulash (page 95).  When looking for recipes to try, this one caught my eye because the list of ingredients read like a veritable who's who of Kristy's favorite ingredients: Portobello, Sauerkraut, White Beans, Dry White Wine.  How could it not be good?  I knew immediately that it was going to be the first thing I made.  Again, this recipe was so easy to prepare.  It was about 10 minutes of preparations before my goulash was in the cooker and making my house smell like a Hungarian Heaven.  The recipe called for serving it over noodles, but since we're not big on pasta, we chose to serve it with some crusty french bread.  After devouring trying it, I can safely say: There is nothing that compares to a steaming bowl of hearty white bean stew, every bit filled with big chunks of portobello mushroom.  This is a type of comfort food I can get on board with!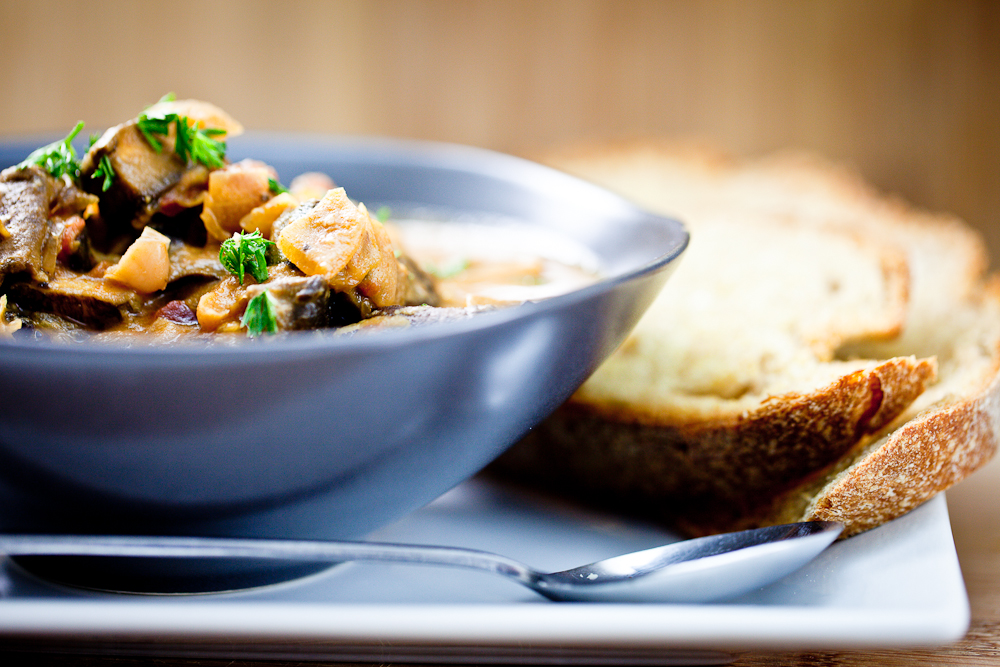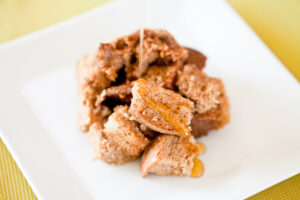 I wanted to try a sweet recipe as well, and after perusing Robin's list of mouthwatering desserts (Chocolate Truffle Cake, Chocolate-Peanut Butter Cheesecake, Pumpkin-Oatmeal Bars), I decided on a breakfast recipe: French Toast Bread Pudding (page 286).  French Toast is one of my step-daughters favorites and something my stepson will never touch.  Making it in bread pudding form (and informing him that there was cinnamon in it), seemed like a great way to get him to try it.  I prepared the cubes of bread and the sauce the night before, so all I had to do was put them in the slow-cooker for an hour.  The time I normally would have spent cooking was spent taking a shower, walking the dog, and setting the table.  For the first time in a long while, the whole family had the same exact thing on each of our brunch plates.  There was nothing but kudos all around!  I love that the sauce is made with silken tofu, turning this decadently delicious dish into a filling meal as well.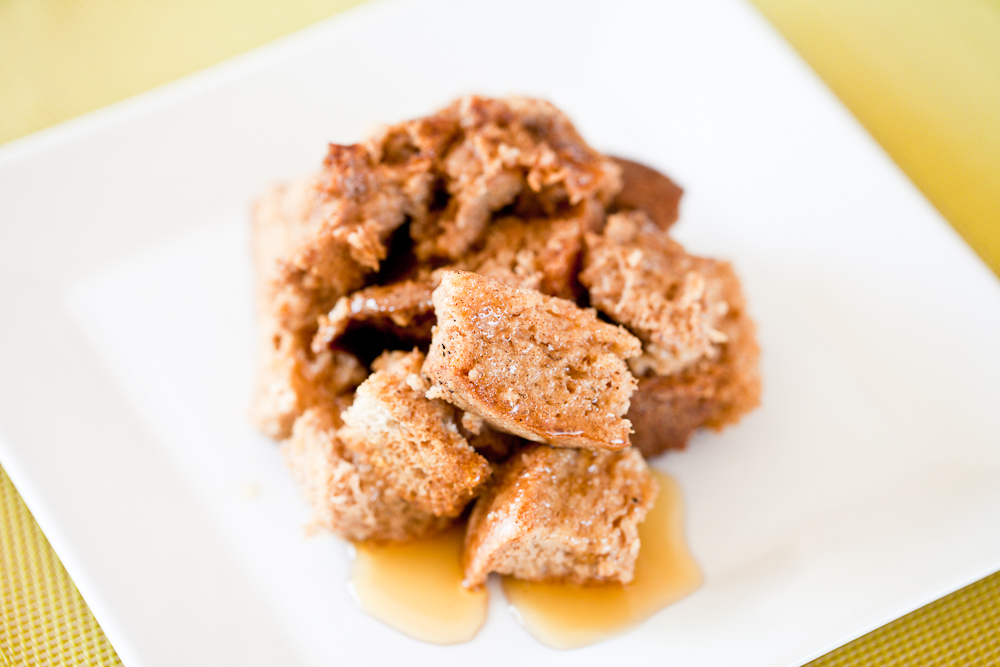 Another thing I really admired about this cookbook was that amongst the 200 recipes for appetizers, soups, stews, various condiments, main dishes, breakfasts, breads and desserts , there were also recipes for vegan kitchen basics.  I made Robin's Slow-Cooker Seitan (page 136) because it's been awhile since I've taken the time to make my own.  This recipe was so easy and the seitan (unpictured because, frankly, seitan is not so pretty by itself) was perfect, ready to added to whatever recipe my heart desires.  I am looking forward to spending much more time with this cookbook and my slow-cooker, proudly being that girl.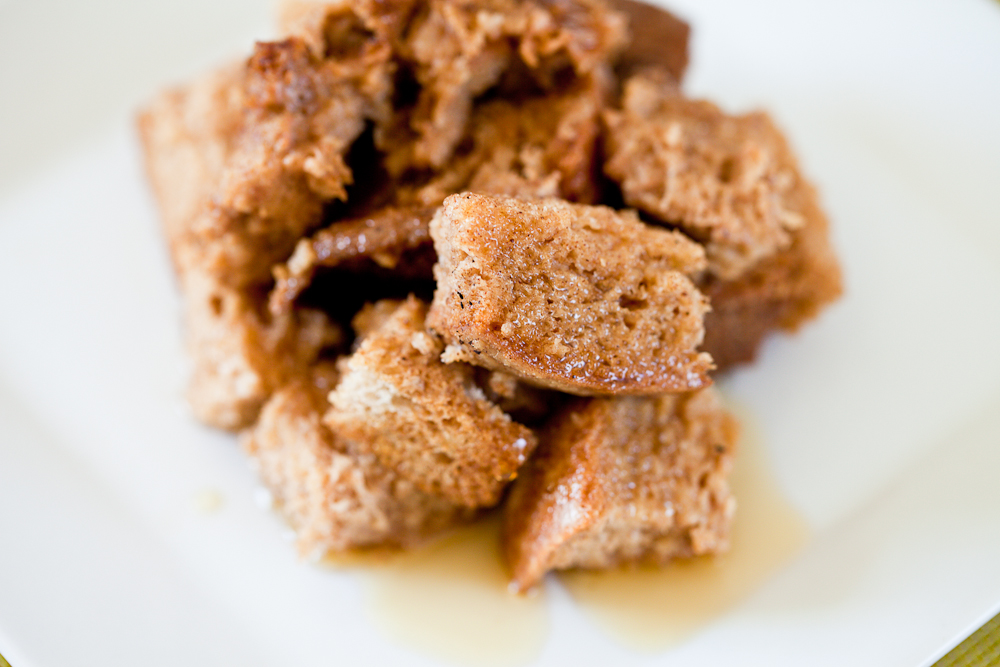 Are you all ready to bring some convenience to your kitchen?  The publishers were kind enough to give me two copies of Fresh from the Vegan Slow-Cooker to giveaway to a couple of my incredibly awesome readers!  You have through Friday, September 21st to enter.  To enter, you can:
Leave a comment, telling me what recipe you want to try in your slow-cooker.
Subscribe to Keepin' It Kind's RSS Feed.
Like Keepin' It Kind on Facebook.
Do a post about this giveaway on Facebook (You can do this once per day and get another entry each time).
Follow Keepin' It Kind on Pinterest.
Pin a picture from this review, with "Fresh from the Vegan Slow-Cooker- Book Review & Giveaway" in the description (You can do this once per day and get another entry each time).
Thank you again to the folks at Harvard Common Press and Robin Robertson for this wonderful opportunity!  Good luck, my friends!
Disclaimer: Harvard Common Press gave me this book, but the opinions are my own.
Love animals? Help support Farm Sanctuary's mission to protect farm animals from cruelty! Keepin' It Kind's goal is $500, but we can't do it alone! Together, we can make a real difference for farm animals everywhere. Donate today!  Learn more about Why I am Walking for Farm Animals and join our team!
 Unless otherwise stated, photography by Chris Miller