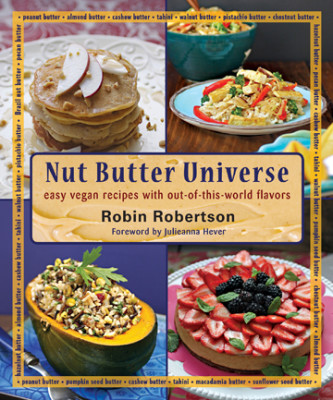 When Dianne Wenz, Veggie Girl herself, contacted me to do a review of Nut Butter Universe, Robin Robertson's newest cookbook, I could not say no.  Nut butters are probably one of my most favorite ingredients in my kitchen so an entire cookbook revolving around them sounded like a fantastic opportunity.
I'm sure that for most of you, Robin Robertson needs no introduction.  She is probably one of the most prolific vegan cookbook authors around.  I loved doing a review of her last book, Fresh From The Vegan Slow-Cooker, and still go to that book every time I want to put my slow-cooker to work.  Robin's recipes have never failed me.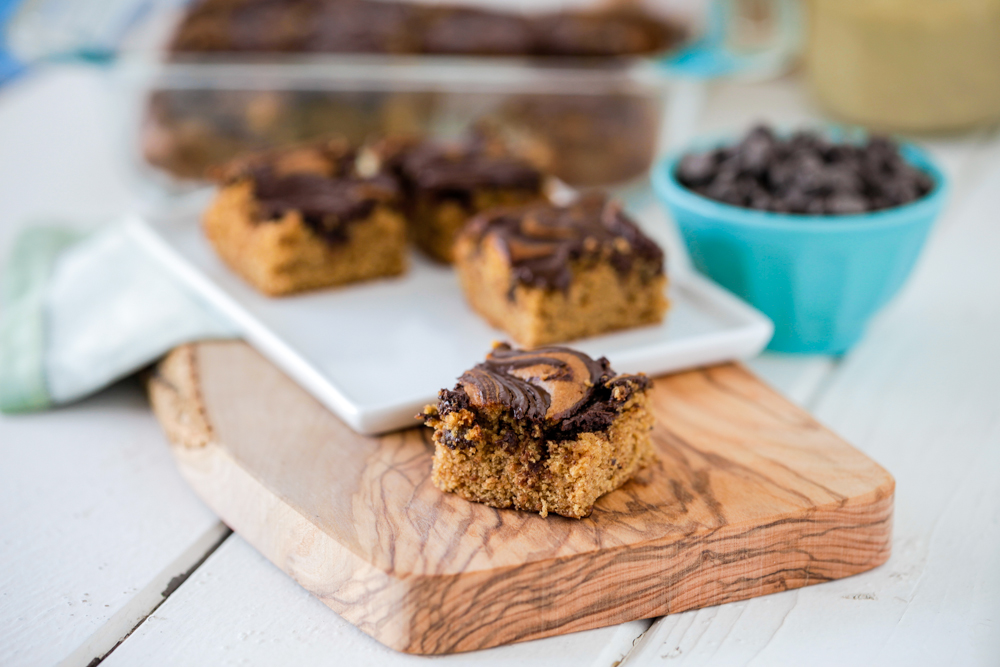 When Nut Butter Universe arrived in the mail, I stopped whatever it was that I was doing and sat down to dig in.  I must have ear-marked thirty different recipes to try.  The book is bursting with recipes putting this wonderful kitchen staple to good use.  There are recipes calling for every type of nut butter you can imagine, but don't be worried about trying to hunt them down in the store- Robin provides and overview on how to make basic nut butters as well as other uses for nuts, like cashew cream or nut-based mayo for example.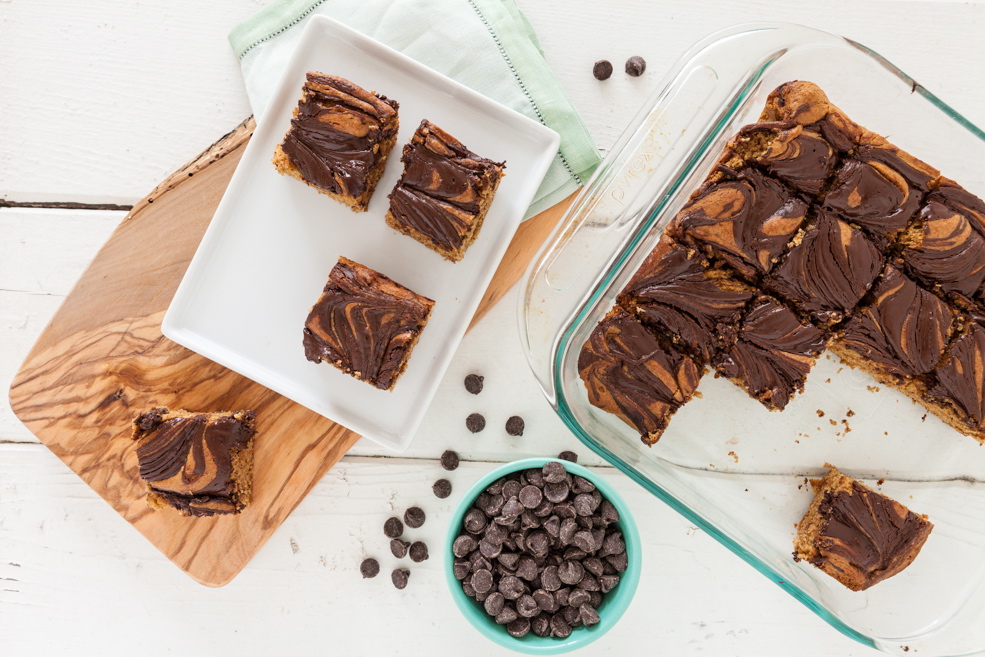 Unable to make a decision, I decided to wait until the day I'd set aside for recipe testing to see what I felt like making.  That morning, I thumbed through the different recipes I'd bookmarked:  Roasted Sweet Potato Salad with Almond Butter, Sun Butter Macaroni Pie, Chocolate-Hazelnut Panini Sandwiches, and even Peanut Butter Doggy Treats, just to name a few.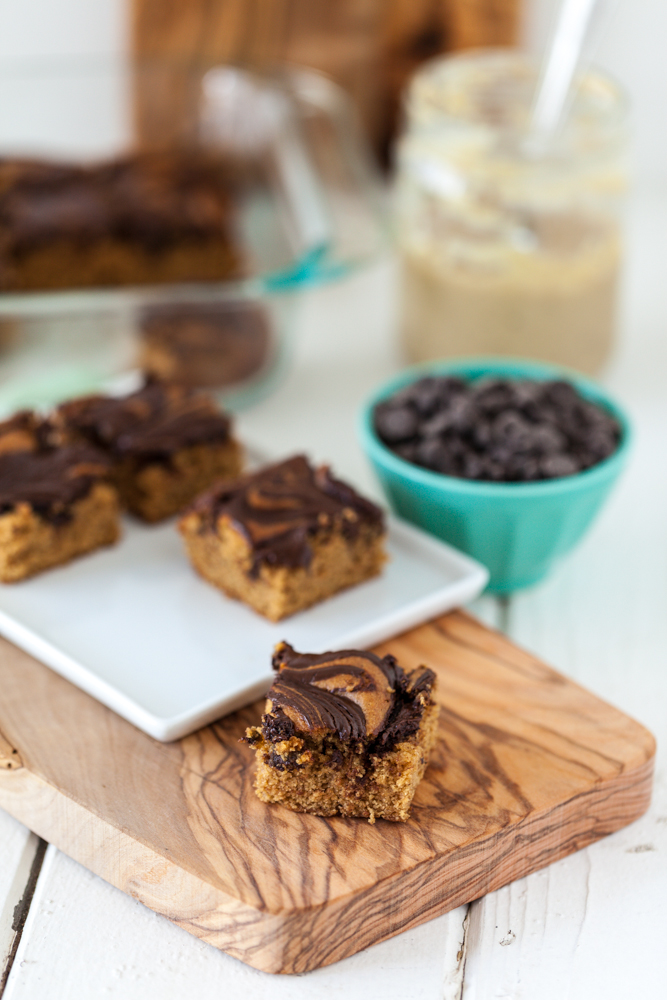 Then one title caught my eye: Nut Butter Fantasy Brownies.  With a word like "fantasy" in the title, how could I not make them?  Off to the kitchen I went.  I got more and more excited as this dish came together.  The blend of nut butter (I used a peanut cashew flaxseed butter that I'd made the day before) and banana was divine.  I was captivated by the marbled chocolate on the tops of the brownies as I put them in the oven.  About 5 minutes before it was to come out of the oven, Sophia, my step-daughter (and maybe the biggest chocoholic in the family), asked "What is that beautiful smell?"  I said "They're dog treats.  You won't want any. Just wait five minutes and you'll find out!"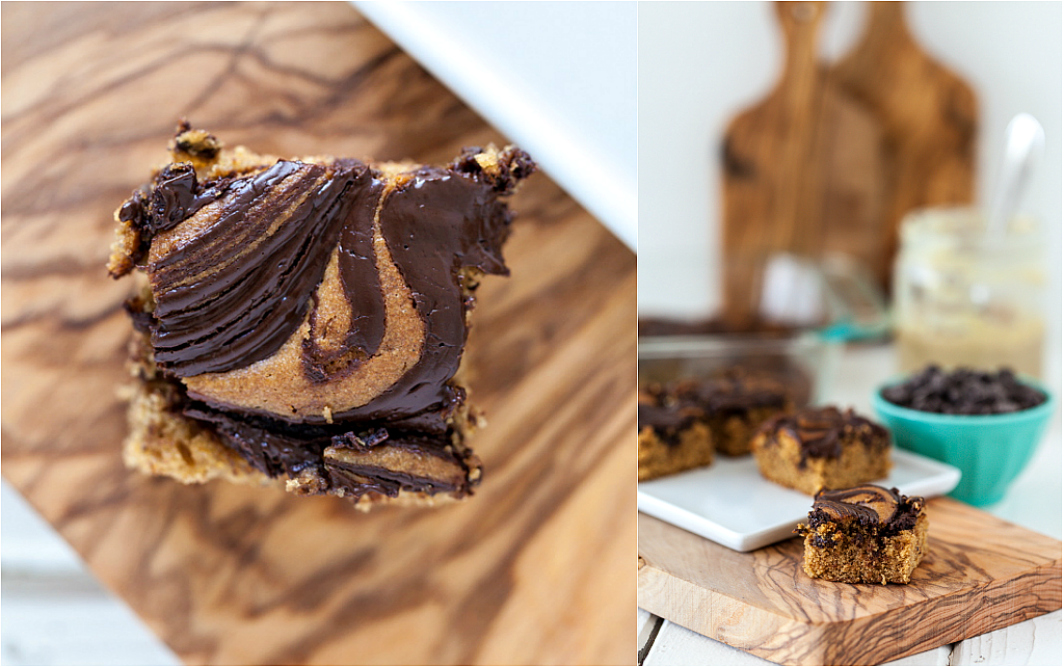 Let me start by saying this: These brownies should be illegal.  Nothing should taste this good (Does that phrase even make sense?).  After they'd cooled and the pictures had been taken, we each tried a piece.  To say that we were all "wowed" would be an understatement.  The only change I made to the recipe was to decrease the sugar by 1/4 cup and use coconut sugar instead of regular sugar and it was perfectly sweet for us.  The recipe also says that gluten-free flour could be used instead of regular flour, so I used gluten-free flour instead and nobody could tell the difference.  These babies are so moist and flavorful and the chocolate swirled into the bars is just heavenly.  I will for sure be making these again and I can't wait to dig into some of the other recipes in the book as well!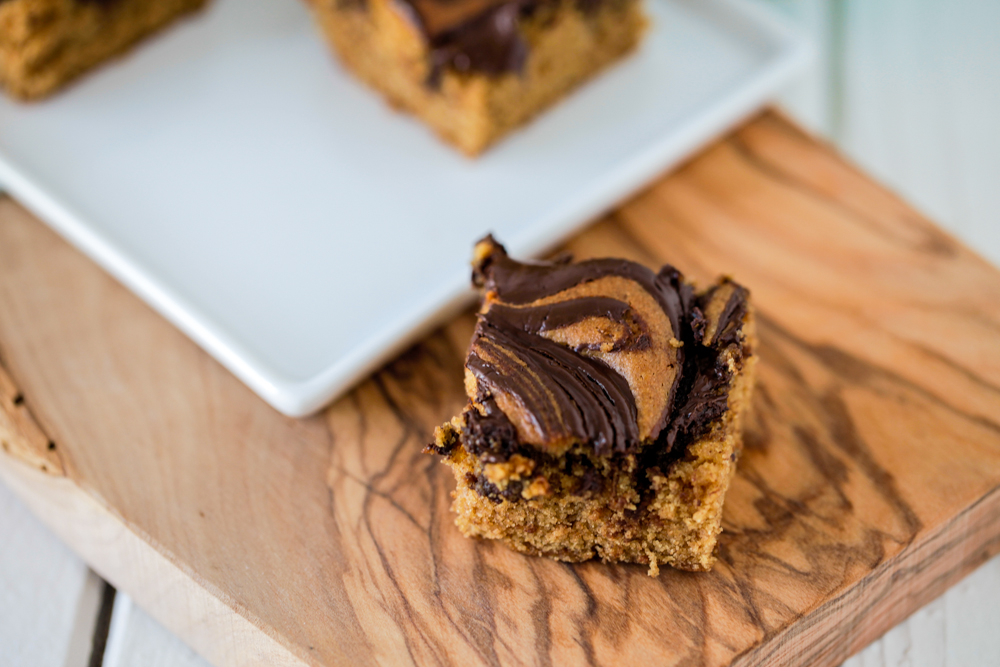 Another recipe from Nut Butter Universe that I'm dying to try is the Black Bottom Peanut Butter Freezer Pie.  I'm waiting for a special occasion when I'll have plenty of people to share with (in other words, I don't trust myself to be alone with this pie).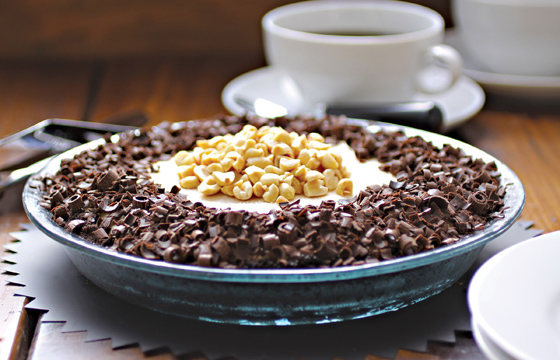 black-bottom peanut butter freezer pie
Ingredients:
Crust
1 1/2 cups vegan chocolate cookie crumbs
1/4 cup vegan butter, melted
Filling
1 quart vegan vanilla ice cream, softened
3/4 cup peanut butter
1/4 cup chopped peanuts
1 cup chocolate curls
Directions:
Crust: Lightly coat a 9-inch pie plate with nonstick cooking spray.
In a medium bowl, combine the cookie crumbs and the butter until well blended. Transfer to the prepared pan and press the crumb mixture onto the bottom and sides. Set aside.
Filling: In a large bowl, combine the ice cream with the peanut butter, mixing until well blended. Spoon into the prepared crust. Freeze for 4 to 6 hours or overnight.
When ready to serve, let the pie sit at room temperature for 5 minutes. Sprinkle the chopped peanuts in the center of the pie and the chocolate curls along the outer edge.
Serves 8
From Nut Butter Universe by Robin Robertson. ©2013 Robin Robertson. Used by permission from Vegan Heritage Press. Photo by Lori Maffei.
NOTE: THIS GIVEAWAY IS NOW CLOSED (3/21/13). And very soon, one of you lucky readers will be able to give these recipes a try too!  Vegan Heritage Press has been kind enough to offer one copy of Nut Butter Universe to give away to one of my readers.  To enter, simply leave a comment telling me what your favorite type of nut butter is (Be sure to note that you did in the entry box below).  For additional entries, follow the instructions in the box below.

Disclaimer: I was given this book to review, but the thoughts and opinions are my own. 
Photography by Chris Miller