I like the physical act of eating food and I like to do intense work-outs daily.  It is for these two reasons that I have never considered myself a juice cleanse kind of person.  I like drinking juices, especially if they're green, but the thought of juice being my only source of energy both depressed me (because I wouldn't get the satisfaction of eating food) and made me concerned that, since I work-out so much, I would be ravenous the entire time.  I just wrote off cleanses altogether, thinking they just weren't for me.
Then one day, Amy, a Joulebody representative, contacted me and offered me a 3-Day Cleanse to try.  Extremely skeptical, since I was so anti-cleanse, I perused their website.  The first thing that caught my eye was that their cleanses don't just include juice, they include food as well!  And energy bars! And it's all organic, plant-based and gluten-free!  Then, they also give you a list of foods that you can snack on if you're still hungry (raw nuts, green apples, carrots, hummus, and more).  Feeling deprived is not an option with this cleanse.  My interested was piqued.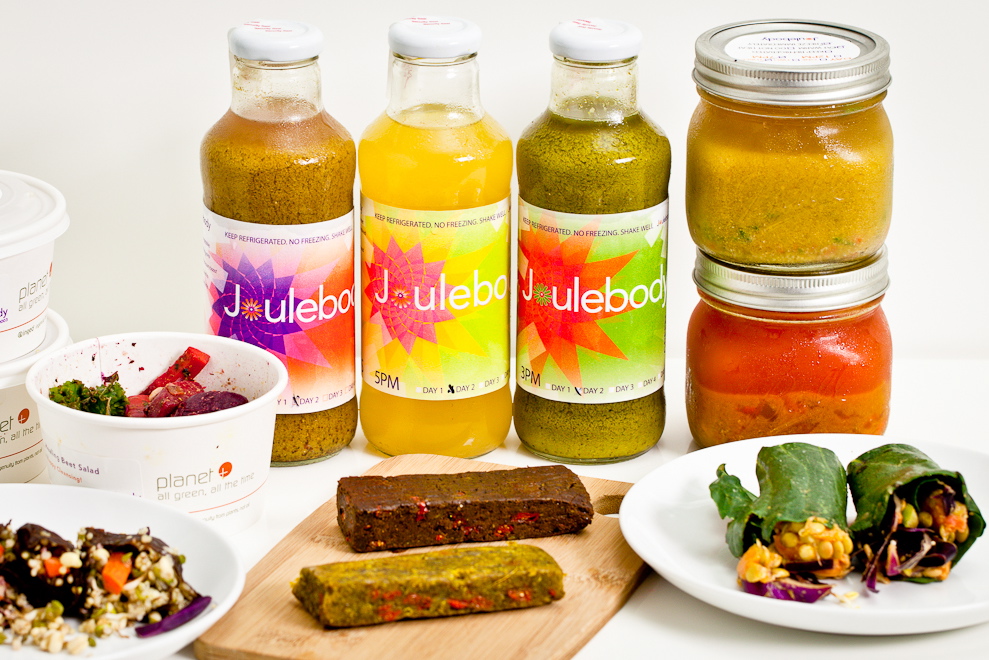 Joulebody works on the understanding that it is healthier to cleanse your body by helping your  body naturally detoxify, rather than "starving it into submission."  They have designed a menu consisting of extremely nutrient-dense whole foods that help your liver and kidneys do what they do best: cleanse the body.  Their programs are geared to kickstart your body, naturally, into a healthier lifestyle.  If you have a tendency to overeat, their "cleanse" will help you adjust to smaller portion sizes without feeling like your denying yourself.  Their juices and foods are specially designed to help "reset" your body and decrease your appetite for sugar, caffeine, or other things people have a tendency to over-do it with, all while cleansing your digestive system.  For those looking to transition to a vegan and/or whole-foods diet, Joulebody's various plans will help take the guesswork out of what can be a confusing time, and help you adjust to your healthier new lifestyle.
After researching Joulebody, I really began to like this company, what they stood for, and what they were doing.  Since they were offering me a 3 day cleanse to try, I decided to take them up on their offer.  Their incredible customer service department helped me set up the shipping, and since I was not going to be home during the day, they arranged for it to go to a Fed-Ex center by my house so I could pick it up on my way home, and included extra icepacks to keep it cool.  When I got home and opened my package, It was like Christmas morning.  There were small meals and soups, labeled for which day and what time I was to consume it, as well as three energy bars, and  9 bottles of juice (3 for each day).  I was so thrilled that I  would not have to prepare/pack my lunch and snacks for work for the next few days.  It was all done for me.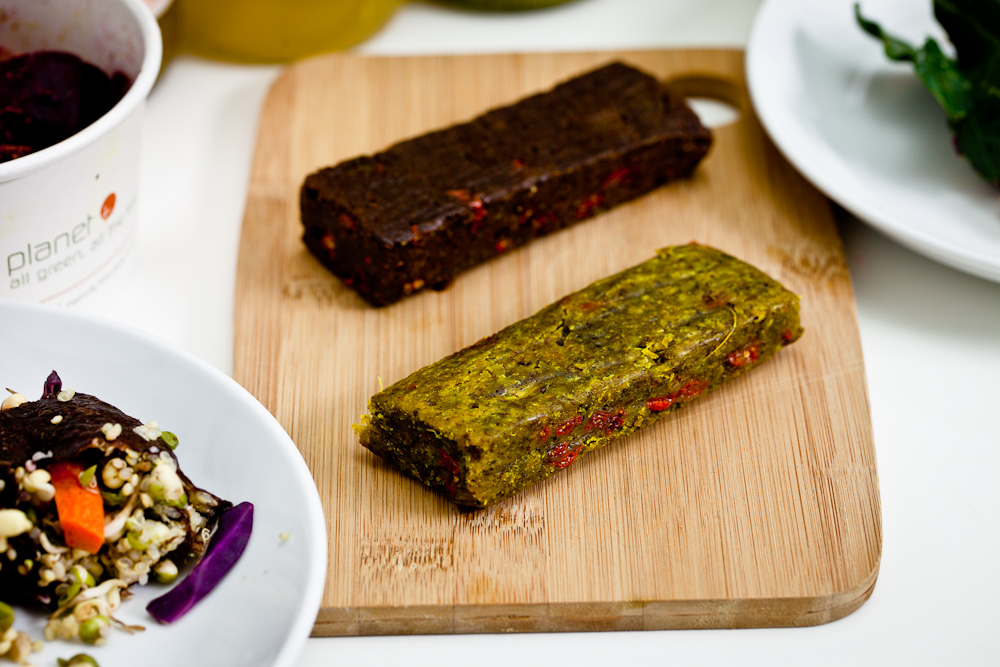 I received 2 ginger bars and 1 brownie bar, so for my early morning breakfast, before the gym, I would have 1 bar.  Both of the bars were great.  The ginger bar is definitely "gingery" but surprisingly not overpowering.  They were pretty good and I loved the little goji berries it had in it.  The brownie bar was incredible and I wished I had more of those.  I wasn't hungry after either bar and was satisfied until I got to work and had my first juice.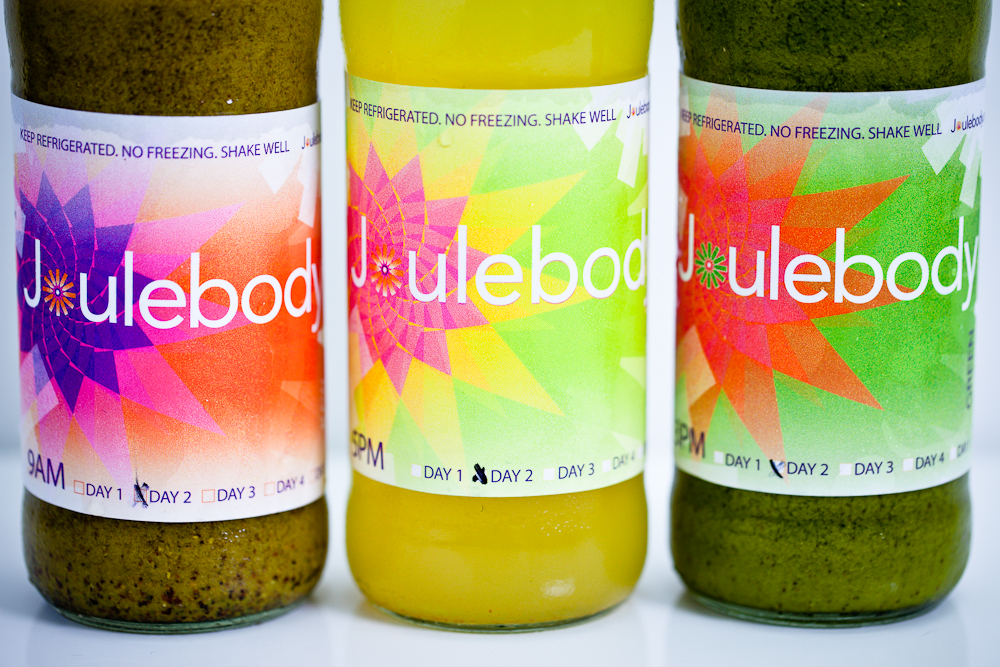 The first juice of the day was good, but on the spicy side, and it was a little jarring that first morning.  Turmeric and cayenne are part of Joulebody's special formula to aid with the cleanse, but it was a little too much for me first thing in the morning.  When I explained that to Amy, who originally contacted me, she explained that it was designed to curb your sugar cravings.  Wouldn't you know that by the third day, it didn't really bother me anymore?  The green juice, at lunch time, was a little harsh, to be honest, but it wasn't bad.  The third juice of the day was very citrusy and I loved it.  It was a great pick-me up after work, during the long drive home.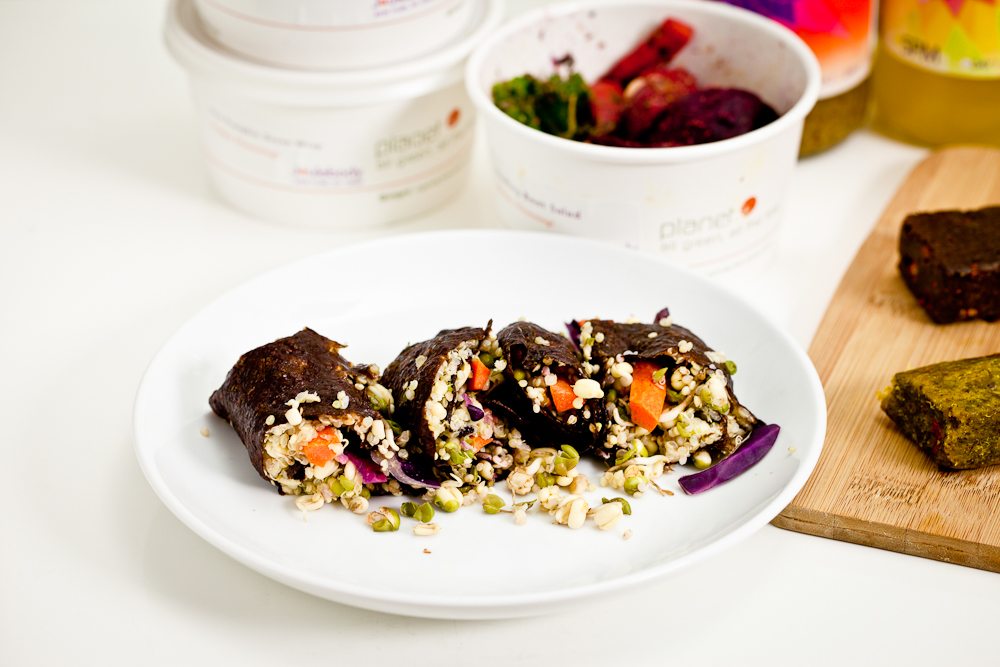 I was skeptical of the food because I've worked for a healthy meal delivery company and the food was good, but tasted processed and bland.  Not Joulebody's food!  I was pleased with each meal that I had.  My first meal (not pictured) was 2 adzuki bean patties and after I'd heated them up and I was eating them, my coworker (a hard-core omnivore) said "I don't know what you're eating, but it smells amazing!"  They were pretty great and definitely one of my favorite meals.  I also received a beet salad which was pretty amazing, a pumpkin collard wrap, and some delicious sushi-type rolls that I forgot the name of (I'm so sorry!).  The soups were probably my favorite meals.  I received a green soup and a vegetable soup and both were just fantastic.  If ever I was still hungry after the meal (they were smaller portions than I'm used to), I would have a handful of raw cashews or an apple.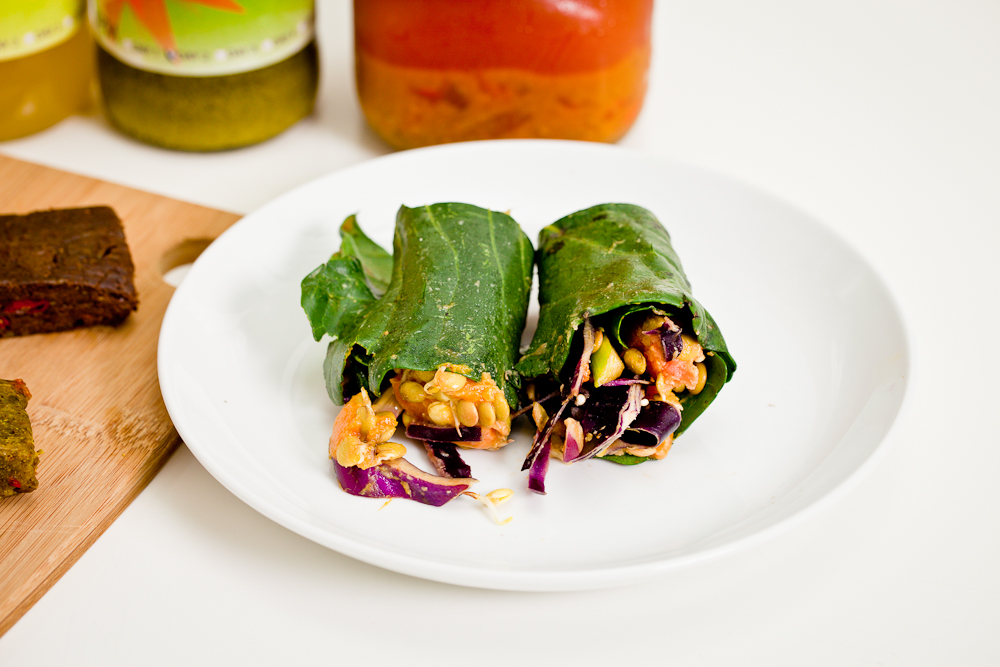 After the three days, I did feel a bit lighter (I don't ever weigh myself) and I definitely felt very healthy.  I slept very well each night, I was less bloated, and it seemed like my skin was a little more "glowy."  I did notice that my appetite had adjusted and now I have less cravings for sugar or coffee.  I am satisfied on (slightly) smaller portions and don't feel the need to snack very often.  I was very pleased with my Joulebody cleanse.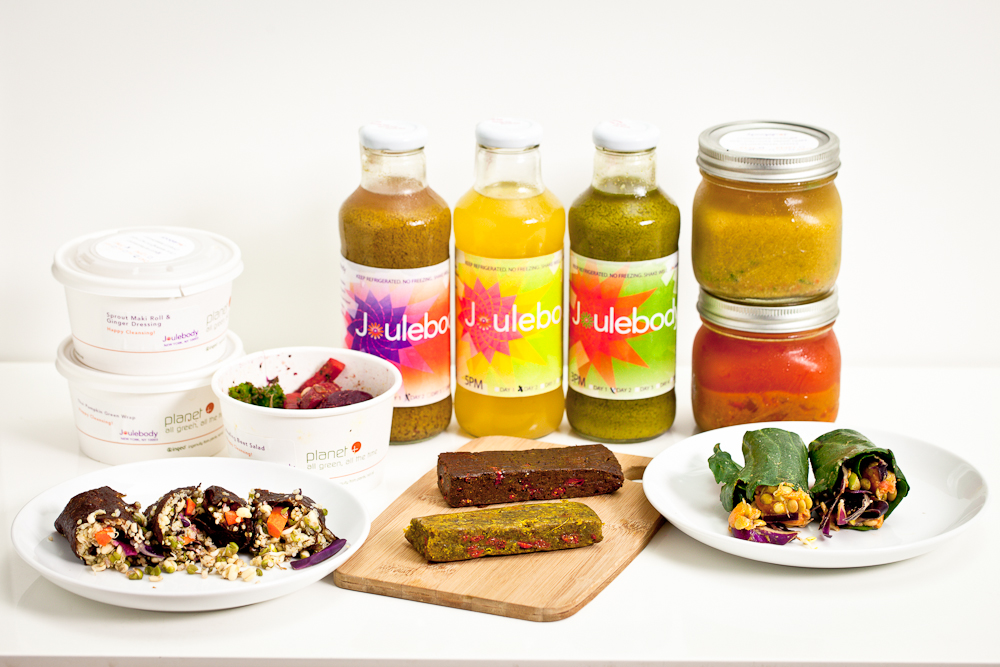 I don't like to do reviews of products I don't really like or that I don't think my readers will benefit from.  This is an expensive program and many of you are perfectly capable of eating healthy, plant-based whole foods within your own budget.  I loved my experience with Joulebody, but I for one could never afford it on my own.  However, Joulebody might be exactly what some of you are looking for: a program that takes all the guess work out of living a healthy plant-based lifestyle and gives your body the kickstart it needs to cleanse and "reset."  I know that transitioning to a vegan diet can be very confusing and tricky.  Trying to figure out how to be vegan and create a "cleanse" for yourself can be even harder.  It is for those readers that I did this review.  I think Joulebody can definitely help you make those adjustments and reach your goals.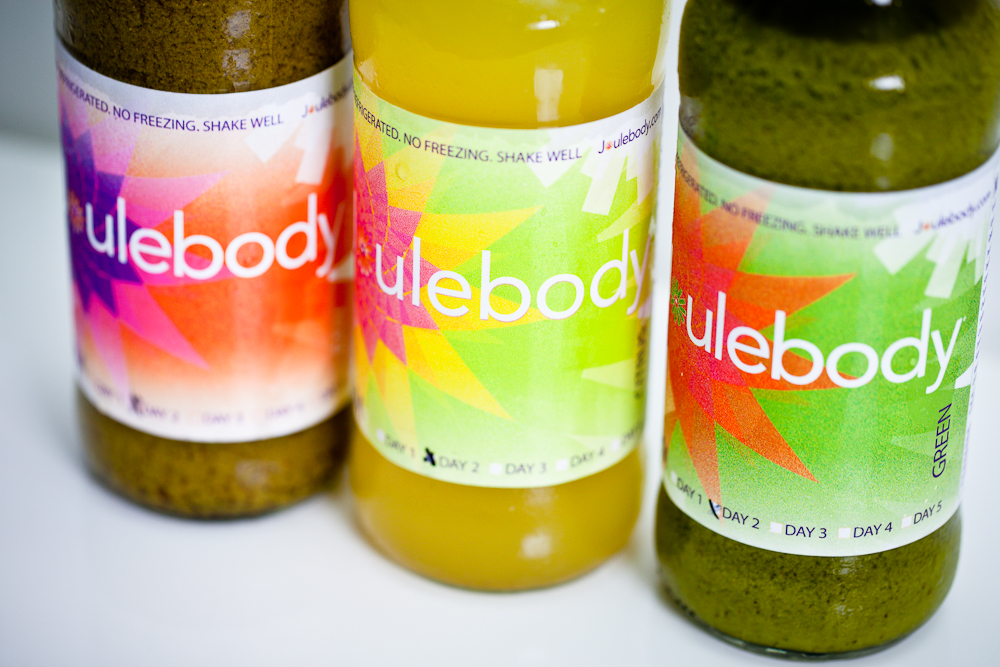 Disclaimer: Joulebody kindly gave me a sample of their product to try, but all thoughts and opinions are my own.
Photography by Chris Miller