I was recently approached to try a new brand of vegan ice cream in hopes that I would write a review about it.  My response: You don't have to threaten me with a good time!
Diane, the owner and creator of Divine Dips Vegan Ice Creme, actually met up with me to give me a box of samples and to tell us a little more about her products.  Diane once owned a custom cake business in Los Angeles for 12 years.  Later on, she gave up gluten and dairy, but didn't want to give up ice cream because she couldn't find a vegan ice cream that she really liked.
I wasn't impressed with what was available on the market, and in all honesty, I felt I could do better. I endeavored to create a frozen dessert that was as rich as premium ice cream, but vegan.  I was playing with combinations and formulations and sending the results to my family.  My sister Denise, an avowed foodie, and lactose intolerant herself, was emphatic with me: "You have to market this.  You HAVE TO MARKET THIS! You are making me mad! How can you have this product and not offer it to the world?"  Thus, Divine Dips was created.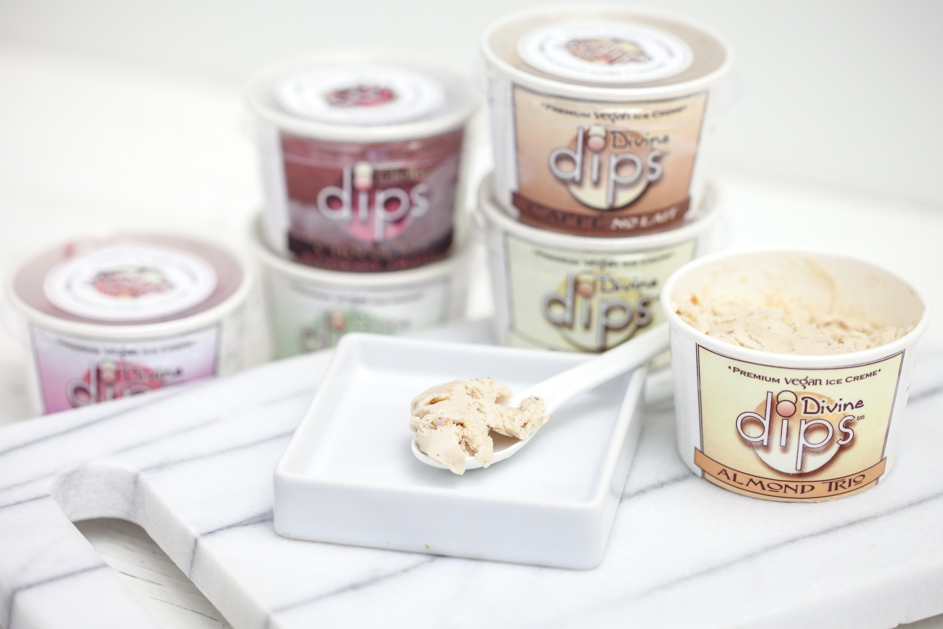 There are currently six flavors of Divine Dips, with four more flavors on the way.  Diane let us try all ten flavors!  All of the Divine Dips ice creams are vegan, gluten-free, and sugar-free (she sweetens all of her ice creams with agave).  The ice creams are "crafted from a blend of organic coconut milk, cashews, almond milk, and other all-natural ingredients."  In fact, all of the flavors contain an average of 12-13 ingredients, all with documented health benefits.  I couldn't wait to dig in.
We started with the six standard flavors: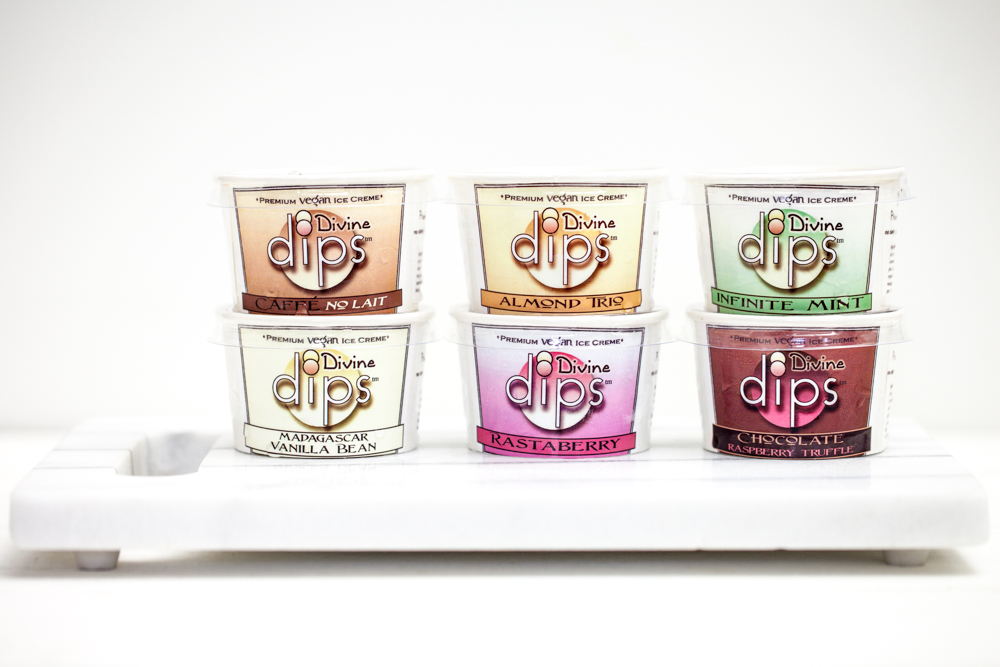 Caffé No-Lait
Chris and I don't really love coffee-flavored ice creams or desserts, but we were both pleasantly surprised by this flavor.  It was very rich and creamy and the coffee flavor was definitely robust, but not overly strong or overpowering at all.  There was no iciness or wateriness that I find common with a lot of coffee-flavored ice creams.  I was surprised with how much I liked this one!
Rastaberry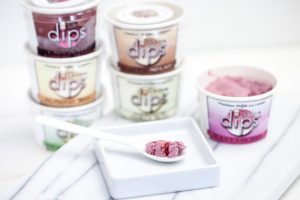 This was another surprise!  I was expecting something very sorbet-like, but instead was met with raspberry-flavored cream with tiny chunks of strawberry throughout.  This one was also a delight.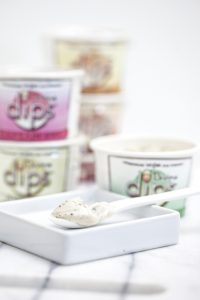 Infinite Mint
I always like chocolate/mint ice cream combinations but if given a choice, I will usually always choose straight-up chocolate.  With that said, I would definitely choose Infinite Mint if it showed up at the imaginary vegan ice cream shop of my dreams.  There is such a perfect balance of peppermint cream and chocolate chunks that neither gets overpowered by the other.  The result is a creamy, decadent chocolate/mint harmony.
Madagascar Vanilla Bean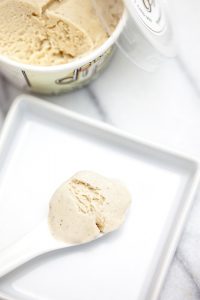 This flavor could also be called Vanilla Heaven.  So complex with the combination of Madagascar and Tahitian vanillas and organic ground vanilla beans throughout, but still so pleasantly simple and delicious at the same time.  Finally- a vanilla that isn't boring or overly sweet, but layered and decadent.  Vanilla lovers- this one is for you.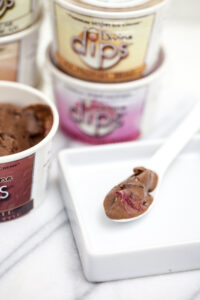 Chocolate Raspberry Truffle
This one is very accurately described as a "chocolate truffle turned inside out."  I should tell you that Chris does not care for chocolate mixed with fruit in most cases (he thinks it's "weird."  I know!  I know.), but he actually chose this flavor as his favorite amongst the standard flavors.  I loved it, but I love chocolate mixed with fruit (or chocolate mixed with anything.  Let's be real, here.).  As with all of the flavors, this one was surprisingly rich and creamy, but perfectly chocolatey with flecks of vegan chocolate and raspberry puree throughout.  This one is just a gold mine of deliciousness.
Amaretto Almond Trio
It should be said that ever since an unspeakable incident in college, I can't stand the taste of amaretto and I have never liked nuts mixed in my ice cream (As a kid, I would eat my mom's rocky road ice cream, leaving only a pile of nuts for her).  I was not looking forward to this flavor at all because the description was "the smooth flavor of amaretto + creamy almond butter + crunchy toasted almonds = and elegant one-of-a-kind sensation."  There was only one part of that equation I liked so I did not go into this trial with high hopes.  I was blown away by the flavor of this ice cream.  It had a very fancy, adult peanut-butter-like flavor while being extremely rich and the toasted almonds were more like flecks and there was just the perfect amount.  I loved this ice cream- it was easily my favorite of the standard flavors.
Then we tried the upcoming trial flavors: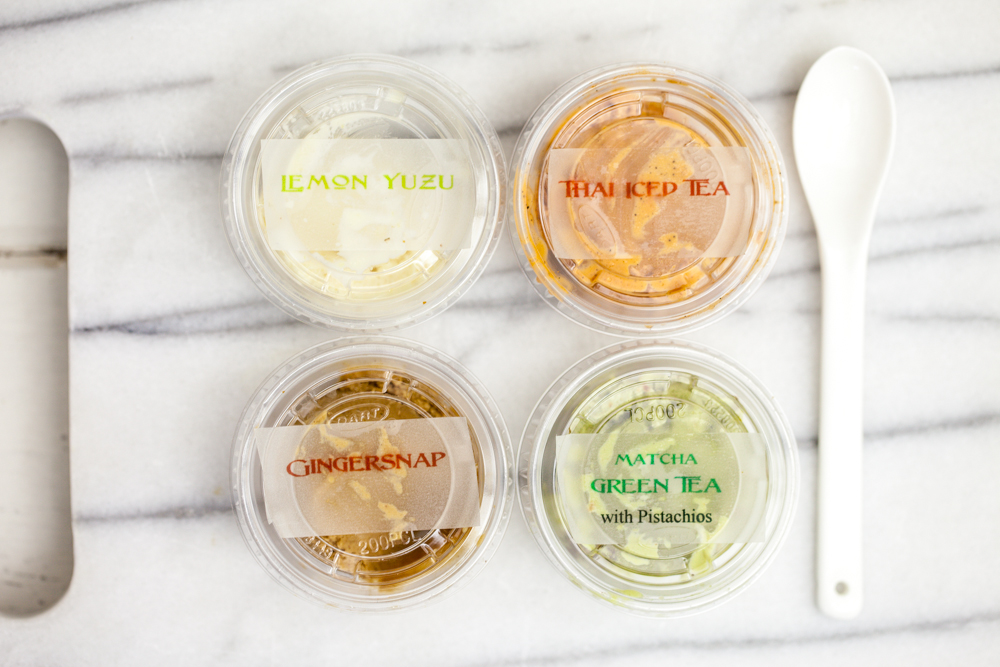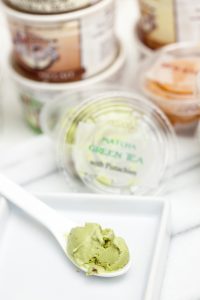 Matcha Green Tea with Pistachio
This one was refreshing and light, yet still pretty creamy, and like the flavor mentioned above- I barely noticed the pistachios
Lemon Yuzu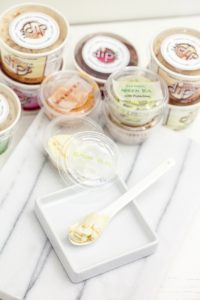 I was expecting a citrus overload with this flavor, but just like the Rastaberry, I was surprised at how creamy and not overpoweringly fruity it was.  It actually reminded me of the Lemon Pastry Cream Girl Scout Cookies (which were my favorite until I got wise and realized that the Thin Mints were the bomb) (Yeah, I said "bomb.").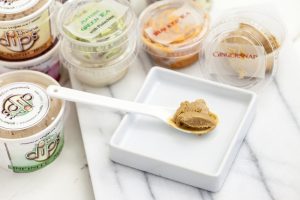 Gingersnap
It tasted like some gingersnap cookie batter got with some ice cream and had a baby and it was AWESOME!  Need I say more?  This one was a huge winner with both Chris and I.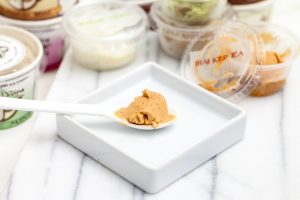 Thai Iced Tea
I did not know what to expect with this flavor.  I thought "Iced Tea ice cream?  Meh."  But this flavor was the best.  THE BEST.  With strong cinnamon and anise undertones, there was something subtly fruity about it while still being super creamy.  I didn't want it to end.  Dianne, if you're reading this- please sell this flavor everywhere.  I will buy all of it!
Overall, I was absolutely stunned by how great this ice cream is!  It is, hands down, one of the creamiest vegan ice creams I've tried and the fact that it is sweetened with agave (no blood sugar spikes/dips) just put it over the top for me.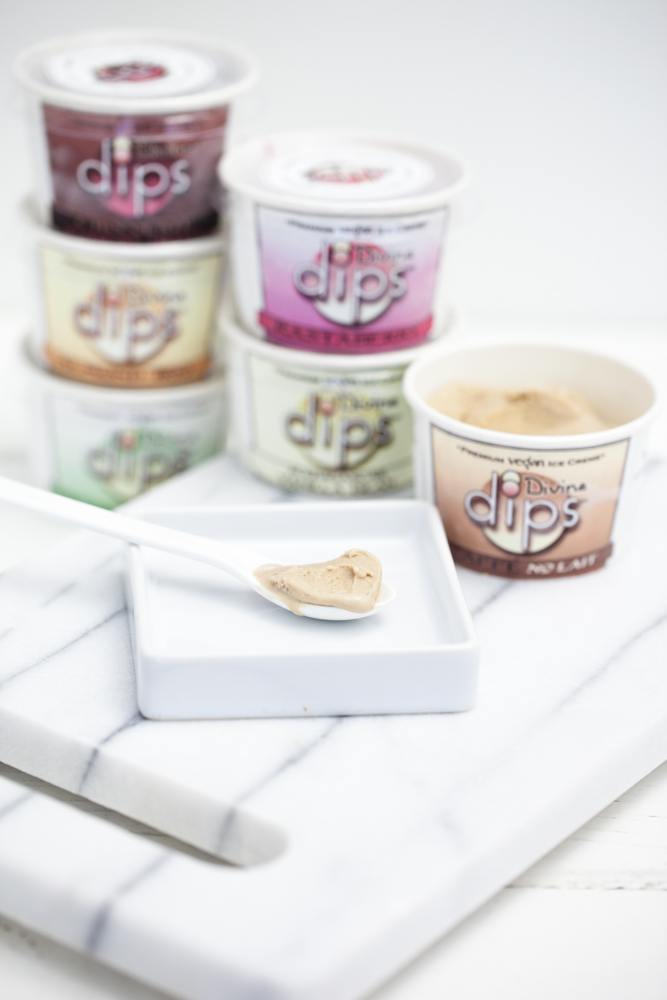 I wish I could share this ice cream with all of you, but here is the sad part:  Divine Dips is a Los Angeles based company and as of right now, it is only available locally.  Recently, Whole Foods approached Diane in hopes of carrying her product, but Diane knew that she wasn't capable of meeting that supply demand yet and had to decline.  In order to be sold nationally, she needs more capitol to be able to produce more ice cream.  Diane is asking for donations in order to get these amazing vegan ice creams sold at a national level.
I love supporting vegan businesses and would love to see Divine Dips grow and prosper because I truly believe that this is some of the best vegan ice cream out there.  Because I so admire what Diane is doing and I'm in love with her ice cream, I'm going to do a little contest (Diane/Divine Dips has not asked me to do this).  For every donation (minimum $10.00) made to Divine Dips between now and February 7th, 2013, you will be entered to win a $25 gift card to either Vegan Cuts or Vegan Essentials- WINNER'S CHOICE (I told you- I LOVE supporting vegan businesses!)!  All you have to do is this:
Leave a comment on the donation page, disclosing that you were referred by Keepin' It Kind (this is so I can verify potential winners).
Leave a comment here telling me that you donated and telling me what flavor you think you will love.
That's it.  Just donate, leave comments, and your name will be entered to win a gift card to your choice of companies: Vegan Cuts or Vegan Essentials.  And hopefully, Divine Dips will soon be sold in a store near you!  Let's make this happen folks!
If you live in the LA area, be sure to hunt down some Divine Dips Vegan Ice Creme.  Thank you again, Dianne, for sharing this incredible ice cream with me- you've got a forever customer.  🙂
Disclaimer: I was given this product to try and review but the thoughts and opinions are my own.
Photography by Chris Miller