I just want to start by saying thank you to everyone for your very kind words yesterday.  They truly warmed my heart and gave me a huge boost of confidence.  I am beyond grateful for the community you readers have created here and the support that you share.  Thank you, thank you, thank you.
I love pretty much all Indian food and have been blessed to try a lot of vegan Indian food in my time.  I have to admit, though, up until I started following the blog, Vegan Richa, I didn't really know the cultural background behind many Indian dishes.  I've always been amazed by the incredible treats she creates for Indian holidays so I'm super excited that she's created an e-book for an upcoming Indian holiday, Diwali.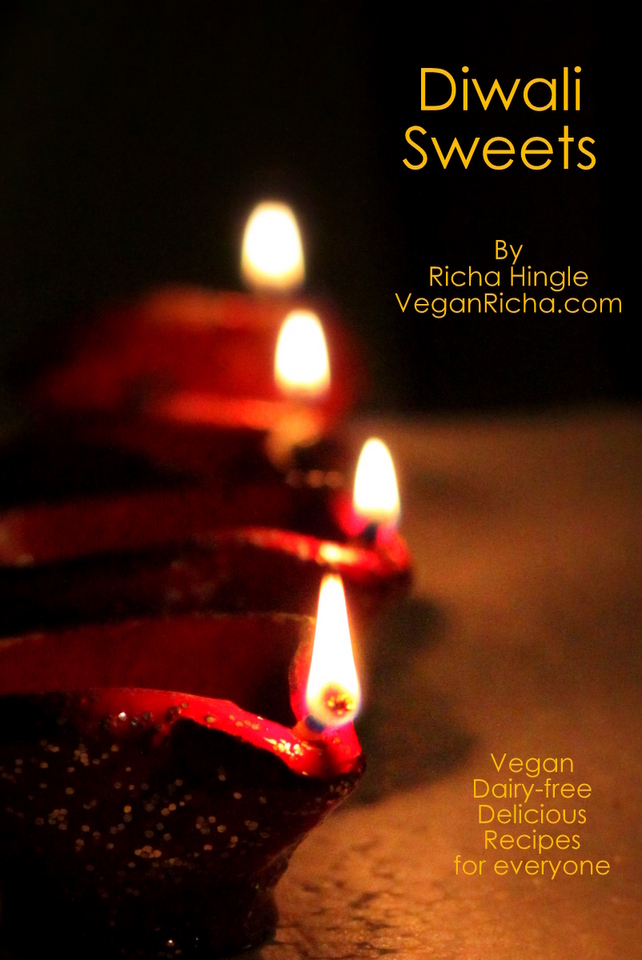 This is how Richa describes the Diwali E-Book:
Diwali, the festival of lights is one of the big festivals celebrated in India and is coming up on November 3. The Sweets and Desserts served for the festival are quite heavily dependent on dairy. Like any major festival or holiday in any country, we all get obsessed with vegan-izing some family favorites. With very few Vegan Indian commercial options in India and almost none in the United states, I try to vegan-ize some of my favorites around the Indian festivals that people can make at home. This year I have a decent collection that I could make into an E-book. 
The names of the sweets and flavors might be new to some, but they are delicious and addictive. I have tried to keep the sweets close to traditional wherever possible, that means a few do have similar oil content as you would find in a ghee laden sweet. A good number of the recipes though are low-fat with no or little refined oil and some also use natural sugars like maple syrup. Gluten-free options are mentioned wherever possible. 
Check out some of the recipes she is sharing: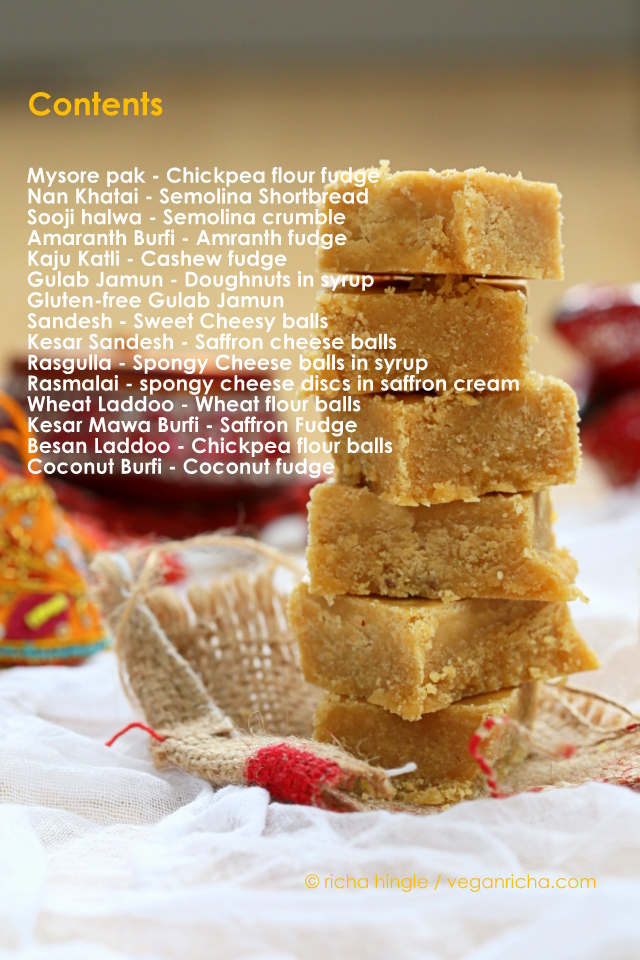 I was absolutely floored by the book.  All of the recipes sound delightful and the photography is stunning (as is all of Richa's photography).  Since I love cookies, Richa was kind enough to share one of the cookies from the book, Nan Khatai Shortbread Cookies!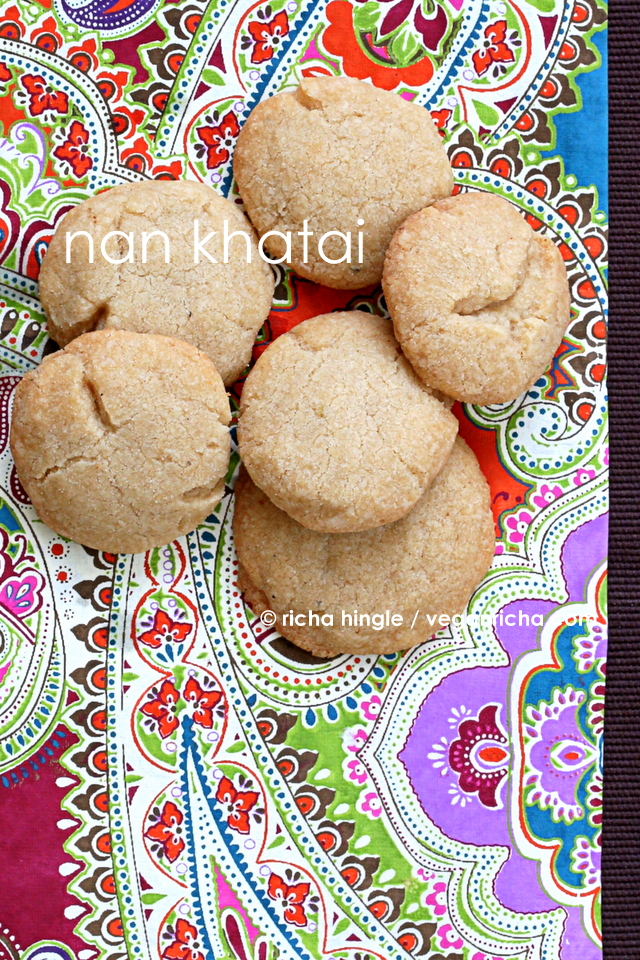 Nan Khatai Shortbread Cookies & a Diwali Sweets E-Book Giveaway!
Ingredients
1/2 cup raw sugar
1 cardamom pod seeds or 1/4 tsp cardamom powder
1/8 teaspoon nutmeg powder
1/8 teaspoon salt
1 Tablespoons organic canola oil
1/4 cup earth balance butter or vegan margarine or melted coconut oil or melted cocoa butter
2 teaspoons non dairy yogurt or cashew cream or coconut milk
1/4 cup fine semolina/sooji
1 teaspoon chickpea flour/besan (optional)
2/3 cup unbleached organic white flour
2 Tablespoons ground pistachios or cashews
1/8 teaspoon baking soda
1/4 teaspoon baking powder
Instructions
Grind the sugar with the cardamom, nutmeg and salt into a fine powder. Add the
oils, yogurt to the sugar and whisk to make a well combined mixture. Whisk the
semolina, baking soda & powder, flour, ground pistachio and chickpea flour together
then add to sugar mixture. Knead to form a dough. Spray just a little water or non
dairy milk to help make the dough only if it is too crumbly.Refrigerate the dough for
an hour. Shape the dough into balls. Press almond slivers or pistachio slivers on top if
desired. Bake in pre-heated 350 degrees F/180 degrees Celsius for 13-14 minutes.
Remove from oven and let sit for another 3-4 minutes before removing from the
sheet. Cool and store in airtight container for a few weeks.
Richa was also generous enough to host a giveaway of the book here!  If you don't win, then you should still go buy it because it's only $5 and the all of the proceeds go to animal rescue organizations.  Tasty treats while helping animals?  Sign me up!  The giveaway will end at 11:59 pm on 10/31.  Use the box below to enter.

Thank you again, Richa for letting me share these cookies and giveaway a copy of your incredible new e-book!
I know I can't wait to try these cookies.  Which recipe sounds most interesting to you?