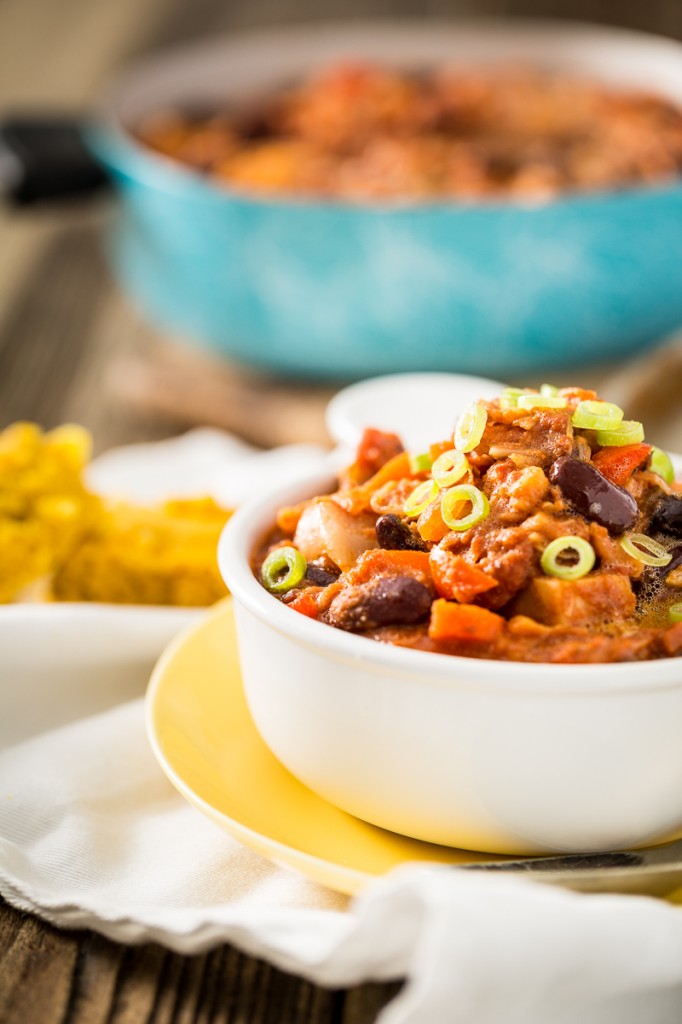 I know some people really like to watch football at Super Bowl parties, but I'm afraid I'm not one of them.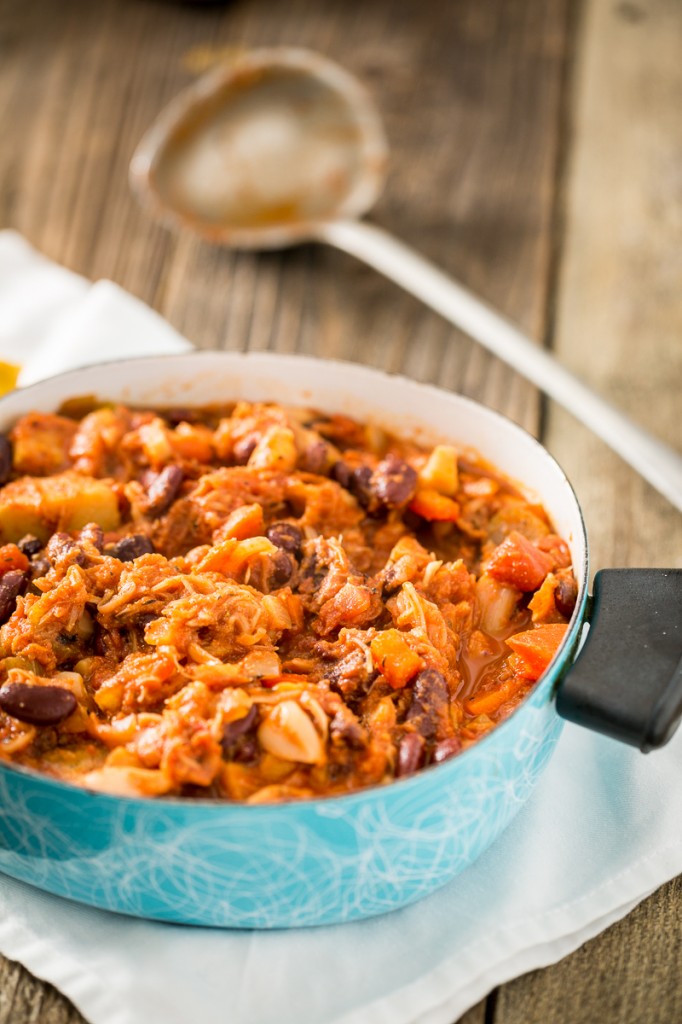 I'm married to a die-hard football lover (he doesn't even care what teams are playing- he just likes to watch the game!) (and thank goodness it's the only sport he likes) so I get to be present when football games are being watched. He watches whatever cute, cuddly animal-doing-cute-things video I put in front of him (and he'll even "ooh" and "ahh" over them, even if it is just for my sake) so the least I can do is try to look at this-game-I-do-not-understand from time to time.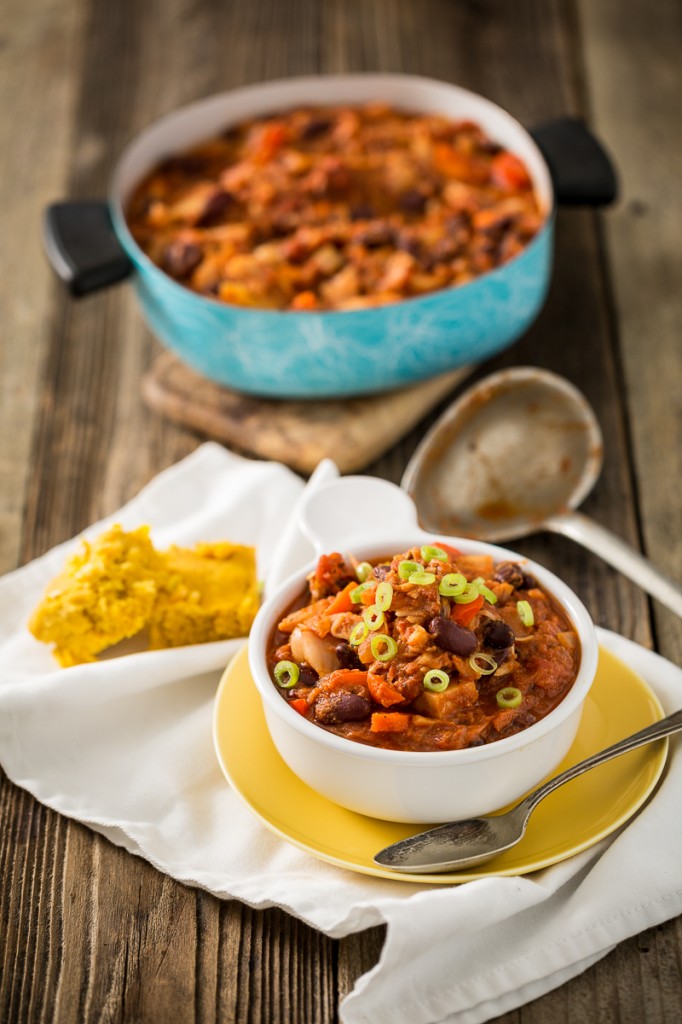 My aversion to the sport is odd considering I actually come from a pretty hard-core football-loving family. There's no talking to my grandfather when a game is on, especially when it's his beloved 49ers. I did always love Super Bowl parties, however. I loved watching my grandmother in the kitchen, making her incredible pot of chili (once I became vegetarian, she started making a separate vegetarian chili just for me) and I felt so grown-up being able to sit at the kitchen table with a few of the adult women while the game was going. They would gossip and I would dip carrot sticks in ranch dressing and pretend that I had a clue about what they were talking about.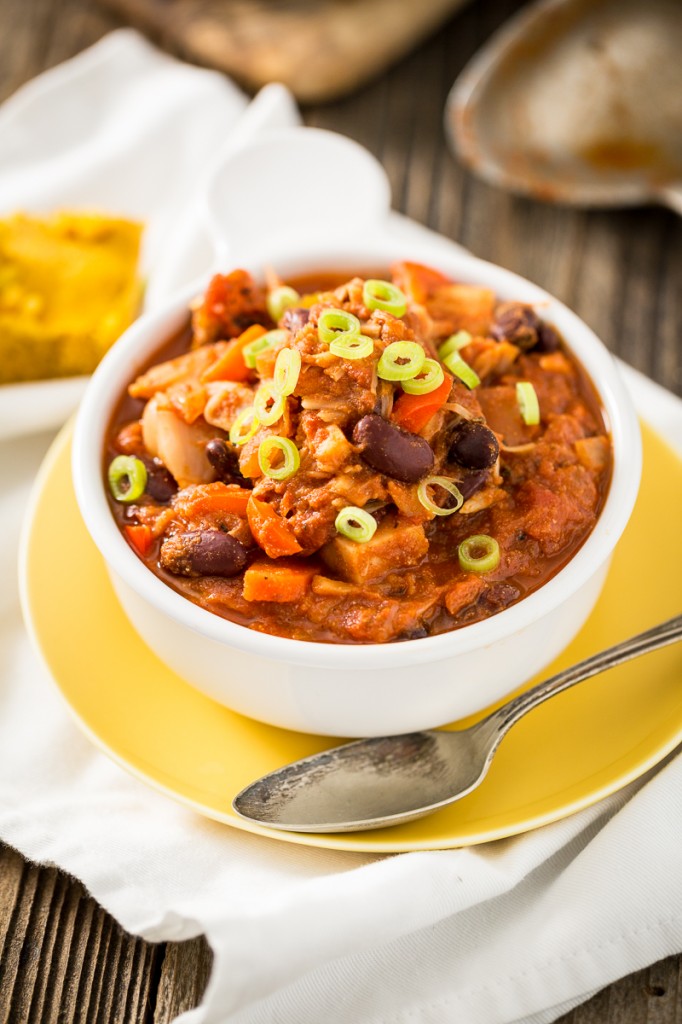 Now, our Super Bowl parties usually consist of the twins, Chris and I, hanging out and "watching" the game. Sophia and I will work in the kitchen for a few hours prior to the game, creating a huge spread (far too much for 4 people) of appetizer-type foods (Cheddar Bacon Dip, anyone?). Then we'll all sit on the couch and munch on all of the food while Chris enthusiastically watches the game. I'll also keep my laptop open so the twins and I can check in on the Puppy Bowl every now and again. Chris gets his most-looked-forward-to game of the year and I get to cook and eat and watch puppies. All in all, it's a pretty good party.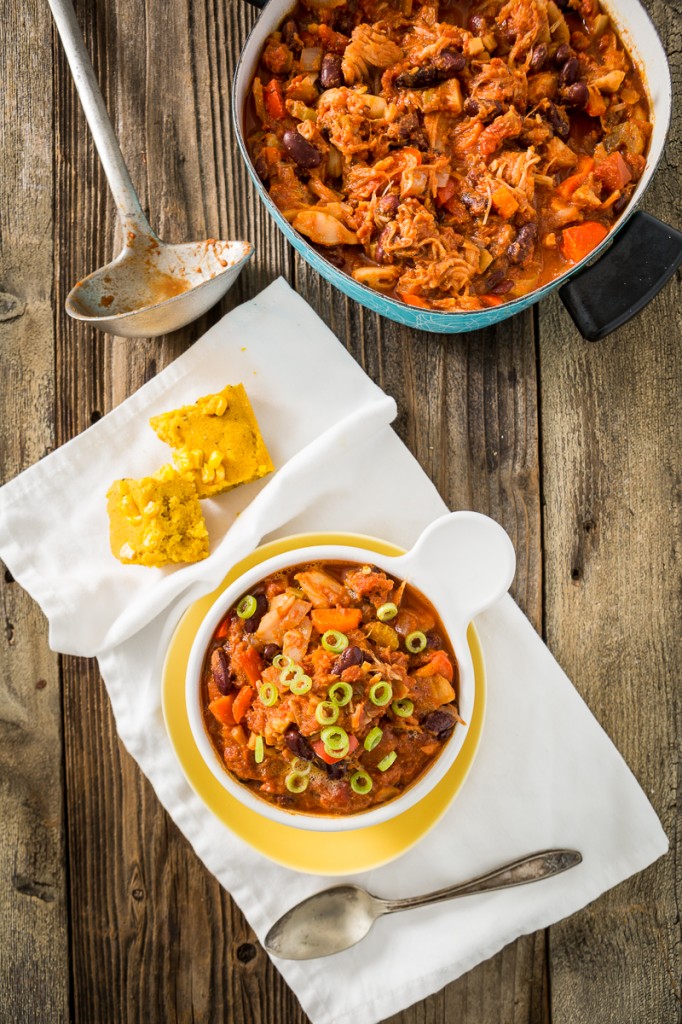 This year, though, we'll be heading up north to watch the Super Bowl with my family just like in the old days. Now I'm one of the adult women who can gossip with the other adult women while the game is on. And now I'll be the one bringing the chili.
Chili is always one of those warm, comforting meals but for me, especially right now, it makes me feel closer to my grandma. I've been making it a lot but this pulled jackfruit version has got to be my new favorite, by far. It's packed with hot and spicy classic chili flavor, but the texture of the jackfruit adds a meaty thickness to it that makes every bite packed with substance (not just a few beans and some tomato sauce). I made some pumpkin cornbread to go with it (before you even ask- I'll be telling you more about it on Friday!) and let me tell you, we were in some sort of euphoric chili heaven where angels sang and tastebuds rejoiced. Right up until our bowls were suddenly empty. Of course, we had to get seconds.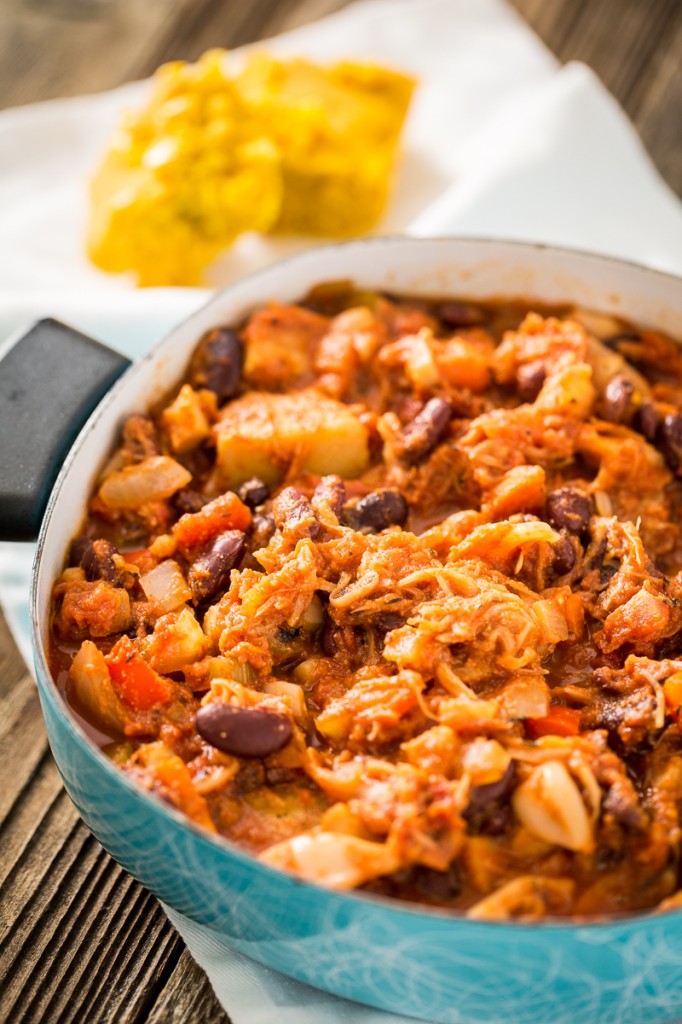 Not only is this chili sure to be a crowd-pleaser at your Super Bowl party, but it's pretty much perfect for any chilly (see what I did?) night when your tummy needs something warm and comforting or for those days when you have extra cornbread that needs to be dipped into something. And if you're like me and may have to end up looking at certain football game sometime soon, at least you'll have something very delicious to hold your attention.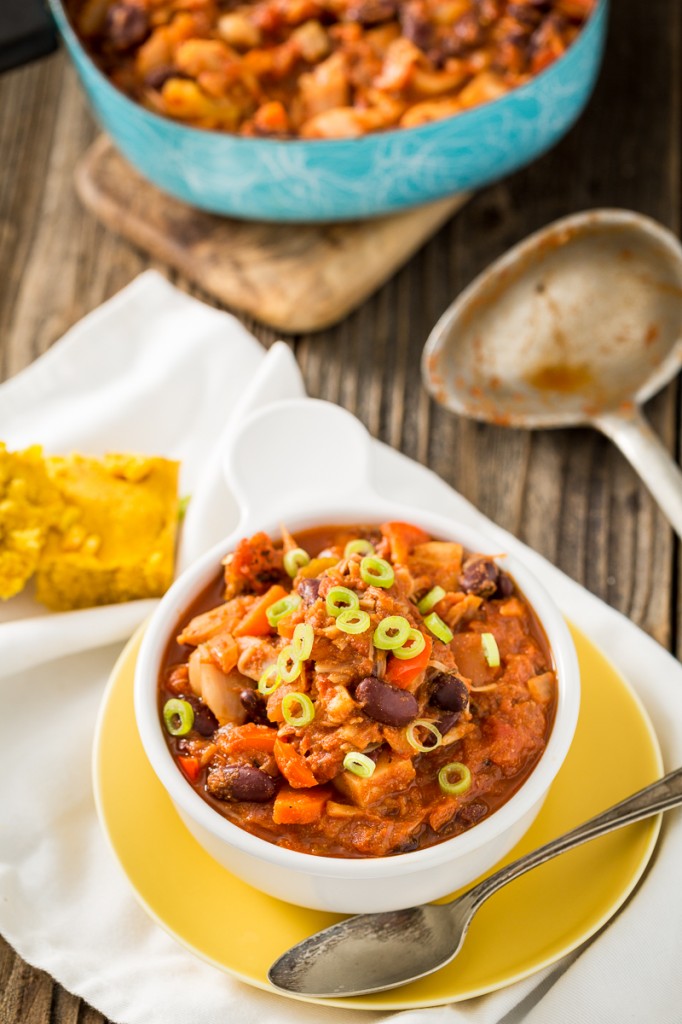 Ingredients
1 tablespoon olive oil
1 small sweet onion, chopped
3 garlic cloves, minced
1/2 cup chopped carrots
1/2 cup chopped celery
1/2 cup chopped red bell pepper
2 tablespoons diced Hatch green chiles (from a can)
one 20-ounce can of jackfruit (packed in brine or water), rinsed and drained
two 15-ounce cans fire-roasted tomatoes
one 15-ounce can of tomato sauce
4 cups cooked kidney beans (or two 15-ounce cans, rinsed and drained)
2 tablespoons liquid aminos
1 tablespoon sriracha sauce
1 tablespoon tomato paste
1 tablespoon coconut sugar (or brown sugar)
2 teaspoons ancho chili powder
2 teaspoons ground cumin
2 teaspoons smoked paprika
1/4 to 1 teaspoon cayenne pepper (optional)
1 teaspoon dried thyme
2 tablespoon nutritional yeast
2 teaspoons liquid smoke
juice of 1/2 a lime
salt and pepper to taste
Instructions
Place the jackfruit in a colander in the sink. Use a fork or your fingers to tear the jackfruit into shreds. Set aside.
Heat the olive oil in a large pot over medium heat. Add the onion and garlic and sauté until onion is translucent. Add the carrot, celery, and bell pepper and sauté for a couple minutes more. Add the green chiles and the jackfruit and cook for a few more minutes to let the jackfruit release its water.
Add in the fire-roasted tomatoes, tomato sauce, beans, liquid aminos, sriracha sauce, tomato paste, coconut sugar, spices, and herbs. Bring to a boil and then reduce to a simmer. Let simmer for 20 to 30 minutes.
After the chili has simmered, add in the nutritional yeast, lime juice, liquid smoke, salt and pepper. Serve hot and enjoy!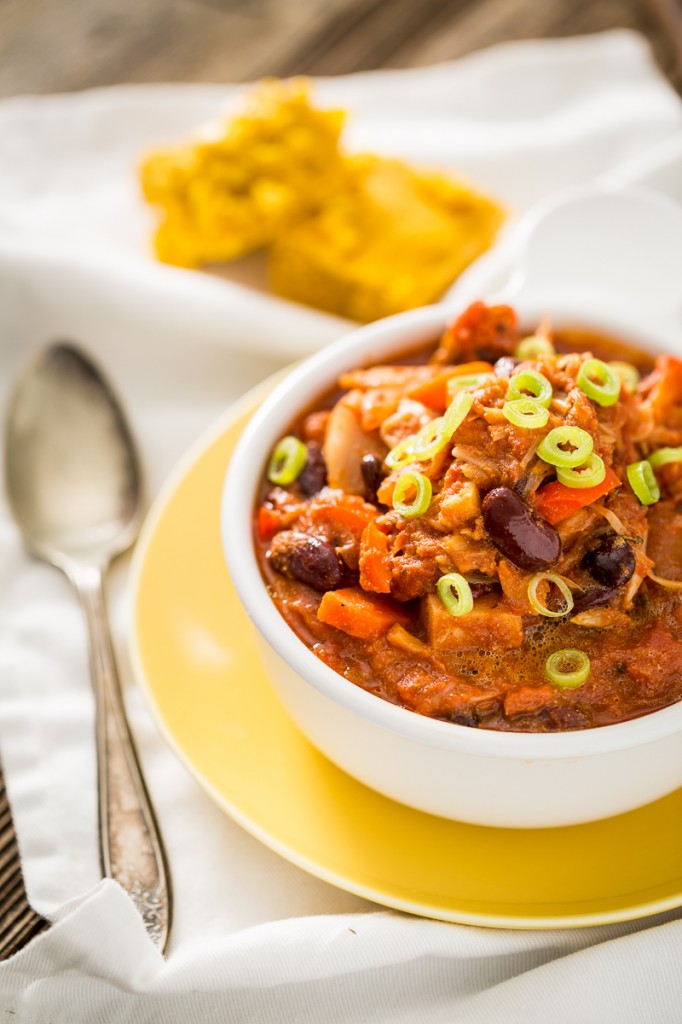 Congratulations to Kristina Bagnell, the winner of the Extraordinary Vegan giveaway! Thank you to everyone who entered and participated. Stay tuned for another giveaway very soon. 🙂
Will you be watching football this Super Bowl?
Photography by Chris Miller