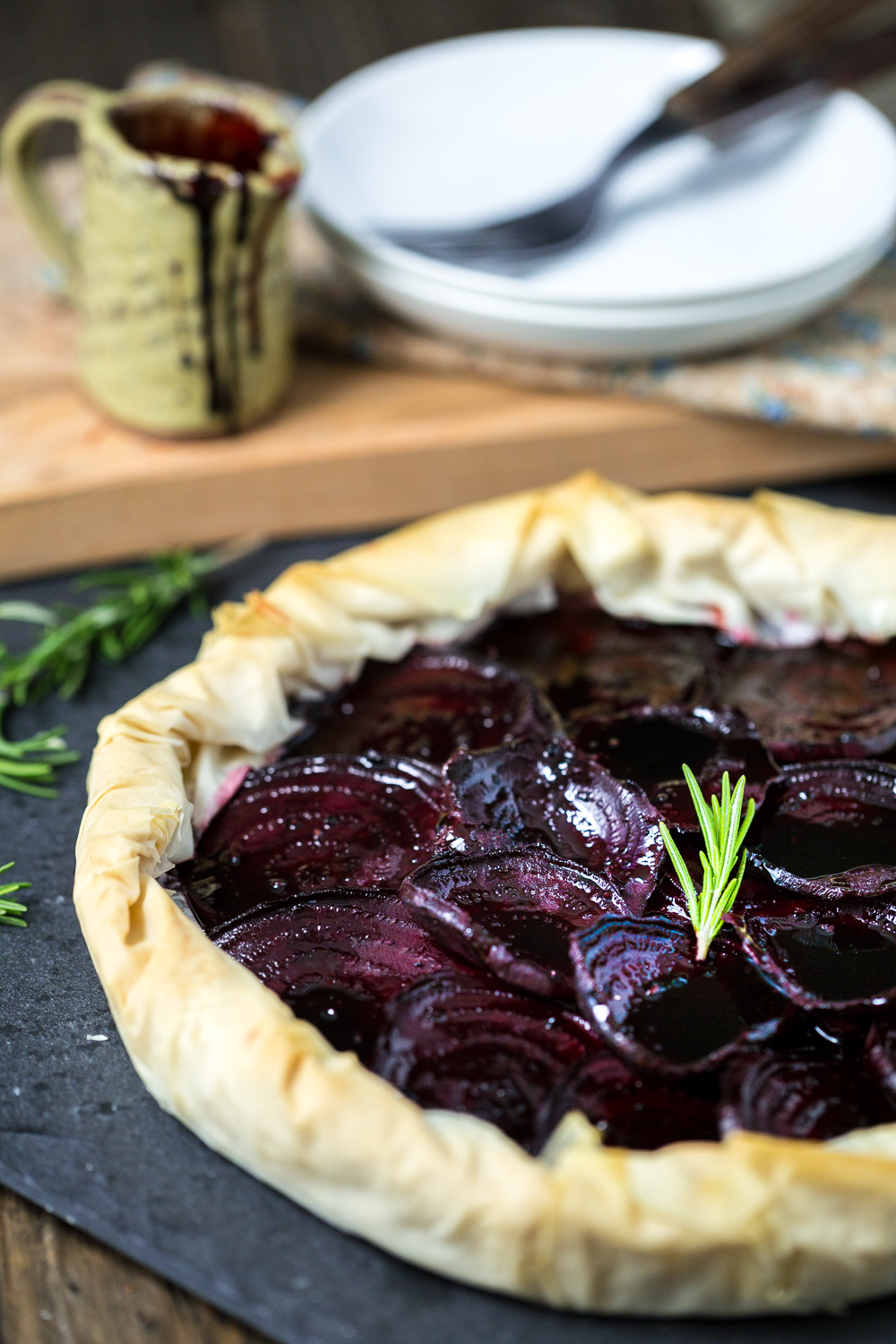 Hey there!  Welcome to the Virtual Vegan Potluck!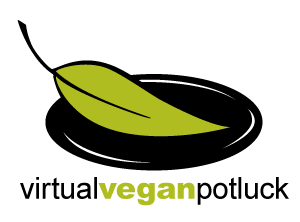 This is my 4th year participating (check out what I brought to the 1st potluck, my award-winning 2nd potluck dish, and the delicious cookies I brought to the last one).  I almost didn't participate because life is so busy these days, but I adore Annie and the VVP is just too much fun.  Thank you so much, Annie, for creating this incredible opportunity to meet other like-minded bloggers and celebrate vegan food!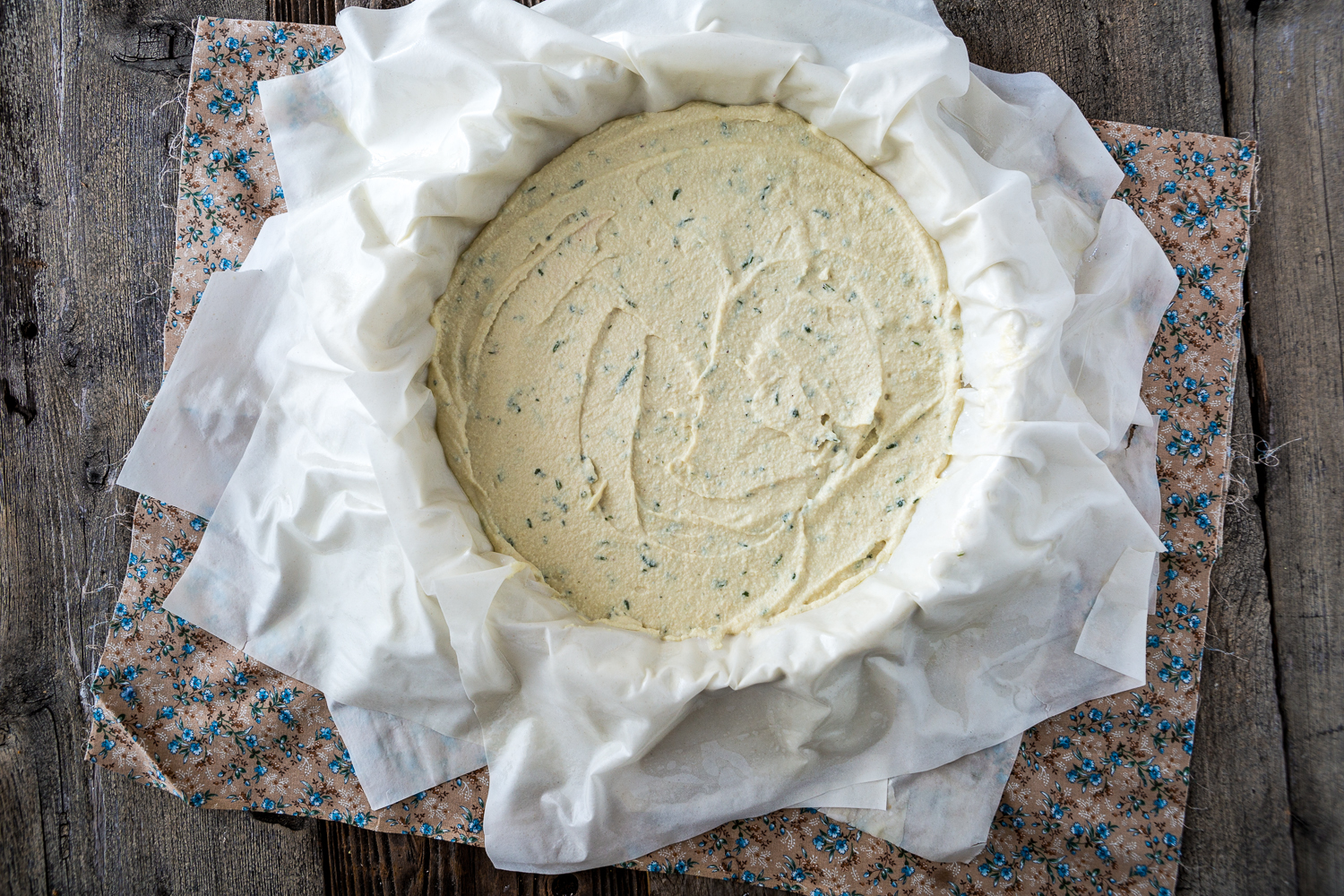 For this time around, I'm bringing a balsamic roasted beet and rosemary cashew cheese phyllo tart.  You want to impress some people at a potluck or family gathering? Bring this guy. Not only is it stunning, but it's incredibly delicious.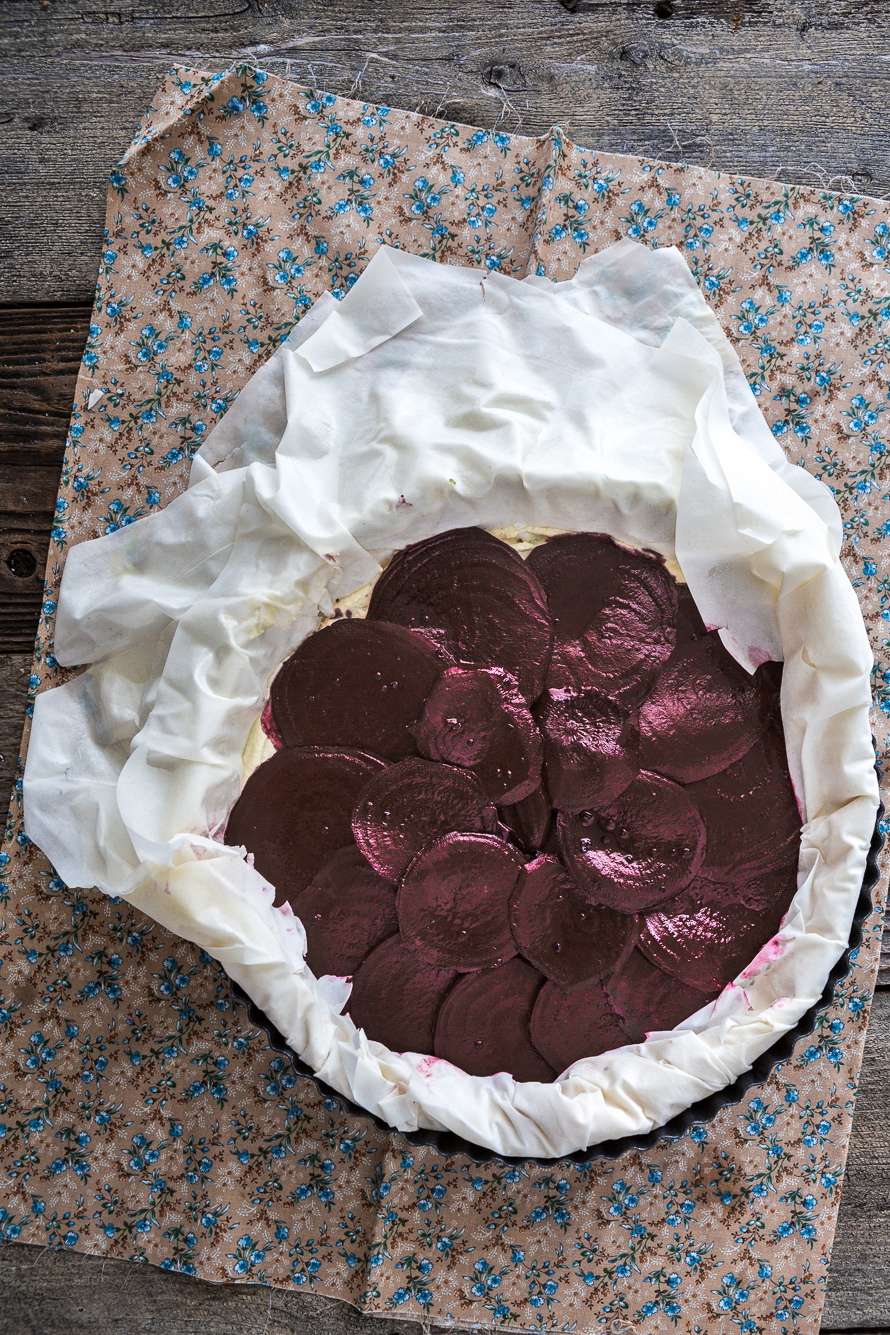 I love the rich tang beets get when you roast them with balsamic vinegar, but for this recipe, I've taken that love just a step farther. After roasting the beets for a bit in balsamic vinegar and coconut nectar, I took the leftover liquid, added more balsamic vinegar and reduced it to make a thick syrup to pour over the tart.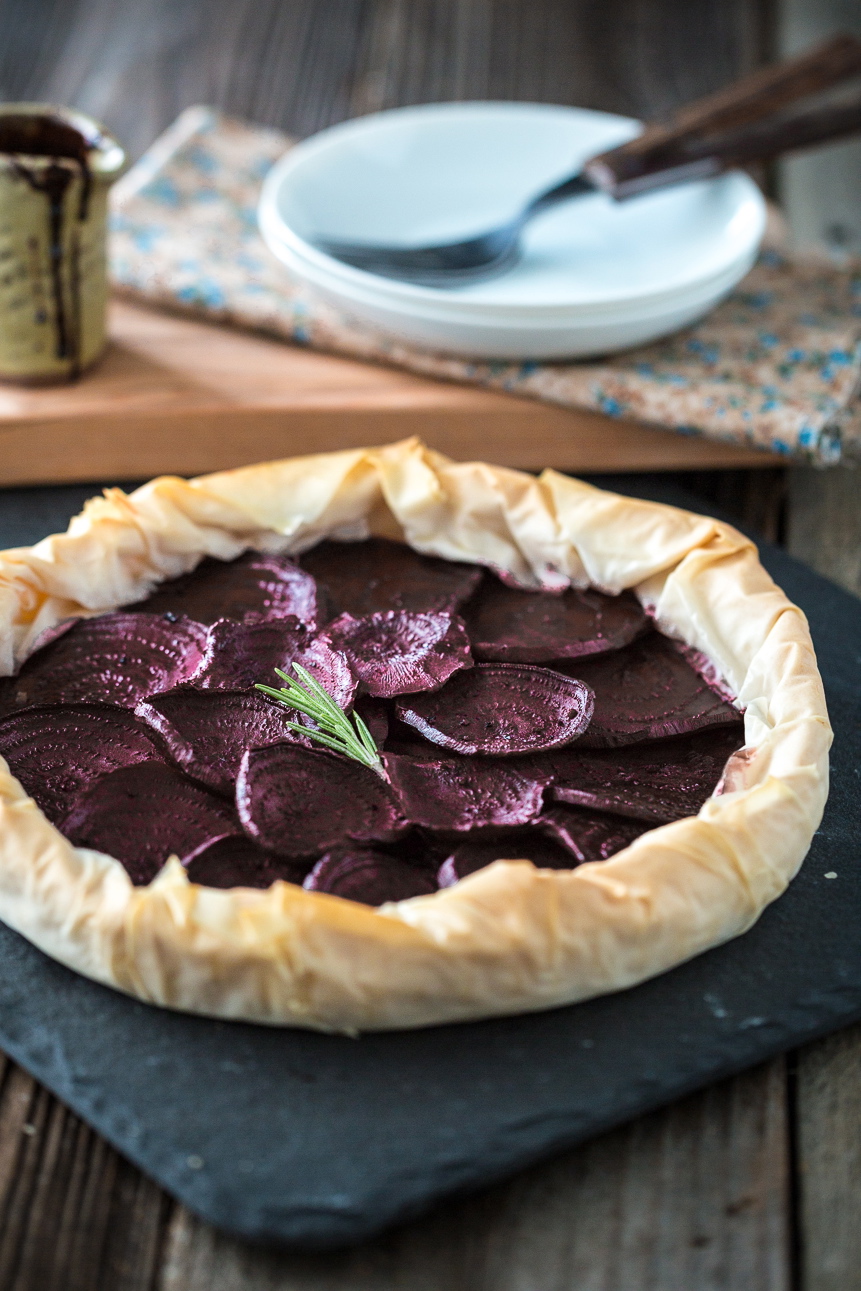 There are so many flavors going on in this dish: It's sweet, it's savory, it's cheesy, it's herby. It's got a fancy (ridiculously easy) phyllo tart shell. You can tell people it's topped off with a beet balsamic reduction and they'll think you're a total hot-shot (do people still say 'hot-shot'?) chef. They'll ask "where is that herbal undertone coming from?" and you'll be l ike "there's fresh rosemary mixed in with the creamy cashew cheese," and they'll be like "Woah." I'm just telling you- only bring this if you want to impress the heck out of people.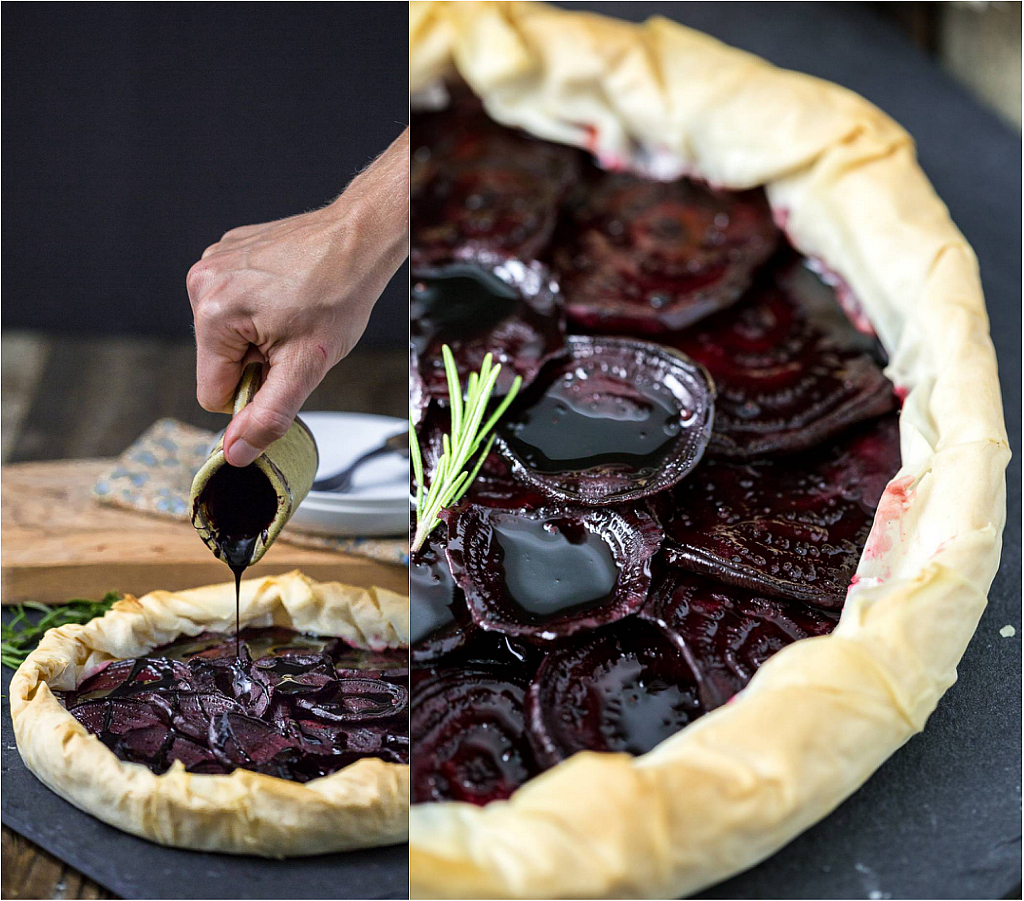 The one thing I like best is how once you bake the tart, the beets and the cheese seem to melt together into one layer on the light flaky crust. The beet-balsamic reduction makes every bite burst with flavor.  And it's stupid easy to make.  Ok, that's three things.  Let's see you make it and try to keep your list down to one thing!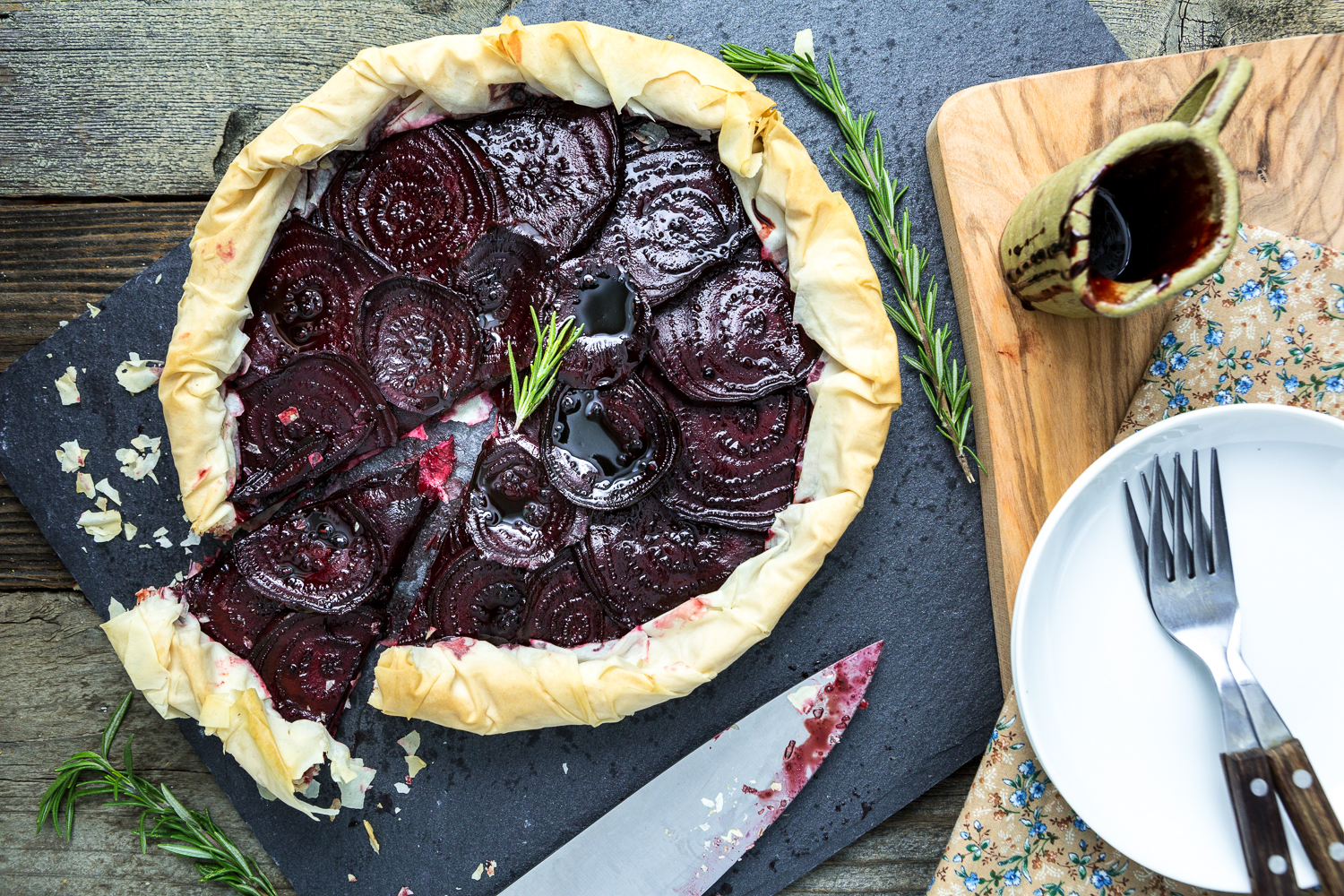 Virtual Vegan Potluck: Balsamic Roasted Beet & Rosemary Cashew Cheese Phyllo Tart
Ingredients
1/2 cup raw cashews, soaked for 1 hour (reserve the water)
5 tablespoons reserved soaking water
1 tablespoon nutritional yeast
1 tablespoon lemon juice
1 tablespoon fresh rosemary
salt to taste
2-3 large beets, peeled and very thinly sliced into medallions
olive oil spray
1/3 cup balsamic vinegar
1 1/2 tablespoons coconut nectar
salt and pepper to taste
4 phyllo sheets, thawed according to package instructions
1/4 cup melted vegan butter
Instructions
Combine all ingredients in a food processor and process until smooth. Chill until ready to use. Can be made a day or two in advance.
Preheat the oven to 400. Lightly spray an 9x13 casserole dish with olive oil spray. Lay out the beet slices and top with balsamic vinegar, coconut nectar, salt and pepper. Toss to fully coat each piece. Bake in the oven for 10-15 minutes, flipping once halfway through. It's okay if they seem undercooked when you take them out. Reserve the liquid in the baking dish.
While the beets are in the oven, prepare the tart crust. Lightly spray a tart pan with olive oil spray. Lightly brush the top of one sheet of phyllo with melted butter. Lay out that sheet over the pan, buttered side up, and gently press down to form to the pan. Repeat with each remaining sheet of phyllo with the excess hanging over the edge of the pan in a different area.
Reduce the oven temperature to 350. Spread the cashew cheese out over the base of the tart. Layer the beets over the cheese (you can do a fancy pattern, if you like). Roll the excess phyllo dough up into a crust around the tart.
Bake in the oven for about 20 minutes, until phyllo is golden and crisp.
While the tart is in the oven, pour the leftover liquid from the baking dish into a small pan. Add 2 tablespoons balsamic vinegar and bring to a boil, then quickly reduce to a low simmer. Let cook, stirring every couple minutes, until it has thickened and has the viscosity of maple syrup. Remove from heat and set aside.
Once the tart is down baking, remove from oven and let cool for a few minutes. Transfer the tart from the pan to a serving dish. Pour the balsamic syrup over the tart, slice and serve. Enjoy!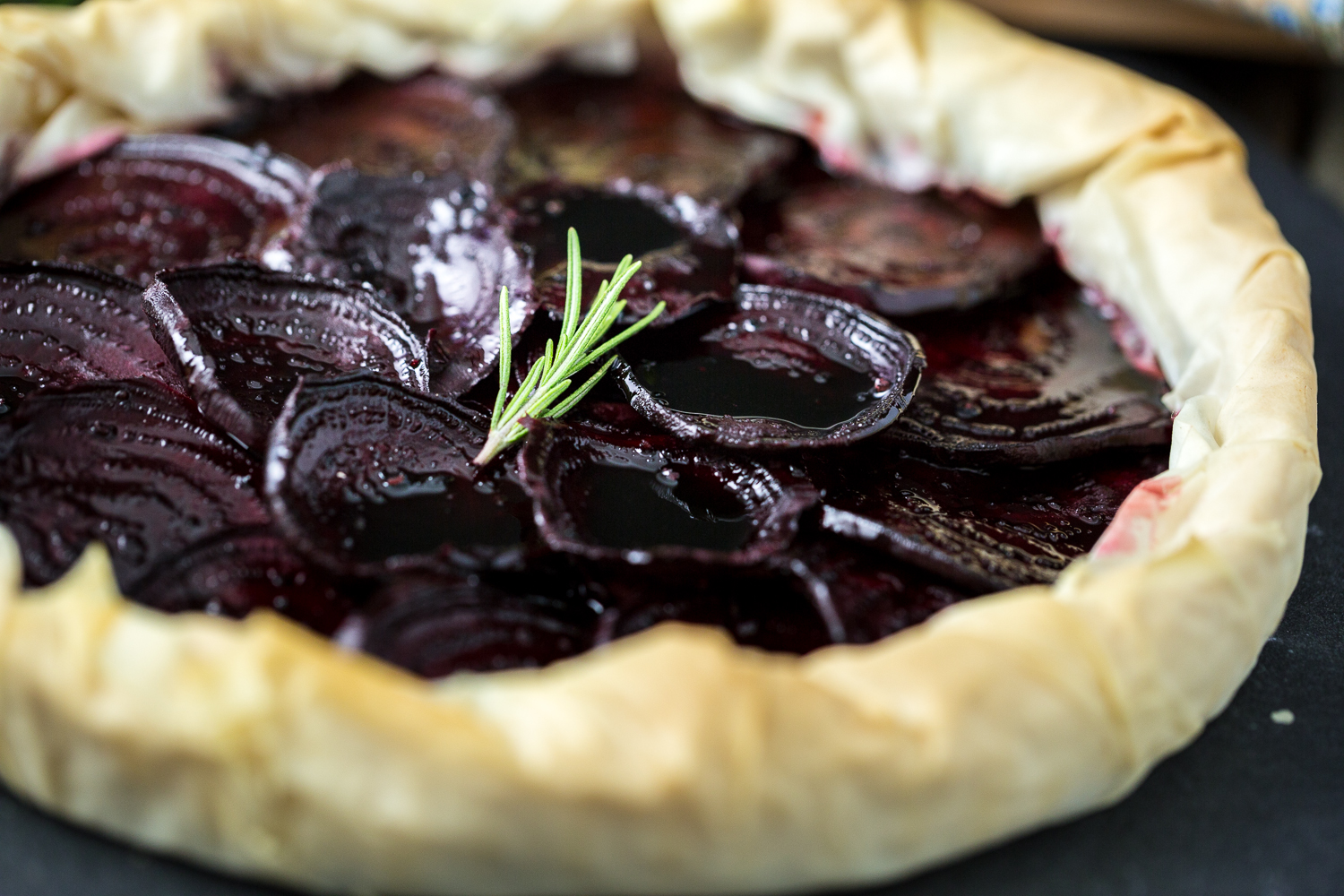 By the way, the cute little creamer that I'm using to pour the syrup is from Olive Pit Pottery, which is all handmade by one of this potluck's participants, Cadry of Cadry's Kitchen! You need to check her pottery out!

Thank you so much for stopping by! You can check out the dish before mine, or continue forward to see the next dish. Or you can head to Vegan Blogger's Unite to start from the very beginning!  Happy potlucking!
Photography by Chris Miller