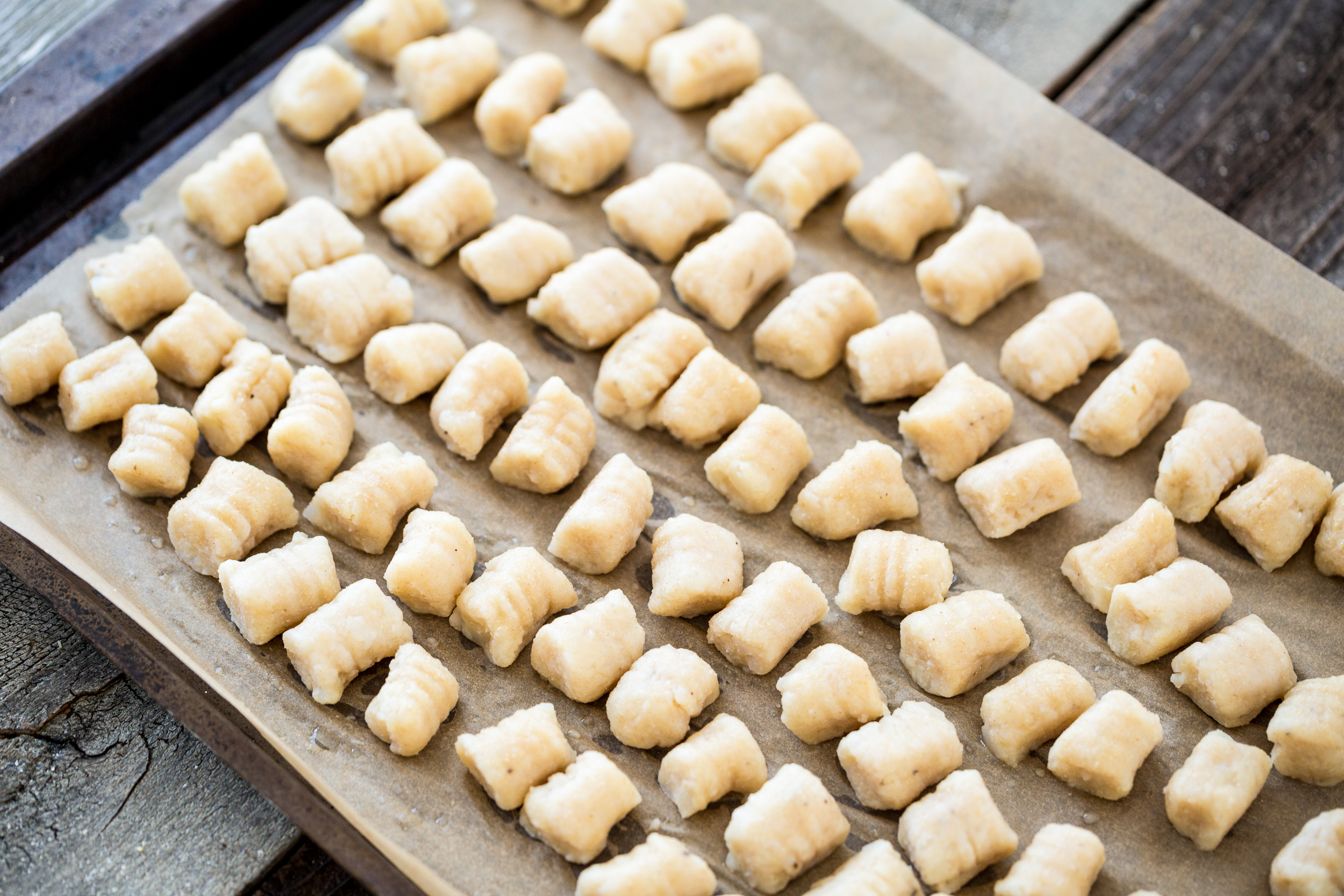 I always say (or I always think to myself) you can judge a country by what they do with potatoes.  Belgium- pomme frites (You get two thumbs up, Belgium!) America- hash browns (you're doing alright, America!).  Spain- patatas bravas and tortilla espanola (Daaaaaayum, Spain!).  Italy- gnocchi (Italy, you've got it going on!).
Gnocchi is one of my most favorite uses of potato.  Sure you can buy it from the store, but it tastes so much better when you make it yourself.  It's also remarkably simple to make.  First, you bake the potatoes.  Slice them open as soon as they come out of the oven.  Bring a large pot of water to a boil.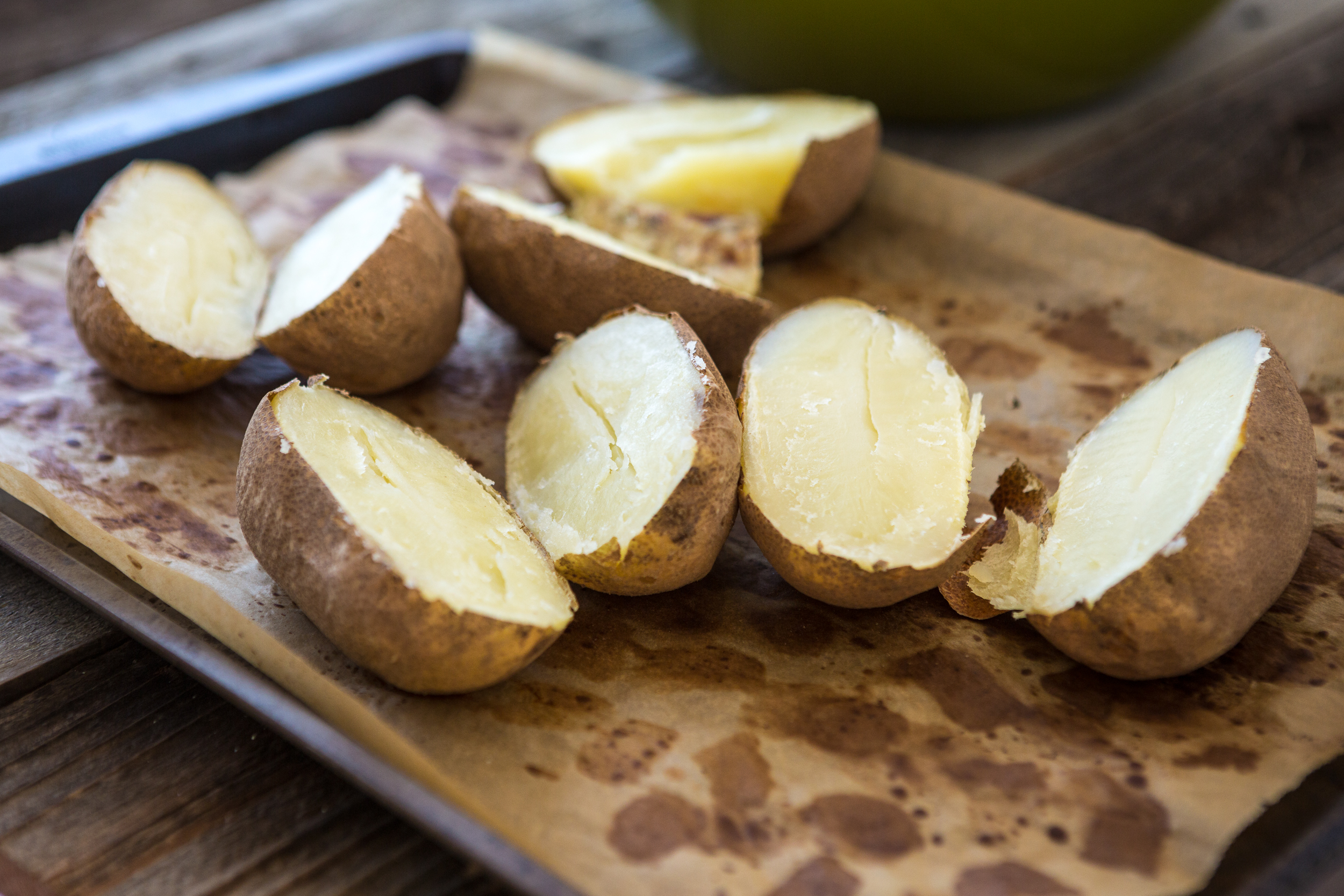 Once they're cool enough to handle, peel their skins off.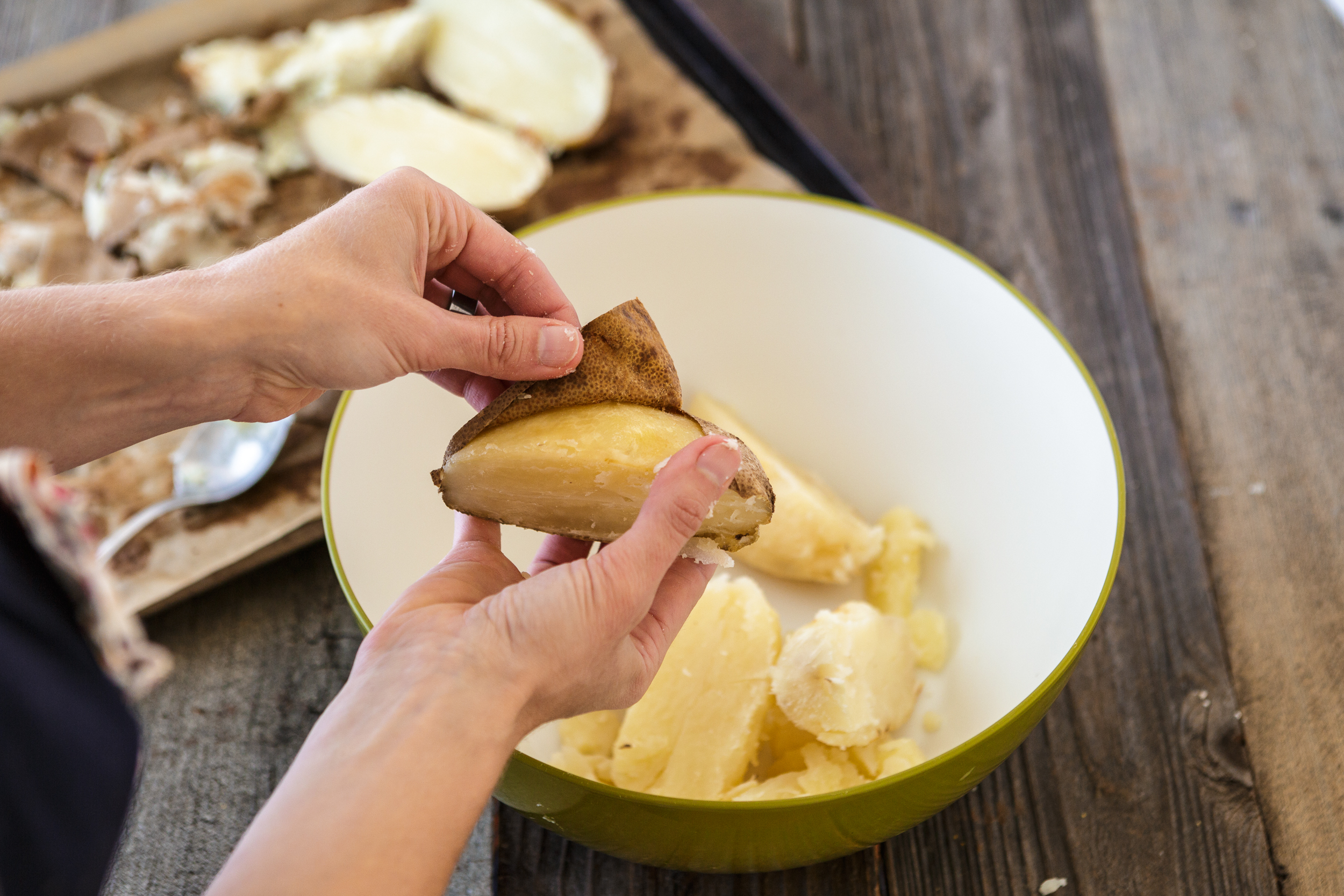 If you have a ricer, you should most definitely put the baked potatoes through a ricer.  If you do not own a ricer, you can do like I did and mash the hell out of the potatoes.  Once you think they're completely mashed, mash them some more.  Mix in olive oil, salt and pepper.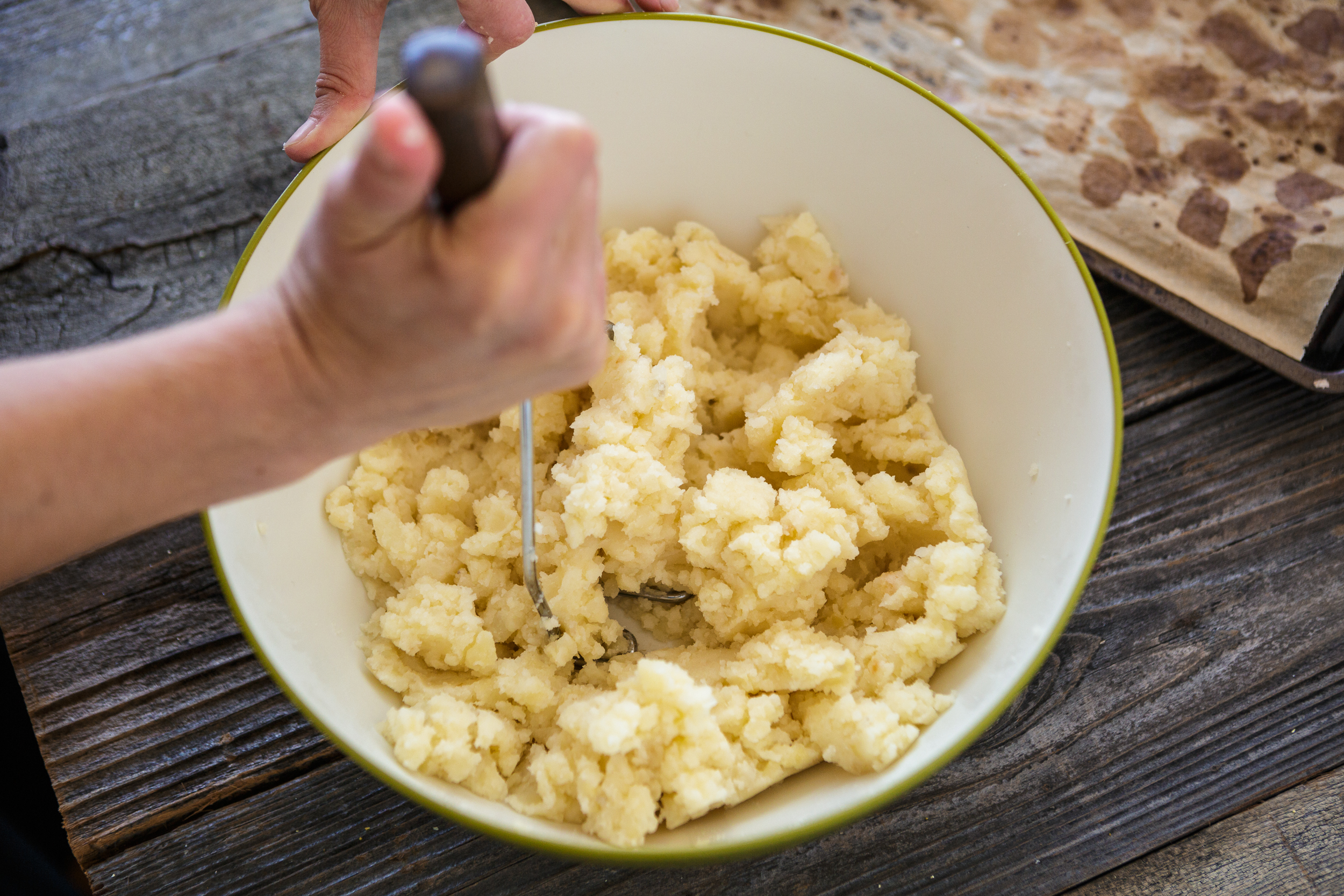 Add flour by the 1/2 cup full and use your hands to knead it into a dough.  Once you have a not-too-dry but not-too-sticky ball of dough, you're good to go.  To test it, tear a tiny piece of dough off and drop it in the boiling water.  If it floats to the top without falling apart, it's perfect.  If it falls apart, it needs more flour.  If it is really gummy once it begins to float, add a little bit more olive oil to the dough.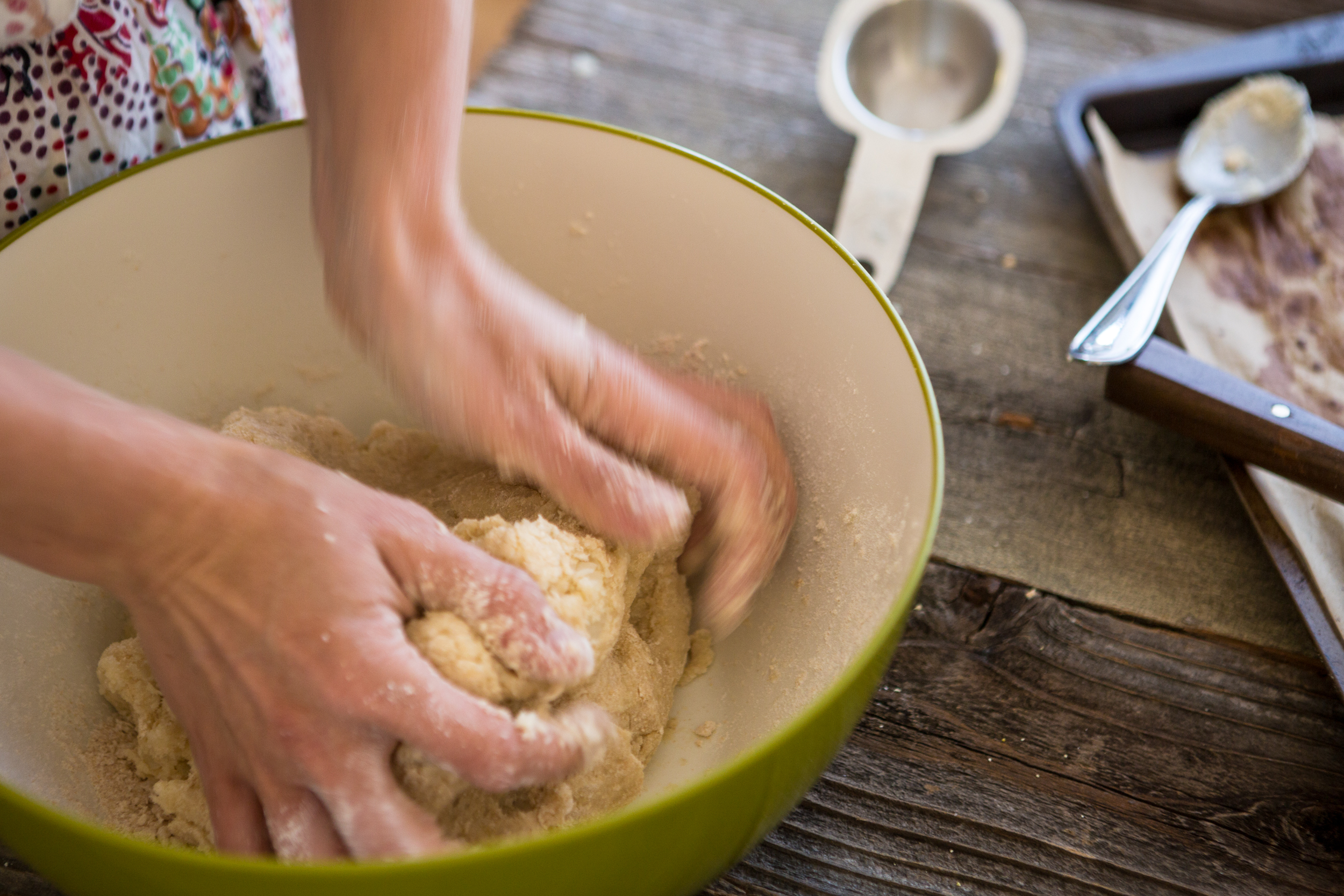 Tear a chunk off the ball of dough and place it on a floured surface.  Roll it into a rope.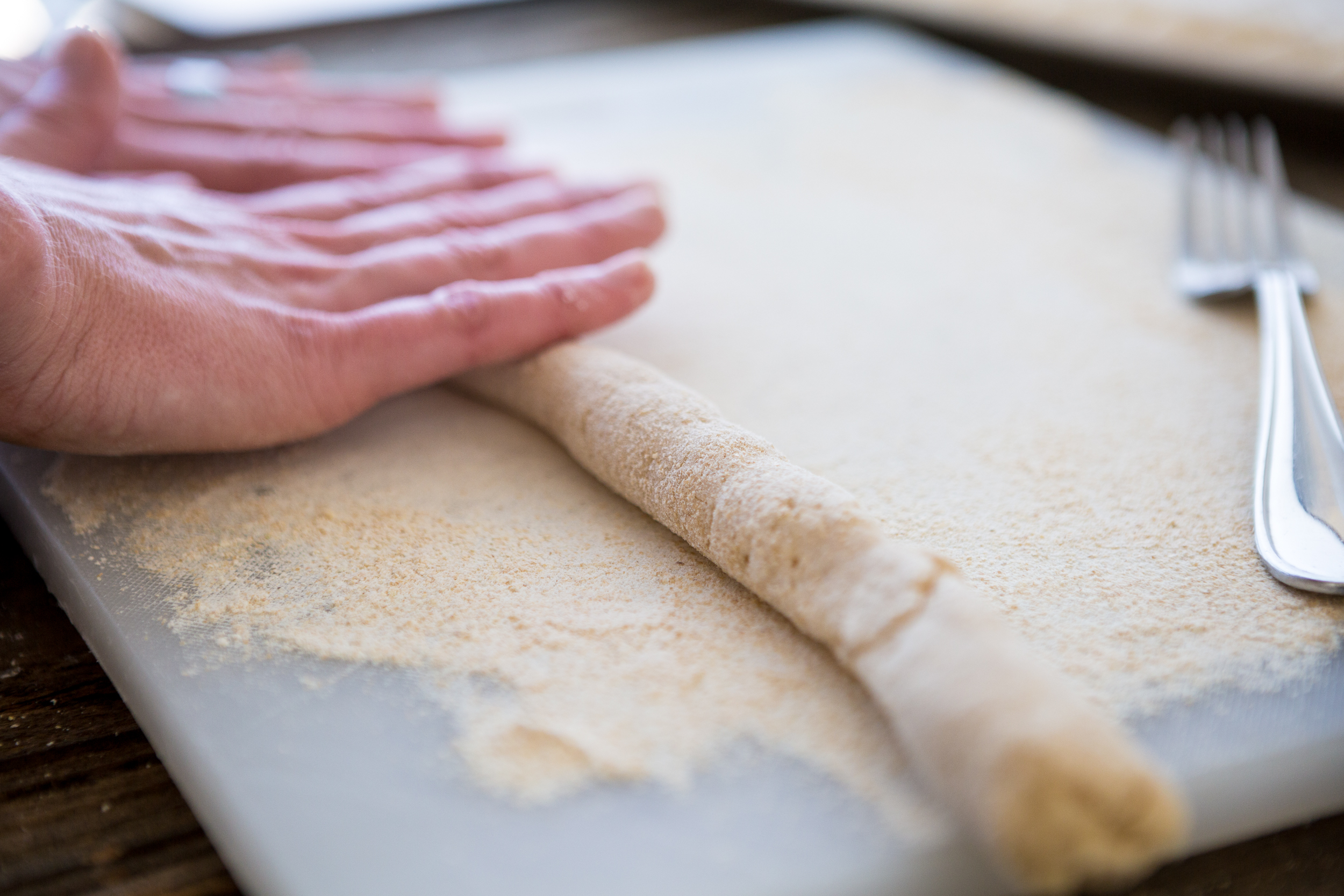 Chop it into 1-inch segments.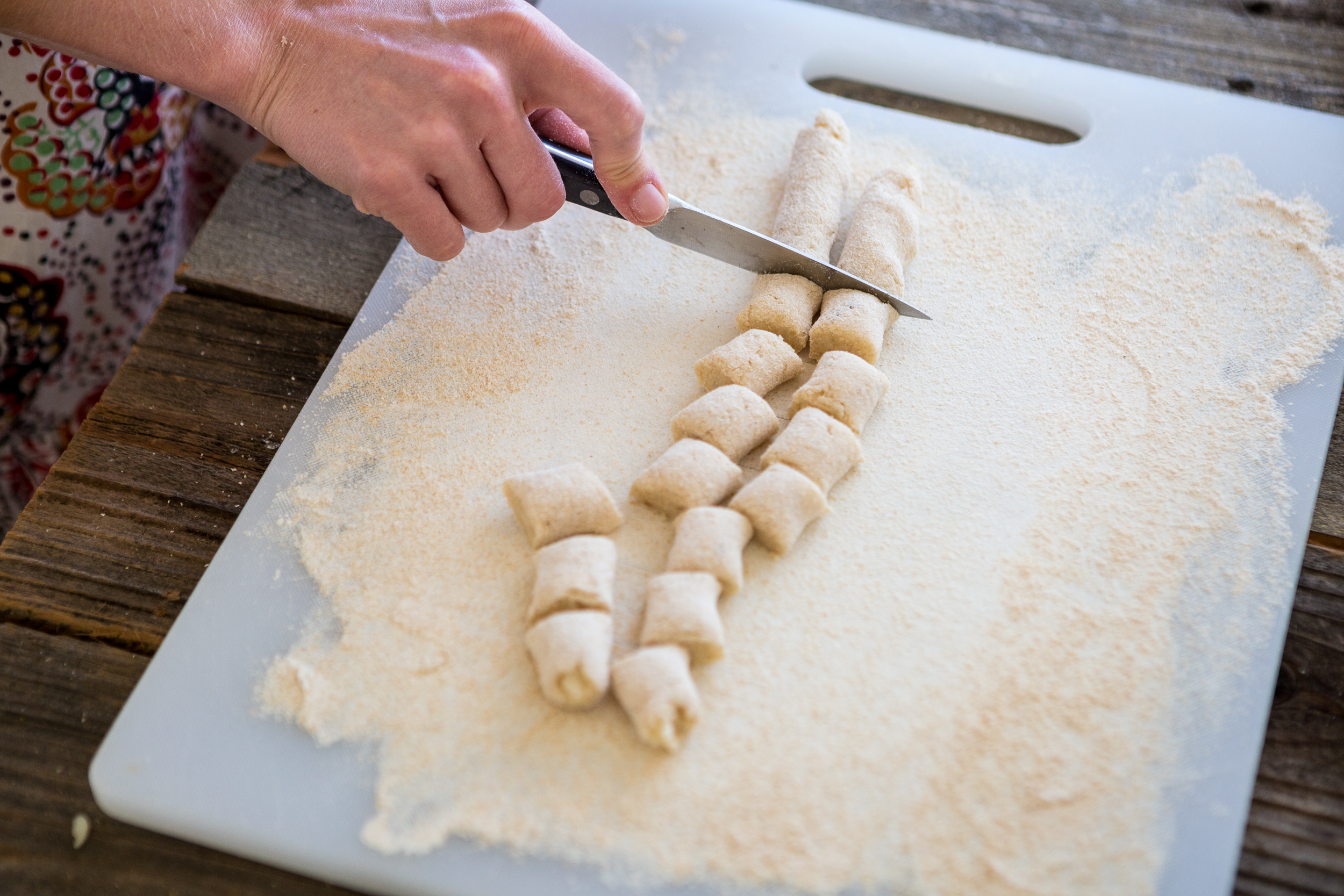 Roll each segment off the tines of a fork.  Repeat until all dough has been rolled into gnocchi.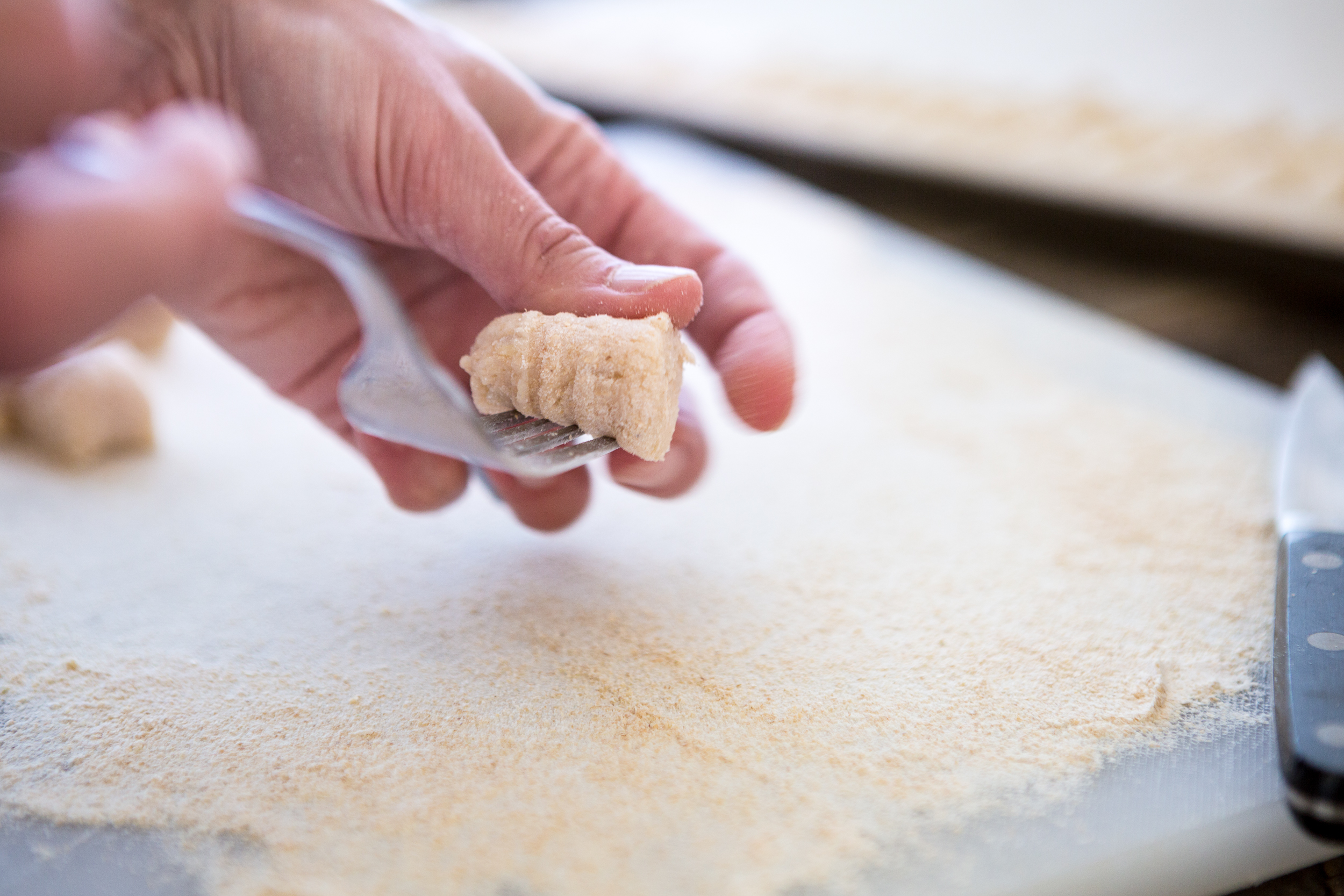 In small batches, drop the gnocchi into the pot of boiling water.  A couple of seconds after they begin to float, use a slotted spoon to remove them and set them on a baking sheet lined with parchment paper.  Repeat until all gnocchi are cooked.  Now they are ready to use in whatever recipe you'd like!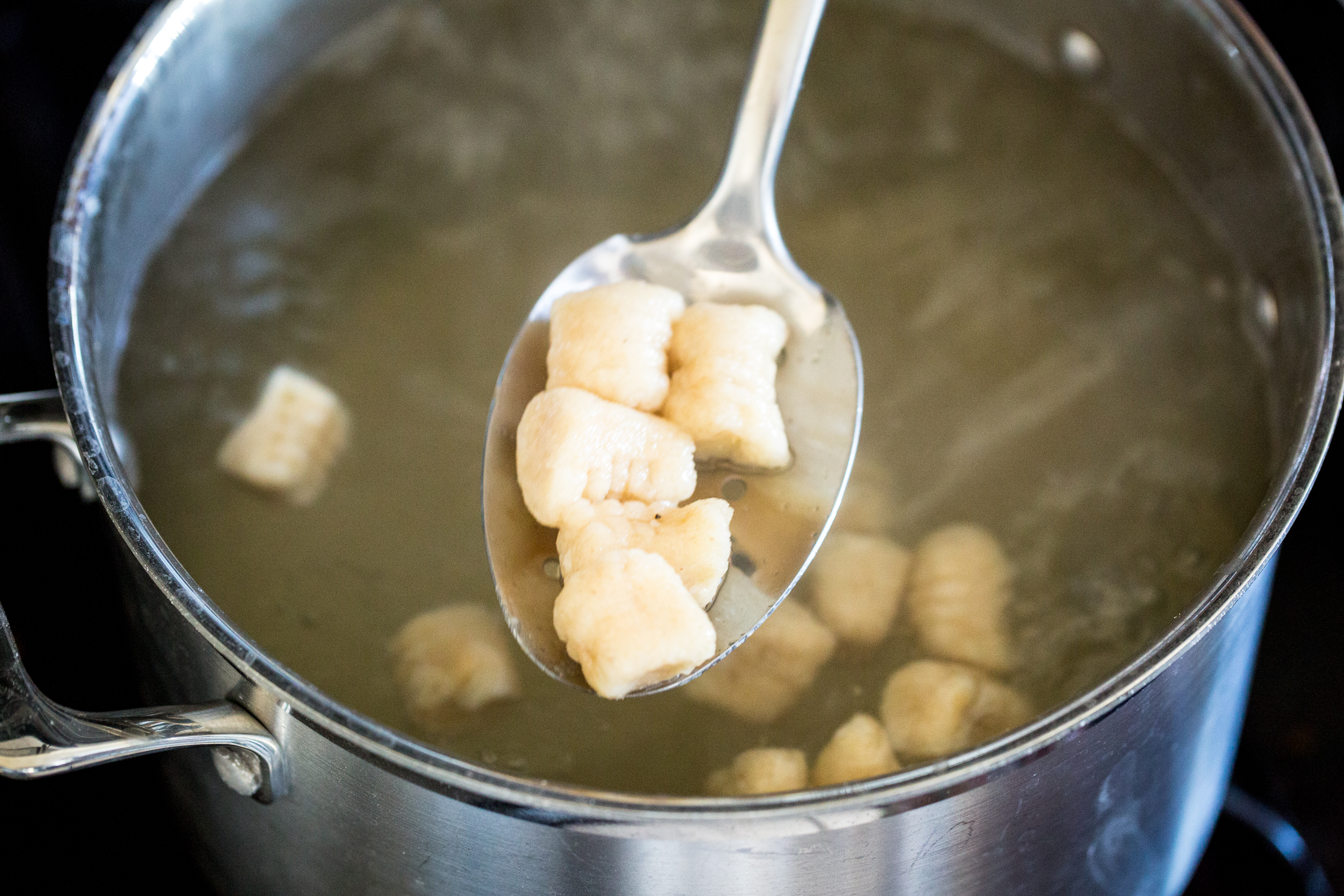 Ingredients
4 russet potatoes (other potatoes will work, but you may want to switch to bread flour if you use anything else)
1 - 1 1/2 cups whole wheat flour
1 tablespoon olive oil (optional)
salt and pepper to taste
water
Instructions
Preheat the oven to 400. Place the russet potatoes on the baking sheet. Bake in the preheated oven for 1 hour or until easily pierced with a fork. Remove from oven and slice each of them in half lengthwise.
Bring a large pot of water to a boil. I like to use an 8qt. pot and fill it most of the way with water. Add a bit of salt to the water.
Once the potatoes are cool enough to touch (don't let them cool completely. You want them to be as warm as possible but still be able to handle them), peel the skins from the potato and place the insides in a large bowl.
It is best to run the potatoes through a ricer, but you can mash them or even puree them in a food processor. I usually just opt to mash them and I mash for a long time. When I'm done, it's pretty smooth. Add olive oil (totally optional), salt and pepper to the potatoes according to your taste.
Add flour to the mashed potato in 1/4 cup intervals, using your hands to work the flour in with each addition. You want to use as little flour as possible to achieve a perfect ball of dough. Once you think you have the right consistency, tear off a tiny piece, roll it into a ball and drop it into the boiling water. If it rises to the top without falling apart, that's good but you still want to taste it. If it tastes gummy, add flour to the dough by the tablespoon until you get a firmer dough.
You can turn the boiling water down to low while you form the gnocchi because this will take a little while.
Turn the dough out onto a floured surface. Tear a piece off and roll into a long rope about 3/4 inch in diameter. Cut the rope in half, then with the two ropes next to each other, slice them into 1/2 inch "pillows."
Use a fork or a gnocchi board to shape the gnocchi. Use your thumb to roll it down to the end. You will get ridges on once side and a "dimple" on the other side which holds whatever sauce you cook it in. Repeat until the entire ball of dough has been rolled into gnocchi.
Turn the water back up to a boil. Line two baking sheets with parchment paper.
In batches, drop the gnocchi into the boiling water. They will dance around for awhile but once they rise to the top and stay there for a couple of seconds, they are done. Use a slotted spoon to remove (Don't let them hang at the top of the water for more than a few seconds). Place the gnocchi on the lined baking sheets, making sure that none are touching.
You can now serve them in whatever gnocchi recipe you desire, or you can store them for later. Enjoy!
Once the gnocchi have cooled, place the baking sheet(s) in the freezer. Once they are frozen, transfer them to an airtight container and freeze until ready to use. They will keep in the freezer for 1-2 months.
Notes
This makes A LOT of gnocchi. You can easily cut this recipe in half if needed. I like to make a lot so I can make 2-3 meals with them.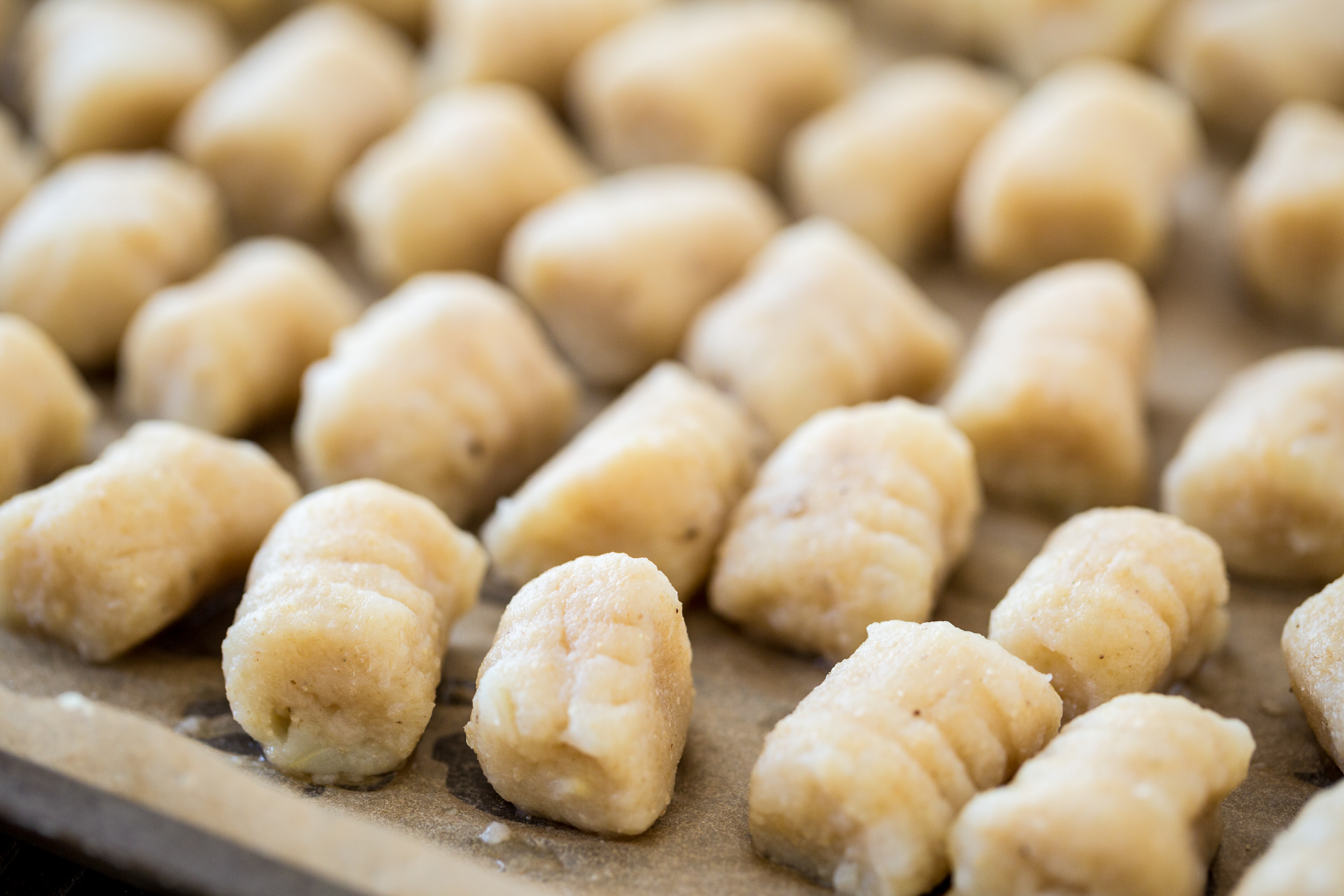 Congratulations to Hailey E. for winning the Diwali E-Book Giveaway from Vegan Richa! Thank you to all who participated! 
Have you ever made gnocchi from scratch before?
Photography by Chris Miller