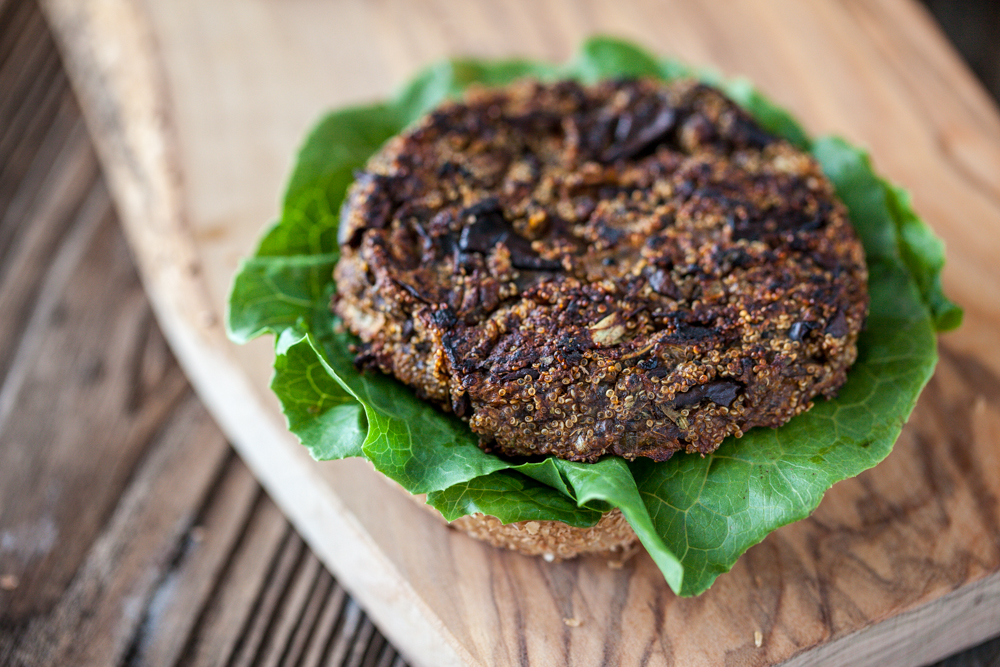 So, August is halfway over and these are the first burgers I've made all summer.  Gasp!
I don't know what took me so long.  Even though we don't have a grill, I'm usually all over burgers in the summer.  I guess I've just been a little uninspired in that department or perhaps I've been too busy eating Mexican Bowls.  Probably more of the latter.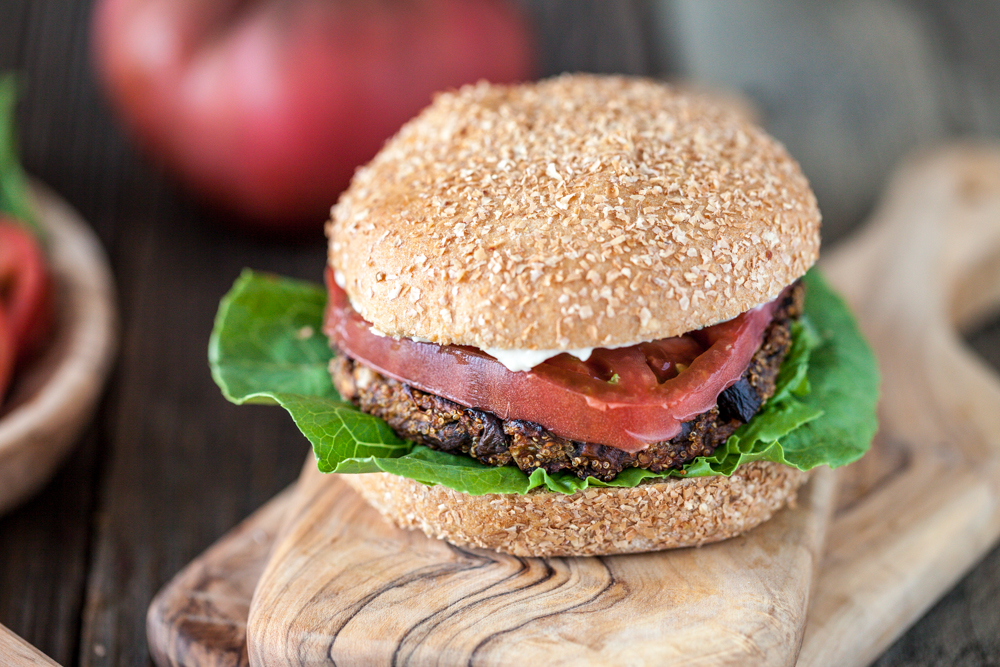 When my CSA sent us a ton of tiny eggplants in our delivery, I immediately thought to myself "Well, how am I going to disguise these to get Chris to eat them?"  Also in the delivery were two organic, non-GMO corn cobs.  Corn on the cob is one of my favorite burger sides (fries being the first, because duh!), and it was then that I realized I'd yet to have a burger this summer.  It was then that I knew what was happening with the eggplant.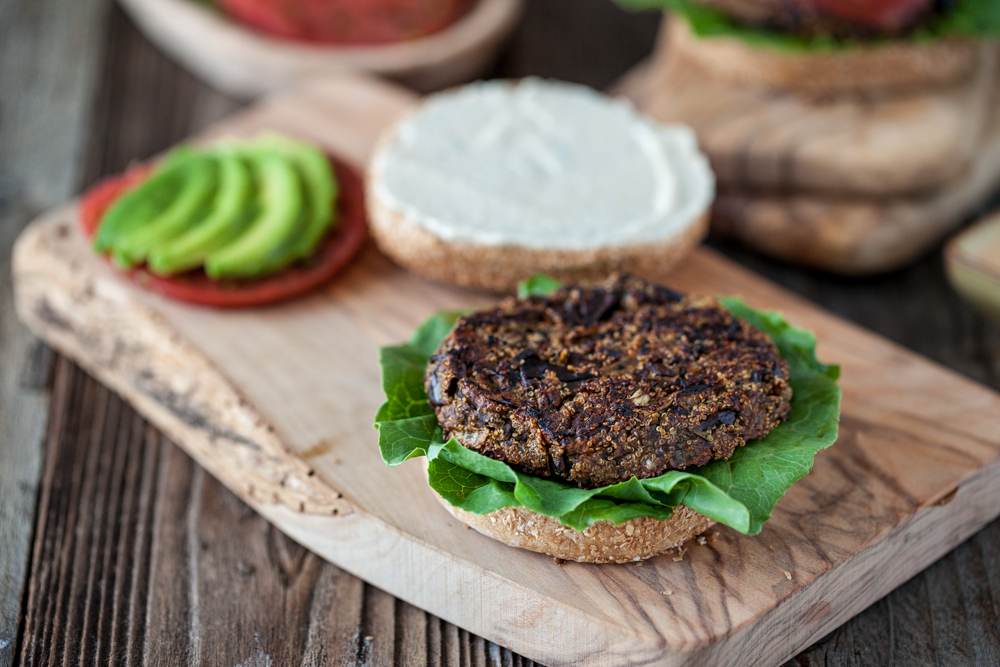 One of the things I love most about eggplant is that it just absorbs whatever flavor you cook it in.  I also love its hearty, meaty texture.  When you roast eggplant with a little bit of Bragg's Liquid Aminos (or tamari/soy sauce), it becomes a perfect substitute for meat.  For these burgers, I mixed the roasted eggplant with some sauteed onions, garlic and some other spices and pulsed it all together a few times in the food processor.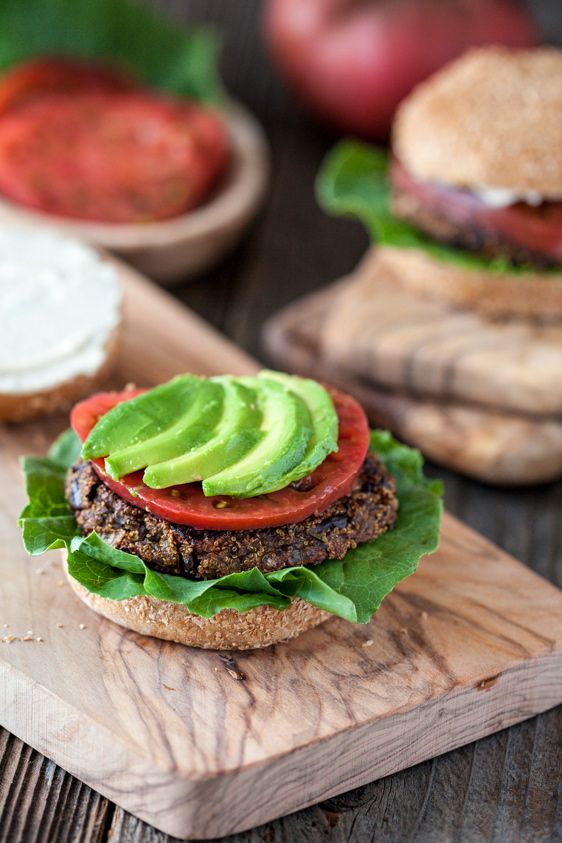 When cooked, amaranth takes on a thick, sticky texture.  When I added my eggplant mixture to just a bit of cooked amaranth, a nice, thick, and sticky concoction formed.  I divided it into four pieces and used a biscuit cutter to form perfect patties.  The oven took it from there.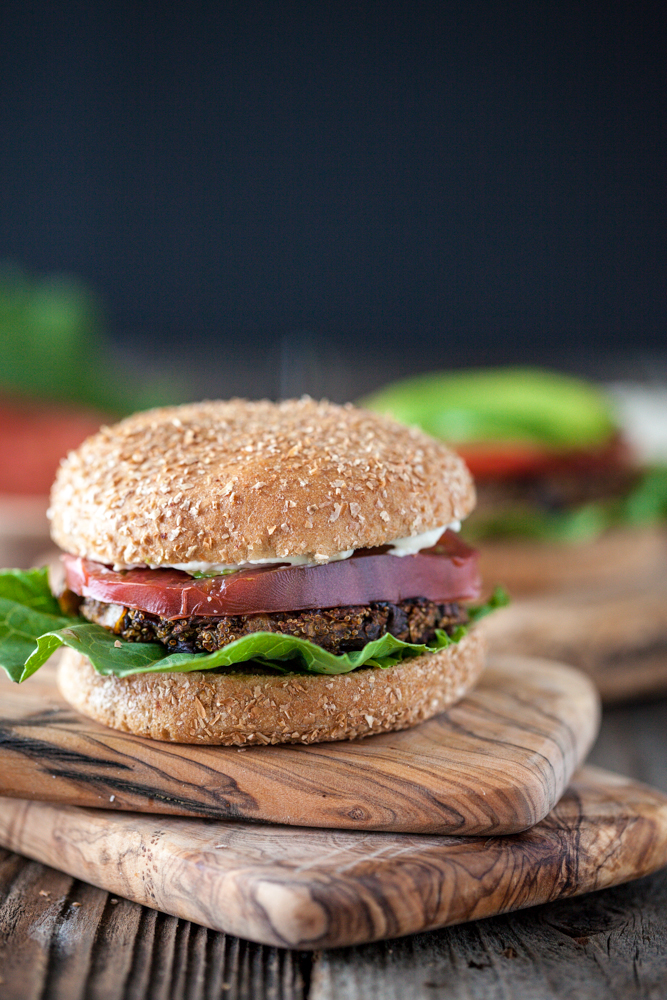 After baking them, I browned the patties just a bit on either side to make them a little less soft.  You could possibly grill them at that point, but I don't own a grill so I'm not the expert in that arena.  Regardless of how you cook them, once you get those burgers in buns with all of the fix-ins, you are going to be thanking me!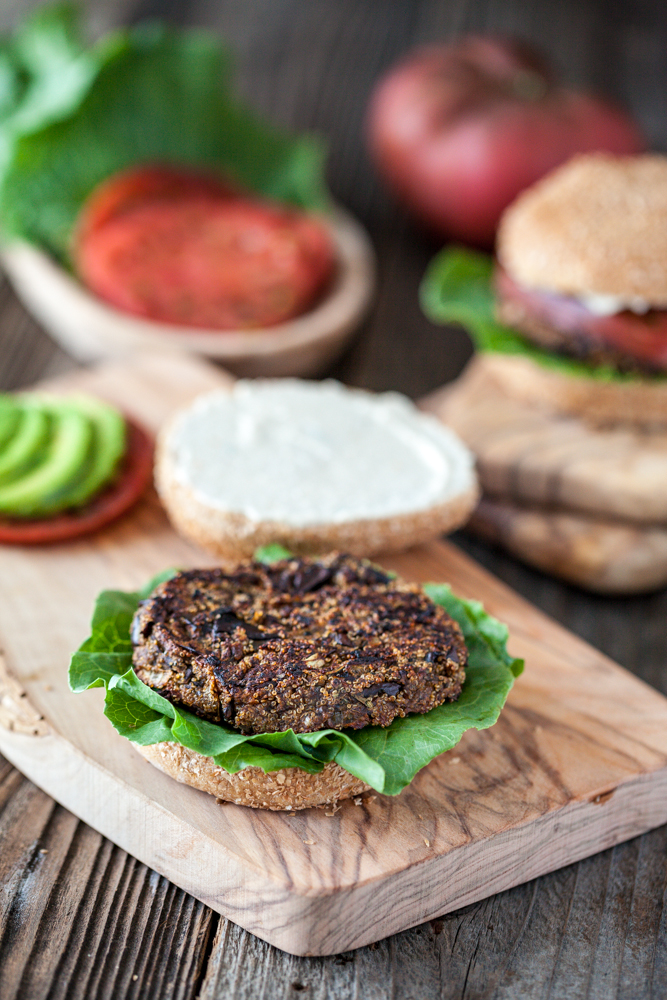 These eggplant burgers have so much flavor- savory and smoky and rich.  The amaranth adds an almost nutty flavor to them as well.   I dressed my burger with some tomato, avocado, lettuce, hummus and sriracha tahini sauce and Holy Moly!  It was just so delicious!  And with corn on the cob on the side?  This is what summer burgers are all about!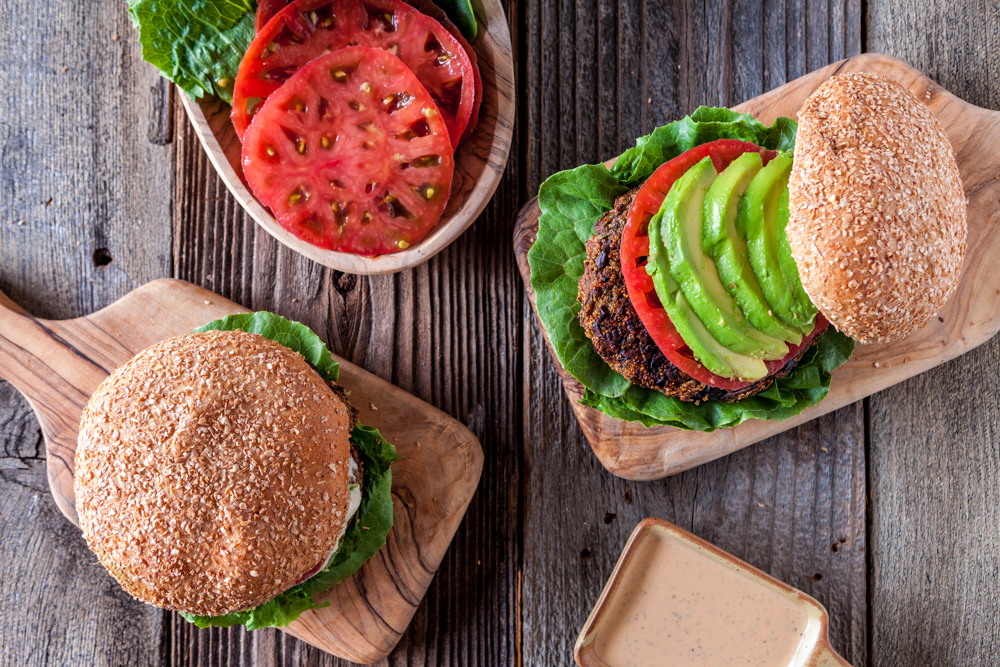 Amaranth Eggplant Burgers with Sriracha Tahini Sauce
Ingredients
3 cups diced eggplant
olive oil spray
2 tablespoons Bragg Liquid Aminos
1/4 cup amaranth
3/4 cup vegetable broth
1 teaspoon olive oil
1/2 onion, diced
1 clove garlic, minced
1 tablespoon nutritional yeast
2 teaspoons dried basil
1 teaspoon dried oregano
1 teaspoon liquid smoke
salt and pepper to taste
4 burger buns
burger fixings (tomato, lettuce, red onion, avocado, ketchup, mustard, BBQ sauce, hummus)
Sriracha Tahini Sauce (optional)
Instructions
Preheat oven to 400. Line a baking sheet with parchment paper. Spread the eggplant chunks out on the baking sheet. Lightly spray with olive oil and drizzle the Bragg Liquid Aminos over them. Add salt and pepper to taste, then toss to fully coat. Roast in the oven for 20 minutes, tossing once halfway through. Once cooked, remove from heat and let cool for about 5 minutes.
While the eggplant is in the oven, cook the amaranth. Combine the amaranth and vegetable broth in a small pot and cover. Bring it to a boil, then reduce to a simmer and crack the lid just a hair. Let simmer until liquid has cooked away, about 10-15 minutes. Fluff with a fork and set aside.
Also while the eggplant is in the oven, cook the onion and garlic. In a small frying pan, heat the olive oil over medium heat for about one minute. Add the onions and garlic and sauté until onion is translucent. Remove from heat.
Combine the eggplant, onion & garlic, along with all of the spices, nutritional yeast, liquid smoke in a food processor. Pulse just a few times until it is broken up and mushy, but not pureed. You want it to still be a tad chunky.
Add the eggplant mixture to the cooked amaranth and mix together. Divide the mixture into 4 equal parts and use a biscuit cutter to form into patties on the baking sheet that you used to cook the eggplant (you can use the same parchment paper too). Bake the patties in the oven for about 35-40 minutes, flipping once halfway through.
Once they are baked, you can pan fry them on each side for a few minutes to "brown" them and make them a little firmer. Just lightly spray the pan with a little bit of olive oil and cook the patties on each side for 3-4 minutes over medium heat. You could possibly try grilling them at this point, but I have not tried that.
Now you can make the burgers. Add whatever burger fixings you want, but I recommend spreading some Sriracha Tahini Sauce on either the top or the bottom half of the bun. Serve immediately and Enjoy!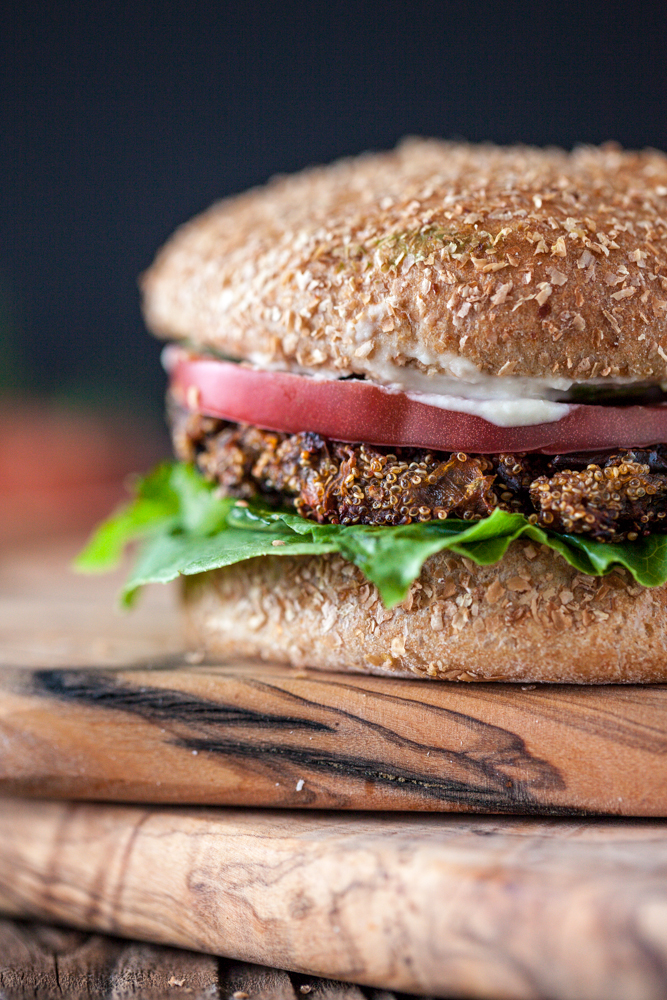 I just wanted to thank all of you for leaving such wonderful comments!  I swear, I read each and every one and they all put the biggest smile on my face.  I'm sure you can all understand that life gets hectic sometimes and I haven't been able to respond to all of your comments as much as I'd like.  Just know that your words truly warm my heart and I will respond when/if I can.  
Also, just so you know, the site is going under some serious renovations this week so you may not be able to visit for a couple of days.  I haven't gone anywhere, it's just the site getting all beautiful and stuff.  I can't wait to show you the makeover!  Just hang in there and Keepin' It Kind will be back, better than ever.  🙂
What's your favorite type of burger?
Photography by Chris Miller