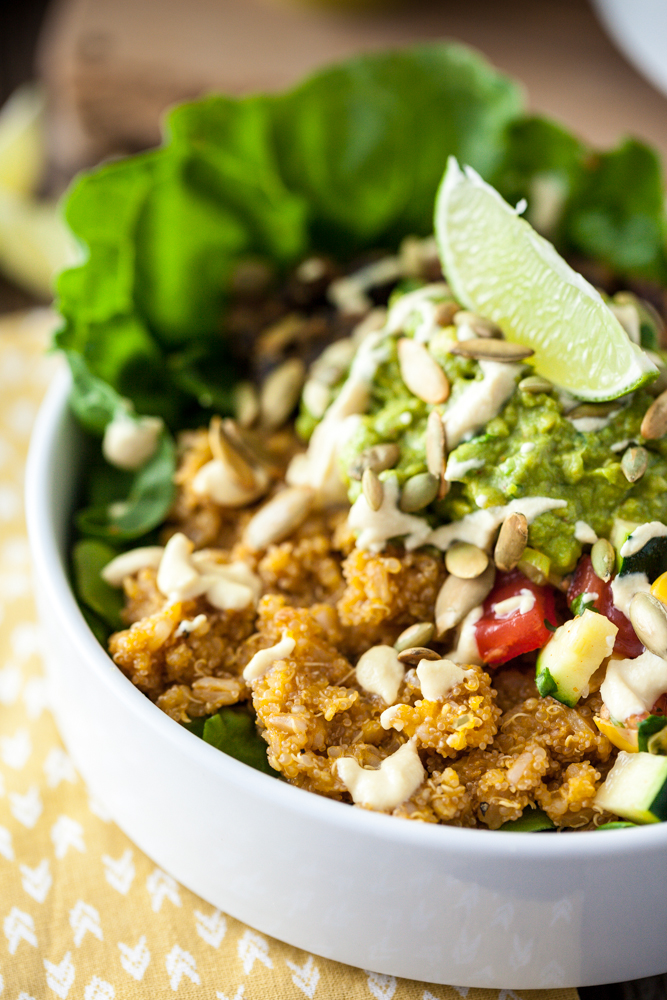 As a kid, there was a Mexican restaurant that my family went to all the time, El Burro.  I loved this place because, at the time, there was a big fountain outside with little frog statues that shot water out of their mouths and a big, covered gazebo where I could pretend I was on stage and dance like a maniac (neither of which are still there).  The food was good too.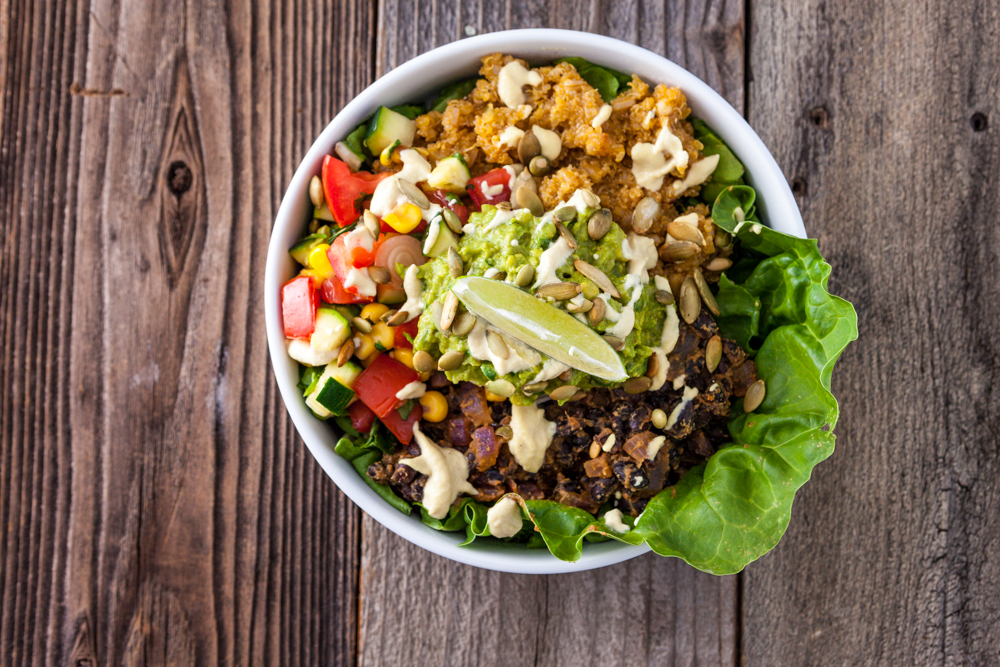 Back then, I only liked very plain foods.  While my mom and dad would order the chile verde burrito or enchiladas, all I wanted was a side of beans, a side of rice, and a tortilla.  Once I was served, I would use my fork to mix the beans and the rice together.  If my parents had ordered guacamole as an appetizer, I would add some of that in there too.  I would then eat the rice and bean mixture, occasionally taking breaks to take bites of my plain tortilla.  This was what I ordered at any Mexican restaurant I went to (except Taco Bell) until I was around fifteen years old.
I loved my little Mexican restaurant set-up.  I would probably have continued to order this way forever if it weren't for becoming a teenager and going on dates.  On one such date, we went to a Mexican restaurant and not wanting to look childish, I ordered a burrito, thus marking the beginning of my NorCal burrito obsession (though that is a story for another day).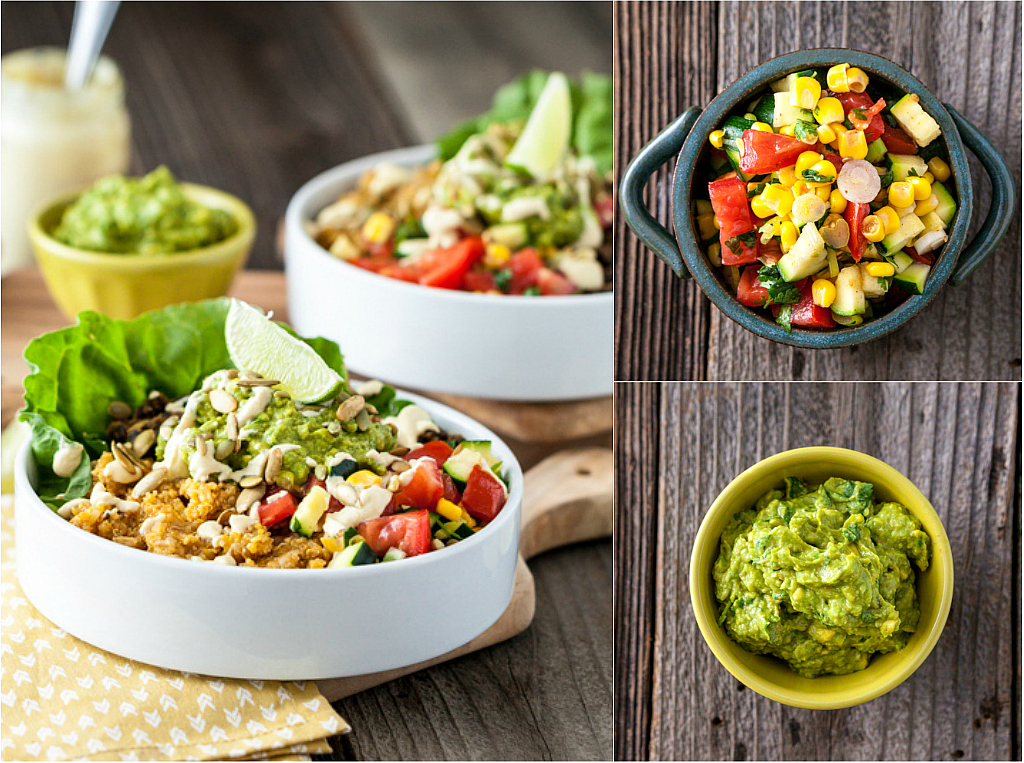 Since then, I've periodically had beans and rice as a meal (though it may not have been "Mexican-themed" per say) and of course, I've always loved the sides of beans and rice you get with your meal at some Mexican restaurants.  I know that this sort of recipe is far from original.  It's just that the thought of actually making a meal of Mexican-style beans and rice just hasn't really been at the forefront of my mind until recently.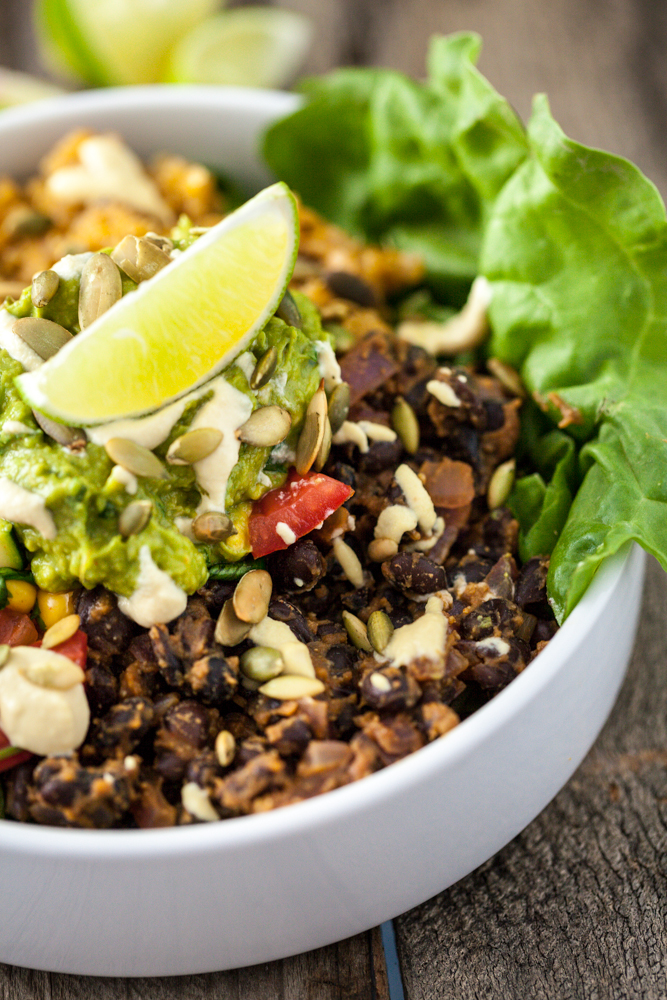 The Cafe Gratitude near my house recently added the "I am Mucho" to the menu, a Mexican-themed beans and rice bowl.  The last time I was there, as I scanned the menu my eyes fell upon this entry.  Beans and rice or quinoa served over lettuce with tomatoes, corn, cashew cheese and guacamole... I was in love.  The dish was every bit as good as I'd expected and for a week, I couldn't stop thinking about it.  I needed to replicate it.  So I did and now I can't stop making it.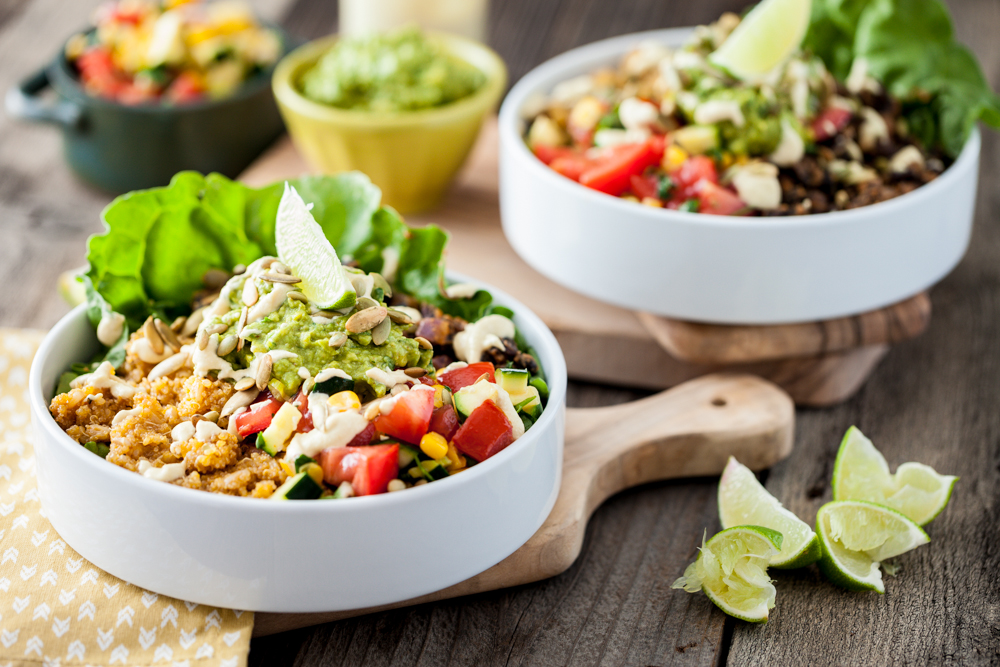 My version has a mixture of quinoa, amaranth (an ancient Mexican grain), and farro cooked in vegetable broth to give it a little more flavor (though brown rice could easily be used instead of farro to make this bowl gluten-free).  I also made a salad/pico de gallo combo of roma tomatoes, corn, zucchini, cilantro and lime juice.  It's served over a bed of chard (though any other green could be used) with some black beans and topped with a big dollop of fresh guacamole, cashew cheese sauce and toasted pepitas for a little extra crunch.  It's basically my heaven on Earth.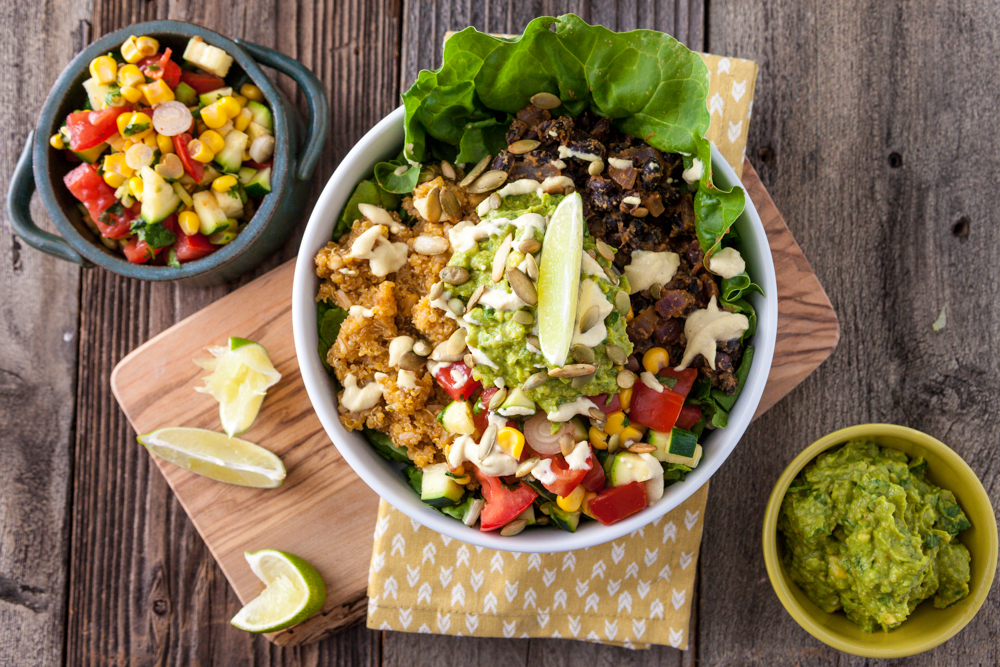 It's interesting to me that one of my favorite meals as a child was a classic vegan meal that I still love just as much today.  The old adage says that if you put a young child in a room with an apple and a bunny, he/she will eat the apple and play with the bunny.  It's our natural instinct to eat plants and yet, as we get older, we're often detoured from those instincts for one reason or another.  Eating animals and their byproducts is not something we naturally do, it's something we're taught.  I say it's time to let our inner child choose what we eat.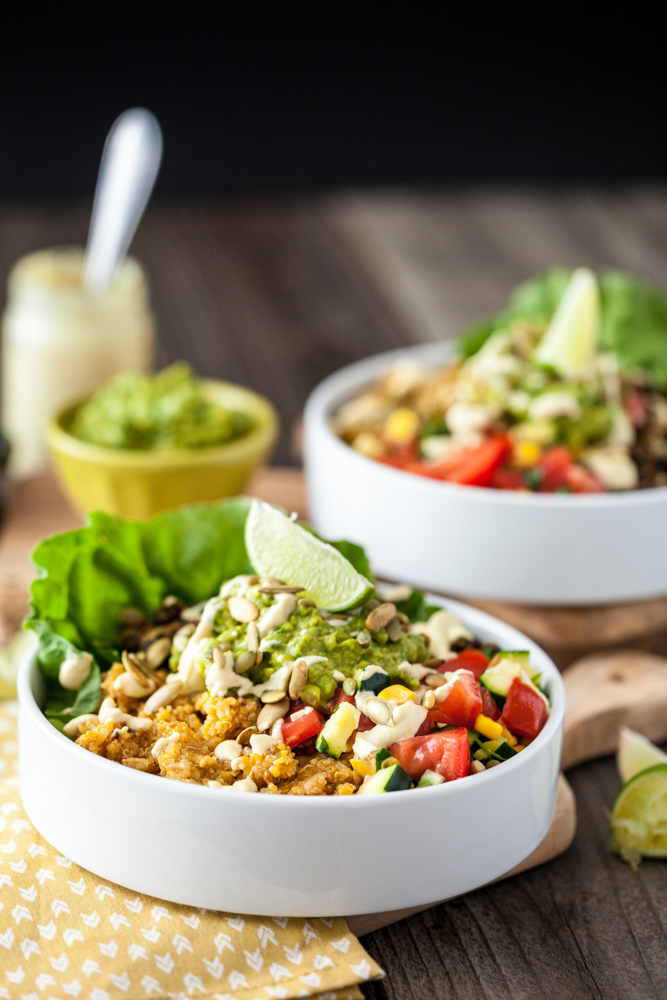 Ingredients
1/2 cup raw cashews, soaked for at least one hour (reserve the water)
6 tablespoons reserved soaking water
juice of 1/2 a lemon
2 tablespoons nutritional yeast
1 teaspoon white miso
1/2 teaspoon garlic powder
salt to taste (optional)

for the tomato, corn & zucchini salad

3 roma tomatoes, diced small
1 zucchini, diced small
2/3 cup corn kernels (fresh or frozen & defrosted)
1 green onion, finely chopped
1/4 cup cilantro
juice from 1 lime
several dashes of cayenne pepper
salt to taste
2 avocados, seeded and skins removed, mashed
1/4 cup cilantro
juice of 1 lime
1 clove garlic, minced
1/2 teaspoon ground cumin
salt to taste
1/4 cup amaranth
1/4 cup quinoa
1/4 cup farro (or brown rice)
2 cups vegetable broth
1/4 cup water
1 teaspoon olive oil
1/2 red onion, diced
2 cloves garlic, minced
1 15oz can of black beans, rinsed and drained
1/2 cup vegetable broth
1/2 tablespoon Bragg Liquid Aminos (or tamari/soy sauce)
1 teaspoon cumin
1/2 teaspoon smoked paprika
1/2 teaspoon ancho chili pepper
juice of 1/2 a lime
salt and pepper to taste
2 cups chopped chard (or kale, spinach, romaine, or other green)
1/3 cup toasted pepitas
hot sauce (optional)
Instructions
Combine all of the cashew cheese ingredients in a food processor and process until smooth. Store in an airtight container until ready to use. This can be made a few days in advance, if needed.

make the tomato, corn & zucchini salad

Combine all of the salad ingredients in a bowl and mix until combined. Cover and chill until ready to use. This can be made a day in advance, if needed.
In a large bowl, mash the avocados using a potato masher or fork until it is creamy with only small chunks left. Add the rest of the guacamole ingredients and mix until combined. Cover and chill until ready to use. This can be made a couple hours ahead, if needed
Once the quinoa and farro have soaked for an hour or so, rinse and pour into a pot. Add the amaranth and cover with the vegetable broth and water. Cover the pot and bring to a boil. Once it is boiling, crack the lid just a hair and reduce to a simmer. Let it simmer until all liquid has cooked away, about 20-25 minutes. Once the liquid has cooked away, remove from heat and stir with a fork. Cover again and let rest until ready to use.
In the last ten minutes that the grains are cooking, you can cook the beans. Heat the olive oil in a frying pan over medium heat for about a minute. Add the onion and sauté until translucent. Add the garlic and the beans and mix to combine. Add the spices, the vegetable broth and the Bragg Liquid Aminos and mix to combine. Let it cook until liquid has cooked away, stirring occasionally to prevent sticking. Once the liquid has cooked away, remove from heat and stir in the lime juice.
Distribute the greens amongst the serving bowls (this will provide for 2-4 people). To each bowl, add some of the cooked grains, the cooked beans, and the tomato, corn & zucchini salad. Top each with a dollop of guacamole and drizzle cashew cheese. Sprinkle toasted pepitas and serve immediately. Enjoy!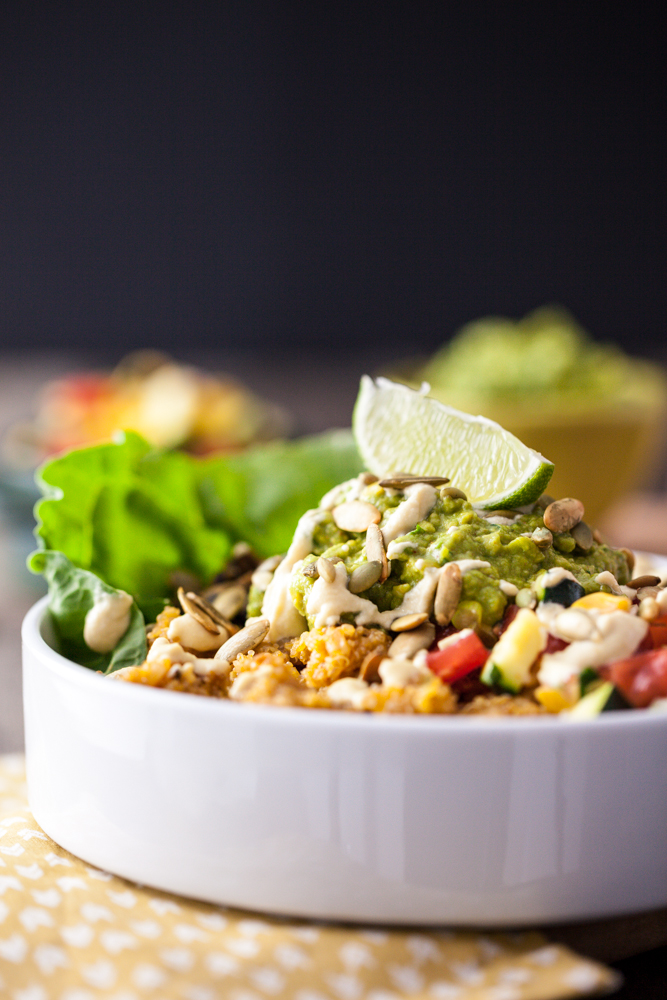 Do you like Mexican food?  What's your favorite Mexican meal?
Photography by Chris Miller