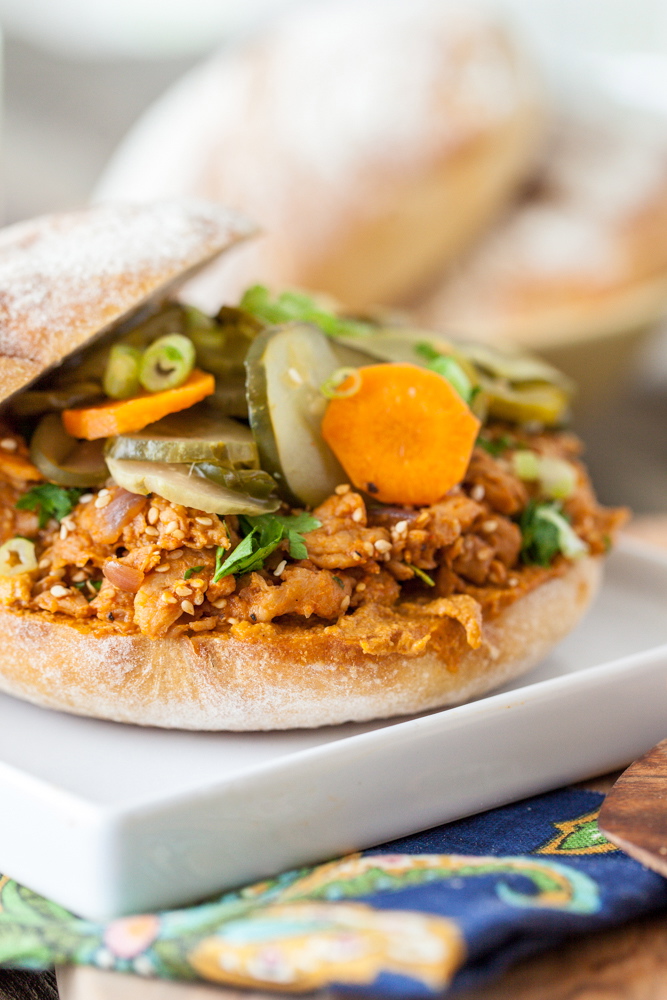 So, this one time, I got pickling cucumbers in my CSA delivery.  I didn't know what to do with them.  I figured that the best thing to do with them would be to pickle them, right?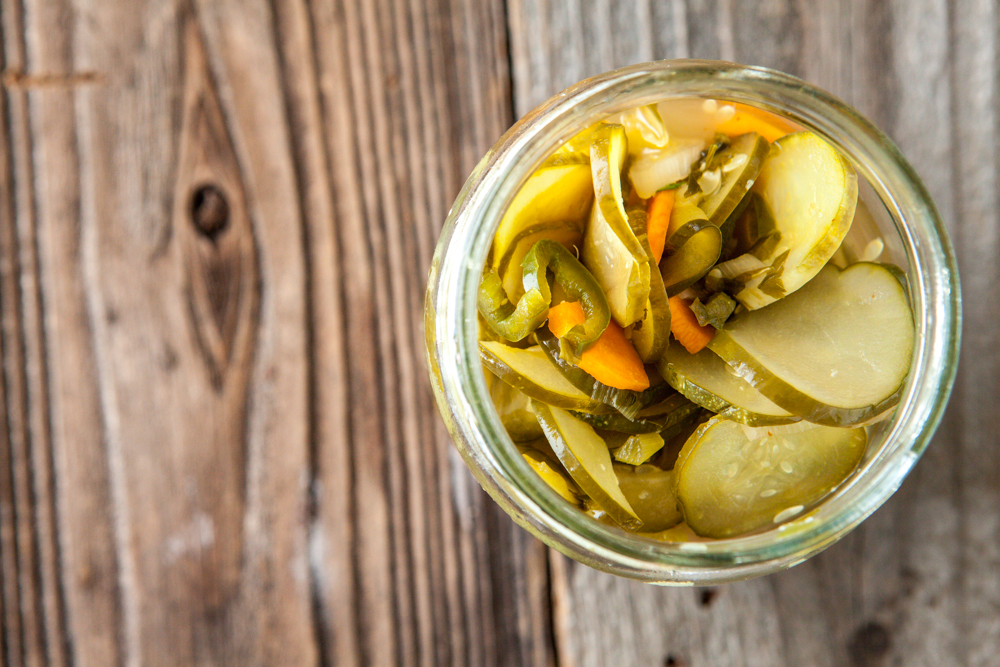 I decided to get a little fancy and add a little spice to it.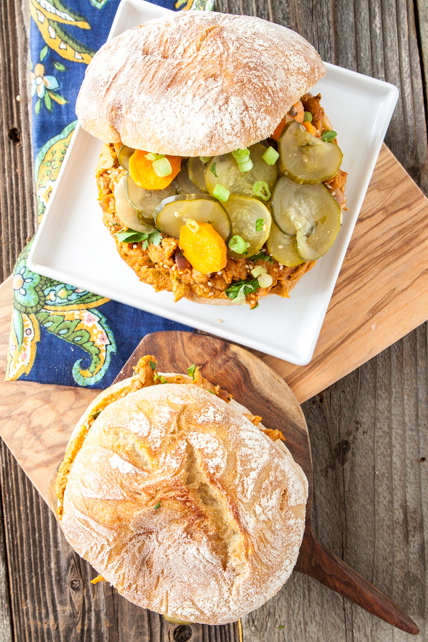 It turned out really great.  I mean, it was pretty fantastic.  Tangy, salty, with a bit of heat in the aftertaste.  But I didn't know what to do with them.  I just had this jar of delicious, spicy pickled cucumbers with no idea what to eat them with.  A girl can only eat so many spicy pickled cucumbers from a jar.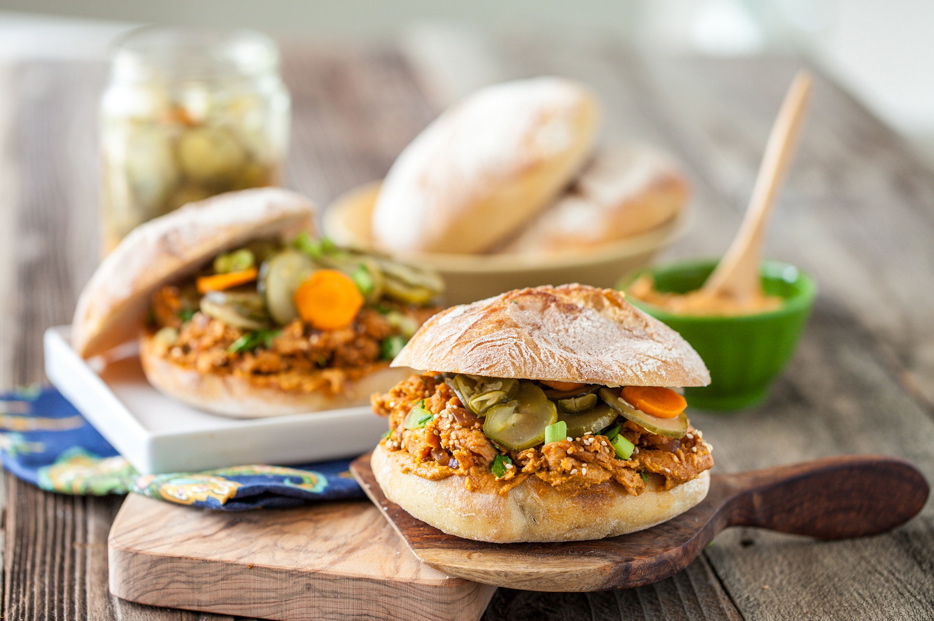 So I started brainstorming.  I had a lot of ideas but finally landed on this one.  In a sandwich with soycurls cooked in sriracha sauce and tossed in sesame seeds.  I would have to do a creamy spread of some sort, maybe a cashew cheese.  It was one of those ideas that I really wasn't totally sure how it was going to come together.  I must've worked on this recipe for about three days.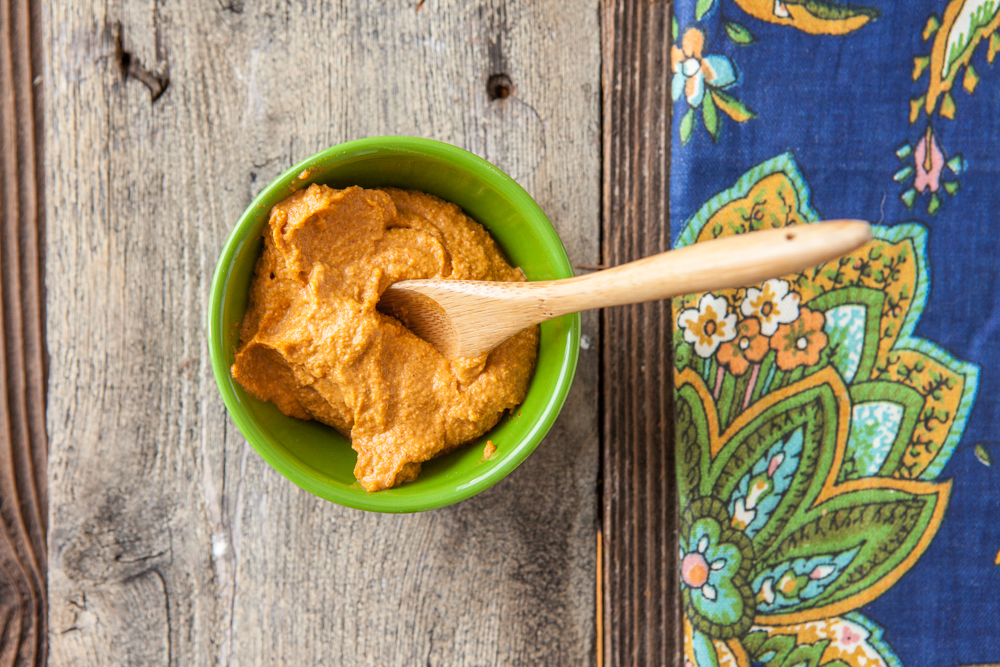 I wrote the recipe out like I always do before I try making it, but I was unsure about it.  It looked good on paper but once it was made, I knew that it was either going to be awesome or it was going to be disgusting.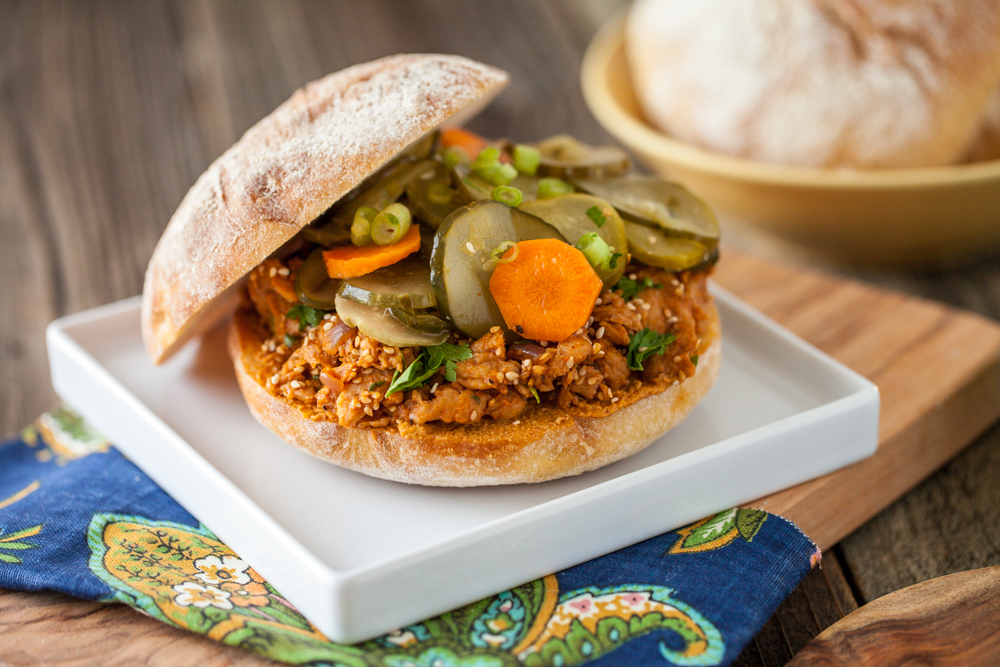 And I was totally right.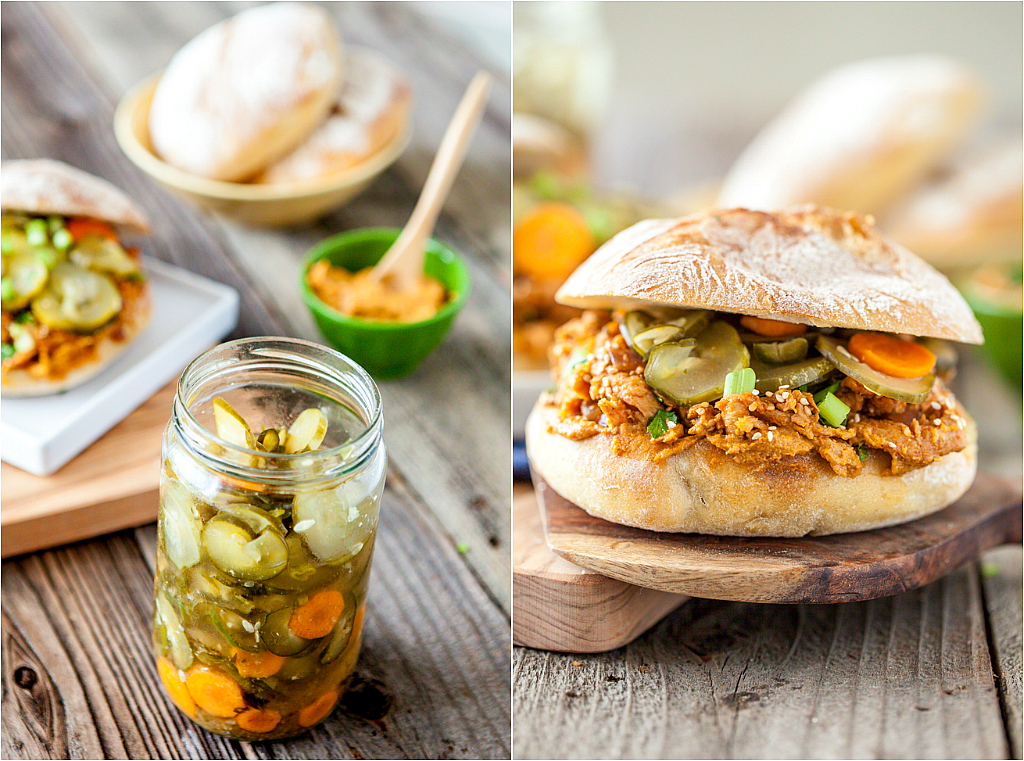 It was completely not disgusting at all- this sandwich was awesome!  The flavor of these soy curls is nutty yet spicy and slightly hot.  The fresh ginger and garlic shine through in every bite and the toasted sesame seeds add the perfect amount of texture.  The cashew cheese is just slightly smoky from the ancho chili powder and smoked paprika and the cheesiness is perfect with these soy curls.  The spicy pickled cucumber salad offers a great contrast, not only in taste but in texture too.  Served in fresh, crusty ciabatta rolls, every bite bursts with a ton of flavor and though it is hot, the spiciness doesn't make you cry overwhelm your tastebuds.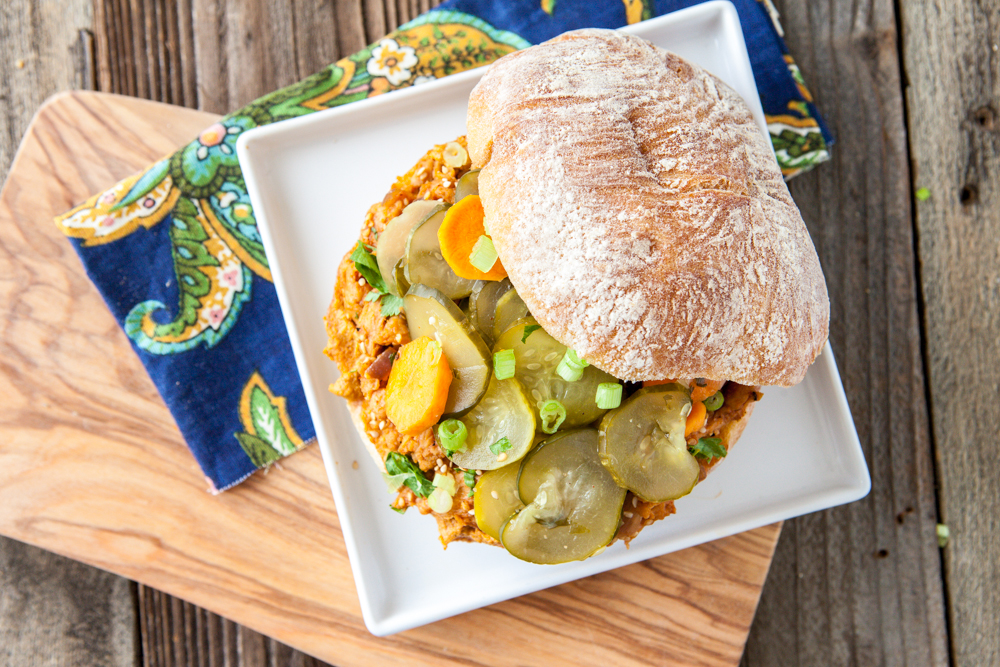 So I served these delicious sandwiches with some sweet potato fries and we did it all over again the next day with the leftovers.  Then the day after that, I got pickling cucumbers in my CSA delivery again.  This time, I knew exactly what to do with them.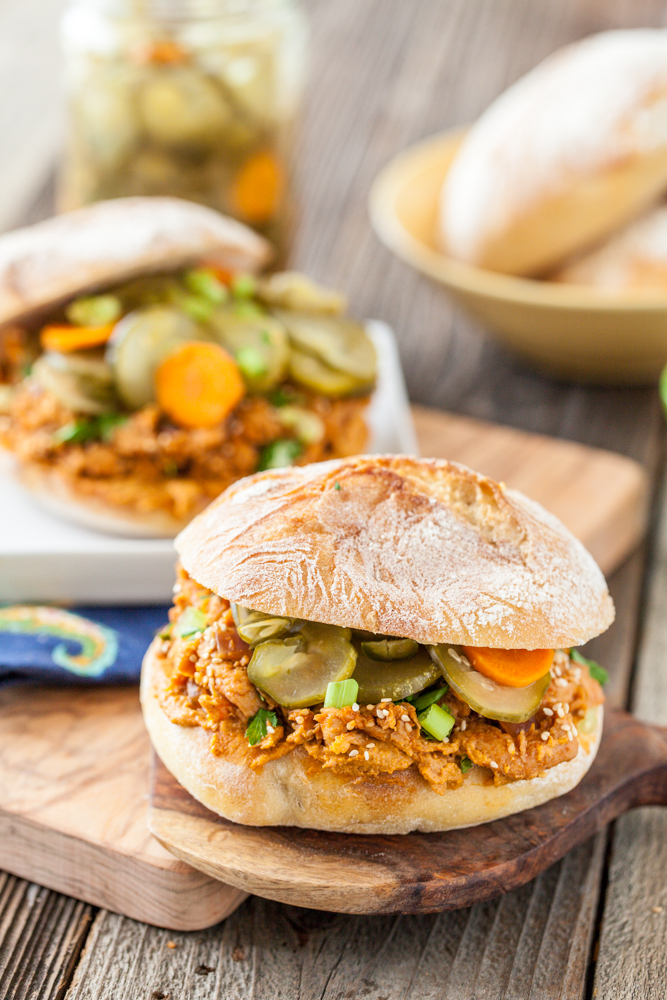 Sesame Sriracha Soy Curl Sandwich with Spicy Pickled Cucumber Salad
Ingredients
for spicy pickled cucumber salad

3-4 pickling cucumbers, very thinly sliced
1 teaspoon salt
1-2 small carrots, thinly sliced
1-2 jalapeños, seeded and thinly sliced
1-2 tablespoons fresh chopped cilantro
2 teaspoons sriracha (or other hot sauce)
2 teaspoons brown rice vinegar
2 teaspoons agave syrup
1 teaspoon finely minced garlic

for the cashew cheese sauce

1/2 cup raw cashews, soaked for 1-2 hours (or overnight), reserve the water
5 tablespoons of reserved soaking water
2 tablespoons nutritional yeast
1 teaspoon white miso
1 teaspoon smoked paprika
1 teaspoon ancho chili powder
1/2 teaspoon garlic powder

for the sesame sriracha soy curls

1 8oz package of Butler's soy curls
1/4 cup vegetable broth
1/4 cup Bragg Liquid Aminos (or Tamari/Soy Sauce)
1/4 cup sriracha sauce
1 tablespoon tomato paste
1 tablespoon maple syrup
1 teaspoon liquid smoke
1 teaspoon ancho chili powder
1 teaspoon smoked paprika
2 teaspoons toasted sesame oil
1/2 red onion, diced
2 cloves garlic, minced
1 inch nob of fresh ginger, peeled and grated
salt and pepper to taste
1/4 cup fresh chopped parsley
1/3 cup sesame seeds
4 large rolls/buns
chopped scallions/green onions for garnish
Instructions
for the spicy pickled cucumber salad

About 1-3 days before you want to serve the sandwiches, make the spicy pickled cucumber salad. Place the sliced cucumbers in a large airtight container and mix thoroughly with the salt. Let it sit for 2-4 hours to let the cucumbers release their water.
After 2-4 hours, your cucumbers should be sitting in their own water. Add the rest of the ingredients, mix well. If there is not enough liquid to cover the cucumbers, add a little water until they are covered, mix again and cover. Let sit for 1-3 days (depending on how pickled you want them to be). Once you are happy with their level of "pickledness" transfer the container to the refrigerator and chill until ready to use.

for the cashew cheese sauce

Blend all ingredients in a food processor until smooth. Add more water to thin out the sauce, if necessary. Chill until ready to use.
Place the soy curls in a bowl and cover with water. Let them sit for 10 minutes or more (if needed) until they are rehydrated. Once rehydrated, drain well.
While the soy curls are rehydrating, make your sauce. Combine the vegetable broth, Bragg's Liquid Aminos, sriracha sauce, tomato paste, maple syrup, liquid smoke, ancho chili powder, and smoked paprika and mix well. Set aside.
In a large frying pan, heat the sesame oil over medium heat. Add the onion and sauté for 2-3 minutes. Add the garlic and ginger and sauté for a minute more. Add the soy curls and cook them for about 5 minutes to help release some of the moisture. Add the sauce and mix well. Let it simmer, stirring occasionally until no more liquid is visible, about 10 minutes. Lower the heat and let it continue to cook, stirring occasionally, for about another 10 minutes. Add salt and pepper to taste and remove from heat. Add the fresh parsley and combine.
While the soy curls are simmering, place the sesame seeds in a small frying pan and toast them over medium heat, stirring frequently to prevent burning. Once they begin to smell nutty and they look toasted. Remove from heat. Add the sesame seeds to the soy curls and toss to coat.
Split open the sandwich rolls/buns. Spread the cashew cheese on the bottom halves of each roll. Divide the soy curls amongst each of the rolls. Top with spicy pickled cucumber salad and garnish with the chopped scallions. Serve immediately. Enjoy!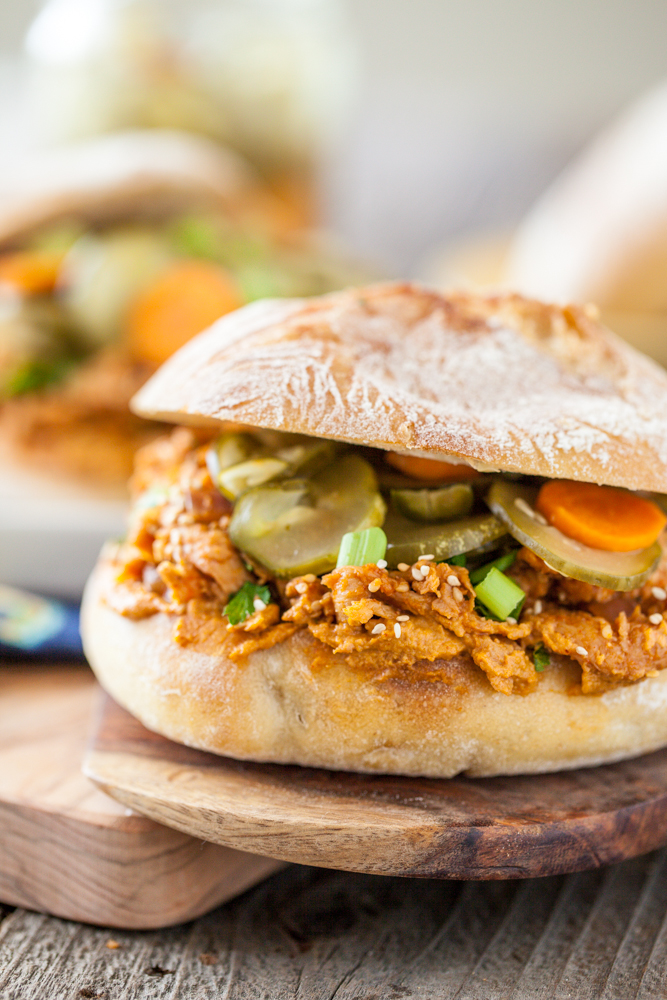 Do you ever pickle things at home?  If so, what are your favorite things to pickle?