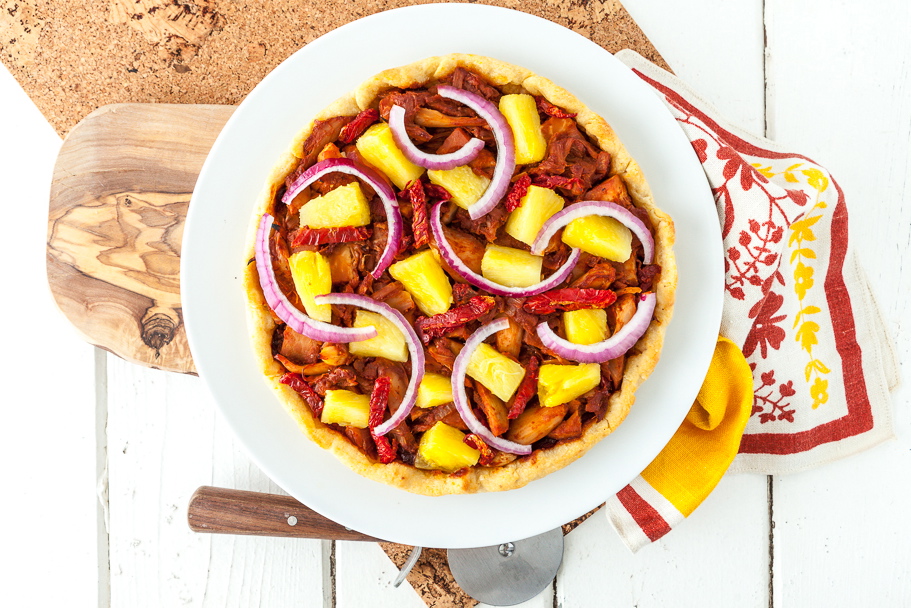 I've been really yearning for Hawaii lately.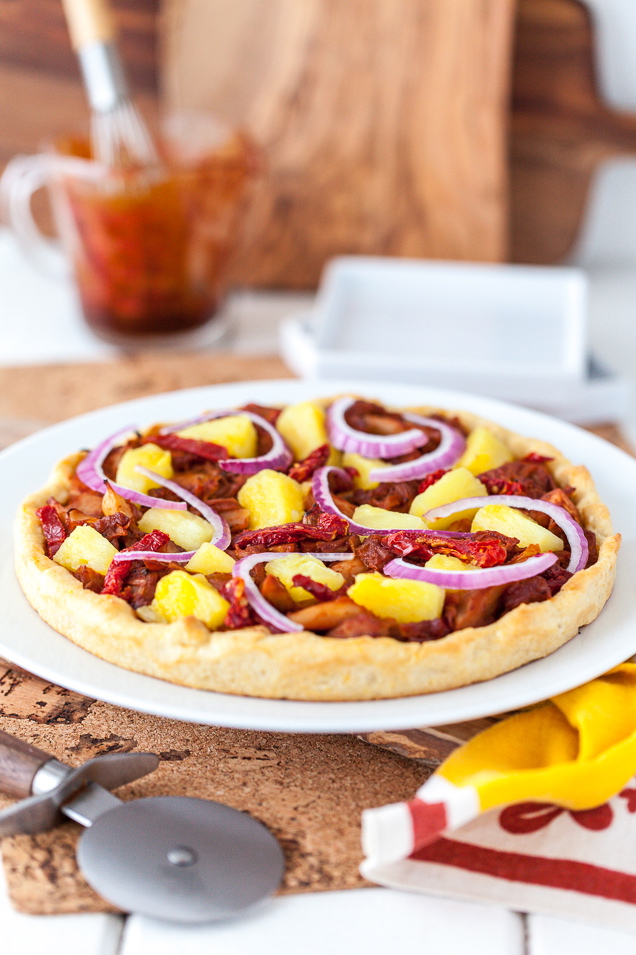 Not sure what it is- maybe it was the rainy weekend in Portland or maybe it's the bout of "June Gloom" we'd had here in LA the last couple of weeks, but I can't stop thinking about Maui.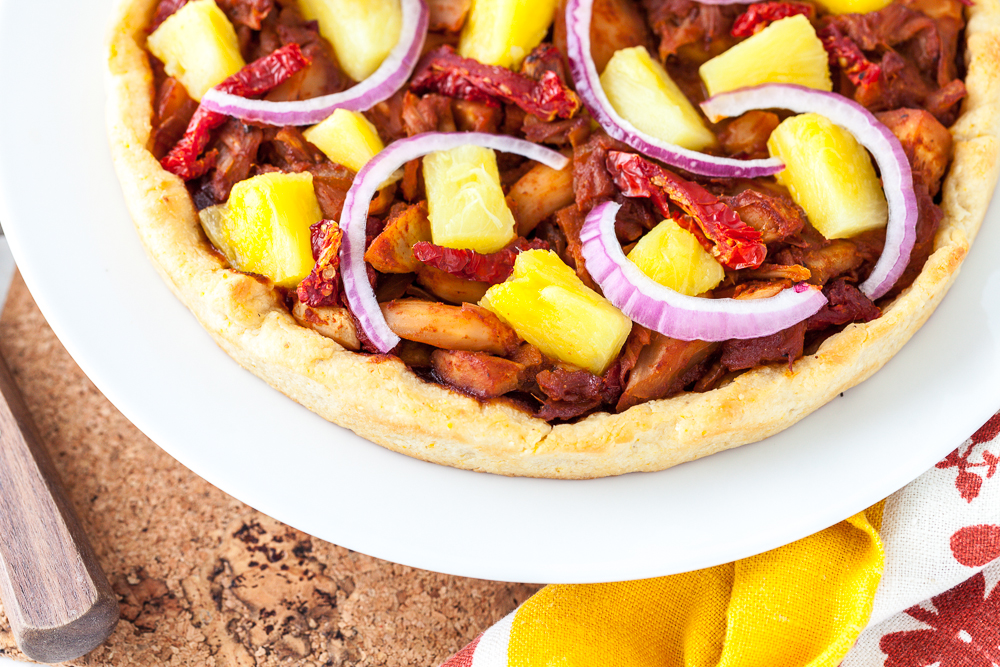 The idea of lounging poolside with a good book all day sounds incredibly enticing.  Acai bowls from Choice sound really good right about now too (I can make my own, but they taste so much better when someone makes them for me).  Snorkeling with sea turtles doesn't sound half-bad either.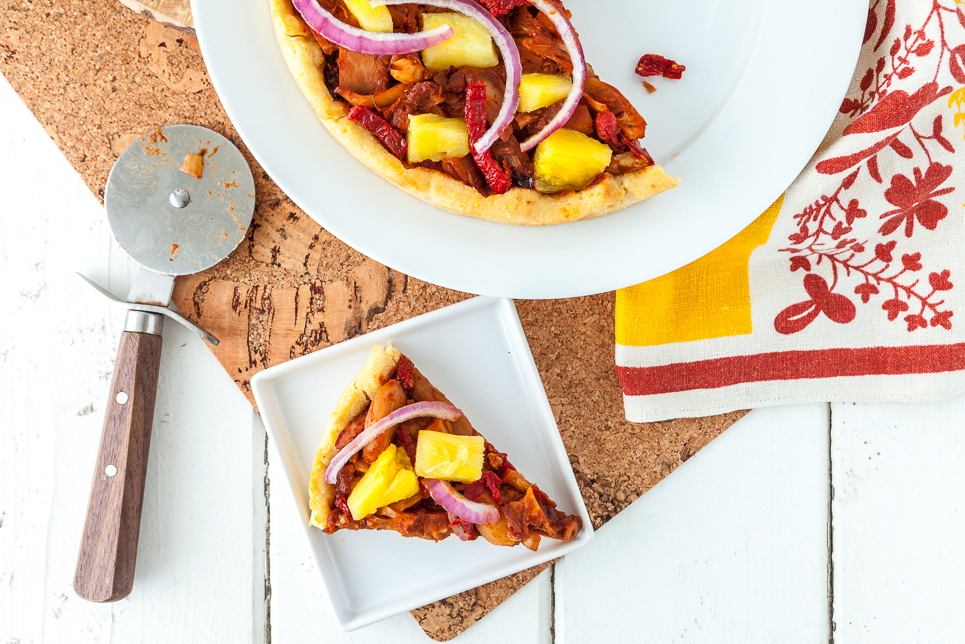 Until we can find some free time and some spare cash laying around, however, this pizza will have to suffice.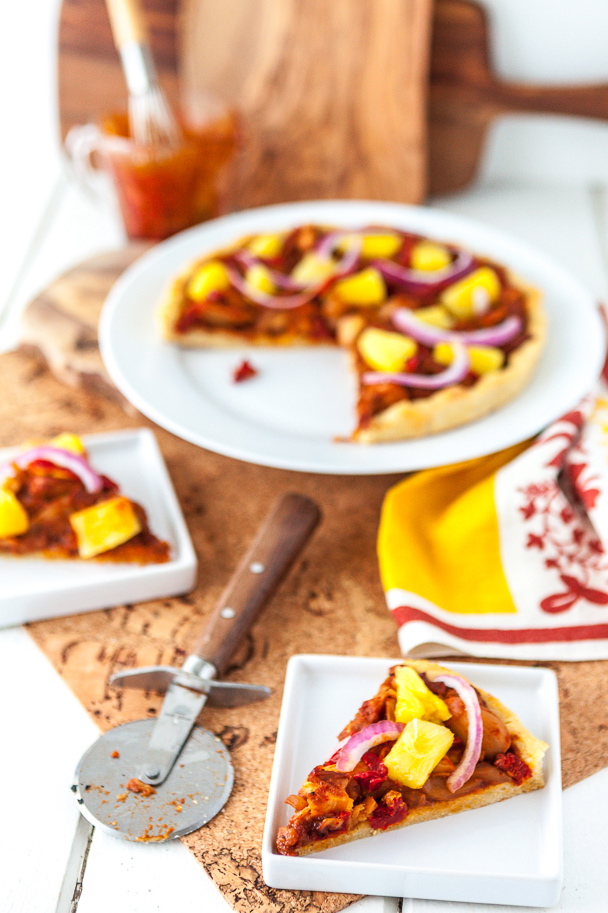 To be honest, I never really cared for Hawaiian-style pizzas in the past.  It always seemed like there were weird chunks of ham on them and even before I became vegetarian and later vegan, that was always extremely unappetizing to me.  What those pizzas needed all along was BBQ jackfruit instead.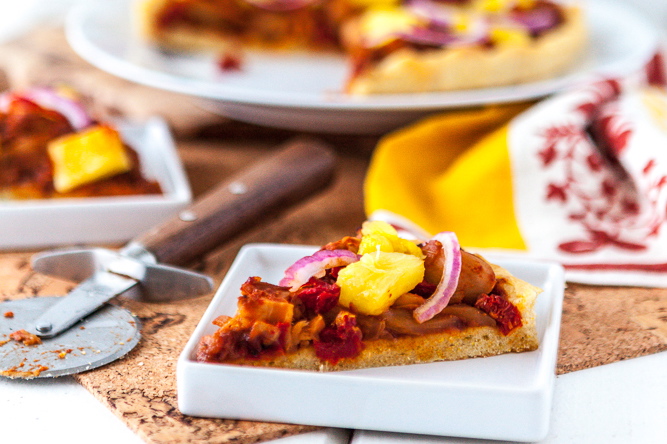 I know jackfruit can be hard to come across, but if you have a Whole Foods near you, check them out (in the same aisle as the canned pumpkin/squash/etc.) because my local Whole Foods just started carrying it.  If not, check out your local Asian market and if you do not have either of those, you can always try online.  For savory recipes, be sure to find the kind that is packed in brine, though, and not syrup.  Once you find some, stock up- you're going to be wanting to make this pizza all the time.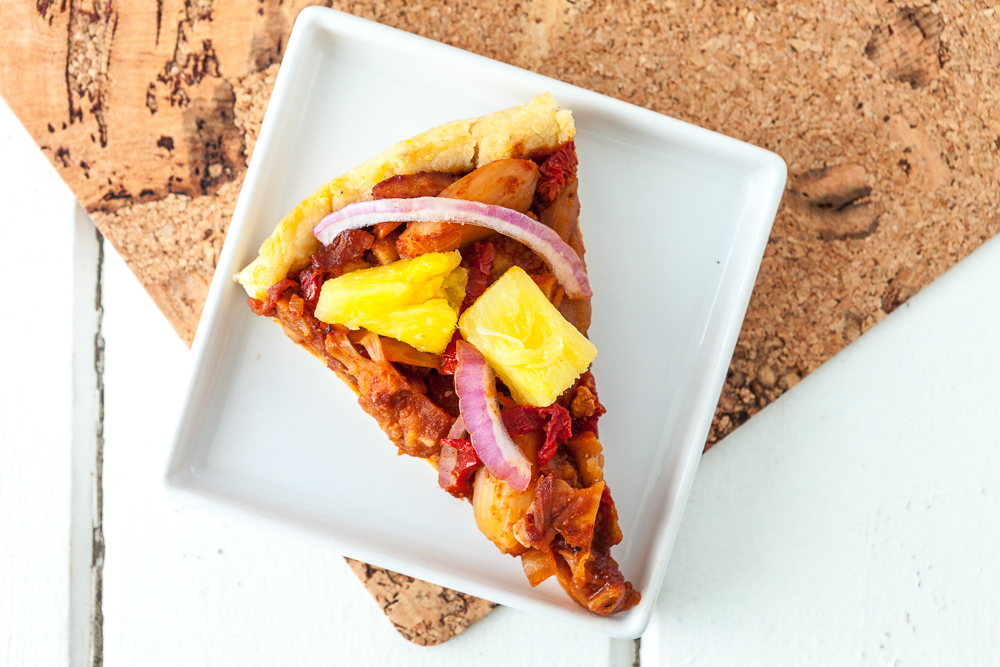 With loads of jackfruit drenched in barbecue sauce, chunks of bright and juicy pineapple, bold bits of sun-dried tomatoes, and topped with crisp red onions, this pizza will have you donning a grass skirt and doing the hula in no time.  Yeah- it's that good.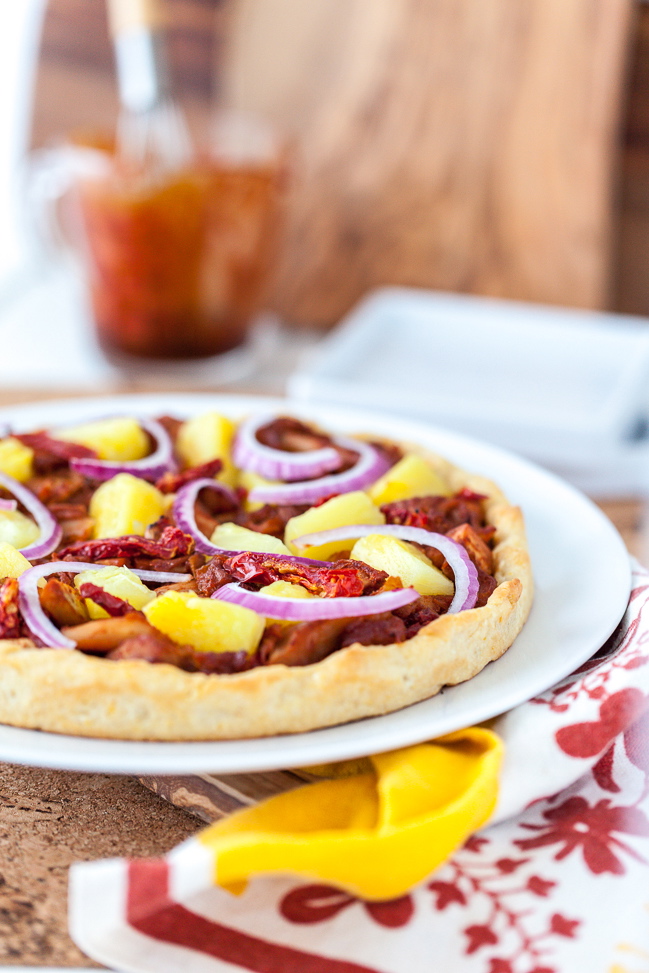 Hawaiian BBQ Jackfruit Pizza
Ingredients
2 20 oz. cans of jackfruit, packed in brine
1 cup BBQ sauce (I used Organicville)
2 tablespoons tomato paste
1 tablespoon hot sauce (I used Sriracha sauce)
1 teaspoon cumin (optional)
1/2 teaspoon smoked paprika (optional)
salt and pepper to taste (optional)
1 teaspoon olive oil
1/2 red onion, chopped, plus a few slices for a topping
2-3 cloves garlic, minced
1/4 cup sliced sun-dried tomatoes
3/4 cup pineapple chunks
1 cornmeal pizza crust (I used Vicolo's but you can use your crust of choice, or prepare your own).
Instructions
Preheat oven to 425. Prepare your pizza baking pan.
Place the jackfruit in a colander and thoroughly rinse it. Use two forks or your fingers to tear the jackfruit into shreds. Set aside.
Combine the BBQ sauce, Sriracha sauce, tomato paste, cumin, smoked paprika, and salt and pepper in a small bowl. Mix together and set aside. (Note: If you make your own sauce, you may not want to add the extra spices. I add them because I used a store-bought sauce and I wanted to add a little more depth. It's totally up to you).
Heat 1 teaspoon olive oil in a frying pan over medium heat for about one minute. Add the onions and garlic and sauté until translucent.
Add the jackfruit and sauté until most of the liquid released from the jackfruit is gone. Mix in the prepared sauce, lower the heat to medium-low, cover the pan and let the jackfruit cook for about 10-20 minutes, stirring occasionally. Mix in the sun-dried tomatoes and let cook for another 2-3 minutes.
Place your prepared pizza crust/dough on your prepared pan and spread the jackfruit mixture out on the crust. You will have a little more than half leftover to make a second pizza or save for sandwiches later on (trust me- you'll want to do this). Top with pineapple chunks and place in the oven for 10-15 minutes until crust is crisp and golden. Remove from oven, top with red onion slices, slice and serve. Enjoy!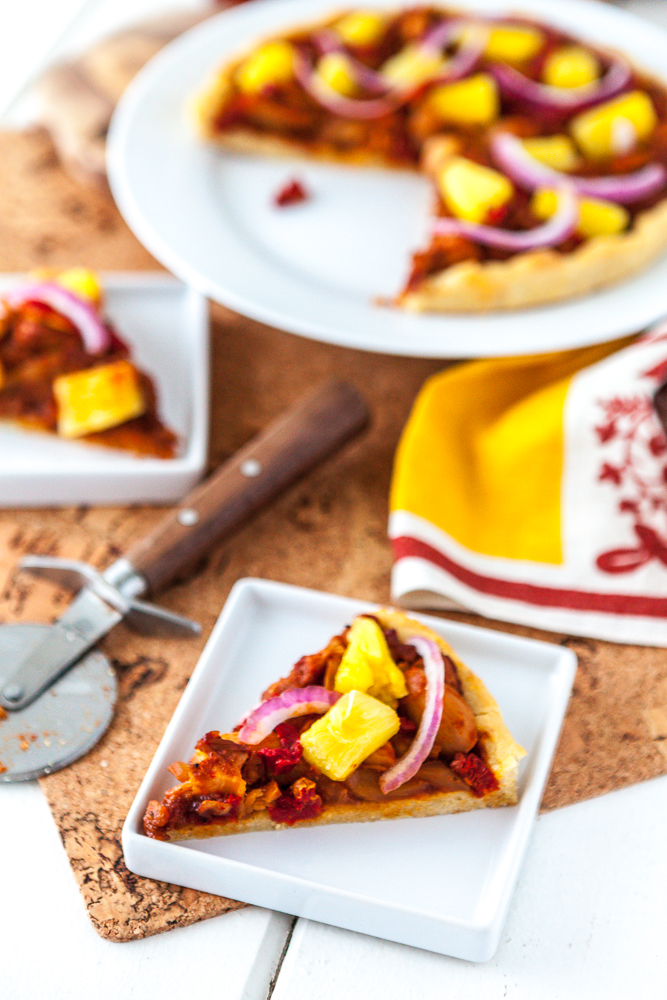 Have you been to Hawaii?  If so, what's your favorite island?  What is your favorite thing about it?
Photography by Chris Miller