When we decided we wanted a vacation, we wanted to go somewhere that we would not need an agenda, not have any expectations, and just be able to go with the flow.  I was pretty stoked when Chris sent me the confirmation for a trip to Maui.  Maui was the perfect choice for the purpose of this trip and I was very excited to go somewhere I had never been.
Though my instinct was to research all the vegan places to eat on the island and all the things to do, I refrained because I did not want to have any expectations when I got there.  I waited until we landed then used the Yelp and Happycow apps on my iphone to find out what was near us.  Even though we had these, along with a few other snacks, on the plane, we were famished when we got off the plane and were starting to get a little fiesty by the time we picked up the rental car so we drove to the closest place we knew would have vegan options: Whole Foods.  We were able to get some great hummus wraps, along with some snacks for the room and some vegan wine.  We spent the rest of the day just hanging at the hotel, and just had wine and snacks for dinner before going to bed early.
1087 Limahana Pl. Ste 1A, Lahaina, HI 96761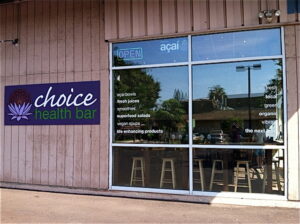 The next morning, we awoke very hungry for breakfast, so before even getting out of bed, I checked yelp for the nearest vegan breakfast option.  Yelp led us to Choice Health Bar.  Choice is owned by two young (super sweet and friendly) ladies and is a raw mostly vegan (they use raw honey and bee pollen on some things, so just be sure to ask, and they are more than happy to leave it out if you prefer) cafe, specializing in superfoods.  On the door, there is a sign showing that this is a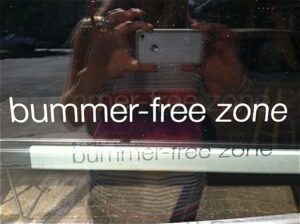 "bummer-free zone" so you know you're about to enter a pretty relaxed place.
The small space has a few tables and a couch, but the highlight is the open-kitchen, right behind the counter/bar.  All the employees (including the owners, who are working right along side everyone else) are all smiling and greet you as you enter.  There is a very happy, energetic energy in the room and it seems that everyone is happy to be there, doing what they're doing.  Yelper raved about the acai bowls, of which they have 5 on the menu (but any of their smoothies can also be made into a bowl).  I had never even heard of an acai bowl until then, but all of the choices looked amazing.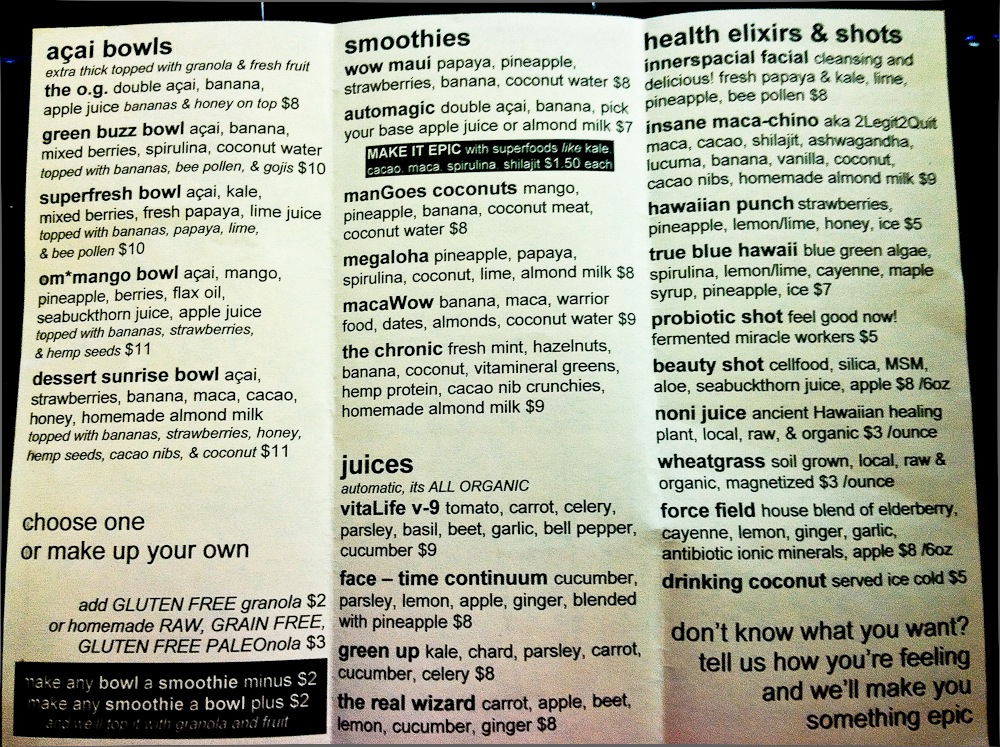 Chris chose the "Om Mango Bowl, " which had acai, mango, pineapple, berries, flax oil, seabuckthorn juice and apple juice blended together and topped with granola, banana, strawberries, and hemp seeds.
I finally settled on the "Dessert Sunrise Bowl" (because who doesn't like the sound of having breakfast for dessert?), which blended acai with strawberries, banana, maca powder, cacao, and almond milk and topped with granola, bananas, strawberries, hemp seeds, cacao nibs, and coconut (normally it has honey, but they were happy to make mine honey-free).
These bowls were probably my favorite meal on the island.  They were so good, we ended up going back every morning (except Sunday, because they were closed).  Perhaps it is because I had no prior knowledge, no expectations going in, that made these acai bowls so great.  Choice puts a little bit of granola at the bottom of the bowl before pouring in the thick, icy smoothie, and then topping with the granola, fresh fruit, hemp seeds, and in my case the cacao nibs.  Every bite was as good as the first and by the end of the bowl, we both knew: We need acai bowls in our life, all the time.
The rest of days we went there, Chris continued to order the same bowl.  The last couple days, I ordered the "Superfresh Bowl" which blended acai with kale, mixed berries, papaya, and lime juice, but I asked for the same toppings as the "Dessert Sunrise Bowl" because I couldn't give up the cacao nibs.  I almost liked that combo a little better, but they were both so amazing, its hard to tell.  They do have a menu of other food, including a Raw PB&J, but whenever we were there, we couldn't make ourselves order anything else.  If you go, I think you will be pleasantly surprised with anything you order.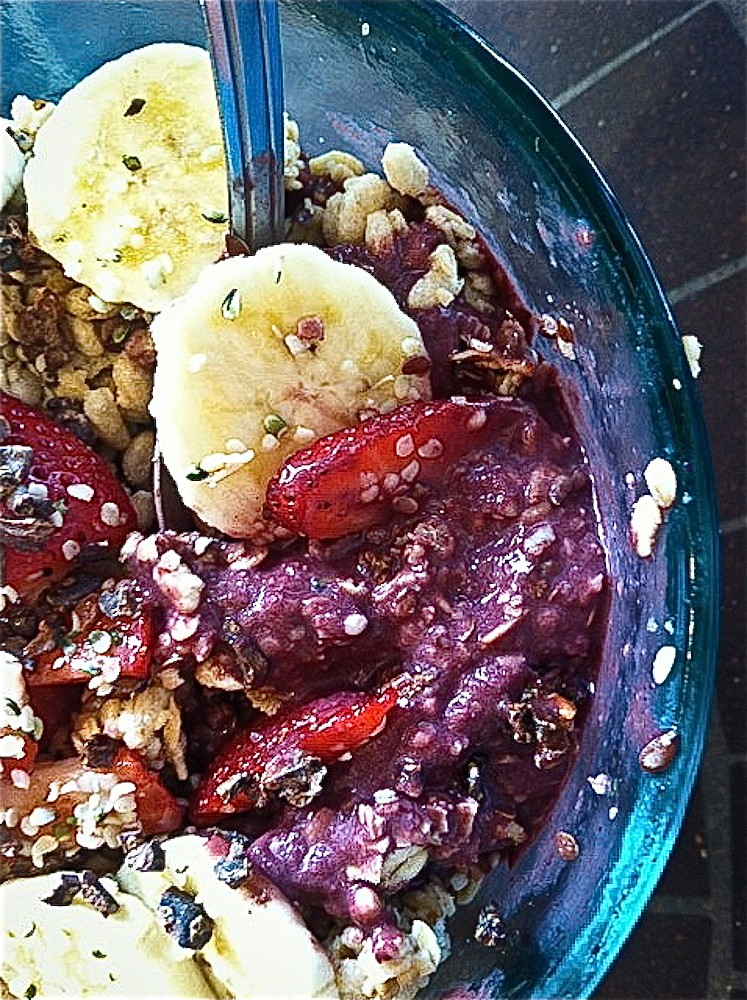 3636 L. Honoapiilani Rd., Lahaina, HI 96767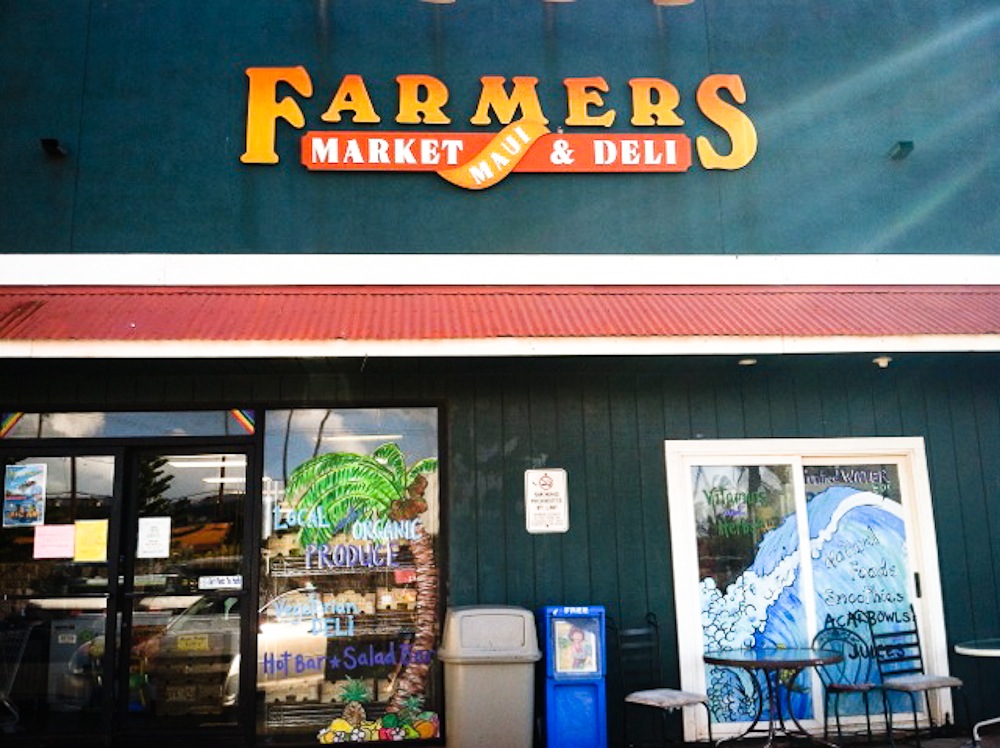 This little vegetarian market was about 5 minutes north of our hotel, and was a great find.  Besides having a regular natural foods store, where one could find all sorts of super-healthy goodies, they have a great deli, with a case of prepared sandwiches, wraps, and desserts (we got a Carrot-Cashew Pâté wrap and Falafel wrap to take with us on the plane on the way home), but they have a pretty good-sized salad bar and hot foods bar (with free samples), that we frequented on several occasions.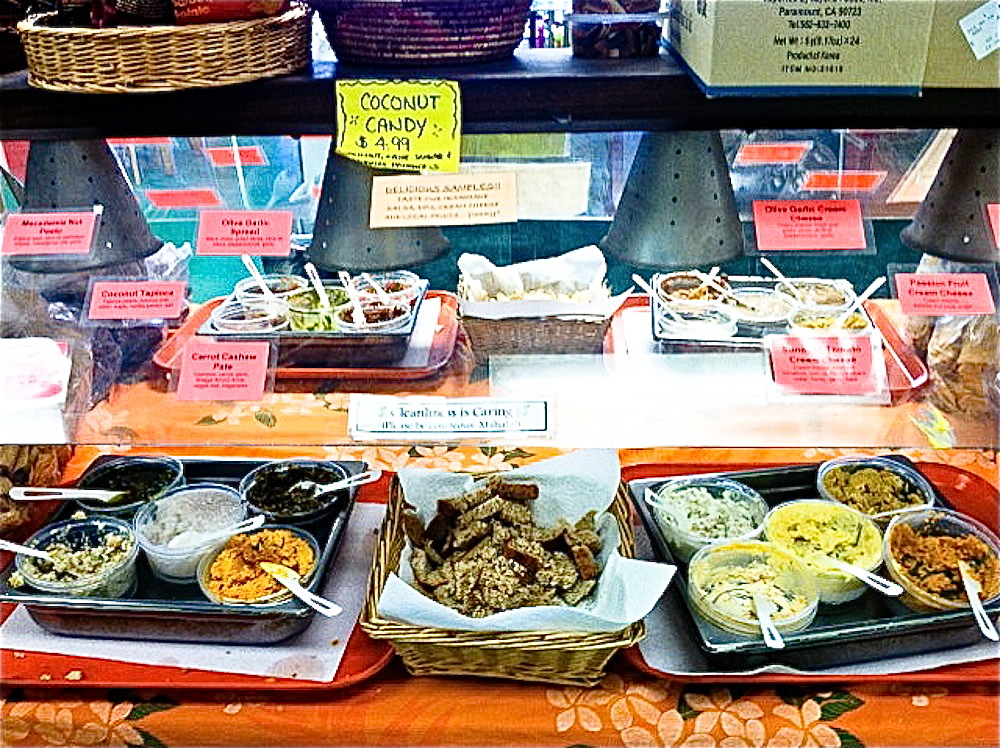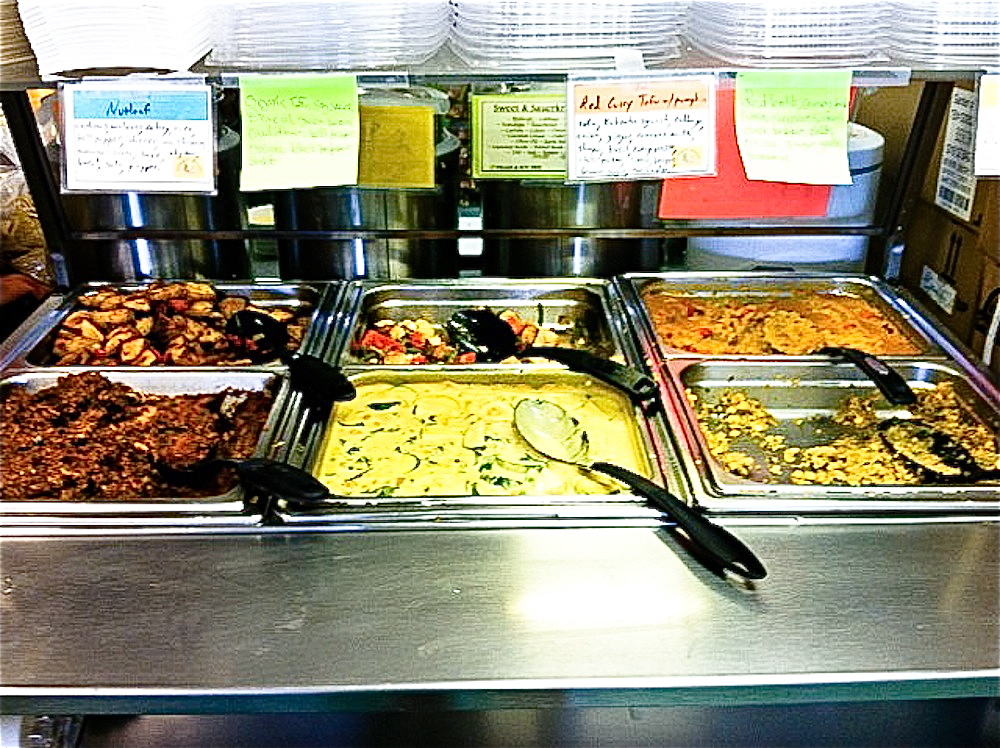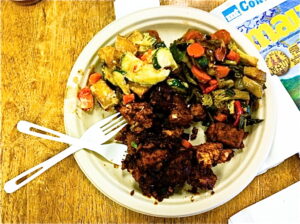 The barbecue tofu, the garlic coconut tofu, millet cakes, and tofu vegetable korma were all pretty stellar.  They also have a case where you can buy freshly packed dips and spreads- the mock chicken tofu salad and red bell pepper hummus pretty much rocked my world.  We kept our hotel room mini-kitchen well-stocked with lots of yummy vegan snacks from this place.  It is also right next to Bad Ass Coffee, from which we ordered several lovely soy milk lattes.
We stayed at the Westin Ka'anapali.  It was part of the package deal, and though Chris has rented condos when he has visited in the past, the idea of having a pool and more of a "resort feel" sounded really appealing.  The Westin itself was a pretty great hotel and we enjoyed our stay there.  Whenever a hotel provides robes, they get brownie points, even though we never even took said robes off their hangers.  We had a nice little balcony, overlooking the mountains in Lahaina, where we could sit and eat and sip our wine.  The Westin has a fantastic pool layout (there are waterslides and a playboy mansion-style grotto with a hidden whirlpool!), overlooking one of the best beaches on the west side of the island.
With that said, I don't know if we will ever stay there again.  On the facility, there is a gorgeous waterfall/pond/stream set-up, which is beautiful to look at, but they have chosen to use live birds as decoration for the pond.  There were five flamingos and 1 single black swan in the main pond, and three hut/cages, housing two parrots and one cockatoo (they were allowed out of their cages in the afternoons).  In order to keep these birds from flying away, their wings had been clipped, soley for the purpose of keeping them as an attraction for the hotel guests.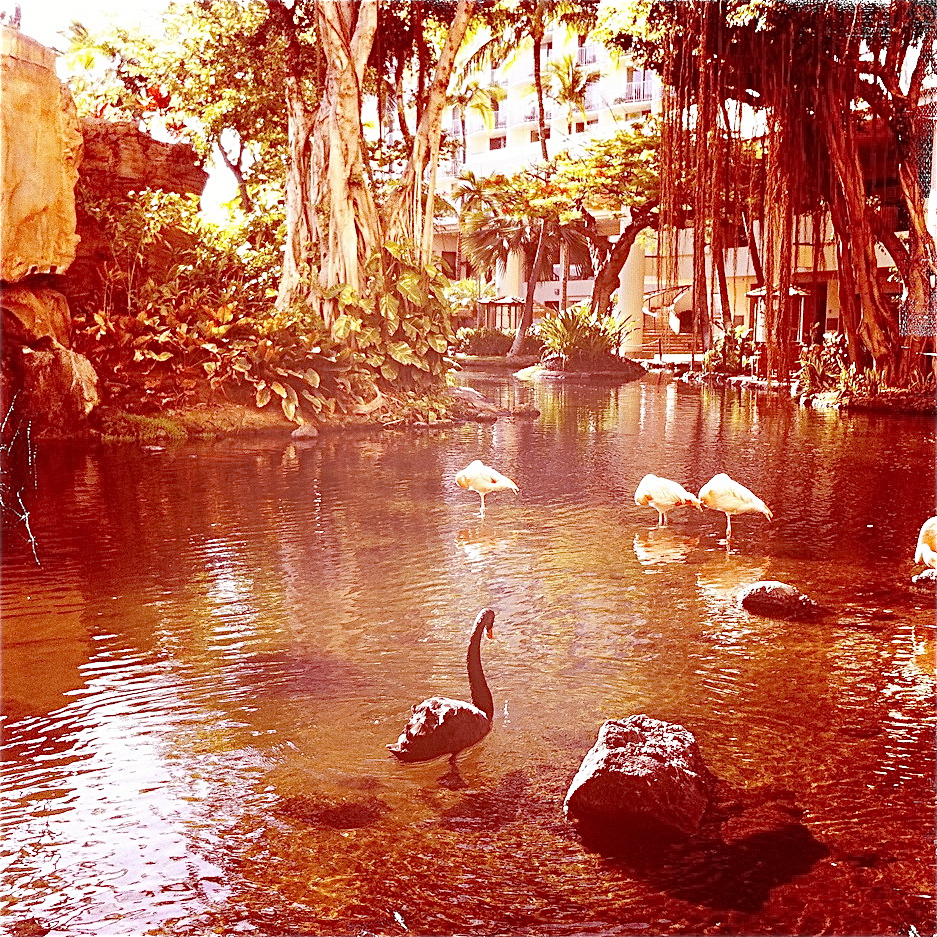 I was actually quite taken by these birds, and spent a lot of time just watching them.  I liked that I was able to spend time learning more about these birds and their habits.  The swan, whose name is Newman, really stole my heart.  He was very friendly and would float right up to and give you a very soft "honk."  Swans mate for life, and are pretty unhappy when the don't have a partner or are away from their flock, so it broke my heart to see Newman floating around by himself.  At times, he would try to interact with the flamingos by imitating them, pretending to sleep while standing on one leg while they were all sleeping.  We knew he wasn't really sleeping because he kept lifting his head up to see if the flamingos were still sleeping.  He would only do this when they were doing it, and would go stand right next to them while he imitated them.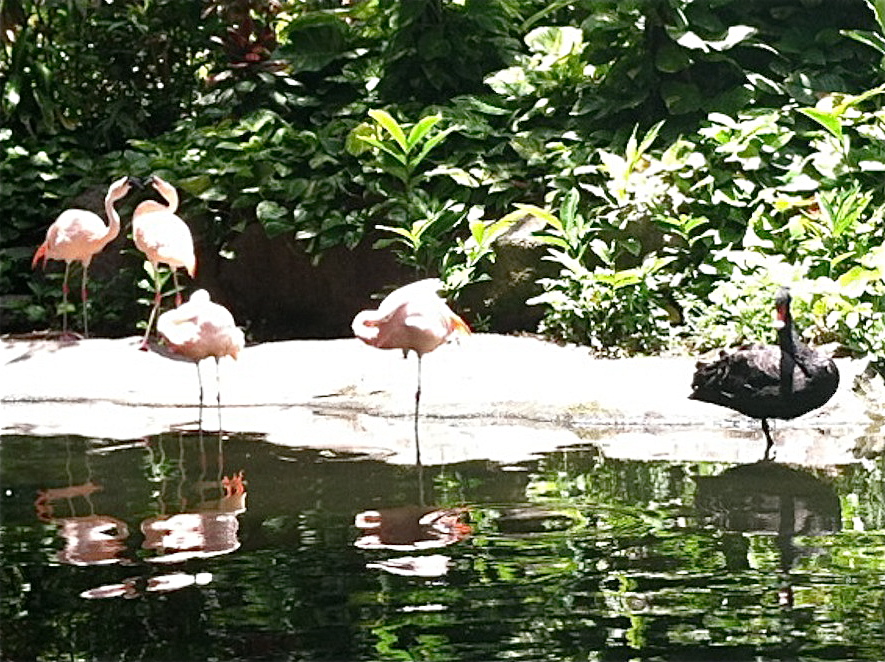 It made me so terribly sad.  We actually spoke to an employee there who was surprisingly informed about the care of these birds.  I was happy to hear that they have a veterinarian who checks on them regularly, and Newman actually did have a mate who passed away from old age.  After Newman's mourning period, they gave him a new mate, Kenny, who passed away a few months later, also from old age.  Apparently, Kenny just passed in his sleep, just floating in the pond.  When Newman discovered this, he began swimming circles around Kenny, and honking very loudly.  When they tried to take Kenny from the pond, Newman became very loud and aggressive.  I was nearly in tears as he told us this.  Kenny's death was very traumatic for Newman, and the vet said he needed a longer mourning period before being introduced to a new mate.  Though I am very happy that they are taking good care of these birds, we aren't on board with keeping animals as an attraction, so I don't know that we will spend our money to support it.
Snorkeling
Chris and I spent plenty of time lounging, pool-side, as well as just sitting on various beaches, being mesmerized by the beautiful scenery.  The rest of the time, we were snorkeling (a.k.a. my new most-favorite thing to do).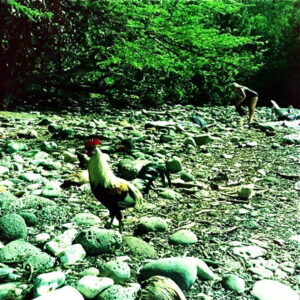 Honoloa Bay was so great, we had to go out twice.  The beach itself is pretty rocky, but there are wild chickens and roosters hanging out there, which makes it totally worth it.  After seeing the birds being held captive at the hotel, it was so refreshing to see these birds who we typically know to also be imprisoned, live freely on one of the most beautiful beaches in the world.  Ka'anapali beach had some beautiful snorkeling.  There weren't a ton of fish, but the coral was absolutely breath-taking.  We even saw an enormous old chain (each link was about the size of half my body) with coral growing on it.  Our favorite place, however, was Napili.
We'd heard that the sea turtles like to hang during the northern rocky edge of the bay in the afternoon, so that's exactly where we went.  We swam around for quite awhile without seeing any, but as we were heading back, Chris grabbed my arm and pointed past my right shoulder.  About 4-5 feet away from us, there was a HUGE sea turtle (he was bigger than me!), just slowly floating by.  He looked at u and just went along his way.  That sea turtle was probably the most peaceful, majestic creature I have ever seen and I feel honored to have been able to witness him, just going about his day.
Apparently the west side of the island isn't known for being vegan-friendly, but we definitely did not have a problem.  We were beyond excited every morning for our Choice Acai Bowls, and the Farmer's Market & Deli kept us well-stocked for lunch and dinner.  In Kihei, Joy's Place is supposed to be pretty vegan friendly and the chain, Maui Tacos, supposedly has an incredible vegan burrito, the Paia Surf Burrito, but we never made it to either.  We did venture to other parts of the island, which I will tell you about in my upcoming post, on Maui, The East Side, so stay tuned!
I generally try to not have expectations of anything or anyone in life.  Without expectations, you can never be disappointed, but only thankful for every occurrence or gesture that comes your way.  It is not always easy to remember this, but this trip was such a great reminder to stop expecting and just accept things as they are, to just simply be.  We didn't go into this trip expecting to have a blast, or expecting that we would see certain things or places, but every place we went was one of the most beautiful places we'd ever seen, every day was better than the day before, and the entire trip was one of the best either of us had ever been on.  We felt so incredibly blessed to be able to be alive, together, on this part of Earth, during this time, that all the amazing thing we experienced was a priceless gift.  By not expecting anything, we gained more than we could have ever imagined.