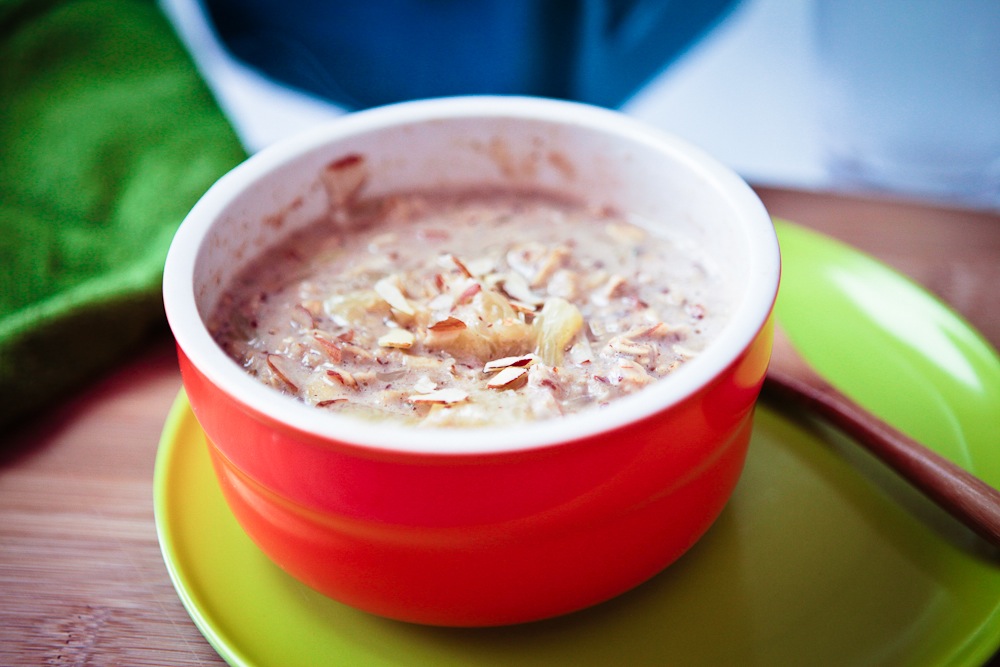 My relationship with grapefruit has come a long way.  There's no nice way of saying this, but I used to detest grapefruit.  When I joined a CSA, they started sending me different varieties of grapefruit, and I forced myself to use them.  I soon found that if you put them in salads, along with a lot of other stuff, they're pretty tolerable.  Then I discovered that they are tasty in baked goods, and my appreciation for them grew.  But basically, ever since this happened, I've been pretty much in love with roasted grapefruit.  Roasting grapefruit turns it into magic a spectacular piece of heaven that tastes wonderful alone, but turns everything you add it to into gold a kitchen masterpiece.  Now, every time I get a grapefruit with my CSA delivery, I know exactly what its fate is.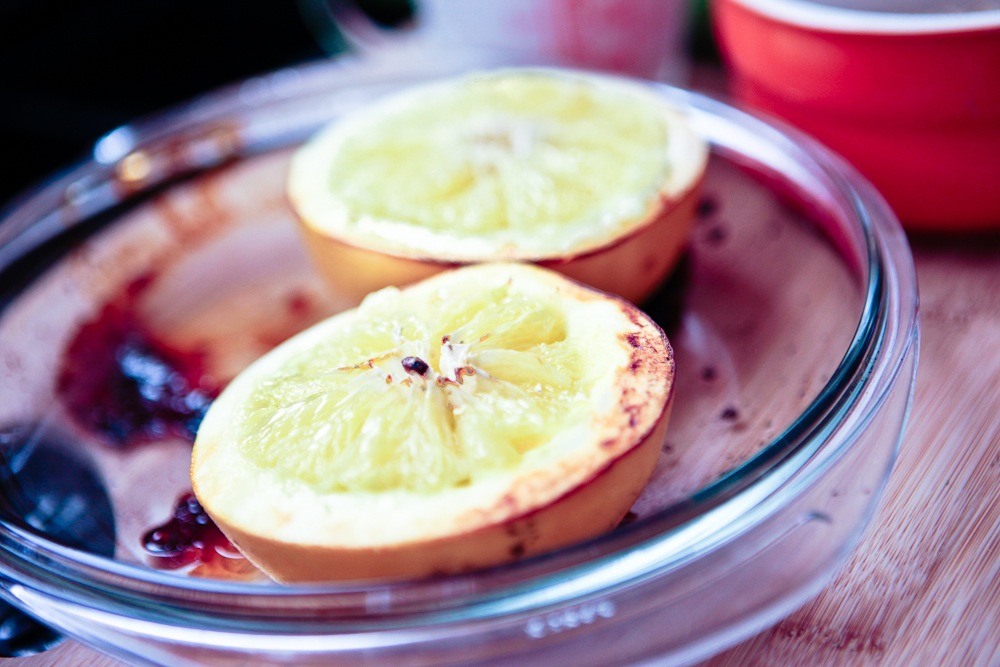 Quite a build up to this simple oatmeal, yes?  I could have just said "This oatmeal is really good, yo," but I don't think you would still be reading.
I had toyed with the idea of putting roasted grapefruit in my oatmeal, but when it comes to oatmeal, I need instant gratification.  When I'm working, I need my oatmeal to be done 10 minutes ago (because that's how late I'm usually running), so it's perfectly understandable to cook my oatmeal in the microwave while I gather my things.  When I'm not working, I still want my oatmeal 10 minutes ago because a.) I'm a hungry beast when I first wake up, b.) My blood sugar is super low on account of just getting back from the gym or a long run, or c.) I'm lazy and I don't want to dirty a whole pot, in addition to my bowl, because that means I have to clean a whole pot afterwards.  I need my oatmeal now!
Recently, however, after returning home from yoga on a Saturday morning, I was overwhelmed with a sense of calm.  My patience level was through the roof.  "Can I wait 5 minutes for the oven to preheat and another 15 minutes while the grapefruit roasts?  Yes.  Yes, I think I can."  So I got to it, and was even showered and dressed by the time it was done roasting.  I could have cooked the oatmeal on the stove, but I had already dirtied a casserole dish and wasn't about to dirty a pot as well, so I proceeded to cook it in the microwave, as per usual. When it emerged, I rejoiced!  Glorious, amazing oatmeal was my reward for my patience.  And now I will share the fruits of my patience...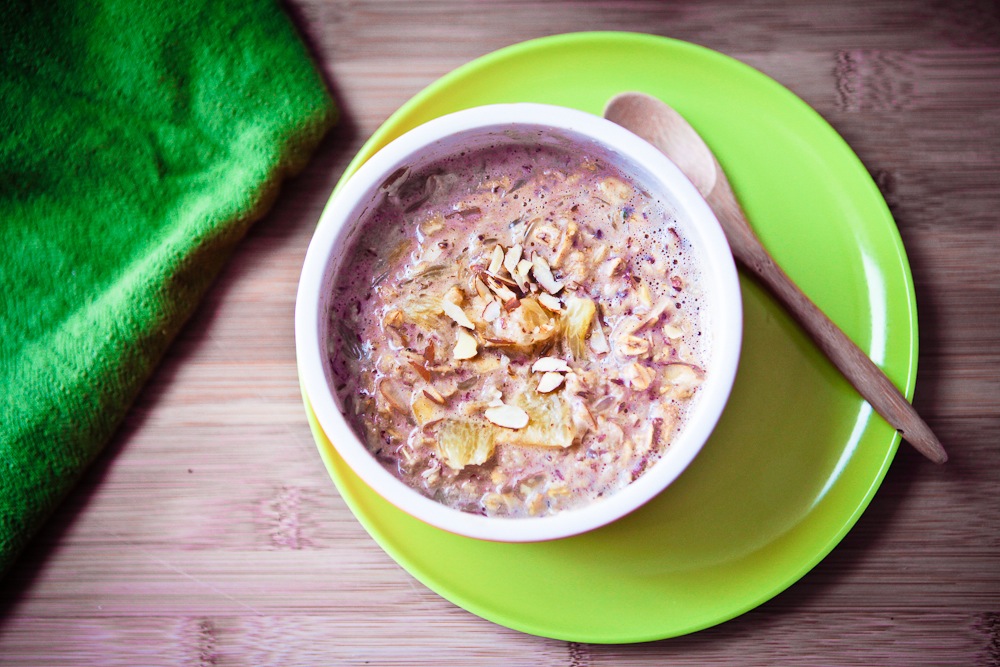 ROASTED GRAPEFRUIT OATMEAL
makes 1 serving
Ingredients:
for the grapefruit:
1 grapefruit, halved
1 ½ - 2 tsp powdered stevia
agave syrup for drizzling(optional)
for the oatmeal: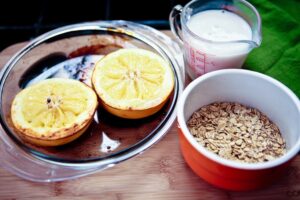 ¼ cup rolled oats, heaping
1 T flaxmeal
½ tsp cinnamon
½ tsp powdered stevia
a couple dashes of dried ginger
1 cup almond milk
Instructions:
Preheat your oven to 450.
Run a knife around the edge of the grapefruit, separating it from the peel.  Then run the knife around each segment (this will make for less of a mess later).  Sprinkle 1 tsp stevia on each half, and drizzle with agave syrup if you would like.  Place in a baking dish.  If the halves won't stay upright, slice a small bit of the peel off the bottom so that it sits flat.
Bake at 450 for 15 minutes, until stevia has caramelized on the tops.  Remove from oven.  Set aside until cool enough to handle.
Once the grapefruit is cool enough to handle, use a spoon to scoop out the grapefruit segments and set aside.
Combine the first 6 ingredients in a bowl.  Add the milk and microwave for 2 minutes.   Stir in the grapefruit segments and nuts, and microwave for another 30 seconds.  Serve warm.
You can also cook on the stovetop by adding the first 6 oatmeal ingredients to a small pot, cover and heat on medium heat for a few minutes, until thickened and oats are soft.  Stir in the grapefruit segments and nuts and remove from heat.  Serve warm.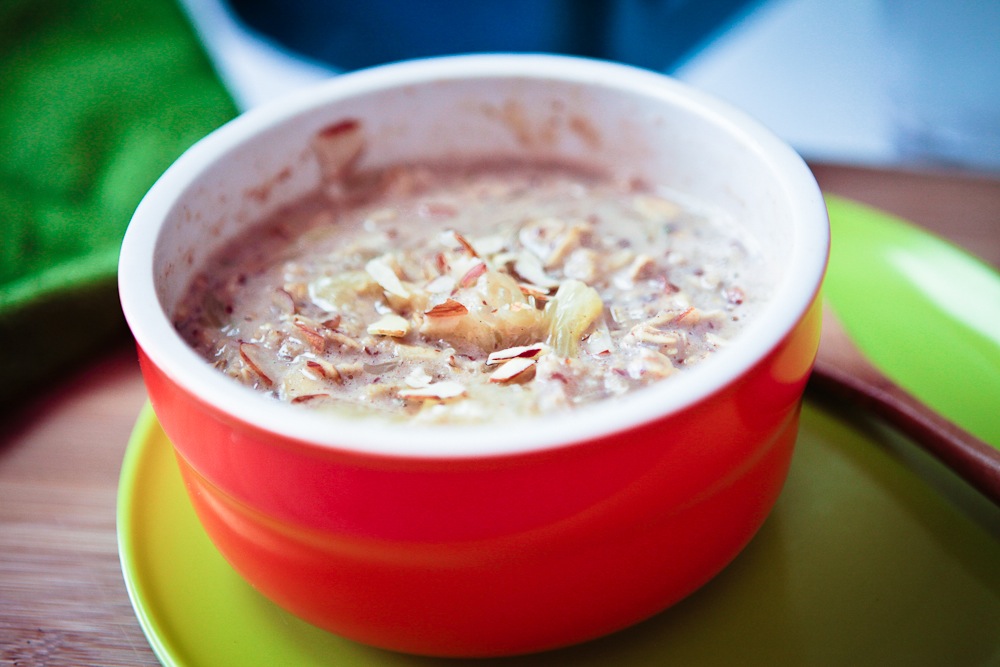 Go forth and practice a little bit of patience.  Roast some grapefruit and eat this for breakfast.  I don't know if wiser words have ever been spoken...
I want to thank all of my readers for all of the lovely comments this last week!  I've been away from Blogland for a week, and what a wonderful "welcome home" I had waiting for me when I returned!  I have a lot to catch up on, but I just wanted to give you all a big "Mahalo!"  You all truly make my day, every day.
It's the last day of the VSPCA fundraiser so head over to Hobby and More to make a donation.  Every little bit helps!
All Photos by Chris Miller

© Kristy Turner and Keepin' It Kind, 2012. Unauthorized use and/or duplication of this material (content and images) without express and written permission from this blog's author and/or owner is strictly prohibited. Excerpts and links may be used, provided that full and clear credit is given to Kristy Turner and Keepin' It Kind with appropriate and specific direction to the original content.