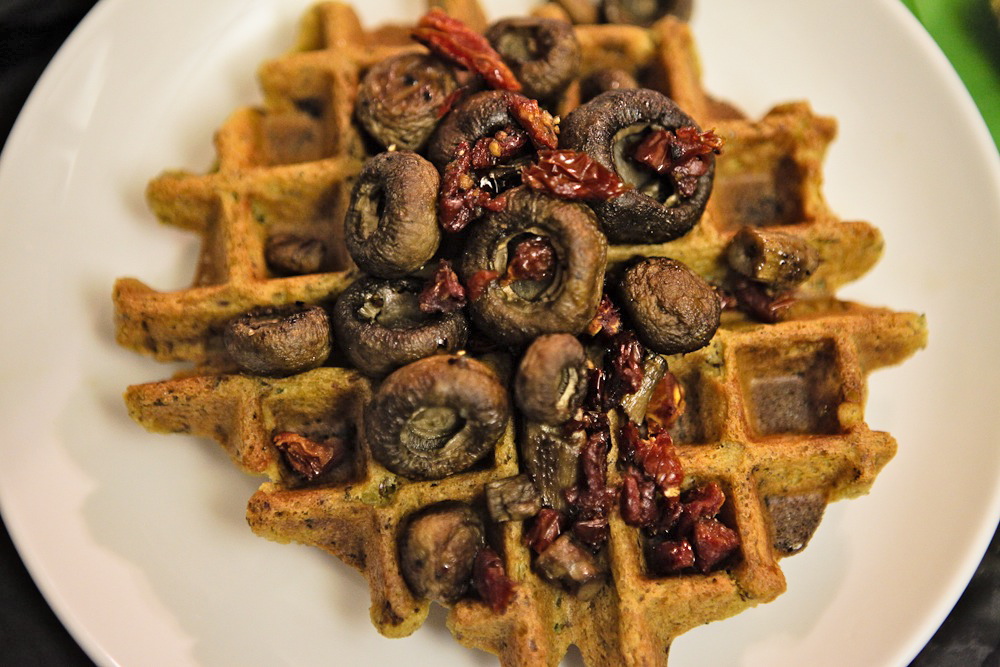 I like small kitchen appliances.  I always have.  The first kitchen appliance I ever remember being kind of crazy about was one of those sandwich-pocket maker things.  I learned how to operate it by the age of six and was making my own crazy sandwich creations every chance I got (probably where my later passion for grilled cheese sammies stemmed from).  Some people are tech gadget people (my husband) and some people are kitchen gadget people (me).
I am like a kid with their toys when it comes to kitchen gadgets.  I'll have one toy that I want to play with everyday (my immersion blender, for example), and then I'll see another one in my toy box and be obsessed with that one for a while.  My current favorite toy:  My waffle iron.  I like waffles a lot, and I think they're great, but they are not my favorite food.  Ever since I made the Roasted Grapefruit Waffles, however, I've been wanting to turn everything into a waffle.  What else can I stick in there?  What else would be cool if transformed into the shape of a waffle?  These are my thoughts lately.
These waffles stemmed from those thoughts and the fact that I had a lot of green onions from my CSA.  Chris is always very weary of foods that would traditionally be sweet, but are in fact, savory, or vice versa.  When I told him we were having Green Onion Chickpea Waffles for dinner, he said "I don't know, honey.  This might be the first time I ever dislike one of your dishes."  His brain couldn't get on board with the idea of waffles that weren't sweet and drenched in syrup.  After one bite, though, he was totally on board.  He was so on board, he had seconds.  And thirds.
I topped the waffles with some roasted mushrooms and sun-dried tomatoes because I wanted something a little on the lighter side, but they would probably be awesome with a mushroom gravy as well, or salsa.  We had two leftover and the next day we toasted and made open-faced sandwiches with them(covered in hummus, avocado, and melted daiya).  I can't even stress to you in words how delicious either of these meals were.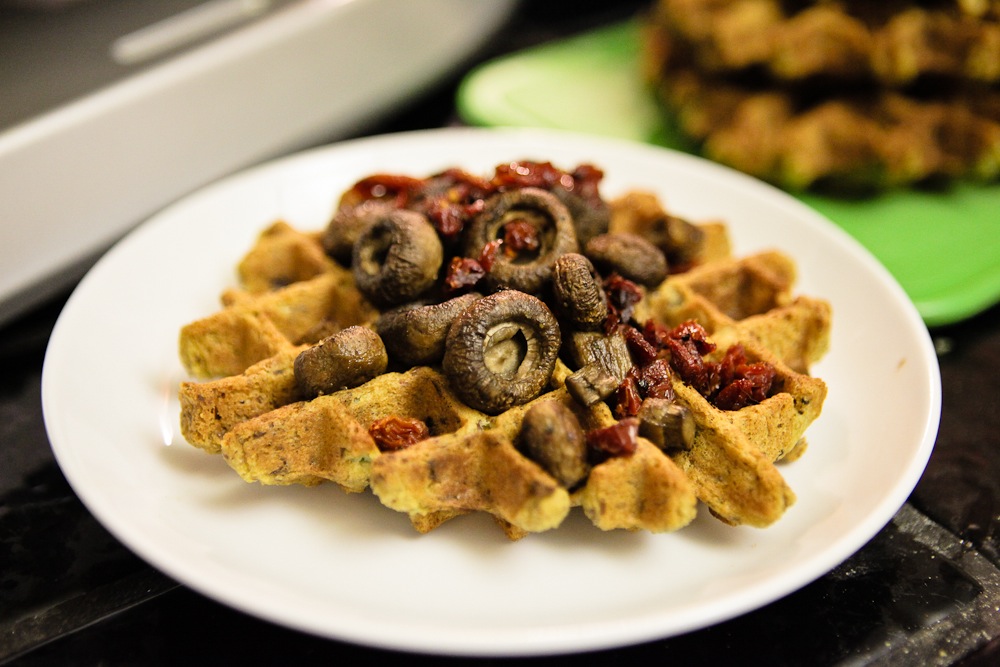 ROASTED MUSHROOMS & SUN-DRIED TOMATOES
Ingredients:
1 8 oz package of crimini or button mushrooms
1 T olive oil
1 tsp Bragg Liquid Aminos or Tamari/Soy Sauce
1 tsp dried thyme
1/2 tsp dried sage
1/4 tsp paprika
1/2 cup sun-dried tomatoes
salt and pepper to taste
Instructions:
Preheat the oven to 400.  Line a baking sheet with parchment paper or foil.
Remove stems from the mushrooms.  In a bowl, toss the mushrooms and their stems with the rest of the ingredients (minus the sun-dried tomatoes).  Spread the mushrooms out on the baking sheet.
Put the baking sheet in the oven and bake for 20 minutes.  Add the sun-dried tomatoes and mix to combine.  Bake for another 5 minutes.  Remove from oven and serve warm.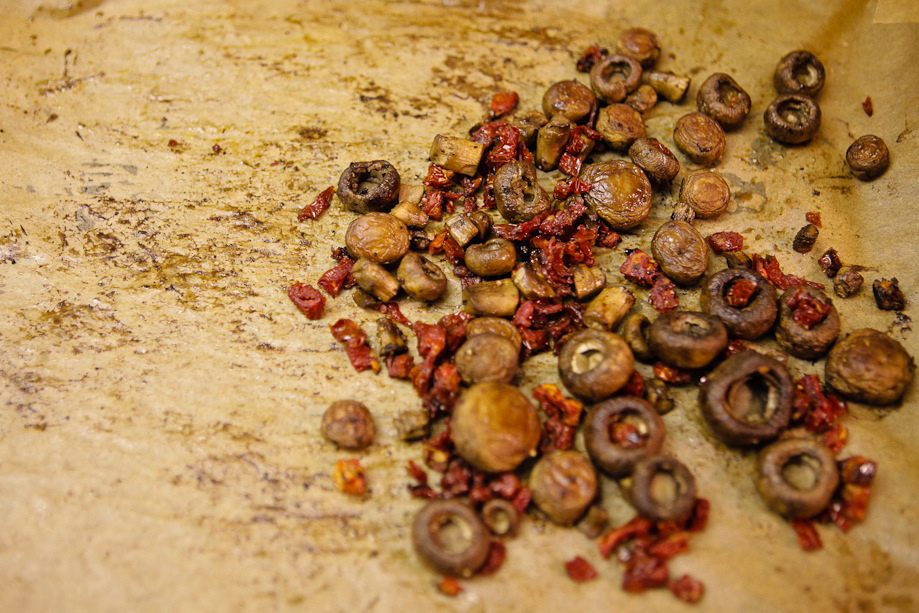 GREEN ONION CHICKPEA WAFFLES
makes roughly 6 small/medium waffles
Ingredients:
1 cup chickpea flour
¼ cup nutritional yeast
1 tsp baking powder
1 tsp salt
1 tsp sugar
½ tsp baking soda
¼ tsp paprika
pepper to taste
1/3 cup chopped green onions
¾ cup milk
2 flax eggs (2 T flax meal mixed with 6 T water)
¼ cup canola oil
Instructions:
Prepare your flax eggs.  Set aside.
In a food processor, pulse the green onions and the milk about 10-15 times, until the onions are just tiny pieces.
In a large bowl, combine your dry ingredients.  In a medium bowl, combine the wet ingredients, including the green onion/milk mixture and the flax eggs.  Add the dry ingredients and stir to combine.
Cook waffles according to your waffle maker's instructions.  Serve with Roasted Mushrooms.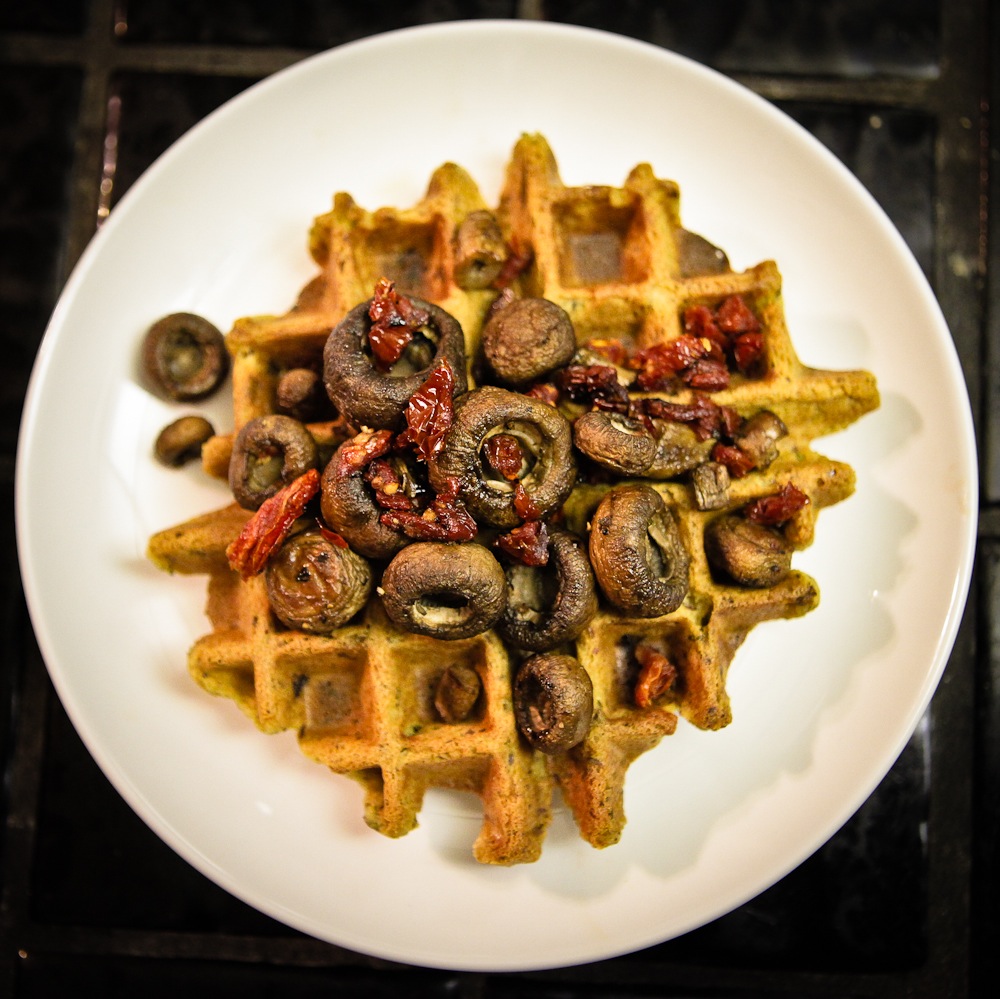 Get your waffle iron out and make these waffles!  Have fun!
What is your favorite kitchen appliance to play with?
All Photos by Chris Miller
© Kristy Turner and Keepin' It Kind, 2012. Unauthorized use and/or duplication of this material (content and images) without express and written permission from this blog's author and/or owner is strictly prohibited. Excerpts and links may be used, provided that full and clear credit is given to Kristy Turner and Keepin' It Kind with appropriate and specific direction to the original content.