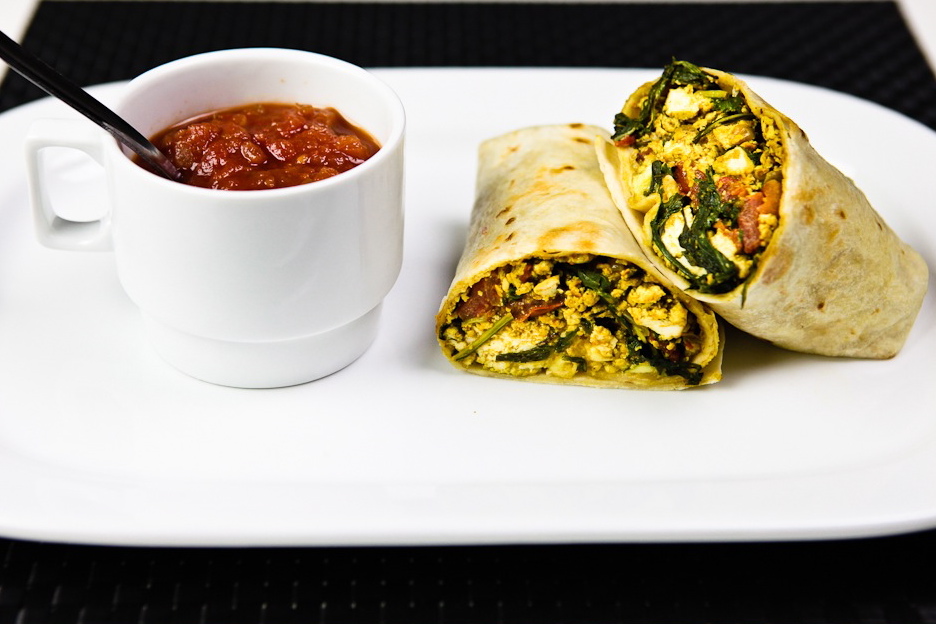 When we first became vegan, and I began researching how to cook certain things, there were ingredients that would come up that always made me uneasy.  Either I'd never heard of that particular ingredient before, or maybe I'd heard of it, but didn't know what it was for or how to use it.  The first time I'd heard of Nutritional Yeast, I thought to myself "I don't know what that is and I don't care to find out."  But everywhere I looked, nutritional yeast, or "nooch" as it is sometimes unflatteringly called, kept popping up.  I finally made myself find it at Whole Foods where I stood and looked at it sitting on the shelf for about three minutes, and then walked away, still not convinced that I should try it.  I repeated this about two more times, until I noticed that it was also being sold in the bulk foods section.  I scooped a tiny bit for myself, only about 1/2 a cup, and took it home.
That night, when making our tofu scramble (we lived on tofu scrambles back then), I hesitantly added about two tablespoons.  That scramble blew both mine and Chris's minds.  He kept saying "What did you put in this?!  Oh my God!"  The next time, I added a little more and the scramble was even better than the one before.  I was hooked.  I use "nooch" all the time (and I even call it "nooch" now!) and not only do I love the rich, slightly cheesy flavor it adds, I love what a great source of B-vitamins it is.
We don't eat tofu scrambles all that often anymore, purely because I'm always experimenting and trying new things.  Every now and then, when I have vegetables in the fridge I need to use or I simply don't feel like going all out, tofu scrambles are always there to fall back on.  The other night was one of those nights.  I had some gorgeous mizuna from our CSA, which is a green similar to arugula, but just slightly less spicy, as well as some creamy bacon avocados.  The original plan was to just do a scramble with the mizuna and just toss in the avocado at the end, but I had been craving a burrito ever since Vegan Yack Attack did a post on a tofu scramble burrito (her pictures are so yummy!), so burritos happened.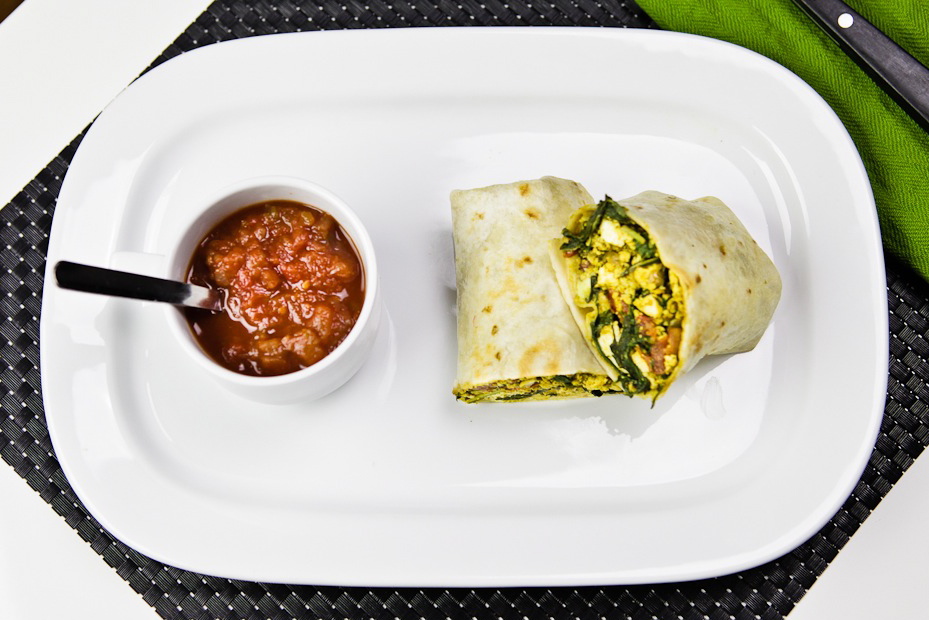 MIZUNA TOFU SCRAMBLE BURRITO
makes 2-3 burritos
Ingredients:
1 package of extra firm tofu
2 T olive oil
½ onion, finely chopped
2 cloves garlic
1 bunch mizuna greens, roughly chopped and stems removed (you can use any green you have on hand)
2 roma tomatoes, diced
2 tsp dried basil
1 tsp cumin
½ tsp paprika
½ tsp tumeric
½ tsp black salt (kala namak, but if all you have is white/sea salt, that will be fine)
½ tsp Sriracha sauce
¼ cup vegetable broth
¼ cup nutritional yeast (heaping)
pepper to taste
½ avocado, diced
2-3 tortillas
Instructions:
Remove tofu from its carton and let drain it sit in a strainer while you prepare your vegetables.
In a large pan, heat the oil over medium heat for about 30 seconds.  Add the onion and sauté until the onion is translucent, and then add the garlic.  Sauté both for about 2 minutes.
Tear the tofu into bite size chunks (not too small, but not too big) and add to the pan.  Mix to combine.  Let the tofu cook in the water it releases, stirring occasionally, letting it the tofu "brown."  If it starts to stick, add a little more water to deglaze the pan.
After about 15 minutes, once the tofu has a nice tan color, add your spices, Sriracha sauce, and vegetable broth.  Mix to combine and sauté until liquid is gone.  Add the nutritional yeast and mix to combine.  Add the tomatoes and the mizuna and sauté until mizuna is wilted.  Remove from heat.
Heat your tortillas over a stove burner, or in a pan on the stove, over medium-low heat, just giving each side a minute or two.  Scoop about 1 – 1-¼ cup of the scramble onto each tortilla, and top with the diced avocado.  Fold the outer ends of the tortilla over, and using the edge of the tortilla closest to you, roll up into a burrito.  Serve warm with salsa and/or guacamole of choice.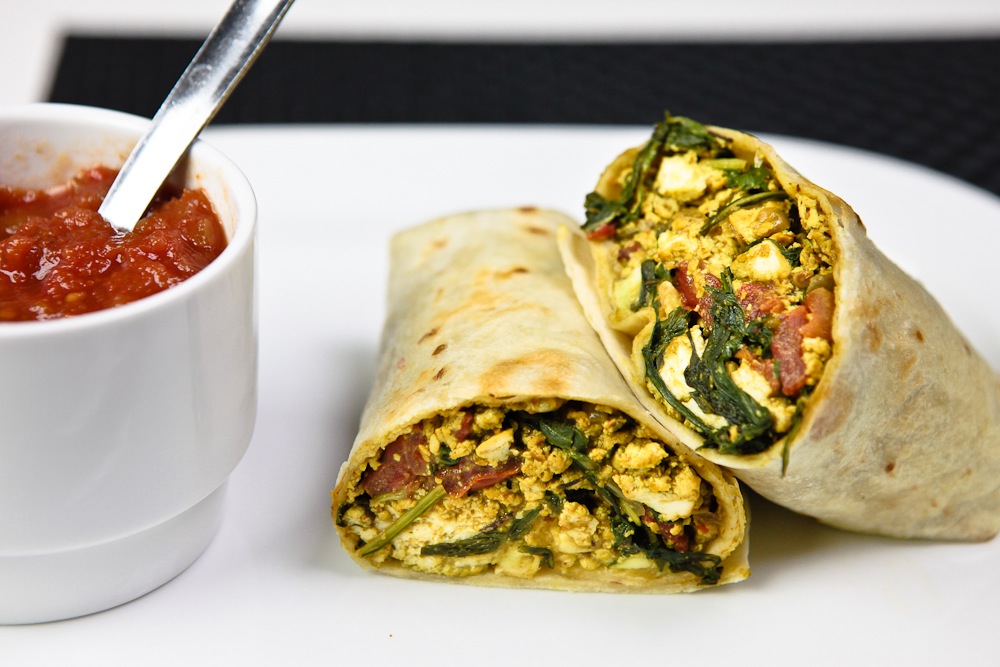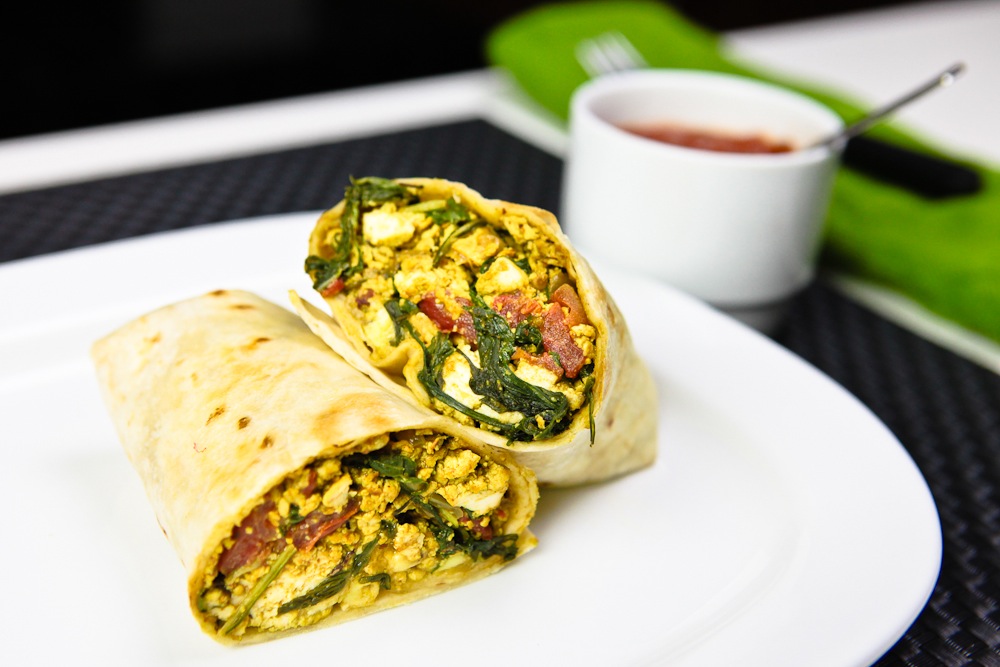 Tofu scrambles are probably my favorite application for nutritional yeast, and they are a delicious go-to for those nights when you don't want to turn your thinking cap all the way on, but they're awesome for breakfast or brunch too.  Or lunch.  They're basically that old friend you can call on at anytime, and they will always be there for you.  A vegan's best friend.
What's your favorite "go-to" meal?
All Photos by Chris Miller
© Kristy Turner and Keepin' It Kind, 2012. Unauthorized use and/or duplication of this material (content and images) without express and written permission from this blog's author and/or owner is strictly prohibited. Excerpts and links may be used, provided that full and clear credit is given to Kristy Turner and Keepin' It Kind with appropriate and specific direction to the original content.