Chris likes to have a big bowl of cereal (preferably of the clustered granola variety) for breakfast.  I'm more of an oatmeal gal, myself.  Brunch, however, is a different story.  We like to go big with brunch.  Since becoming vegan, we've tried so many different things for brunch, from elaborate waffles, french toast, omelets, frittatas (like this one), and more.  Finding Chris a vegan granola cereal with clusters for days that aren't Sunday, was quite a bit more difficult to find.  They're out there, but they run about $6-$7 for a couple big bowls worth.  We tried that route, but 1 box would last him about 2 days, and that just was not going to do.
So I took on the job of cereal-maker in our house.  I had no idea what I was doing, but I thought "It's granola.  How hard can it be?"  It took awhile to achieve the right formula that had the right amount of sweetness and that would actually "cluster" like it's honey-filled counterpart.  This recipe has undergone so many transformations, but I think I finally achieved the perfect balance (and the perfect way to make your house smell UH-mazing!).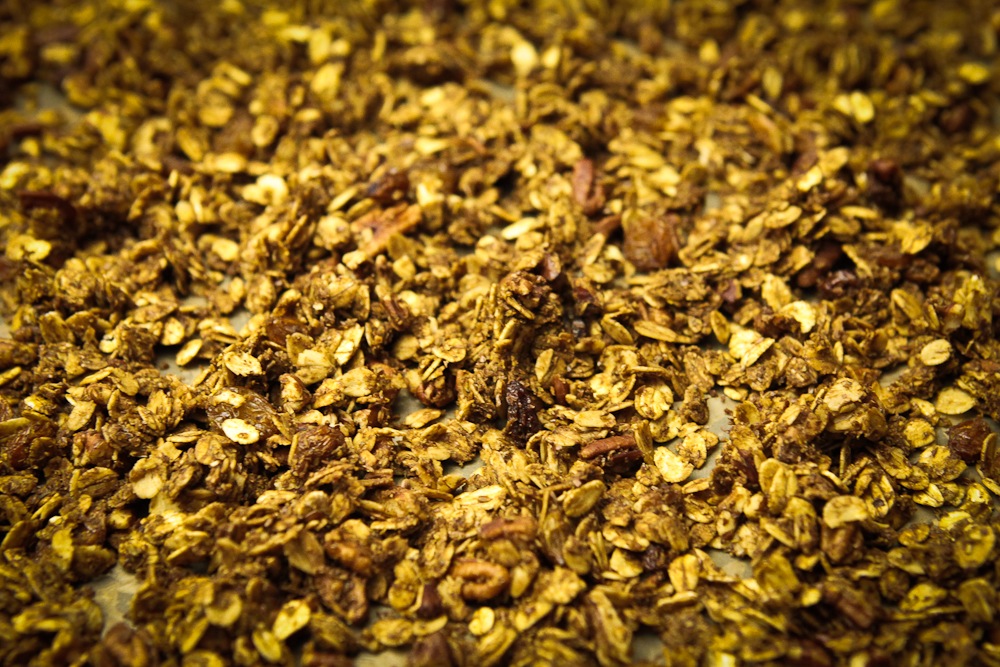 I usually double this recipe, because as I mentioned, Chris goes through this stuff fast.  I usually use apple juice or orange juice, but I had some lovely blood oranges from our CSA delivery, so I decided to juice 1 of those (thus giving it the name).  Any juice you have will work though, as long as it has a sweetness to it.  The recipe calls for 1/4 cup of agave and/or maple syrup.  I always use an eighth of a cup of each.  I've also found that the longer cooking time at a lower heat seems to work best. The cereal will cluster naturally, just laying out on the baking sheet, but because I like to get my hands dirty (there's something very gratifying about digging your hands into your creation), I do small pinches throughout the granola so that there's more little flavor-packed clusters.  Also, one more tip: buy your dry ingredients in bulk- it will save you a lot of money!
Whether you're just fanatical about granola, trying to cut your cereal costs, or you need to make your home smell nice, you should try this recipe.  It's a perfect take-with-you snack, you can cook it like oatmeal, or just pour some milk on it.  No matter how you slice it, this stuff is like crack awesome!
CINNAMON BLOOD ORANGE GRANOLA
makes 12 ½ cup servings
Ingredients:
4 cups rolled oats
1 cup flax meal
1 cup toasted pecan pieces
½ cup raisins, tightly packed (about ¾ cup loosely packed)
2 heaping tsp cinnamon
½ cup freshly squeezed orange juice
½ cup canola oil
¼ cup blackstrap molasses
¼ cup agave or maple syrup (or combination of both)
Instructions:
Preheat oven to 275°.  Line two baking sheets with parchment paper and lightly spray with vegan non-stick spray.
In a large bowl, combine the dry ingredients.  In a small bowl, combine the wet ingredients.  Heat the wet ingredients in the microwave for about 1 minute and 45 seconds, until hot, but not boiling.
Add the wet ingredients to the dry ingredients and mix to combine.  Divide the mixture between the two baking sheets, and spread out evenly.  With your fingertips, go through and quickly "pinch" small clusters into the mixture.  It won't all be clustered, but will have a lot of small clusters.
Put the baking sheets in the oven, one on the center rack, and one on the lower rack.  After 25 minutes, switch the sheets, putting the one from the bottom rack on the center rack, and vice versa.  Cook for another 20 minutes, and remove from oven.  Let sit until cool.  Once cool, gently remove from sheets and put into a glass or Tupperware-type container.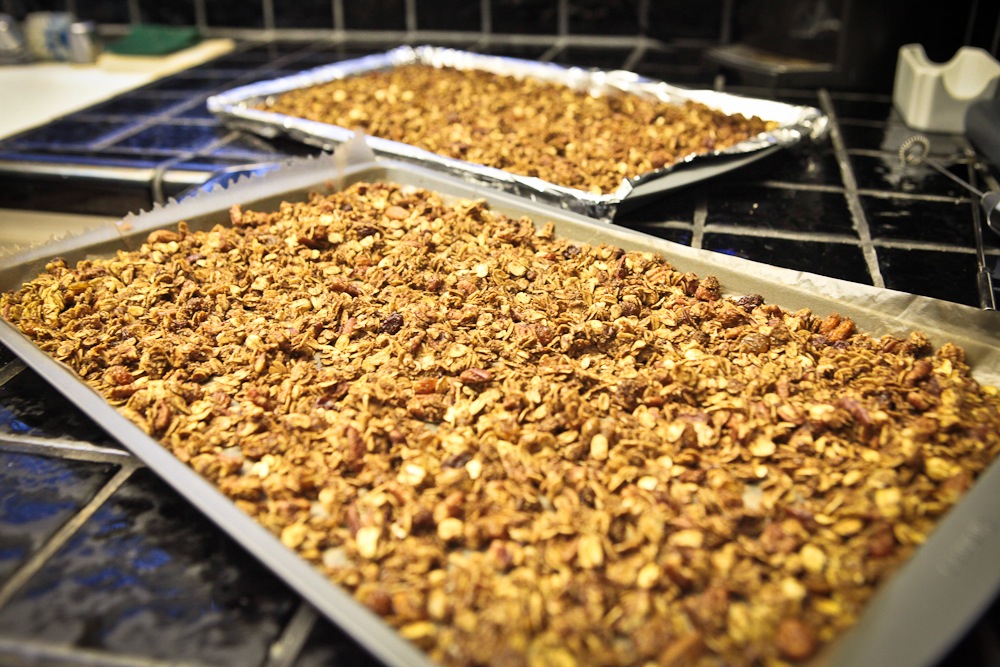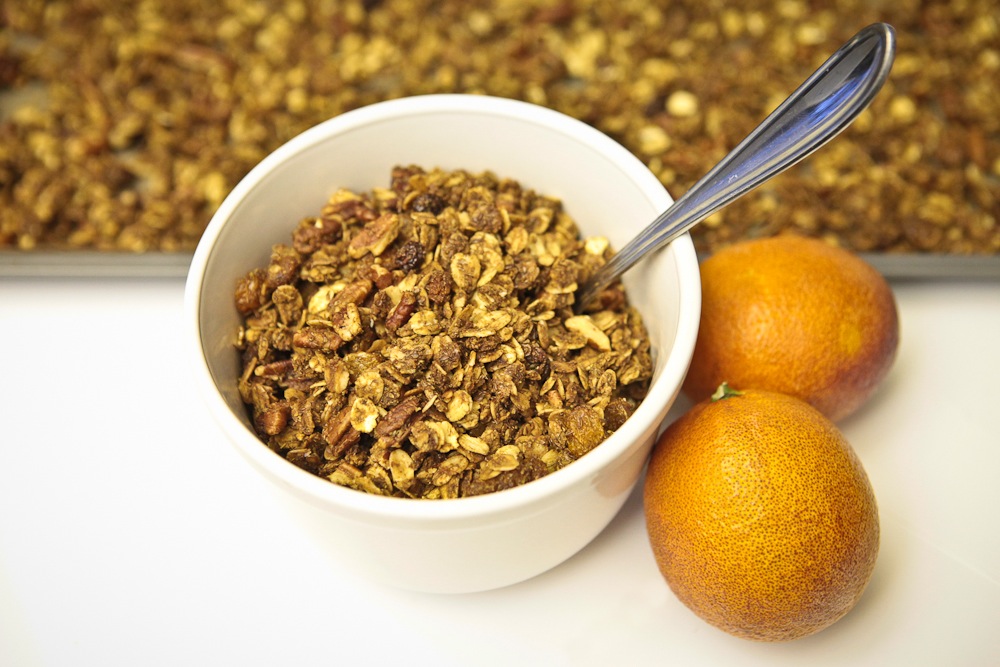 All Photos by Chris Miller
© Kristy Turner and Keepin' It Kind, 2012. Unauthorized use and/or duplication of this material (content and images) without express and written permission from this blog's author and/or owner is strictly prohibited. Excerpts and links may be used, provided that full and clear credit is given to Kristy Turner and Keepin' It Kind with appropriate and specific direction to the original content.